If you work with a team of people using Semrush—at an agency, in house, or a mix of both, here's how to keep people on the same page and avoid doing double-work.
In the various tools and reports in Semrush, there are ways to share your research and work within a team. This can be done by following the steps below and it will allow collaboration to be transparent and open within a large team.
Add users to your account and manage their permissions
Share your projects with everyone as collaborators
Share a Marketing Calendar
Build client management workflows
Share your reporting templates
Add users
Adding users to an account allows for everyone on your team to use Semrush simultaneously. If you're serious about using Semrush in a large team, this is the best way to maximize its functionality. Add your users from the Subscription Info section of your profile and manage their limits manually from User Management.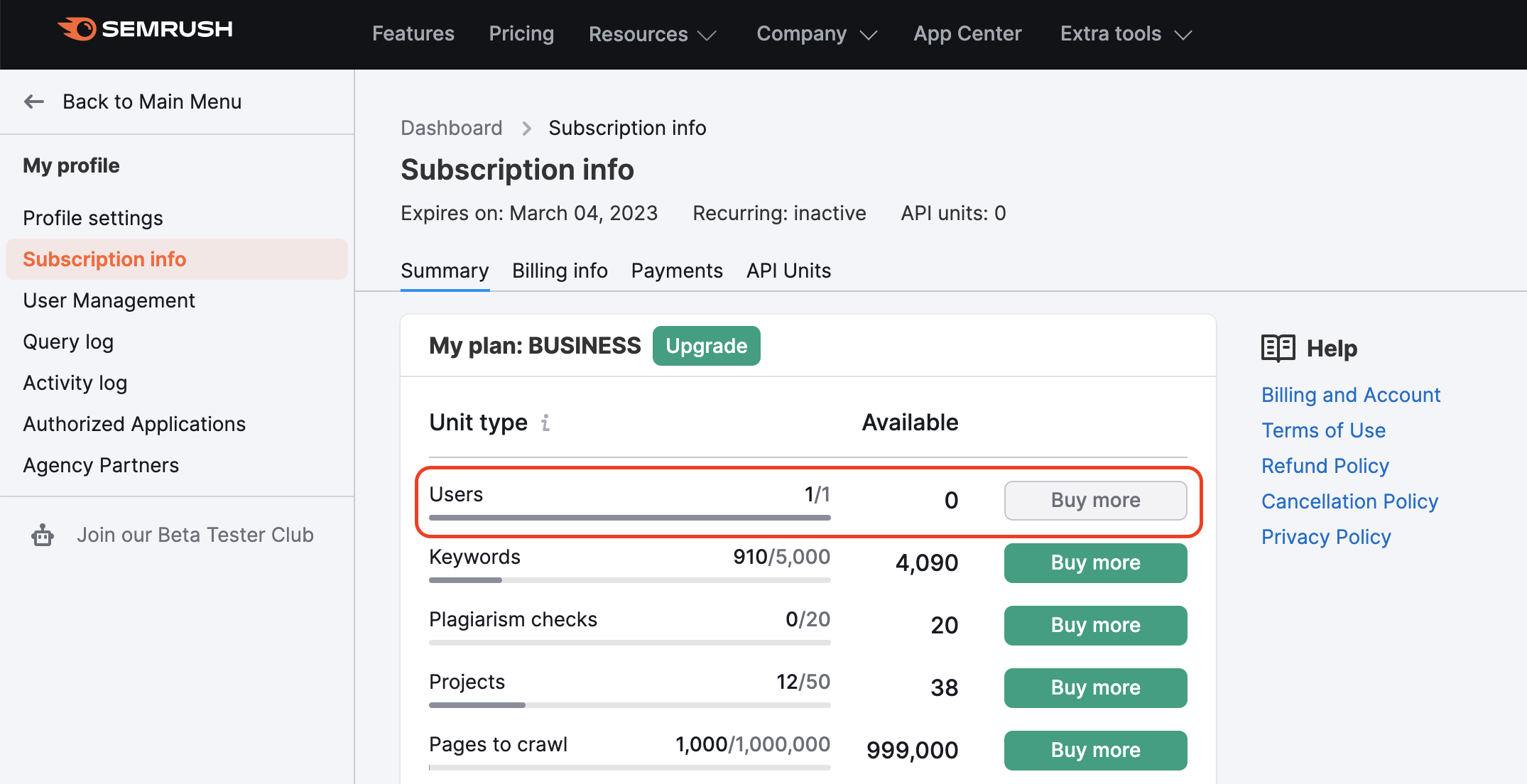 On the User Management page, you can choose either allocating limits individually to each team member or giving users under your account access to a shared pool of units so that they can independently spend the units available within your subscription plan. For more explanation, please read How Units Work in a Team.


To give the limits to each team member individually, click on the pencil icon next to a user to allocate their limits.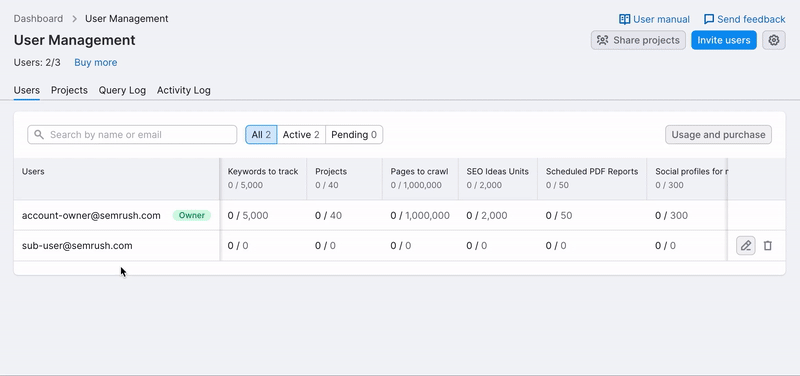 From here you can also set each team member as an Admin or a User.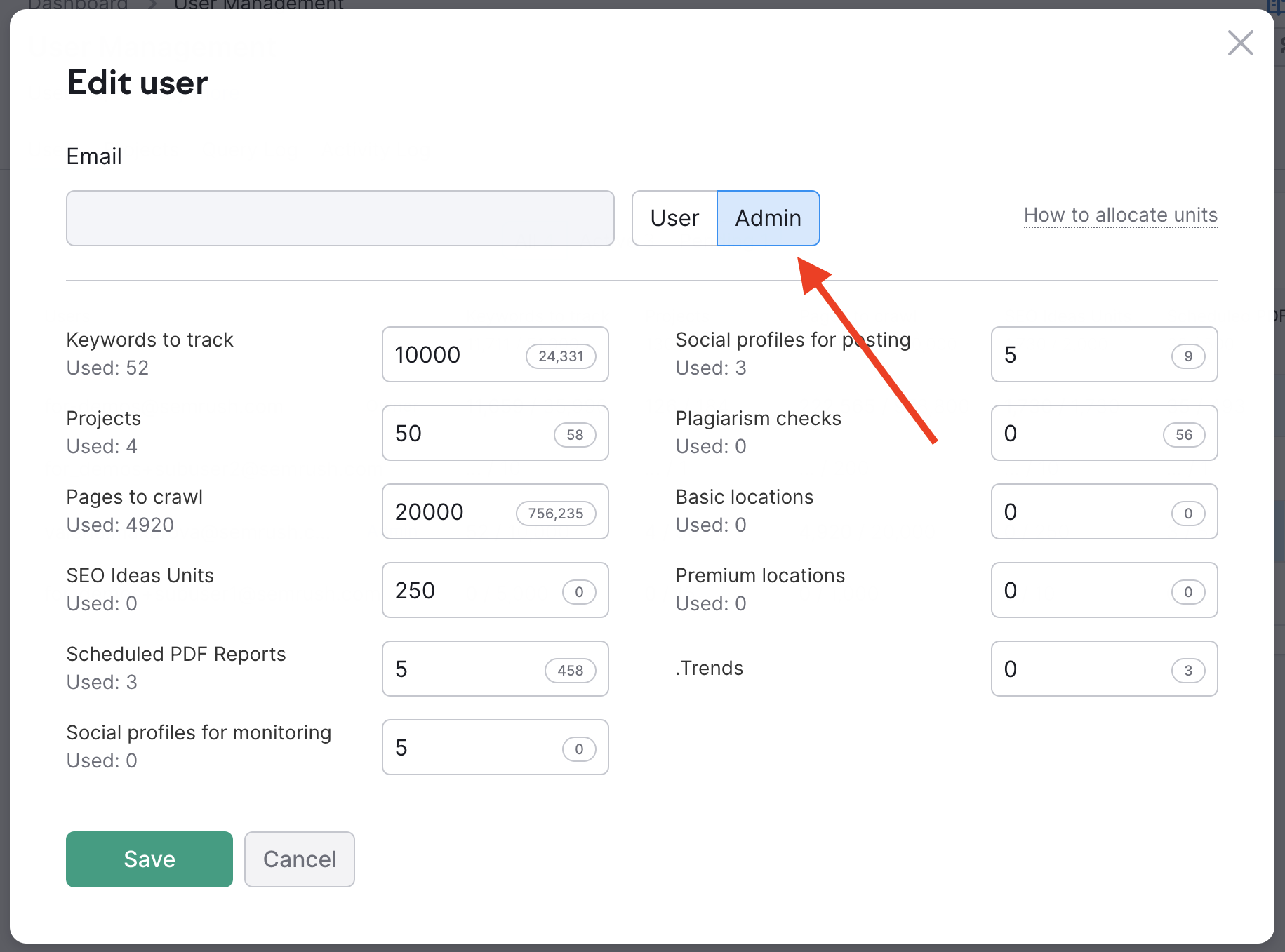 Admins are users that have the ability to distribute subscription units across the other users on an account. A user can be appointed as an admin by the account owner to gain more managerial abilities. When you become an admin of a corporate account, you can:
Add and remove users
Choose the way of distributing subscription units (individual limits vs shared limits)
Edit allocated units
View, Edit, Share and Delete all projects created by users
Change project owners
View a list of queries made by users
View a list of changes made to the corporate account
Share Projects
The best way to share research on Semrush is with a shared Project. One Project can contain a campaign of each Project tool (Site Audit, Position Tracking, Brand Monitoring, Backlink Audit, etc).
To share a Project, first create it and then from the Project dashboard find the share button. Then, enter all of the email addresses associated with the Semrush accounts that your collaborators are using.

This will allow everyone to see your website's top issues to resolve (Site Audit), SEO actions to take for improvement (On Page SEO Checker) and changes in the website's positioning (Position Tracking) for example.
Please note: Owners and Admins have Editor access to all users' projects by default.
Get on the Marketing Calendar
This tool will come in handy especially if you're running campaigns in PR or social media and need to plan release dates and events ahead of time. Adding collaborators to a Marketing Calendar is easy, and anyone on your team with an Semrush account can create a campaign and add activities and dates to the calendar.
Even if you don't have an Semrush account, you can view a calendar that is shared with you via email or link.



Build Client Management Workflows
CRM allows you to set tasks within each client card to ease your team's routines.
Each task has a priority, type, status, and time estimation, and the link to the Semrush tool that can help fulfil it.
To do this, go to the 'Tasks' tab, click 'Create new task', and enter all the required information.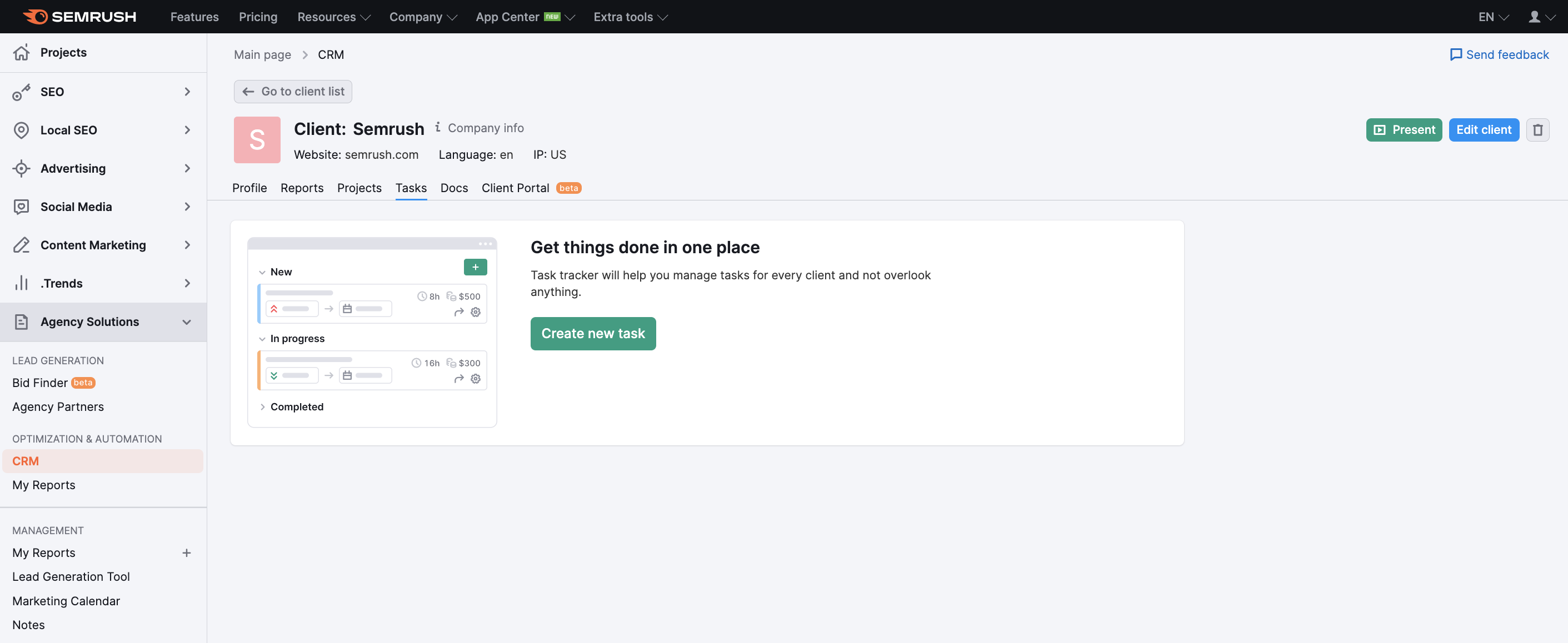 The tasks section can be searched by any of the given parameters to let you quickly find high priority or due soon tasks, etc.
Share your reporting templates
Please note: this feature is available only to Semrush users with a paid subscription, and the templates can be shared with paid users only.

Semrush's PDF report builder is called My Reports and this tool lets you build your own PDF deliverables from scratch, preset templates, or user-generated templates. If you work within a team and want, for example, everyone in your agency to use the same report template for SEO clients after their first month, you can share that template with everyone on your team via the My Templates tab of the My Reports tool.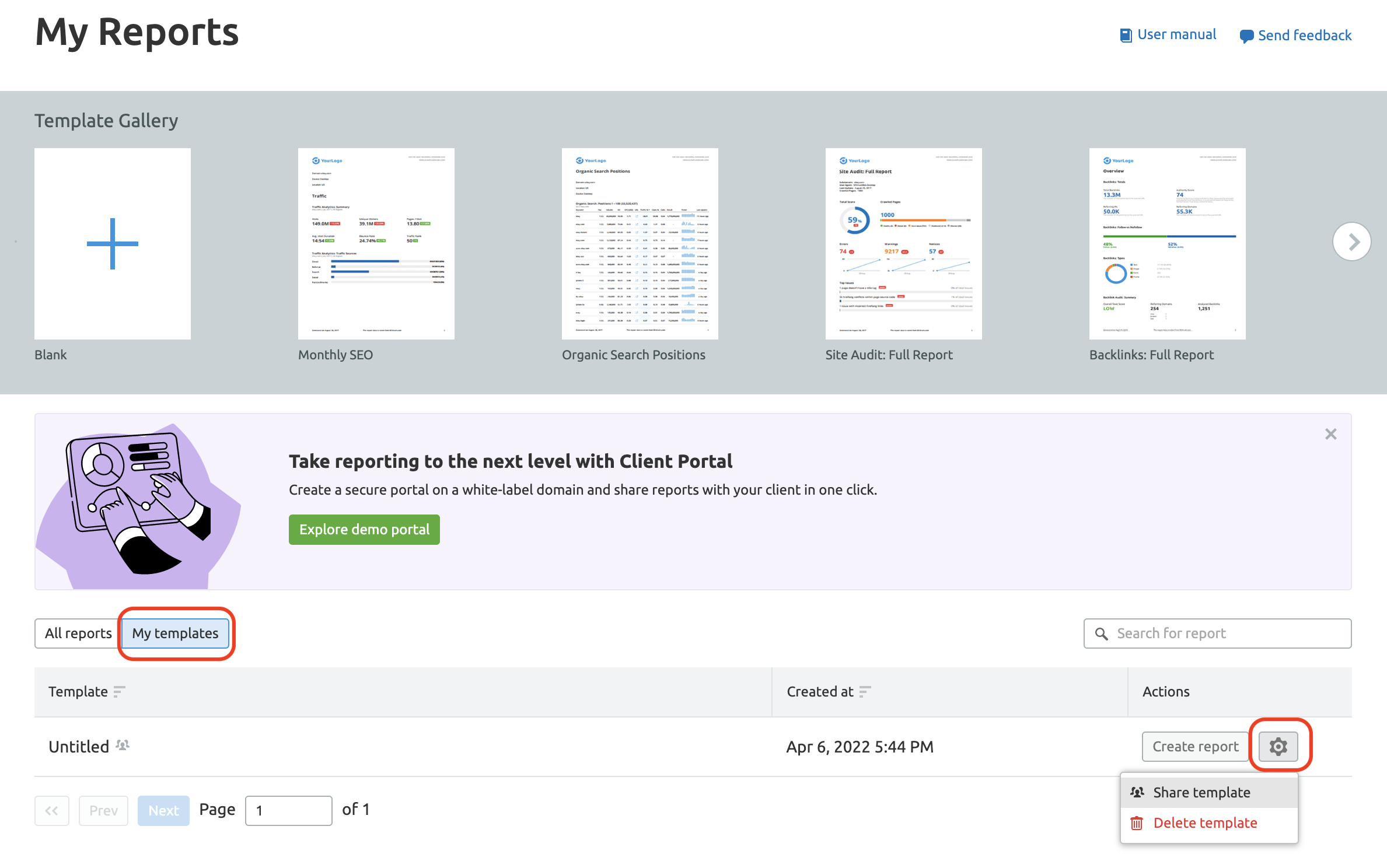 This way, your teamwork will be in line and the reporting coming from your agency will be uniform.
If you work within a digital marketing team, dividing and conquering the work can make all the difference in bringing together a winning campaign quickly.
This is especially helpful when you want to be transparent with clients; keeping everyone on the same page about the current metrics you have and the target numbers you want to hit will ensure that you are satisfied when you finally hit your goals.
These steps will set up your team with shared data (so you can all agree on and watch your progress towards goals), a shared calendar with important dates of deadlines and campaigns to be on the same page, and uniform reports to keep your branding tight.
Tight communication and sharing of insights will also help you to scale faster as you have your processes in place and everyone knows what area to specialize in.