If you work with a team of people using Semrush—at an agency, in-house, or a mix of both, here's how to keep people on the same page and avoid doing double work.
In the various tools and reports in Semrush, there are ways to share your research and work within a team.
Give your entire team access to single-sourced, accurate data and marketing tools to streamline teamwork
Define marketing strategy and make decisions as a team
Collect and share all important data with your team in a single place
Distribute duties among the team and enable it with tools and data
View automated reports and dashboards to keep your team updated on top-level metrics and trends, making it easy to see any issues and resolve them on time
Share actionable insights based on accurate data with stakeholders
Cover the full SMM workflow, from performance analysis to automatic content scheduling
Monitor competitor social posts and community voice
Collaborate with your SEO team and discover content topics that are trending in your industry
Automate your copy editing: get quick tips on how to improve each content piece
Plan PR release dates and events ahead of time to stay organized
Collaborate with your team and attract more resources for certain tasks
Distribute workload between different team members and efficiently organize client data
Multiple seats
How to add users
Adding users to an account allows everyone on your team to use Semrush simultaneously. If you're serious about using Semrush in a large team, this is the best way to maximize its functionality. Add your users and manage their limits manually from User Management.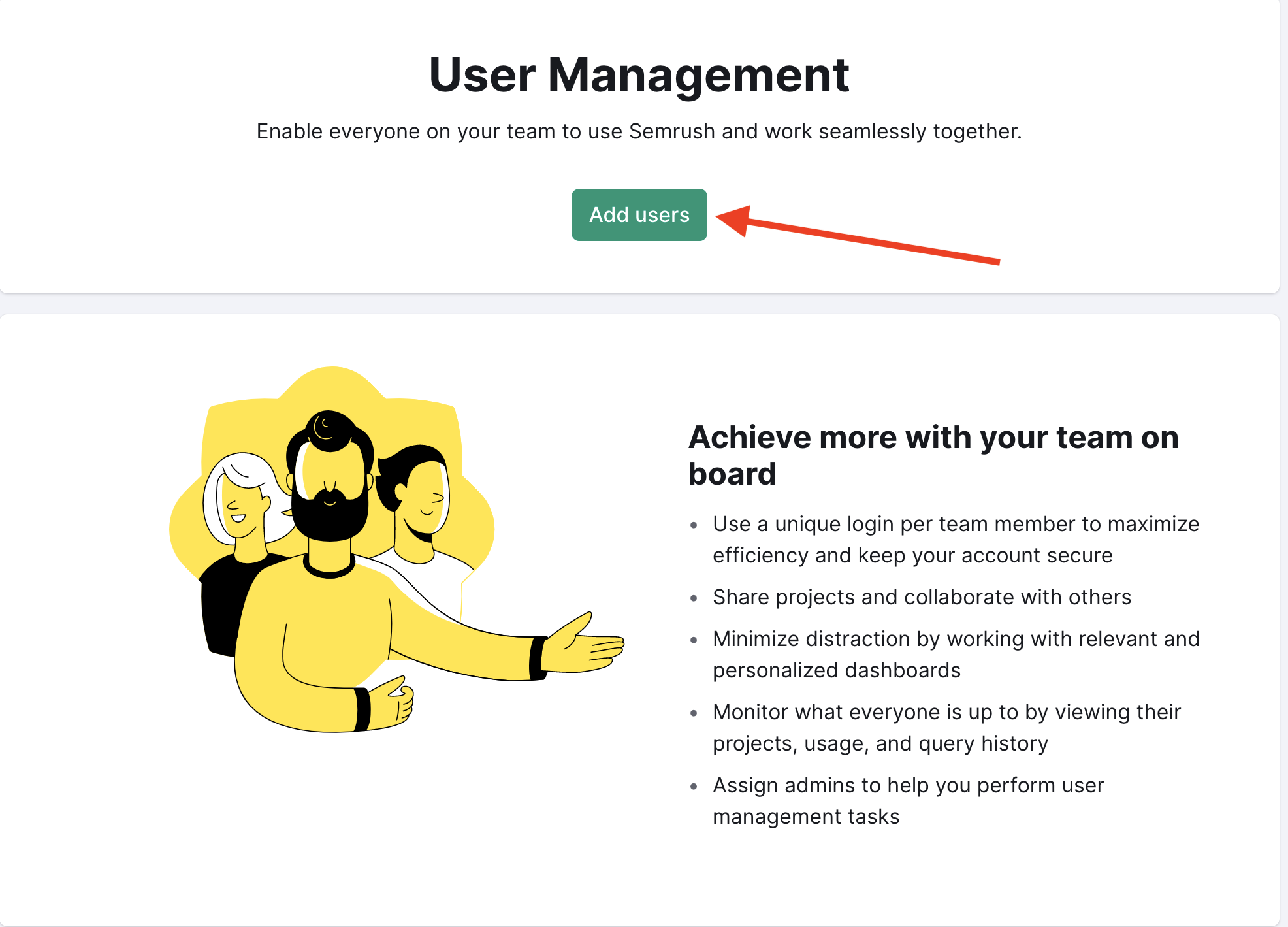 How to allocate limits
Subscription limits that come with each plan will be shared between all users that are added to an account. Limits will need to be allocated to team members to allow them to use different tools within Semrush.
On the User Management page, you can choose either allocating limits individually to each team member or giving users under your account access to a shared pool of units so that they can independently spend the units available within your subscription plan. For further explanation, please read How Units Work in a Team.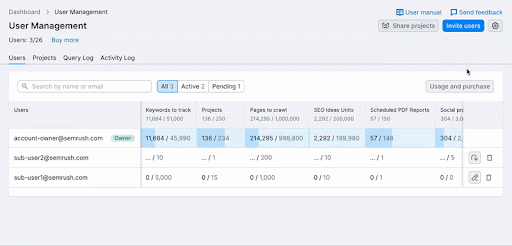 To give the limits to each team member individually, click on the pencil icon next to a user to allocate their limits.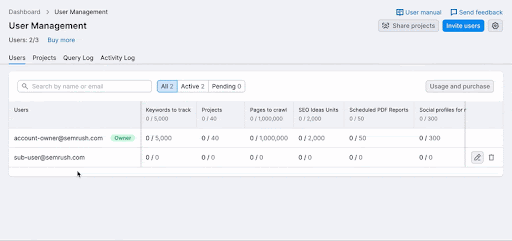 How to manage permissions
From here, you can also set each team member as an Admin or a User.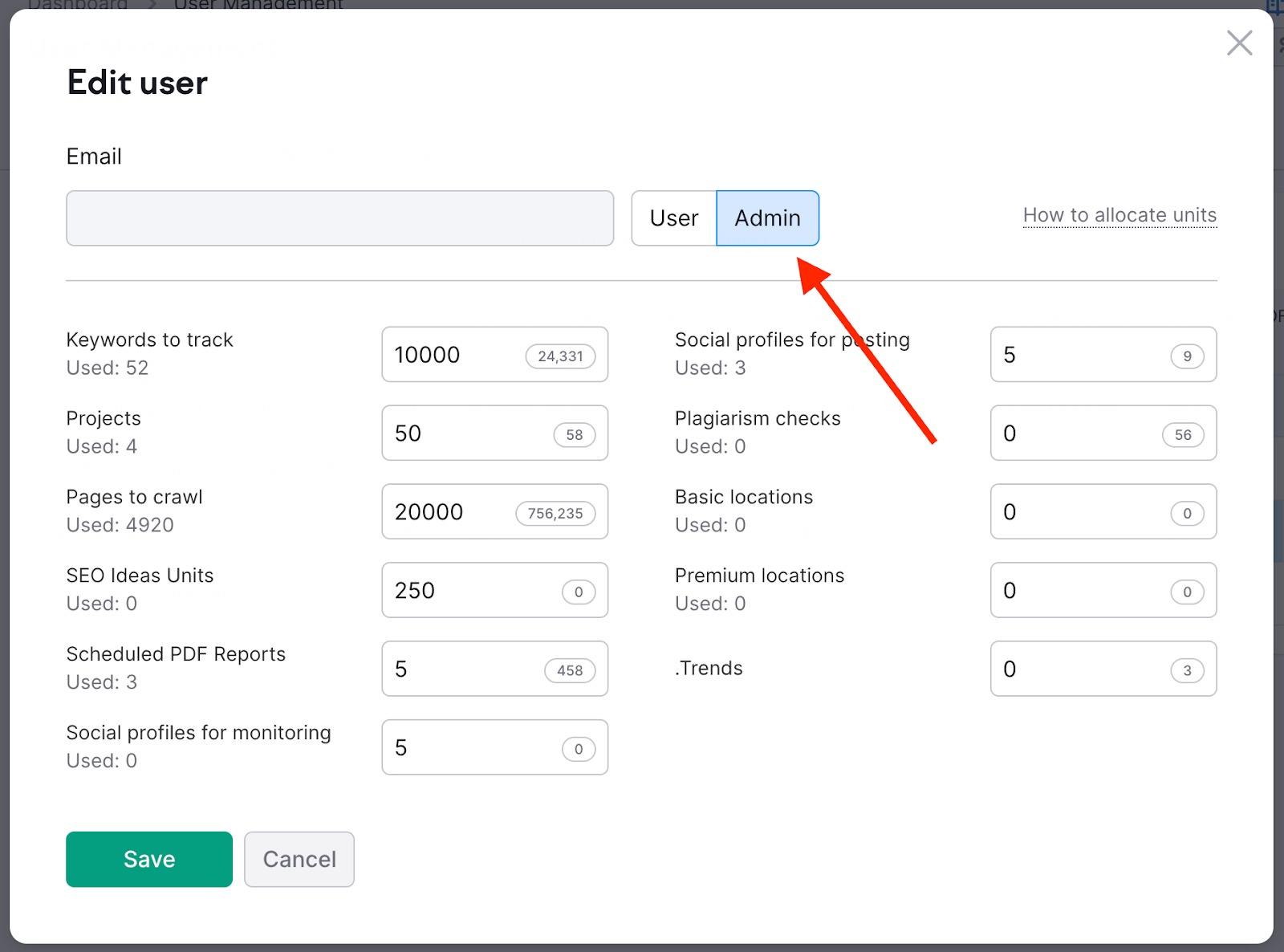 Admins are users that have the ability to distribute subscription units across the other users on an account. A user can be appointed as an admin by the account owner to gain more managerial abilities. When you become an admin of a corporate account, you can:
Add and remove users
Choose the way of distributing subscription units (individual limits vs shared limits)
Edit allocated units
View, Edit, Share, and Delete all projects created by users
Change project owners
View a list of queries made by users
View a list of changes made to the corporate account
Project Sharing
Why share Projects?
The best way to share research on Semrush is with a shared Project. One Project can contain data for each Project tool (Site Audit, Position Tracking, Backlink Audit, etc).
This will allow your team to see the website's top issues to resolve (Site Audit), SEO actions to take for improvement (On Page SEO Checker), changes in the website's positioning (Position Tracking), and more. The Project dashboard shows overview metrics, keeping your team on the same page.
Please note: Owners and Admins have Editor access to all users' projects by default.
How to share Projects
To share a Project, first, create it, and then from the Project dashboard, find the Share button. Then, enter all of the email addresses associated with the Semrush accounts that your collaborators are using.

Then, you can choose whether to share the Project with Viewer access or Editor access.
To find out more about Viewer access or Editor access, continue to How do I share Projects?
How to share Keyword lists
Please note: this feature is available only to Semrush users with a paid subscription. Lists can be shared with paid users with view/edit permissions or shared with free users with view-only permission.
Lists sharing can help while collaborating on the same tasks. Several SEO specialists can collect keywords from different tools into one list, an SEO specialist can share a list with a content strategist after keywords are collected, and a list can even be shared with a client to show progress.
You can share existing Keyword Manager lists through the main Keyword Manager page:
Once you click on the Share button, a pop-up will appear and ask you to select a list (or a number of lists) you'd like to share. Next, enter an email address of a user you wish to grant access to your lists. You can share a list with multiple people by entering each email, separated by a comma.
Decide whether to share with Viewer access or Editor access. Users with Editor access will be able to make changes to your lists and utilize the Update Metrics feature.
Please note: when other users use the Update Metrics feature on the lists you shared with them, it affects your Keyword refresh limits.
You can also find a Share button to the right of each individual list:
Clicking on it will open the Share settings of a list, where you can share the chosen list, view all users a list is shared with, change permissions, or stop sharing.
If you are the recipient of a shared list, you can view all the lists shared with you by going to the Keyword Manager and selecting the Shared with Me tab:

Here you can see the email of the Owner of the list and leave shared lists if needed.

Please keep in mind only the Owner of the list can delete it.
Corporate account owners and Admins have Editor access to their users' lists by default.
Reporting
Share your reports and templates in My Reports
Please note: all paid Semrush users can share reports with teammates, even those who haven't created a Semrush account yet. However, in order to gain access to a report shared with you, you would still need to create an account.
Work together in a team while creating reports and provide accurate performance data across various channels, ensuring that everyone stays informed and up to date.
To share a report, you need first to find it in your report list and click "Share report".

Then, choose who you'd like to share it with and the access rights you want to grant them:
After that, a user will receive an invitation to view or edit the report (if the user doesn't have a Semrush account, they will be prompted to create a free account).
To find more information about the permissions for sharing a report as a viewer or an editor, check out this article.
To keep reporting uniform and branding tight within a team, share report templates in My Reports. Click on the Templates tab within the tool, find the Share button of the template you want to share, and enter the email address of the Semrush user you want to share your template with.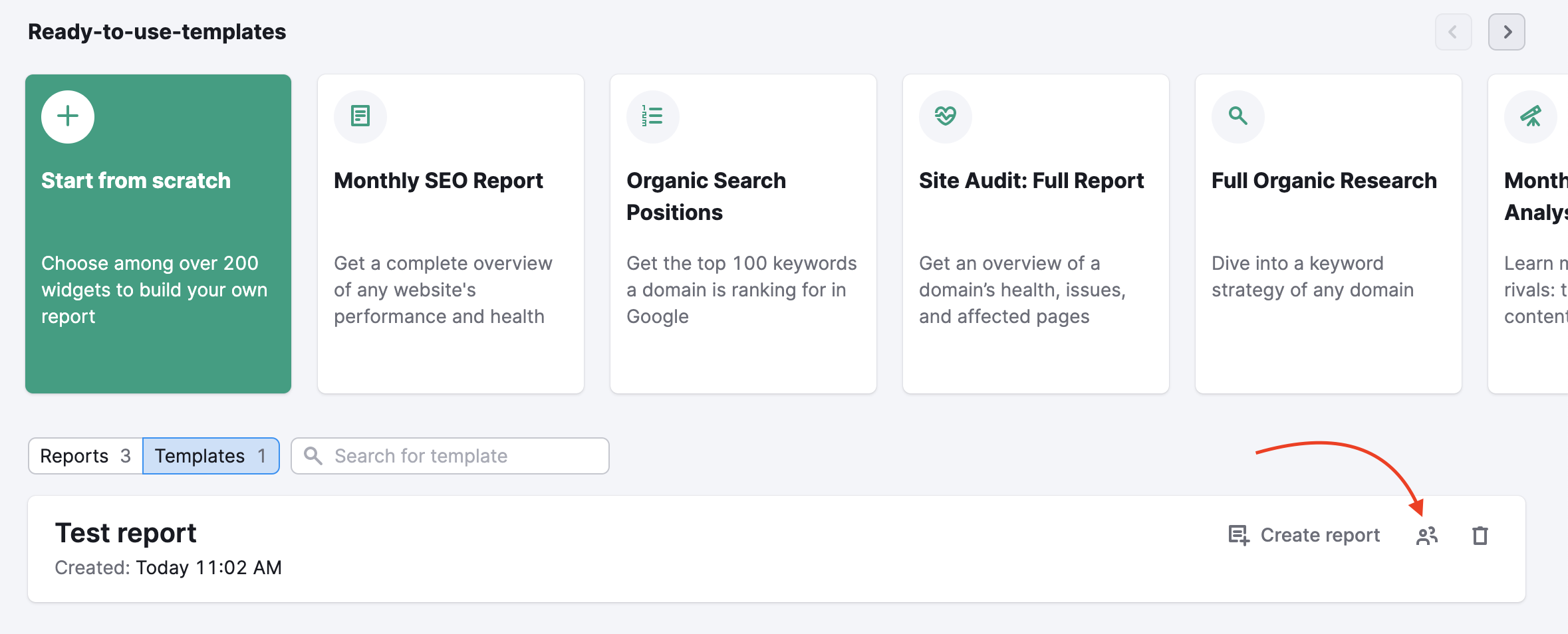 Collaborate with emails from different Semrush tools
PDF reporting allows sending reports from Semrush to different team members who work on the same site. Tight communication and sharing of insights will keep your team in the known on all reporting news with competitors.
For example, EyeOn emails about competitors' updates can be sent to multiple team members.
To send emails, click on the Email report settings button. Then add your teams' emails (up to 30) for weekly competitor updates (Google Search Ads, new pages, blog and social media posts) and Google Search Ads Alerts (report showing ads launched by your competitors).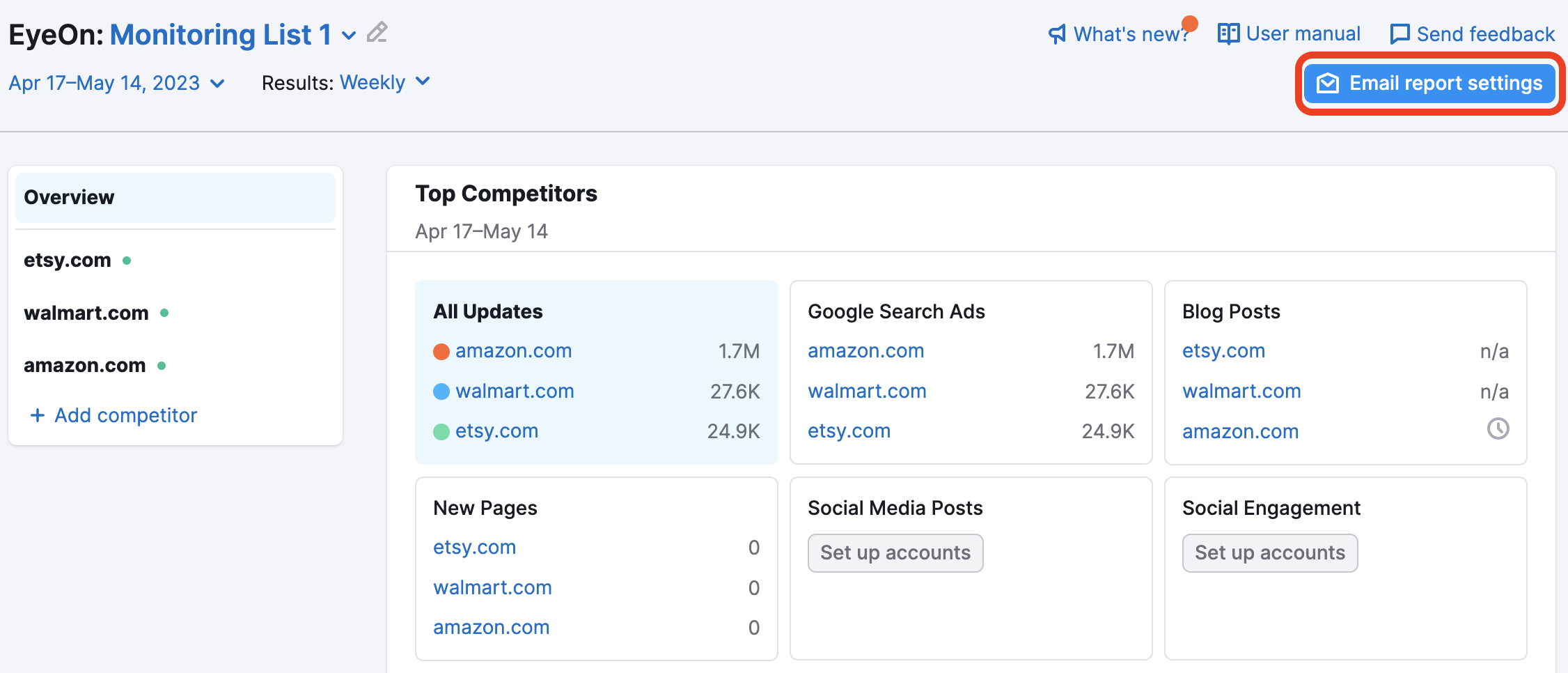 Social Media Marketing
How to send posts for approval
Before posting on social media platforms, use this feature to get your post approved by your team first.
Toggling the "Post needs approval" switch under the post settings allows you to generate a unique link. Those who receive it can view and approve publications from Social Poster even without a Semrush account.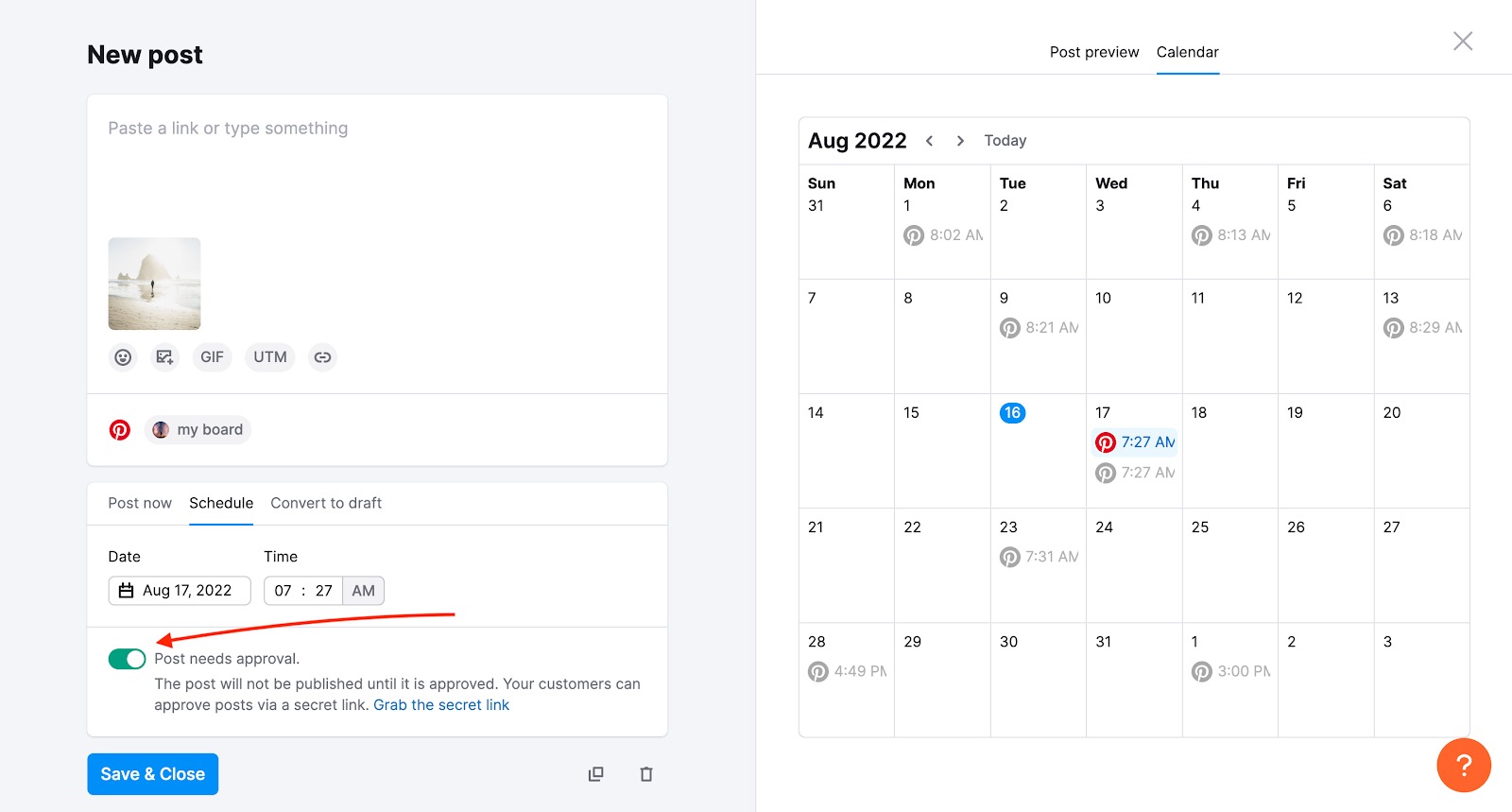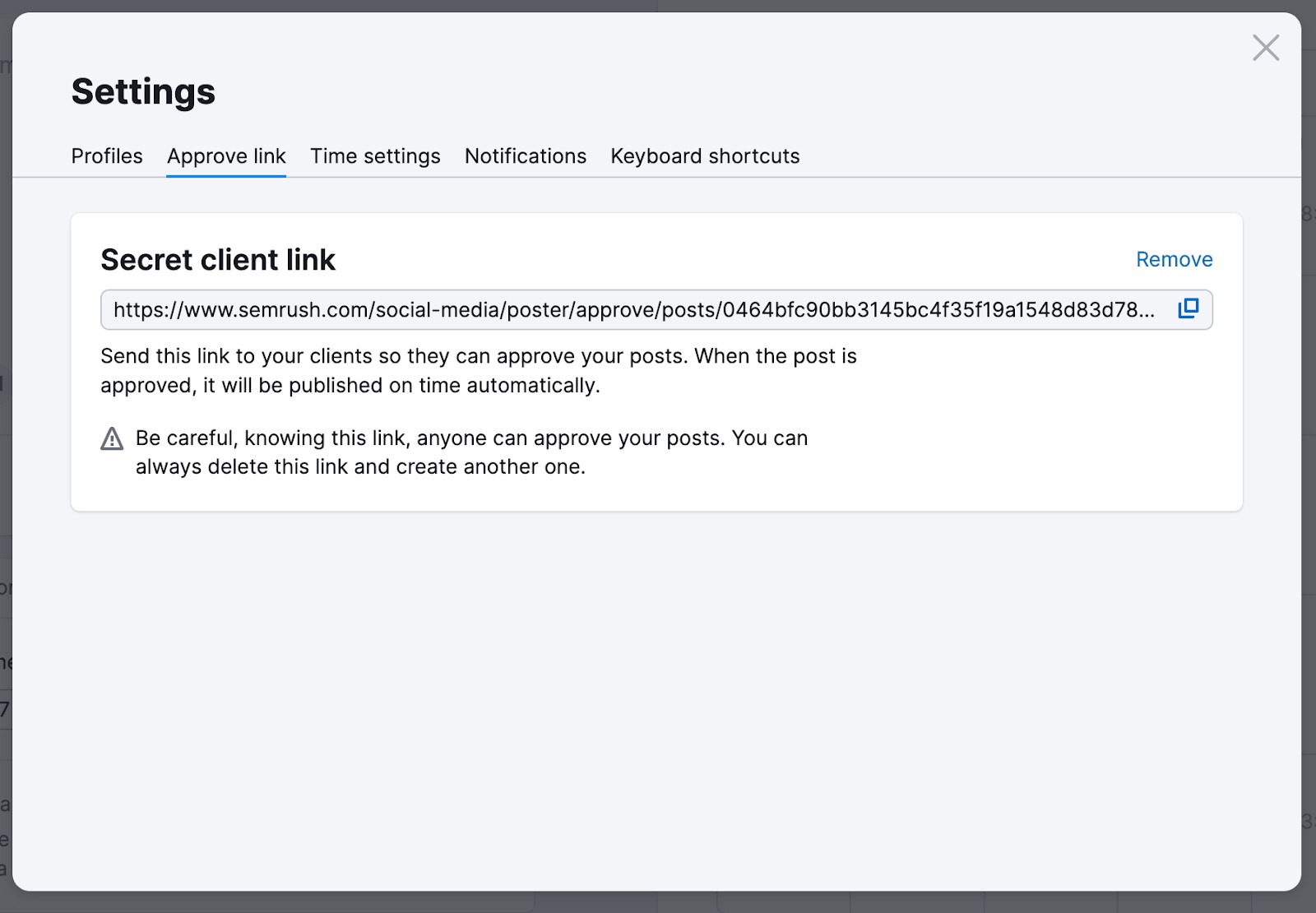 This option works for multiple posts as well, so instead of generating a link for each post, you only need to toggle the "Post needs approval" option once. After following the link, a user is able to approve your posts one by one or all of them at once.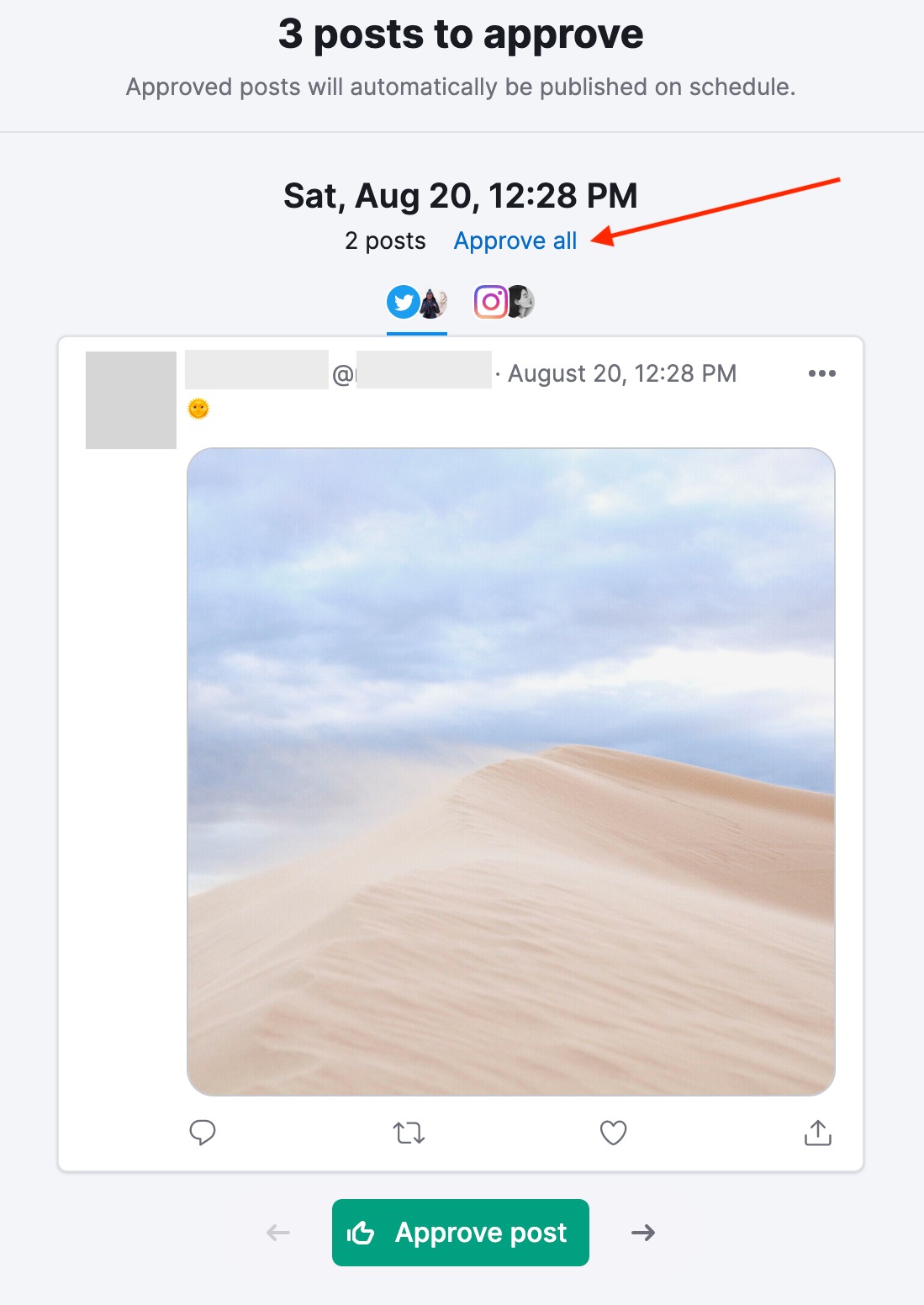 Content Marketing Platform
How to collaborate with SEO Writing Assistant
SEO Writing Assitant allows you to work with the text you want to improve or create in Google Docs, WordPress, or Microsoft Word, but also right inside Semrush.
The tool can also be used for collaboration with the document-sharing feature. Sharing can help you distribute workload between different team members, assign Writer/Manager roles to responsible persons and collaborate on creative ideas.

Find out how sharing works here.
Client Management
How to share clients in CRM
Sharing clients' or leads' profiles in CRM allows for collaboration between team members, helps with distributing workload efficiently, and attracts more resources for certain tasks.
To find out how client sharing works with "viewer" and "editor" access, click here.
Please note: client sharing is currently only available for paid users.
To share a client, simply click on the Share button in the bottom right corner of the client card.

Next, type in the email of the person you would like to share the client with. Then select viewer or editor access and press the Share button.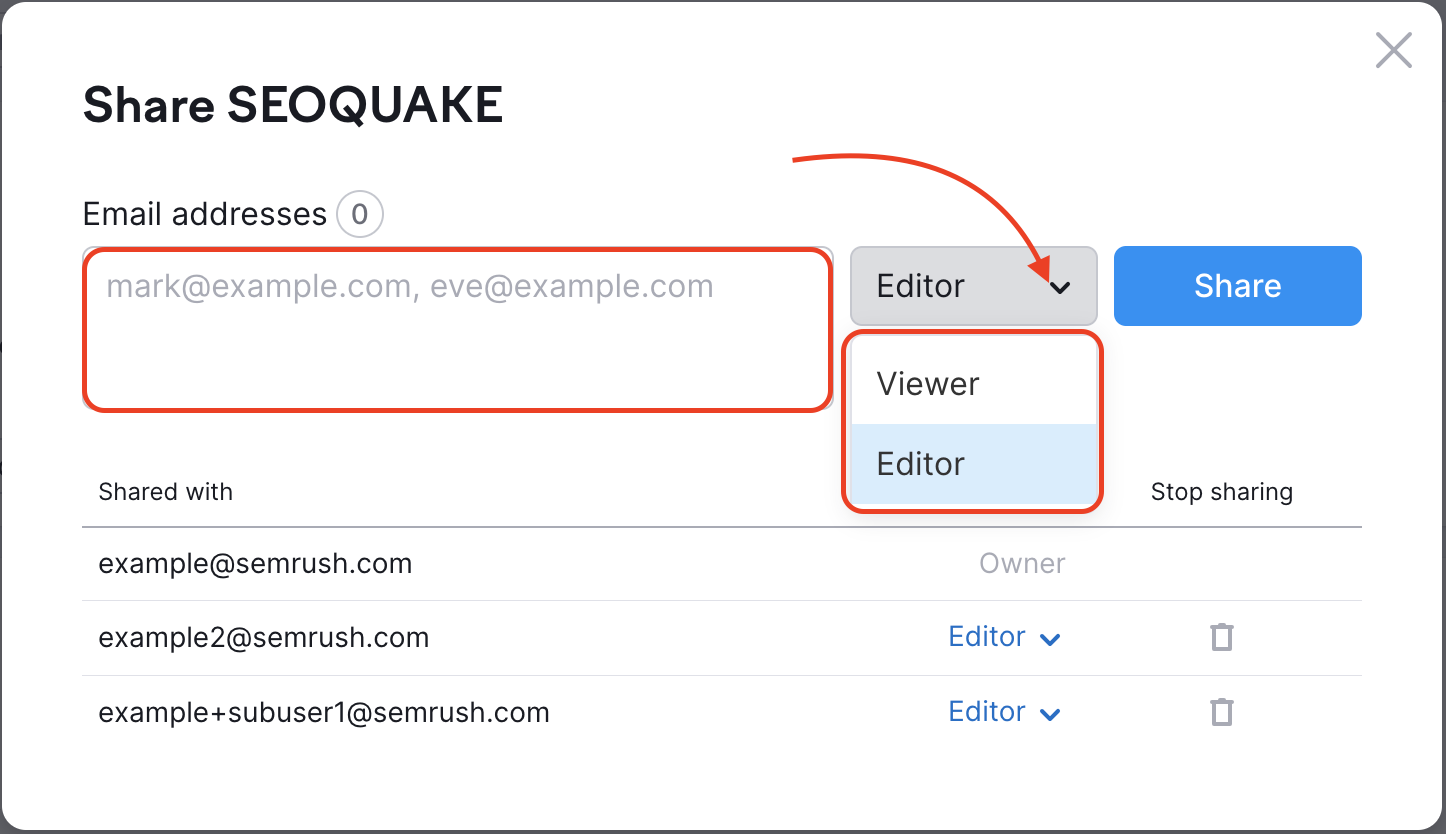 Set tasks in CRM
CRM lets you set tasks within each client card to ease your team's routines.
Each task has a priority, type, status, and time estimation, and the link to the Semrush tool that can help fulfill it.
To do this, go to the 'Tasks' tab, click 'Create new task', and enter all the required information.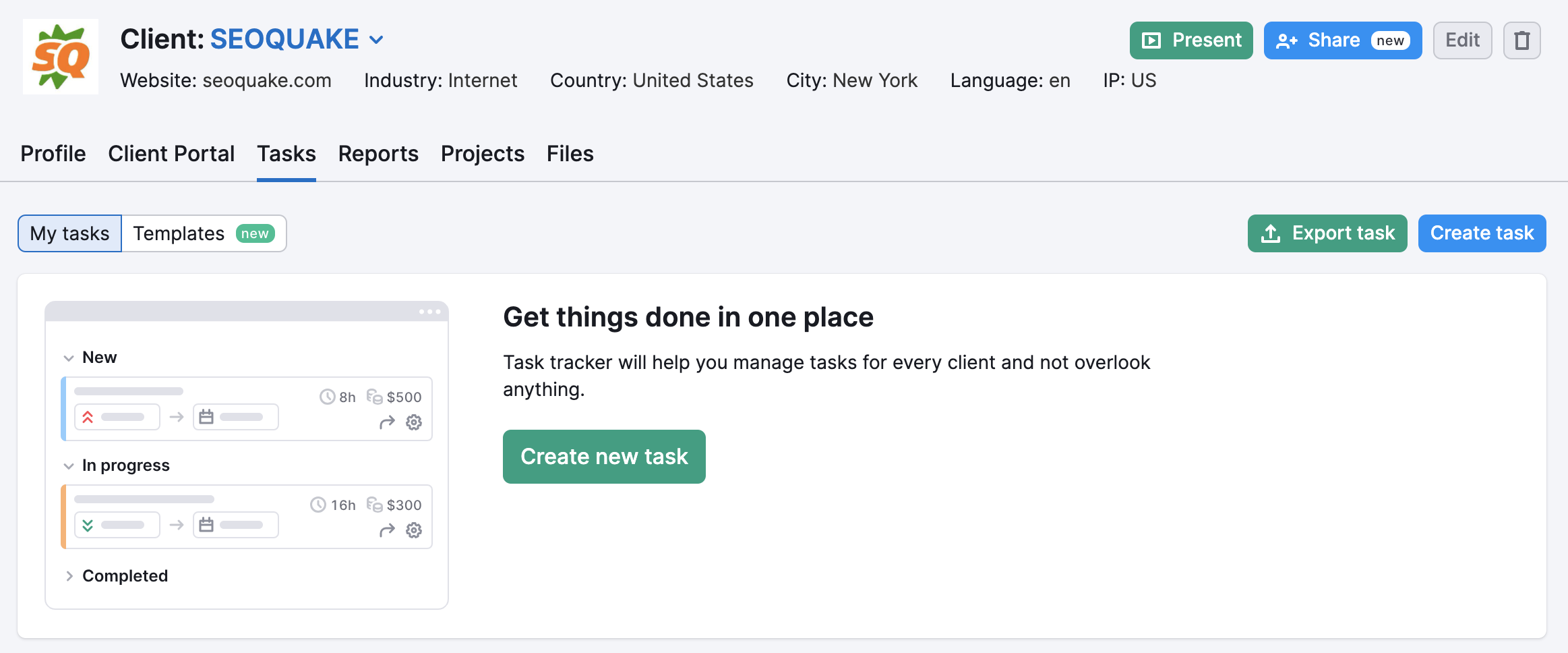 The tasks section can be searched by any of the given parameters to let you quickly find high-priority or due-soon tasks, etc.