There are many ways to access your own website's statistics, but accessing your competitors' data and evaluating their success in the digital sphere can be a bit tricky. That's where Semrush Traffic Analytics comes in handy. It has a massive amount of data on pretty much any big website on the web.
Following this guide, you can get insights into your competitor's strategy by analyzing their traffic journey. This is vital because it reveals plenty of opportunities for your own digital growth and ways that you can borrow from your rivals.
This will be a useful quick guide for any marketing agencies or consultants pitching to new clients. In order to uncover challenges and issues the client might have, it's important to assess the prospect's main traffic drivers and the competitive landscape.
Where do a website's visitors come from?
Use Semrush Traffic Analytics to help understand more about a website's visitors, where they come from, what pages they check, and their user behavior.

You can see the traffic for this particular website was going down, and the seasonality is very visible.
To understand the peak season better, use the historical data filter. You can select several months or even a year (up to 24 last months) to measure the performance of your competitors.

The average duration on the website is astonishing. The company should identify which page makes people stay for that long and improve it.

As for the traffic channels, the main driver of traffic is direct search. Referral traffic is quite strong, however, the graph shows certain spikes, which indicate that there is no strong PR workflow in place and referrals are quite inconsistent.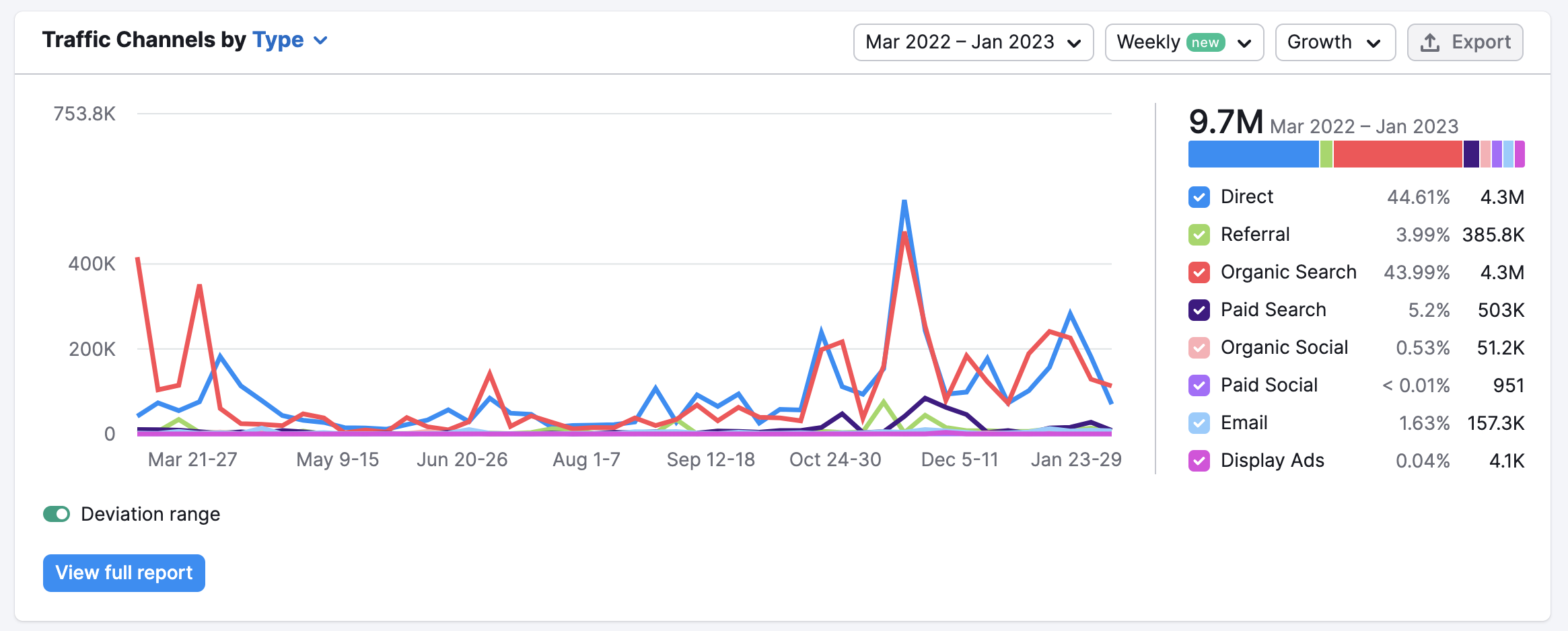 To understand competitors' strategy and the ways they got to current success, it's essential to conduct competitors' research on a regular basis. Luckily, with Traffic Analytics, you can learn a lot from your competitors and adapt their strategies to improve your digital performance.
What pages get the most traffic?
The Top Pages report reveals the website pages the most traffic goes to and you can see which pages are generating the most visitors.
You can filter these top pages by different metrics to see what pages are performing best.
Where does a website stand compared to their competitors?
Traffic Analytics enables you to compare up to 5 different websites. As part of this example, let's look at ebay.com, amazon.com, and walmart.com and see the differences in their traffic sources.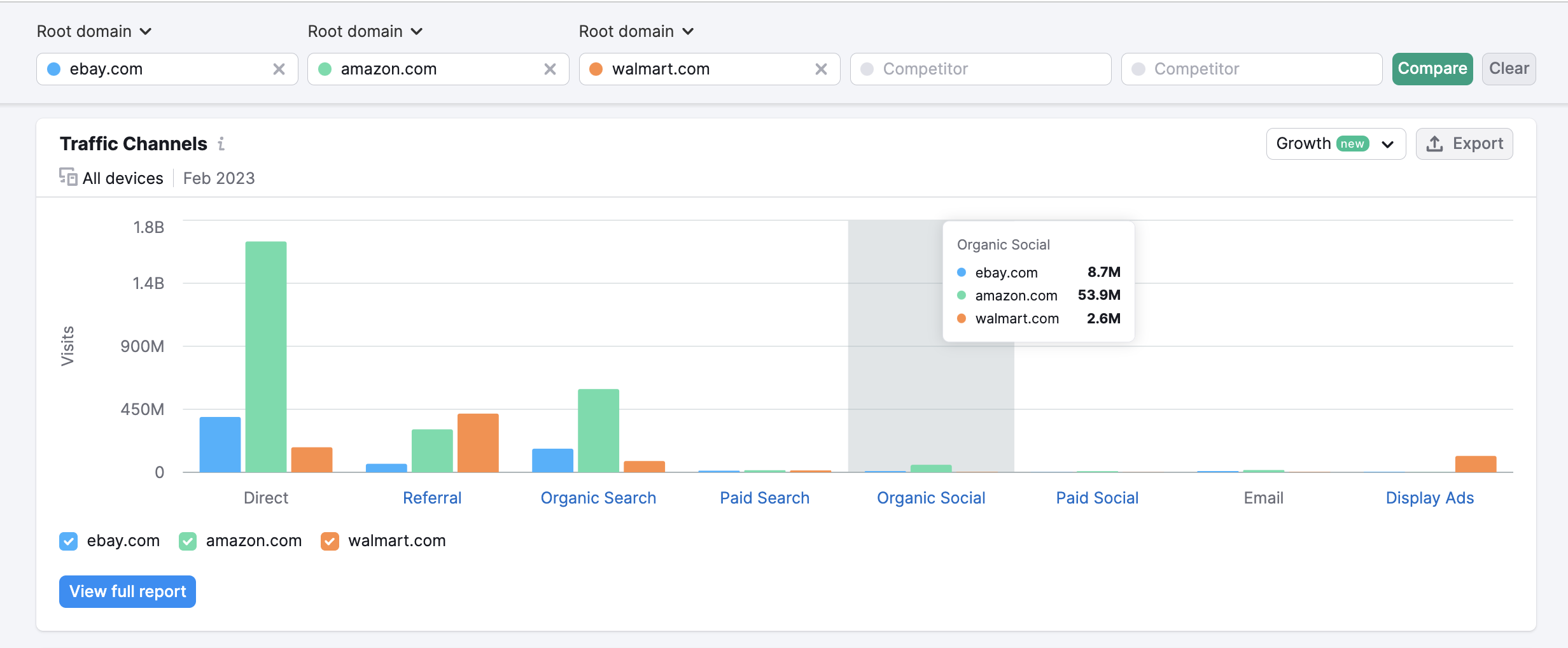 Ebay.com and walmart.com received less Organic Social traffic than amazon.com, But when it comes to Referral traffic and Display Ads, walmart.com takes the lead. If you notice some of these similar situations with your own company, it can be an indication that you should focus your marketing efforts on specific channels.
Explore a Company's Market
Understanding a company's market landscape is often just as vital as understanding its visitors. By using Market Explorer, you'll quickly be able to see the domain's position within the competitive landscape.

In the Market Explorer Overview report, you'll find the Growth Quadrant. This competitive matrix allows you to view the domain alongside up to 100 of its competitors. This gives you a great place to visualize how your niche is shaping up.

Use the full-screen option for a wider view and zoom in and out using the icons in the upper right-hand corner. If you want to add or remove players from the grid, click the checkbox next to the domain name on the right-hand side.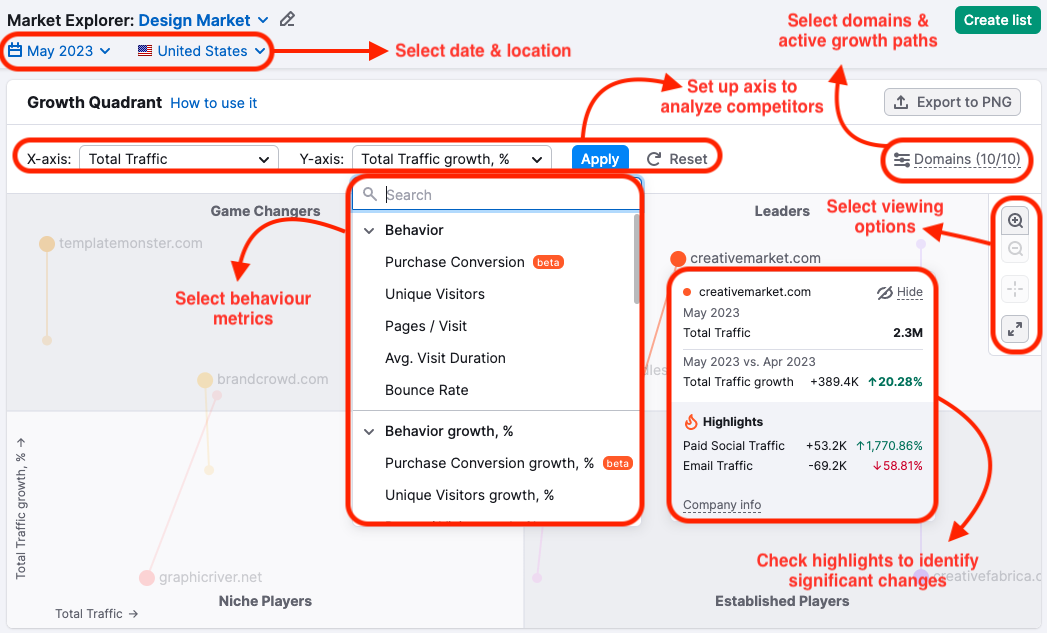 Next Steps
Semrush offers reports and insights on all traffic channels, including data for direct, referral, organic search, paid search, organic social, paid social, email, and display advertising channels. So after quick traffic analysis, you'll be able to proceed and dig deeper into every specific channel to identify the gaps.
To analyze your competitor's traffic in detail and get information on what keywords they are ranking for and what backlinks they have, go to the Domain Overview section. Get ideas from your competitor to improve your SEO and PPC.
To analyze your competitor's backlinks profile to better understand their backlink-building strategy go to the Backlinks Analytics report.
To analyze your competitor's traffic distribution by country, go to the Geo Distribution report of the Traffic Analytics Tool.
Understand what traffic channels work best for them. If you haven't actively used any traffic channels that bring a huge number of visitors to your competitor, you'll want to make great efforts to make the most out of them.
Find new backlinks opportunities by analyzing the domains that often link to your rival.
Expand your reach and strategies to your target audience in new search engines.
Identify trusted websites in your niche and find prospects for partnership, PR campaigns, or comarketing.