Semrush Client Manager is a management service that allows our users to effectively fulfill all their customer management tasks in one place.
Maintain customer information, such as contact details, budgets, and statuses
Track Semrush projects for a specific client
Quickly collect data and create PDF pitches and reports.
Getting Started with Client Manager
To add the first client, go to the tool, fill in the basic data about the customer (Company, Contact person, Email), agree to the terms of use, and click the green button.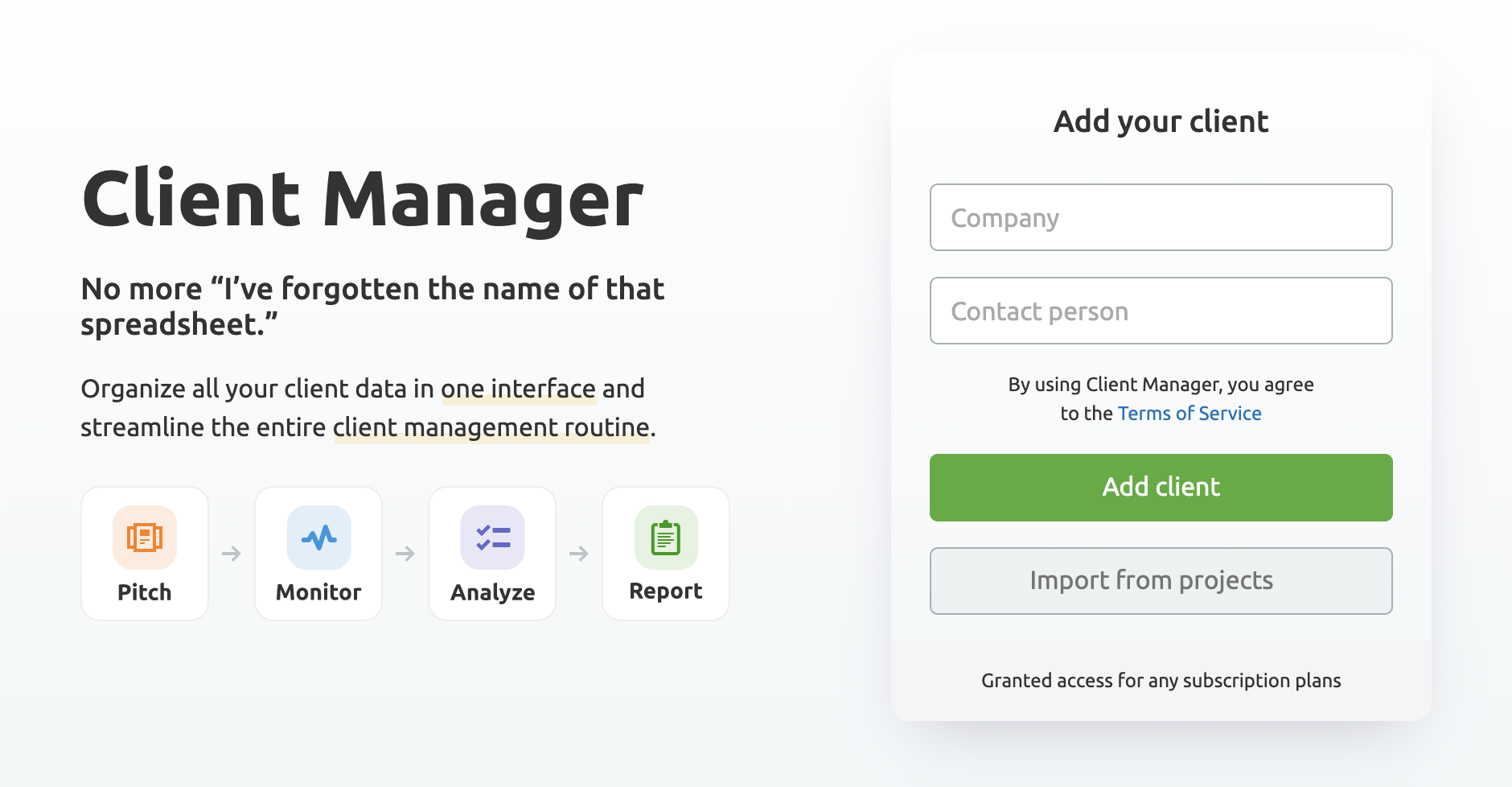 From there, you will be taken to the customer profile and prompted to enter your client's website, contact type, status, and budget. To add more information, such as industry, country, city, and the contact person's title and phone, click 'Edit client' to open the full profile.
If you have any specific notes about a client, you can add them in the notes section at the bottom. Plus, you can add related links to your client's profile to keep all the info you need in one place.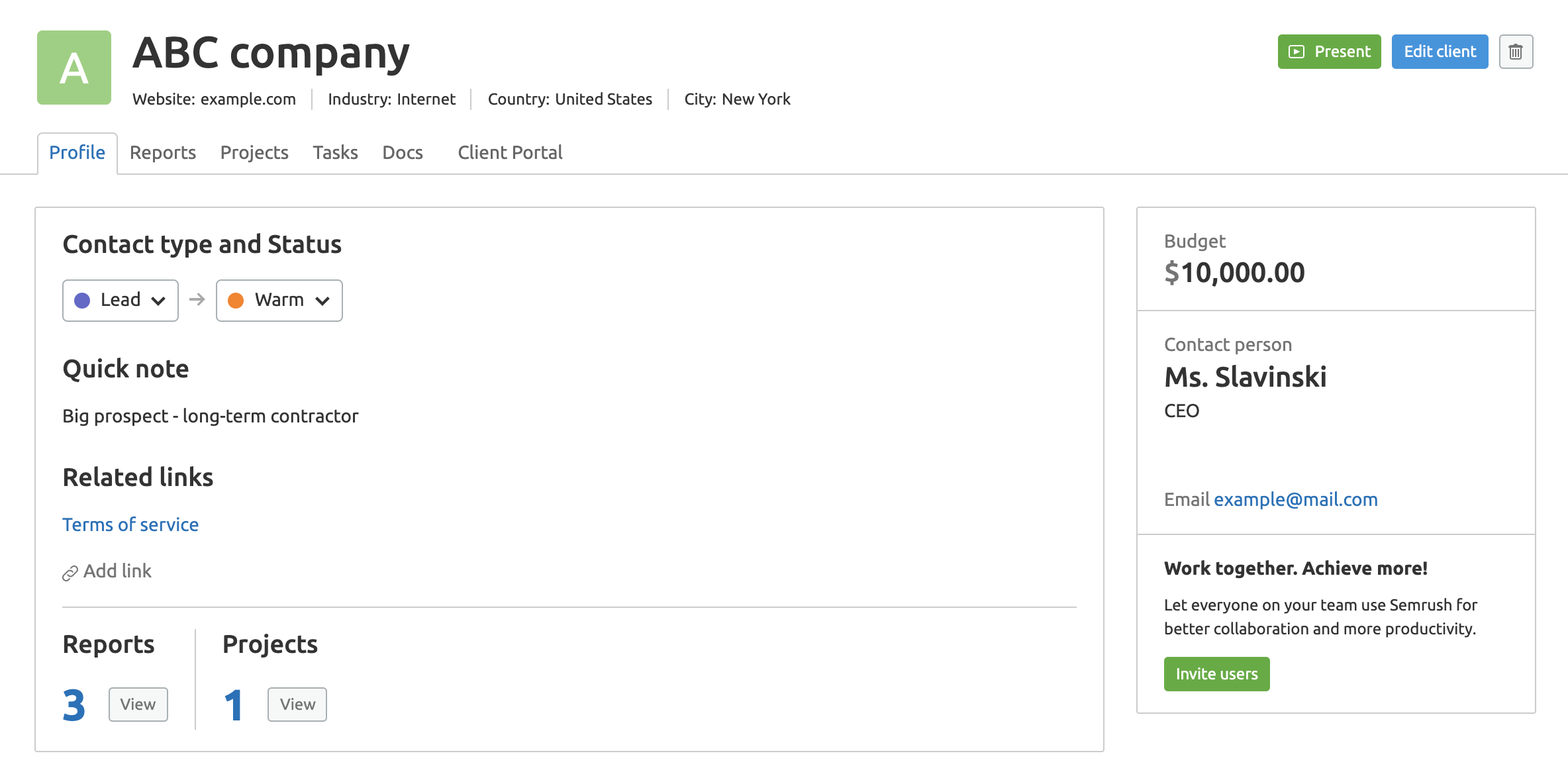 You can create up to 50 client cards (using the 'Add client' button at the top right corner of the page) for free. Increased limits are available with the Agency Growth Kit add-on
Connecting Projects and Reports
Once you've entered your client's information, you can begin to connect them with Semrush reports and projects. You are free to create new reports or projects or connect a client with any existing ones.
Click 'Go to Reports' and select either the Create new report or the Connect existing reports option.

If you don't have projects or reports set up for this client's domain, you will need to create new ones. Clicking 'Create new report' will take you to the My Reports tool, where you can create a report for a client based on the metrics you wish to track.
If you already have a custom report for the domain, you'll be shown a list of all your reports. From here, you will be able to select which ones you want to connect with your client.
After you've connected your reports, you may want to connect a project. Just like with your reports, you can either create a new project for a client or connect to an existing one if you have it already set up.
Once you set up a project, you can see a quick overview of your project with key metrics in your Client Manager dashboard, so you have all the data at your fingertips. If you want to get more details on a specific tool, all you'll need to do is click on it.
Present Mode
If you have purchased the Agency Growth Kit, you can use Present Mode to show your work to your clients safely. You can find it in the client's profile in Client Manager. Launch it by clicking the "Present" button on the top right.
While active, Present Mode will hide all other clients from view, as well as other projects not associated with that client. That means you can safely use the Semrush interface to present without worrying about disclosing data from other clients.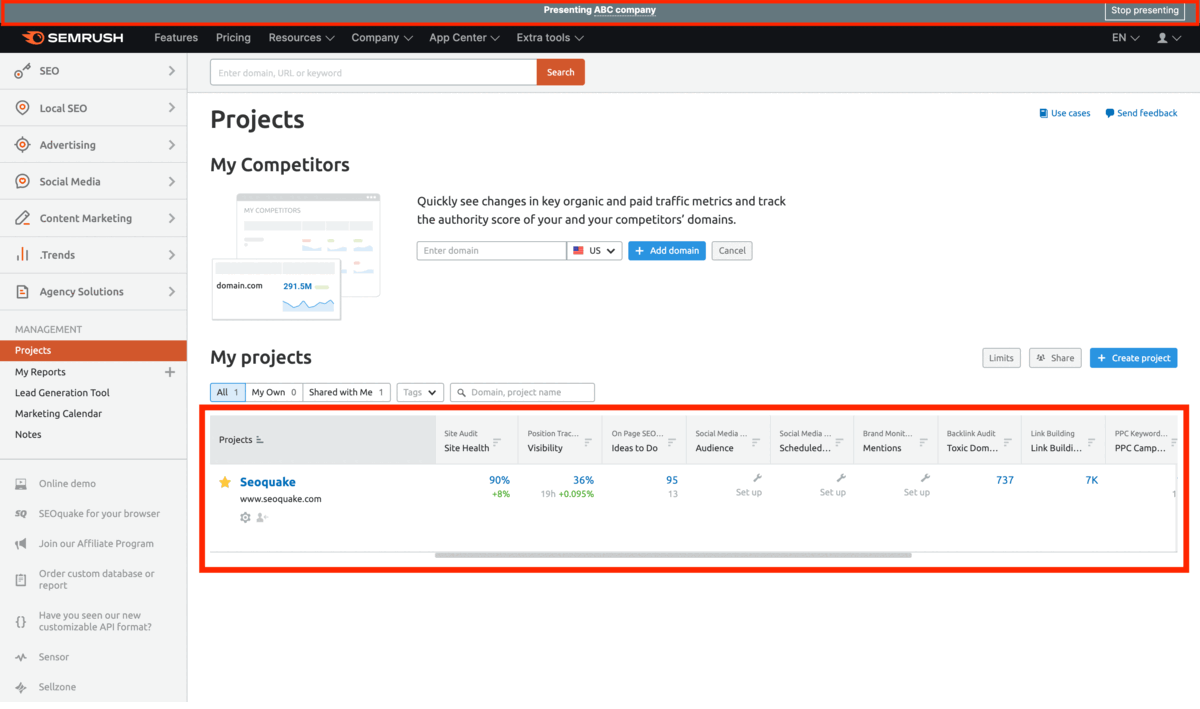 If you have Present Mode active, it will be indicated by a gray bar at the top of the screen. You can exit this mode any time by clicking "Stop Presenting" in the gray bar or in the client's profile.
Building a Workflow
Apart from collecting data from Semrush projects and generating reports, you can create tasks within the Client Manager. This feature allows you to build a holistic workflow by combining data from the project and non-project Semrush tools.
Go to the 'Tasks' tab and click the Create new task button.

Enter your information about the task, e.g. priority, task type, status, and time estimations, and link it to a Semrush tool that can help fulfill it.
All tasks are automatically added to the task list, where they are divided by type. You can also create tasks inside this list to save time. To do so, type in its name in the selected category and click 'Enter'.
Task status sections can be collapsed by clicking on the dropdown arrow next to each status. To delete or edit tasks, click on the Settings gear in the top right corner of the page. To move tasks between categories, click on Move to.
Clicking on a task name will open a dedicated task page with detailed information and the shortcuts of the connected Semrush tools.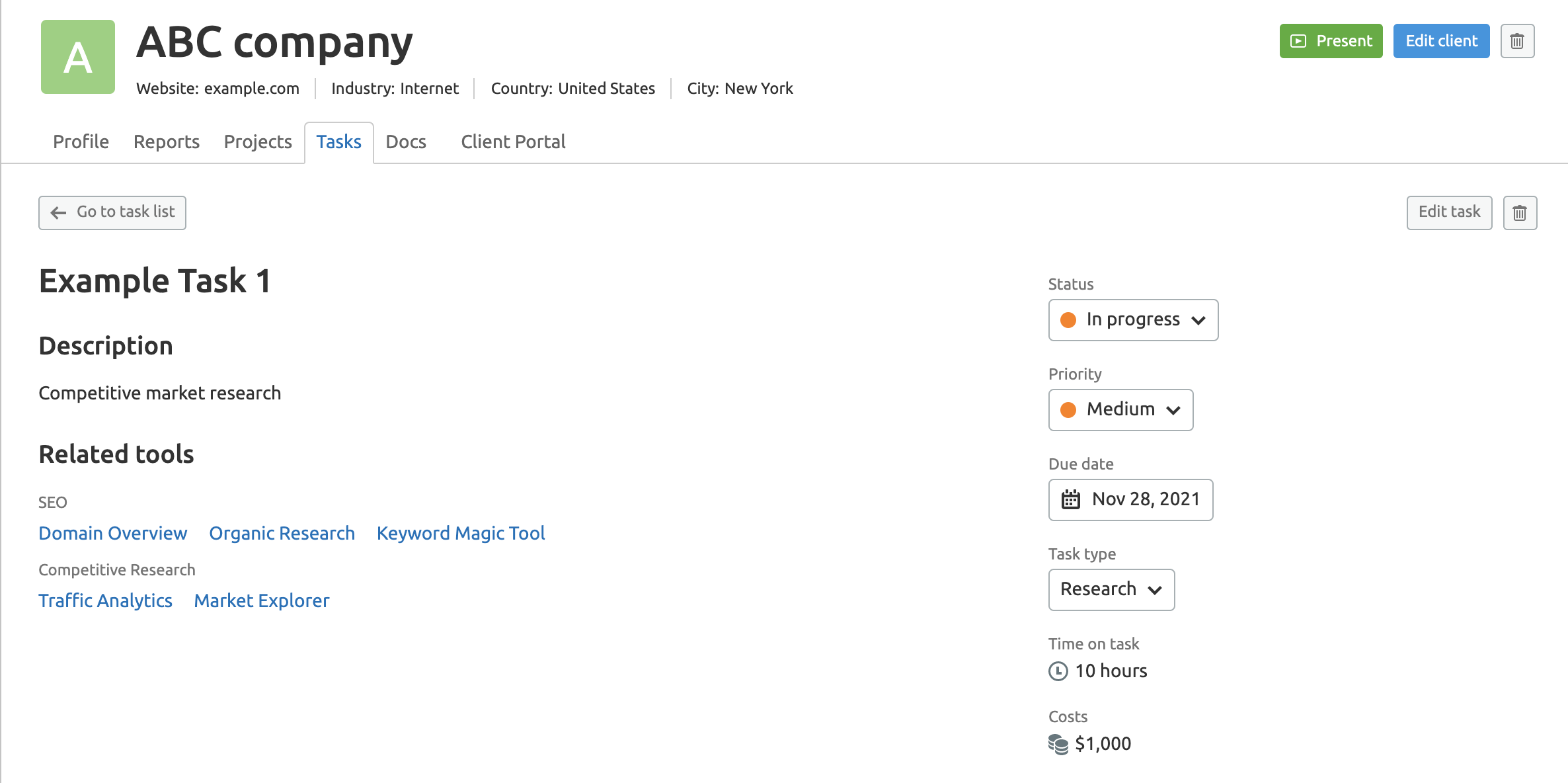 File Storage with the Docs Feature
Docs is a file storage feature inside Semrush. It helps to organize the files in the most popular formats in the client card, so you have all customer-related info together.
This allows you to conveniently attach data from various tools along with task requirement files, NDAs, agreements, and any types of client files you regularly work with.
To start using the feature, find the Docs tab in the client's card.

Please note: all users have 200 MB of storage capacity by default, while Agency Growth Kit users have 50 GB.
Client Manager supports all popular file formats, including jpg, png, ico, mov, mp4, txt, csv, doc, docx, xls, xlsx, pdf (svg, rar, and zip formats are not supported).
You can download, rename, and delete stored files. The search bar is also available, as well as the progress bar showing how much space you have left.
All files are securely stored in the Google Cloud Platform by Semrush.