The Listing Management tool in collaboration with Uberall significantly increased the number of supported countries. In total, we added 23 countries, including Canada, Spain, Italy, and Brazil.
All recently added countries
Austria
Belgium
Brazil
Canada
Denmark
Finland
Hong-Kong
India
Israel
Italy
Japan
Mexico
Netherlands
New Zealand
Norway
Poland
Singapore
South Africa
Spain
Sweden
Switzerland
Turkey
United Arab Emirates
Location connection
The workflow is the same as with other countries: you search for a required business, analyze the report on current online visibility, and then connect the business to Listing Management.
Once this is done, the tool starts to provide relevant and consistent analyzed data across all of the connected locations.
Data check on a connected location
In addition to a regular location check, we run a manual double-check of business data. If we detect any errors or lack of data, we will send a notification.
Examples of possible errors:
Address is not complete
Location is closed
Non-Latin character address
Automated work with duplicates
When working with businesses in recently added countries, we apply a new duplicate processing algorithm. Listing Management will automatically find duplicates of your locations across all connected directories – no action is required from your side.
The system not only automatically detects duplicates, but also suppresses them. Use the Duplicates tab to keep track of the progress.

Reviews
As the name suggests, this feature allows you to monitor reviews and ratings from different sources for your locations. Collect all of your reviews and respond to them directly from the Semrush interface. The faster you respond to reviews, the better it is for your business average ratings.
Response to reviews is available for:
Google Business Profile
iGlobal
infoisinfo
Judy's Book
Where To?
Koomio
Please note that different countries have different directories available for responding to reviews.
Heatmap
Heatmap will provide you with accurate information on how your business performs on a local level and how easily your potential clients can find it. Track up to 10 keywords on a hyper-local level, with your rankings displayed in a heatmap around your target area.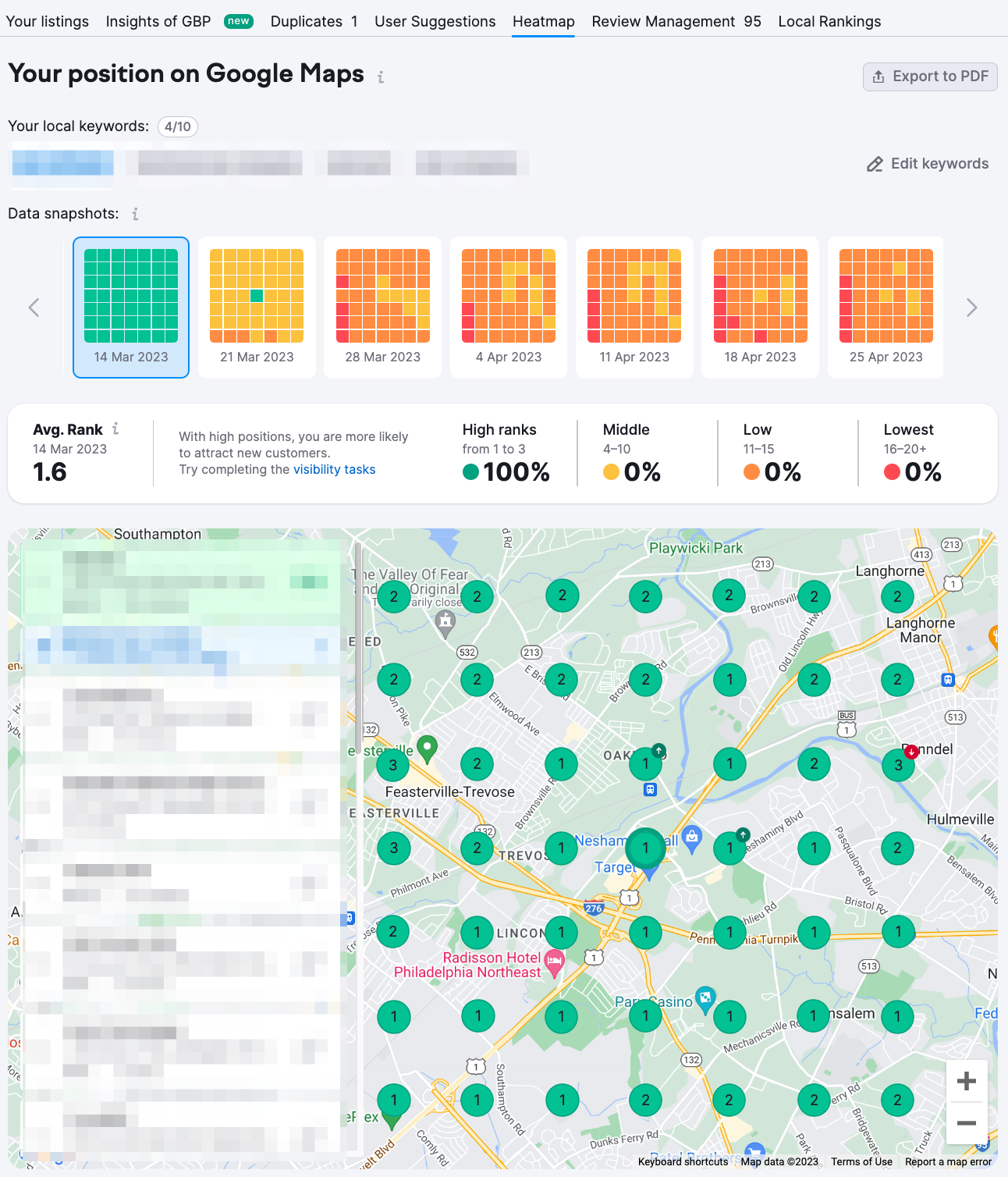 Next Article: Listing Management