In this workflow, you will learn how to get the best keywords for your content building and how to optimize your content using Semrush.
Check out Driving Organic Traffic with Semrush workflow to learn how to choose keywords to grow organic traffic.
Topic Research - get ideas for your article
To start, choose a trending topic for your future article. For example, will take the Tokyo Olympic games. Go to the Topic Research tool, enter your topic and then select the database to know what topics interest people in your specific country (or you can even choose to gather ideas on a local level).

Hit the Get Content Ideas button, and after a few minutes, you will receive a list of cards with different subtopics that are popular in your chosen location. We recommend prioritizing by topic efficiency (high volume topics that are relatively easy to rank for) and turning on the Trending Subtopics First filter (to show you the trends first). Trends represent popular subtopics with a growing number of articles over the last 60 days. Writing an article on a trending subtopic can be a great opportunity for you to attract new audience.

Inside these cards, you will find subtopics highlighted in green. This means that they already have a lot of backlinks.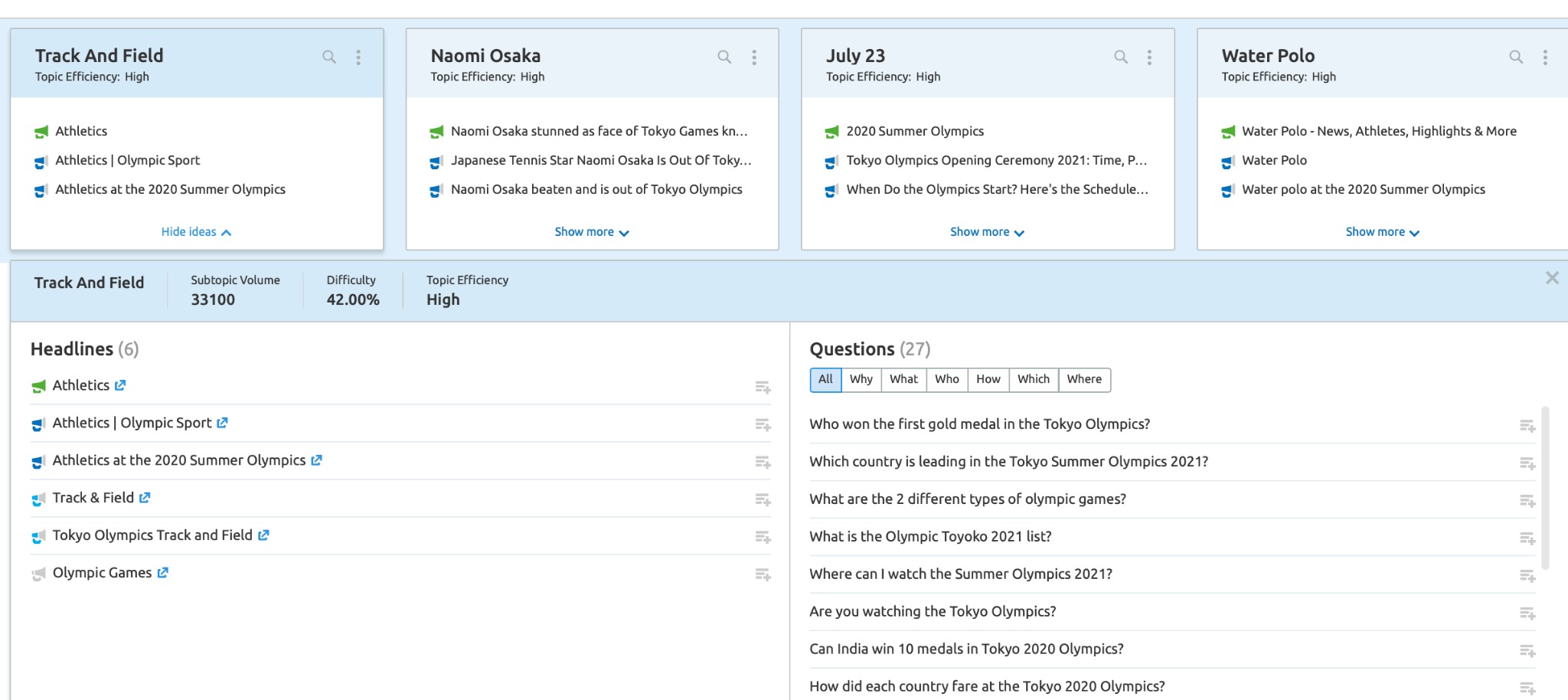 Go to the Explorer tab for a different view of the subtopics, adding more information about the number of backlinks, Facebook engagement, and the total shares. These will give you a good idea about the audience's reactions to subtopics.

You can also go to the overview tab and see the top 10 headlines by backlinks and the top 10 questions users ask regarding the topic.


If you are a visual person, head to the Mind Map view. This view is essentially a more visual presentation of the same topic cards. It can help you to quickly assess a topic's potential.
You can save any of these ideas to favorites for future reference.


When you feel you're ready to start writing, you can create an SEO Content Template from a subtopic. Click on the 'Create SEO Content Template from the 'Favourite Ideas' tab.

Learn more about Topic Research.
SEO Content Template - baseline recommendations for your future content
SEO Content Template works by giving us the best SEO recommendations to sketch out our content. To create a template, you'll need to enter your target keywords and select a location.
Here you can use subtopic ideas that you picked as favourites - the more keywords you provide, the better recommendations the tool will offer.

Tip: If you want to discover more keywords, use Keyword Gapto compare your current keyword profile against your main competitor's and find if they are ranking for any keywords related to your topic. Or use the Keyword Magic toolto discover related high-volume keywords.
It'll take a few minutes to form a template. But once it is ready, you will get a list of recommendations for your future article based on the top-performing competitors. You can use this outline as a reference for pitching your content if needed.
Key recommendations cover related words (to use in your article), backlinks (to get for your article), recommended readability, and text length.


You will also get Basic recommendations for Title, Meta Description, and your H1.

After a close examination, we can go to the next tool to start writing.
SEO Writing assistant - optimize your content
SEO Writing Assistant will check the text you are working on in real-time to help you create SEO-friendly content. You can write and check your text directly from the tool if you go to the Real-time Content Check inside SEO Content Template.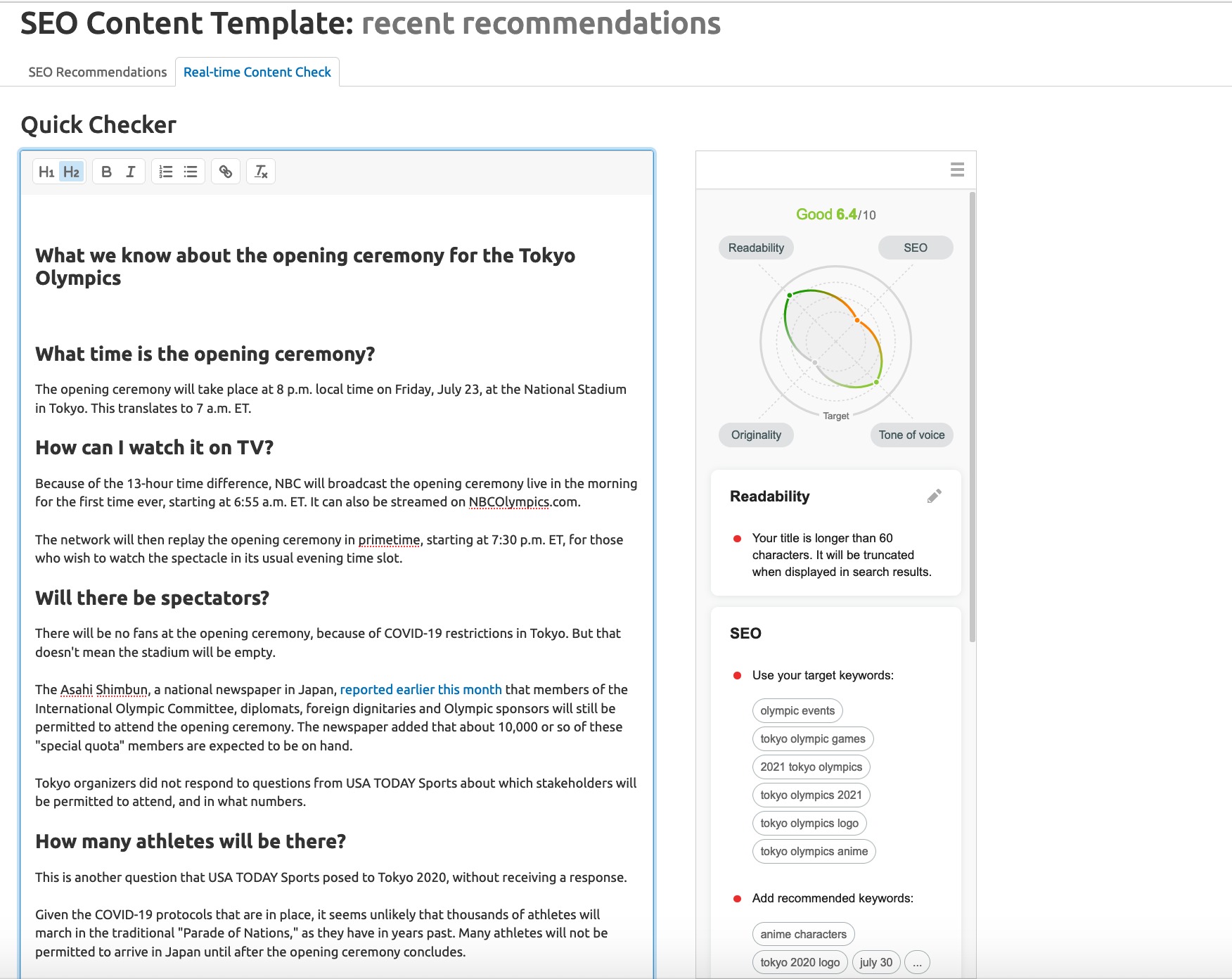 Switch between Readability, SEO, Originality, and Tone of voice to check the overall quality of your content.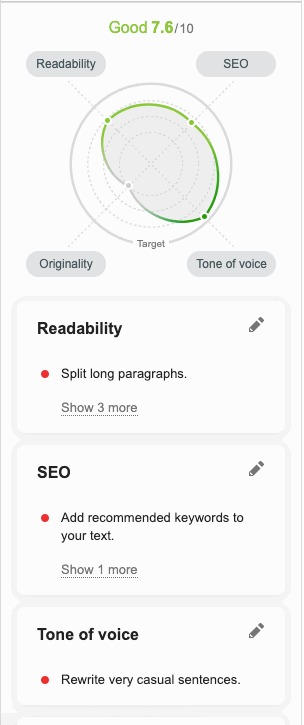 Readability includes different metrics that affect your readability score: readability score, word count, title, and content issues.
SEO will expand to show you the different metrics that will make up the SEO scale: target and recommended keywords, link, and alt attributes issues.
The Tone of voice can be very casual, somewhat casual, neutral, somewhat formal and very formal. Not only can you see where your text lies on this scale, but you can also see your document's most casual, and most formal sentences. You can set or change your target tone of voice by clicking the pencil icon in the top right corner.
At the moment, this functionality works with English Language only.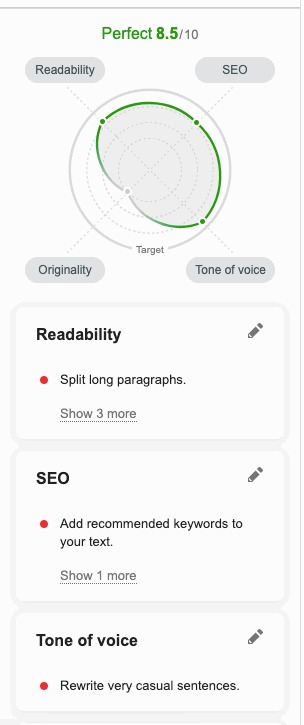 Originality metrics look for signs of plagiarism in the text. It can determine the total percentage and number of copied words for an article based on other articles found on the web. The plagiarized piece of content will be highlighted right in the document.
By following these checks, you will be able to create relevant SEO-optimized content.
You can stay in the Quick Checker to analyze your article, or use plug-ins to analyze your text directly in Google Docs and WordPress. For example, with Google docs, you can share it with other people in your team. Even if they do not have a Semrush subscription, they can download the plug-in and see recommendations created by you).

Tip. You can sent recommendations to Google Docs with the Share Document button:


Learn more about SEO Content Template and SEO Writing Assistant.
On Page SEO Checker - SEO recommendations to outrank your competitors
We've followed a good content and SEO optimization strategy, but there is always room for improvement! After publishing your article, use On Page SEO Checker to apply additional SEO optimization checks to get and stay ahead of your competition.
When setting up the tool, choose the URL address of your new article and several targeted keywords.

On Page SEO Checker gives many recommendations, including Technical Issues from our Site Audit tool and UX ideas from Google Analytics. Fix any issues that the tool discovered and follow its recommendations to improve the ranks of your content.
Learn more about On Page SEO Checker.
Content is one of the main pillars when working at digital marketing, and it's closely linked to the rest of SEO activities. Semrush offers a complete content building and optimization process.
Even if you don't exactly know what you want to write about, the tools covered in this workflow will surely help you start and create top-notch content for great results!