Telegram Tracker is a communications monitoring app that allows users to track and organize messages from any Telegram channel or group in one place. It also allows users to track messages based on specific keywords.
You can find it in the Semrush App Center.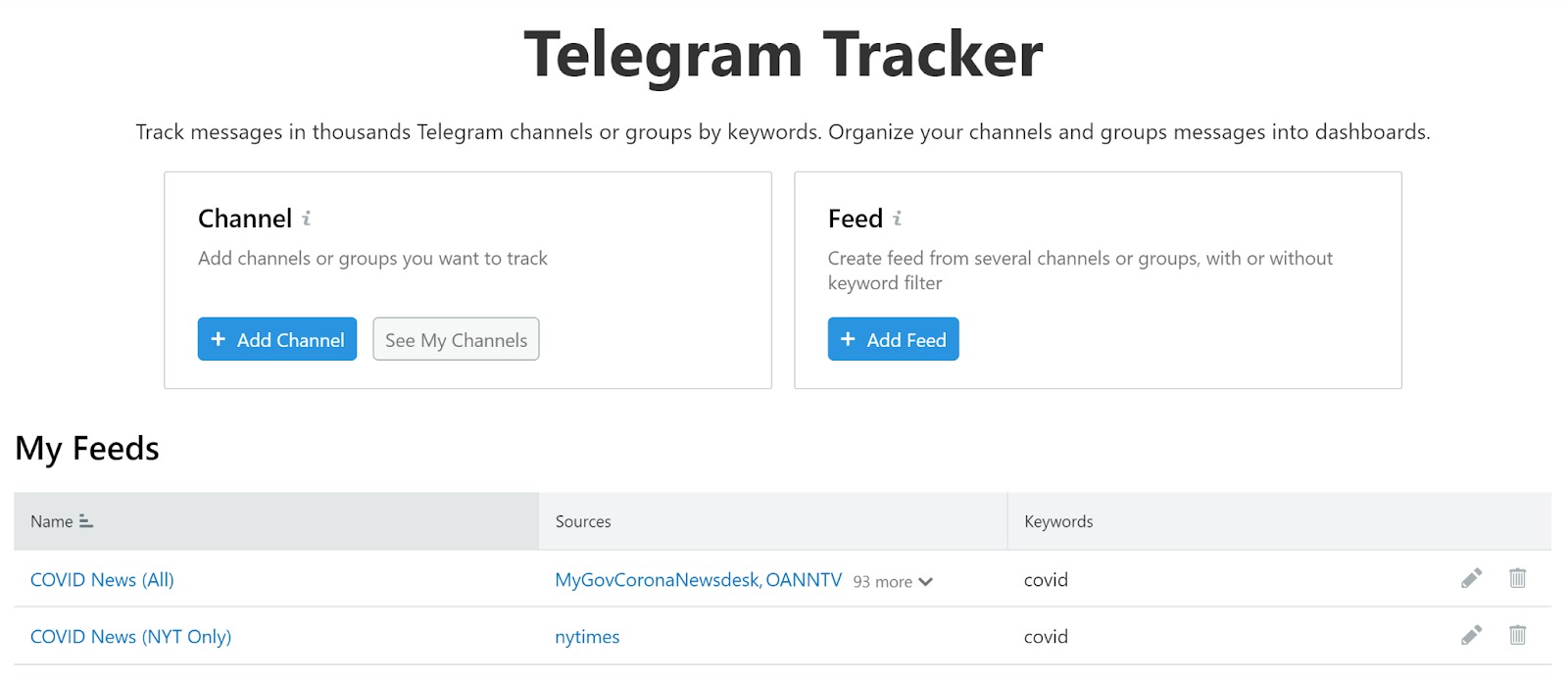 How Can Telegram Tracker Help Me?
Telegram Tracker helps you cut through the noise to monitor and organize only communications that are relevant to you. As well as saving you the time and effort of scanning through multiple channels and groups, it also ensures that you never miss out on important news.
The app allows you to:
Track published messages in Telegram groups, channels, and private groups
Track messages that feature (or exclude) specific keywords
Organize messages from various channels into useful dashboards
Save and "favorite" important messages for later reference
Add your own business's Telegram channels, groups, and private groups for tracking
Pricing
A full subscription to the Telegram Tracker app is available for $15/month.
You can find more information about Semrush pricing here.
What Is Included in Telegram Tracker?
Telegram Tracker is split into 3 sections: channels, feeds, and favorites. You can switch between these sections using the menu on the left hand side.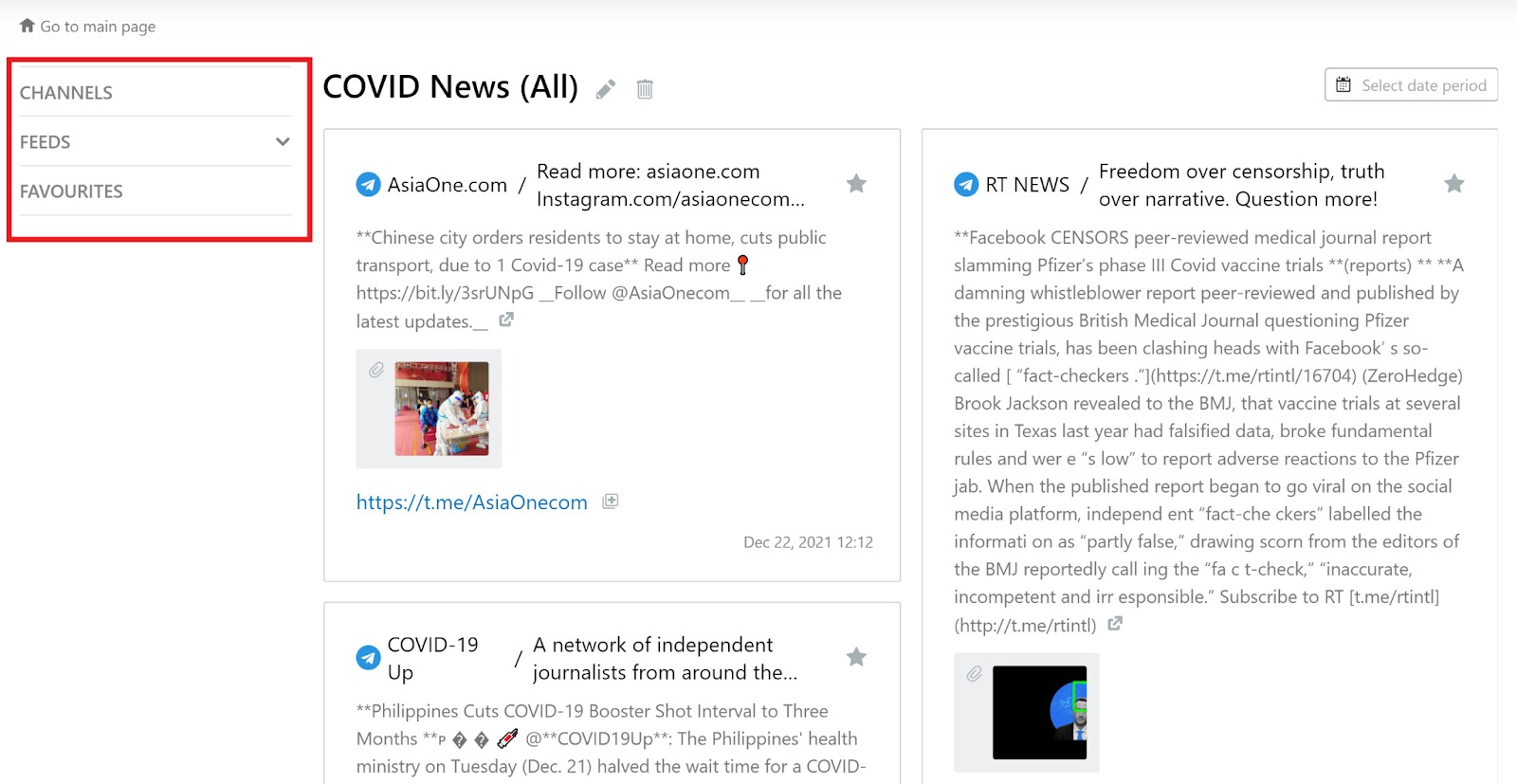 The primary interface is the feed — a dashboard that displays all the tracked messages from your Sources and Source Groups. The messages here are ordered by date and time.
What Are Sources and Source Groups?
Sources are another name for the Telegram channels or groups (private or public) that you choose to specifically track (such as The New York Times or Cointelegraph). In other words, they are the places where messages come from.
Source Groups, meanwhile, are curated, thematic groups that include tens or even hundreds of sources. They allow users to track messages across numerous related channels, as opposed to individually chosen channels or groups.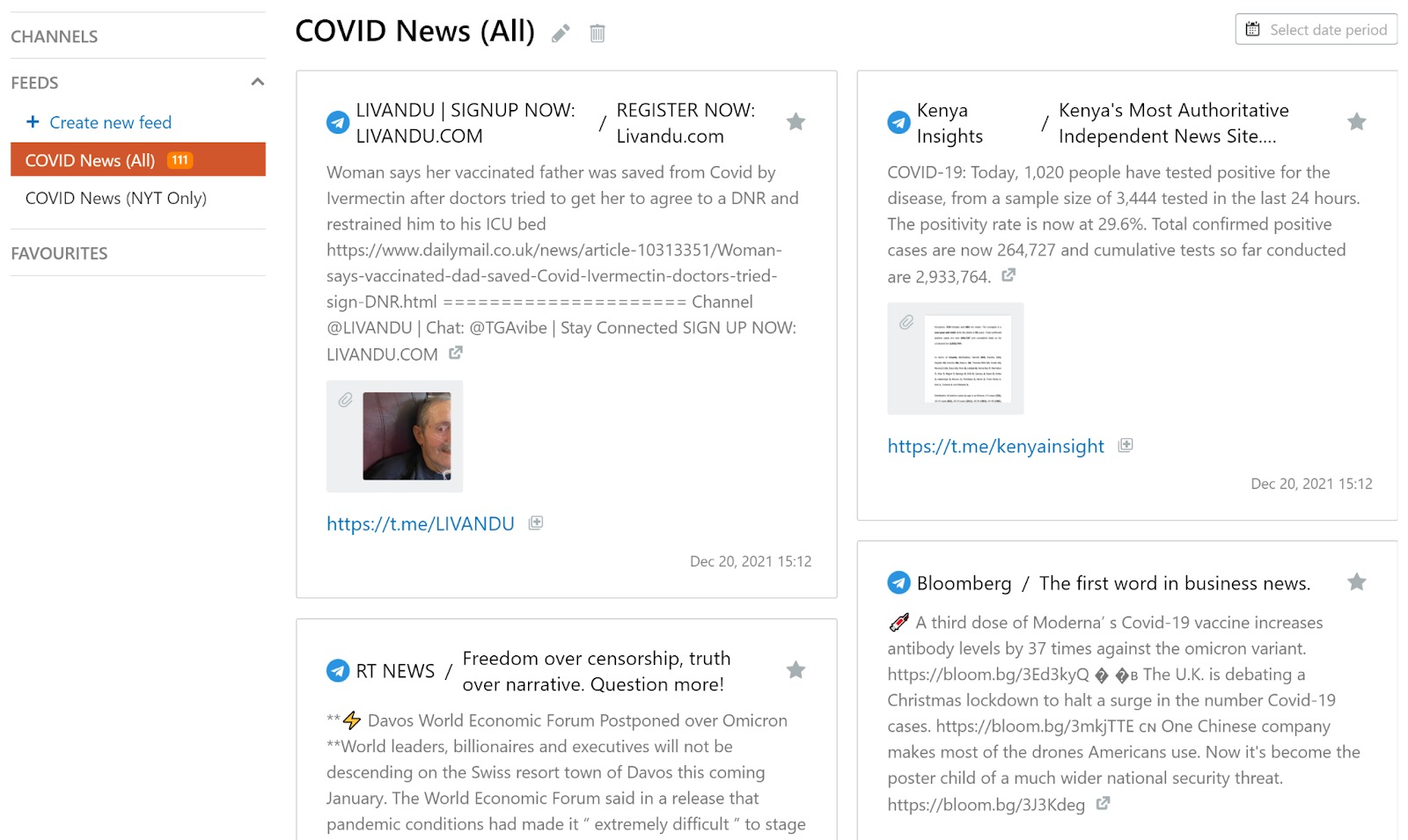 For example, let's say you want to track messages that contain the latest cryptocurrency news. Your preferred media in this instance might be Cointelegraph, in which case you could select only the Cointelegraph Telegram channel as a source.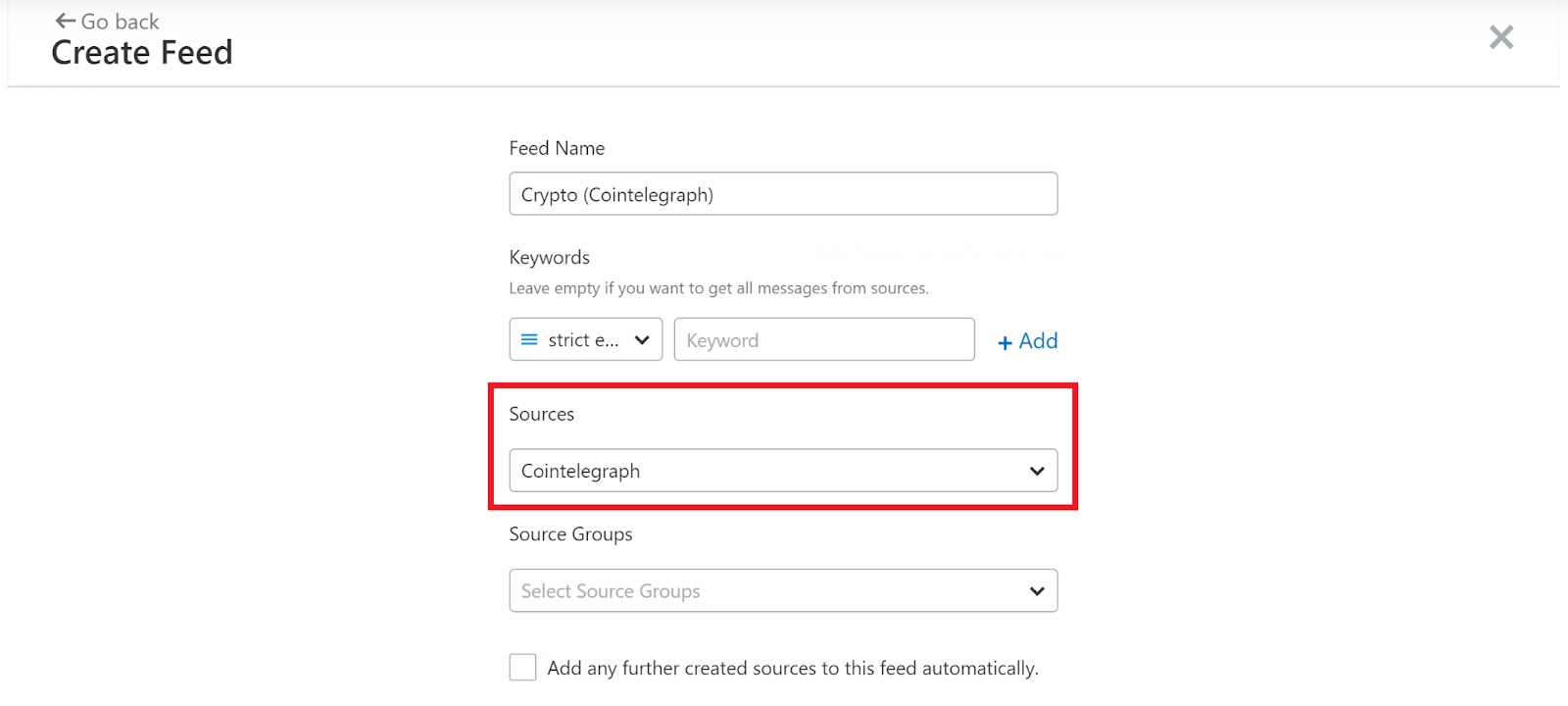 Alternatively, if you wanted to track messages on this topic from a much wider array of sources, then you could select the "Cryptocurrency" Source Group (while still including your chosen source, if required).
Keywords
In either case, you can narrow your search considerably by incorporating keywords. For instance, let's say that you are only interested in tracking messages about one particular cryptocurrency — Ethereum.
You can include "ethereum" as a keyword, ensuring that you only see messages that include that keyword (you can also filter for partial and negative matches).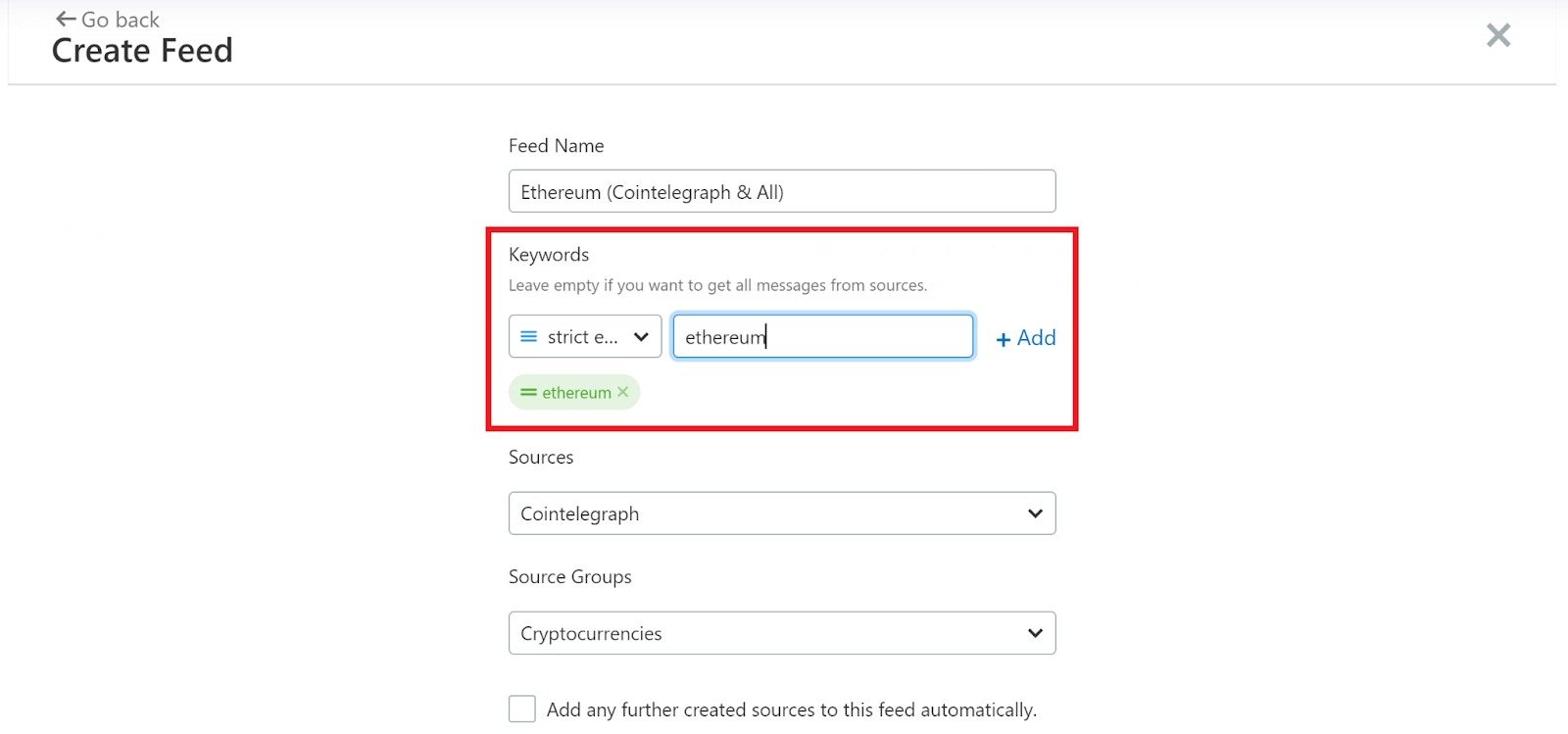 Note that feeds with defined keywords display messages for up to 28 days. Feeds without defined keywords remain visible for two days.
Favourites
If required, it's possible to "favorite" and save specific messages for reference at a later point. To do so, simply click the star in the top right corner of the message box, and the post will be automatically saved.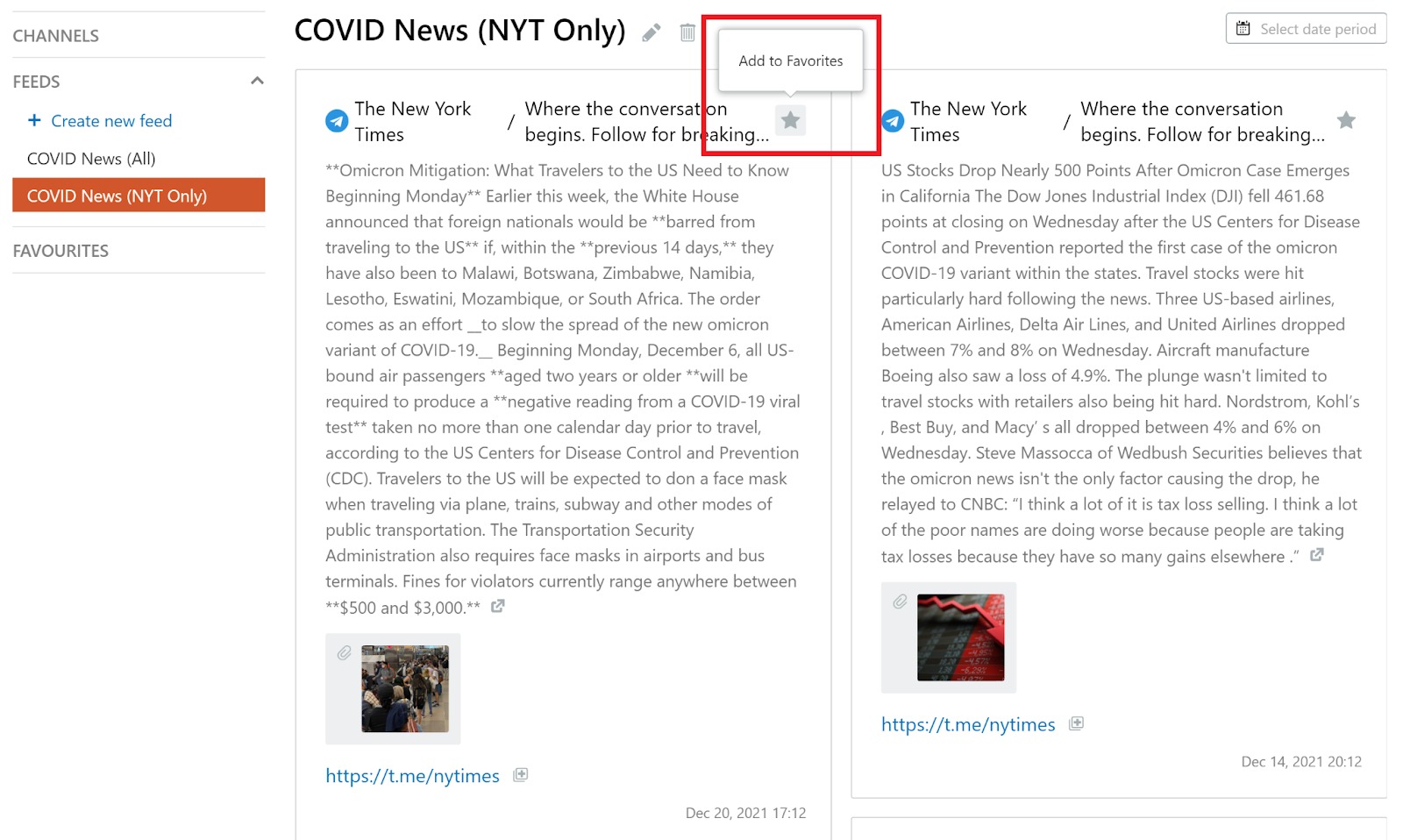 To see all your Favorited messages, simply click "Favourites" in the main menu.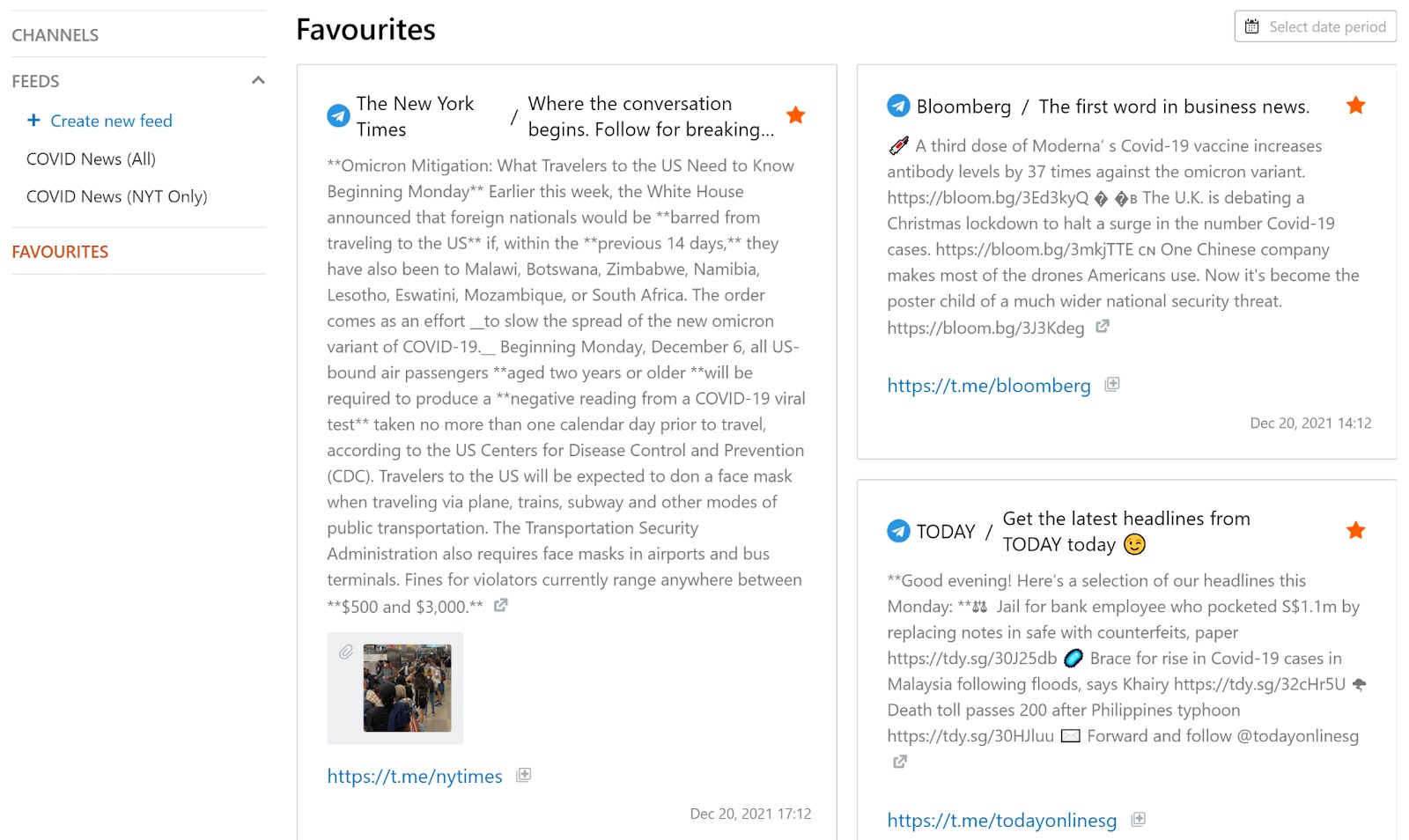 Data
The app supports 1,000+ pre-defined Telegram channels across various countries, although you can add new channels simply by providing the relevant link. Note, however, that for private Telegram groups, you will need to provide a joining link for the app to track it.
All data (for both Sources and Source Groups) is gathered using the official Telegram API.
If you have any questions about the Telegram Tracker app or the App Center in general, please don't hesitate to email us at app-center@semrush.com.