BuzzGuru Influencer Analytics is an influencer marketing discovery and competitive intelligence app that provides agencies and brands with valuable insights and analytics on influencers' performance and competitors' campaigns on YouTube, Instagram, Twitch, and TikTok. Find the app in the Semrush App Center.
How Can BuzzGuru Influencer Analytics Help Me?
By using the BuzzGuru Influencer Analytics app, you can:
Search and discover the best influencers for your ad campaigns
Unveil market leaders' and your competitors' influencer marketing strategy (budgets, collaborators, etc.)
Quickly create and update influencers' lists for your ad campaigns and individual needs
Save time and money by automating routine tasks and eliminating manual work
Pricing
Currently, two pricing plans are available:
A subscription for the Basic plan is $89 per month. You can then upgrade to the Pro plan with extended limits and additional features for $210 per month.
To gain access to reports on certain influencers, you will have to use tokens. Purchasing the Basic plan will give you 20 tokens, whereas upgrading to the Pro plan will bring you 50 tokens more (you'll have 70 tokens in total).
You can also purchase additional tokens for your needs. You won't have to spend tokens twice to access the report that is already available to you.
+ 25 tokens $70 per month
+ 40 tokens $100 per month
+ 100 tokens $200 per month
What's Included in BuzzGuru Influencer Analytics?
The app's main window is broken down into six tabs:
Home
Influencer Discovery
Search by keywords
Competitor Analysis
Lists
Tops
Influencers Discovery
In the Influencers Discovery tab, you can find any YouTube, Instagram, Twitch, or TikTok influencer you are interested in. Here you can find influences by filters. Use various filter combinations to search for influencers by various criteria: influencer's country, language, audience size, and many others.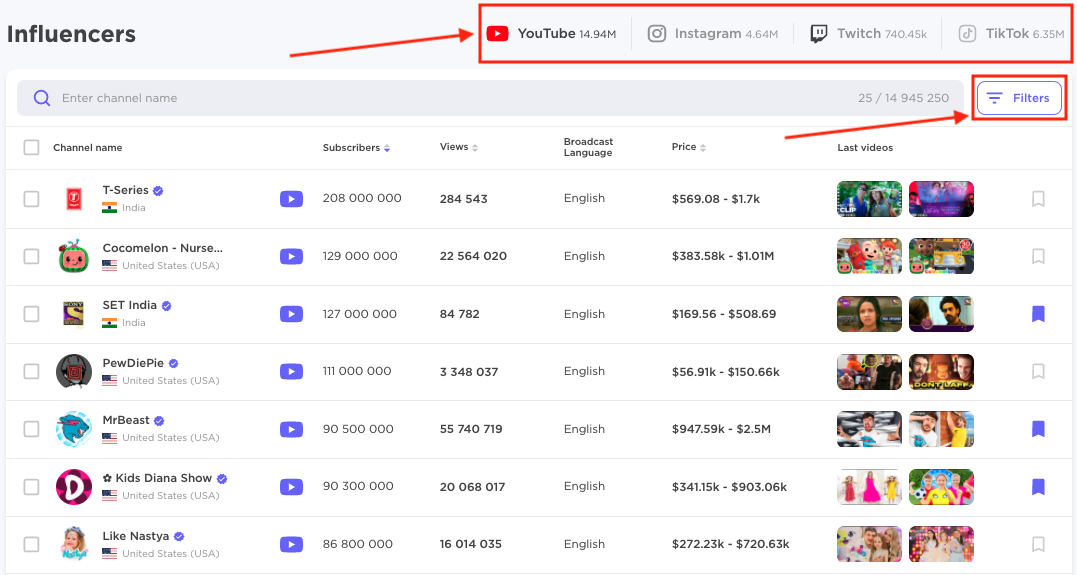 Clicking on a particular influencer will take you to their page where you can find useful information such as frequency of publications, statistics on the number of views and subscribers, the estimated cost of advertising, and more.
You can create custom lists of bloggers and streamers you may be interested in working with further. All influencers whom you add to the lists are stored in the Lists tab at the top of the app for quick access.
You can download the generated list in .xlsx format to share with colleagues or customers.
Search by keywords
In the Search by keywords tab, you can find videos, posts, reels, and streams that mention particular keywords and products.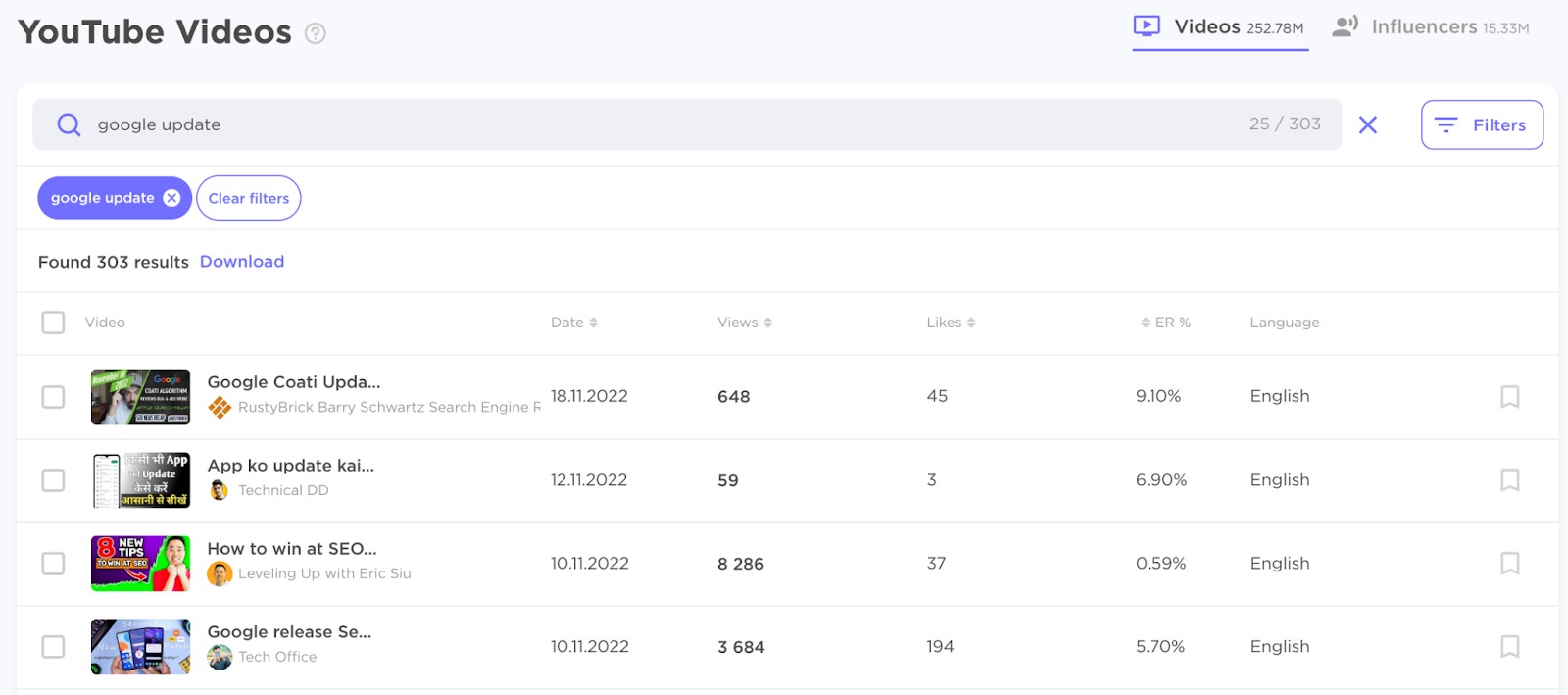 Switch from Videos to Influencers to find relevant influencers by keywords in videos, streams, and posts.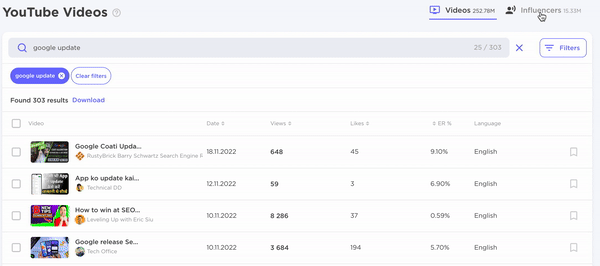 Competitor Analysis
The Competitor Analysis tab allows you to discover apps and to discover brands.
Discover Apps
The Discover Apps section contains apps from the App Store and Google Play mentioned by YouTube influencers and Twitch streamers.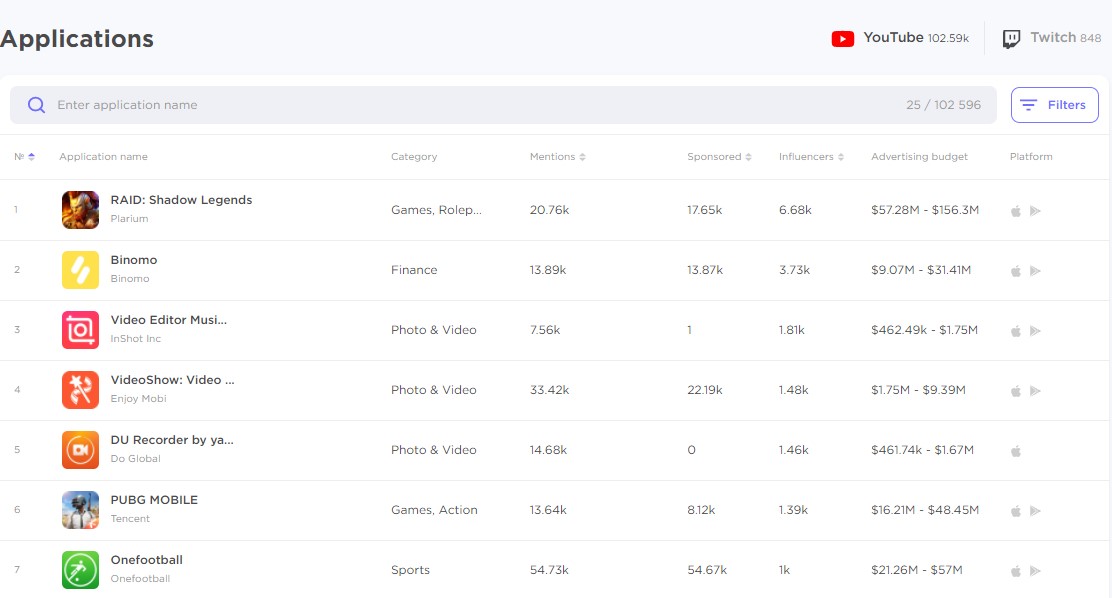 Clicking on the specific app will take you to the detailed report on it.
The Statistics for All Time chart shows the data on the total number of influencers who have mentioned the app, the number of total views, approximate advertising budget, etc.
You can switch between the Explore, Videos, and Influencers tabs (for YouTube influencers) and Explore, Streams, Streamers (for Twitch streamers) to see more insights, including the app mention dynamics, geography, calendar, publications examples, etc.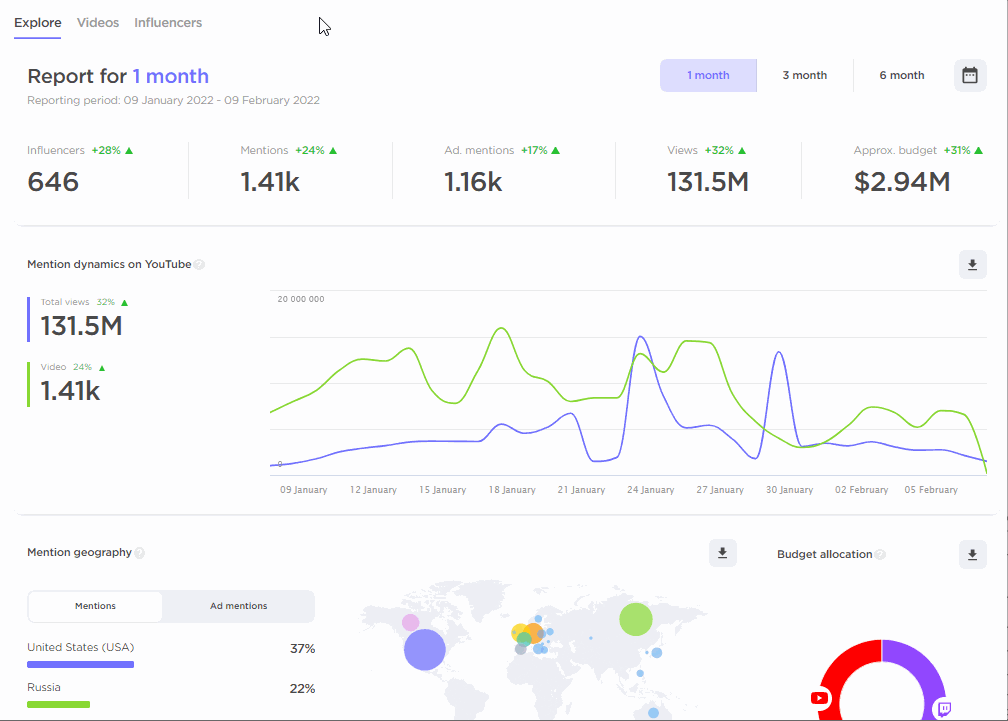 Discover Brands
The Discover Brands section contains websites that were mentioned by YouTube influencers and Twitch streamers.
Clicking on the specific site will take you to the detailed report on it.
The further functionality is similar to the one on the Applications tab.
Lists
All influencers whom you add to the lists are stored in the Lists tab for quick access.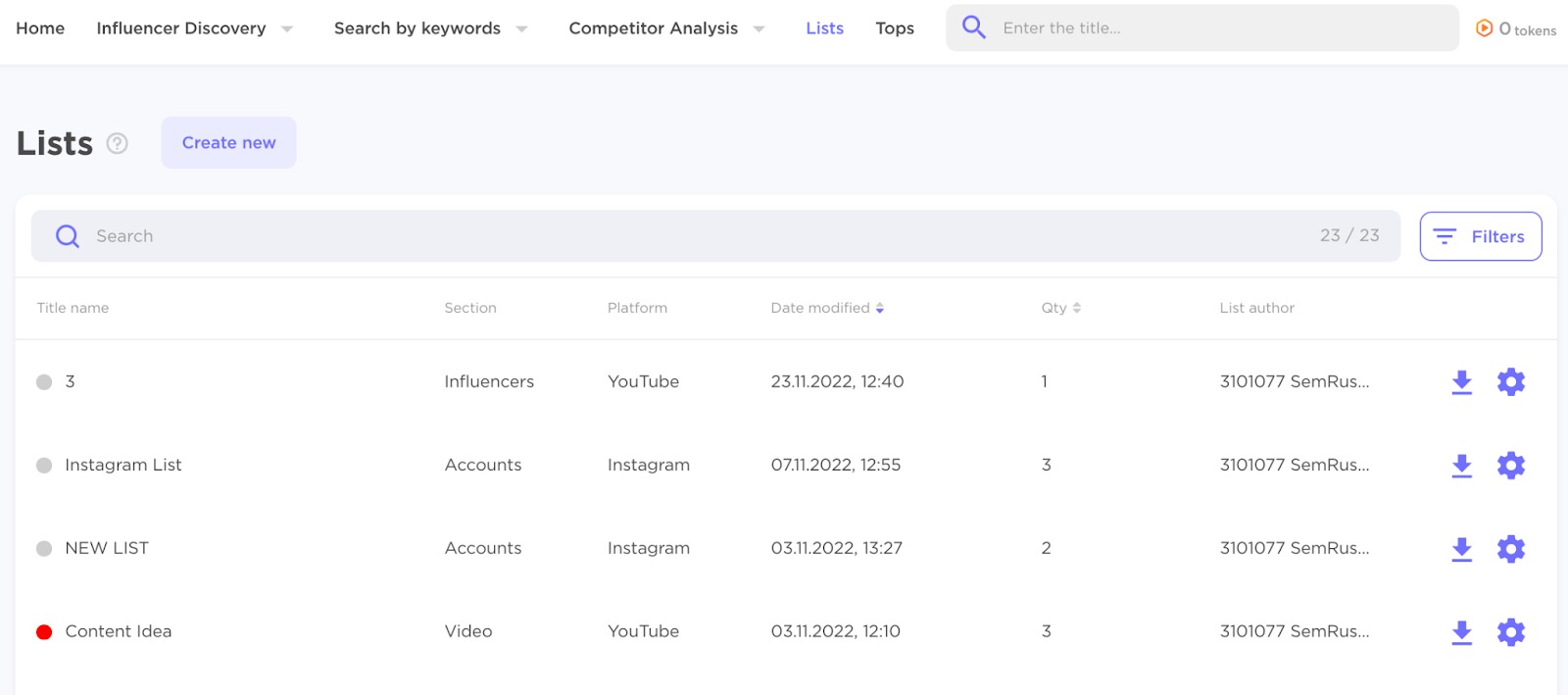 The Basic plan allows you to have 3 lists whereas with the Pro plan you can have up to 20 lists. You can delete lists at any time to free up space for the new ones.
Tops
The Tops tab contains popular bloggers in all channels. You can filter them by the number of subscribers, influencer's country, engagement rate, etc.