The Keyword Wizard for Amazon app helps Amazon sellers optimize their product listings.
As a user, you have the ability to access keyword data that help improve your strategy and increase ranking on the first page of Amazon search results.
With this tool, you can:
Use advanced filtering to find specific keywords
Choose keywords for Amazon's Hidden Search Terms
View search volume for a keyword
See the number of competing products in Amazon search results
Explore search terms related to your products main keywords
Export results to .csv
View monthly changes of the keywords search volume
Check Keyword Difficulty of your search queries
How The Keyword Wizard for Amazon App Can Help You
The Keyword Wizard for Amazon app is ideal for both individuals with basic SEO knowledge and experts skilled in developing existing product listings for Amazon.
The Keyword Wizard for Amazon app can be especially useful when:
Product sales have noticeably decreased over time
Ranking on Amazon search results pages has dropped significantly
You're releasing a new product to Amazon and want to create a well-optimized listing
This app can help you:
Boost rankings and visibility
Increase traffic
Improve conversions
Hyper target your ideal customer
Select the most efficient keywords for a listing
Outperform similar products
Accessing Keyword Wizard
Keyword Wizard is available with limited access to all registered Semrush users. For unlimited access, you'll need to purchase the Keyword Wizard for Amazon app.
Here are the features of each version.
Free version:
No monthly fee
One keyword search per day
100 keywords per search
Paid version:
Unlimited keyword searches per day
Unlimited keywords per search
Export
Filters
Keyword difficulty metric
To find out how to add an app, you can visit the App Center's guide on how to add apps.
How to Use Keyword Wizard for Amazon
Step 1: Start Your Search
Once you're in Keyword Wizard for Amazon, you'll see the search bar where you can put in your seed keyword.
A seed keyword is usually a short-tail keyword consisting of one or two words. They can be used to describe a product you want to sell (i.e., office chairs, chairs, and desk chairs).
To start your search, begin with a primary keyword, e.g., "office chairs."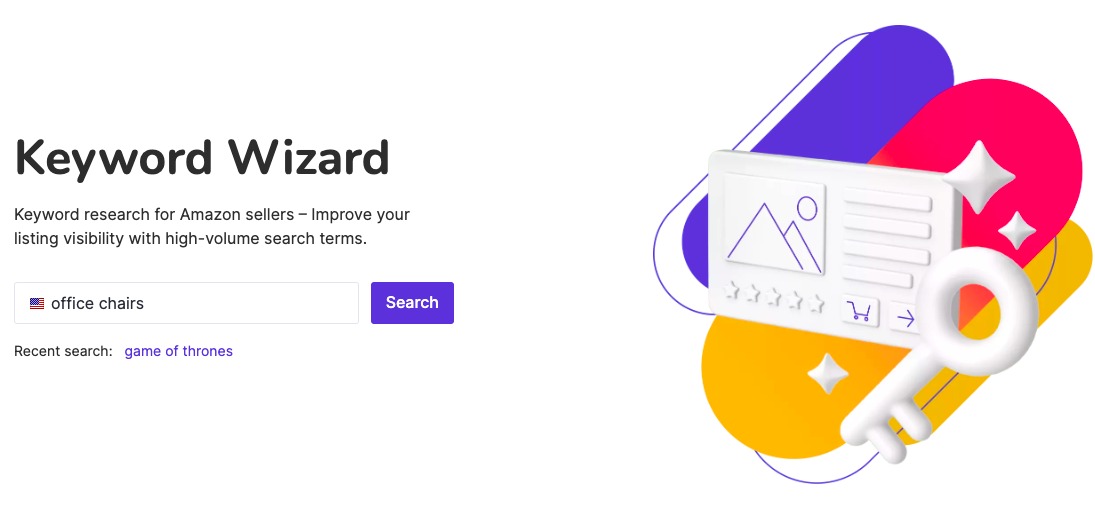 Step 2: Choose Your Results

From here, you can narrow your search in one of four ways: Related, Broad Match, Phrase Match, or Exact Match.
Related: keywords of the top-ranked products for the seed keyword. This option displays words related to your seed keyword and may offer expanded opportunities to enhance your listing.
Broad Match: the seed keyword or phrase shown in any order or variation
Phrase Match: the exact keyword or phrase shown in any order
Exact Match: words that include your seed keyword precisely as it's written
Step 3: Use Advanced Filtering to Find the Best Keywords

Once you choose your result type, you can further narrow your search by adjusting one or all of the five filtering options.
Volume: refers to the average number of times users search for the keyword or phrase each month. This filter allows you to choose a search volume range.
Competitors: allows you to choose how many competitors are associated with the corresponding keyword or phrase.
Exclude Keywords: helps separate out irrelevant keywords or phrases. For example, if you're searching for "office chairs" and notice the keyword "desks" in your results, you can exclude the word "desks". It is particularly useful in the brand-rich environment. If your workflow requires filtering brands out of keywords you'd like to work with - you can input those brand names here.
Include Keywords: lets you intentionally incorporate keywords that you consider essential. For example, when searching the term "office chairs," you can include related product keywords like "office chair rugs". It is also useful if your workflow touches upon only branded keywords - just input the brand name here.
Category: allows picking a particular category of products and focusing on your desired niche. Especially useful for products with keywords that can be confused with products from other categories with similar keywords, e.g. "chairs" from "Home & Kitchen" and "Patio, Lawn & Garden" categories.
Word Count: refers to the number of words in your keyword or phrase, whether that be a short- or long-tailed keyword.
Keyword Difficulty: can help you assess the amount of effort it might take to rank in organic search results for a particular keyword. In order to display that metric the app processes a complex of various essential data on factors that can influence the rankings such as traffic, reviews and rating, volume, number of products for keywords in search results, etc. The higher the percentage, the harder it will be to achieve high rankings. It is possible to select your custom range that includes several difficulty brackets.
After adjusting your filters to your liking, you'll get a more customized look at your results that you can use to build a strategy and improve your product listings.
Step 4: Export Your Results
This step is helpful for users who would like to manage their keywords before utilizing them right away.
Export your keyword list by clicking on the "Export" button.

To export all results, select "All (#)" and click the purple button "Export to CSV."

To export a selection of your keyword findings, select your desired keywords, click export, and choose the "Selected (#)" option.
From there, you can click the purple button to "Export to CSV."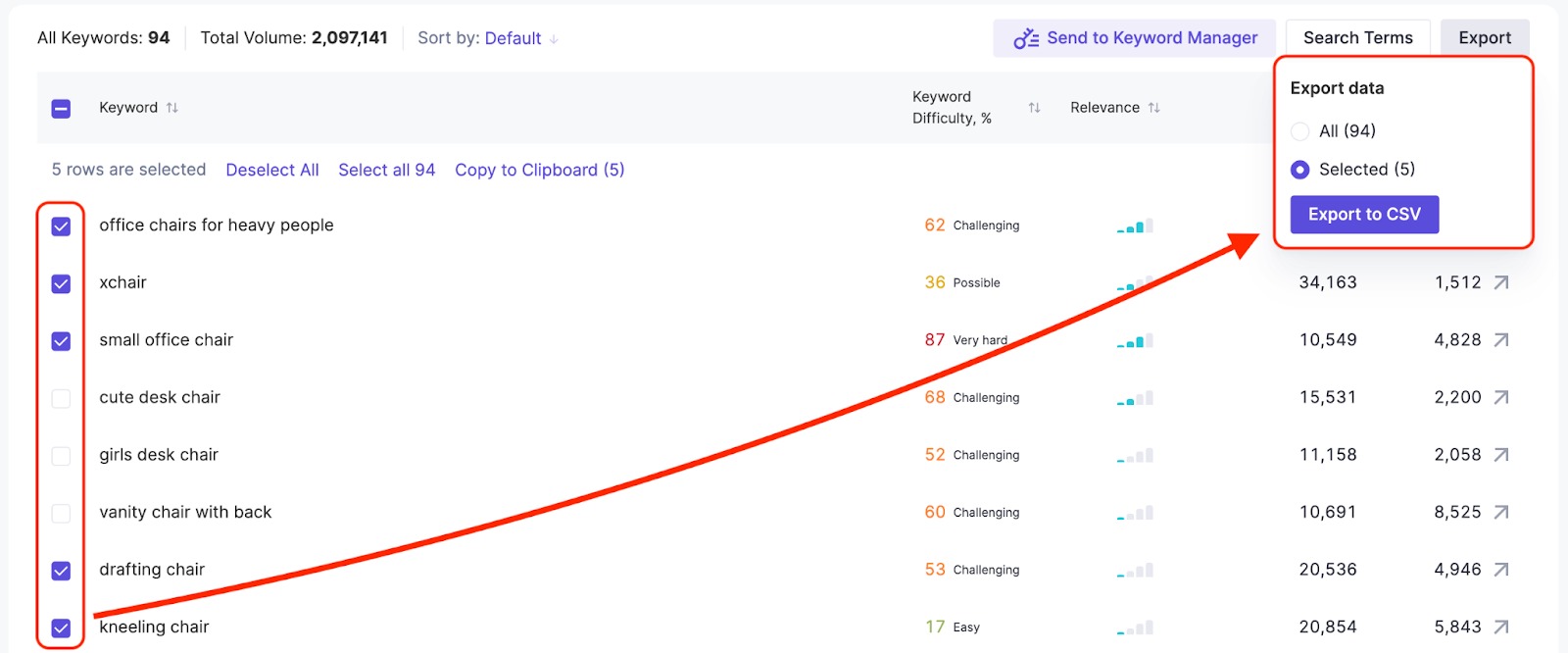 Step 5: Manage Your Results
If you'd like to organize your keywords into lists and manage them afterwards, the Keyword Manager for Amazon app might come in handy.
Select your desired keywords and click on the "Send to Keyword Manager" button. You will be able to select a list you want to add those keywords to or create a new one.
After that, you will be able to manage and organize those keyword lists from the Keyword Manager for Amazon app.
Step 6: Bonus Step—Search Terms
The "Search Terms" option is an additional step that can be used for filling in the Hidden Search Terms section in Amazon Seller Central, which can help optimize your listings more thoroughly. Additionally, it offers you related search terms while also keeping you within the 250 character limit.
To stay in alignment with Amazon's guidelines, Keyword Wizard will also automatically eliminate:
Stop words like "a," "an," and "by"
Temporary words such as "new" and "latest,"
Subjective words like "cheapest," "best," and "amazing,"
Numbers
Special symbols
Single letters
Plurals
Here's how to do it.
First, run your seed keyword through the search.

Second, click the "Search Terms" button located next to the "Export" button.
A prompt will be displayed showing the keywords you have chosen. You can group them by Frequency or Search Volume.
Third, exclude any keywords that are irrelevant to your product by clicking the "x" next to the keyword. To include more relevant keywords, click the "+" next to the keywords at the bottom of the prompt. The character counter will dynamically change according to the changes and notify you in case the limit is exceeded.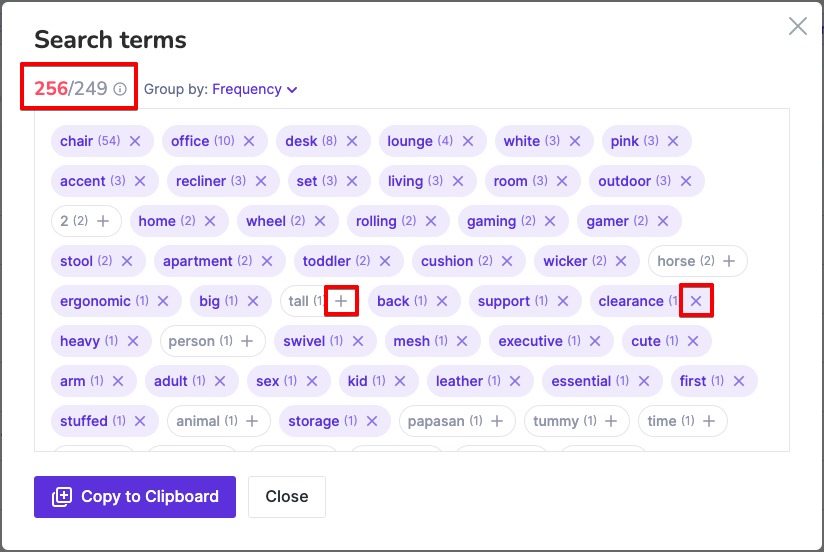 Fourth, after selecting the most relevant keywords, copy your results to the clipboard by clicking on the purple "Copy to Clipboard" button. You can then paste them into the "Hidden Search Terms" section of Amazon Seller Central.
*Pro Tip: The Search Terms function of Keyword Wizard for Amazon will automatically add the first 250 characters it sees. Be sure to explore other keywords offered below what is already selected to find the best keywords.
Frequently Asked Questions
Right now, our app is available only for the US Amazon Marketplace.

If you have any questions about the Keyword Wizard for Amazon app, please email us directly at ecommerce-apps@semrush.com