The Listing Quality Check for Amazon app is a comprehensive audit solution that checks your listings for compliance with Amazon's requirements and style guides while offering expert and data-driven ideas for further listing optimization to boost your visibility and drive higher conversions.
How the Listing Quality Check Tool Can Help You
From content errors and blurred images to special promotion and bullet point suggestions, the tool provides an all-encompassing listing audit that protects your listing against any potential Amazon suspension threats while ensuring your product is optimized for maximum visibility.
The tool is perfect for both experienced Amazon sellers and beginners whose goal is to get their product pages in fighting shape.
Using this tool, you can:
Audit your listings and get improvement ideas
Benchmark the quality of your competitors' listings
Fit Amazon guidelines to avoid suspension threats
Accessing Listing Quality Check
Listing Quality Check is available with limited access to all registered Semrush users. For unlimited access, you'll need to purchase an app.
Here are the limits of each version.
Free Version:
With a free version, you can see:
Multiple ASIN analysis
The Basic Amazon Requirements tab
"Source" filter for checks
When clicking on the other tabs, you'll be asked to purchase a paid version by contacting Semrush.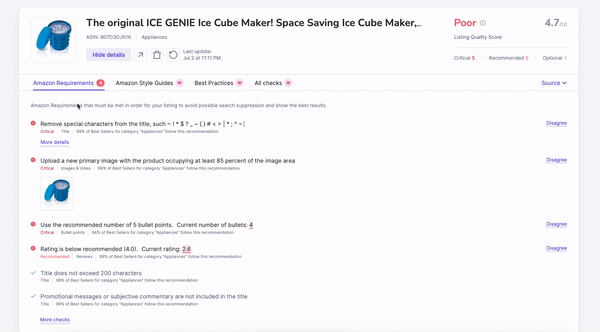 Paid version:
If you have the paid version, you can see all types of listing optimization recommendations provided by the Listing Quality Check for Amazon app and an additional filter:
Amazon Style Guide checks
Listing improvement best practices
The list of all checks at once
"Importance" filter for checks
To find out how to add an app, you can visit the App Center's guide on how to add apps.
How to Use Listing Quality Check for Amazon
Step 1: Add your listing
To evaluate a listing, enter the product's URL or ASIN into the corresponding field.

Once you click "Check," the tool will run a comprehensive report that identifies areas of improvement.
Step 2: Obtain your Listing Quality Score
The first thing to check in the report is your Listing Quality Score.

This metric grades the overall quality of a listing based on our optimization guidelines, Amazon's requirements, and the official Style Guide:
Perfect (9-10): Listing passes all checks, meets all Amazon requirements, complies with the Style Guide, and follows all optimization recommendations
Good (8-8.9): Listing has some minor issues but overall performs well
Decent (6-7.9): Listing content has a significant number of issues and should be optimized
Poor (4-5.9): Listing has a lot of issues and requires considerable revision
Bad (<4): Listing needs an urgent overhaul
Step 3: Deep dive into your report and spot issues
The report also shows you failed checks and how each of them is impacting the Listing Quality Score. To dismiss a failed check that you disagree with, click the corresponding "Disagree" button on the right side of the page.
Amazon Requirements tab highlights all the issues that can potentially lead to listing suppression, based on your listing's compliance with Amazon's requirements.
Amazon Style Guides tab provides extra tips, deriving from Amazon's Style Guide, for perfecting your listing quality.
Best Practices tab gives additional ideas for improving the quality of your listing that are based on best practices and our research.
If you don't want to go through each tab, select the All Checks tab to get an overview of all of the changes that you need to pay attention to.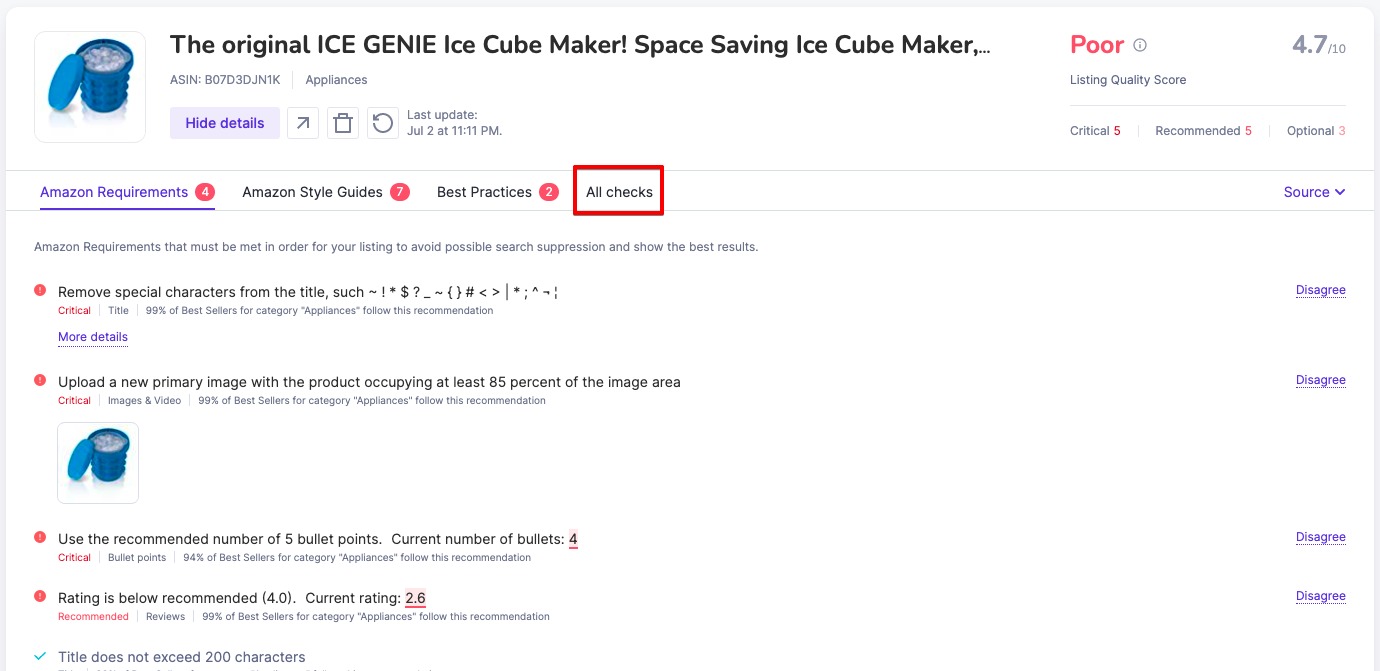 Step 4: Focus on critical issues
All listing checks are divided into three types based on their importance:
Critical: major issues that seriously affect listing performance and can lead to suspension
Recommended: issues that should be sorted out for the best listing performance
Optional: minor issues that have little impact on listing performance
To improve the quality of your listing as quickly as possible, it's better to start with critical issues.
Please note: if you wish to make changes to your listings, you should go to your Amazon Seller Central account and modify the content there. Once it's done, you may want to re-run the audit.
Pro tip: Amazon requirements may change over time, so re-auditing listings on a regular basis can be good practice. Also, don't forget to run re-audit each time you change something in your listings.
Frequently Asked Questions
Right now, our app is available only for the US Amazon Marketplace.
By default, the Listing Quality Check for Amazon app is limited to 20 listings. You can purchase additional 20 listings to check. Go to "My apps", find the Listing Quality Check for Amazon app in the list, click "In-app purchases" under the app title.
If you have any questions about the Listing Quality Check for Amazon app, please email us directly at ecommerce-apps@semrush.com