In this article, we'll explain how to be smart about your Hidden Search Terms.
If you need to fill in the Hidden Search Terms section within Seller Central to enhance your listing's keyword optimization (and we highly encourage you to do so), use this easy-to-use workflow that allows you to stay within a 250-character limit (as per Amazon guidelines).
*If you want to learn more about creating a successful keyword strategy for Amazon, check out this post.
1. Enter your seed keyword
Enter your keyword and hit "Search". In our example, we'll use bluetooth headphones as our seed keyword.
2. Unwrap similar/related keywords
The Keyword Wizard app allows you to choose between four keyword groupings: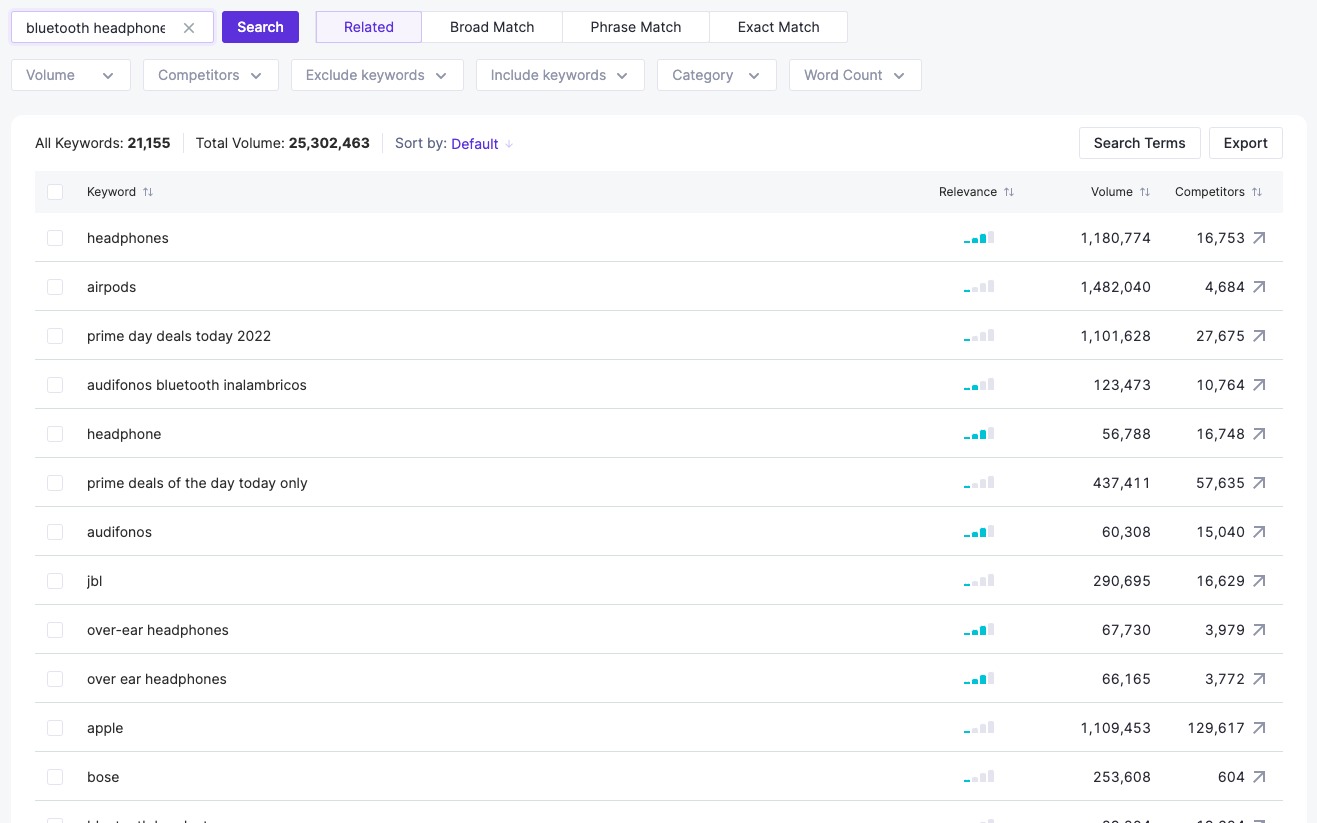 Related — shows adjacent keyword opportunities to the seed keywords that you entered. These related keywords might offer opportunities for you to market your product in a broader way. Example: bluetooth headphones; wireless earbuds (related keyword)
Broad match — offers keyword variations around your seed keyword or keyword phrase, where the phrase can be placed in any order for the widest coverage. Example: waterproof headphones for swimming bluetooth
Phrase match — reflects search terms that include the exact keyword or keyword phrase in any order. Example: headphones wireless bluetooth
Exact match — shows all variations around your seed keyword that contain the exact keyword or keyword phrase in that precise order. Example: bluetooth headphones over ear
In most cases, you'll want to go for a broad match, and narrow down your keyword research with the use of filters. However, we'll go with "Related" this time, since we want to cover as many related words as possible.
3. Create a list of Search Terms
Filtering options are not necessary at this step. To only focus on keywords with the highest search volume and lowest competition, choose up to 1,000 keywords from the top results (you don't have to do this manually—simply use the "Select first 1,000" tag) and click "Search Terms".
The app will automatically make sure all Amazon guidelines are met by excluding stop words ("a", "an", "by", etc.), temporary words ("new", "latest", etc.), subjective words ("cheapest", "best", "amazing", etc.), numbers, special symbols, single letters, and plurals.
Feel free to select a parameter according to how you want your Search Terms grouped in the list:
Frequency (how often some particular words appear in the selected group of keywords), or
Volume (the estimated number of monthly searches for a listed keyword).
Moreover, with access to a word count tracker, Keyword Wizard for Amazon will only select keywords that fit within the character limit.
4. Filter out unnecessary keywords
Don't forget to exclude keywords that you plan to use for title and bullet point optimization. Also, exclude all irrelevant brand names.
5. Copy and paste
Finally, after pressing the "Copy to clipboard" button, you can paste this perfectly optimized list into the "Search Terms" section of your Seller Central.