Keep on top of your reputation by monitoring incoming messages and providing quick responses with Social Inbox. The tool collects comments, private messages, and mentions from social business accounts in order to reply to them from a single, easy-to-use interface.
Easily manage communication on major social media platforms
Identify brand reputation risks at an early stage
Label and sort messages related to a specific workflow
Why Should You Use This Tool?
Replying to comments and direct messages is a common task for those who manage social media accounts: from small business owners to online reputation managers and customer support specialists. When there are many social channels you're working with, it becomes difficult to monitor everything and not miss anything.
Social Inbox offers a single interface to check automated notifications and new incoming messages, saving time for manually monitoring each platform. The tool also allows you to categorize and prioritize incoming communication, keeping your work organized and on top of it at all times.
What Platforms/Messages are Supported?
Social Inbox supports the following types of incoming messages:
Facebook: comments, mentions, and private messages with the ability to reply
Instagram: comments, mentions, and direct messages with the ability to reply
LinkedIn: comments with the ability to reply
Setting Up the Tool
Please note: you should have at least one Semrush project to use the tool.
To set up the tool:
Choose which project the social accounts are connected to

Click "Add feed" and choose which social account to connect

Follow the instructions to sign into your social media account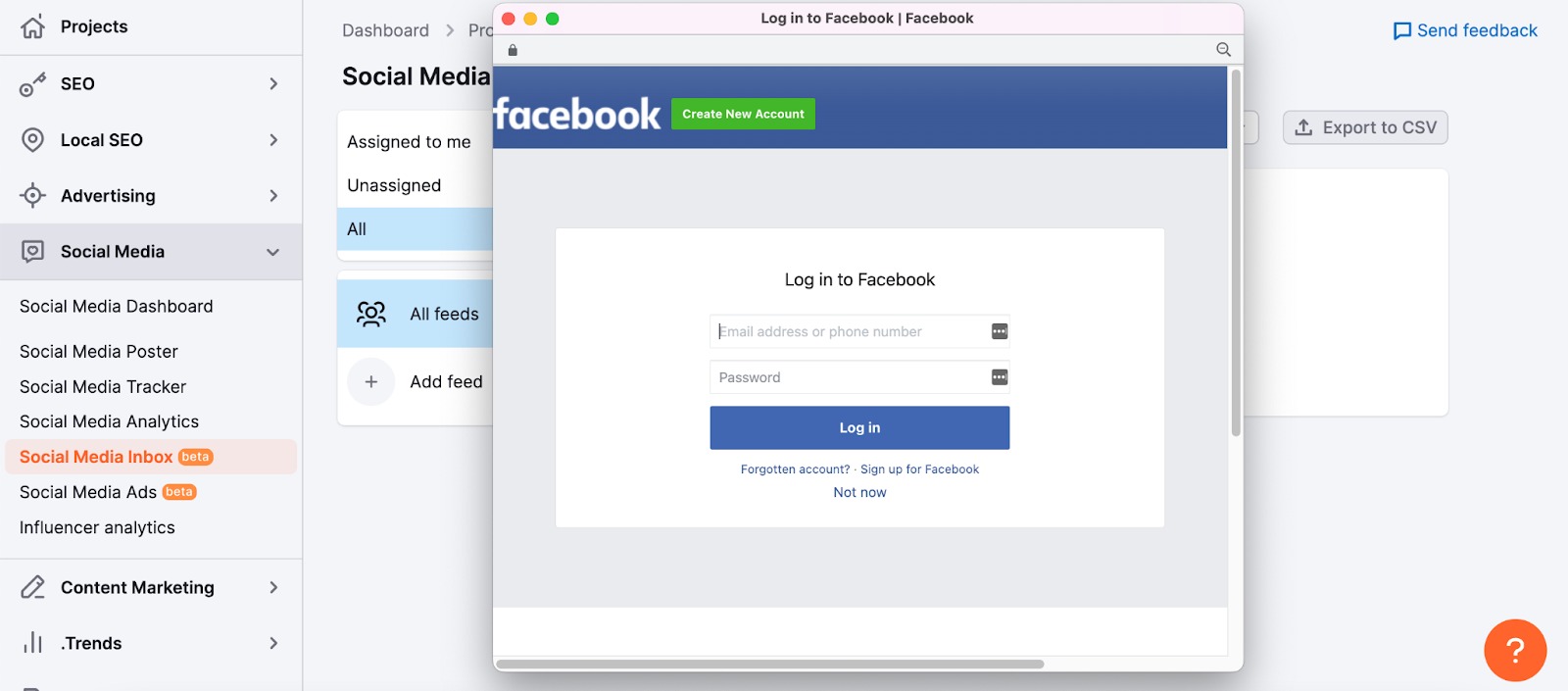 Working with messages
Once the tool is set up, it is ready to start working with.
Please note: currently, only new incoming messages will appear in the tool. Historical data is not yet provided.
Feed
Once the tool is set up, you will see the feed. Here you will see a list of messages ordered by update time descending.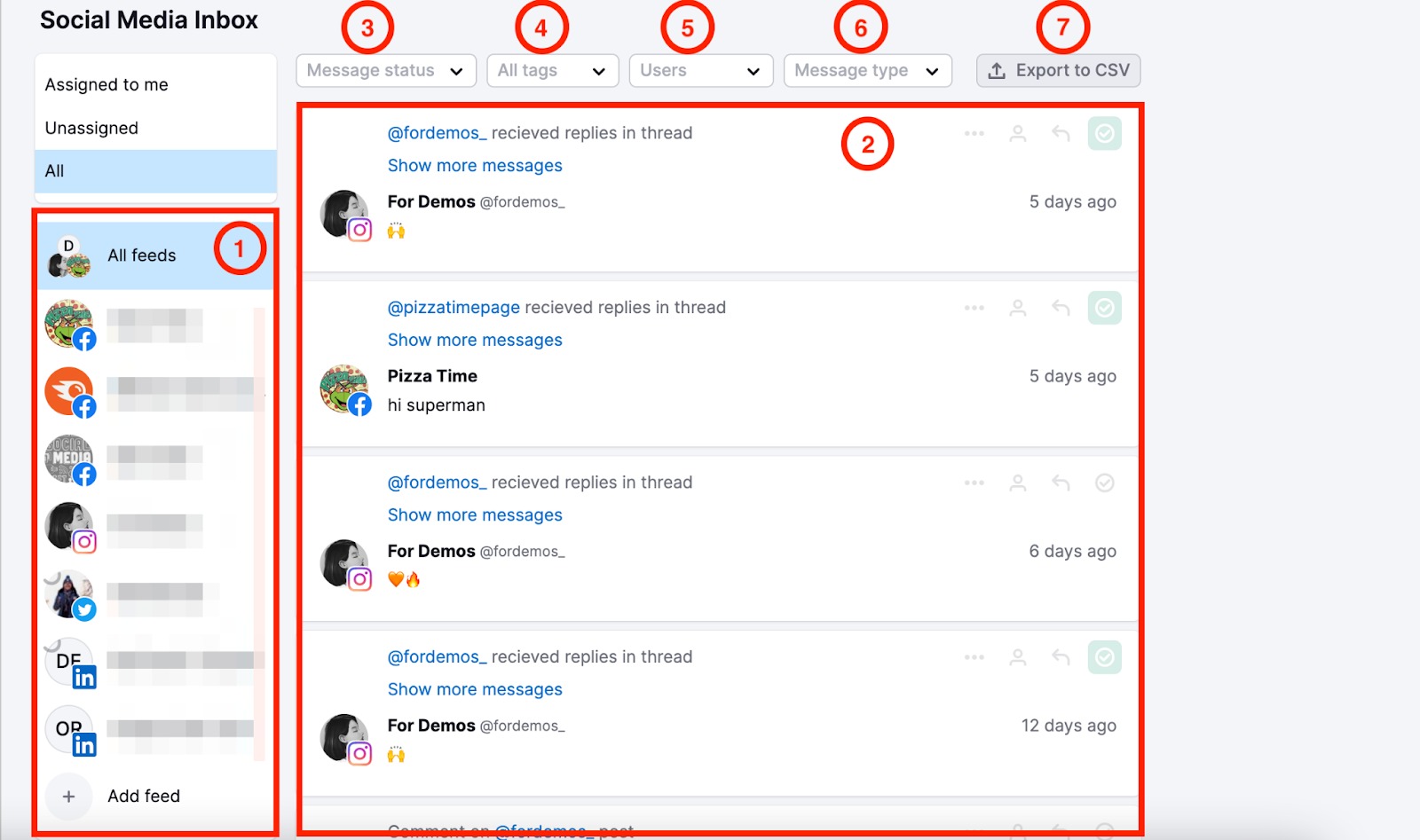 Profile filter.
List of incoming messages.
Message status – filter by completed/not completed.
All tags – filter by tags.
Users – filter messages by their author.
Message type – filter by type: mention, post comment, direct message.
Export to CSV – export messages on the screen to CSV.

Interact with each message in a variety of ways:
Organize messages by tagging them.
Open original messages in the corresponding social networks.
Assign messages to your teammates. Make sure the project has been shared with them first. Please note: this feature requires a corporate account.
Reply to messages.
Mark messages as completed. Completed messages disappear from the main feed and may be found by filtering by status.
Replies
Social Inbox allows you to reply to messages right from the tool's interface without needing to go to social network platforms.
To reply to the message, open the reply interface by clicking on the

icon in the top right corner of a message.

Depending on the type of message (direct message or comments/mentions), you will see one of two versions of the replying interface:
Direct messages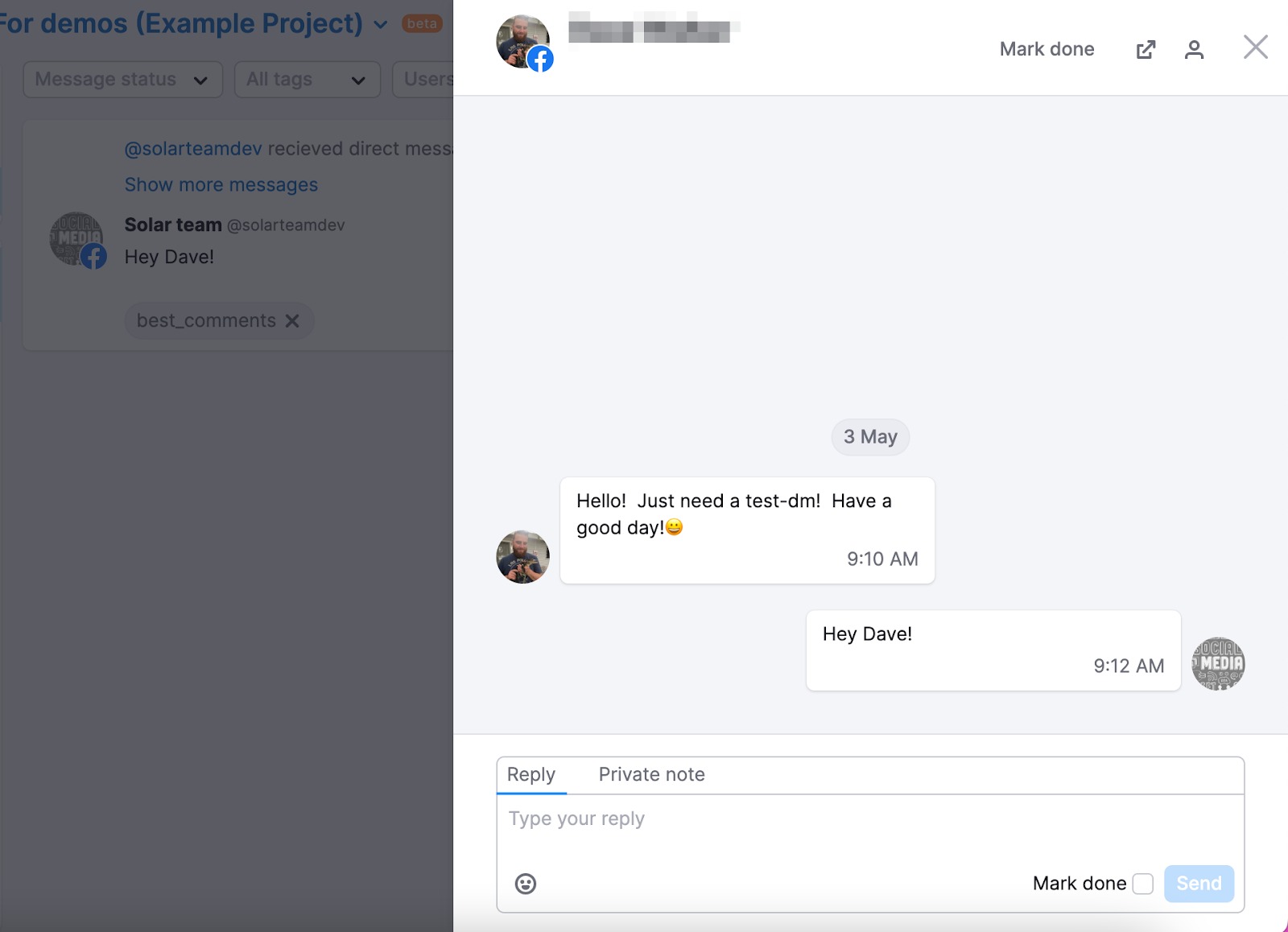 Comments and Mentions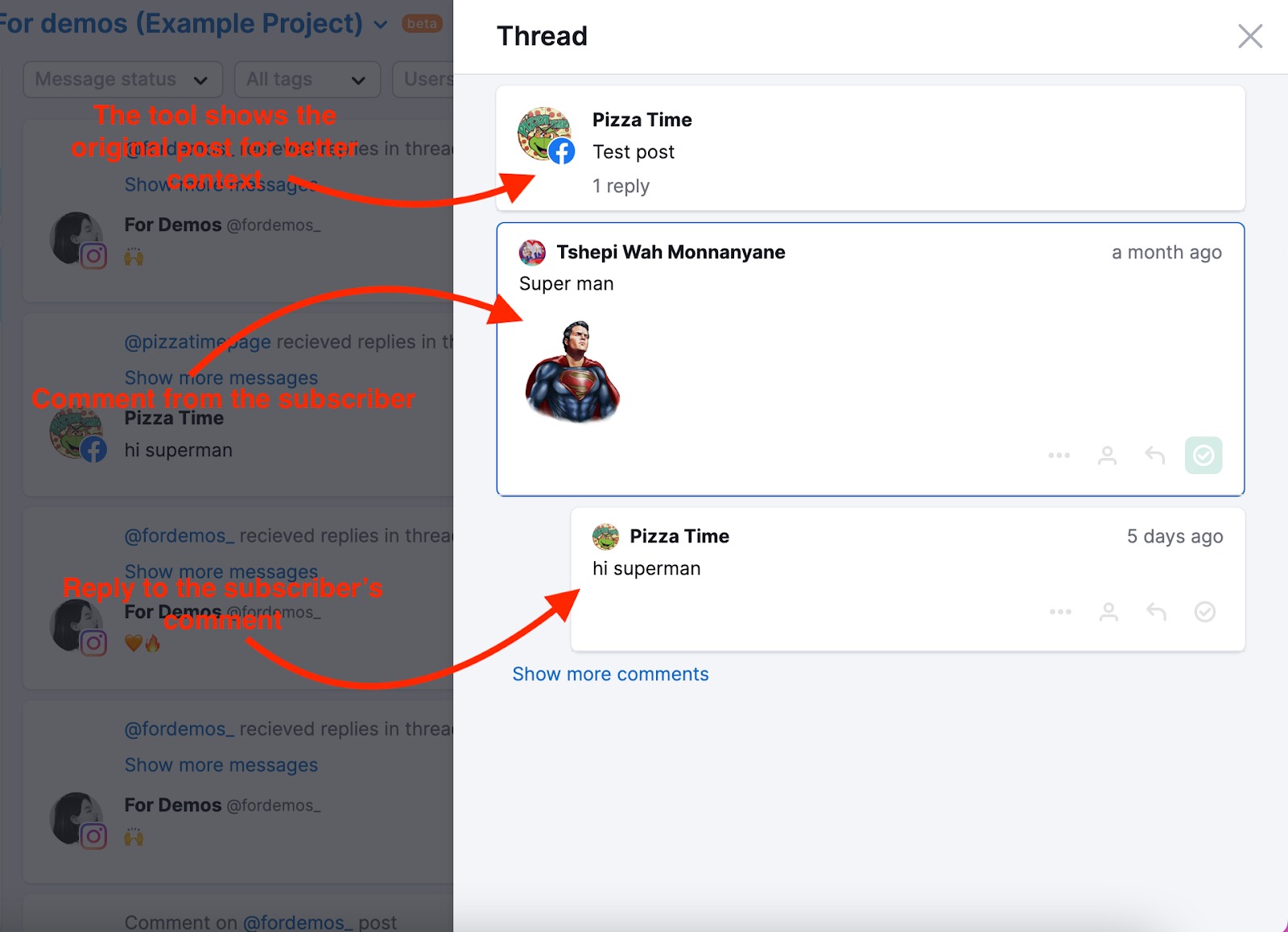 The reply form allows you to reply, add a private note, or mark it as done.

Additionally, you can create templates to automate your answers via Quick Replies. You can add greetings, the most common answers, etc to quickly respond to clients, reducing the amount of time spent on each response.




Please note: currently, the tool supports only text replies.