Plagiarism Checker, by The Apps Cloud, helps you improve the quality of your content by screening for:
Plagiarism
AI generation
Spelling errors
Then, it delivers an easy-to-read report breaking down its findings.
Find Plagiarism Checker in the Semrush App Center.
How Can Plagiarism Checker Help Me?
Plagiarism Checker helps you spot potential content issues faster and easier, which allows you to improve quality and maintain credibility online.
Why is this important?
First, low-quality content—especially plagiarism—can damage your audience's trust. It may also rank poorly in search, which reduces your brand's visibility. Plagiarism may also result in penalties, such as being removed from Google search results.
Second, as generative AI becomes more prevalent online, consistently posting high-quality, authentic content can help you stand out. Especially if you're working with external writers, you'll need a toolkit to help with ai detection.
With Plagiarism Checker, you can spot writing that was obviously generated using an AI tool, and catch other readability issues that could damage reader engagement.
Access & Limitations
Plagiarism Checker is totally free. You can find it in the Semrush App Center.
The app can check up to 6,000 words of text for plagiarism in the following languages:
English
Albanian
Bulgarian
Croatian
Czech
Danish
Dutch
Estonian
Finnish
French
German
Greek
Hungarian
Icelandic
Indonesian
Italian
Japanese
Korean
Latvian
Lithuanian
Norwegian
Polish
Portuguese
Romanian
Russian
Serbian
Slovak
Spanish
Swedish
Tagalog
Thai
Turkish
Ukrainian
Vietnamese
It can also check spelling in:
English
Simplified Chinese
Dutch
French
German
Greek
Italian
Japanese
Korean
Polish
Portuguese
Spanish
Swedish
Tagalog
AI-generated text detection is currently only available in English.
How To Analyze Text with Plagiarism Checker
Check any text for plagiarism and other errors in just a few clicks. All you have to do is copy and paste between 50 and 6,000 words into the text box and click "Check."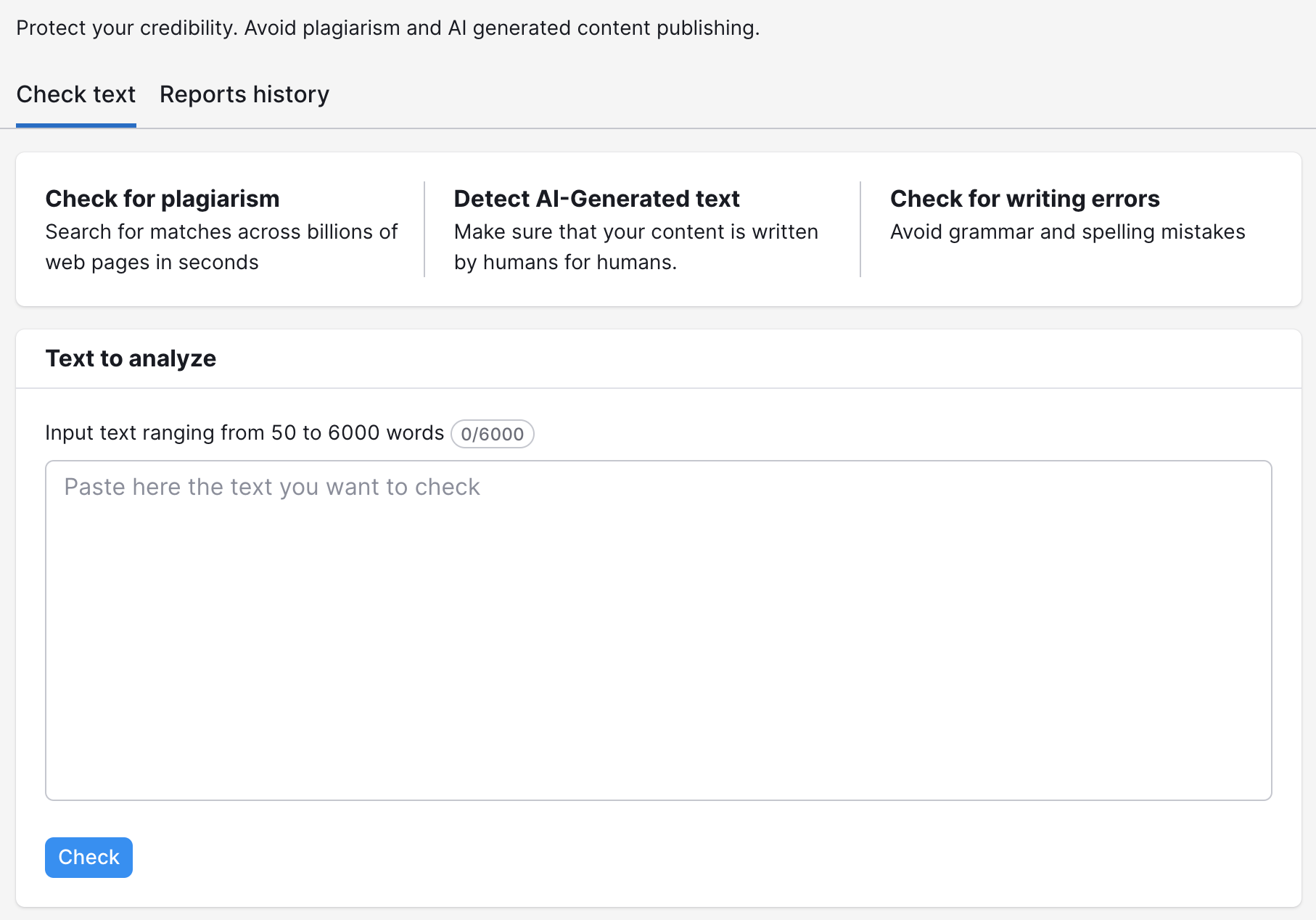 Then, the tool will automatically analyze the text and deliver the results to you in an easy-to-read report. It's that simple!
How To Read the Report
Once you scan a text, Plagiarism Checker will show you a report containing its findings. You can access this again at any time in the "Reports history" tab.
At the top of the page is the report header, containing:
The report name (or first line of text), date, and time
The complete text analyzed (click "Show text" on the right to reveal)
The Summary widget

From left to right, the Summary widget contains:
Plagiarism score: the percentage of text believed to be plagiarized
AI Generated score: the percentage of text believed to be generated by an AI tool
Readability: the Flesch-Kincaid Grade Level, ranging from 1 (very easy) to 12+ (very difficult)
Reading time: How long it would take an average reader to read the entire text
Grammar: A count of spelling mistakes present in the text
Next, the Top Sources widget breaks down the top five sources of potential plagiarism, in order of similarity.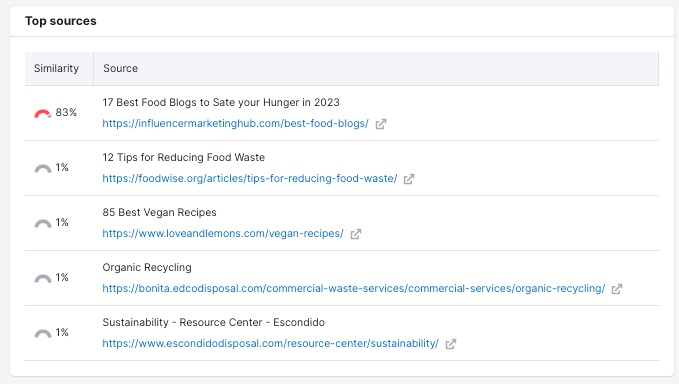 On the left, the Similarity column shows you the percentage of matching text found in the source. On the right, you'll find the title and URL of the potentially plagiarized content. Clicking on one of these links will open it in a new tab.
Finally, the Plagiarism Report widget shows you the matching text for each potential source of plagiarism.
On the left, the report displays the matching text. On the right, you'll find the title and URL where it may have been copied from.
Click the URL to read the source article in its entirety and compare for yourself.
How To Access Previous Reports
Need to reference something you already analyzed? Just click the "Reports history" tab to see all the texts you previously input into the tool.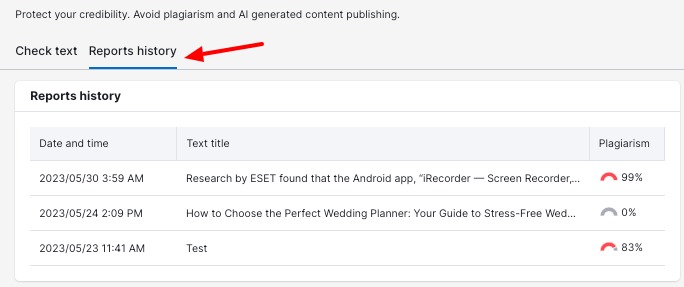 Here, you can see:
The date and time the text was checked by Plagiarism Checker
The title or first line of your text
The amount of plagiarism detected
Click on any row to access the complete report.
Frequently Asked Questions
Plagiarism Checker performs automatic web searches, comparing your submitted text to previously published web content. Then, it scores your text based on the percentage that matches these published sources.
Plagiarism Checker uses Sapling.ai to identify AI-generated content. These models were trained on AI-generated text, which enables them to identify it.
However, please note that false positives and negatives may still occur. AI content detection is still being developed, so no tool—including this one—should be used as a standalone guarantee.
The Flesch-Kincaid Grade Level rates a text's readability, based on the number of words per sentence and the number of syllables per word. It uses the U.S. education system's grade levels as a point of reference.
In Plagiarism Checker, the scores you can get are as follows:
1 or 2: Very easy to read, with simple sentences and very basic words
3 or 4: Easy to read, with simple sentences and common words
5 or 6: Somewhat easy to to read, with straightforward sentences and common words
7 or 8: A standard reading level, with an average mix of sentence structures and vocabulary
9 or 10: Somewhat difficult to read, with longer sentences and more complex words
11 or 12: Difficult to read, with long sentences and complex vocabulary
12+: University or professional reading level, with complex phrasing and difficult or technical vocabulary
If you have additional questions about Plagiarism Checker, please email us directly at app-center@semrush.com.