To get a quick overall look at a competitor's advertising behavior, enter their domain in the search bar while you have Display Advertising selected from the left-hand menu.
The top of the Display Advertising Overview report has an overview tab with stats over your set period. You are able to filter this time frame by the last 7 days, 15 days, 30 days, 90 days or all time. Keep in mind that time frame filtering is only available for Business level accounts. You can find out more about our plans and prices here.
At the top of the Overview, you will see the number of Ads, Publishers, Times Seen, First Seen, and Last Seen.
Ads – the total number of display ads we discovered from an analyzed advertiser.
Publishers – the total number of domains that we discovered publishing display ads from an analyzed advertiser.
TimesSeen – the number of times we discovered display ads from an analyzed advertiser.
FirstSeen – the date that we first discovered display ads from an analyzed advertiser.
Last Seen – the date that we last discovered display ads from an analyzed advertiser.
If they are mainly an advertiser, it will show their stats as an advertiser and if they are mainly a publisher it will show their stats as a publisher of display ads.
The Overview tab will also break down your data into additional widgets for analyzing the gender, age and top interests of the advertiser's audience.
We gather this information through a reliable third party source using clickstream data. Display Advertising uses machine learning for this clickstream data which it then uses to determine age, gender and the interests of the audience.
This gives you a better picture of what kinds of audience your competitors target with their campaigns.
The remaining widgets in this report include Sample Ads, Publishers, Top Publishers Category, Display Ads by Countries, Ad Types and Display Ads by Device. This ensures that you are getting the full scope of the Display Advertising behavior of a domain.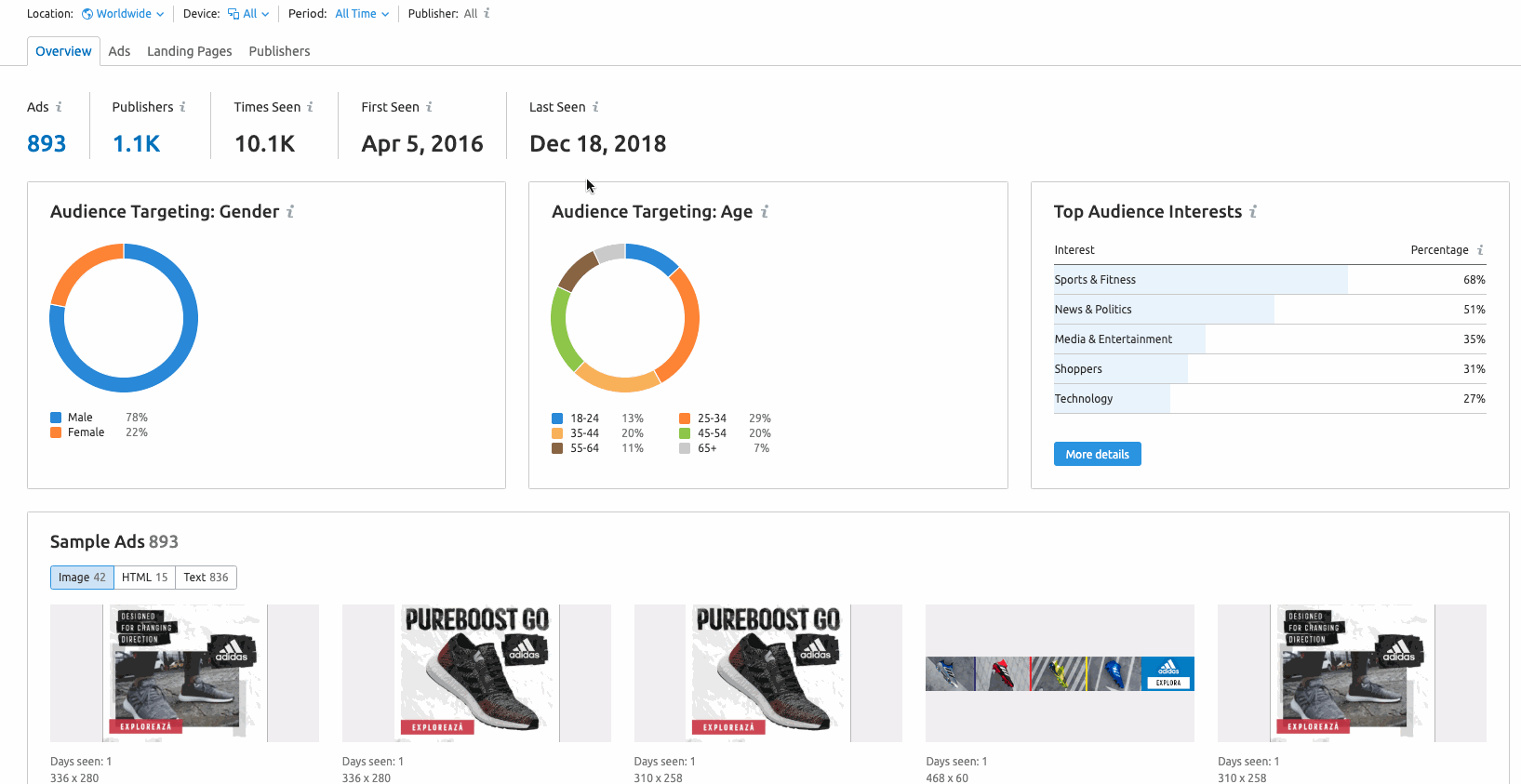 Clicking on the blue view all buttons in the Sample Ads, Publishers and Display Ads by Countries widgets will bring you to that specific report.
What is the Difference Between Advertisers and Publishers?
In the Overview table, you'll see if the domain participates as an Advertiser or a Publisher. After entering a domain that both publishes and advertises ads, Semrush will automatically show your domain's data as an Advertiser.
You can also see the statistics for that domain as a Publisher by selecting Publisher in the drop-down menu directly to the left of your domain. However, if the domain is only a Publisher, it will show data as a Publisher by default.
Advertisers are websites that run their ads on another website's domain. Publishers are the websites where these ads are seen.
Advertisers use Google Ads to create and manage their ad campaigns, while Publishers use Google AdSense to set up ad space on their websites. Once the ad space is on the website, Advertisers can pay Google Ads to run their ads on the Publisher's website.
You are welcome to learn more about analyzing advertisers and publishers from our quick How to Build an Effective Media Buying Strategy guide.