The Ads report in Display Advertising provides an in-depth way to study a competitor's display advertising history.


You can alternate between viewing the text ads, responsive HTML ads, and image ads that were placed. You can also easily sort the ads by their popularity (which ads were seen the most), identify the first and last seen dates, and see the various countries that these ads appeared in.

This provides an in-depth way to study a competitor's advertising behavior, especially if you want to see how they target users of various device types. Specify the device type, geographic location, and time frame to analyze with the options above the table.
Please note: the time frame filter in this report is only available with a Business subscription.

Identify a Competitor's Ad Placements
One of the best features within the Ads section of Display Advertising is the ability to see the full list of domains that are publishing a competitor's ad. By clicking anywhere on an individual ad, you will be shown the ad and the list of Publishers.


This list could be a great resource for making sure that these websites are of relevance to you so that you are not displaying any of your own ads on sites that will not be of benefit.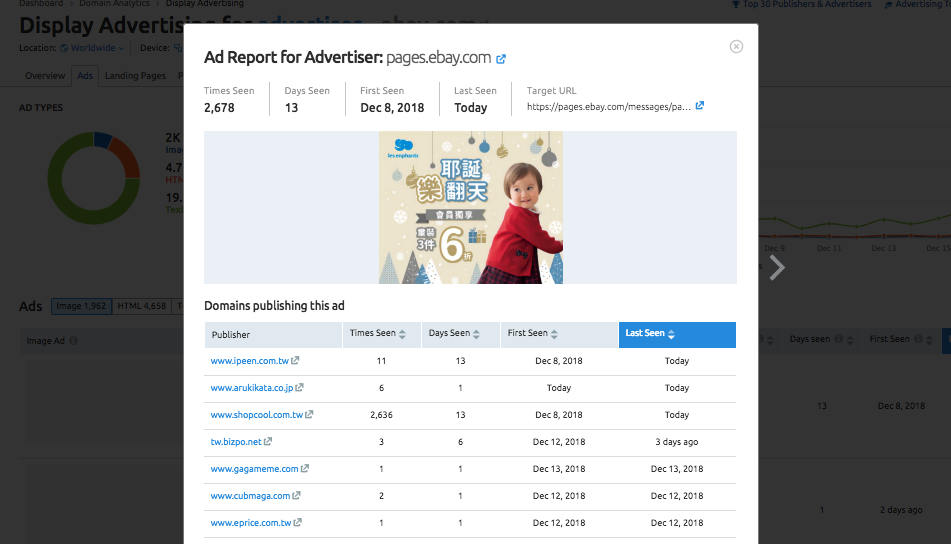 Anytime you are seeing competitor ads on domains that you are not targeting, it becomes an opportunity for your own efforts. Targeting these new potential domains with your ads can help you close the gap between you and your competition.
Filters
Being able to filter out specific data can be a key in helping you fully understand the success or failure of any given ad. Among these filters are location (more than 40 countries are currently available for this report), device type (desktop, iOS/Android tablets, iOS/Android smartphones) and time period. You are able to choose to analyze ads over the last 90 days, 30 days, 15 days, 7 days or of all time. Keep in mind time frame filtering is only available for business accounts. Pair different filters with each other to really narrow down the list of ads that are being analyzed.

Exporting Data
Paid users can export data on every type of ads we search for: HTML, image and text ads.
Image Ads (ads that include advanced visual elements that encourage viewers to interact and engage with the content) – you can export 10, 50, or 100 ads to a zip file. The zip file will contain images from the first column of the report.
HTML Ads (ads that use HTML elements, often including interactive forms instead of (or in addition to) standard graphical elements) – you can export 10, 50 or 100 ads to a zip file. They will be downloaded as HTML files.
Text Ads (ads that use text-based hyperlinks) – you can export 100, 500, 1,000, 5,000 ads to an Excel or CSV file. An Excel file will contain such metrics as 'Last seen,' 'Countries' and so on.
If you need to download even more ads, just let us know by sending a request via email for a custom report.