Choosing publishers with the right target audience is the basis of good media buying and the best way to maximize your ROI.
Here are two quick ways to start prospecting for publishers in Semrush.
1. Go to the Display Advertising Publishers report. Enter your competitor's domain in the search bar, and go to the tab labeled "Publishers." Make sure that you switch the blue drop down to "advertiser" at the top of the page in order to see this tab (the Publishers report shows all of the sites that publish the queried "advertiser's" ads. In the case below, all of the sites that Semrush saw publishing ads for searchengineland.com)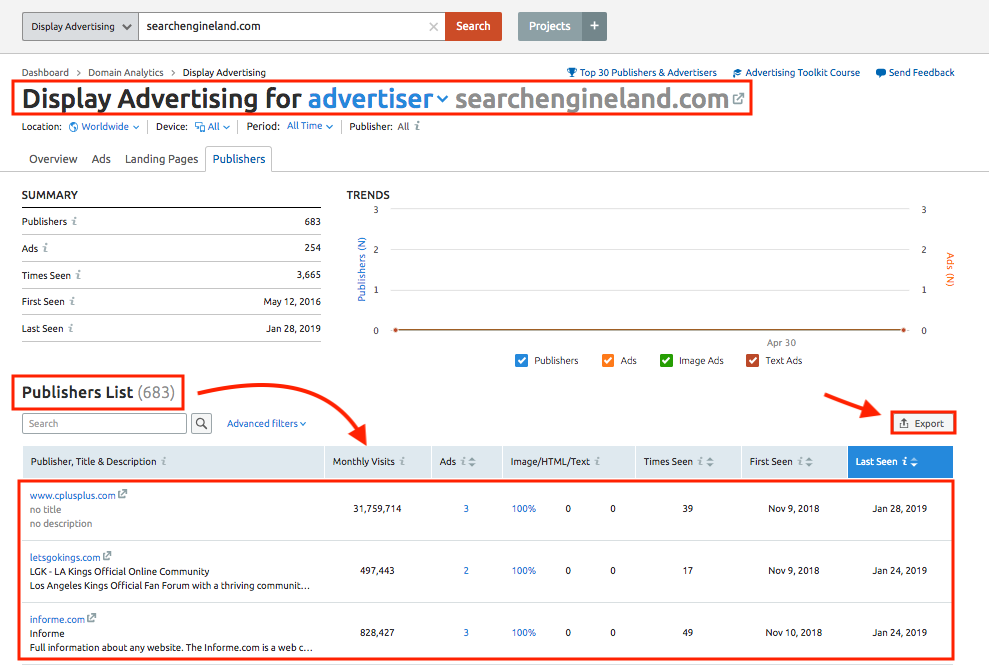 This will show you a list of all of the publishers that are showing your competitor's ads. To check the relevancy of the site, look in the Title & Description column.
To estimate a publisher's reach, look in the Monthly Visits column. This estimates how many people visit the entire site on a monthly average. You can export the list or publishers to save your research.
These two columns should be what you check on to determine if a publisher is a good enough fit to add to your prospect list.
2. Another place to look is the Top 30 advertisers and publishers report. This report contains a list of the 30 most prolific advertisers and publishers in our database. Filtering options include geographic location, device type, and time period.
With each domain, you can see:
The number of ads seen by Semrush
The percentage of ads that were HTML, Image, or text ads
The amount of advertisers / publishers related to each domain
Once you've built up a good list of potential publishers, the next step will be choosing the best publisher based on further analysis.