To analyze a large batch of domains at one time, utilize the Traffic Analytics Bulk Analysis report. With Bulk Analysis, you are able to get traffic metrics on up to 100 individual domains all at once. For each domain you query in the report, you will be able to measure:
visits
unique visitors
purchase conversion
pages/visit
avg. visit duration
bounce rate
This is perfect for users that need to analyze a large number of websites on a day to day basis.
To start, all you need to do is enter the domains you want to analyze. Each domain should be entered on its own line. After you have all your websites entered, click on the green analyze button, and Traffic Analytics will run your data.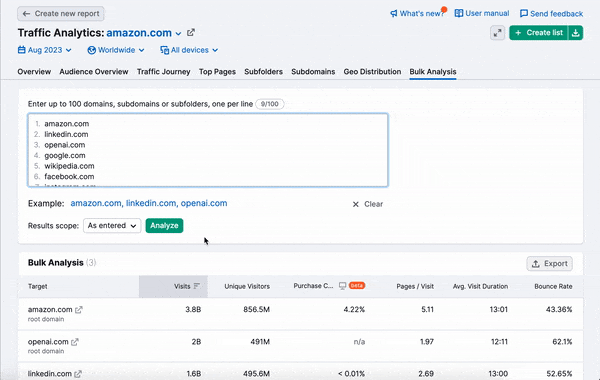 Running a Bulk Analysis can be greatly beneficial to your marketing plan for a number of reasons. Some of the areas that can benefit from bulk analysis data include Affiliate Partnership Management, Content Creation and PR, Link Building and media outreach and Sales.
Affiliate Partnership Management can use Bulk Analysis to assess the potential of prospective partners.
Content Creators and PR can discover media platforms to predict the potential reach of their content.
Link Building and Media Outreach can evaluate actual traffic of multiple prospects and prioritize them accordingly.
Sales can evaluate and score new leads and prospects.
Bulk Analysis is available for any subscription with the paid Semrush .Trends solution. This full access to Traffic Analytics also includes access to the region and device filter, option to select up to 20 countries at once, historical data, as well as the ability to export your data as a CSV or Google Sheets file.
If you do not have the .Trends solution, you are limited to testing Bulk Analysis with five domains per day plus our three sample domains (amazon.com, linkedin.com, and openai.com).