How to See Your Google Reviews (And Manage Them Properly)
Your reviews on Google are super easy to find, but do you know what to do with them once you've found them?
Quick Summary
Google reviews appear on the SERP (search engine results page), Google Maps and Google Local Finder, helping your business stand out against competitors.

You can learn a lot from customer feedback in Google reviews, so it's important to check them regularly and respond professionally.

Tools like Semrush's Review Management make checking your Google reviews even simpler.
Google reviews: a quick overview
Google reviews are one of the most important contributors to your online reputation, so it's important that you know where to find them.
Fortunately, Google has made it easier than ever for you to see your Google reviews and respond to them, providing simple access directly in Google Search on desktop or Google Maps on mobile.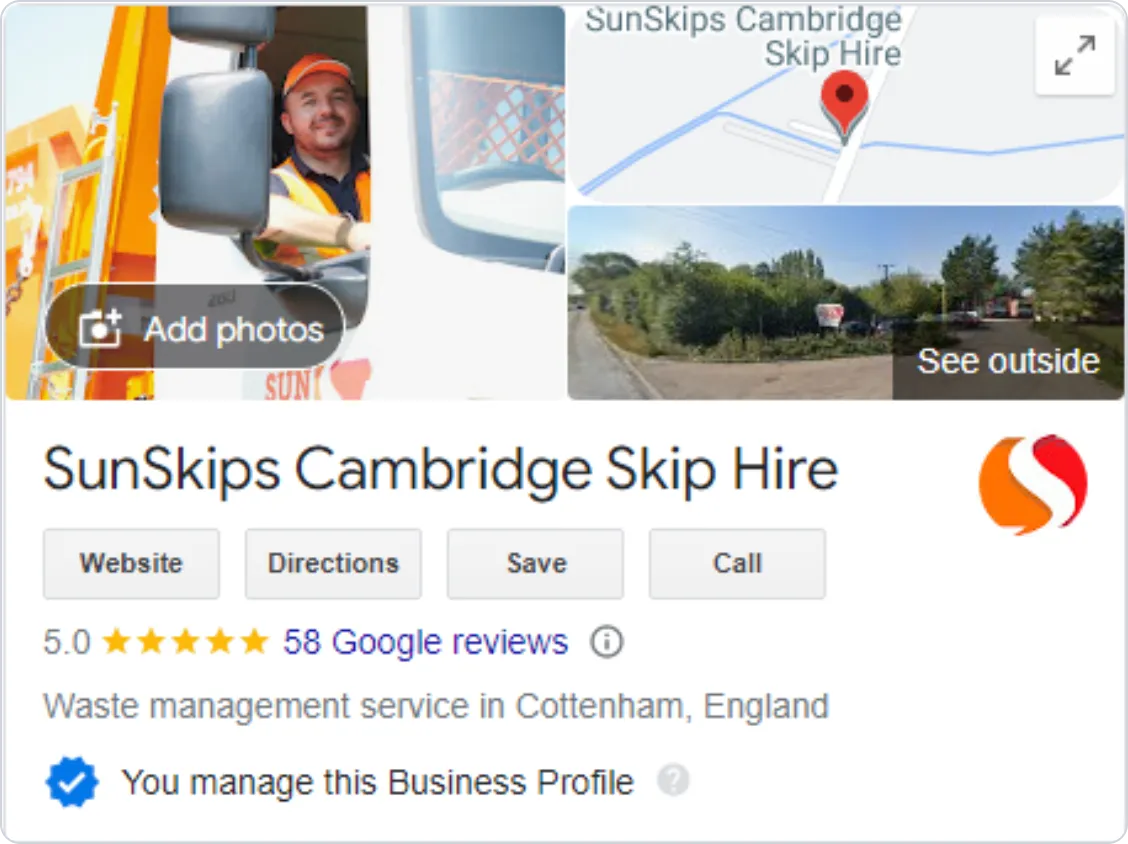 A Google Business Profile on Google Search where you can see your Google reviews.
And if that wasn't simple enough,
Semrush's Review Management tool
brings all your reviews from 70+ global directories into one handy place - plus it comes bundled with tons of other useful tools to boost your local SEO.
How do I see my Google reviews?
You can see your reviews on Google by searching for your business name in Google Search or Google Maps and scrolling down to the reviews. It's as simple as that.
But if you want to see your Google reviews so you can reply to your customers and show them how much you value their feedback, there are a few extra steps involved.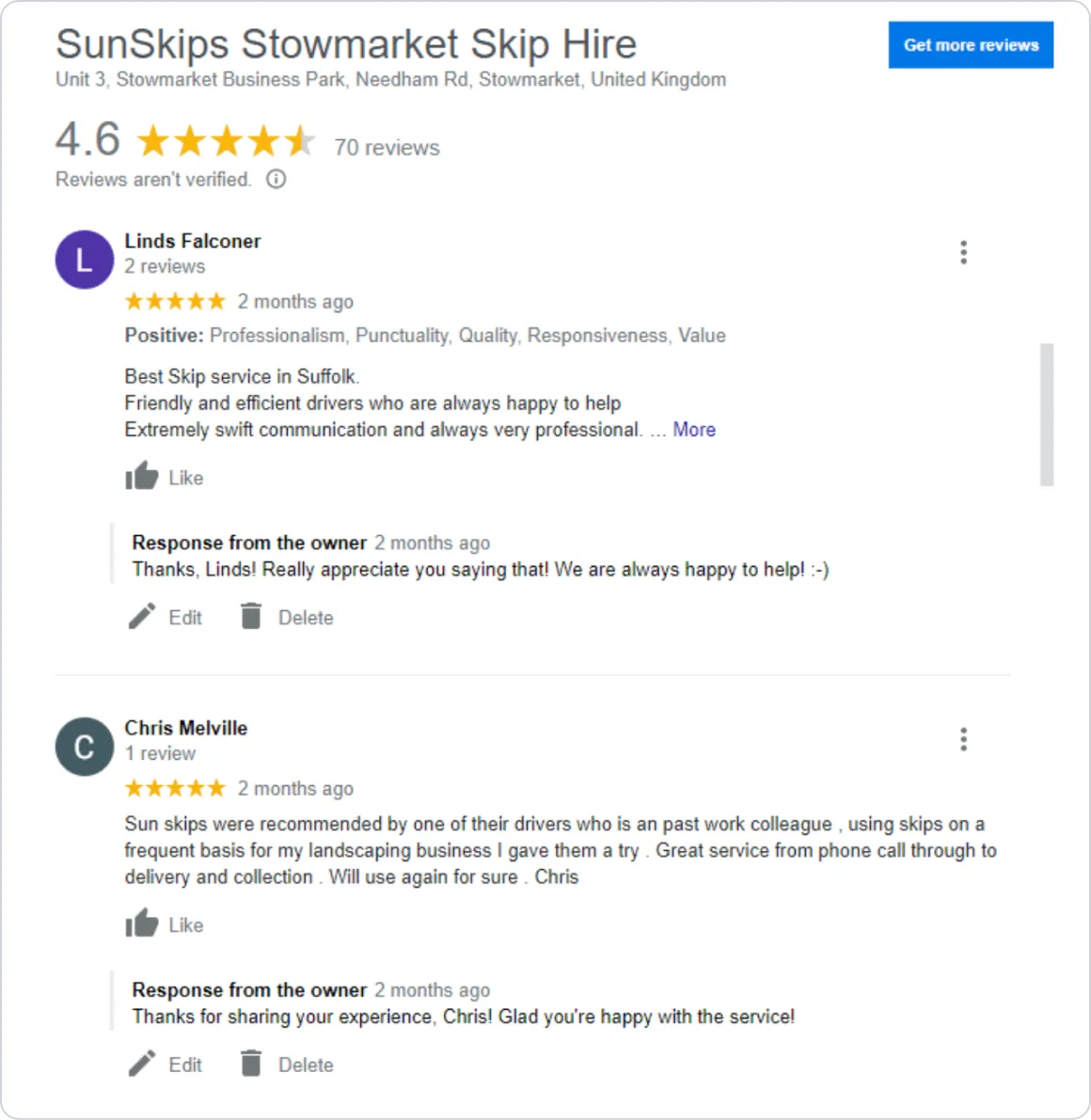 The Google Business Profile Manager interface where you can see your Google reviews
First, you'll need to claim your business (if you haven't already), then follow the steps below depending on your device:
Apple / Android phones and tablets:
Open Google Maps or Google Search.

In Google Maps, tap the account circle at the top right and choose "Your Business Profile," or simply enter your business name in the query field of Google Search.

Tap "Reviews" to see all the Google reviews left by your customers.
Desktop:
Open your browser and go to Google Maps or Google Search.

Search your business name.

Scroll down and click "More reviews" on Google Maps or "View all Google reviews" on Google search.
Google Business Profile:
Log into Google Business Profile.

Select "Reviews" in the left menu of Google Business Profile Manager.
Too many steps?
Semrush's Review Management tool
makes it even easier to see your Google reviews with a dedicated tab for all your online reviews, not just Google.
Do I need to check my Google reviews?
Google reviews are published as soon as they're submitted by users, so they don't need to be approved by the owner—but you should still check them.
Analyzing all your Google reviews—both positive and negative—gives you an understanding of your customers' pain points and needs, which you can use to improve your business.
Responding to show your customers you value their opinions will improve your online reputation and lead to more positive reviews.
Also, Google favors brands with a high number of quality reviews with responses, so managing your reviews should improve your local search performance.
Reminder: You should be doing this for all platforms and directories, not just Google.
If that all sounds like a lot of work to do manually, you're right! That's why Semrush built the to take the legwork out of checking reviews so you can dedicate more time to building your business.
Can I turn off Google reviews for my business?
No, you can't have an active Google Business Profile and disable reviews.
If you're receiving negative feedback that you'd rather not have displayed publicly, the thing to do is to
respond to your Google reviews
and find out what's going wrong.
If you believe you're a victim of malicious or fake reviews, you can report each incident to Google and if it violates the search engine's policy, they'll remove it for you.
Don't worry: Negative reviews are a normal part of a strong online presence, so it's best to focus on how to improve customer sentiment as part of your local SEO strategy.
See your Google reviews and manage them better with Semrush's Review Management tool
Check your Google reviews and reply to them with Semrush's handy
Review Management tool
for an even simpler process.
View your Google reviews - and all the others too!
While it's not too difficult to find out how to see your Google reviews, checking feedback from multiple platforms can become a bit unwieldy.
Save yourself the headache with Semrush's Review Management tool and see all your reviews in one tab.
In some cases, you can even reply directly in Semrush, so you can tick review management off your to-do list faster.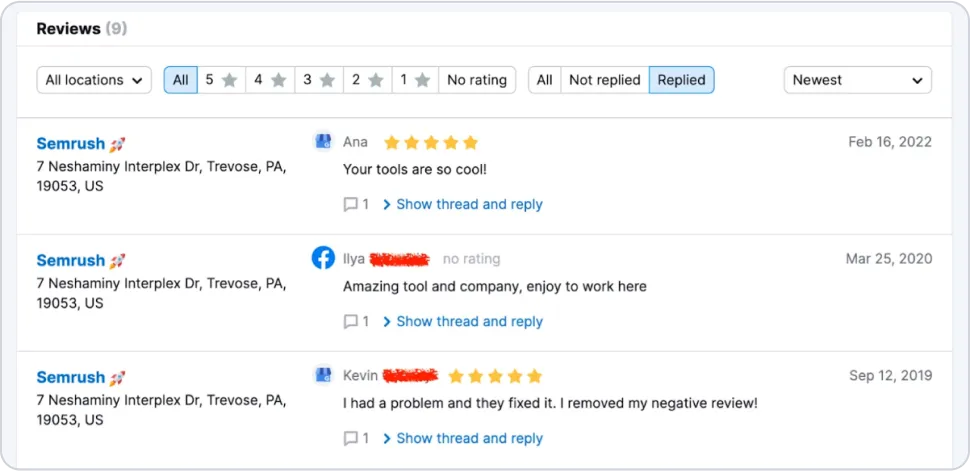 See your review sentiment across all platforms
For businesses with
Semrush's Review Management tool
on their side, understanding online reputation takes no time at all.
See your reviews stripped down to their most common words and let Semrush work out what it all means with a simple assessment from "poor" to "wow".
Way easier than typing it all into spreadsheets - plus it makes reports a lot easier for your team to digest.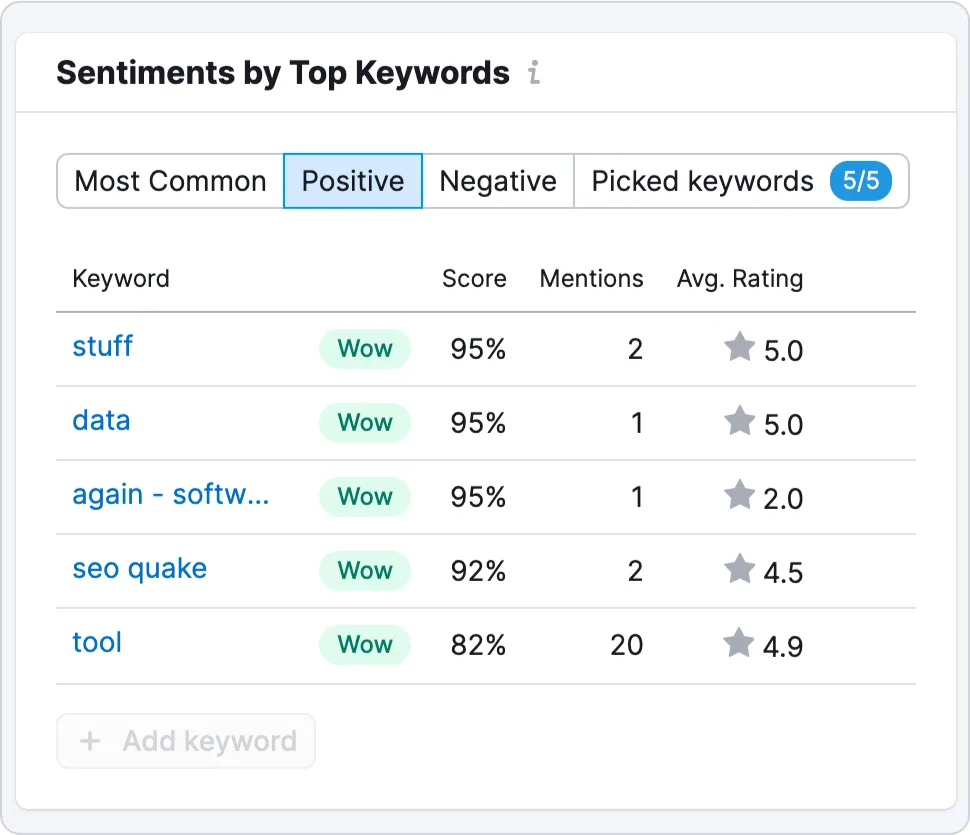 Keep things simple for your users
A common issue for Google Business Profile owners are the dreaded duplicate versions that might be lurking out there…
These can be hard to spot, but Semrush's Listing Management tool will quickly identify profiles that need to be suppressed and send you an alert.
No more customers leaving reviews on old or spam profiles so you can see all your Google reviews where they belong.