How to Respond to Google Reviews
Replying to Google reviews builds trust and keeps your profile looking professional
Quick Summary
Businesses that actively respond to Google reviews build customer trust and loyalty.

It's not hard to reply to Google reviews, but you'll need a system to make sure you're doing it promptly and don't leave any unanswered.

Negative reviews also need responses, but it's important not to be unprofessional or too defensive.
Why is it important to respond to Google reviews?
Racking up plenty of positive reviews on Google Business Profile is beneficial for obvious reasons: users trust the opinions of their peers and will likely choose well-reviewed businesses over those with a lower star rating.
According to World First,
83% of users
look at reviews before buying a product, while 50% check customer opinions to determine if a company can be trusted.
But do you need to respond to Google reviews every time you receive one?
Absolutely! When you reply to Google review—both positive and negative—you're showing users you take customer feedback seriously and value their opinion.
In fact,
Google says
that responding to reviews "can help build customer trust", so the search engine likely favors businesses that reply to reviews.
Semrush's Review Management tool
makes it easier to track all your online feedback so you can respond to Google reviews quickly and efficiently.

This Semrush interface makes it easy to learn how to respond to Google reviews
How to respond to a positive Google review
Knowing how to reply to Google reviews the right way can really set you apart from competitors' Google Business Profiles.
In short, it's really just a case of being polite, making sure the user feels heard and showing that you appreciate them taking the time to write a review.
The best Google review responses can be as simple as: "Thanks for the review, Katie! We're so glad you're happy with the service! Hope to see you again next weekend!"
However, there are a few things you'll want to bear in mind when you respond to a Google review:
Reply to Google reviews as soon as possible. For some platforms, you'll receive an email alert. For others, Semrush's Listing Management tool can help you keep track of all the reviews coming in.

Use their name in your response. The best Google review responses make people feel special. Addressing them directly feels more genuine and shows you're not just copy/pasting.

Be specific. If the customer mentioned a particular service or team member in their review, refer to it in your response so it's clear you're taking the feedback onboard.

Don't be afraid of the personal touch. If you remember serving the customer and they were pleasant to deal with, give them a positive review right back in your reply.
Semrush's Review Management tool is the simple way to reply to Google reviews, leaving you the time to give your customers the response they deserve.
How to respond to negative reviews on Google
So, you got a one-star review…
There's no need to tear your hair out in despair; most businesses get a bad review once in a while - and you simply can't please everyone.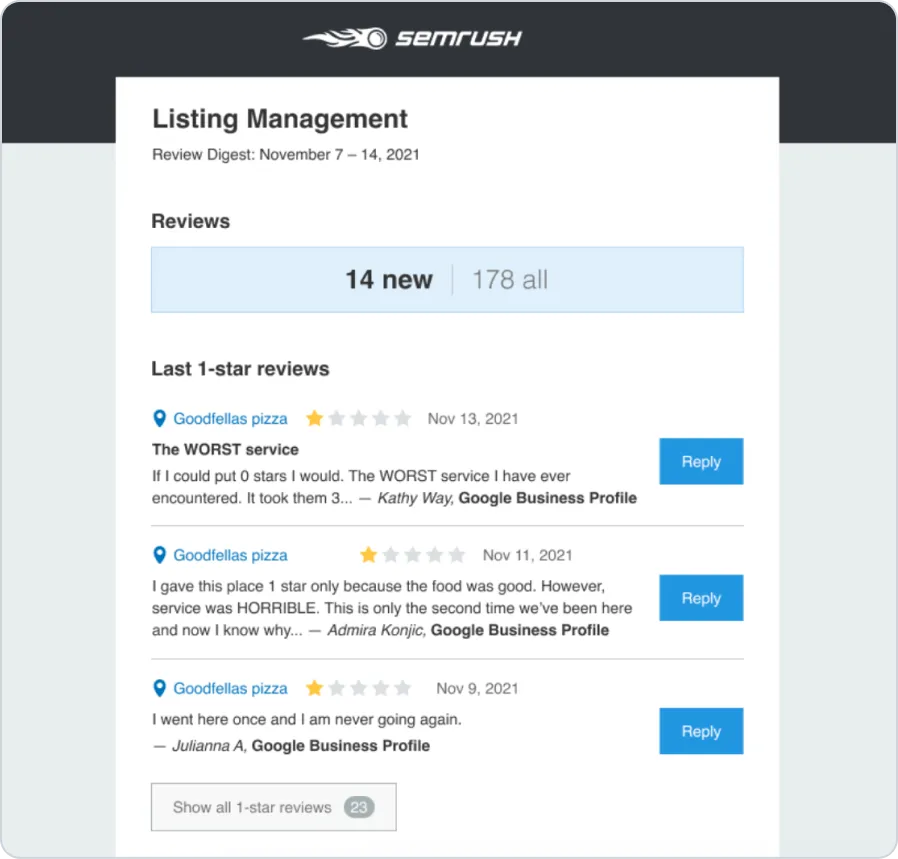 Negative reviews displayed in Semrush's Listing Management tool
So before you take to the keyboard in anger, let's take a look at how to respond to a bad Google review the correct way:
Don't rush to answer. You might have a strong desire to respond immediately after receiving negative feedback. But an emotional response can do even worse damage to your reputation. Take a step back and consult with your colleagues to find the most thoughtful response.

Make your response public. While it might be necessary to reach out to a disgruntled client privately, it's best to respond to their review first. That way, others will perceive your business as professional and one then addresses customer complaints head-on.

Admit your mistakes. No one is perfect and most people understand that. People will respect you if you admit to flaws in your service and offer to make amends.

Find out more. If the customer's review contains only a few words like "didn't like it", follow up and try to learn exactly how you could improve.

Offer a solution to the problem. Show you really care about making the situation right, perhaps by offering a discount if they give you another shot.
How to respond to fake or malicious Google reviews
Unfortunately, you might receive a review that's not genuine, perhaps submitted by a spammer or a rival company attempting to damage your reputation.
If you suspect a review isn't from a genuine customer or the content of the review is offensive, you're within your rights to report it.
Consult Google's
prohibited and restricted content guidelines
to determine if the review you received can be removed.
Feel like the review needs to go? Here's what to do when you get a fake Google review: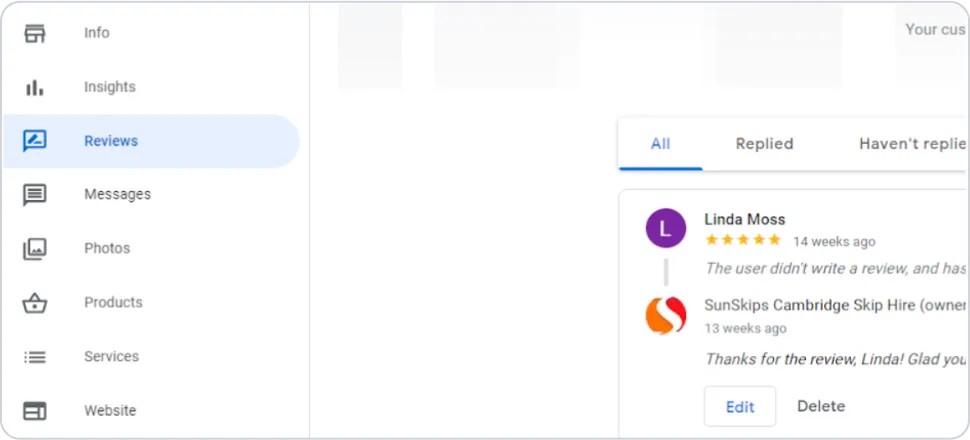 Click the three dots on the review you wish to report.

Select "Report review".

Select the part of Google's policy that's been violated.

Wait for Google's verdict (this can take a few days).
Let Semrush's Review Management tool make responding to reviews easier
Reply to Google reviews quickly and effectively with a review management solution geared towards boosting your local SEO.
Streamline your review responses
Going to each platform or directory one by one leaves a lot of room for errors or missing reviews altogether.
Instead, check all your reviews in one tab - and for Google Business Profile and Facebook, reply directly in Listing Management. The Reply Rate widget will keep you informed of your progress (plus, it feels pretty good to get that satisfying 100% mark).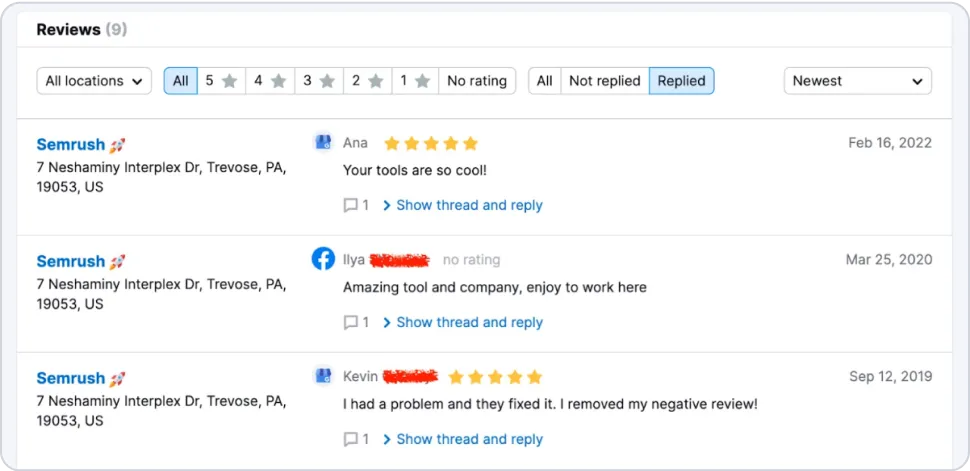 Understand your overall ratings
Do you really want to be entering review scores from different platforms into spreadsheets to try to make sense of your overall reputation?
See the bigger picture with the Sentiments tab, which gives you an average review score across 70+ platforms, including Google. Learn the top positive and negative words customers are using to describe your business so you can quickly identify areas for improvement (and where praise is in order).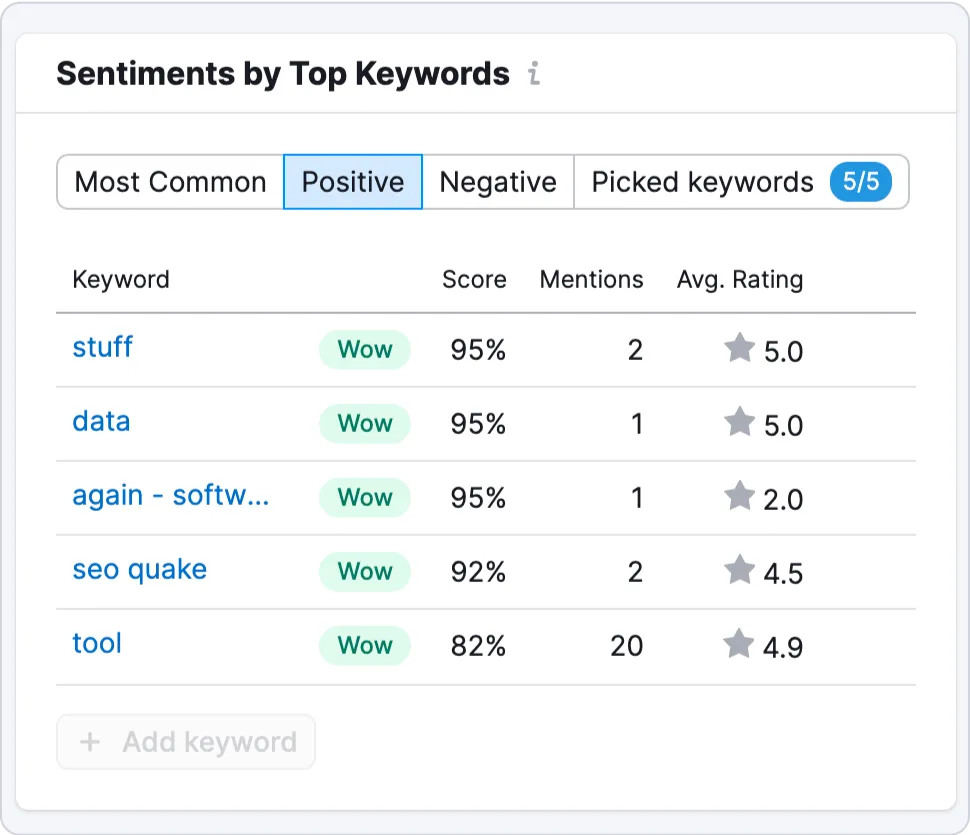 See your hard work pay off
Google factors the number and quality of reviews when determining ranking in its Local Finder.
With
Semrush's Review Management tool
, you can track the impact the response to reviews is having on your local SEO. Heatmap will even show your positions on a Google Map so you know exactly where your local SEO is doing well and where it could use some work.