How To Edit a Google Business Listing
Easily update your Google Business Listing and help customers find you online
Quick summary
Keeping your Google Business listing up to date is an essential part of good local SEO (search engine optimization)

You can edit information about your business—such as your physical address, business hours, phone number, category of business, and website—on the Google Business profile

Updating information about your business helps customers find you when they need to

Changing things like location, hours, or contact information is a breeze once you get the hang of it
Make sure your Google Business listing is verified and claimed
This is probably not a shock, but Google gets all its information from the web. Because of this, it will automatically generate a Google Business listing for most public businesses. If you aren't sure whether you have a Google Business profile, just hop onto Google Maps and do a search for your business name.
If this is your first time accessing this profile, you will want to make sure you have claimed it as your business and verified it by Google. To do this, follow these steps:
Go to Google Maps and type in your business name

When you locate your Google Business listing, click on it

A window should appear with details about your business—click on the option for "Claim this business"

Click "Manage now" on the next window that appears.

You will be given a list of options to verify your business: phone, text, email, or video (these options vary by service type)

Google may take up to seven business days to verify your account information

Once Google can confirm you own the business, you will be verified (it may take several weeks for changes to be reflected on Google after you've been verified)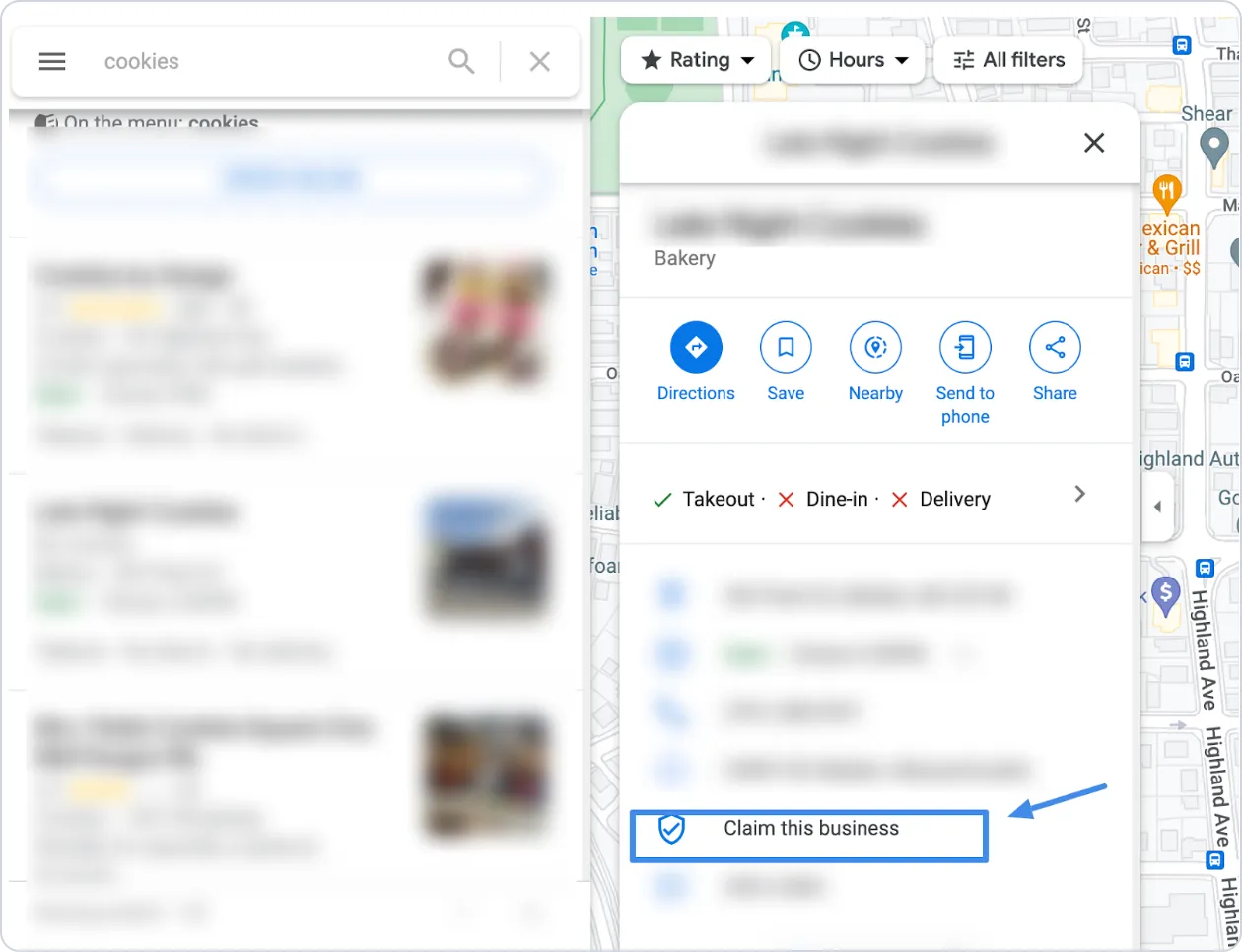 To claim your business, click on the shield with the check box to get started, as seen above.
Click on the "Manage now" button to the right to start making changes to your Google Business listing.
You can also use our Listing Management tool to create a comprehensive business profile that will then be automatically distributed to 70+ directories, including Google, Apple, and Bing.
The Listing Management tool lets you easily create a business listing that then gets distributed to 70+ directories. The tool's main page (see above) also lets you identify duplicate listings, manage reviews, and see local rankings; you can even get a heatmap in the premium Listing Management tool that allows you to track five keywords at a time on a hyper-local level.
This saves time, but it also increases your digital footprint significantly, beyond just having a Google Business listing! It takes only minutes to do, and the tool will automatically verify when your listing has been connected to a directory or when an issue in connecting to a directory arises.
Edit Google Business listing information
For a customer, there is nothing worse than confirming a business's hours using its Business listing, only to find when they arrive at the business location that the operation hours for the store were listed incorrectly online. Or, worse, they show up to the address listed in Google, only to find you moved your physical location.
Google also wants you to keep the details of your business current on your profile because Google exists to help customers find what they are looking for.
If your information is as current as it can be, customers will be satisfied and less likely to report problems (users can "suggest" edits to profiles like business closures). So, it's good SEO and business practice to get familiar with creating an update to a Google Business listing.
To update a Google Business listing, simply follow these steps:
Log in to Google Business Manager

Select (if you own multiples) the business listing you wish to edit

Find the element that you want to edit (examples: primary category of business and business hours) and click the pencil to begin editing that section

Once you have made your corrections, hit "Apply"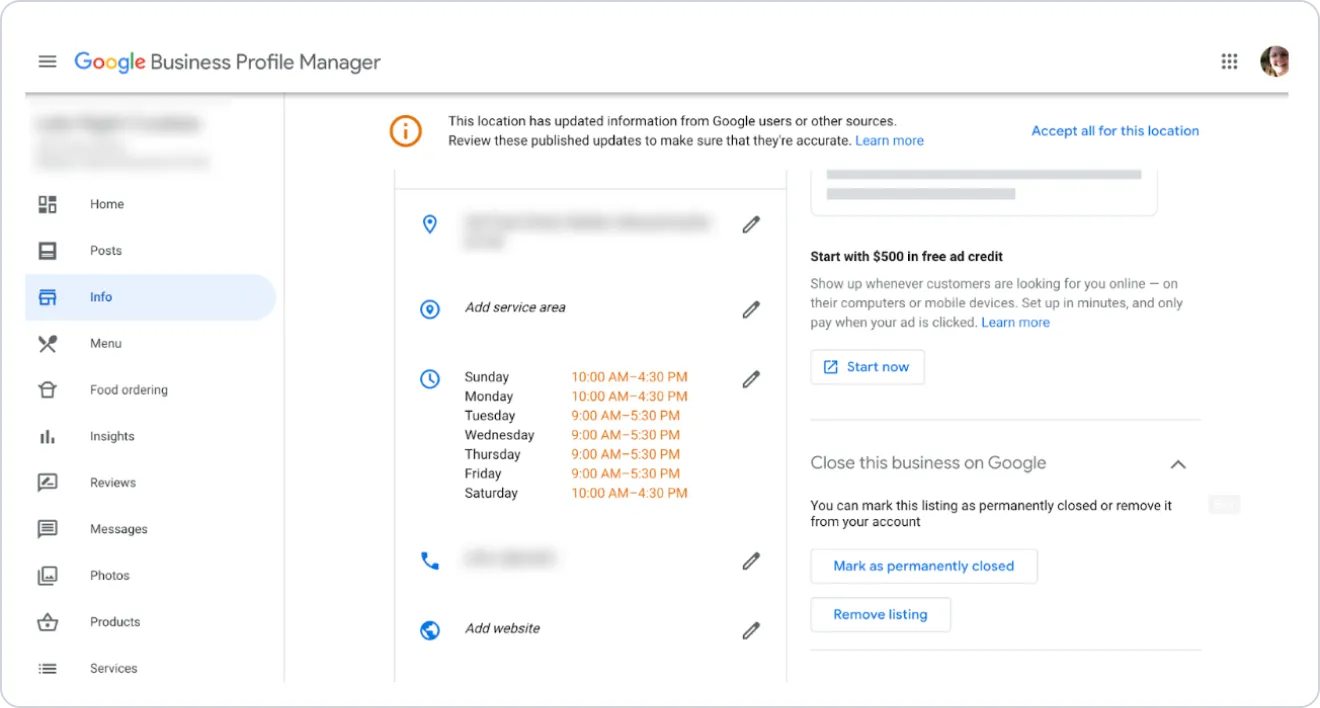 Google Business Manager lets you correct changes to your Google Business listing only (see above). This will not distribute important changes to other listings you have in other directories.
You should be aware that changes can take up to 60 days to be reflected in Google, which is why it is important to stay on top of your profile and make sure it remains accurate.
Add and change important details about your business
In addition to keeping the basics current, there are other elements of a Google Business profile that you can change and manage. As you can see in the image from chapter 2, the Google Business Profile Manager gives you options to add personal touches to your business.
This includes things like photos, products, services, food ordering, menus, messages, and more. The "Posts" feature has been especially useful during the COVID-19 era, when things are constantly changing and evolving. You can create a post to update customers about your COVID-19 policies and other changes.
With the Google Business Profile Manager, you can also respond to customer reviews.
The process for adding and changing these elements is the same as above.
Click on the section you want to change (example: posts)

Make the changes you wish to have reflected in your GB profile

Hit "Apply" when you are finished
There you have it. While it may be simple to make changes to these elements from the Google Business Profile Manager, it can be time-consuming to track and maintain multiple changes to your business profile over time.
Fortunately, Semrush offers a solution that streamlines this element of business management. Keep reading to find out how we can help you spend less time on data management and more time running your business!
Save precious time and centralize your listings in one location
So, as you have seen, it's relatively easy to manage your Google Business listing from Google Business Manager/Google account.
However, Google isn't the only place that potential customers will be searching for your business. If they look elsewhere in other directories and on other search platforms, will they find the correct information about your business? Is your business description current across the web? How about your location hours? Are you able to easily connect with customers through online reviews? These are important questions to consider when you are trying to improve your local business SEO and digital marketing strategy.
Chances are, you don't have a lot of spare time to manage dozens of business listings across endless directories. That's where the
Listing Management tool
makes life easy. In no time at all, you can:
Create comprehensive business profiles/listings that are automatically distributed to dozens of high-traffic directories

Make changes to your business profile that are then automatically reflected across all of the directories that house your listings

Manage reviews right from the Listing Management tool—no more chasing down customer feedback on multiple platforms

Identify high-value, hyper-local keywords on a convenient and user-friendly heatmap (premium Listing Management tool only)
Small businesses and busy marketing teams shouldn't have to waste resources hunting down listing changes and reviews across dozens of directories.
The
Listing Management tool
can help. Read on for more information.
How Semrush's Listing Management tool can help
Looking for a way to easily and conveniently make changes to your Google Business listing? We have a solution for you.
Distribute business info to the most authoritative directories on the Web
The Listing Management tool makes it simple to send out your business listing information to 70+ directories in the U.S. (and 40+ directories in other countries).
This means in addition to making it easy to track and change information on your Google Business profile, you can also send updates to the many other directories that feed information to customers about your business.
No need to worry about 70+ separate profiles—you can edit it all from the Listing Management panel with a few clicks of a button.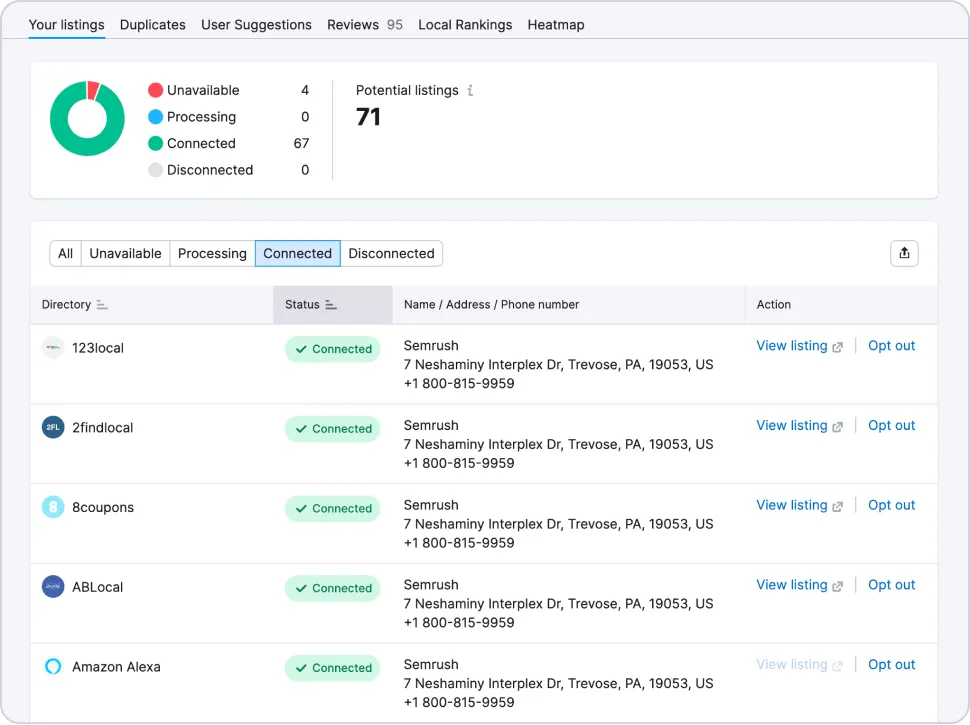 Keep your business free of malicious duplicate profiles
Unfortunately, some competitors like to use unfair tactics to get ahead. They can do this by creating a duplicate profile of your business that is fraught with inconsistencies and incorrect information.
This can confuse Google (and other directories) and frustrate your customers. Listing Management automatically scans for these duplicate profiles and helps you eradicate them once and for all.
See how your listings are performing and get suggestions for improvements
With so many businesses engaging in local SEO, it's not enough anymore to set up a profile and let it coast. The Listing Management tool allows you to track how frequently your listings are searched and displayed.
It will also show how you are ranking in your local market. The premium
Listing Management tool
even gives you a heatmap that you can use to track up to five keywords (and their performance) with a hyper-local focus, zeroing in on a targeted area you'd like your business to gain traction in.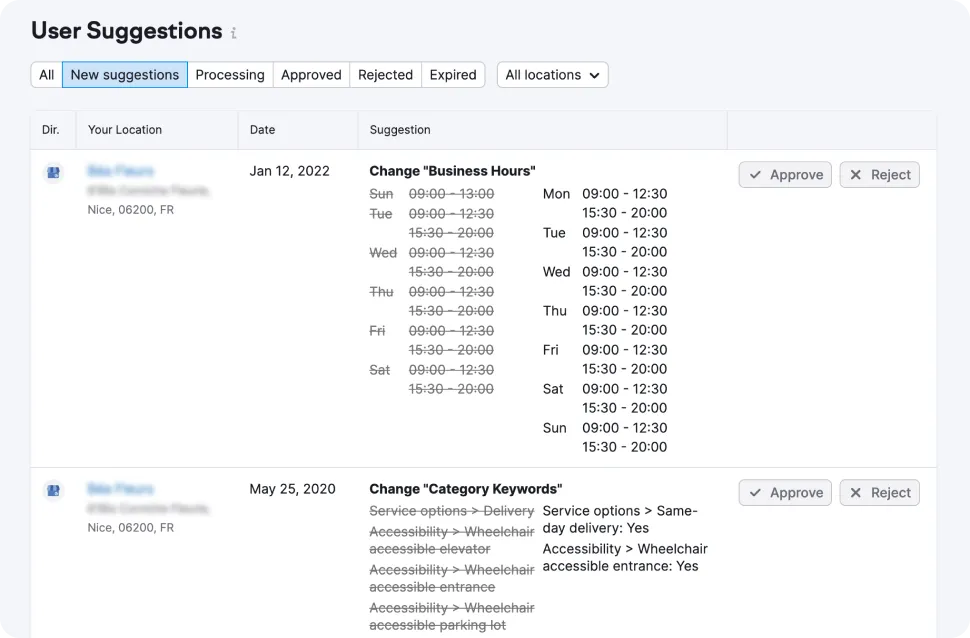 Manage your reviews in one place
Review management can be one of the most time-consuming aspects of running a business these days. Fortunately, the premium Listing Management tool aggregates your business reviews from across the web so you can monitor them and respond to them all in one place.
You can even get a review sentiment report to learn more about what people like and dislike about your business, based on your customers' reviews.