Local Citation Service
Local citation building services for your business
Attract more customers with listings in top local directories
Increase your visibility and attract new customers
Keep your current citations up to date
Identify and eliminate misinformation
Build citations with Semrush's Listing Management tool
Semrush's Listing Management tool is a local citation building service that automates the process of citation building and maximizes your visibility.
Simply enter your business information to check the top local directories (70+ in the U.S. and 40+ around the world) to see if you're listed. You can then submit your business details (including your business name, address and phone number) to any relevant business directories you're not already listed in.
Boost online visibility and attract new customers
Finding time to distribute citations without the help of local citation services is a challenge for most business owners and busy marketing managers.
Fortunately, good citation-building services like Semrush's Listing Management tool take the legwork out of the process while working wonders for your local SEO and online visibility.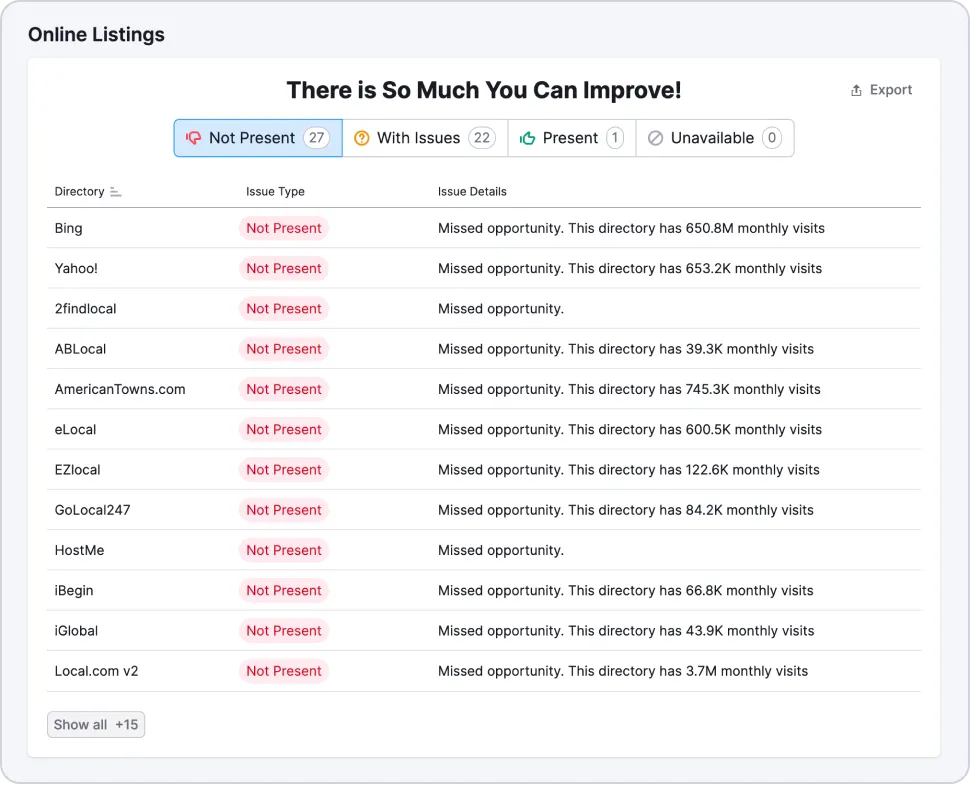 Keep all your local listings optimized and up to date
Whether you move to a new address, change your phone number, or even rebrand your business, updating each and every citation by hand requires hours of valuable time and effort.
Semrush's Listing Management tool doesn't just create new business listings, the local citation service also maintains them for as long as you're a subscriber.
Allow users to suggest updates
Eagle-eyed customers often spot the need for an update in your listings, but you needn't process all those suggestions across multiple platforms manually.
Semrush's Listing Management tool collects Google and Facebook suggestions in the User Suggestions tab. Once you've reviewed them, just click "Approve" to accept the changes.

Don't let duplicate listings confuse customers
Duplicate listings—malicious or otherwise—can ruin your customers' user experience and harm your local SEO. Without a citation-building service, finding each and every potential duplicate can be tedious.
Semrush's Listing Management tool automatically searches for duplicates and brings them to your attention automatically. Then, you can simply suppress each duplicate with the click of a button.
Pricing
Semrush's Listing Management is the ultimate solution for local citation building.
Local citation scan
Free
Audit five locations per day.
See your status in the top directories.
Check your average rating for all reviews.
Basic Location
$20/mo
All Free features plus:

Distribute business information to 70+ listings.
Suppress duplicates.
Consult user suggestions.
Track local rankings.
Manage your reviews.
Optimize for voice search.
Premium Location
$40/mo
All Basic features plus:

Track your positions in Google Maps with Heatmap.
Respond to reviews directly from the interface.
Still have questions?
We have the answers!
Countries We Support
Australia
Austria
Belgium
Brazil
Canada
Denmark
Finland
France
Germany
Hong Kong
India
Israel
Italy
Japan
Mexico
Netherlands
New Zealand
Norway
Poland
Singapore
South Africa
Spain
Sweden
Switzerland
Turkey
United Arab Emirates
United Kingdom
United States
Our Testimonial
Rob Peck, Director of Client Services at Boonze Media Solutions
Boonze Media Solutions
In my experience Semrush is by far the best all-in-one SEO analysis, management and workflow tool. Competitive research tools are super helpful in quickly understanding the lay of the land and then creating a strategy to bridge any gaps.
Preston Powell, Chief Marketing Officer at WebServ
Webserv
We are obsessed with value — it's a huge part of our services and our company mission. For us, using Semrush Listing Management offers huge value, not just in results, but in terms of saving money and time as well.
Neal Schaffer, Digital and Social Media Marketing Virtual Keynote Speaker
NealSchaffer.com
Semrush is the only tool I need to ensure my SEO efforts are on track. From competitor backlink analysis to keyword research to tracking my search engine rankings, it's the tool that keeps on giving insight — and I still only use a fraction of its functionality!
Frequently Asked Questions
What is a local citation service?
How do I get local citations?
Are local citation building services important for SEO?
How do I clean up my local citations?
Are local citation building services trustworthy?
What are some examples of local citations?
How do I cancel my subscription to Semrush's Listing Management tool?
Will my listings remain published if I cancel my subscription to Semrush's Listing Management tool?
Check your local citations for free