In business and marketing, knowledge is power. This is why so many industry leading companies dedicate large budgets and entire departments to information gathering and analysis. The more you know about your market, the better your ability to navigate the competitive terrain and strategize for success. 
Though some businesses make big investments in intelligence gathering and analysis, small and medium size businesses can also benefit. You don't need a huge budget or a dedicated team to begin this work. All you need to do is look in the right places and begin thinking analytically about what you uncover.
Competitive intelligence is the primary way you'll gain the knowledge you need to stay ahead of your competitors. In this article, we'll explain the concept of competitive intelligence (CI) and dig into some of the most important types of CI. 
What Does "Competitive Intelligence" Mean?
Competitive intelligence is the process of gathering and analyzing information about an industry with the goal of strengthening your business strategy. The gathered information can be related to any aspect of the business ecosystem, including:
Competitors
Customers
Suppliers
Products and services
Technologies
Industry trends
Economic or political conditions
Terms such as "business intelligence" and "market intelligence" are often used instead of "competitive intelligence." While they're related, it's important to note the differences: 
Business or corporate intelligence examples focus mostly on data and information collected internally.
Market intelligence examples encompass research on market conditions, market trends, and emerging markets.
Competitor intelligence examples center on competitors within established markets. 
In this article, we will stick to the term Competitive Intelligence, though we will delve into different aspects of these more specific kinds of intelligence. 
Why Is Competitive Intelligence Important?
Operating a business without knowledge of the landscape leaves you vulnerable to threats and leads to missed opportunities. These blindspots are detrimental to any business, and competitive intelligence provides a solution.
Maybe your competitor is launching a new product that competes with your company's main offering. Or, perhaps a recent event has shaped the perception of your industry in a negative way. Without competitive intelligence you'll likely miss changes in the market, make mistakes, and experience setbacks. 
As mentioned, CI is about gathering the intelligence you need to make informed business decisions over the long term. By collecting data about your market, you'll be able to: 
Uncover market trends and position yourself for the future
Predict your competitors' next moves and prepare to counteract 
Spot emerging threats in your industry
Discover opportunities for business growth
Keep your sales reps informed and develop winning pitches 
Benchmark against competitors to better understand where you can improve
Make strategic decisions with informed confidence 
All of these points and others not listed can guide your strategic planning and give you a competitive advantage. To arrive at useful competitive insights, you first need to gather and analyze the data. 
AI and the Future of Competitive Intelligence 
More and more, businesses are recognizing the importance of competitive intelligence. And as more businesses begin taking competitive intelligence seriously, those that don't are left at a disadvantage. It's easy to see why.
When it comes to marketing and sales, a deep knowledge of the competition allows you to take advantage of their weaknesses and blindspots, and approach your customers in ways that show how you can meet their needs in ways your rivals can't. 
Historically, smaller businesses have been at a disadvantage. Because gathering, organizing, and distributing competitive intelligence across an organization is a resource intensive process, teams with smaller budgets often struggle to keep up in high-velocity markets. 
Advances in AI and machine learning, however, have leveled the playing field, allowing smaller teams to keep a closer eye on the competition. With automated systems for gathering, processing, and distributing competitive intelligence, large teams and massive budgets are no longer the only solution.
Our article covering the 18 best competitive intelligence tools for advanced market research offers an overview on a number of AI powered solutions. But in the next sections, we'll look at Semrush and Kompyte–Semrush's new CI solution–to explore crucial kinds of competitive intelligence and how to gather it.
How to Gather Competitive Intelligence
While competitive intelligence gathering is often time consuming, it doesn't need to be complicated. Sources for information about your competitors are numerous, and many are easy to access. 
Here are 3 places to begin gathering competitive intelligence: 
Industry-based resources—Industry based resources such as trade shows, online and offline conferences, relationships with suppliers or customers, or public financial reports. 
For industry specific data, resources such as Statista, Pew, and Gartner provide a goldmine. For company financial information, try Google Finance or EDGAR, which offers a free database of company information. 
Company based platforms—Do your competitors have a presence online via websites, newsletters, or social media? When it comes to competitive intelligence, platforms like these can provide a wealth of helpful information. 
Programs such as Owletter or wappalyzer help you keep an eye on competitor communications and take deep dives into their websites. As you view individual sites or social profiles, look for trends across the industry.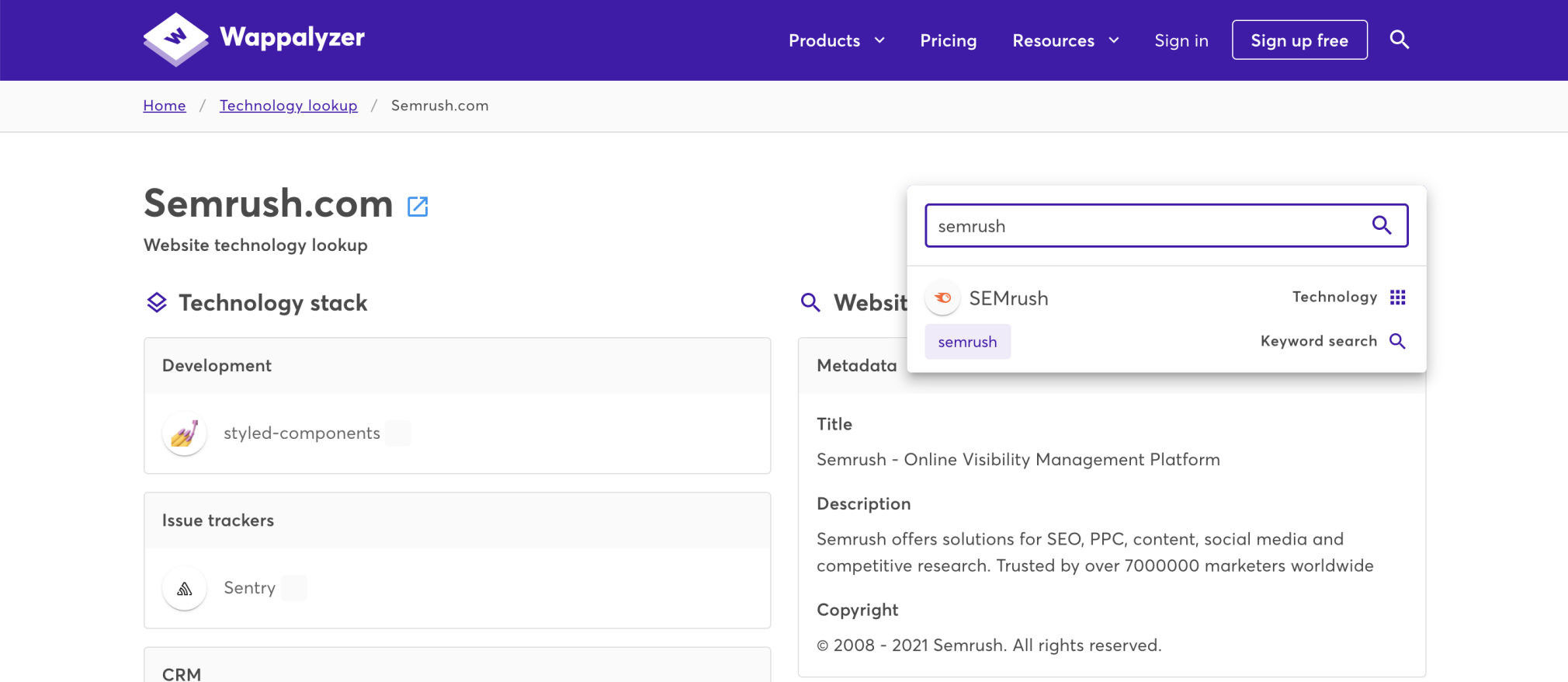 Competitive intelligence software—There are a multitude of fantastic software offerings that can assist in keeping an eye on market trends, customer behaviors, and business activities. For example, to track the broad conversation about a given topic in the media, a Google alert will gather mentions of that keyword in the news.
For a close look at activities for businesses in your market, however, tools such as Kompyte can add some serious power to your competitive intelligence efforts.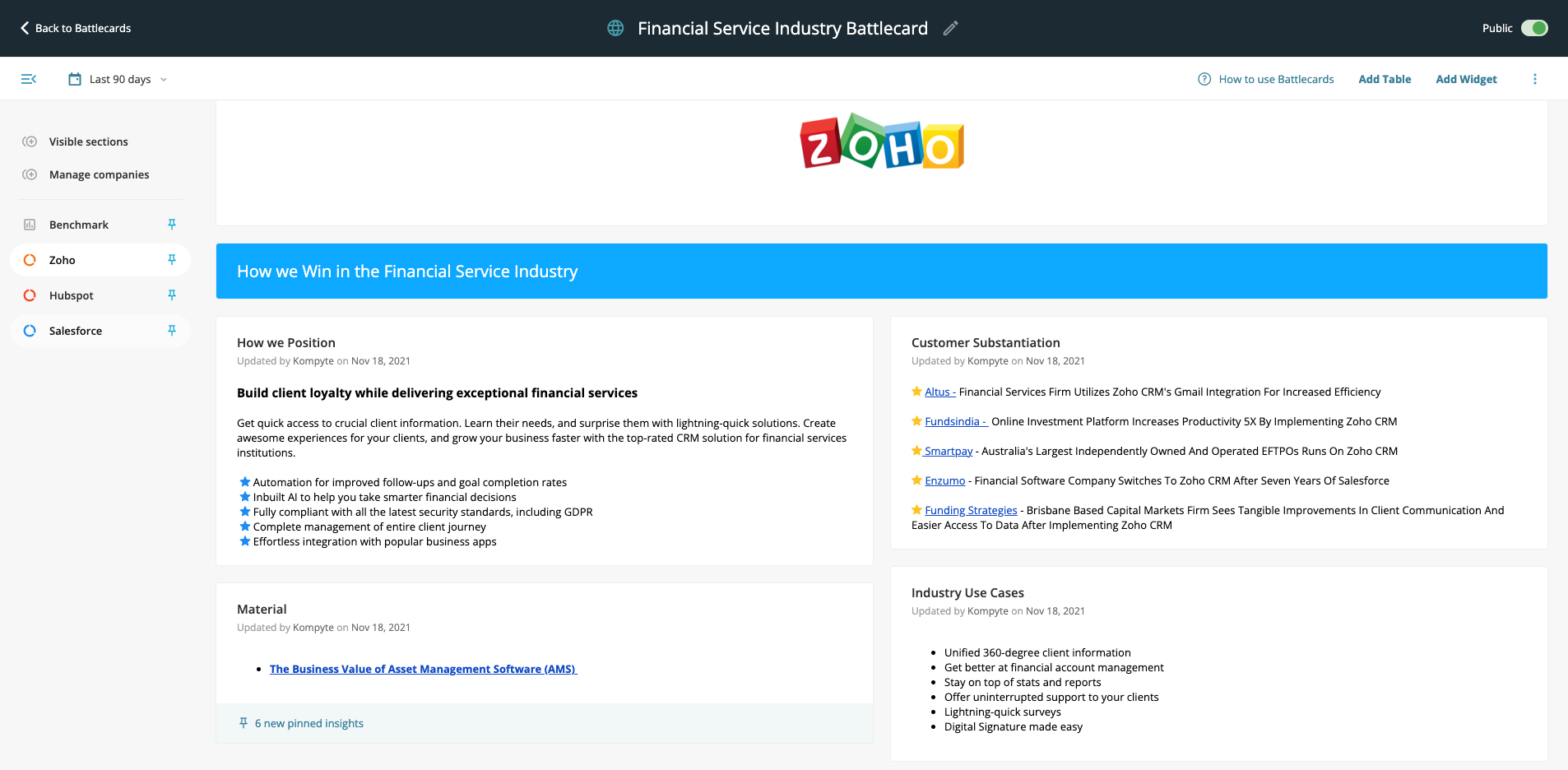 And for market trends and customer behavior research, marketing research software like Semrush's Market Explorer can provide invaluable insights.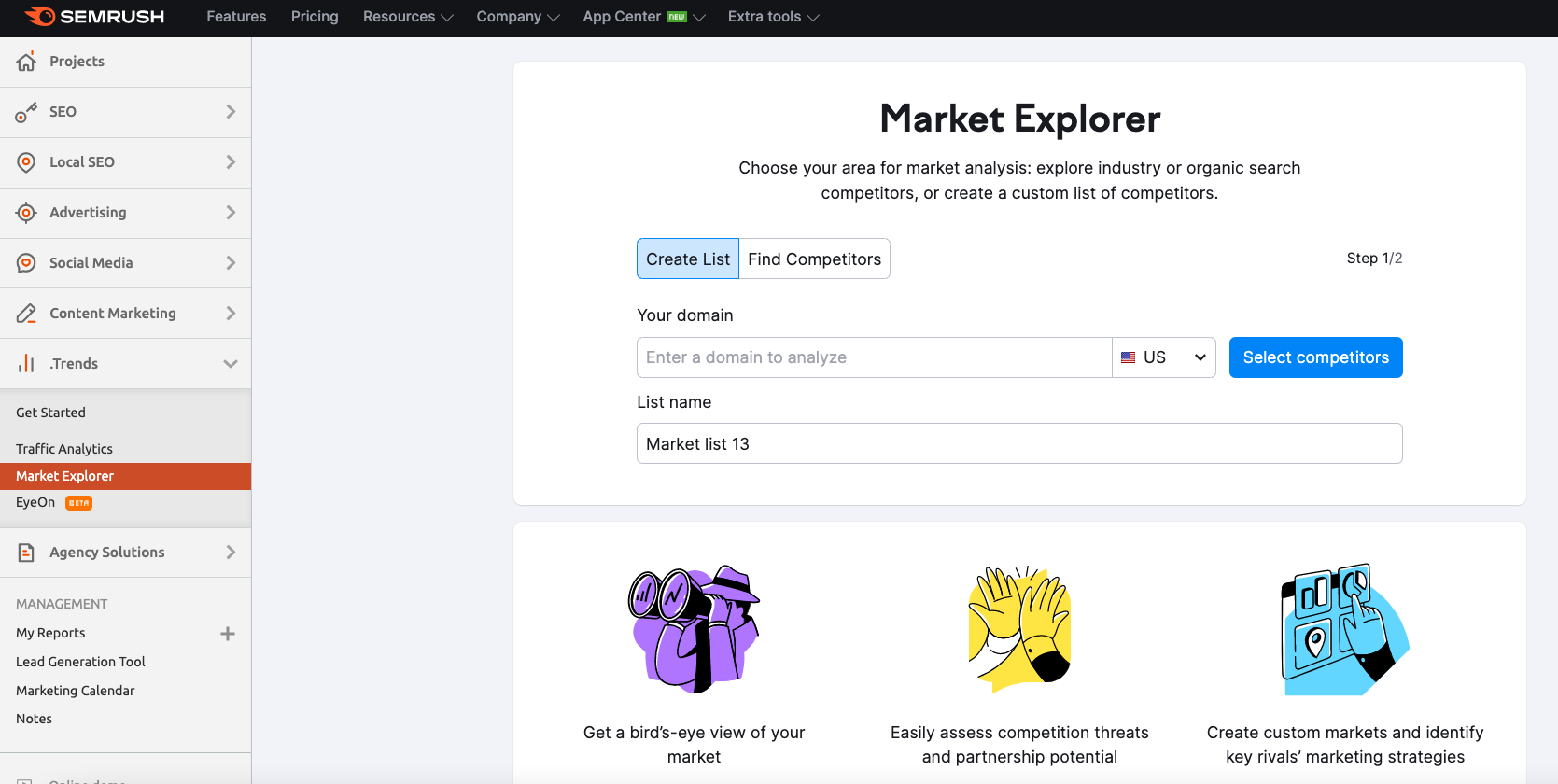 4 Crucial Kinds of Competitive Intelligence
Now that we've explored some CI sources and discussed the role of AI, let's take a closer look at 4 crucial kinds of intelligence every business should consider. 
We'll use Semrush .Trends and Kompyte tools to demonstrate some intelligence gathering techniques by exploring the world of cryptocurrency. For the sake of our exploration, we'll pretend we work for a cryptocurrency exchange platform similar to Coinbase, Kraken, or Binance. 
Marketplace Intelligence
Market intelligence is information about a specific market. It includes intelligence about market trends, marketplace competitors, market share, and market variations based on geographic location. 
Semrush's Market Explorer is a great place to begin gathering high level marketplace intelligence. We've put together a pool of the top Crypto currency exchange platforms to conduct our market overview with Coinbase as our starting domain.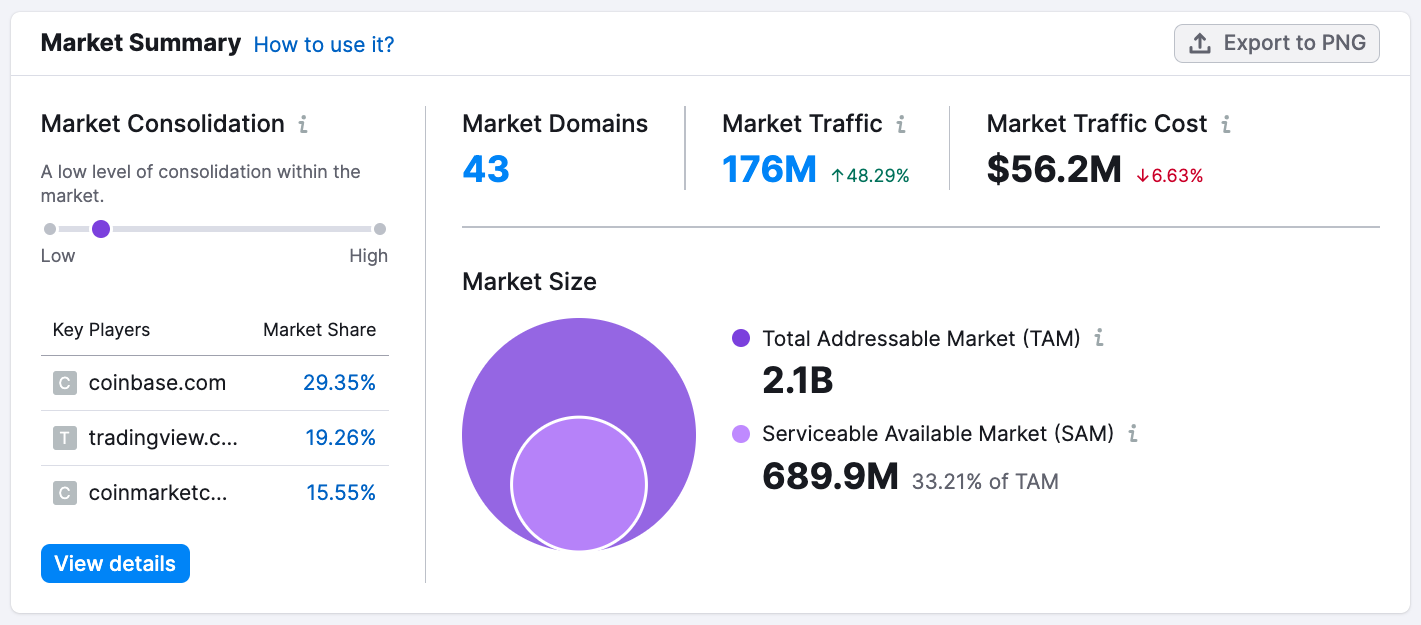 The Market Explorer overview provides some high level stats about Coinbase's market, including the level of Market Consolidation, the market share percentages of a few top players, and the size of the market, among other metrics. 
Next in the Overview, the Growth Quadrant provides a visual representation of the competitive landscape. We've set the chart to show total traffic and we've turned on Growth Paths to reflect the change in traffic over time.
As we gather intelligence, we can also look for interesting trends. Considering the movement of industry players from one quadrant to another or looking at big leaps in traffic growth can provide useful insights. Here, we see Coinbase has moved from the Established Player quadrant to the Leaders quadrant along with coinmarketcap.com and tradingview.com. 
Next, we might consider market keywords bringing the most traffic to our selected domains over a given month. We'll look more closely at keyword research when we get to the Marketing Intelligence section below. For now, we can use the Market Keywords widget to get a sense of what's trending in the market.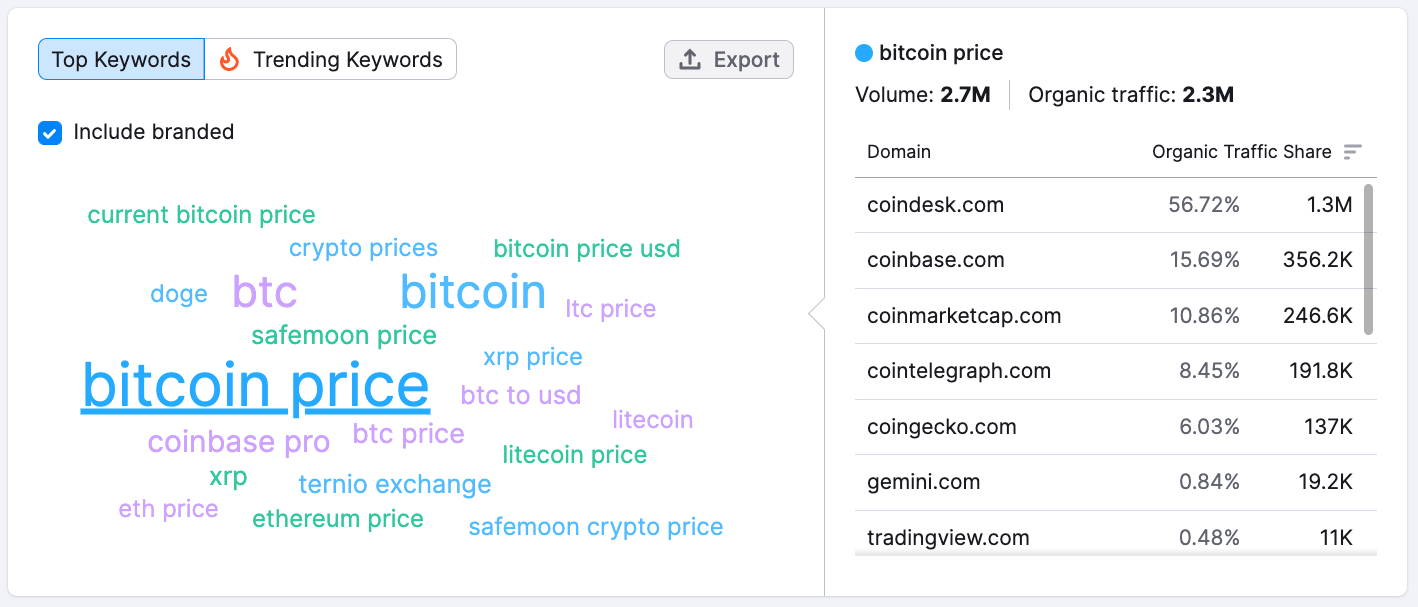 As you might expect, the largest keyword in our crypto market is "bitcoin price." It has a search volume of 2.7 million and brought 1.3 million in organic website traffic to our selected domain, Coinbase.com. 
Perhaps more interesting are the smaller words in the word cloud, like "doge" or "ternio exchange". These words can point to emerging trends and possible concepts to explore in our business strategy.
Finally, let's take a look at the Market Geo Distribution tool, which provides insights regarding our market in terms of geographic location. For our purposes, we'll look at what markets are experiencing the most growth by selecting the "top changes" tab above the tool. 

By looking at the top changes, we discover the market share for crypto trading platforms is only 3.03% in Indonesia, for example, though the country showed impressive growth of 148.29%. This widget is a great way to discover emerging markets. 
Customer Intelligence
With a broad understanding of our market, we begin to look at our customer base in terms of demographics, web activity, desires and pain points. Customer intelligence can help with a variety of business objectives including marketing, sales, customer service, and new product development.
To begin uncovering intelligence about our market's customers, let's look at the Market Explorer's demographics report. The graphs below illustrate the breakdown of the audience visiting our selected domains, those users' social media preferences, and their interests beyond crypto.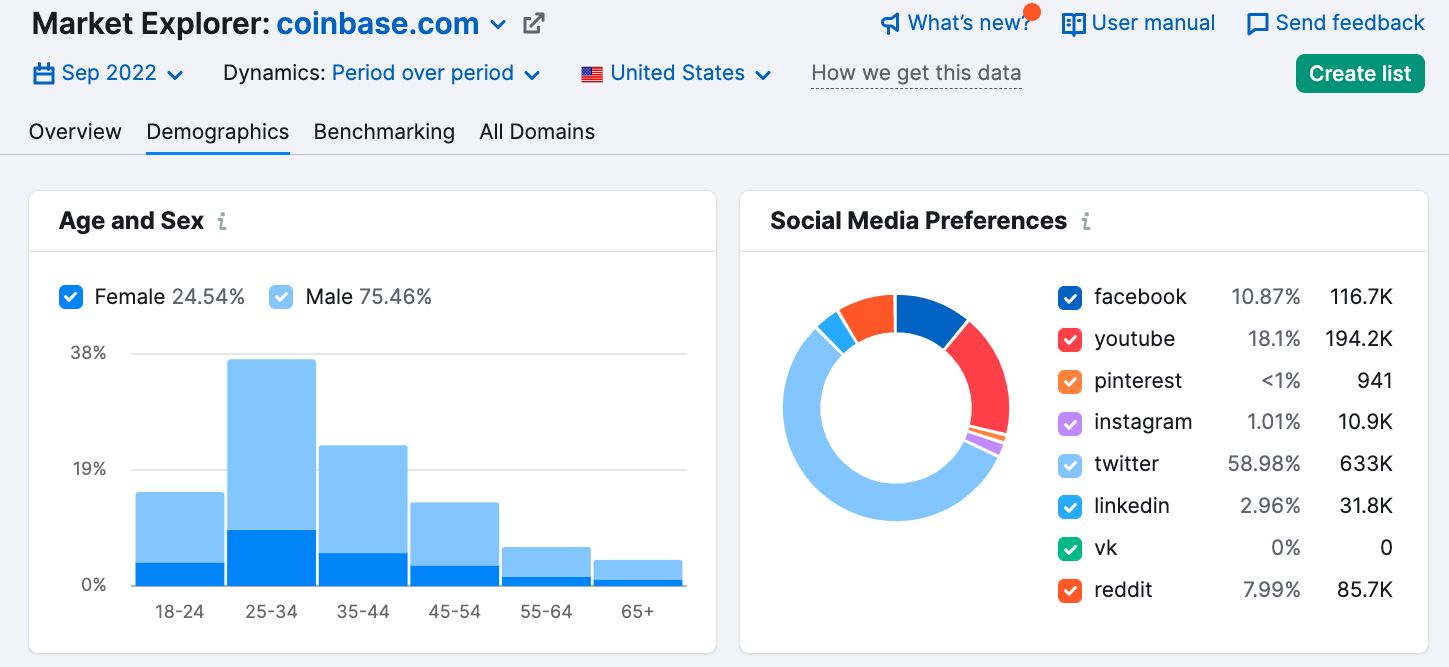 Beginning with age, gender, and social media preferences, we can learn a lot about our market. The Age and Sex graph lets us know that nearly 40% of our audience is between 25-34 years old and 75% of that subset is male.
Moving down on the Demographics report, the Audience Interests chart shows us the key interests of our customers other than crypto. 

This information allows us to understand our customers better and think about how we can reach them, communicate with them, and give them what they want.
The Traffic Analytics tool also has a variety of ways to explore your audience and better define your customers. Beginning with the Audience Insights report, we'll discover data about market households and socioeconomics. 


With these widgets, our understanding of the average customer expands. It looks like the majority of the market is made up of households with 2-4 people who fall into a lower income bracket. Most of the audience works full-time, part-time, or are unemployed. A fewer number are students, homemakers, or retirees. Finally, the bulk of the audience has a highschool education or a university degree. 
Moving forward, we can also study our customer's online behavior using the Traffic Journey Report. In this example, we uncover customer movement upstream and downstream from Coinbase, Binance, and Kraken.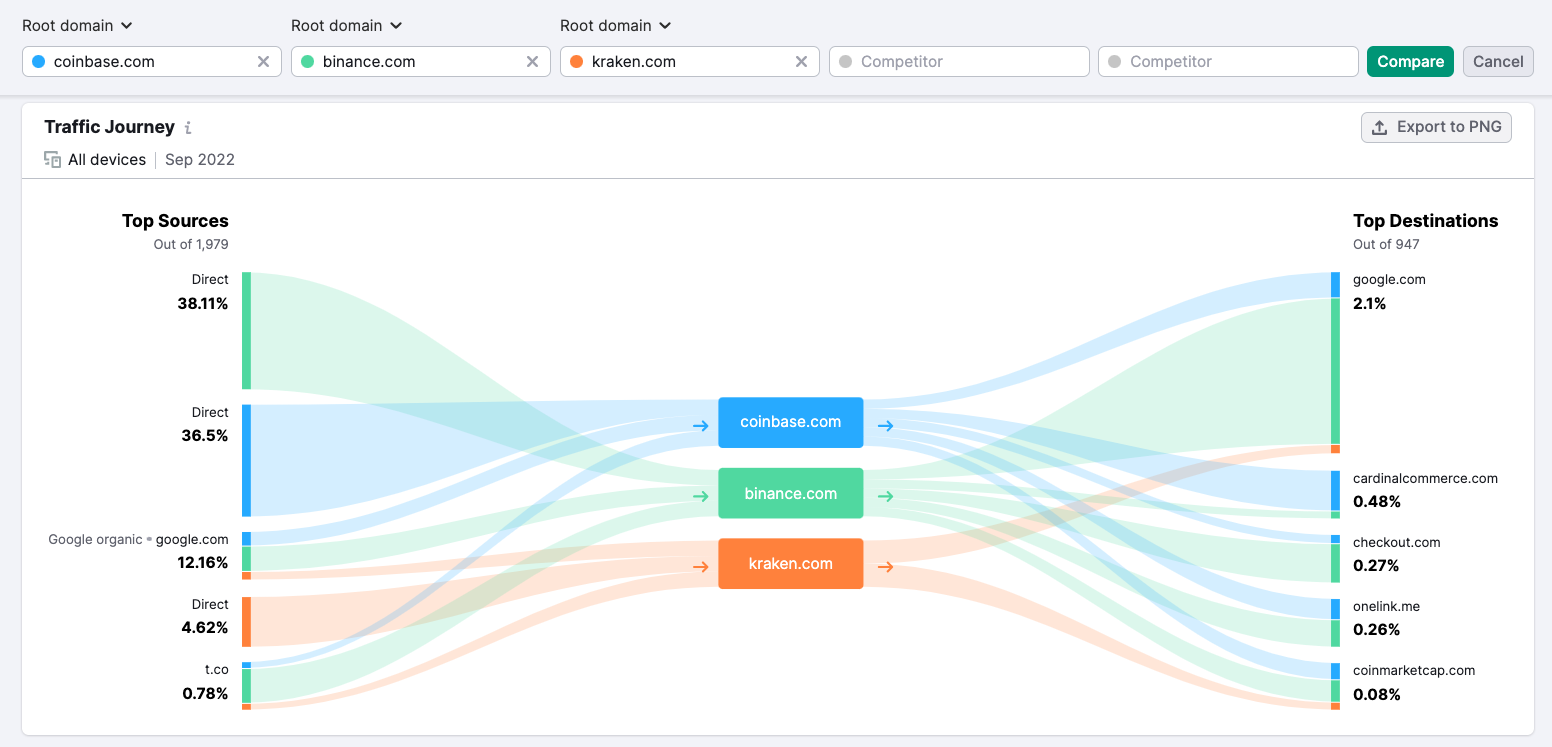 Tracking how users journey to and from sites can provide clues about their intentions, desires, or pain points. 
Upstream — the sites users come from to get to competitor sites. This can be a great source of insights when thinking about how to position yourself using content, advertising, or partnerships.
Downstream — the sites users go to after visiting the competitor sites. This information leads to interesting questions and insights. For example, if they're bouncing back to Google, maybe they didn't find what they needed. If they're heading to Facebook, maybe they're looking for social proof.
Finally, we can use the Top Pages report to view which pages on competitor sites get the most traffic. This information provides a sense of customer interest when it comes to our market. 
Filtering the results with the search bar can turn up useful information about consumers. As one example, we've entered "Price" in the search bar. This narrowed search will allow us to see which cryptocurrencies prices Coinbase users look at most often.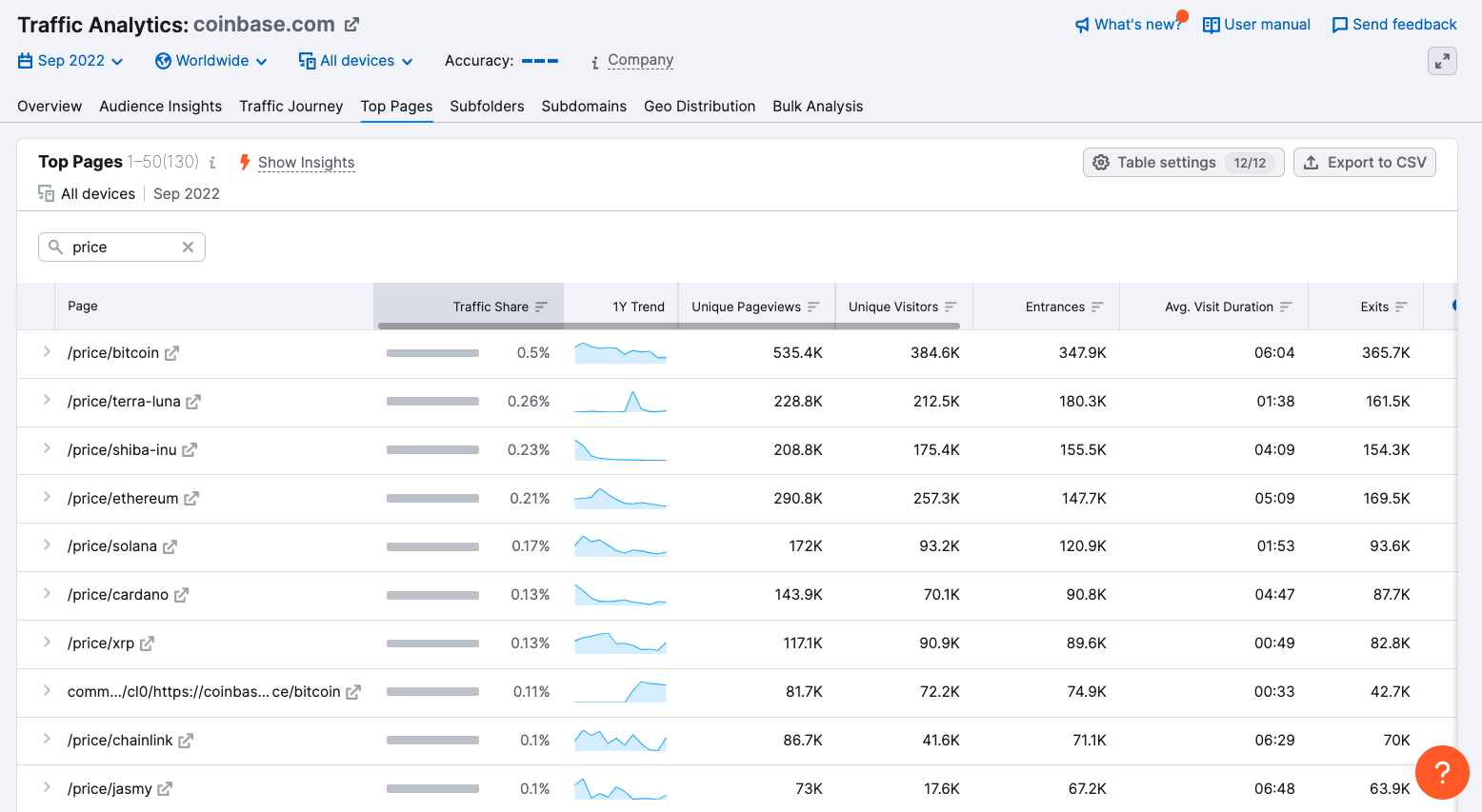 When it comes to unique page views, Bitcoin, Terra Luna, and Shiba Inu take the lead. This information might help us decide what cryptocurrencies to include on our platform or help us design our site so the most desirable information is easy to access.
Product and Services Intelligence 
Product and services intelligence is all about what players in your market offer their customers. For some businesses, products will be physical goods such as electronics, vehicles, appliances, or toys. For others, products are software or services. 
Tracking popular products in your marketplace and their evolution over time can help you with: 
R&D — Monitoring the features and specifications of marketplace products will inform your research and development, and help to find gaps in current product offerings.
Positioning — Pricing research informs your own pricing strategy to remain competitive and position your products in the marketplace. 
While combing through competitor websites and examining their offerings can serve as a starting place, tools like Kompyte can provide an edge over the competition by streamlining the CI process.
For example, with Kompyte's collect feed, we can program the tool to crawl the entirety of our competitors' public-facing digital landscapes and collect the data we want.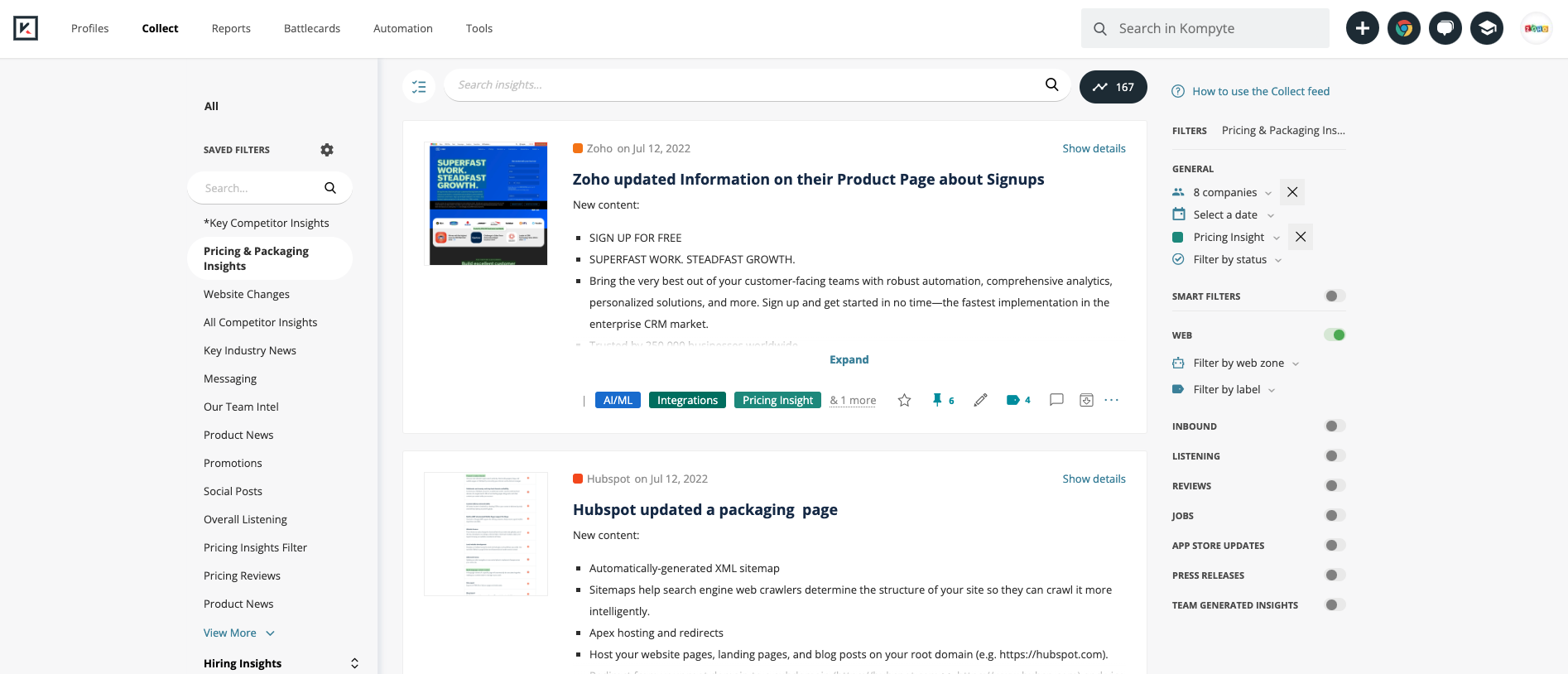 Filters within the tool allow you to select what kind of insights you'd like to view–from changes on competitor websites, to product news, pricing changes, or social posts–and then distribute the information into reports or battle cards for sales teams. 
You can also design custom workflows that make gathering and distributing even more precise depending on the specific kind of insights you're looking for.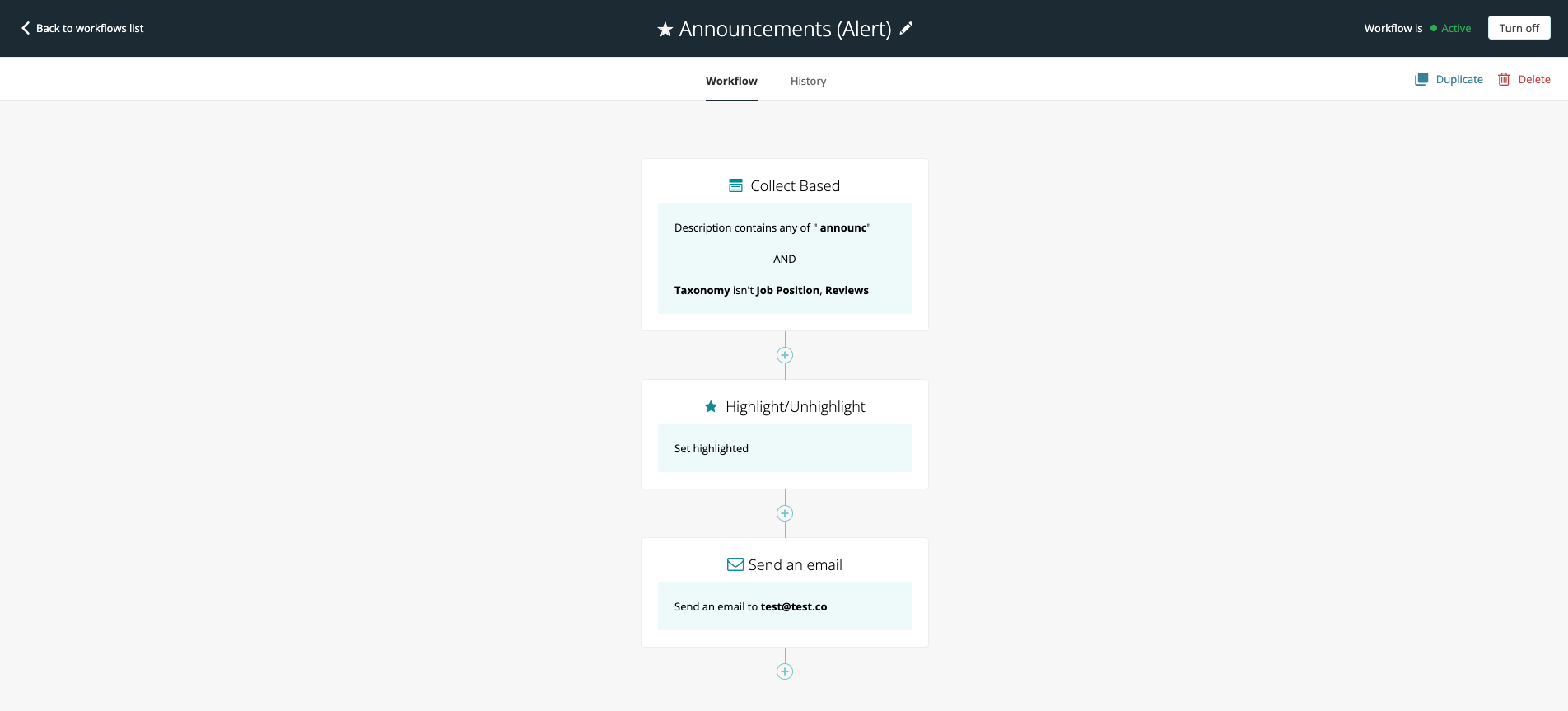 For example, we could ask the tool to gather content that uses the word "announcement," but ignore instances of the word found in job postings or reviews. We can ask the tool to highlight the information, tag it in a specific way, and send it in an email to a specific team. 
Semrush's EyeOn tool can also help you automate your competitive tracking to keep your sights on competitor activities. 
Once you've entered your competitors into the EyeOn tool, it will track their activity across the web, showing you new pages, blog posts, and Google Search ads. You can also program the tool to send you email reports so you never miss a beat. 
And finally, for a more hands-on approach, you might look again to the Semrush Traffic Analytics tool. To begin, we let's return to the competitor's Top Pages report. This time, instead of filtering for keywords, we can just look at top pages generally. 
For example, the report for kraken.com shows about 500k unique visitors used the "funding" feature and a little more than 500k unique users visited the "instant" page. Conducting this kind of research for all competitors can provide a great overview of the most popular offerings.
Marketing Intelligence
The importance of competitive intelligence and analysis in marketing rests in the connection between businesses and customers. Gathering marketing intelligence helps:
Illuminate best practices
Reveal competitors' pricing
Discover ways to outsmart rivals
Uncover marketing opportunities
Again, competitor websites or social media can provide invaluable marketing insights. You can also sign up for competitor newsletters to track email marketing. Think about the tone of voice, messaging, and general reading level your competitors use. 
To gather more targeted marketing intel, let's return to Semrush's Market Explorer tool to examine where industry players focus their marketing efforts.
The Traffic Generation Strategy graph and Social Media Distribution Strategy graph can reveal a lot of useful information. The bar at the top of both graphs shows the market breakdown. In our market, direct traffic is the most common source for websites, and Twitter as the most popular social media platform. 
The breakdown for individual domains appears below the market bar. Broadly, this information can inform our marketing strategy. For example, it appears coinbase takes a different approach than competitors by marketing on Reddit. Binance, on the other hand, uses instagram while placing most of their focus on Twitter. 
The Traffic Generation graph reveals direct traffic as the most common source for these sites. This means customers don't rely on search engines or referrals to find these domains. As a new player in the industry, we might look to referrals and SEO strategies to develop brand awareness as we seek to establish ourselves among the competition. To begin with SEO, let's consider our market's keywords.
We can check our competitors' keyword profiles using the Organic Research tool.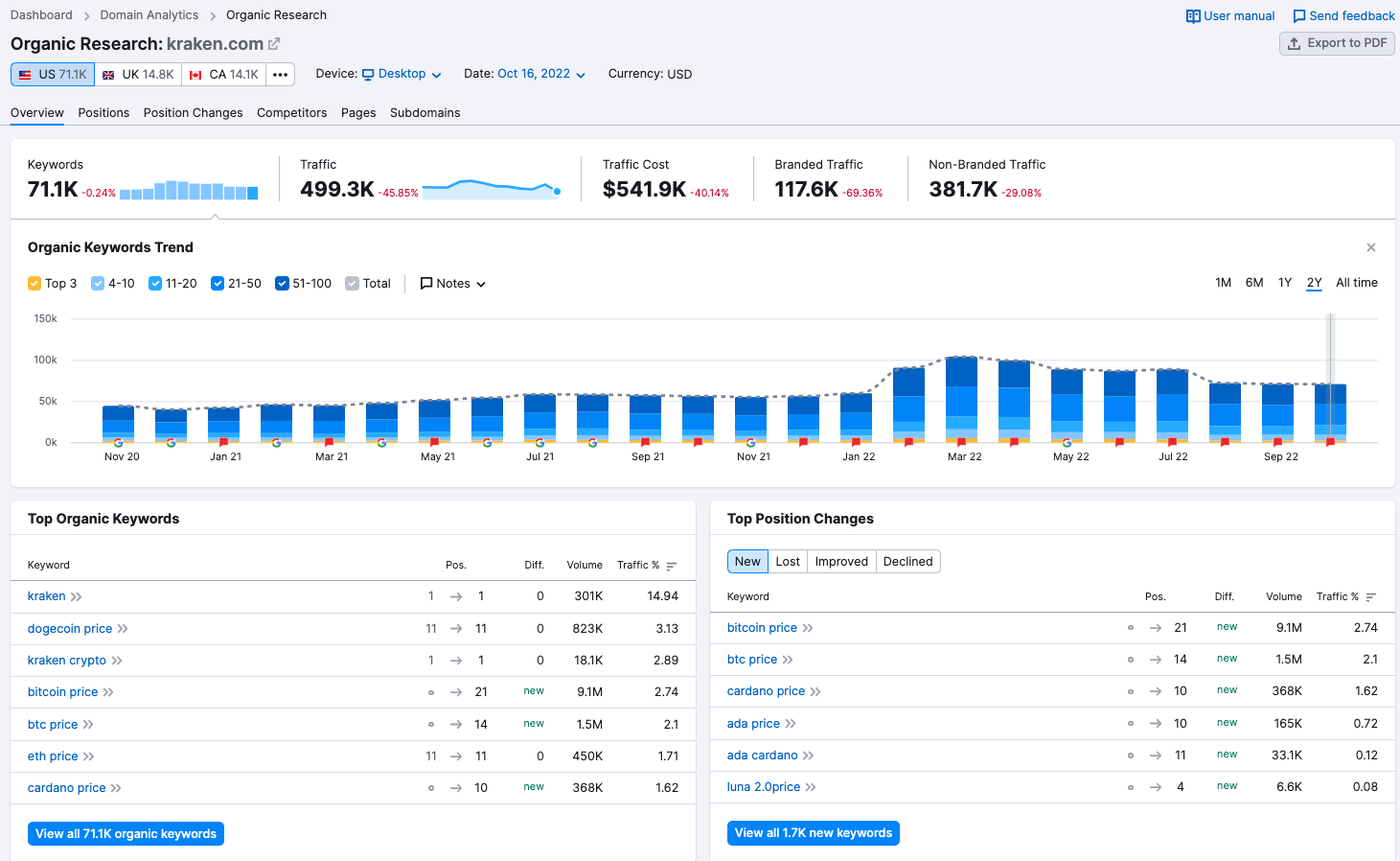 Running this report on each of our top competitors provides a general understanding of the keywords they're targeting, the traffic they bring, and their movement in their SERPs. 
The Positions Report in the organic research tool lets us dig deeper. The Organic Search Positions report reveals keywords our competitors are ranking for, how those rankings have changed, as well as additional information about the keyword.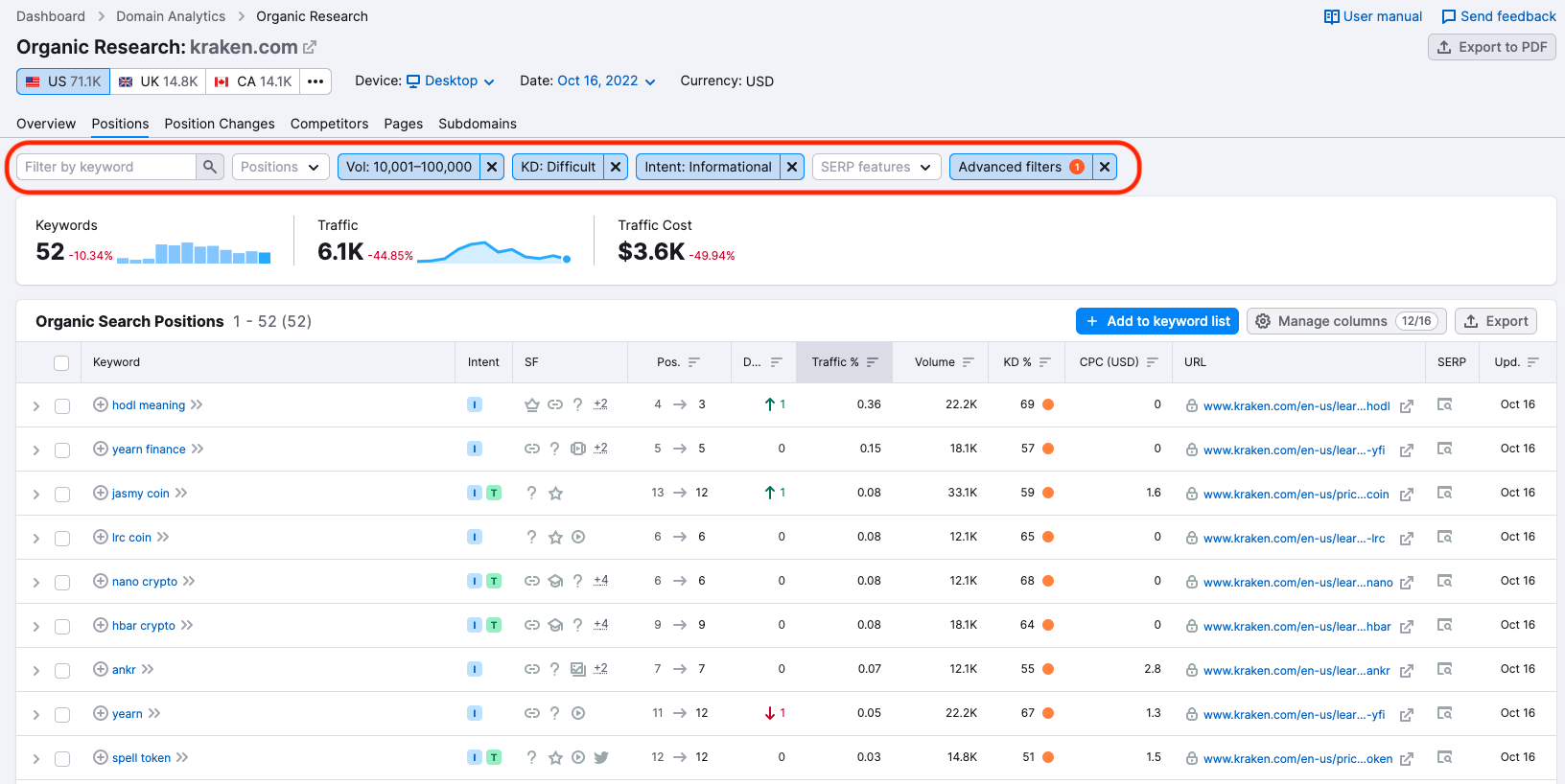 The filters at the top of the page can help us hone our search. For example, we filtered the chart to show results that don't include the keyword "Kraken", have a volume between 10k-100k, a keyword difficulty score of 50-69%, and have an "informational" keyword intent. Using filters can uncover keywords that might be useful to us in our own SEO strategy. 
Once we have a general sense of how our competitors rank for keywords in our market, we can consider individual keywords we want to target. 
To begin, we'll use the Keyword Magic tool. Entering the keyword "bitcoin" into the tool produces a list of top bitcoin related keywords. The list includes stats about search volume, keyword difficulty, and cost-per-click average. Again, filtering the list can narrow our search. 
For example, setting the filters for a search volume between 1k-10k and a keyword difficulty between 50-69% generates a list of less competitive keywords related to bitcoin.
If we're looking to compare keywords among top businesses in our industry, the Keyword Gap tool depicts a keyword profile comparison. Again, we entered Binance, Kraken, and Coinbase here.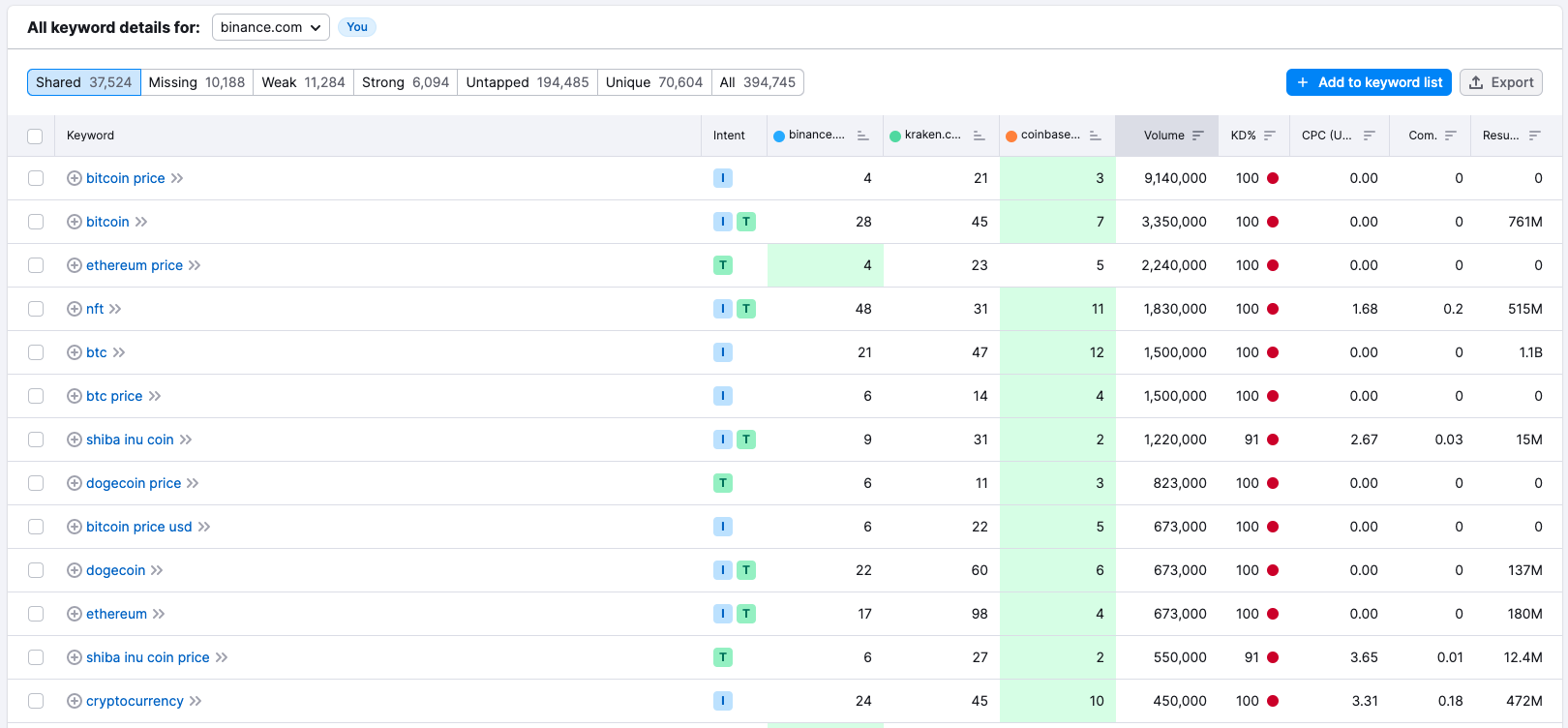 To explore different keyword opportunities, toggle the buttons at the top of the page. For the chart presented above, we selected missing keywords for Binance, so the chart depicts keywords Kraken and Coinbase rank for, but Binance doesn't. 
Finally, the Backlink Gap tool allows us to gather intel about the sites linking to our competitors.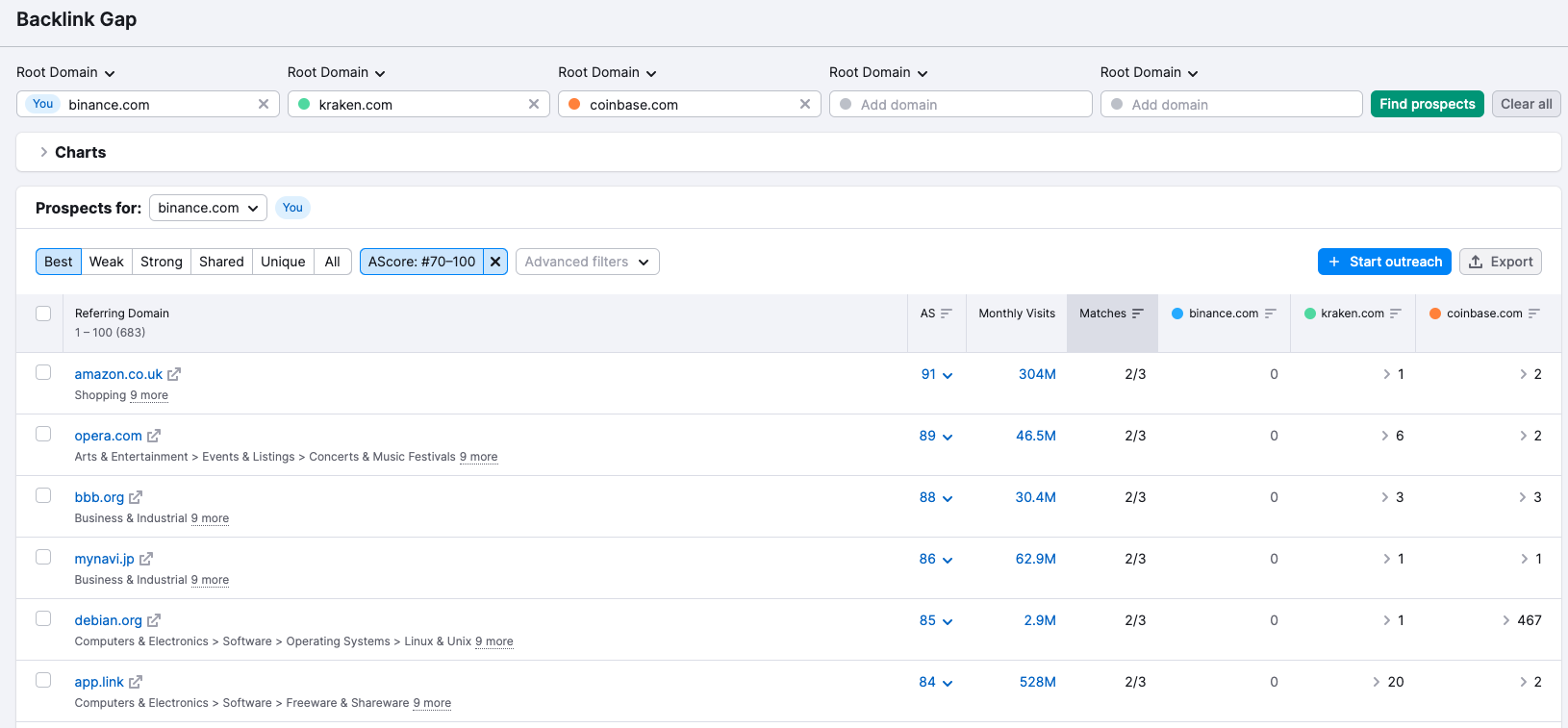 This information illuminates other sites engaged with our industry. It also uncovers gaps in our backlink profile, helping us think about businesses to target when gathering backlinks or exploring other kinds of partnerships. 
Applying Competitive Intelligence to Your Business Strategy 
Whether you're building a marketing strategy, a go-to-market strategy, or a more general business strategy, competitive intelligence provides the baseline information you need to inform your decision making. 
As you dive into the gathered intelligence, think creatively about what story the data tells about your market. To guide your analysis, consider: 
Large market trends
Emerging consumer trends
Competitor activity and growth
Customer sentiment 
New products and product evolution
Market threats and opportunities
Political and economic shifts
Geographic trends and new markets 
Possible strategic partnerships 
You might organize your insights in categories such as the four we offered above—overall market, competitors, customers, marketing—or develop an organizational structure that better fits your needs. The ultimate goal is easy access to data and insights when it's time to plan your strategy. 
Finally, after you've applied your competitive intelligence and rolled out your strategy, make sure you continue gathering intel, benchmarking against competitors, and analyzing your progress. Over time, your knowledge of your market will grow and your business will undoubtedly benefit as you move toward the future.