Go to all stories
Family team grows side hustle blog into $200,000 a year business in 18 months
"SEO used to be completely new to us less than two years ago, and now we run four successful blogs, with a $500,000 projected annual revenue by the end of 2022. Semrush has given us an SEO crash course masters degree."
About TheSmokies.com:
TheSmokies.com is a website about regional travel in East Tennessee near Dollywood and the Great Smoky Mountains National Park. Created in 2020 by Tennessee natives James and Morgan Overholt and Alaina O'Neal, the blog produced over 5 million pageviews and more than $200,000 in annual revenue in 2021.
Business challenge: bring organic traffic to an existing blog
When freelance graphic designer Morgan Overholt launched her website TheSmokies.com in April 2020, she never imagined she'd call herself a professional blogger two years later.
What began as a side hustle turned into a $200,000 a year family business with unlimited growth opportunities.
Morgan admits she started her blogging career with zero SEO knowledge and made her share of mistakes. But together with her husband James, a software developer, and sister Alaina, a writer and graphic designer, she turned a situational social media success into a sustainable business.
Back in 2020, Morgan and Alaina started creating as much content as they could on weekends and posting it on social media throughout the week. They covered closings, reopenings and regional travel opportunities—the information that was in high demand at the beginning of the pandemic. Morgan didn't worry about traffic analytics at the time, as long as the users were coming to the website through Facebook.
No one was advertising travel blogs in the spring of 2020, so TheSmokies.com team capitalized on the low Facebook ad costs and grew their monthly traffic to 229,000 unique visits in just two months after launch. Amazing results, right? The catch is, 96% of the traffic came from a very unsustainable source - social media.
This growth allowed them to make their first sales with Commission Junction, a third-party affiliate program, and get accepted as a publisher by Mediavine. Though the earnings were fairly low at the time—about $100 a day that was immediately reinvested back into the business—Morgan saw the blog potential.
In June 2020, 95.7% of their traffic was from social media
"Soon, other people in the industry told us, 'you guys are generating all your traffic from social media, that's a terrible idea'. That's when we realized we needed to prioritize organic traffic, just like the biggest blogs do," Morgan shares.
Solution: publishing SEO-optimized content on a technically sound site
In June 2020, Morgan purchased a Semrush license and scheduled an onboarding call. It was enough to understand the basics of site optimization, but the journey to organic search success lay through trial and error.
A year and a half later, TheSmokies.com team is running four blogs, with a projected total revenue of $500,000 by the end of 2022.
Lucky for us, they shared the blueprints—look out for tips throughout the article.

Clean Backlink Profile
The first thing TheSmokies.com team did was run a Semrush Backlink Audit. Though the site itself was new, the domain had been up for 20 years and had accumulated a high number of links from spammy websites.
James exported the list of links flagged as toxic by Semrush and submitted it to the Google Disavow Tool. The team saw a dramatic ranking increase within a week.
Key Tip:
Suspicious and unnatural backlinks negatively affect site authority and search rankings, so it's important to remove them regularly.

Site Health
Next, the team ran their first Site Audit to check the health of the domain, which by that time had accumulated quite a few pages. The tool returned various errors and warnings that were organized by priority. They included:
—

Slow site speed/load times

—

Missing metadata

—

Unminified CSS

—

Broken external links

—

Duplicate title tags
All James had to do was work through the issues one by one until the tool returned a high site health score. The effect of this tune-up was evident as more and more blog posts started appearing at the top of search.
Key Tip:
Now that the team has started three new blogs, their biggest recommendation is using a really lightweight platform and template when building a blog. This will guarantee easier site maintenance and a low error count down the road.
Once you have two or three articles up, it's time to run your first Semrush Site Audit. See if it identifies any structural problems, loading errors, content issues, etc. Taking care of your site's health from day one is crucial if you're hoping to rank on Google's first page.

Closing Keyword Gaps
The site health and backlink maintenance was enough to kick start that organic growth. Once it started slowing down, the team turned to competitor research for content intel using the Semrush Keyword Gap tool.
They started with four obvious competitor sites, some of them were run by the local city administrations.
An example of Keyword Gap analysis
To get the best keyword opportunities, they:
Filtered the results by missing keywords—the ones that the competitors were ranking for but TheSmokies.com wasn't
Ordered by volume
Set a custom filter for Keyword Difficulty of 40 and below—this metric indicates the probability of ranking for a keyword on a scale of 0-100.

As governmental sites, some of the competitors couldn't cover topics like attraction and restaurant reviews. These keywords were a pretty easy target, so TheSmokies.com team tackled them successfully.
The team also created Semrush projects for the top competitors to keep a constant eye on their ranking progress.
Key Tip:
Start your content plan by closing keyword gaps with your direct and inspirational competitors. These terms are working for them, so they should for you.

Keyword Strategy
When it comes to overall keyword strategy, TheSmokies.com team takes the low-hanging fruit approach. They start by targeting relevant low-competition keywords at first, even if the monthly search volume seems underwhelming. They do so for two reasons:
The traffic quickly adds up;
This strategy helps build your site authority, which in turn lets you rank for more competitive keywords.
To analyze keyword metrics, Morgan enters them in the Semrush Keyword Overview tool.
The metrics she pays special attention to at this stage are:
Monthly search volume: it can be as low as a few hundred for a fresh blog. It climbs into the thousands once the website starts getting traction in search engines.
Keyword difficulty (KD): 0-30 is great for beginners, go higher as you progress.
Search intent: as a blog, Informational is TheSmokies.com's go-to, but they've also had success with relevant Commercial keywords when popular small-town attractions do not have a website or lack the needed information.
Search trend is another metric to check, especially when writing on seasonal topics.
Next, Morgan scrolls down the Keyword Overview results to check the SERP analysis. This report gives an overview of the domains ranking for the keyword, including their Authority Score, the number of backlinks the page has, its estimated traffic and the number of keywords for which the URL is ranking in search results:
This is a great way to benchmark yourself against competitors and assess your ranking odds:
"We can look at Semrush's SERP analysis and predict with 75% accuracy where we're going to land on that page before we even write on the topic," Morgan says.
Next, she checks the keyword variations, questions around the topic and related keywords—these will inform her on everything people want to know when researching the topic. Clicking on them takes her to the Semrush Keyword Magic Tool:
Here, she applies the necessary Volume and KD filters, filters by questions if needed and checks a few additional metrics:
CPC or Cost Per Click: average price in USD advertisers pay for a user's click on an ad triggered by this keyword in Google Ads. The higher the cost, the more difficult it is to rank for.
Competitive density: the level of competition between advertisers bidding on a given keyword within their PPC campaigns on a scale from 0 to 1.00. TheSmokies.com team avoids anything close to 1.00, even if the volume is great.
As a bonus, Morgan checks the SERP features that a chosen keyword triggers, paying special attention to video. If it's missing, it's a great opportunity to appear in position 0 on Google, right at the top of the search.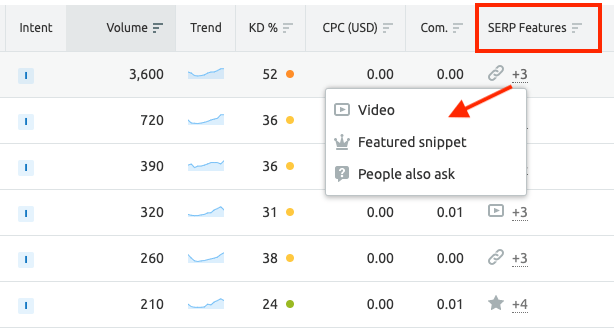 Besides, an embedded video improves such page metrics as engagement, average session duration, etc.
Once the keywords are chosen, Morgan ticks the box next to them in the Keyword Magic Tool and sends them to Semrush Keyword Manager. This tool allows her to create different keyword cohorts and tag them for easy custom filters.
Key Tips:
Start by targeting relevant low-competition keywords.
Know your domain authority as it will inform your keyword choice going forward.
Know your keyword metrics and use them for decision making.

Content Optimization
It wasn't until the team accumulated almost 500 articles on their website that they fully realized the power of content optimization. That meant going back and rewriting most of the old content. To guide the process, they use Semrush's SEO Writing Assistant.
"We didn't see value in a tool like SEO Writing Assistant at first, but when we started using it we saw our content skyrocket," Morgan explains.
The team chose 5-6 articles for optimization a week. They prioritized time-sensitive content, or posts that coincided with a recent keyword research that showed a great ranking opportunity.
Another way of discovering existing posts with high potential was entering their website into Semrush's Organic Research tool and filtering the results by positions 11-20. These articles are close to making it to the first page and just need a little push:
Next, the team plugs the chosen article into the SEO Writing Assistant. The tool suggests the missing keyword variations and surrounding topics that would enrich the article and give it a boost in search:
"The SEO Writing Assistant is a very good guide in addressing a really broad subject. It's hard to gather all the information that people care about on your own," says James.
The team noticed an average 2.5X increase in pageviews for articles optimized using the tool. They keep using the tool for freshly written content:
"We don't publish a piece unless it has been optimized with the SEO Writing Assistant. We make sure the copy gets a score of 8 or higher. That's a great way to overcome a low domain authority score when you're just starting out."
Key Tip:
Focusing on one main keyword isn't enough for a top-ranking article. Make sure to enrich it with keyword variations and semantic keywords and answer related questions.
Position Tracking
Once an article is published, TheSmokies.com team sends the target keyword to Semrush Position Tracking. The tool shows real-time ranking progress and sends email alerts if there are significant rank changes (spikes or falls).
"Semrush gives us a really nice content workflow. From idea generation to the article production, to its position tracking—we can do it all in one tool," James says.

Link building
A clean and rich backlink profile with high-quality referring domains is one of the pillars of domain authority. This usually involves two activities:
Running regular backlink audits and removing toxic links
Acquiring new links: either through direct outreach or naturally producing useful and shareable content. TheSmokies.com chose the latter strategy.
As a tourism blog, they were constantly publishing quality content, all they had to do was make sure their articles were unique and genuinely helpful to their audience. The readers would do the rest:
"I really feel like backlinks come naturally after a while," Morgan shares. "I believe that creating good content that nobody else has makes everyone link to you as a unique source of information. Creating infographics, stats and studies will generate backlinks quicker than anything else."
The team has used easy opportunities to receive a link from high-quality domains, like submitting their top-ranking informational posts as resources in Wikipedia articles.
They also take advantage of collaborations with high-authority, high-traffic websites like their latest Business Insider feature or this success story.
Key tips:
Once your backlink profile is clean, concentrate on high-quality unique content— it's the best driver of new links.
Include infographics, stats and studies in your posts.
If you have a chance to guest post or collaborate with high-authority websites, do it.
Results
Traffic growth from August 2020 (pre-SEO) vs August 2021
Organic search is now the leading source of traffic for the blog, bringing 50% of the total volume, with the rest being:
25% direct
20% social media
5% referral
More than $200,000 in annual revenue from TheSmokies.com blog in 2021 - less than 2 years after launch
The team has seen a dramatic positive change in the user intent from people that come from search in 2021 compared to 2020. Organic traffic is bringing a much more relevant and transaction-ready audience. The session duration has improved significantly and bounce rate is half of what it used to be with the majority of social traffic.
Following TheSmokies.com's success, the team launched three new blogs, including the Florida tourism-themed HeyOrlando.com.
The total projected revenue for the four blogs is $500,000 by the end of 2022.
The team has achieved more control over their time and lifestyle. Morgan, Alaina and James have been able to scale down their freelance and independent contracting work. They call the blogging business their retirement plan.
"Doing SEO is like building a machine—it's going to take a while and you may not see results from that machine for a while. But once it's built, it just makes money constantly in the background," Alaina says.