Your first draft may be great. But it still isn't ready to be published until it's been edited for:
Spelling and grammar
Structure
Writing style and tone
Readability
Keyword optimization
So, here are 15 of the best editing tools for writing content that's truly polished.
1. SEO Writing Assistant
SEO Writing Assistant is a robust content writing and editing tool that helps you optimize your content for search engine traffic, ensure your writing is easy to read, maintain your brand's tone of voice, and verify that your copy is original.
For example, its SEO recommendations can help your content appear in search results.
To get suggestions, open the tool and click "Analyze my text →."

Either type or copy and paste your article into the tool. Then, add your target keywords, select your target audience, and click "Get recommendations."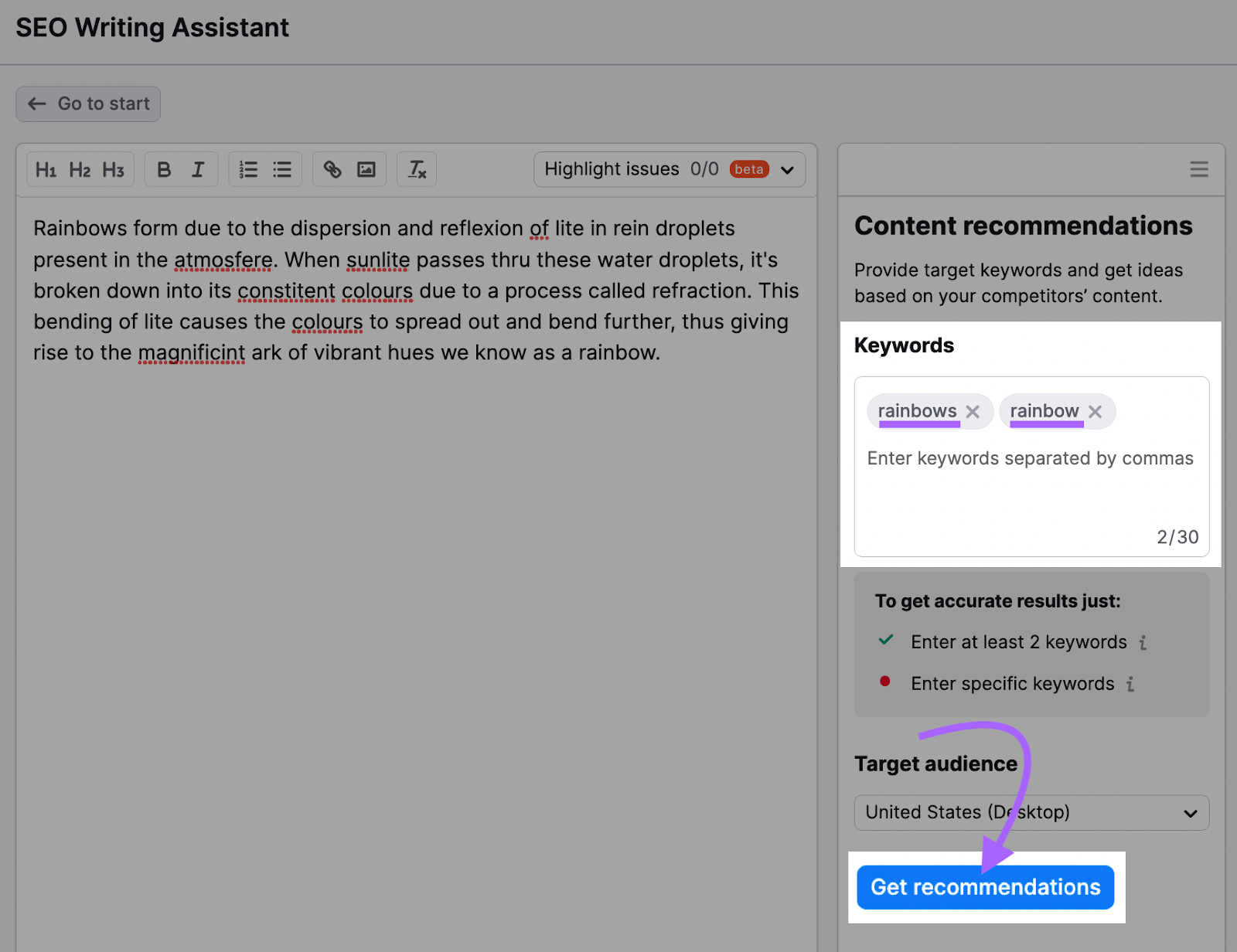 You'll receive a score out of 10 to indicate your content's overall quality. And a visualization that shows which areas you can improve. 
Click "SEO" in the score section to see SEO-specific suggestions. Like recommending that you insert keywords related to your target keyword, add alternative (alt) text to your images, or use the appropriate number of internal links.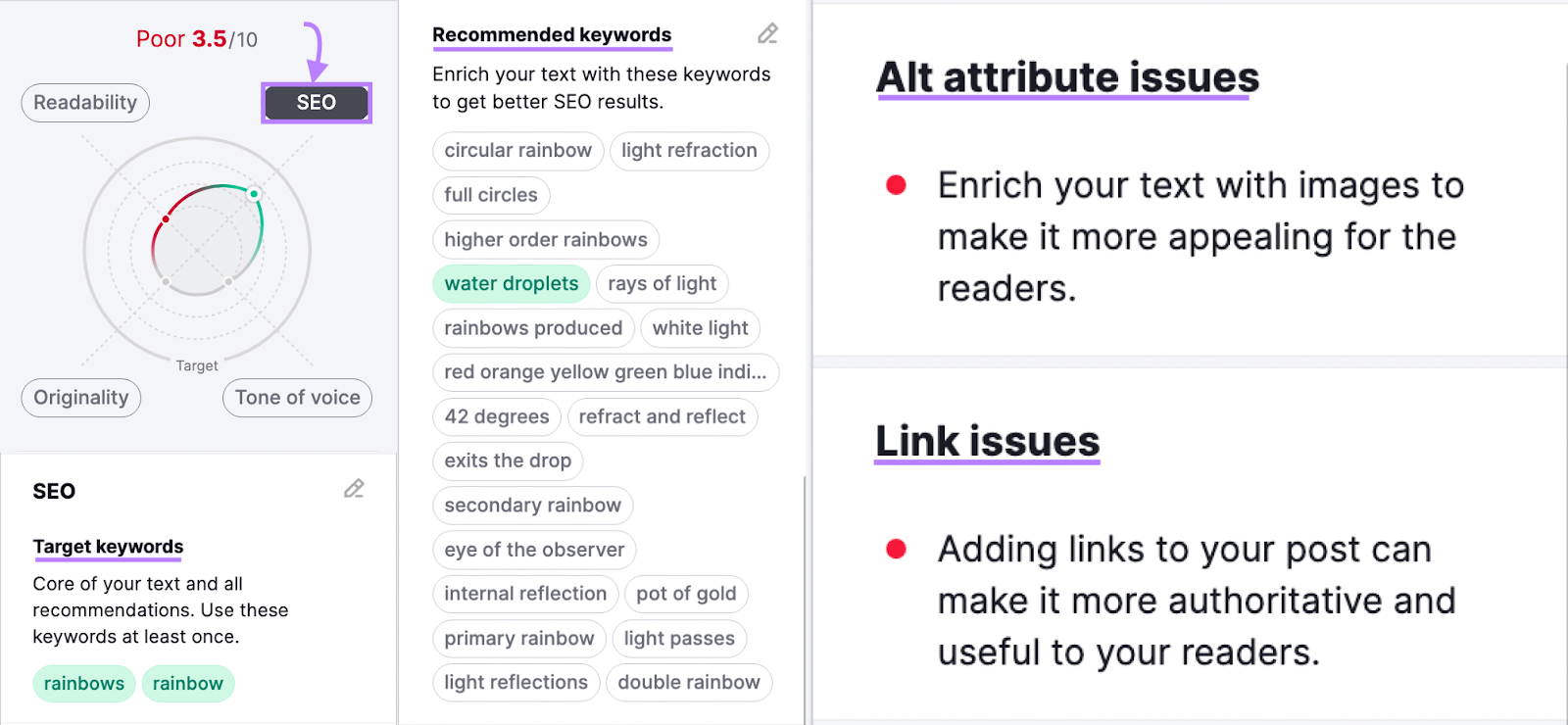 And SEO Writing Assistant uses a machine learning algorithm to evaluate your writing's tone of voice and score it based on consistency. To help you make sure your writing communicates your message the way you want it to.
The tool has a Smart Writer feature that can rephrase or compose portions of your text using AI. You can also ask questions and then use the AI-generated responses to inspire your content.
Finally, a built-in plagiarism checker helps determine your writing's originality.
This all-in-one tool also integrates with Google Docs, WordPress, and Microsoft Word. So, you can use it wherever you do your best content writing.
2. ContentShake AI
ContentShake AI is an all-in-one content tool for generating content ideas and writing articles using AI. And assessing your content's readability, tone of voice, and keyword optimization.
To edit your article with ContentShake AI, launch the app and click "My own idea" on the "Ideas" page.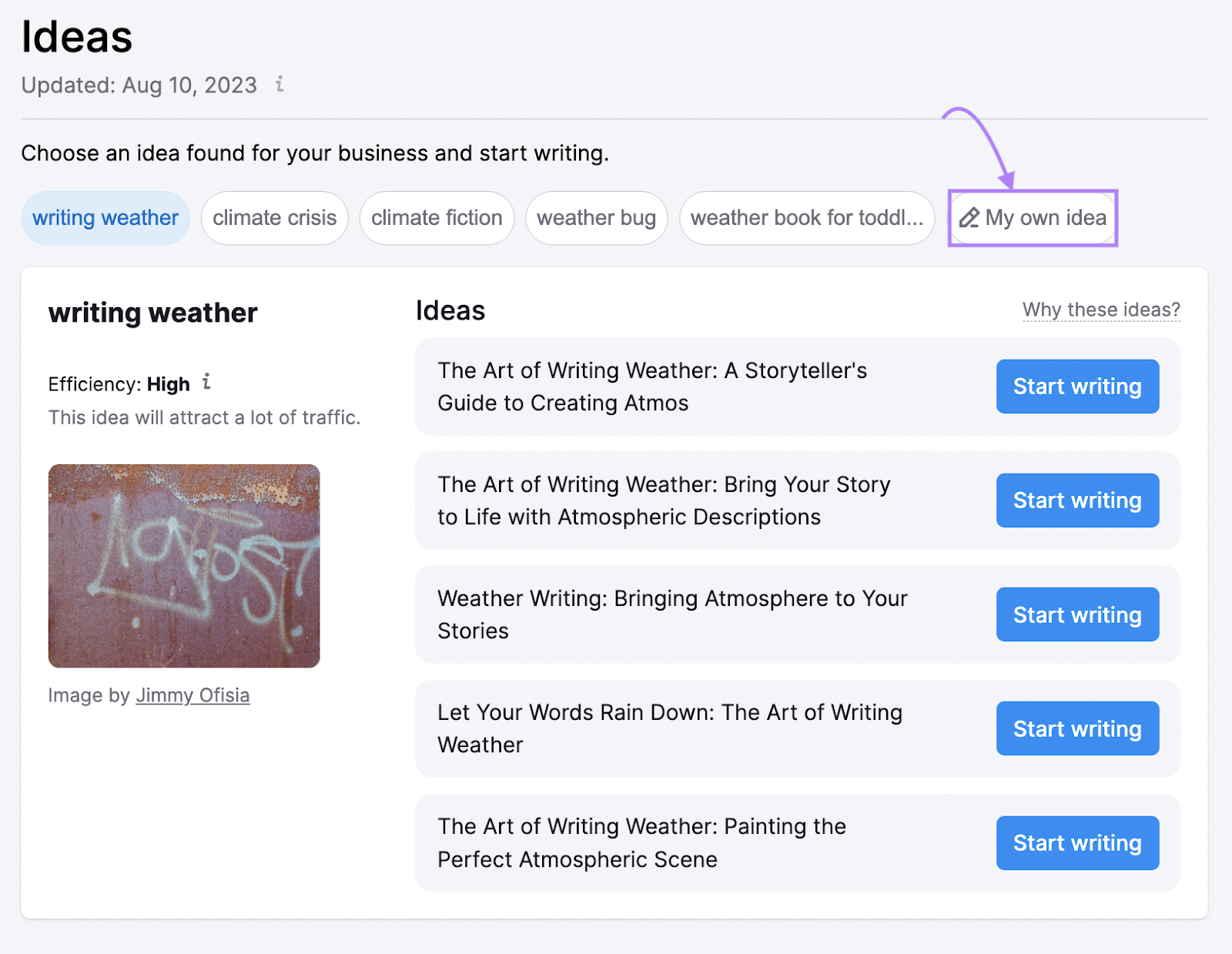 Enter the main keyword for your article and click "Start writing."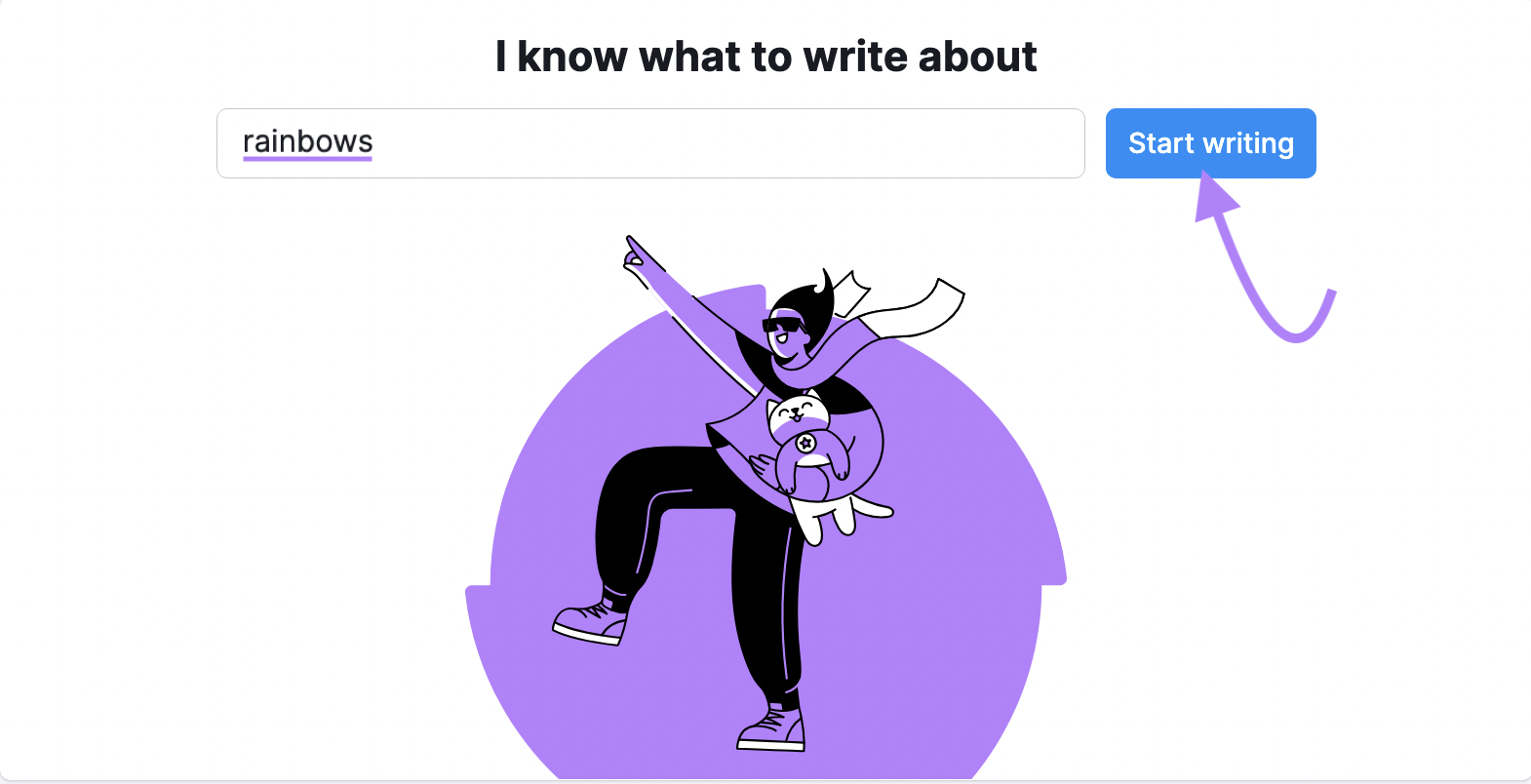 ContentShake AI will generate an article title and outline. Which you can edit and adjust by writing additional content.
The tool can provide titles and article structures generated by AI, or used by your competitors, if you need inspiration on these.
Then click "Optimization" > "Target parameters" to adjust the target parameters for your draft's readability, word count, and tone of voice.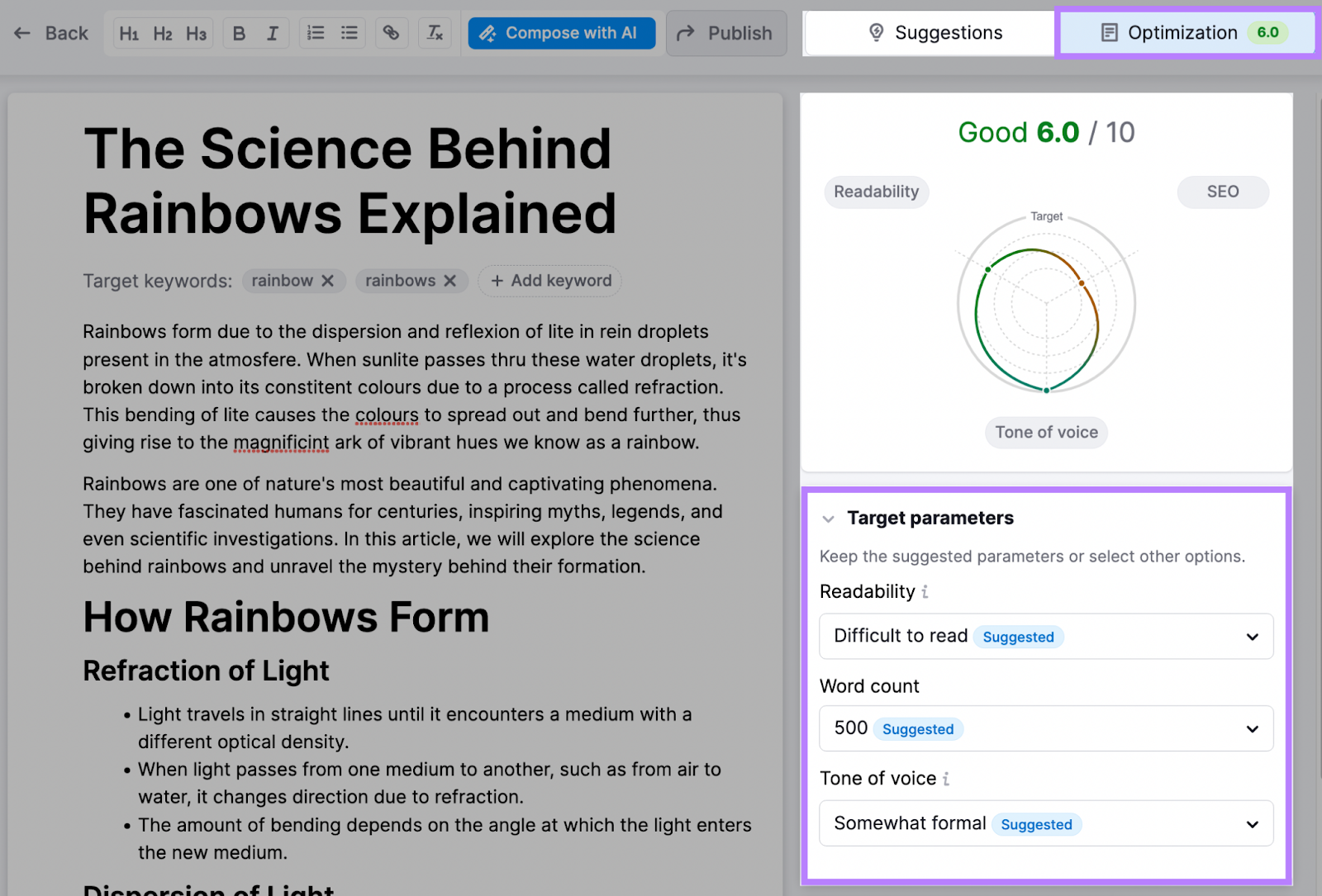 The tool will analyze your draft based on your target parameters and score it accordingly.
For example, click "Readability" to see the tool's assessment of your draft's readability. Including its word count and estimated reading time. And whether you've used complex words that could be replaced.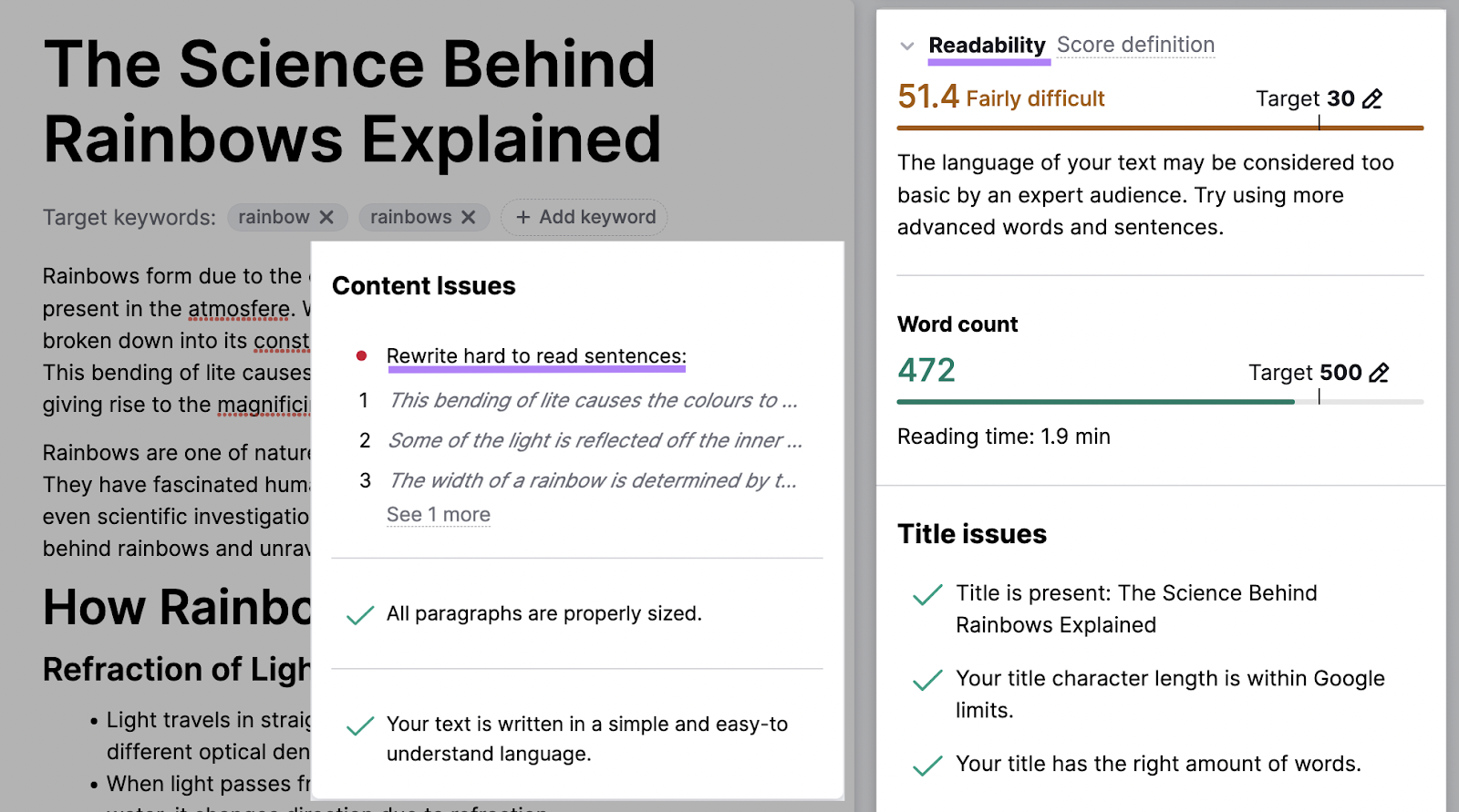 On the "Suggestions" tab, ContentShake AI can also suggest inserting elements such as:
Keywords to boost your search engine rankings
Images to make your content more visually appealing
Facts and data for improving your writing's credibility
And when you're happy with your edits, you can publish your article directly to WordPress. Using the free ContentShake AI WordPress plugin.
3. Grammarly
Grammarly is one of the most well-known content editing tools. It identifies writing issues such as spelling and grammatical errors, overused words, and passive voice usage—then suggests fixes.
Start a new document in the app and type or paste your content into it. 
Grammarly scans your content, then underlines the parts that have room for improvement.
For example, misspellings are underlined in red. And wordy sentences are underlined in blue.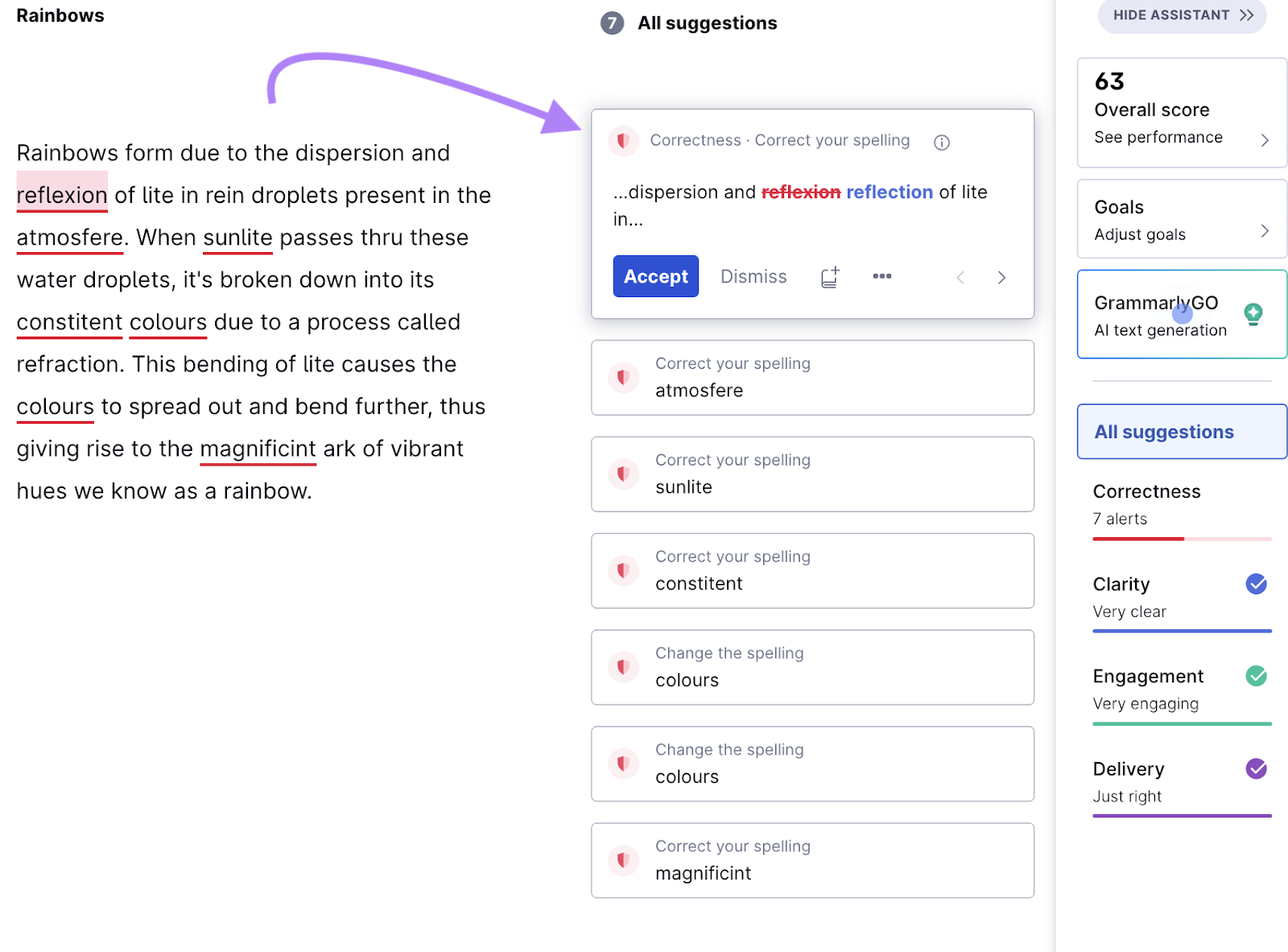 When you click each underlined issue, Grammarly will provide suggestions on correcting it.
And Grammarly can evaluate content in five English dialects. To tailor its suggestions to the precise language you're using.
It can also detect how engaging your writing is and its tone of voice. Which helps you craft content in the right tone for your audience. And keep them interested in reading more.
Grammarly also integrates with popular web browsers, Google Docs, and iOS and Android devices. So you can polish content no matter which tools you're using.
4. ProWritingAid
The ProWritingAid tool taps into AI to help you improve your writing. It can correct misspellings, simplify jargon, and help make your writing more concise.
When you add content to the ProWritingAid editor, it can provide advanced writing recommendations. Such as reducing the use of sentences that start with conjunctions. Or varying your sentence length.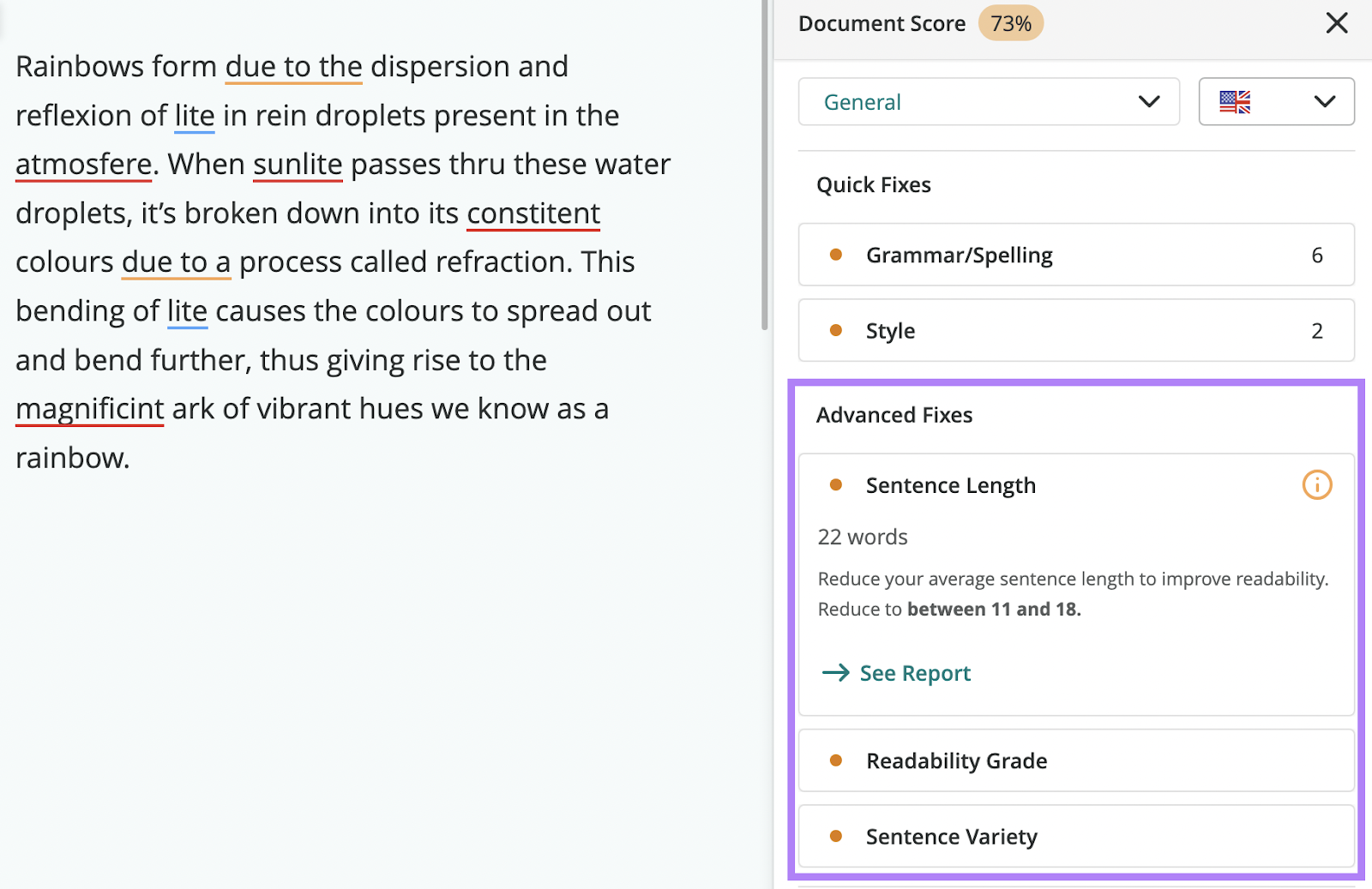 Some editor's tools may focus on your weaknesses. But ProWritingAid also shows your strengths. Whether that's readability, pacing, use of jargon, or something else.
This is helpful for knowing what you've done well. So you can keep up such good writing habits in future articles.
ProWritingAid also lets you select the type of document you're writing. Like an academic essay, a fantasy novel, or a short web article. And tailors its editing suggestions to suit that format.
One undeniable benefit of using ProWritingAid is that you can pay a one-time fee to use its premium features forever.
5. Hemingway Editor
Hemingway Editor is a free writing and content editor tool that can pick out common writing issues. Like use of difficult-to-read sentences. Or complicated words and phrases. 
It can also suggest basic improvements.
You can use Hemingway Editor in "Write" mode to write your draft in a clean, distraction-free interface. Frequently used formatting options (such as bold and italics) are conveniently located in the top toolbar.

When you've finished writing, switch the tool to "Edit" mode. It then scores your content's readability according to grade levels. Meaning the educational grade the reader needs to have to understand your writing.
Hemingway Editor will count the number of words in your writing. And estimate the time needed to finish reading it.
The tool also highlights the parts of your writing you can work on.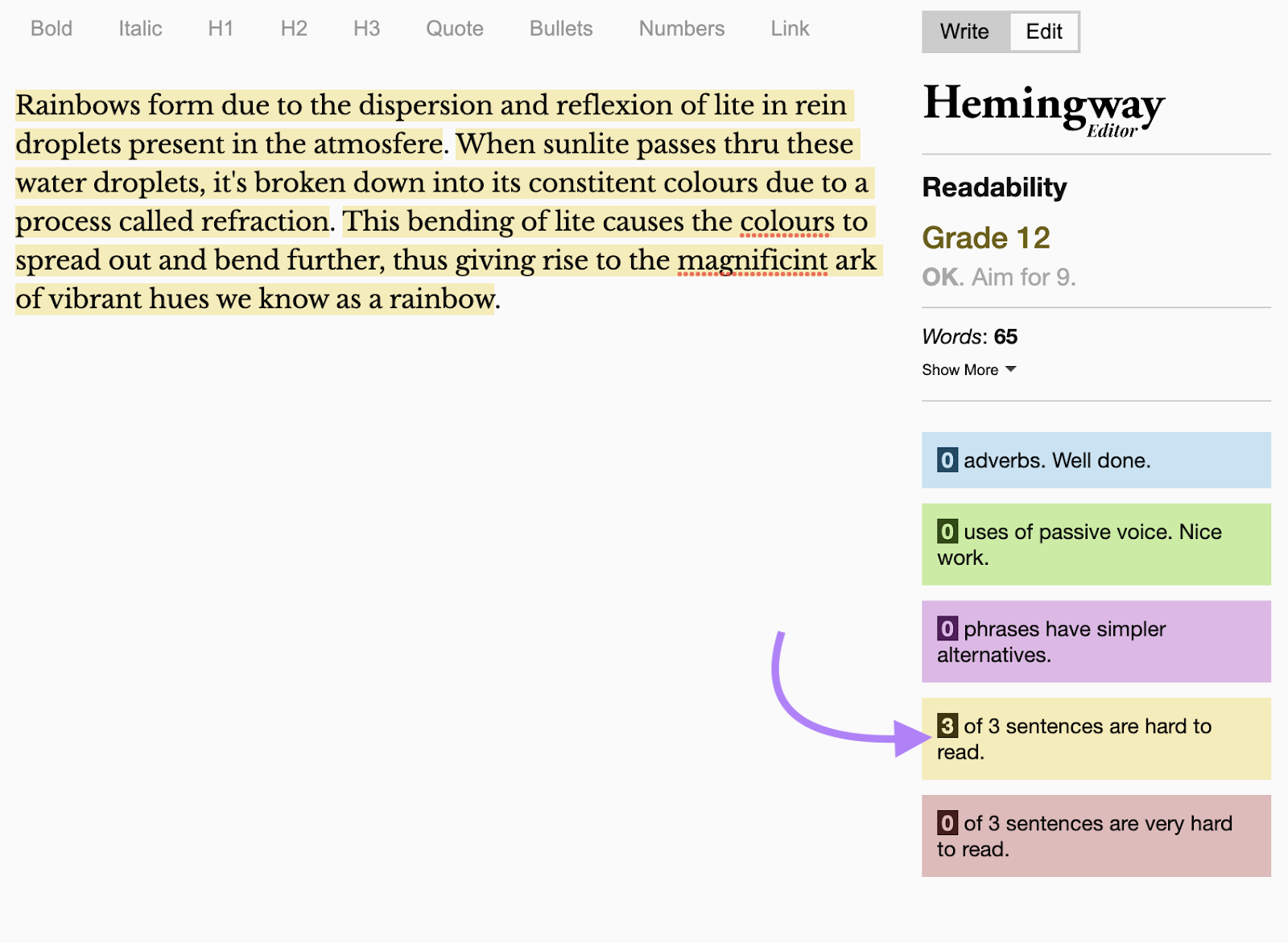 Move your cursor over each highlighted issue, and the tool will recommend how you can fix it. Such as rewriting sentences to use the active voice instead of the passive voice. And removing unnecessary adverbs.
6. Readable
Readable is an advanced tool for enhancing your content's readability. It offers detailed insights into your writing's grade level, readability score, text density, and more.
Type or paste your writing into Readable to see which parts of it can be improved. Including sentences that are too long, misspelled words, and adverb overuse.
In the right sidebar, Readable will display your writing's readability based on various grade-level tests and readability scores.
Such as the Flesch-Kincaid Grade Level, which applies to all writing types. And the International English Language Testing System (IELTS) Level, which determines how proficient someone needs to be in English to understand your writing.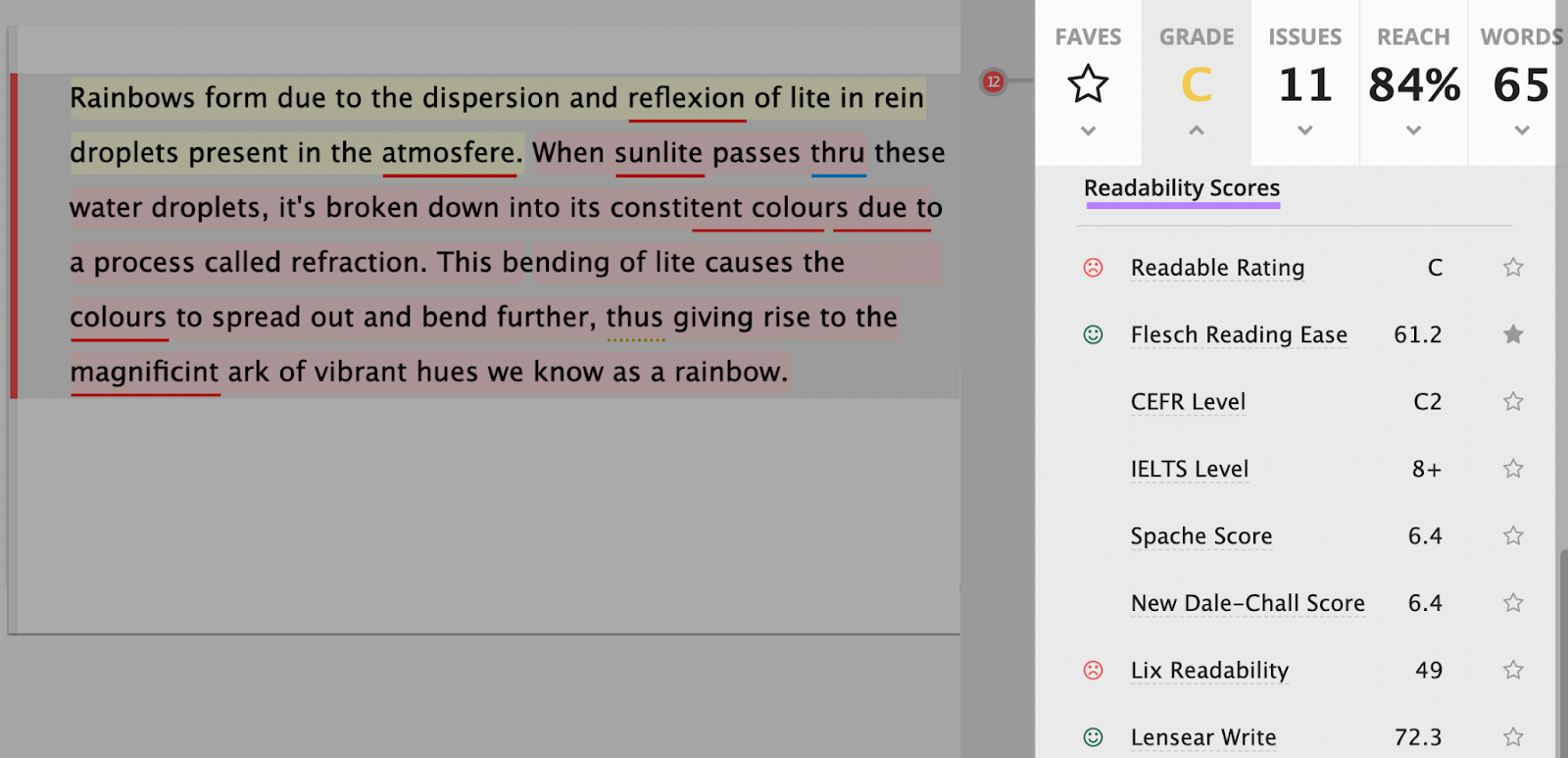 The tool can identify spelling and grammar issues—plus uses of passive voice and adverbs. It also detects clichés you might want to remove.
A Reach score estimates your content's readability for your target audience.
And other reports indicate whether your writing:
Has a more formal or conversational tone
Uses more positive or negative language
Reads as more personal or impersonal
Readable can also analyze content in Microsoft Word and PDF documents. Which is useful if your drafts are in those formats.
7. Wordtune
Think of Wordtune as an AI-powered rewriter for creating clear and compelling copy. By offering rephrased options you can plug into your writing.
Write or paste your text into the Wordtune editor. Highlight the text you want to rephrase, and click the symbol to rewrite.
Wordtune generates a range of options for expressing the same sentence or paragraph using different words. And displays its edits in purple to help you differentiate them from your original text.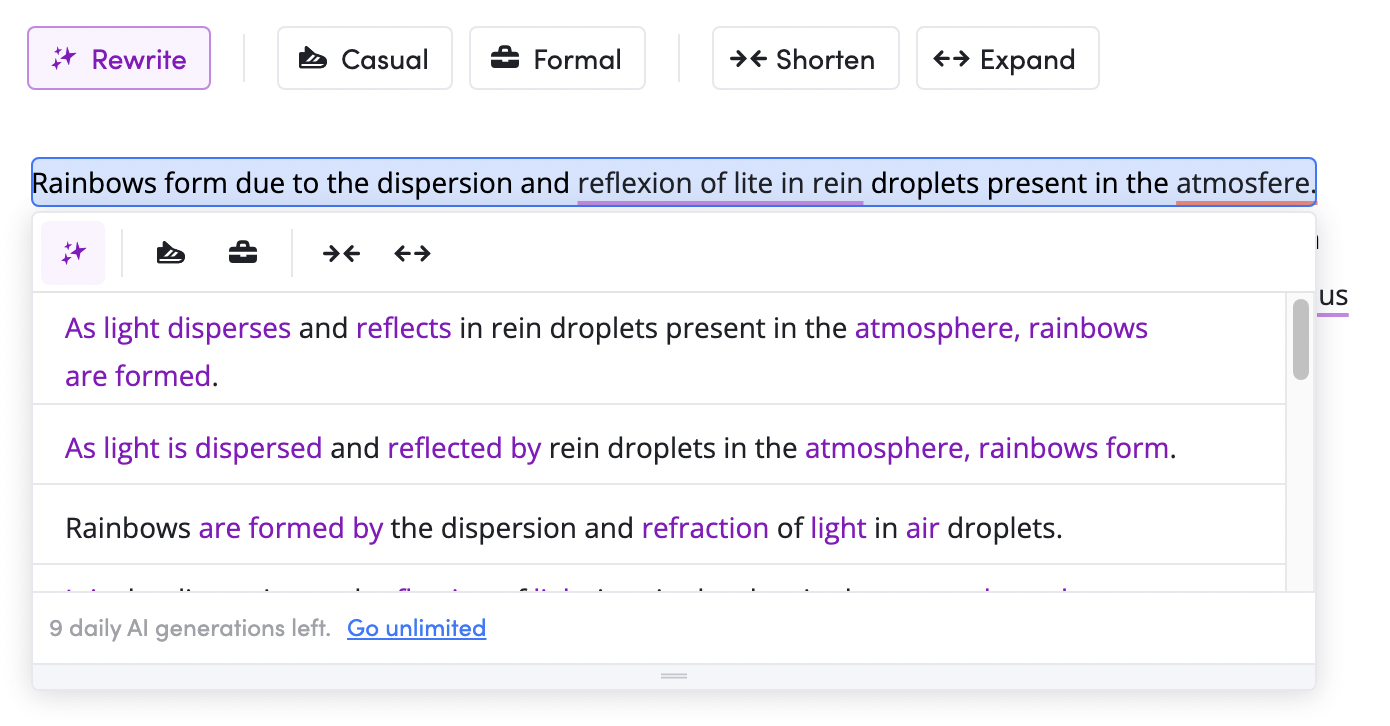 This online editing tool for writing can also be used solely to rephrase your tone. By selecting the "Make It Casual" or "Make It Formal" option to rewrite your text in the tone you choose.
And Wordtune can help you shorten or lengthen sentences.
This tool is also available as a Microsoft Word add-in, an iOS app, and a Chrome extension.
8. Jasper
Jasper uses AI to produce content—from complete blog posts to just a few paragraphs of text—that reflects your brand voice.
Use the tool's Content Improver template to generate multiple rewrites for any given text. All you need to do is provide the copy, your target tone of voice, and the type of document you're creating.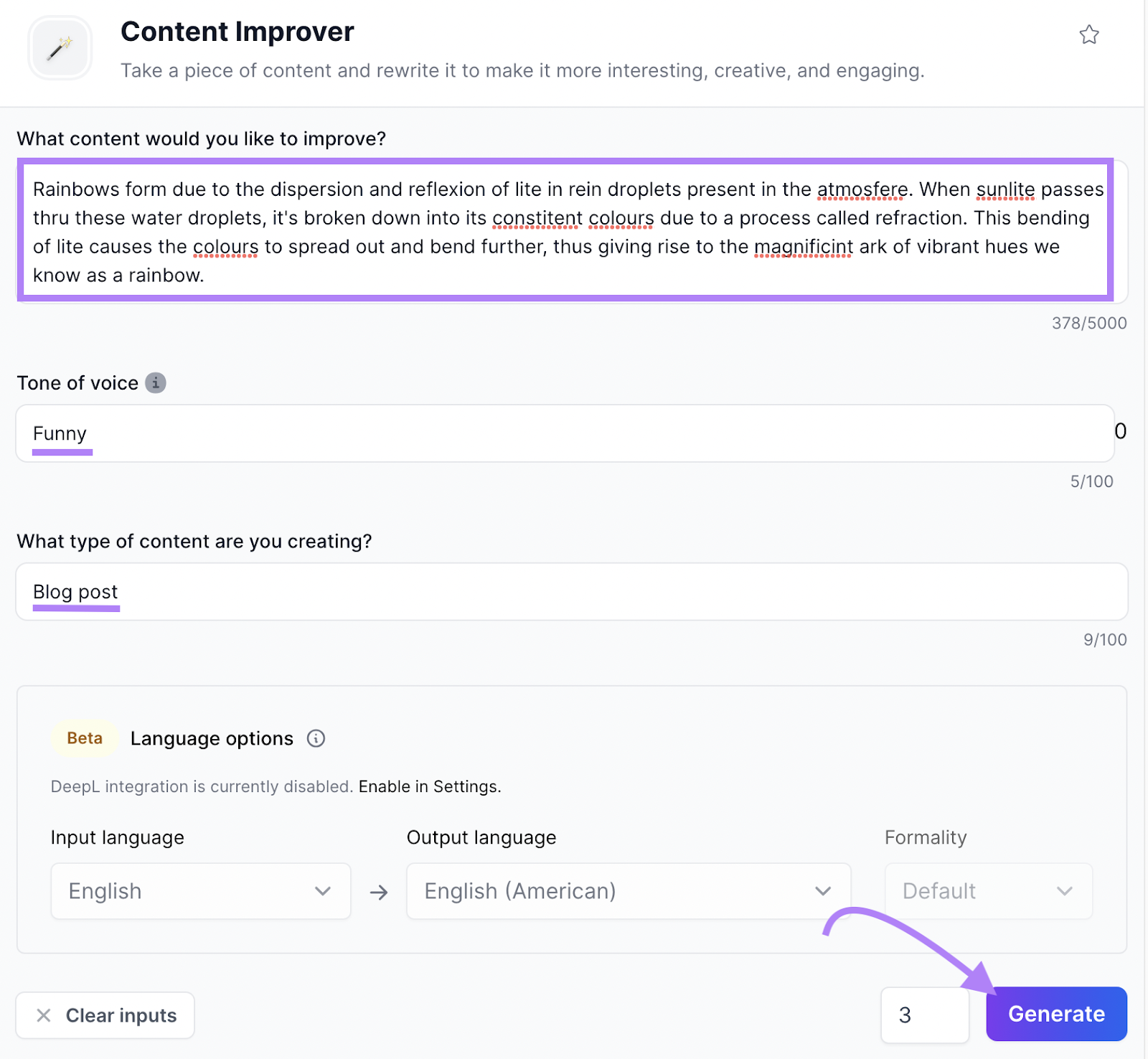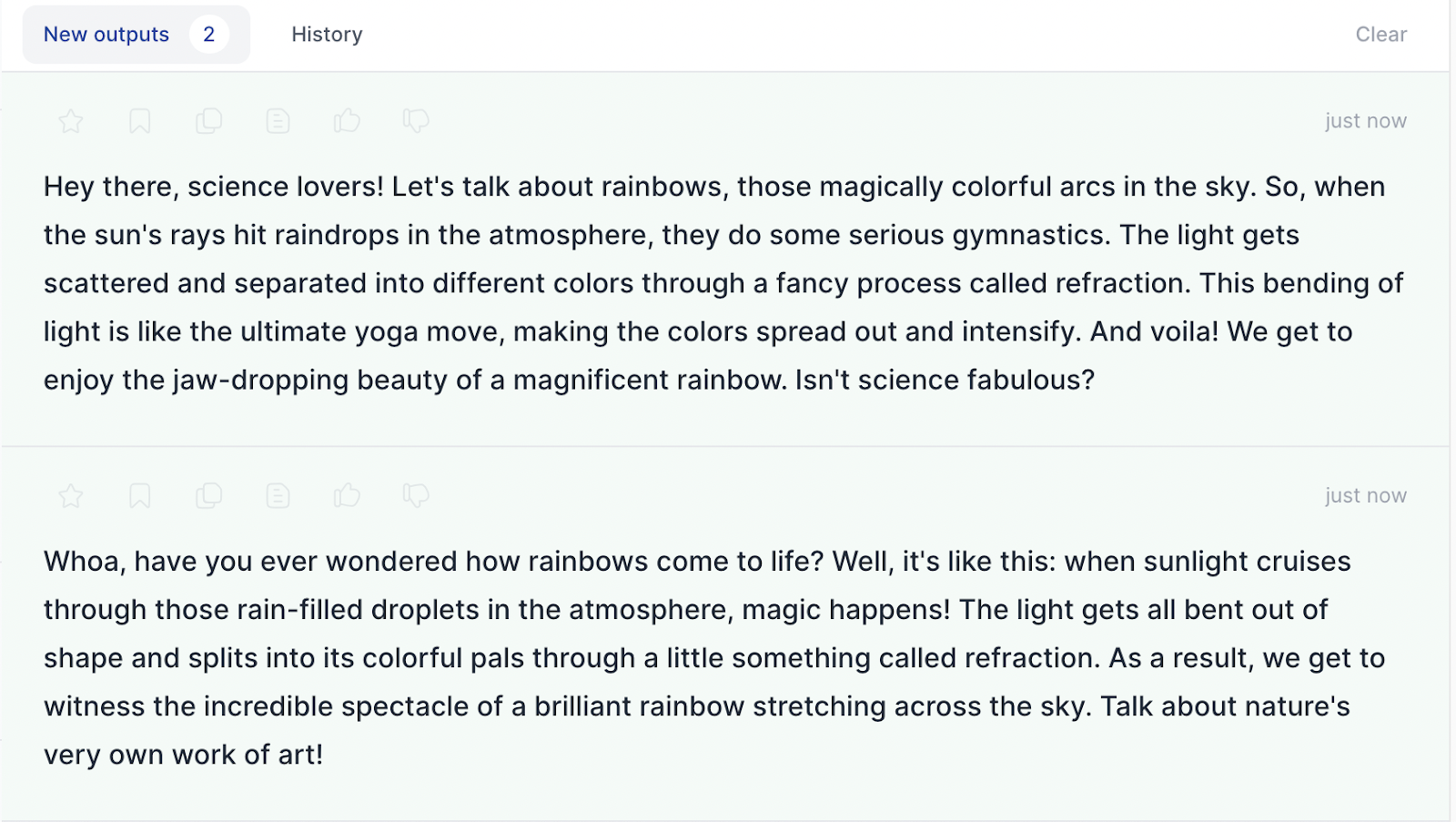 Jasper can learn your typical writing style and how your business works to incorporate that into its writing.
You can share your content with Jasper via plain text or URL. So it can learn your voice and better generate on-brand content.
Or upload resources like information on your products and target customers. To help Jasper understand your business. And flesh out its writing with your hard-earned insights.
If you aren't sure how to improve your writing, Jasper may be able to offer advice. Launch the tool in chat mode, and then ask how to improve your writing.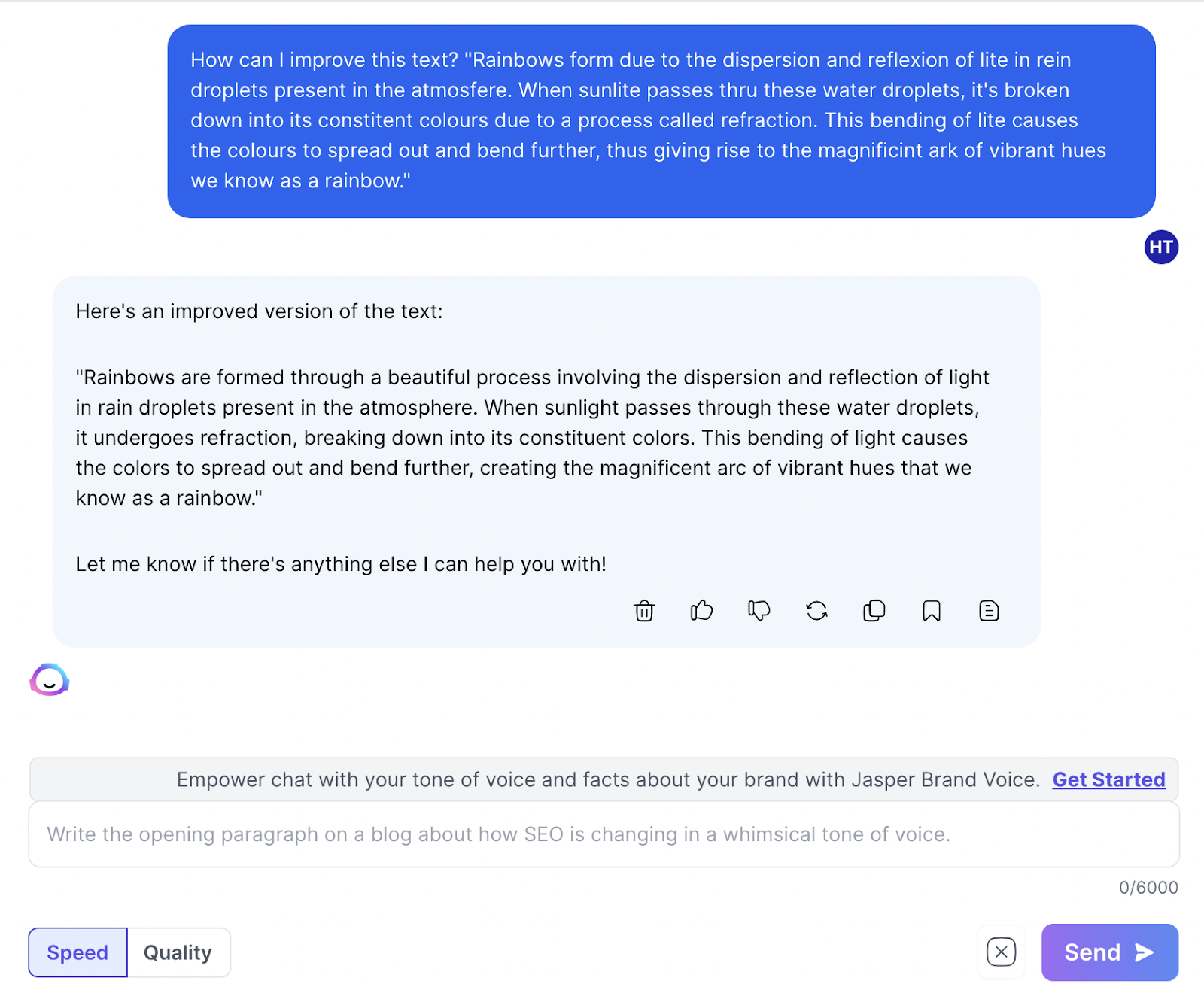 Jasper will reply with its suggested enhancements. And refine its edits based on your follow-up comments.
9. Headline Analyzer Tool
Headline Analyzer Tool from Capitalize My Title can help you write headlines aimed at increasing traffic. By providing you with a score based on SEO, readability, and sentiment.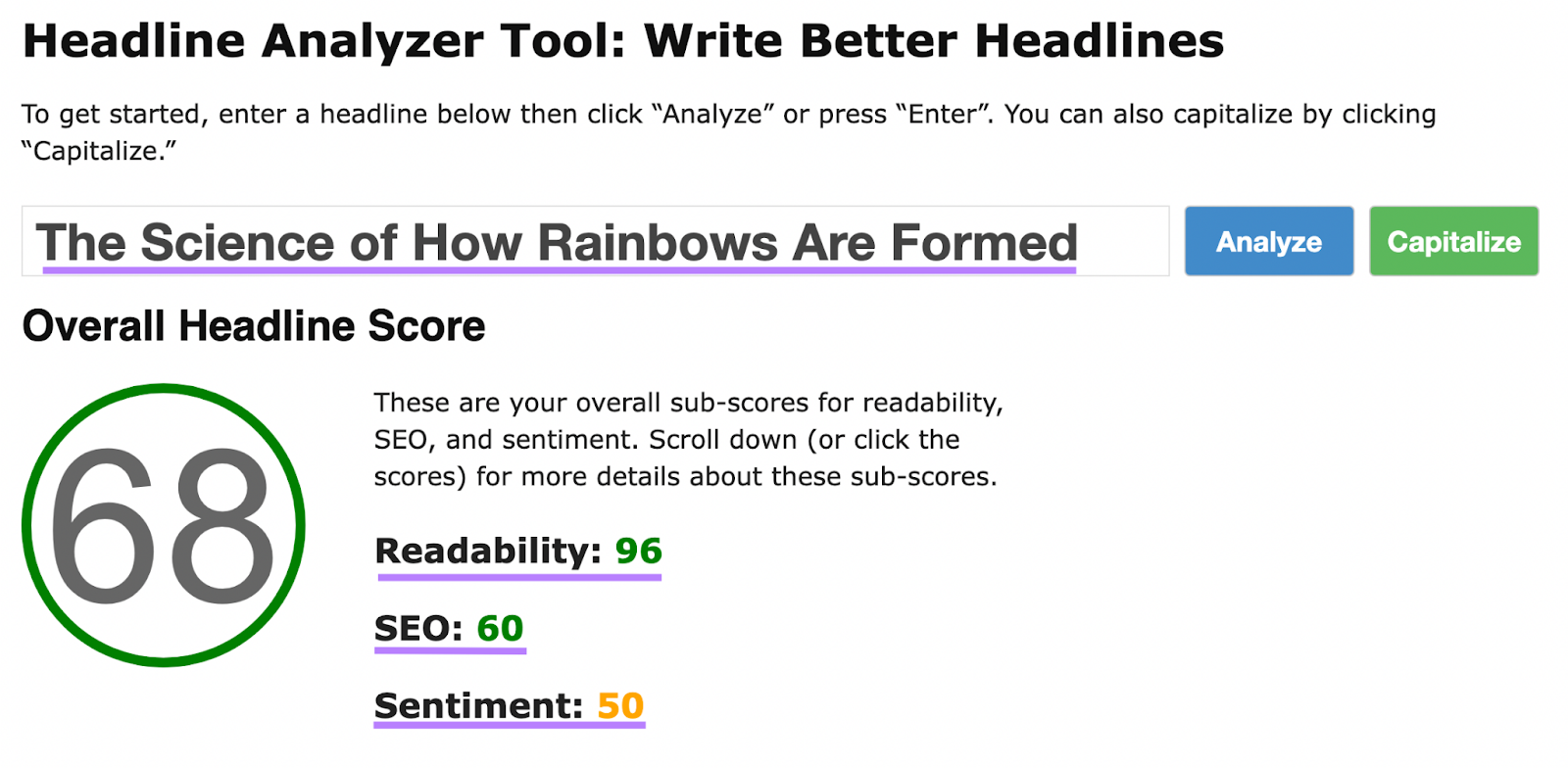 The SEO score takes into account your title's word count, character count, and pixel width. Which determine whether searchers can read your title in full on the search results.
The Headline Analyzer Tool also analyzes whether you've used "power" words—words that catch readers' eyes and entice them to click your title in search results.
And the tool will assess your title's readability based on the education level readers need to understand it.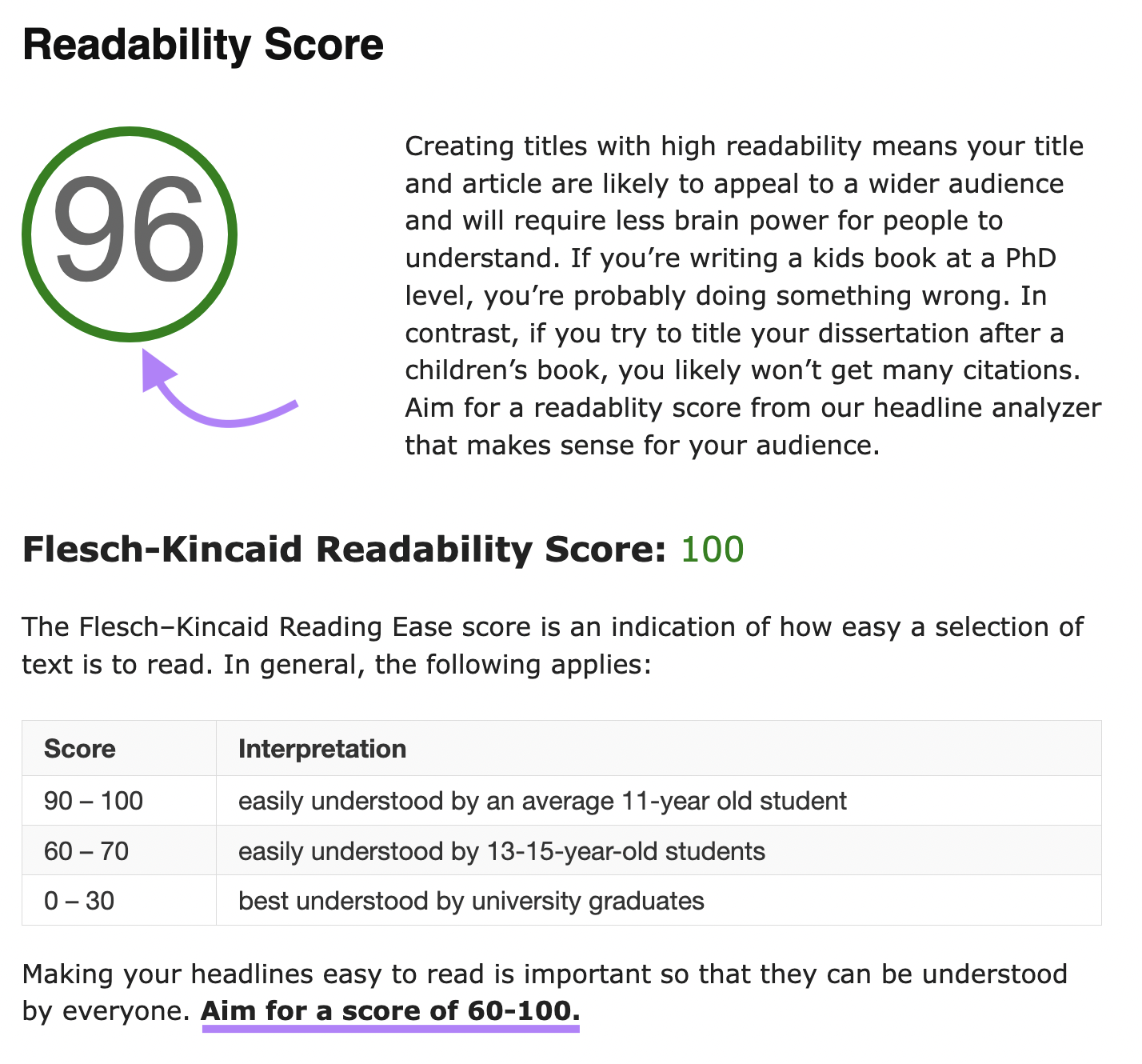 The Headline Analyzer Tool also flags "weasel" words, which are words that may appear impressive but fail to communicate much information. Like "could" or "often."
And the tool can pick out positive and negative words in your title. To analyze whether your title appeals to readers' emotions. And compels them to click through to your content.
10. OneLook Thesaurus and Reverse Dictionary
The OneLook Thesaurus offers synonyms for varying your word choice and suggested words for the concepts you're having trouble expressing succinctly. To help you communicate your thoughts clearly and with a richer vocabulary.
Open the tool and enter the word you want synonyms for (like "happy"). Or the meaning of a word that's escaped you (like "a feeling of joy"). OneLook Thesaurus then suggests words with meanings closest to what you've provided.
To help you find the perfect words for your situation, OneLook Thesaurus lets you filter its suggestions in various ways.
For example, you can choose to view only idioms (e.g., "as happy as a pig in mud"). Or old-fashioned words (e.g., "pleased as punch").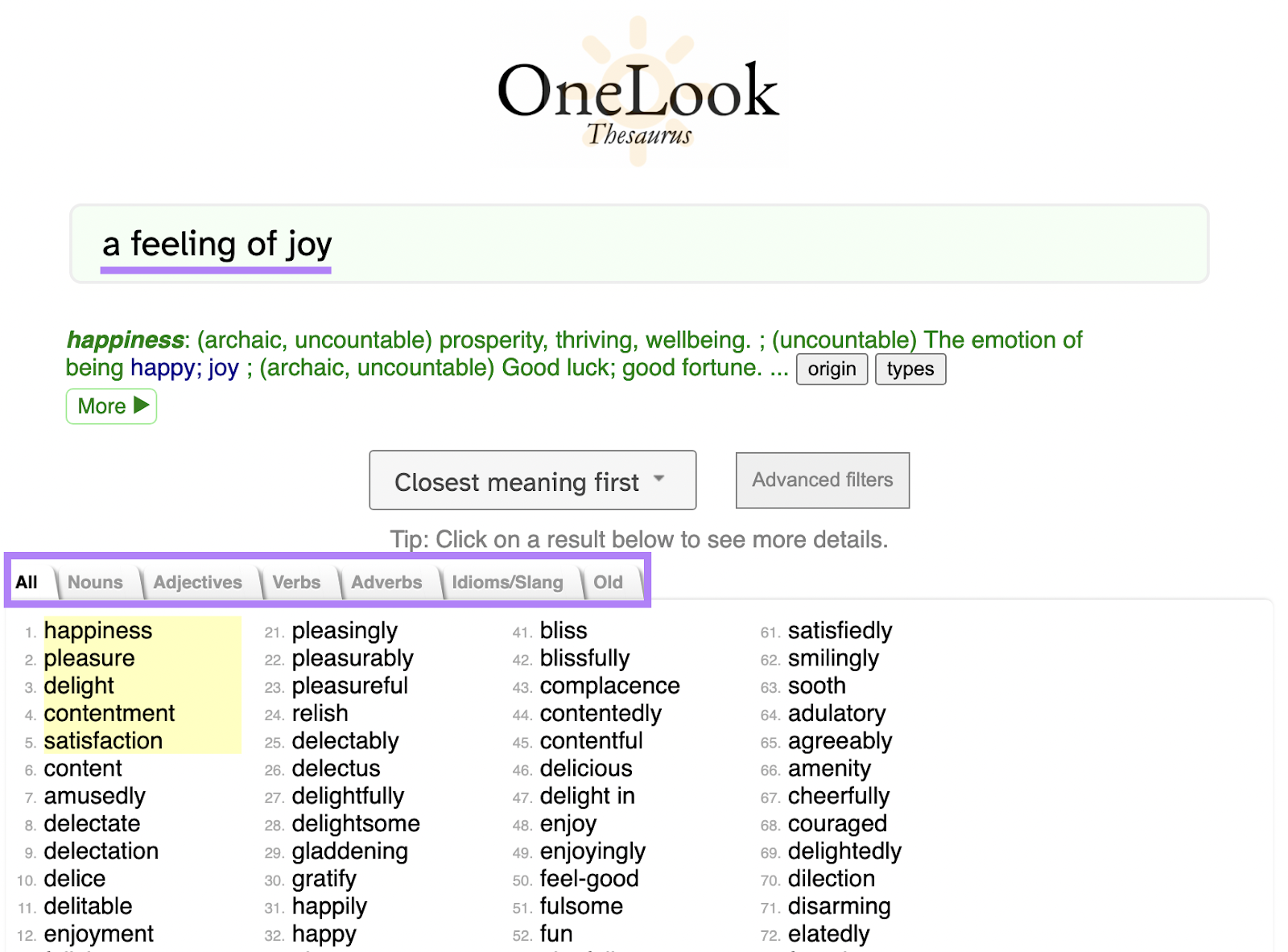 There are also various settings for narrowing your word search even further. For example, you can have the tool display only words that:
Start with a certain letter
Contain a certain number of syllables
Rhyme with another word of your choice
Have a certain primary vowel
For a visual representation of your options, display the tool's suggestions in an Idea Map. Which will group its suggestions based on shared concepts and definitions.
11. Ginger
Ginger is a handy tool for rephrasing and proofreading text. And increasing the variety of words you use in your writing.
The tool's browser extension can help you rephrase your emails and social media posts. 
Just highlight your text and click Ginger's "Rephrase" button. To see a drop-down list containing rewritten versions of your text with Ginger's edits displayed in bold.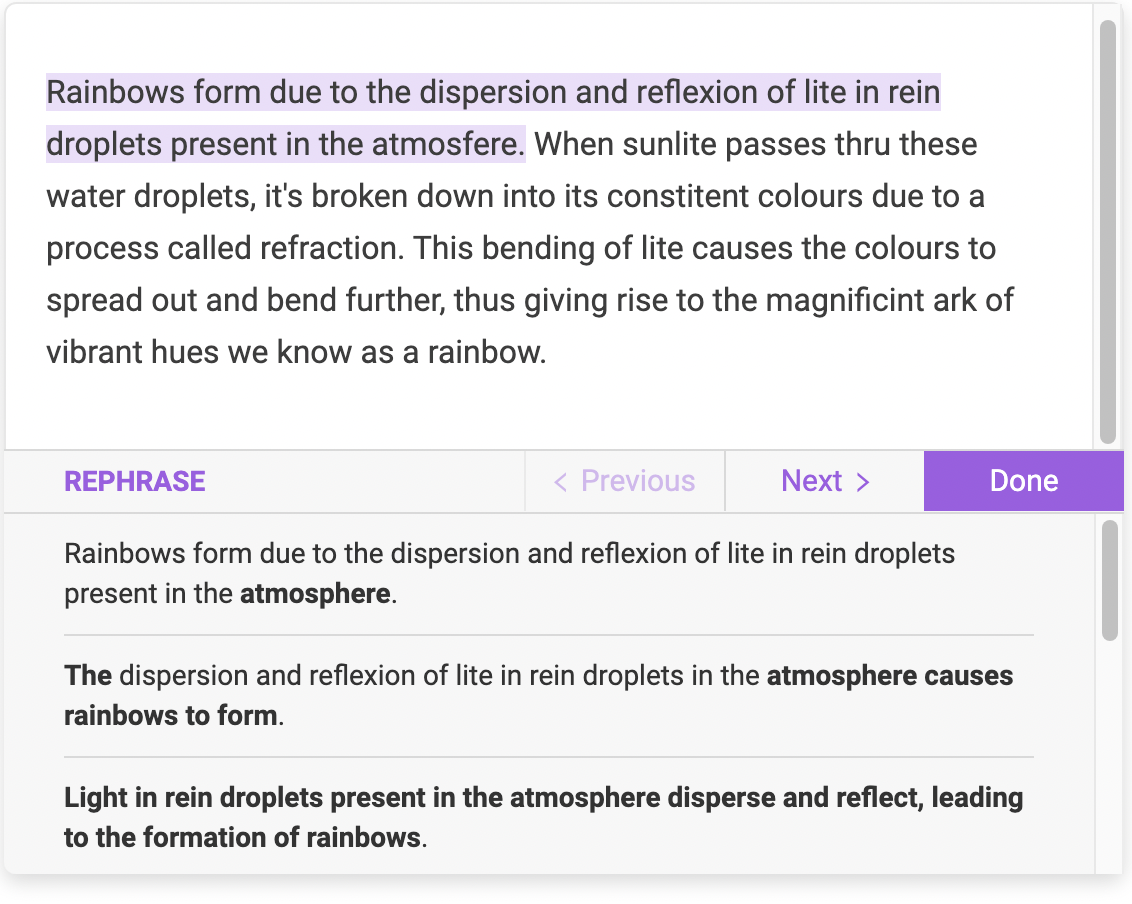 Click your preferred option and it'll automatically replace what you had originally written.
Alternatively, click the "Edit in Ginger" icon to check your writing in more detail. Ginger can identify spelling and grammar issues, and suggest fixes for these.
You can also highlight certain words in the Ginger editor to get synonyms for words you've used repetitively.
And Ginger has browser extensions for Chrome, Microsoft Edge, and Safari. The tool is also available for Windows and Mac desktop and mobile apps.
12. ChatGPT
ChatGPT is a conversational AI chatbot that can act as your personal editor and proofreader in practically any manner you can think of—improving your writing tone, rephrasing text, correcting misspellings, assessing readability, and more.
To get started, begin a new chat in ChatGPT and paste in your content. Then, tell the tool how you want it to evaluate your writing.
For example, you can ask ChatGPT to rate your content's overall tone. And suggest edits to make your content sound more professional, friendly, or polite.
ChatGPT can also rephrase your sentences to avoid repetition.
And the tool can fix spelling and grammar mistakes. Just inform it of the language you're writing in, such as American English or British English. So ChatGPT can give accurate spelling guidance.
ChatGPT can act as a stand-in for a member of your target audience, too.
Tell the tool what role it's taking on (e.g., a sixth grader or a person unfamiliar with medical terms). And ask ChatGPT whether it can understand your writing. Or whether you need to simplify it.
ChatGPT's conversational nature means you can ask it follow-up questions based on its previous response. Such as getting it to explain its edits. Or providing alternatives if you aren't satisfied with its initial suggestions.
13. Slick Write
Slick Write is a free content editor that assesses your writing structure, word choice and variety, and sentence length. It also offers insights at a glance.
Type or paste your writing into the tool's editor and click the "Check" button. Slick Write then reviews your writing for issues. Such as adverb overuse and redundant phrases.
You can also double-click various words to see synonyms, definitions, or rhyming words.
And Slick Write can review your writing structure. For example, it detects sentences that might be missing punctuation.
It can also display each sentence's word count. To help you vary your sentence length to make your writing more engaging.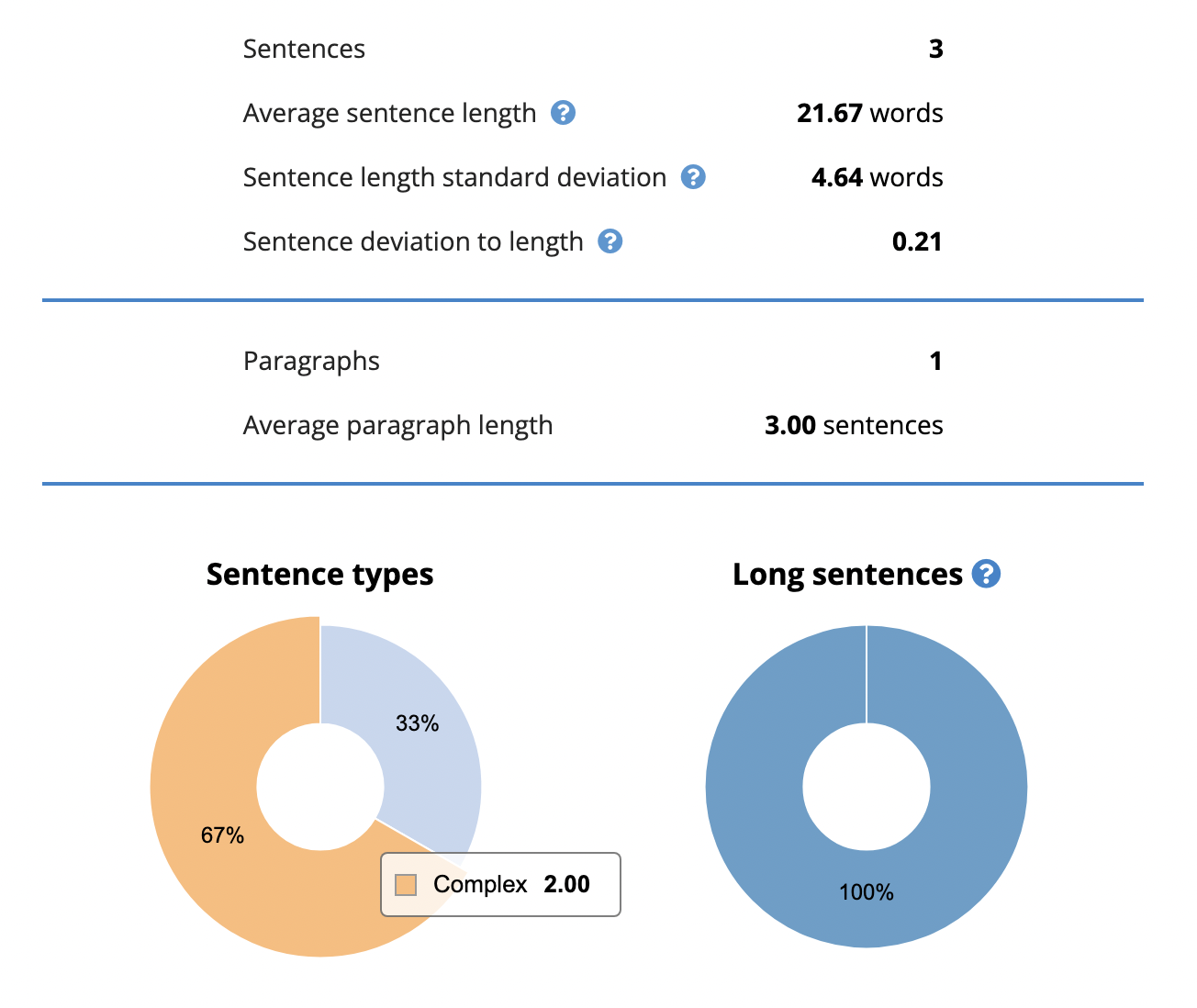 The tool's vocabulary feature checks the variety of words in your writing. And highlights repetitive sentences in red so you can consider reworking them.
Slick Write also evaluates your writing to uncover things like: 
The average word length
The estimated readability score
The percentage of uncommon words present
You can use the tool's settings to customize its writing checks. For example, you can have it identify contractions if they'll make your writing too informal.
Slick Write can check up to 200,000 characters (roughly 30,000 words) in a single session.
14. LanguageTool
LanguageTool can check for spelling and grammar mistakes and paraphrase sentences in over 30 languages and dialects. And is available as a browser extension, word processor plugin, email add-on, and desktop app.
When you use LanguageTool in "Correct" mode, it underlines writing issues as you type or paste text into the editor. Like spelling and grammar mistakes, punctuation errors, and redundant phrases.
Click each underlined issue to get the tool's explanation of the possible error and its recommended fix.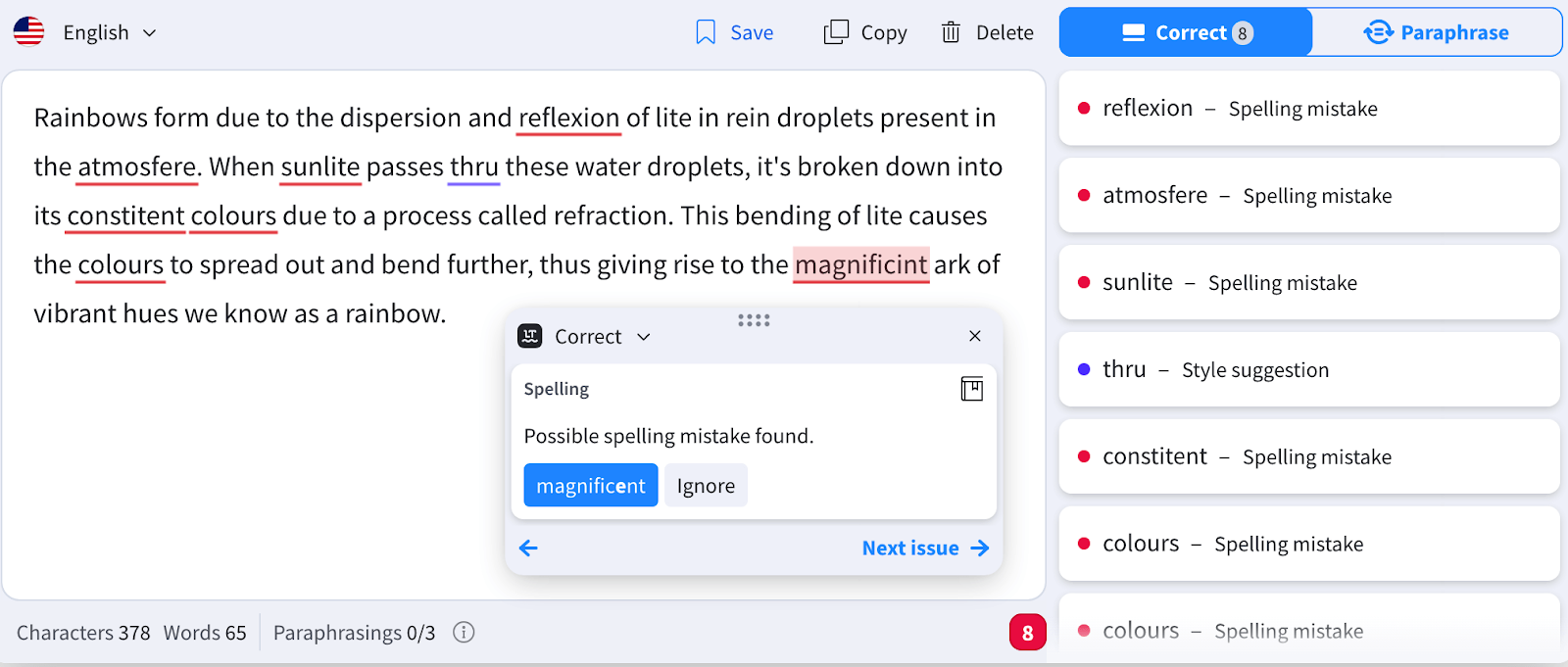 Select "Paraphrase" mode to paraphrase your words and sentences. Or, click any word to get synonyms for it.
It will also suggest various ways of paraphrasing the sentence. To simplify the sentence or make it sound more formal.
A style guide feature lets you set up custom edit suggestions. For example, you can add a rule to always suggest replacing "BBQ" with "barbecue." So you can ensure consistency in your word choices.
You can even turn on LanguageTool's Picky mode to get more detailed feedback on your writing. Such as passive voice use, incorrectly used hyphens, and vague language.
15. AutoCrit
AutoCrit is the tool of choice for book writers. It offers a wide variety of reports for evaluating your manuscript and suggesting how you can make it more compelling.
This editor's tool can score your writing according to various readability tests.
It can also count how often you've repeated words and phrases in your writing. And benchmark these counts against averages for your chosen genre or author.
If you've used certain words and phrases too many times, the tool will suggest the number of times you'll need to remove these.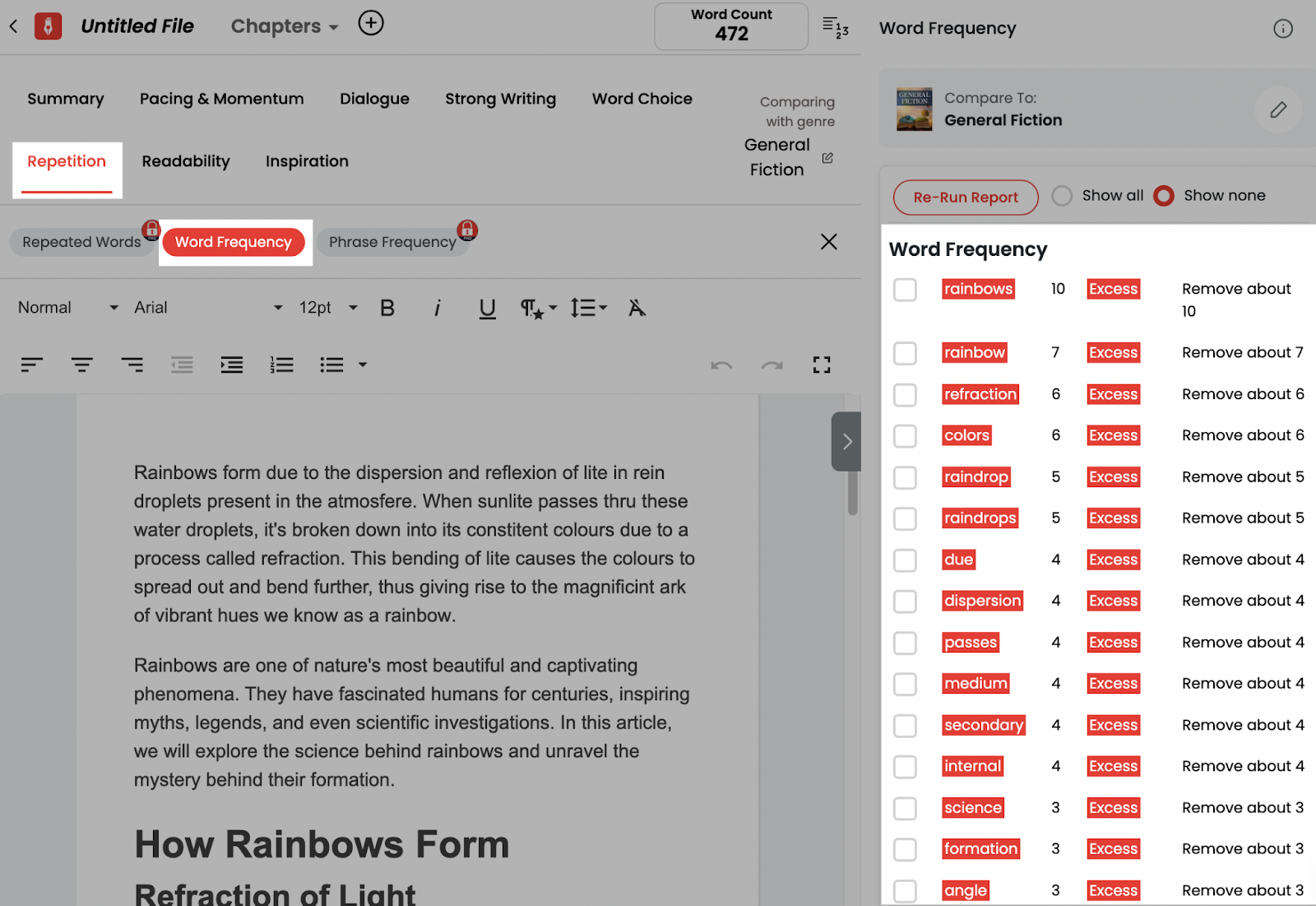 And AutoCrit measures your writing's pacing. And makes suggestions on areas that need more momentum.
Last not but least, the tool can pick up whether you're showing the story or merely telling it to the reader. So you can build up the narrative in a way that meets your objectives.
By default, AutoCrit benchmarks your writing against general fiction writing. But you can have it compare your work against specific writing genres like fantasy, romance, or health and wellness. Or even specific authors like Agatha Christie or J. R. R. Tolkien.
Choose the Best Editing Tools for Your Needs
You don't need to add all of these content writing and editing tools to your publishing process.
Instead, explore a few that caught your eye to see which you find most helpful. 
You can also combine a few of them to ensure all your needs are covered. 
SEO Writing Assistant is a good one to start with.
You can even try it for free.