How much impact did that last tweet have on your marketing campaign? Did that Facebook ad really get you results? As a social media marketer, these are questions you would be facing every day. Even though our e-book, The Ultimate Guide to Social Media breaks down the entire workflow (a definite must-read!), we know that you still have some nagging questions left.
That's why, we invited Kendall Bird for our latest #SEMrushchat. Being the Social Media Manager @CollegisEdu, she has hands-on experience in social media marketing and can provide actionable tips to your queries. Along with our other chat participants, she discussed top questions surrounding social media marketing. In case you missed it, here is a quick summary of the discussion:
Q1.What is your favorite social media management tool for analytics and managing multiple social media accounts?
A common mistake that most social media managers make is failure to pick the right tool to assist them in their efforts. It is quite easy to get wrong, since the market is inundated with numerous tools designed to help you. If you are on the look-out for one that combines allowing you to build a schedule for your social media with all the social media activities you want and include a fair bit of analytics as well, here are a few options our community is happy with:
ContentCal_IO

A1 A couple of our favourites to managing social media are @buffer and @ContentCal_io. We love to use Buffer's extension, and categorising posts on Content Cal makes scheduling a dream! #semrushchat

— Sharing.Social.London (@ShareSocialLdn) April 4, 2018

Tweetdeck
Sprout Social
MeetEdgar

A1: For managing multiple accounts, we use @MeetEdgar. It really helps us make the most of our content and it's easy to keep track of all our different social platforms there. #semrushchat

— Express Writers (@ExpWriters) April 4, 2018

HootSuite

Google Analytics
Meltwater
Did we miss any of your favorite tools? Let us know in the comments!
Q2.Which social media metrics are most important for you to track?
Social metrics have definitely evolved from just likes or comments. Today neither of these on a stand-alone basis can be a benchmark of success for your campaign. This is because, the way leads interact over social media has fundamentally changed. Therefore, it makes sense that the metrics you use to track the success of your campaign evolve to reflect the same. Here are some ways for you to track your metrics:
Decide the Goal and then decide the metrics to track
Every campaign has different metrics – ultimately, it depends upon the goal of the campaign and the objective that you are trying to achieve. For instance, Awareness and Lead generation have different metrics – the former would focus on page visits and the latter on conversions.It is the goal that determines the metrics to track.
However Impressions, Ad Set interactions and Page views are typically sound metrics to go by.
A quick check
A quick way to find out if your posts have failed is by checking if it has off-topic comments and non-existent shares. It is the perfect indicator that the post has failed to engage the audience – without having to dig through complex numbers.
Engagement metrics that matter
Engagement metrics should take precedence over any vanity metrics such as the number of followers you have or the amount of likes you get. Even if you have numerous followers, chances are that they may not be seeing your posts. More importantly, even if they see the posts and they don't encourage them to engage, it may well be a failure.
This is especially true when communication and posts happen via Gifs and videos. You have no idea if the like is for the content you have shared or the Gif. The resulting ambiguity does not spell a sound number to bank your campaign metrics on.
Therefore, solid engagement metrics like comments/replies to your posts, shares, the number of impressions vs. clicks and finally recall (are your leads returning to your brand?) have to be the primary focus.
Good engagement denotes an effort by the lead to actively interact with your brand (or your message) and that is a big plus.
If you are using videos to post, remember to check the video in minutes viewed – that is a sure indicator of how interesting your content was to the lead.
So, what's next? Once you have Engagement metrics sorted, amplification and conversions should be the next priority. You will have to monitor the number of visitors coming to the site, see who joins your mailing list to nurture them further and ultimately, who converts or makes purchases.
Regardless of the metrics you choose, it is important to keep the goals and metrics consistent and not change them to get better numbers.

Q3.Let's say you're trying to convince your CEO or direct report that your company should be utilizing social media platforms. How do you convince them it's important?
The number of people who frequent social media is steadily increasing. While we may not have seen the birth and death of countless social media channels, the fact is that social media is here to stay! Your target audience has found a new way to interact with each other and with you as a brand. If they cannot reach you (your brand) via that channel, or are not impressed by the content you have in place, your authority and reliability can be put to question.
It is just like any other marketing channel – with a huge pool of target audience just 'there', who can take notice of your brand. Therefore, it is vitally important to explore and a profound loss if not tested.
You never know, it could be the perfect medium for your brand to establish a voice and reach the audience.
You need to look at hard data and numbers. Proving ROI out of every social media campaign or program can be tricky. For example, can you honestly attribute X no. of visitors or conversions to your site to a single particular tweet?
However, if you can show the value of your efforts to your CEO – that is, outline exactly what each of these numbers mean and the impact that it has brought the business, then you will be able to get a shoe in.
Typically, there is always one shining example of a brand using social media the right way. That's why it's important to look at what your competitors are doing and analyze their tactics. If you can highlight that to your CEO, show him how similar your goals are to that of the company you have chosen, your battle is half done.
Otherwise, you can also opt for a SWOT analysis of your company's or client's marketplace to see what kind of campaign can work best for you. What works / has worked for your competition need not necessarily work for you as well. You can check out what tools and strategy they are using and see how best to use them to achieve your targets.
In order to get more concrete data, you can A/B test the marketing budget to see the effectiveness against ROC.
At the very least, you can highlight the amount of shares and engagement your competition is gaining from that channel – the same kind of interest and mind share that you are missing out on.
It's also important for you to build loyalty and customer service. More often than not, disgruntled customers take to social media to voice their views or reach out for help.If your brand is not present in the same medium to listen, offer support and rectify the problem, not only are you providing bad customer experience, but also sending out a completely hostile message. Remember, with such a huge audience pool watching, it can very easily be a huge turn off to your brand loyalty.
Make sure you pitch your plan the right way. No social media campaign ever succeeded without sound strategy. If you need your CEO to buy in, your plan will have to be sound.
Go in with a solid plan, define what you intend to track and predict how it will impact the business. Align your company's goals with that of your campaign and measure the right metrics.
Give it a trial period, analyze the results and see how you can attribute business impact or value to your campaigns.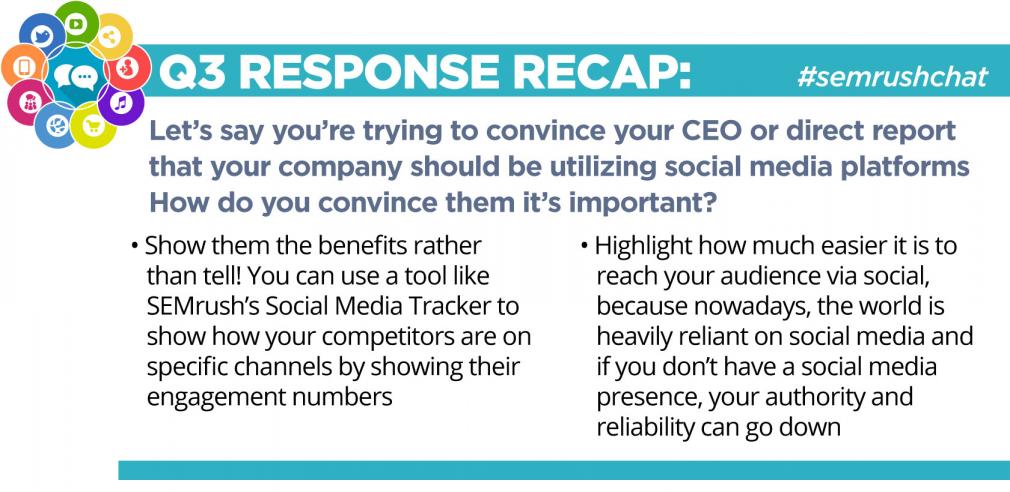 4.Can having a social media account have any negative impact on a company or business? Why or why not?
Absolutely! Like any other marketing channel, social media marketing is another channel for your audience to connect and interact with you. That means, the communication goes both ways – your audience have the liberty to troll you, provide negative comments or feedback on a public forum if they are unhappy with you. Thus, it can adversely impact the brand image for the worse, if done wrong.
 Here are a few things that can help you avoid that fate:
1. Having a strategy
Every social campaign that you launch has to be thought through. If, you start Re-tweeting and re-posting posts that has no value to your target audience and does not interest them, they will publicly tell you about it.
Ceaseless self-promotion, not listening to your customers to address their problem can all have a negative impact.
2. Being human
Speaking of addressing customer problems, the tone you take up on social media has profound impact. Nobody wants to chat with a faceless brand.
Your audience fully expect you to have a voice – a little bit of human behind every message you send out .
3. Acting wisely on feedback
Even if you receive negative feedback, the way you tackle it can make all the difference between a social media success and a failure. Your response to it will have to be timely, well thought out, human (but we already covered that) and most importantly, solve the problem.
Remember, every bad review can actually be your next opportunity to identify and rectify a customer problem you had not been aware of before and is the perfect opportunity to build trust.
Keep in mind that social media profiles are indexed by Google – and a bad review can be picked up on the SERP page and negatively impact first impression.
4. Having an expert behind the screens
Since social media is the public face of your company, it has profound impact in shaping how your brand is perceived by the audience. Therefore, the posts have to sensible, rational and emotionally well thought out.
It cannot be relegated to the interns or the new joinees. In fact, you need your best person on the job, trained to deal with customer problems with tact and frequently rotated so that no one is in the firing line constantly.
Q5.In your opinion, what are the top 3 ways marketers can maximize LinkedIn for business in 2018?
LinkedIn is currently one of the top B2B platforms in the social media world. It is a chance to meet like-minded professionals, network, get the latest industry news and also get a general idea of where businesses (yours and competition) are heading.
Therefore, as with any other social media platforms, it can be used for both organic and paid campaigns – the advantage being that your audience are a lot more business oriented and come across your content while pursuing something work-related (and not a cat video).
Here are some ways you can maximize your LinkedIn for Business:
1. Thought leadership
Post and engage in LinkedIn groups that are relevant to your sector.
If these articles get enough traction or attention, you can also boost them with paid campaigns to increase interested visitors to your site. Encourage experts in your company to volunteer articles on LinkedIn Pulse and link them to the company page. As long as the content provides genuine value, it will be well received by the audience.
Apart from publishing articles, the latest update – LinkedIn videos (autoplay) and video for company pages are a huge boon. It is the best way to get the audience hooked with your content, with powerful visual impact.
With regular such postings, you will definitely be able to build an audience of like-minded individuals, who will regard you as a thought leader and that will significantly impact your social mileage.Quick tip – to get noticed even more quickly by the right audience, use Slideshare.
2. Promote employee engagement
No company is without it's battles. You can encourage employees to come forward and share their challenges, their success case studies and how they handled difficult problems on the platform.
Not only will it promote a sense of camaraderie within your employees, it will add value to other businesses who may be facing the same problem.
3. Escalate brand value
Remember that other companies and their employees are watching what you do on LinkedIn. So your profile has to be updated, the links relevant and the content absolutely impeccable.
The more value you add to your viewers, the better your brand will be perceived by other employees.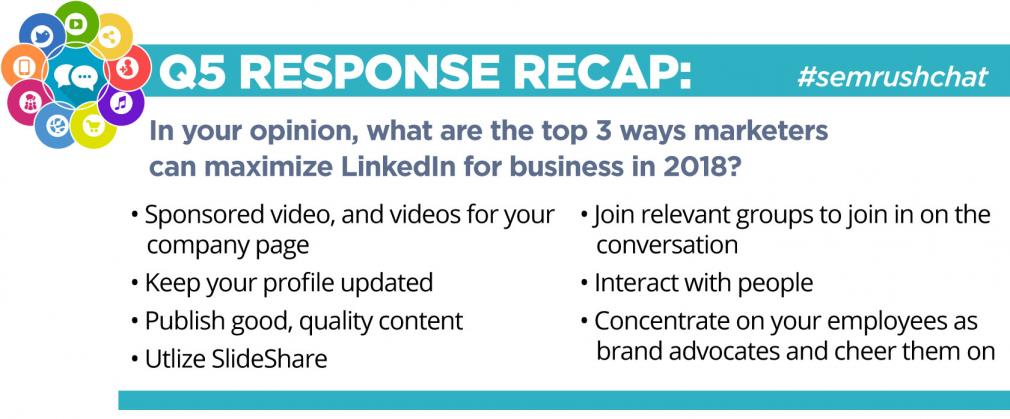 And that, sums up our discussion for the day. Though we have barely scratched the surface of social media marketing, these handy tips can keep you focused and goal oriented. What do you have to add to this? Leave us a comment and let's talk!
Make sure to join us this week to discuss "How to Create Awesome Content & Ensure it's Seen" with special guest, Casie Gillette!