Before you start: what do you know about SEO split-testing? If you're unfamiliar with the principles of statistical SEO split-testing and how SplitSignal works, we suggest you start here or request a demo. 
---
As always, before we publish our findings, we ask our Twitter followers to vote: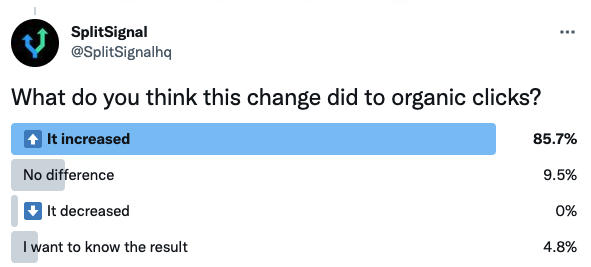 They are also encouraged to explain why they believe a change will have a positive or a negative result. This time around, only 0% got it right. You will soon find out why. 
But first, let's read what Digital Marketers had to share on LinkedIn about this test. Follow me to find out about the next test first.
Emily Lawrenson, SEO Content Strategist at Qustodio:
I'm guessing it'll improve CTR, but I don't think there's a huge difference between the two titles in this case. I think that for a significant increase, you'd need to do more (looking at that empty meta-description, for example!).
Vladimir Gertner, Senior Project Manager at Soft Road Apps:
I mean, this is a tough one. As a rule of thumb, sure, CTAs are a great thing for your title. They can drive people to click on the page and get you some visits, but then again, they need to be done well. Is this good enough?
I would say it is. I am expecting an uptick, but it could go either way.
Hannah Wiginton, Software Marketer and Writer at HW Consulting:
Just voted. I would definitely say it increased clicks. If they're looking for pizza delivery, they probably want to order it.
The Case Study
Welcome, everyone!
Today, we have a fascinating case study to share with you. This time around, it's all about the title tag. 
Adding CTAs (call to action, for those who are late to the party) to your title or meta description tags has been touted as the go-to "hack" for SEOs for years. You can go through blogs from ages past and those posted just last month and find numerous examples telling you it's the fastest way to boost your visits. 
But is that always the case? And, can you get away with just adding the CTA without making other modifications to the title tag? That's what this study is all about.
Are you one of the people who believe that a CTA is always a good thing? Read on for an interesting find. 
The Hypothesis
Our testing website is a big food ordering website. And, not just any food—pizza. They had this original setup that we used as our control:
We decided to try and validate whether or not adding a CTA to the page title is enough to organically boost traffic. So, that's exactly what we did. 
The Test
Once more, we relied on SplitSignal to set up and analyze our test. And, this time around, we had a lot more material to play with.
We decided to run this test on about 1,328 pages. Roughly half of them we changed by simply adding "order" before the rest of the title tag. After all, we've run a similar test before, and it showed great results. 
Thankfully, SplitSignal allowed us to make the changes to all 669 pages in a matter of minutes. Once you install a line of JavaScript on your website, making any changes to any number of pages is super easy, barely an inconvenience.
The Results
We let the test run for 21 days, and we were quite surprised to see that the results of our test pages came back NEGATIVE compared. The changes seemed to have negatively impacted the pages we were testing on. In fact, we could observe a statistically significant decrease in clicks of 14.9% compared to the control group.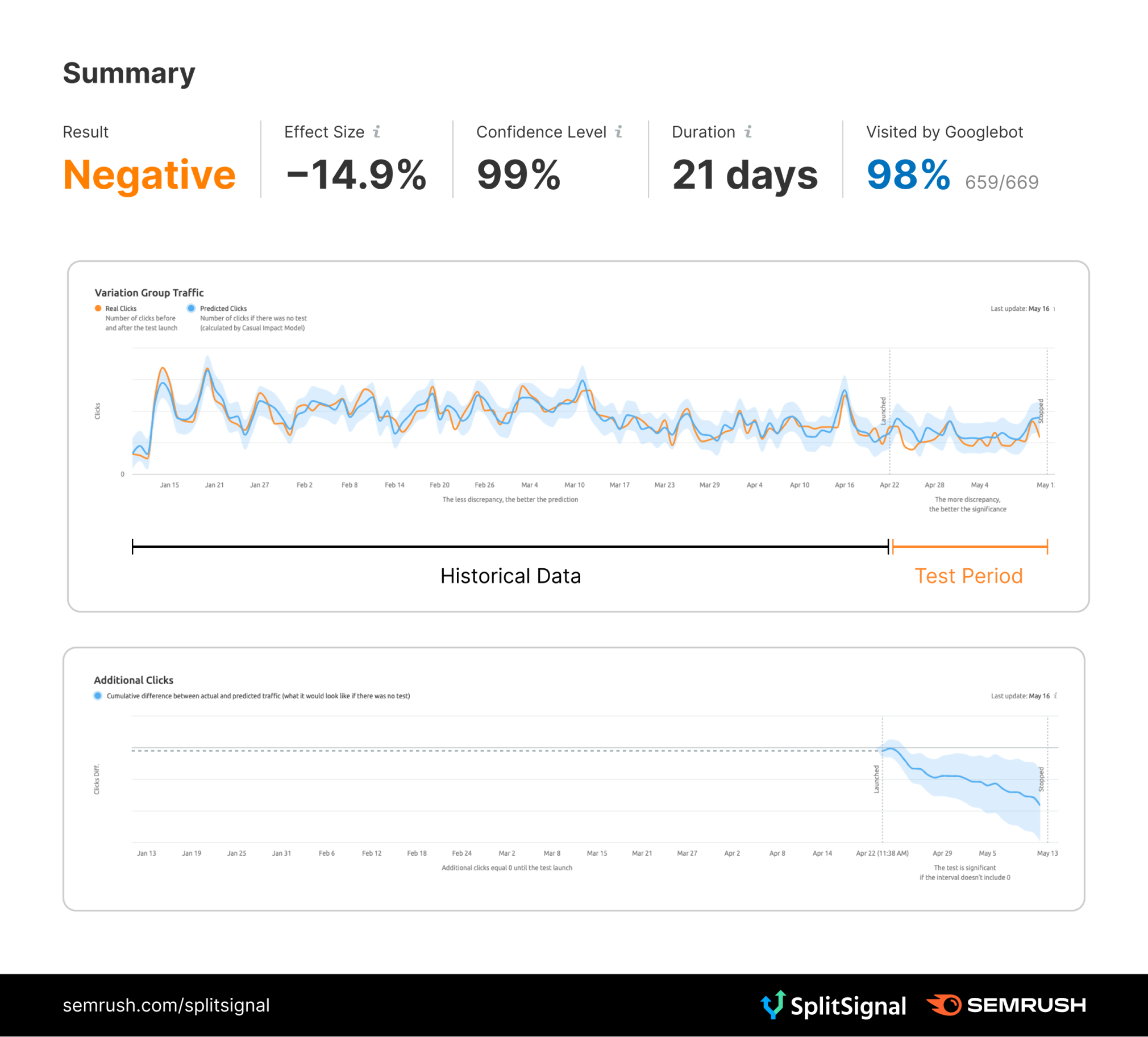 Understanding the Test Results
One thing we can immediately say is that we definitely did not expect this result. In SEO, you always have to be open to surprises. But losing almost 15% of clicks due to a small change many would consider good is almost unimaginable. Add to that the fact that our previous tests have shown the exact opposite result, and it's clear that we need to look at the differences between these two tests. 
Both times, we have just added a CTA to the beginning of the title tag. The first time around, it was "buy," and now—"order." That, for sure, makes it seem like there is little to no difference. However, there are several factors to consider that could have led to the negative result.
For starters, not every title lends itself to simply pasting a call to action to the beginning. The last time this was done, titles formed a sentence, something that potential customers can relate to easily.
This time, however, the CTA was separated from the rest of the title. Breaking up the visual aspect of the title and moving the more important parts of the title tag further away. 
In this case, it could have been better to add the "order now" CTA at the end of the title. That way, you would still get the benefits of a CTA, indicate that customers can order food at the website, and still keep the main keywords at the forefront of your title tag. 
Furthermore, it's important to fully engage with the users. After all, if you are trying to increase your organic traffic, it's not enough to just improve your website in the eyes of Google; but your titles need to be something users want to click on. 
And, people looking for takeout food just want to see something as simple and as straightforward as possible. Any deviation from that can cause some of those people to just move on and click on any of a large number of other results in the SERPs. 
It is also possible that the separating symbol (in this case, "ᐅ") is simply not visually appealing when it's not at the beginning of the sentence. 
Last, and actually least, is the length of the title tags. As we know, Google can only show your title in limited space. So, it's usually wise to stick to titles that are under 60-70 characters long to avoid making the organic search for your website more difficult. And in this case, the length of the title became dangerously long more than once. 
This test shows the importance of running a test multiple times. There can always be some details that make a difference and send the test in a completely different direction. 
Using the combined data from these two tests, we can start to form a well-defined picture of the impact adding CTAs to the beginning of your title tags can have.
Obviously, CTAs are a powerful weapon in any SEOs arsenal, and you just need to use them carefully. 
Thanks for reading through to the end. If you want to try out some of your own SEO theories, you can just contact our SplitSignal team.