Before you start: what do you know about SEO split-testing? If you're unfamiliar with the principles of statistical SEO split-testing and how SplitSignal works, we suggest you start here or request a demo. 
---
First, we asked our Twitter followers to vote: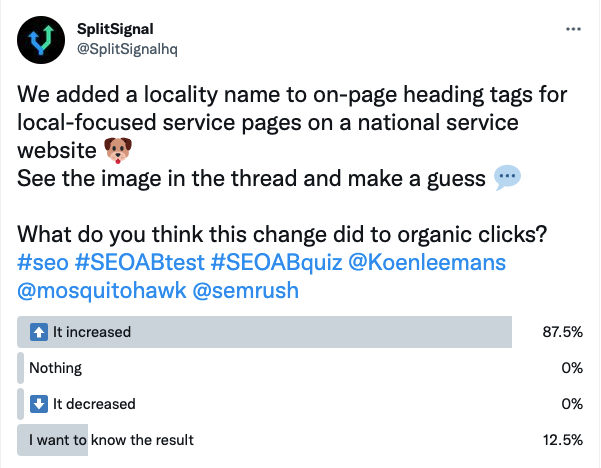 Here's what other SEO professionals have to share about this test:
Craig Lawson, President at ClickReady Marketing:
Should see improvements especially in local search. Google loves local! If there is a Google Business Profile, it probably also saw more impressions and actions if the address was on the corresponding page.
Edward Roberts, SEO Manager at Hovia: 
I'm going with an improvement in organic clicks. It does a better job of matching the intent of searchers at the local level. If I'm looking for dog grooming services, I want to know it's nearby and not a flight away.
Trevor Stolber, Digital Marketer at STOLBER.com:
Better traffic and CTR for the location based search but possibly lower overall organic clicks as you are reducing the reach, so where the result shows up outside of the target location (or out skirts) then it will likely get less clicks. It's still arguably better to have less overall but more relevant traffic.
Find out if our followers were right by reading the complete analysis of this test.
The Case Study
Greetings and welcome to the most recent SplitSignal case study. This one features a well-known pet grooming company and its on-page headings.
The website we're looking at is an English-language pet-focused website with online grooming appointment scheduling for local grooming services.
Hypothesis
Because this national website is focused on scheduling local grooming appointments, we hypothesized appending local keywords to two on-page H1 elements. We could possibly see an increase in click-through rate from the SERPs.
It seems pretty obvious, but we've been fooled before! What do you think the end result will be? Let's find out!
The Test
The SEO experiment was set up and configured using our SEO testing tool, SplitSignal. This is a mid-sized website with over one hundred thousand indexed URIs. However, the subdomain we're focused on has only about ten thousand indexed URIs, so we selected approximately 660 pages for both the test and control groups.
The test ran for 21 days with a confidence level of 97%, with 100% of the test pages being recrawled by Googlebot during the time period for testing.
The Results
After the thirty-day test period, we observed a statistically significant, POSITIVE result for the pages with the optimized headers.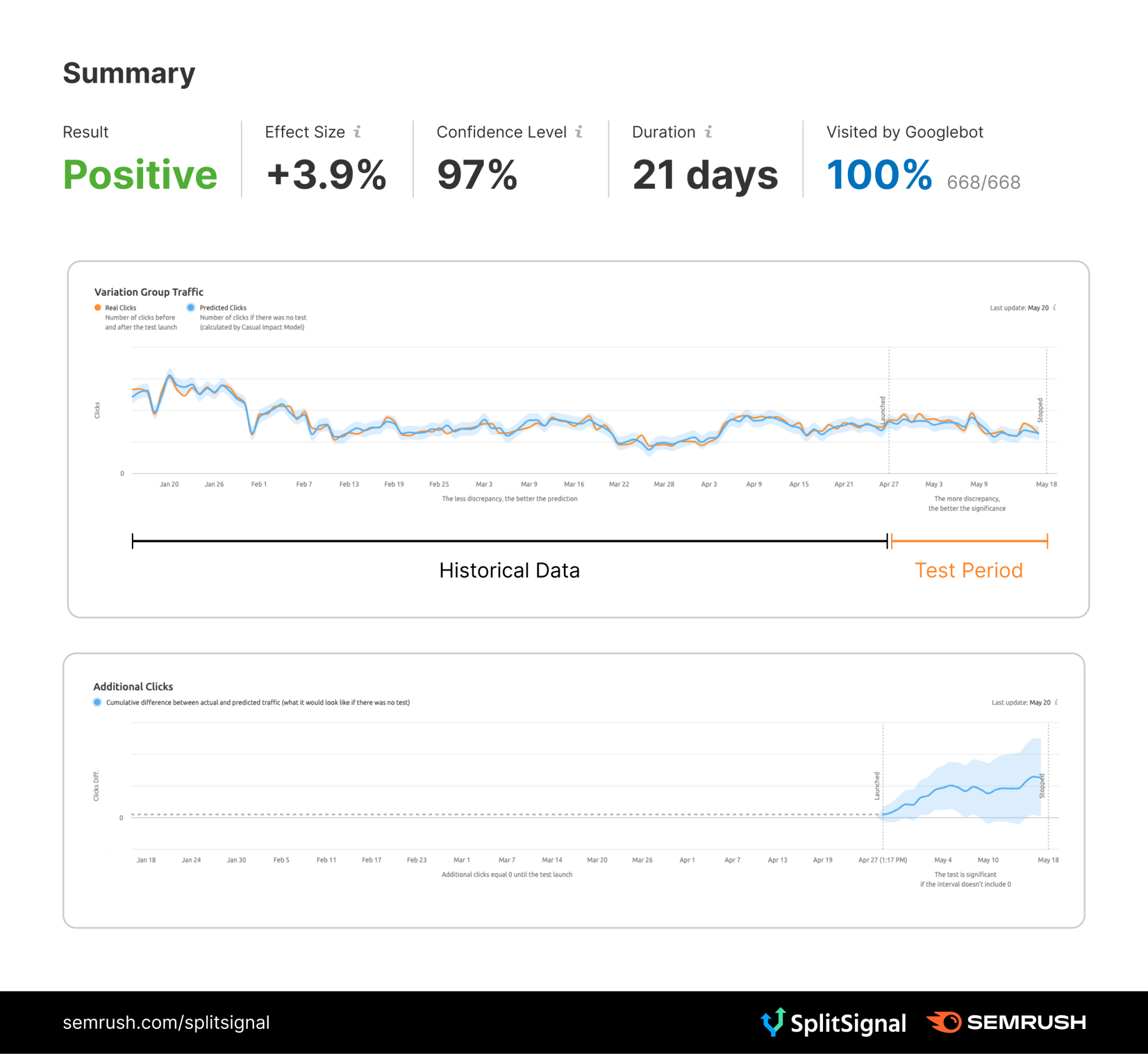 As we do, we asked you at the outset what you felt would happen. The enterprise SEOs fromLOCOMOTIVE Agency have provided an interpretation on why they believe this happened, but we'd love to hear your opinion in the comments of what you originally thought and whether you think it could be something different?.
Overall, the test pages received 3.9% more clicks during the test period, an increase of 379 clicks. 
One of the things we noticed from the beginning is that this well-known brand will benefit from a quick recrawl of test pages and a great backlink profile making changes like these near-instantly effective. 
When the local keyword was added to the on-page H1s for pages specifically about grooming services in that locality, it further reinforced the local nature of the offering, as well as the locality where it was offered, likely resulting in better SERP results as well as rewrites of page titles if Google chose to use the primary H1 for that purpose, providing more local relevance to the human browser of the search result.
As we've said before, sometimes small changes can produce great results, and having a tool to test your ideas can be a real value in evaluating the overall return on investment when you have to fight for shared development resources or conflicting internal priorities.
Do you have any other thoughts? We'd love to hear them in the comments!
---
Have your next SEO split-test analyzed by the technical SEO experts at LOCOMOTIVE Agency.