One of the traps that many social media managers fall into is acting solely upon creative impulse. Of course, creativity is very important in social media, but it won't save you in the long run. Without a proper understanding of what your real goals are and what results your company is actually expecting to see, you can't prove to be valuable to the business.
An insane number of likes on your last Facebook post won't impress a sales manager who didn't get any leads from it. And while an increasing number of social signals indicates that you are moving in the right direction, it does not represent the whole picture.
In this post, we will take a look at the most popular social media metrics and the best social media monitoring techniques. I will show you how to track them with SEMrush's Social Media Tracker as well as walk you through other social metrics that are important for specific business situations (spoiler alert: they can also be tracked in SEMrush).
Measuring the success of your social media strategy with the wrong metrics might be disappointing as you won't see where your true progress lies. This can actually be harmful because a serious problem might skip your attention, hiding behind a few hundred likes.
Further reading:  Essential Marketing Metrics for Agencies and Businesses
Evergreen Metrics
It cannot be mentioned enough, that everything you do on social media should reflect your company's objectives. These objectives may differ depending on how your company operates, so social strategies differ across the board. However, no matter what your objectives and strategies are, social media analytics tools will have the correct metrics that you should measure.
For example, growing a community and engaging users; these goals are important for any type of business. Let's take a quick look at some primary metrics and see how you can track them in SEMrush.
Audience Size
A good sized community is typically an indicator of success. And, depending on how active your audience is, it can indicate that your outreach strategies are working and that the promotion channel(s) you are using are reaching the right audience. 
Native social media analytics allow you to see if your community growth strategies are working, but you have to go to each social network to access this information. It is so much more convenient to have all the main stats in one dashboard. This is where SEMrush can help. 
Social Media Tracker offers an overview dashboard that allows you to see the size of your community within each of the most popular social networks and you can see stats on your activities and the resulting user engagement indicators — likes, comments, and shares. By clicking on each network, you can also see more detailed information and export the data via PDF.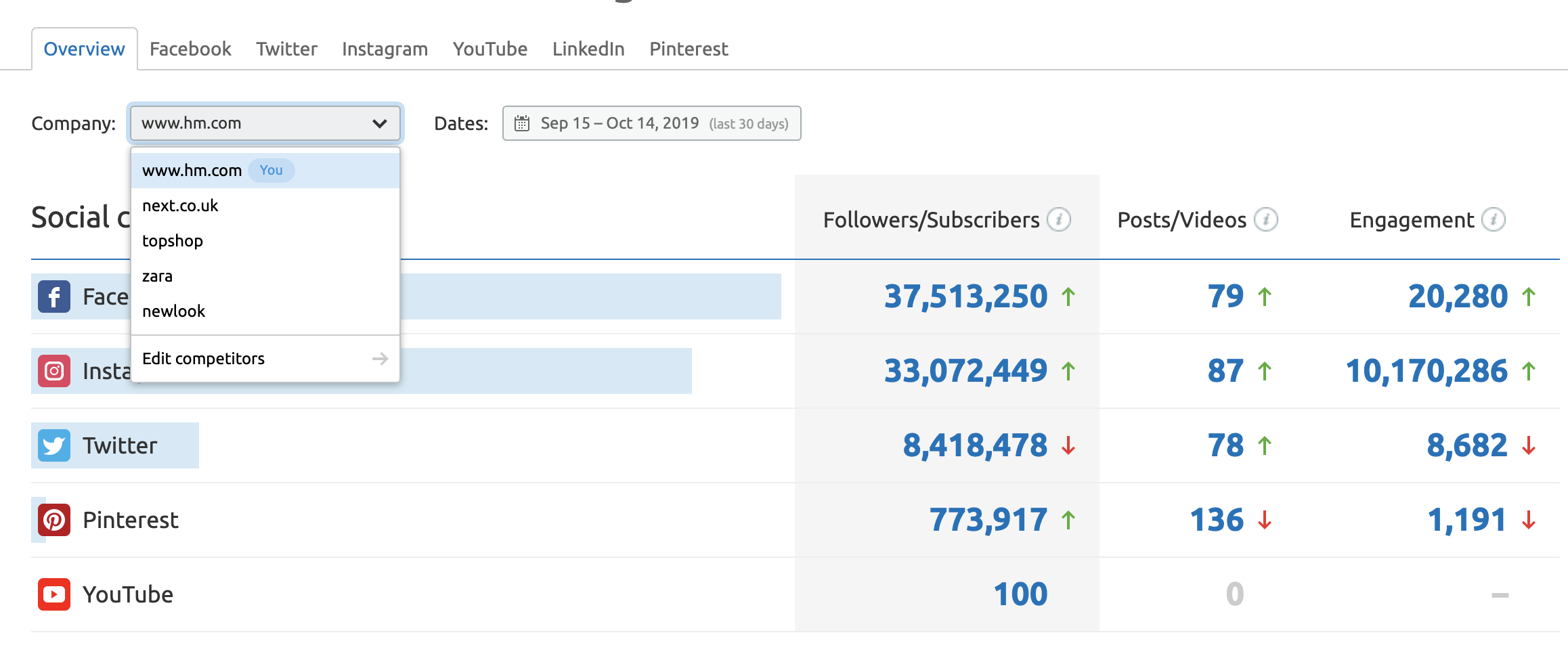 You can find the number of followers in your social media in the overview dashboard
Social Media Engagement Metrics
Engagement signals are pretty similar across the most popular social media networks, but since every network has its own specifics; they can be named differently and have a slightly different meaning. Let's take a quick look at the breakdown of the signals:
Likes, Dislikes, Reactions
Likes are the most standard way for the user to react to your content, so every social media network has this option. However, Facebook now has a number of "Reactions" to help you not just look at your applause rate, but also determine sentiment.
Comments
Comments are the direct voice of your audience. If people are commenting positively and wanting to interact with your brand, this could be a sign your community building efforts are working. Many negative comments could mean strategies need to change, or quality of service needs to improve. And, no comments may mean that your target audience is not seeing you on a particular social network or they are just not on that network. 
Tracking comments helps you see what is working for your audience and what is not.
Shares
Shares, retweets, and reposts show that a particular strategy or topic was important to your target audience. When someone shares your content, it indicates that they trust your brand and they trust that the content was valid and helpful. 
In the SEMrush Social Media Tracker, you can find a detailed Engagement report for every social media network.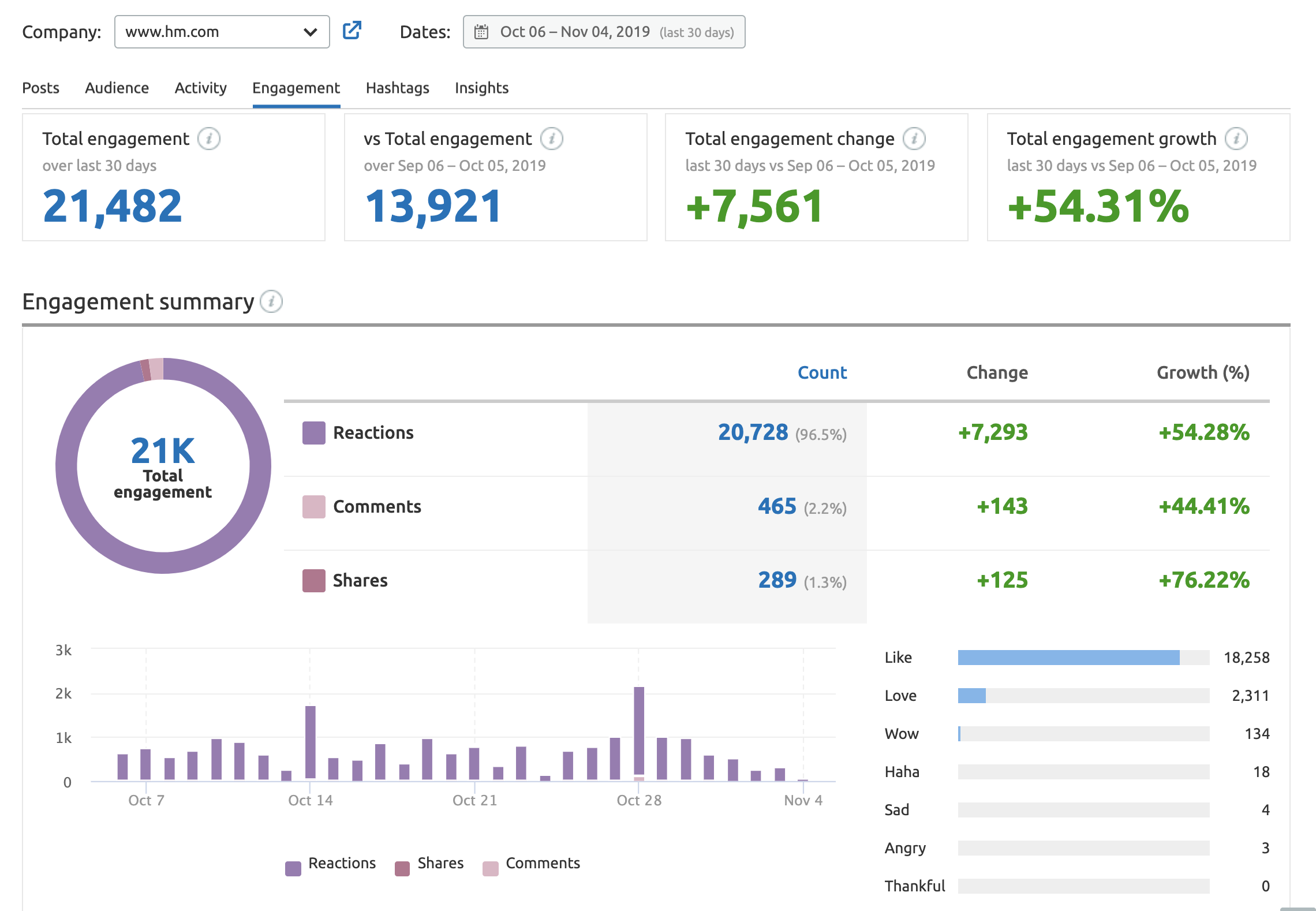 The Engagement report shows all the engagement signals that come from your social media community. There is a specific report for every social network that we analyze.
Engagement Rate
The size of your community and the number of likes are important but not representative of one another. A hundred likes could indicate a higher level of success for an account with 1,000 followers vs. one with 100,000. The engagement rate metric indicates how engaged your audience is, how responsive they are to your content and, consequently, how loyal they are to your brand. This metric is important to track if you want your social media followers to be move beyond being a fan and become customers.
In the SEMrush Social Media Tracker, you can sort your posts by Engagement Rate to see which types of content perform best on each of your social media networks. This information helps you target your audience's interests more effectively. 
Sorting your posts by Engagement rate shows you what kind of content works best for your audience.
Custom Metrics
Above we broke down primary metrics, which are important to track in all cases. However, to demonstrate that you are moving towards reaching the goals of your social media strategy, you need to track the items related to your specific goals and also keep an eye on your competition. 
Let's look at a few examples of what metrics could be useful.
Audience Growth Dynamics
When a new business enters the market, it is crucial to raise brand awareness and make the product or service more visible to potential customers. Using social media is a great way to do that because it is free and it is a good option for small companies with limited budgets.
The Audience Growth metric is especially important for young brands to see how fast their community is growing. This information is available in our Audience report for each social network we analyze. In the Followers trend section, you can see how your community grows together with engagement rate and your activities. It helps to analyze what kind of your activities lead most to the audience growth.

Comparative Metrics
Some business niches are overcrowded, and one of the first steps in determining how to be seen is to check out your competitors. See what kinds of content work for them, where they are failing, which audiences they forgot to target, which influencers mention them, etc., and then come up with your own strategy that will help you stand out. 
In our Social Media Tracker, you can compare your basic metrics with your competitors' in the Comparison with competitors report. You can use this tool to determine how well you are competing in regards to audience growth level of activity and engagement.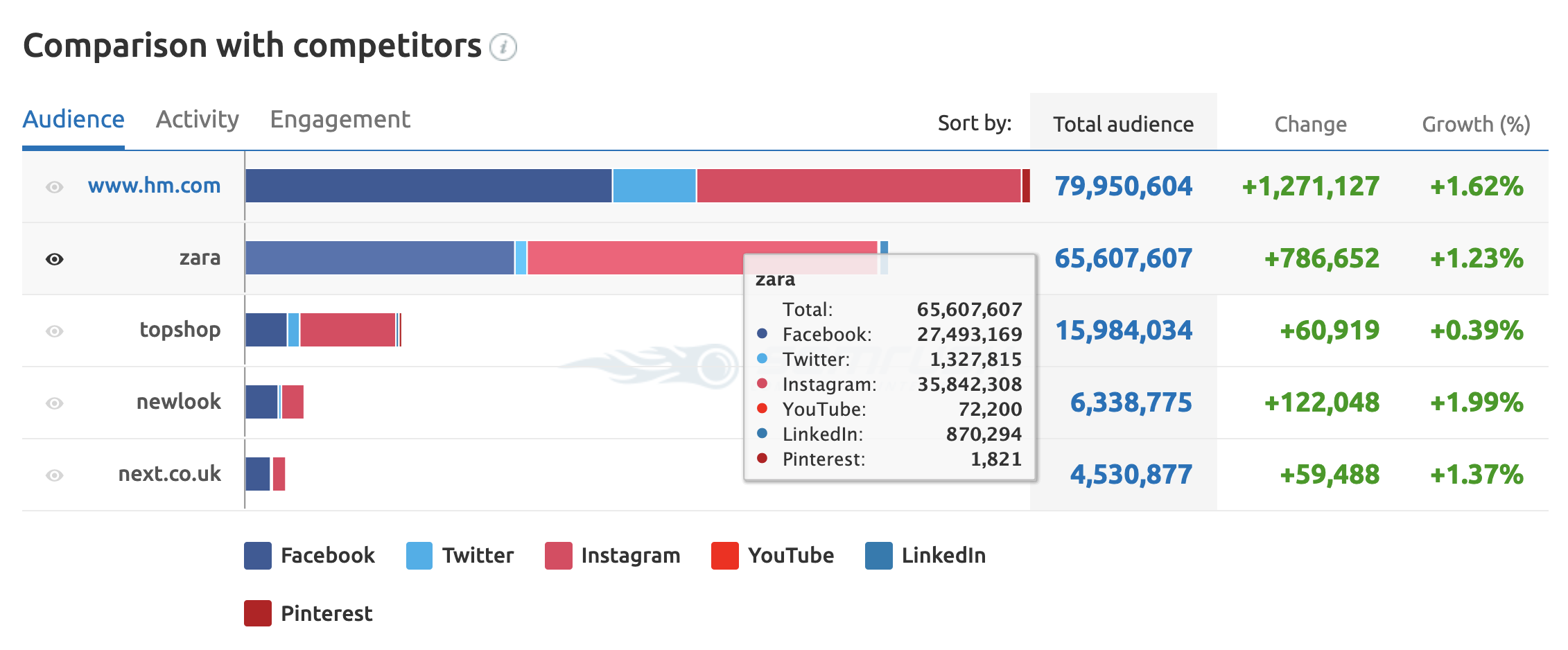 Comparison with competitors shows the size of your competitors' audience. This report is also specific for every social media.
Hashtag Tracking
For hashtag analytics, there is a hashtags report for every social network that uses them. You can track multiple tags, and the tool will also show you which other companies are using them. 

Social Traffic
Most companies want to use social media to generate leads. Remember, likes won't help your company increase profits unless it leads to a conversion. To determine whether your social strategies are working, you should measure traffic from social networks that directly leads to a conversion.
The best way to see traffic from your social media accounts is Google Analytics, but if you also want to compare yourself to your competitors, you can do it in SEMrush's  Traffic Analytics. You can see how much traffic comes to your competitor's websites from their social networks.
Assess Metrics Based on Goals
Everyone has different goals and therefore have different metrics to monitor. If your goal is to raise brand awareness, then you should be tracking your brand mentions ( we have a tool for that too). If your goal is to build a community around your brand, then it makes sense to track community growth and engagement.
Find and measure the metrics that will demonstrate your goal accomplishment. You can break down all your efforts and progress with custom reports; it is really simple to get started and schedule email reports for your boss or your clients.