When it comes to link building, some fundamentals remain the same over time. Creating great content and building relationships are still crucial to successful link building. 
But most of the tactics fade away pretty quickly. For example, you're probably not spamming blog comments anymore. Even tactics that many thought leaders continue to espouse, such as broken link building or doing email outreach to place updated research, don't work all that well anymore. I call that tactic fatigue. 
Of course, whether you continue with a tactic or move on depends on your definition of success. But the link placement rate with many of these tactics is below 5%. That translates to a lot of work for paltry returns.
My friend Mark Lindquist, head of marketing at Community Phone, puts it like this:
"What percentage of your outreach emails will successfully get a link—maybe 5% or 6%? I try to reframe the question to, 'what if we had to hit a 60% success rate, how would we do that?' It puts you in a different stratosphere and way of thinking."
Account-based link building, which encompasses several complementary strategies and focuses on target publications and relationships, will help you attain higher placement rates.
It will also get you placed in the exact publications you'd like to be featured in as well as increasing your visibility in the SERPs you most care about.
Why Great Links Are Built With Relationships
Let's start this adventure with the story of the modern marketer's inbox. 
If you run a blog, even a small one, you get dozens of emails every day that look like this:
Or you get emails from companies asking you to mention their blog post ("pretty please") in your recent blog post ("because your readers will get value from it!").
Apart from the fact that most email outreach is comically bad, the problem actually starts higher up in the strategic ladder. 
It stems from the fact that most link building operates from the assumption that "any link is a good link," and the assumption that a link placement is an isolated transaction.
Even if we set aside website authority, page authority, or any other proxy metrics you're using to assess the value of a link, that's simply not true. 
The value of a link can be evaluated by many things beyond website authority:
Relevance of the website
Relevance of the webpage
Traffic to the webpage
Where the webpage ranks on SERPs
The company itself and the potential for further partnerships
When you look at links transactionally, you forget about a lot of these factors—especially the last one: the relationship you build.
Here again I have Mark Lindquist explaining why he looks past the "transactional" value of link building:
"The big payoff with something like this is getting past the level of transactional conversation. Some of the people you reach out to will be really effective link-building people. They high-value guest posters on high-value sites in your industry, and they're going to be highly responsive to opportunities like this. 
And if you've shown, for example, that you guest post on quality sites and can execute well, you can say, "Hey we're both writing 10 guest posts a month, why don't we set up a spreadsheet to share what we're working on and link to each other where possible?" This relationship expands your scale and you end up getting 30, 40, or 50 links per month from each of these partners.
That's why great links are built with relationships, not cute persuasive outreach tactics. 
If you focus on "target accounts"—i.e. relationships you'd like to build and publications where you'd like to be included, you increase the average value of each link placement, drive more links with less effort, and get some tangential acquisition benefits through referral traffic. 
I'll walk through three tactics for account-based link building first, and then later in the article, I'll talk about how to manage your target sites and relationships. 
Three Account-Based Link Building Methods
1. Surround Sound SEO Strategy
The Surround Sound Strategy is, in my opinion, one of the most underrated organic marketing strategies today.
In SEO, we focus much effort on ranking for high traffic keywords (and if you're smart, high intent keywords). But the focus tends to be exclusively placed on ranking our own websites. 
When someone searches a high-intent keyword, however, they're likely in comparison shopping mode. They're looking for trustworthy 3rd-party recommendations, not a result owned by your brand.
Take, for example, the keyword "best SEO tools." 
I could, indeed, write a listicle, rank it, keep track of it with a rank tracking tool, and call it a day. This is more than many companies do, and you'll drive a lot of conversions if you rank for it. 
But instead, imagine if your product was mentioned on every single web page that ranks on the top two pages of Google. 
This would be the equivalent of asking a group of friends at a cocktail party, "what book would you recommend?" And everyone in the group says, "Three Body Problem." 
If that's the case, you're pretty darn likely to check out "Three Body Problem."
If, however, only one person had mentioned it, you may check it out but it's a lower probability. And if no one mentions it, it's not even on your radar. 
The Surround Sound Strategy is about not only being included in the conversation, but being top of mind in the conversation at the exact point of consideration. 
Luckily, Semrush has a tool that can help you identify these opportunities. 
Just enter your campaign, the associated keywords (add several for best results), your domain and brand name, your competitor's brand names and domains, and press enter: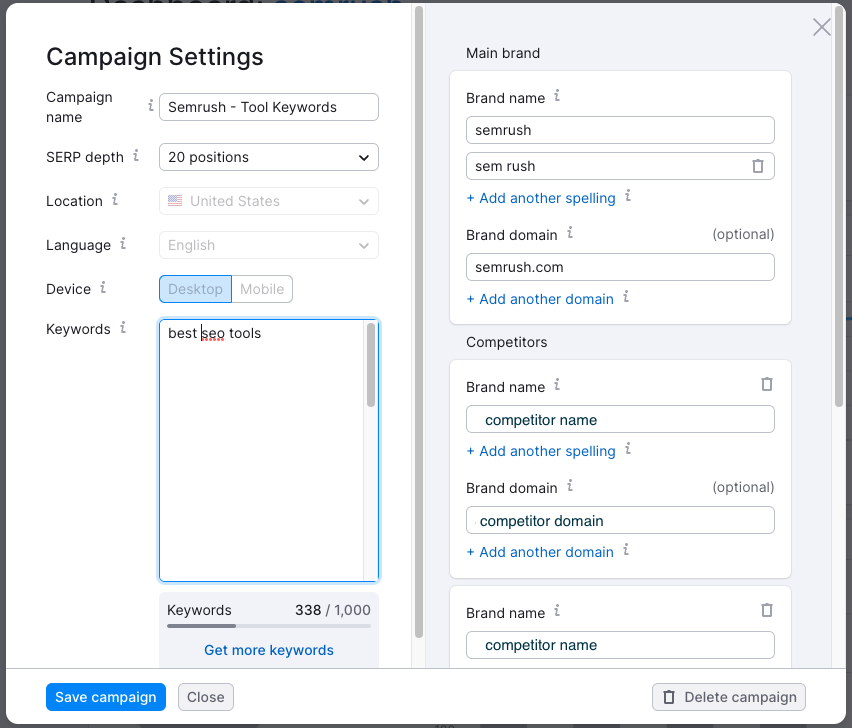 At a high level, we can already see that Semrush occupies 90% of the top 20 search results:
And when I go to the "pages" report, and click the "Exclude Semrush" box, I can see that a promising page on Buffer does not mention Semrush:
Notice that Buffer DOES mention two competitors, so they may be open to adding a link to Semrush as well. You can tick that "Only pages with competitors" box to narrow the options to those already mentioning your competitors.
So now I, the marketer, can add Buffer to my "target accounts" list. Building relationships with this website and others on my list, and not just for a single link placement or outreach email, can help me attain a SERP monopoly here. 
Note: how you build those relationships is out of the scope of this article and would require another article (or series). We'll just cover the methods here. 
2. Original Research
Original research is an expensive tactic, but highly effective for passive link acquisition and manual link building to high authority publications.
Bloggers, columnists, and journalists are always looking for new data, trends, and statistics. These can be fodder for a full story or they can support the stories they're already writing or have published.
You can reverse engineer what types of research and statistics they care about.This requires a bit of manual work to decide which publications matter to you and what they write about and link to. 
For example, let's take Brian Dean, the master of this method. He wrote about a massive analysis of search results: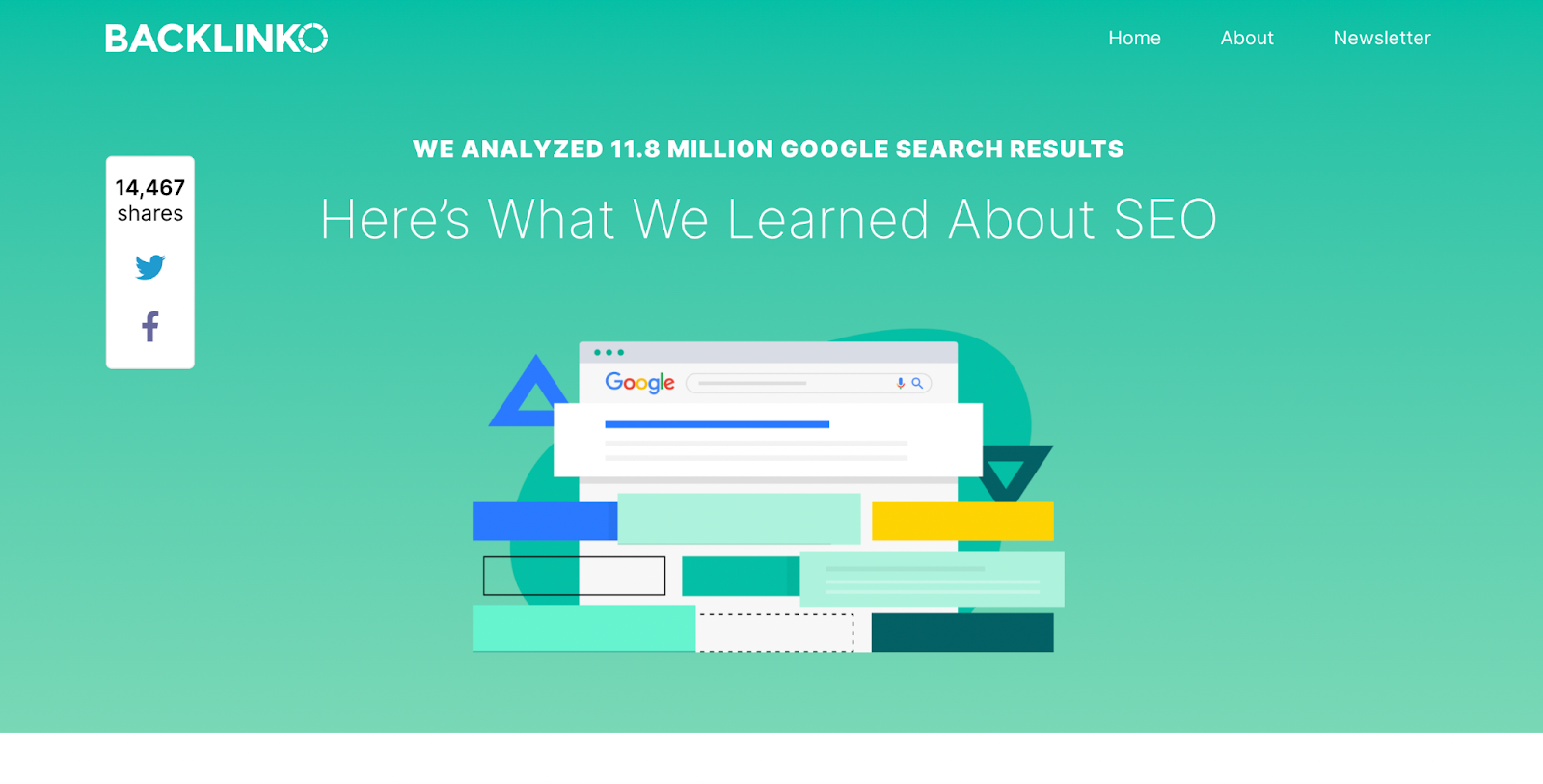 Enter this into the Backlink Analytics tool in Semrush:

Sort or filter for the highest authority pages: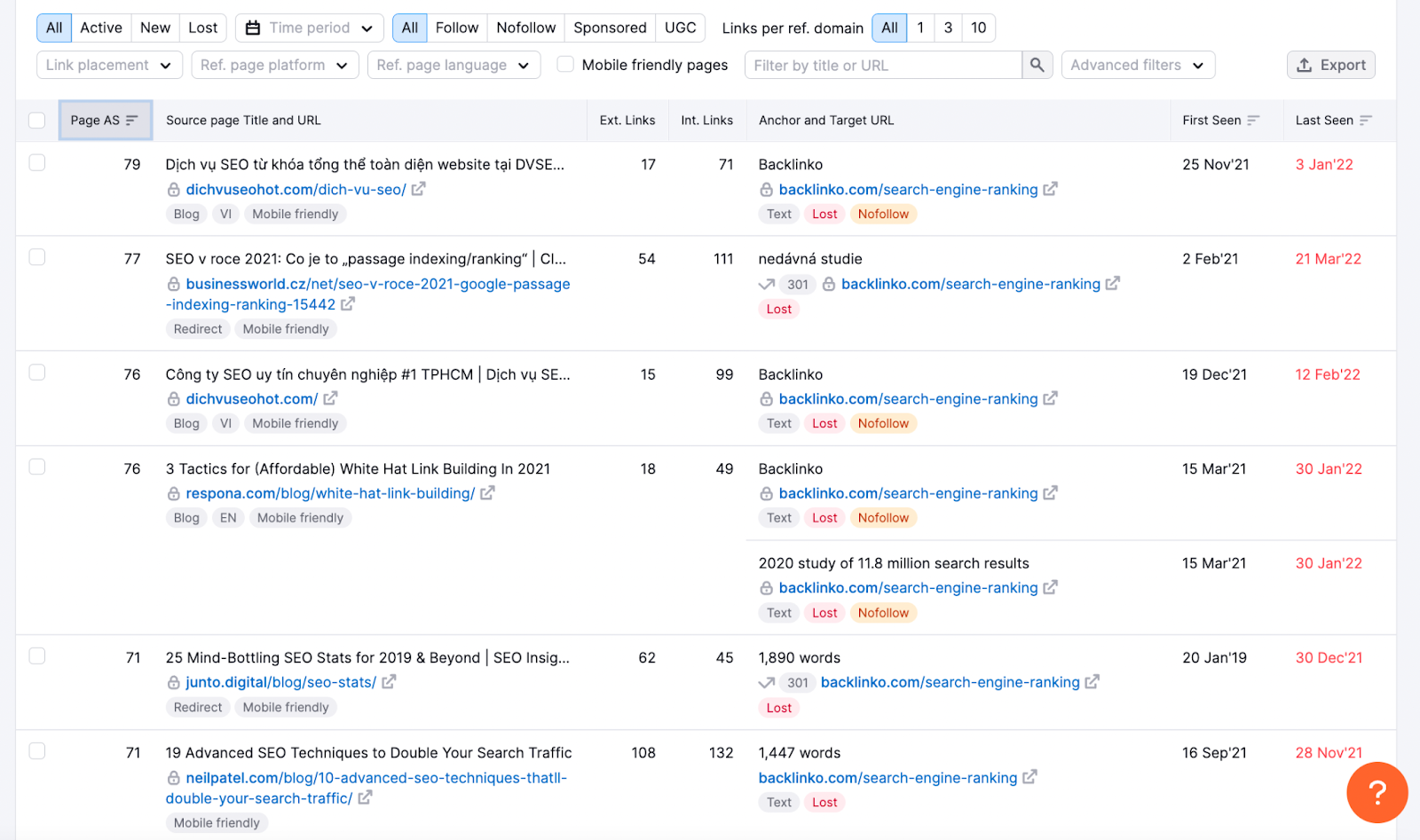 While most of the backlinks are coming right from the backlinko.com site, at the bottom of this list, we see a page on neilpatel.com. We'll add that website to our "target accounts" list. 
I would do this again and again with different research reports in my industry. I'm looking for common websites that continually pop up in their backlink reports to add them to my "target accounts" list.
Once I have a list of a few dozen publications here, I'll come up with several research report ideas. The topic of course, will depend heavily on your industry. Once you selected the top idea, send an outreach email to all publications with something along these lines:
Hey [name],
We're about to launch brand new original research on [topic]. Super interesting insights. Any interest in reading the report when we launch? Happy to send it over.
Cheers,
[your name]
In this way, you vet the interest in the research first so you don't have to waste time and money commissioning research no one cares about. 
Remember, your research should provide a unique angle so you're not just pestering these websites to update their old links with your new links (this is typically a tedious process that bloggers won't usually complete). 
3. Editorial Partnerships
Finally, we have editorial partnerships. 
Editorial partnerships are arrangements you make with other content editors and strategists to give each other value. It could be a guest post exchange or just providing quotes for each others' content. 
This one requires you have both target websites as well as partners who can help you leverage your link building efforts. 
It's also the secret tactic the top affiliate bloggers and agencies are using to attain massive scale link acquisition in exactly the publications in which they want to appear. 
Caveat here is that this method is content heavy. You'll be writing great quantities of guest posts, so you'll need some great content writers to pull this off. You'll also want to hire or assign someone committed to managing all the relationships you're nurturing. 
I'll summarize the approach here:
Step one: find 10-20 websites where you can guest post. These should be in your niche and have high domain authority.
Step two: find 3-5 other bloggers who regularly write guest posts in the same niche.
Step three: write a guest post & reach out to these other bloggers to provide quotes for your post.
Step four: publish guest post.
Step five: reach out to other bloggers about longer-term link partnerships
The idea here is this: if you write a single guest post, you can get a single link from that domain. 
But if you mention other bloggers and get their links included, they can do the same for you (reciprocity principle), potentially creating many links from several domains.
You may notice that I included quotes and links from several of my fellow authors in this very post. Not only does this give them some exposure and a link (which they will likely reciprocate), but it also adds genuine value to the content for you, the reader.
Thus, one blog post where you get one link for yourself and mention three other bloggers can net you four links. This is leverage, and it also diversifies the pool of websites where you can attain links.
This is essentially the approach that Ben Johnson, Senior Marketing Manager at HubSpot, shared with me:
"I started using targeted outreach alongside HARO to gather quotes and get in contact with other marketers and CEOs. I alert everyone included in the article. At the bottom of my email, I mention the idea of a content partnership or a guest post. Since I've already provided value to them by including them in my roundup, I usually get a warm response. And many of these relationships have opened up many other doors for our business."
While this technique is effective, I'll give you two caveats:
First, it's hard to maintain pure reciprocity with your content partners. You may be delivering tons of value that they don't return, or vice versa, and the relationship disintegrates. To try to avoid this, I like to maintain a spreadsheet ledger to make sure we're close to parity. 
Second, if you overdo this in your guest posts, it's obvious and can result in the publication no longer accepting your posts. Personally speaking, I reject posts when I see them drop in tons of obvious partner links that don't add to the content. The way out of this, however, is to write truly amazing content and make sure that the quotes themselves also add value. Even if there are obvious link placements, if the content is truly great, I can't argue with that. 
Because guest posting is such a common tactic now, you do really have to stand out with the topics and pitches you provide. This is especially true if you don't work at a well-known company with a logo to fall back on.
Ryan Prior, an SEO strategist & writer at Marketing Arsenal, has an extra tip on how to get your guest post pitches accepted.
"Put yourself in the shoes of the content team you're pitching. What kind of topics do you think they're prioritizing right now? Read their blog and research the keywords they use. Pitch a topic so relevant to their goals that they'd want to pay for it! Something with opportunities to pitch their product/service, and add internal links to their other content. Then contribute for free, and generate value for yourself through relevant links. Win win."
How to Manage Account-Based Link Building
Now that you have a few new strategies to try, you need to think like an account manager or sales person. 
Doing account-based link building requires systems and organization.
Pick Your Target Publications
The first step of account-based is to define your ideal customer profile and make a list of publications where you'd like to build links. 
How you do this will depend on your industry and the publications available. In my opinion, the Surround Sound Strategy is the best way to get started. 
Make a list of your top strategic keywords. I'm talking about bottom of the funnel, high purchase intent keywords. For example: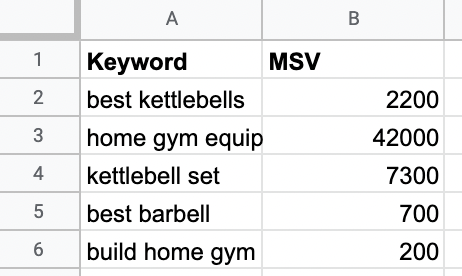 Now create a Surround Sound campaign to see which brands have pages ranking for those keywords: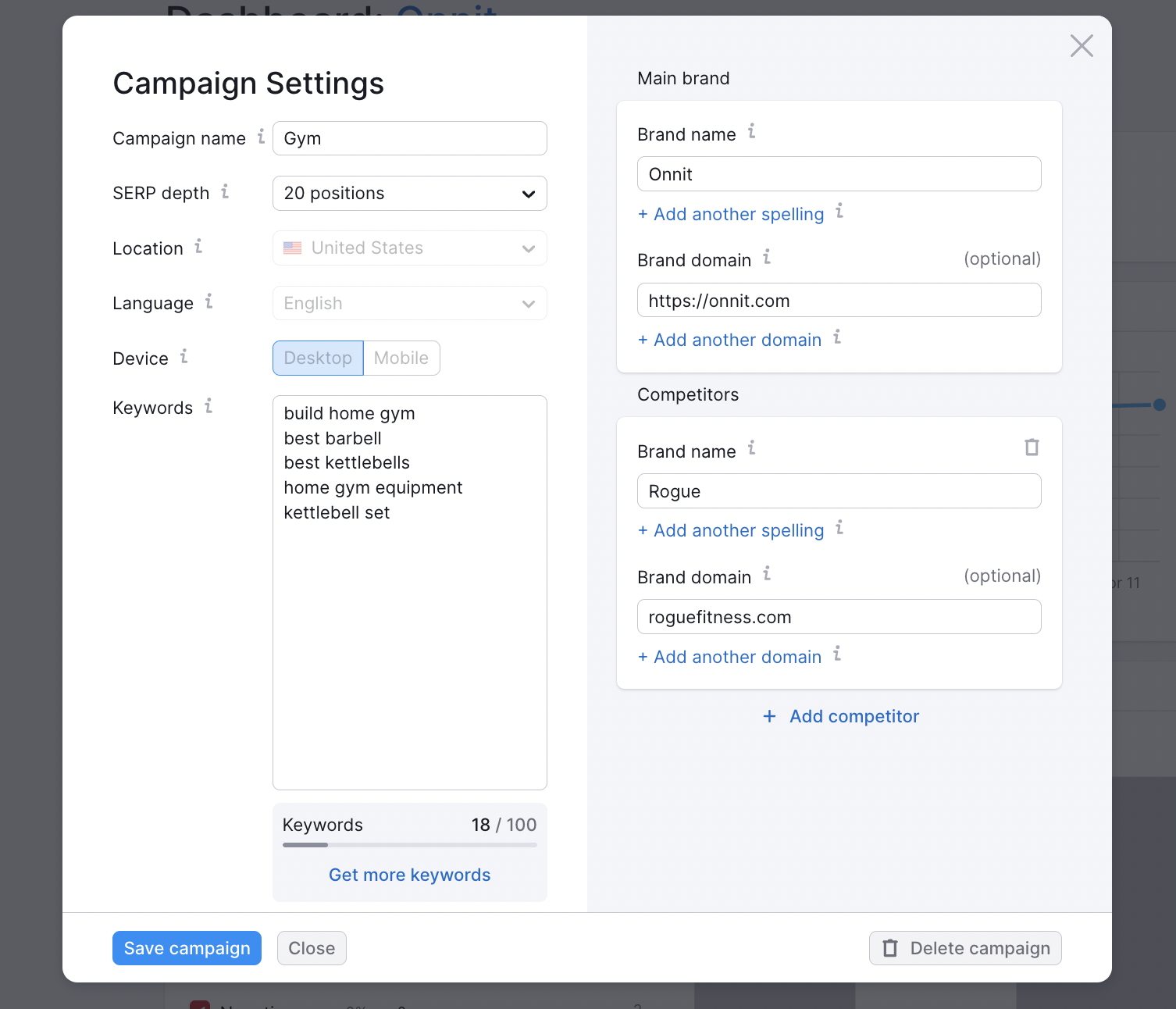 Some of these won't be great fits if they're direct competitors, but if they're indirect competitors or publications, they'll work: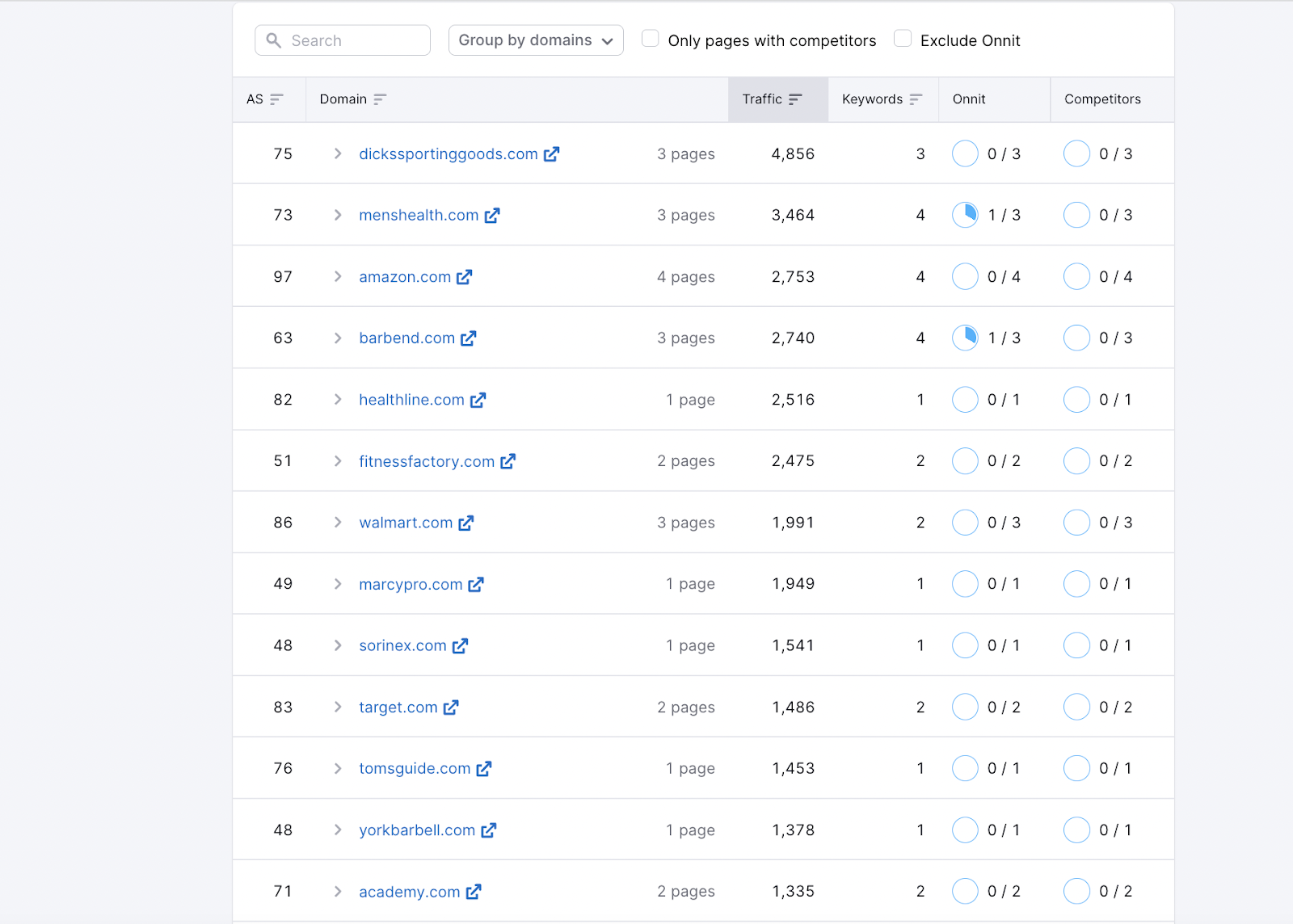 Again, take special note of those pages mentioning your competitors, as that indicates a willingness to link to sites like yours. 
You can find more competitors in the "main organic competitors" section of the Organic Research tool in Semrush: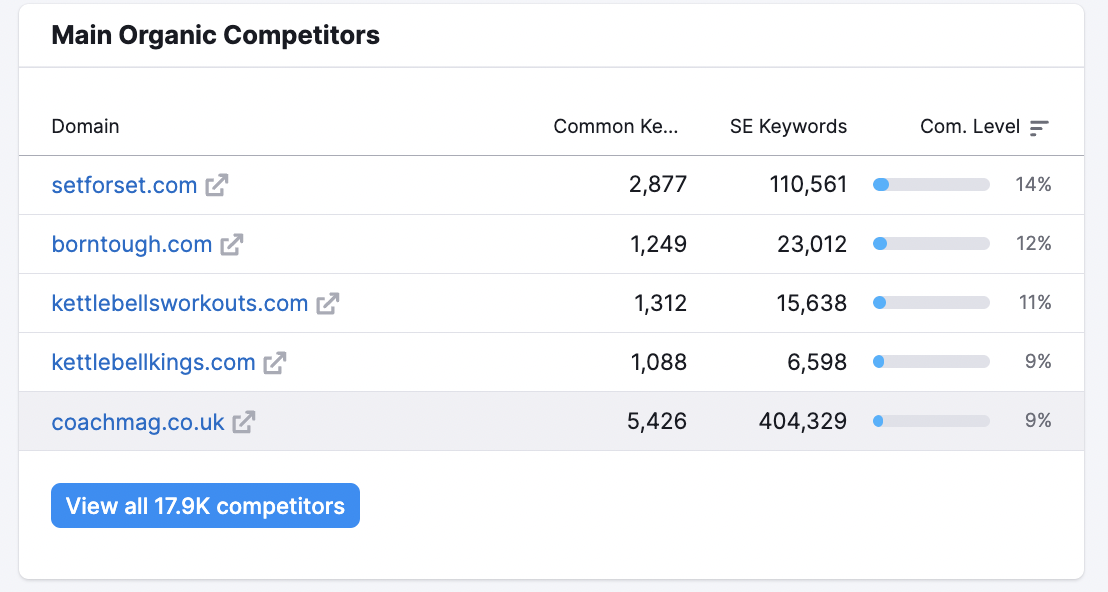 Add any promising sites to a spreadsheet and use LinkedIn to find the content marketer in charge of their blog. 
You'll want to begin building relationships with these companies by first adding value. This could be in the form of a guest post, a partnership, free or discounted product or affiliate deals, a podcast conversation, or something else. Get creative and add as much value as possible. 
I wish we could cover all the ways you can get on the radar of target publications, but it's really an exercise in cold email outreach (which is a whole subject on its own). I'll just point you to this guide by Hunter's Irina Maltseva. 
Find Your Content Partners
Your best content partners will be those who also guest blog often. 
You may already know some of these in your space, in which case, just add them to your list already. If you don't know any, join content marketing and link building communities to start meeting partners with similar goals. 
To find others, flip through some of the target publications from the list we made above and see who is a "guest contributor." 
We can see here that Lindsey is a contributing columnist, so she would be a great addition to our content partners list: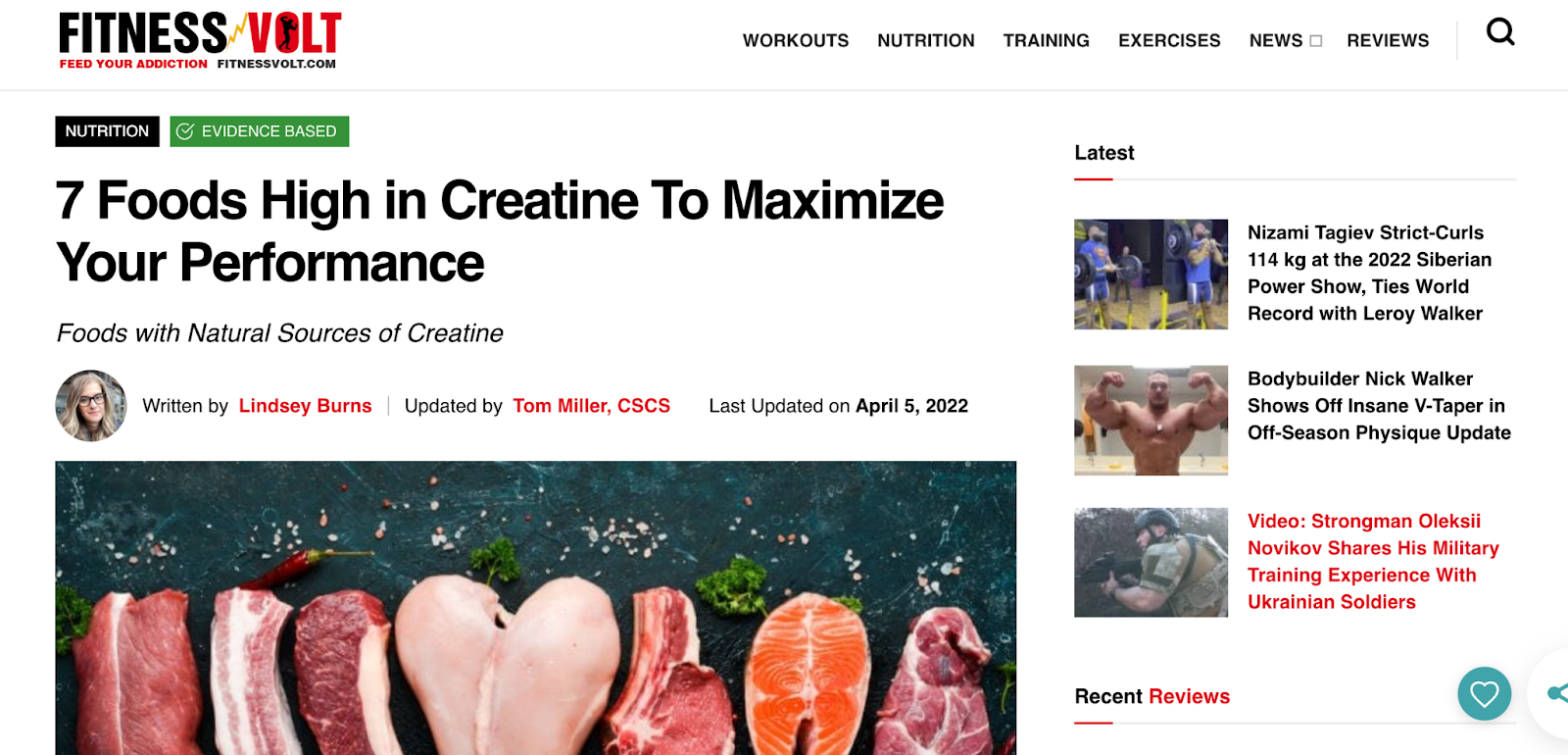 Like I mentioned before, some content partners will work out and some won't. Your job is to identify the great fit partners and double down on them before you spread yourself too thin.
A good fit is generally someone who is writing 5-10 (or more) guest posts per month and is equitable on reciprocity. 
Track Outreach and Relationships in Spreadsheets and/or a CRM
Once you've got your target publications, your content partners, and a steady stream of guest posts and/or original research, you need to make sure you're tracking all of this. 
Not only because you want to manage your relationships and link parity, but because you'll want to measure and optimize the efficiency and ROI of your program.
Doing so will allow you to calculate a per link cost as well as your link velocity. 
For this, I find spreadsheets are phenomenal for logging attained links from yourself and partners. There may be a better tool, but I stick to the simple stuff.
And for managing the relationships and guest post workflows, I like using a CRM. HubSpot is my favorite. You can set up specific guest posts in the "Deals" section of the CRM and attach them to companies that are in your target accounts list. 
This lets you see how often you're publishing on a given website and how many links you're attaining. 
Even better, you can set workflow automations to remind you to follow up after a certain amount of time. 
Account-Based Link Building—Conclusion
To summarize my friend Kelsey Reaves:
What link building looked like in 2015:
It was a numbers game
It promoted somewhat decent, templatized content
It idolized automation and processes
What link-building looks like now:
Helping editors cite good sources
Understanding backlinks are only one piece to the puzzle
Creating quality content that earns links naturally
And I'll add two more: it's targeted, and it's built on the back of relationships. 
Account-based link building is an all-encompassing term for link building strategies in the spirit of relationship-first link building. You map out where you want to get placed and who can help you, and stop looking at link building as a one-off transactional endeavor. It's smarter, more effective, and gets you higher value links.
Who wants to be sending 100 templated emails to random bloggers anyway?