There is no better time for big brands to make the most out of their social media activity than at Christmas. People are ready to embrace anything that has a sense of magic to it, which makes it the best time for selling. Brand giants start their pursuit of customer's attention long before the X-day, using all available social media channels to advertise their product as the perfect gift.
In this Christmas advertising onslaught, we forget that there is a merciless competition going on between the brands. Tons of articles portray these clashes, however, almost none of them can track the ads' success. We, at SEMrush, have brought into play our powerful SEMrush Social media tool to analyze brands' Christmas social media activity period and present you with the Xmas Fight Winning Brand.
So we've selected three pairs of most bitter rivals:
Macy's vs. Walmart.
H&M vs. M&S.
Dior vs. Louis Vuitton.
… and kept a close watch on their Christmas campaigns. Let's see who won. No more assumptions. Only facts, only data!
How did we define who beat whom?
Each of the three pairs is represented by two brands from the same niche: retail, mass market clothes and luxury clothes. We took note when each of these brands launched its Christmas video on YouTube, giving the green light to its Christmas campaign. Then we monitored the social media accounts of the brand during two weeks after the launch.
These criteria were selected to determine the success of the campaign:
YouTube total views.
Youtube engagement rate (the number of views in relation to the channel's audience).
Facebook, Twitter and Instagram audience growth.
Total audience growth.
Facebook, Twitter and Instagram engagement growth.
Total engagement growth.
To compare the brands against these criteria, we used the SEMrush Social Media tool, which provides statistics on audience, activity and engagement for any social account in the most popular networks. Four social networks were analyzed: YouTube, Facebook, Twitter and Instagram, as most of the brands we looked at concentrated their efforts there.
Fight 1: Retailers
Red Corner: Macy's
Blue Corner: Walmart
Video Commercial Performance
Macy's video ad "Our Movement to Keep The Magic of Santa Claus Alive" is part of its huge social campaign #SantaProject aimed at spreading the magic of belief. During 2 weeks after the launch, the commercial got 4,781,739 views.
Walmart, in turn, has produced a series of commercials called "Holiday". The most successful video, "Star Wars Story", got 19,405,467 views for the same period.
But it would be too simple to count views only. The SEMrush Social Media tool also provides a more sophisticated metric called "Engagement rate" - the proportion of views to the total number of channel's subscribers. And here's how the rivals performed in terms of engagement rate:

This comparison shows that, despite having less views, Macy's video proved more engaging for the channel's audience.
Audience Growth
The short period between mid-November to mid-December is an incredibly hot time for retailers, who are ready to invest in all available channels in order to attract more and more people to their shopping malls. Social media is not an exception: brands put a lot of effort into increasing the number of followers and fans.
The graphs below show which of the analyzed brands had most success: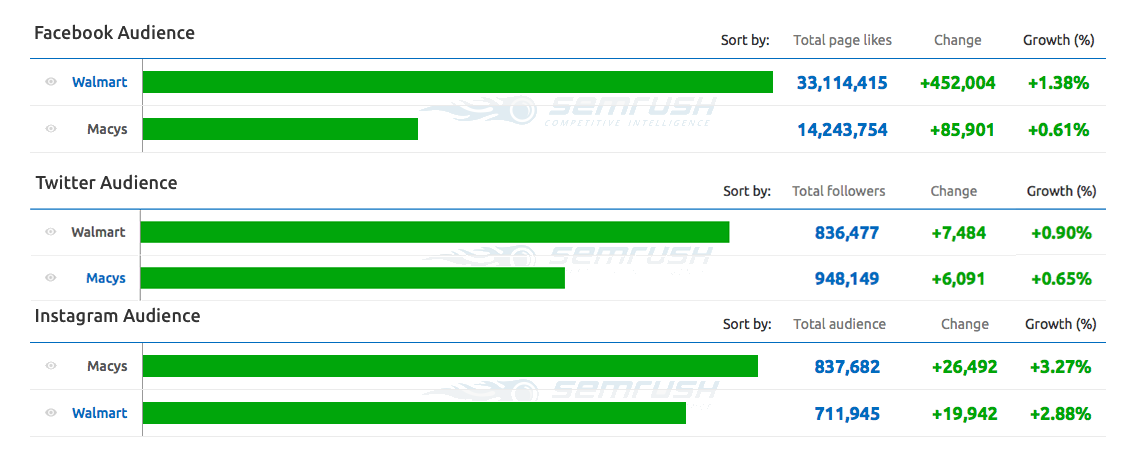 In terms of growth, Walmart wins both in absolute and relative terms in all networks except Instagram. In Facebook alone, the brand's audience grew by 452,000 followers in just 2 weeks (a result most brands can only dream of!). The total audience comparison reveals that Walmart's audience is twice as big as the Macy's one. It's especially evident for Facebook, where Walmart's community has been historically very strong:

So in this round, Walmart definitely bears the palm.
Engagement Gained
It's really tempting to measure the brand's social media success in followers, but this is just one side of the story. What really matters is how you interact with your audience, especially considering the current Facebook and Instagram algorithms. Now take a look at the engagement figures: that's where things become more interesting. Let's first compare the most engaging posts over the two weeks period for both brands: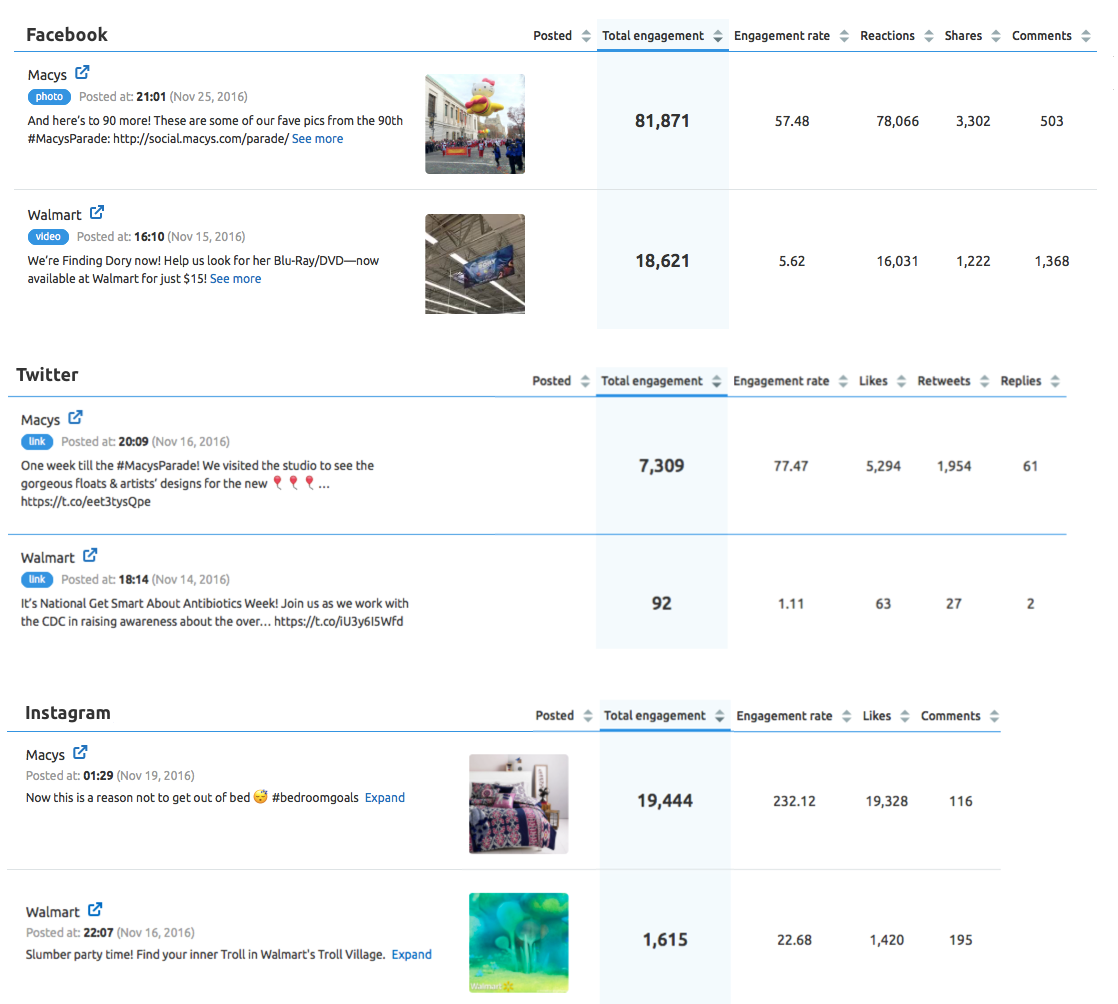 In every network, Macy's most engaging posts got massively more likes, shares and comments than Walmart's. Also, when we look at the total engagement for both brands, we see that Walmart is left in the dust:
So, who's the winner?Game screenshot
Walmart, being more successful in attracting followers, gave leadership to Macy's in all other respects. Macy's campaign demonstrated great interaction with their audience in all social networks. Besides, they have achieved their main goal which was to attract maximum attention to Macy's Christmas parade. Just look at this incredible engagement peak!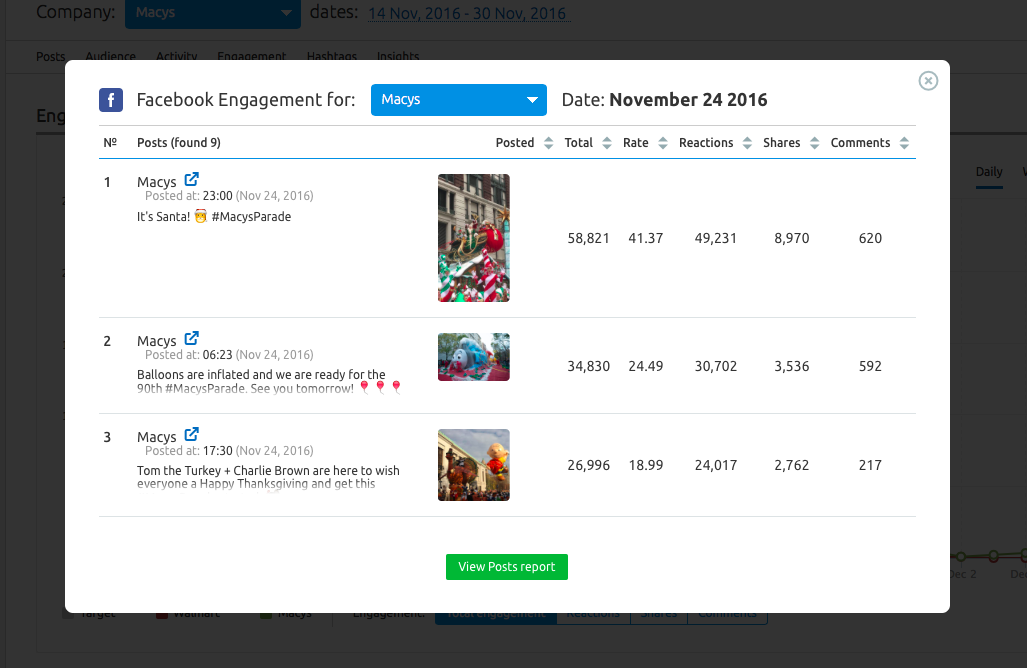 Fight 2: Mass Market Clothes
Red Corner: H&M
Blue Corner: Marks & Spencer
Fashion brands are using Christmas to its fullest potential. Special holiday collections are being presented, and this is one more reason to spread the word about the brand. To inspire customers, clothing producers invest stratospheric budgets into their Christmas activities. The commercials they produce go to the next level, becoming true films rather than simple ads. Among a variety of mass market brands we picked H&M and Marks & Spencer, who came up with truly remarkable campaigns this year. Let's see whose social media performance was more successful.
Video Commercial Performance
On November 12th, M&S presented the loveliest video "Christmas with love from Mrs Claus" portraying the role of Mrs Santa in all the Christmas preparations. During the following 2 weeks the video got 7,781,535 views.
H&M responded on November 28th, launching its "Come Together" ad directed by Wes Anderson ("The Grand Budapest Hotel", "Moonrise Kingdom"). In two weeks this short film managed to cross the threshold of 9 mln views.
However, the H&M video was less successful in terms of engagement rate. If we take a deeper look, we'll see that the M&S's Youtube audience demonstrated 4.3 times more involvement than H&M's:


Audience Growth
In terms of new audience attracted during Christmas campaign, both brands had similar dynamics: 1 to 2 per cent growth in each social network. Despite the fact that H&M is the winner in absolute values, M&S's audience is growing faster: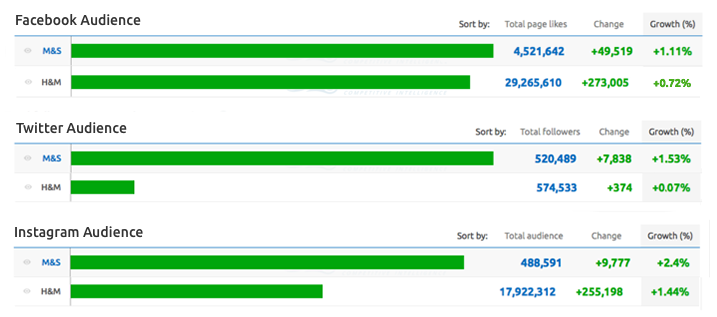 The total audience analysis reveals that M&S is still far behind H&M, but has an overall better potential:

Engagement Gained
Speaking of engagement, let's find out who did a better job in getting to the heart of their audience. M&S demonstrated outstanding engagement numbers in Facebook and Twitter, while H&M is dominating in Instagram:
As shown in the "Total engagement" tab above, M&S is better at communicating with their followers than H&M. Despite having less audience (5.5 mln fans vs. 47.7 mln), M&S managed to get 8.8 mln engagement signals (likes, shares and comments) against H&M's 13.7 mln:
So, who's the winner?
With its global reach, H&M is definitely outweighing M&S in terms of audience. However, now when social media suggest relevant content based on the topics and accounts you're interacting with, the engagement signals are becoming truly precious. With this in mind, we can say that the M&S campaign was more successful in delivering its advertising message to the audience than that of H&M.
Fight 3: Luxury Clothing Brands
Red Corner: Dior
Blue Corner: Louis Vuitton
From a huge diversity of famous luxury brands worldwide, we picked Dior and Louis Vuitton. This year both of the rivals concentrated on promoting the brand itself, without creating viral stories around it. Let's measure their campaigns' success in figures!
Video Commercial Performance
On November 21, Dior launched its "Holidays made of stars" commercial. Seems like there weren't any special activities dedicated to the promotion of this video, as itgot only 15,807 views in two weeks.
Louis Vuitton released its ad "The Gift Workshop" even earlier, on November 16th. 
The video invites viewers to treat their "special someones" to some luxurious detail. Judging by the numbers, the video was promoted more actively, resulting in 2 mln views and a much higher engagement rate:


Audience Growth
In 2016 most fashion brands tended to weave their Christmas magic in Instagram. Considering it is the best channel out of all to showcase beautiful clothes, Dior and LV also seized the opportunity. See how their audience growth on Instagram stands out compared to Facebook and Twitter. Both brands showed moderate audience growth on Facebook. Twitter: a remarkable audience growth demonstrated by Dior and almost no change for LV. Instagram: a dramatic rise for both brands (however, Dior is a bit ahead).
In terms of total audience, Dior and LV have been neck-and-neck, with Dior holding slender lead:

Engagement Gained
Let's now explore which of these brands took the cake in terms of engagement. LV definitely beat Dior on Facebook, earning 74,000 social signals, as opposed to Dior's 24,000. In other social networks Dior came off best with its tweet from November, 23 dedicated to their holiday collection and with its Instagram Mannequin Challenge video.
The combined engagement graph below gives away the winner: being almost equal in terms of audience size, Dior's engagement turned out 10 times higher than LV's!

So, who's the winner?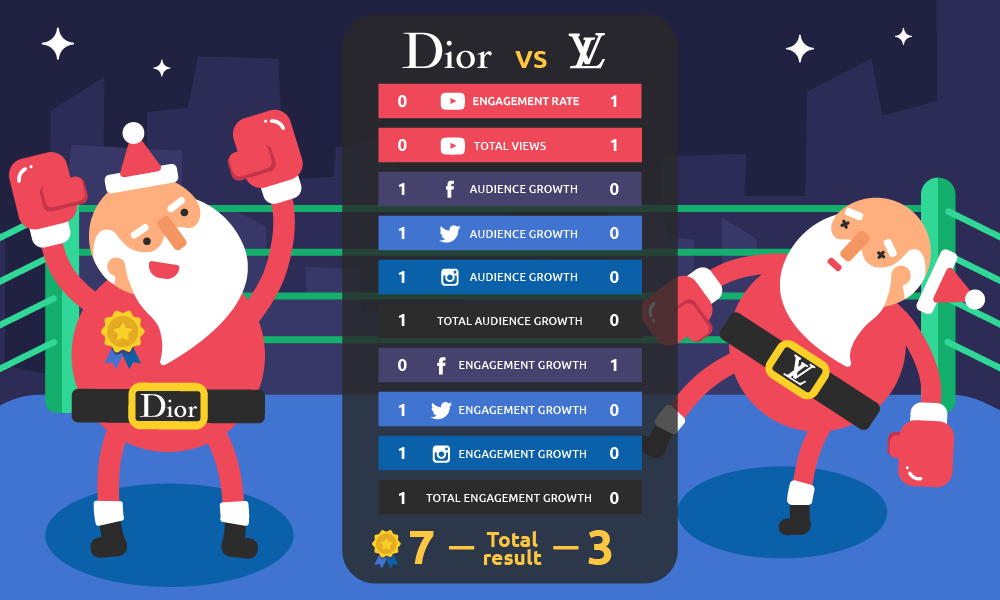 LV has put a lot of effort into promoting its Christmas video on YouTube and has also been thriving on Facebook. However, its performance on Twitter and Instagram wasn't as beneficial as Dior's. In our view, both brands have performed quite well in this race. However, in terms of pitiless statistics, Dior was more engaging and active during this Christmas campaign.
What can be the takeaway for your next Christmas campaign?
Christmas is, without a doubt, a fantastic opportunity to win more customer attention and increase your sales through social media channels. People are ready to be amazed, to react and, what's more important, to buy. But it's clearly not the case when you should be treating them with pushy content. Your customers are sensitive to stories and want to witness miracles happen. Give them that much needed emotion through your social media channels!
For that reason, having a well thought out and timely social media strategy in the run up to Christmas is certainly a good idea. Analyzing your competitors' wins and fails is one of the best ways to build your own successful campaign. No matter the scale of your brand, you should always learn from your competitors, rather than battling them. Try the SEMrush Social Media tool to track your competitors' social media activities and learn for good!