Smaller businesses can possibly manage marketing efforts manually. But for a business to grow, you need to plan, deliver, and analyze many marketing campaigns.
It's a daunting task for any team. 
It's no secret that pretty much every aspect of marketing is online. People are working, shopping, and relaxing virtually daily. So businesses have to meet them where they are to promote products and services. 
That's where CRM marketing comes in.
What Is CRM Marketing?
CRM marketing is the application of customer relationship management (CRM) strategies and tools to improve marketing efforts. 
Customer relationship management refers to the tracking of all interactions between a business and each of its customers. 
And the goal of CRM marketing is to improve customer relationships by increasing retention and revenue. Usually, this involves the use of a software tool. 
Using CRM marketing software can help automate many tactics. From developing targeted campaigns to monitoring users' responses to organizing leads. 
Now let's look at why CRM marketing is so important. 
Why Use a CRM System for Marketing?
Marketing CRM tools provide marketing teams a central location to perform all their key tasks. And they can automate manual tasks that take up more time for marketing departments as business grows. 
Automations can include:
Segmenting customers based on their activities
Generating personalized customer communications
Tracking customer responses and response times
Displaying results on user-friendly dashboards
What does that mean for you?
More customer data to analyze. So you can create effective marketing assets without guesswork.
You can use this data to craft email marketing campaigns, tailor ad copy, evaluate client service approaches, measure the most valuable marketing channels, and more.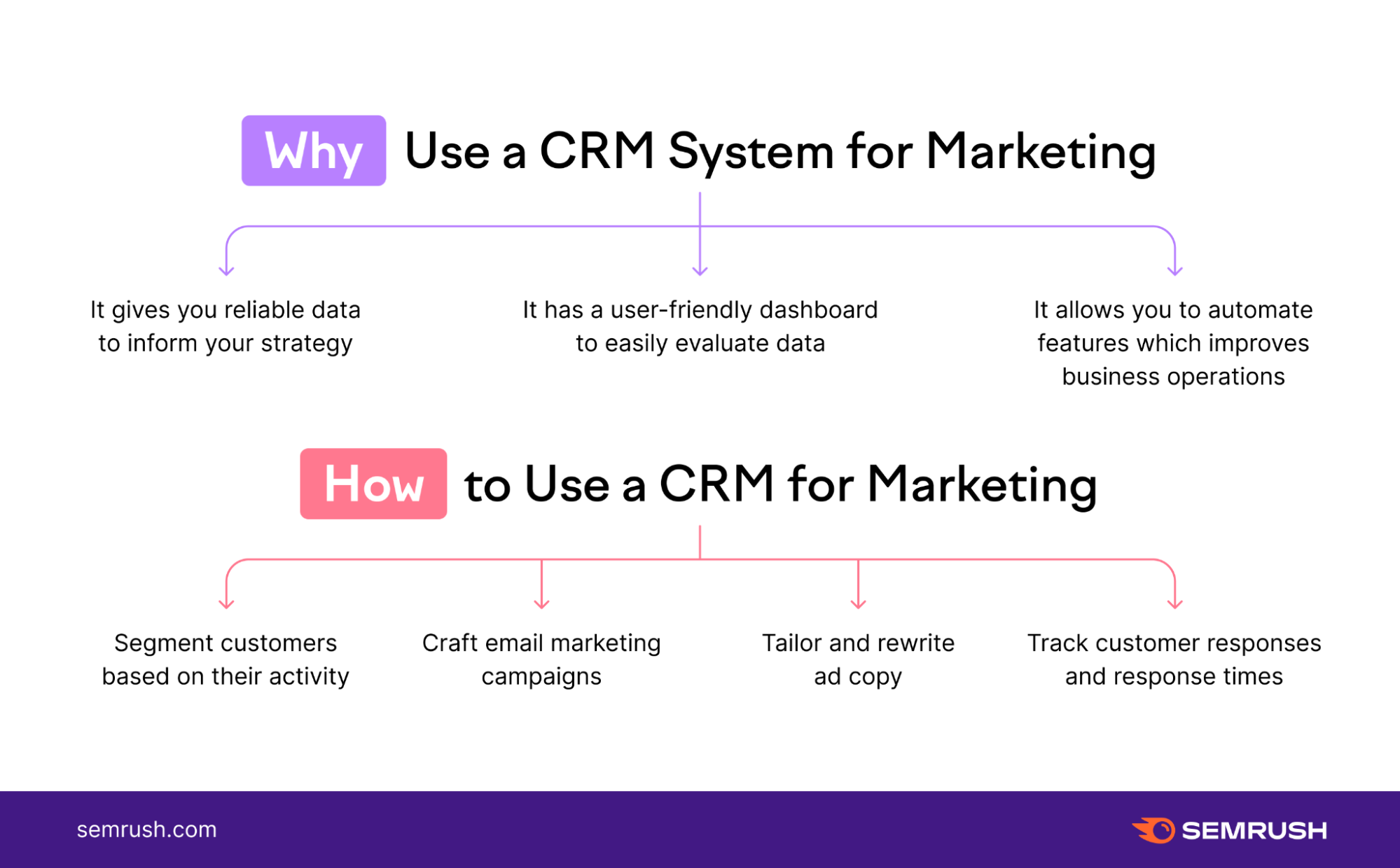 Different Types of Marketing CRM Systems
Marketing CRMs can be separated into different categories based on the type of function they perform: collaboration, operation, and analysis. 
1. Collaborative CRM
Collaborative features help connect marketing teams with other departments in the business to help share data and other information more quickly. Some of these features include: 
Custom reporting
Cross-team messaging
Automated status updates
2. Operational CRM
Operational CRM features provide marketers with tools that streamline the delivery of content to customers. For example: 
Drip email campaigns
Custom message templates
Personalized workflows
3. Analytical CRM
Analytical CRM features sort and analyze data generated by each client interaction. Key tasks include:
Campaign analysis
Data visualization
Custom data grouping
These types of marketing CRMs can be used across pretty much any online marketing channel to improve efficiency and results.
Best CRM Marketing Software Features
So, you know that CRM software can be used by marketing departments to collaborate on campaigns, conduct marketing operations, and analyze all customer interactions. But what about the specific features?
The top CRMs for marketing empower businesses by giving them the ability to do the following: 
Centralize Customer Data
A marketing CRM takes all customer interactions across marketing channels and stores them in one place.
Interactions can include:
Social media behavior
Email open rates
Customer support calls
And more
There's a mountain of data behind each customer interaction with your business. A CRM helps you keep all that data in one easy-to-access place.
Customer Segmentation
Once you analyze customer data, you can organize your customers into different groups, or segments, within your CRM based on certain criteria.
Say you're an ecommerce company. You may want to segment customers who repeatedly click on your paid social media ads so you can create specific content for them. 
Or, if you're an agency, you might want to segment your leads based on their seniority in their company. 
Targeted Campaigns
Once you've segmented your customers with your marketing CRM, start sending these groups targeted marketing campaigns. 
The campaigns target a specific group. So they are more likely to influence their buying decisions. 
Our example ecommerce company may want to target that same segment of customers who interacted with paid ads. But this time with new ads that promote a limited sale on the segment's product of interest. 
The example agency can send emails that directly address the pain points of their senior business leader segment.
Many marketing CRMs allow you to display data from customer segments and marketing campaigns in reports.
As you and your team read through these reports, you will learn crucial information about which pieces of content have the greatest impact on specific audience segments. 
Adjust future messages based on this response data. 
Real-Time Campaign Optimization 
You may need to adjust your marketing content in the middle of a campaign based on ad spend or online reputation management strategy.
Marketing CRMs can help you automate this task. 
Marketing Automation
Marketing automation takes over the administrative, repetitive, and time-intensive parts of marketing operations. This way, teams can focus on their core tasks. 
Developing truly impactful marketing content takes time, and marketing automation helps free that up for creative teams.
Some of the main marketing automation that CRMs provide include: 
Developing, ranking, and managing your leads
Integrating the platform with other important marketing tools
Delivering email, social, and SMS content
Tracking visitors as they navigate your website
Managing marketing campaigns
Which Channels Can Use a Marketing CRM?
Businesses are using more marketing channels to stay relevant online, and marketing CRMs can help you organize your efforts for practically any channel you use. 
The collaborative, operational, and analytical features of a CRM tool can be used for many marketing channels, including:
Email 
Most CRMs have features that help improve the impact of email marketing. 
Many CRMS allow marketers to send out drip marketing campaigns where a specific sequence of emails is sent depending on whether or not the customer opens and responds to the initial email. 
So if a potential customer doesn't respond to an initial email about a product, a CRM allows businesses to send personalized follow-up messages. Or even offer a sale to entice the customer. 
Social Media 
Marketing CRM software not only helps social media marketers track how effective their social content is at converting customers. But it also gives them a way to respond to their followers at scale. 
Semrush's Social Media Dashboard, for example, helps businesses:
Monitor how leads and customers behave on different social channels
Understand the groups, hashtags, topics, and pages that customers and leads follow
Craft social campaigns that are more likely to engage their followers
Social media is about more than just producing and posting content. It's a community where people can engage in a back-and-forth. That doesn't change just because it's a business posting the content.
Paid Advertising
Using a CRM for marketing allows you to collect user-specific data and turn it into PPC (pay-per-click) ads. These ads will be more relevant to the different consumer segments that make up your entire audience. 
Your business has an overarching brand identity built from data about all your users, but effective ad campaigns need to target a more narrow section of your audience. 
People see dozens, even hundreds, of digital ads daily—to cut through the noise, your ads need to be highly personal and relevant. 
SMS Marketing
SMS marketing is an effective way for businesses to market to customers they've already sold to or are close to converting. And a marketing CRM can make these campaigns even more effective. 
By using a CRM for marketing, you can make sure your SMS and text campaigns are:
Delivered consistently and promptly to all customers
Targeted towards customers who have performed a specific action
Collecting user responses to inform future campaigns
Call Centers
Some industries still use call centers as a large part of their marketing efforts, with teams of telemarketers calling lists of potential customers directly. Marketing CRMs can increase the value of this practice by:
Increasing the efficiency of call agents with automated dialing
Creating an interactive voice response system for reduced waiting time 
Connecting agents with customer data from other campaigns for targeted messaging
Print and Direct Mail
You can even use a CRM for marketing campaigns that aren't digital. Like print advertising or direct mail. 
Whether you post physical content in public areas (like a billboard) or mail them directly to potential customers, a CRM can help improve results by: 
Tracking customers who respond to promotional or QR codes
Segmenting customers according to the content that prompts their response
Best Marketing CRM Platforms
CRMs were initially created as a tool for sales teams, with features for marketing and other departments developed later on. With this in mind, you want to make sure you choose a CRM platform with the marketing features you need to succeed. 
Below is a list of some of the top marketing CRM tools for small and medium businesses: 
1. Semrush CRM
The Semrush CRM is designed with a specific small-medium business segment in mind: digital agencies, consultants, and freelancers.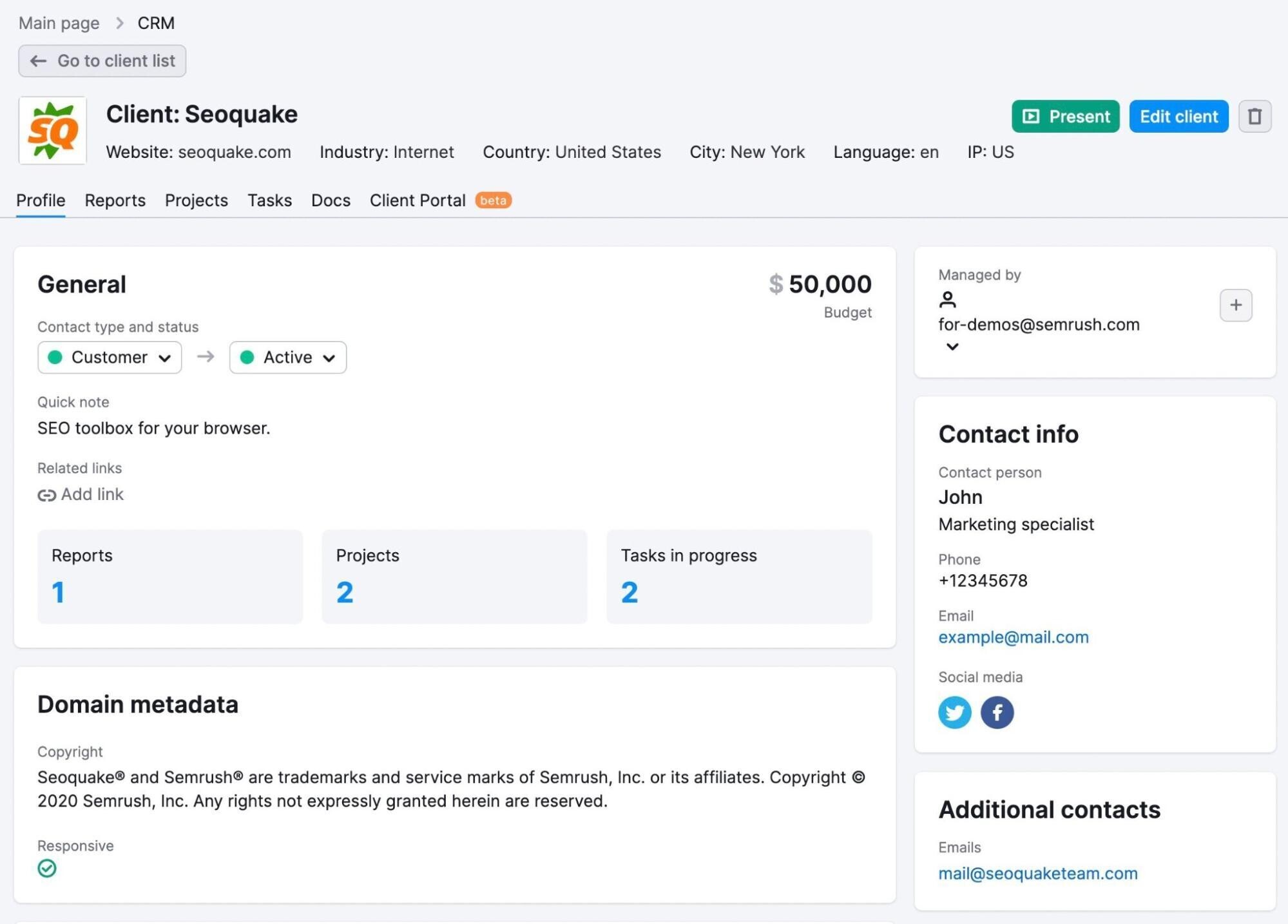 And best of all, it's completely free to get started. 
These businesses usually work with multiple clients and need features that help keep their marketers efficient and effective. 
Semrush CRM benefits include: 
Collecting, organizing, and updating all information about client accounts
Generating reports and pitches to engage potential and existing clients
Creating client-specific tasks to keep workflows moving smoothly
A Client Portal that gives clients access to reports and tools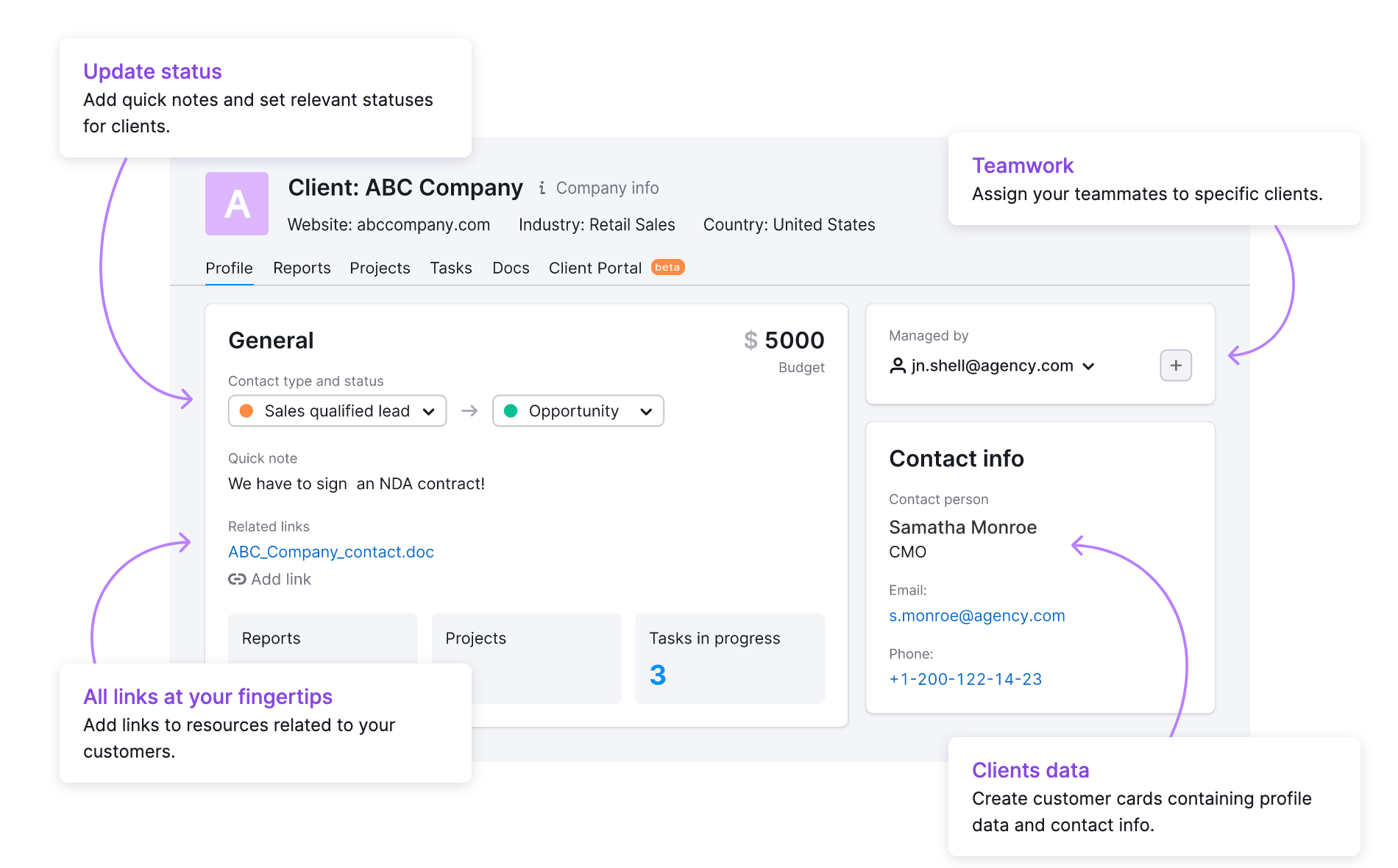 Add up to 10 clients on a free account. And add unlimited clients when you sign up for Agency Growth Kit.
2. HubSpot Marketing Hub
HubSpot's Marketing Hub is one of the top CRMs for marketing teams in the industry. It provides tools and automations to improve the effectiveness of promotional content. 
Some of the key features of this platform include: 
Creating inbound marketing campaigns at scale
Publishing optimized blog content directly on the platform
Creating, publishing, and monitoring social media content
Developing customized reports for sharing and analyzing data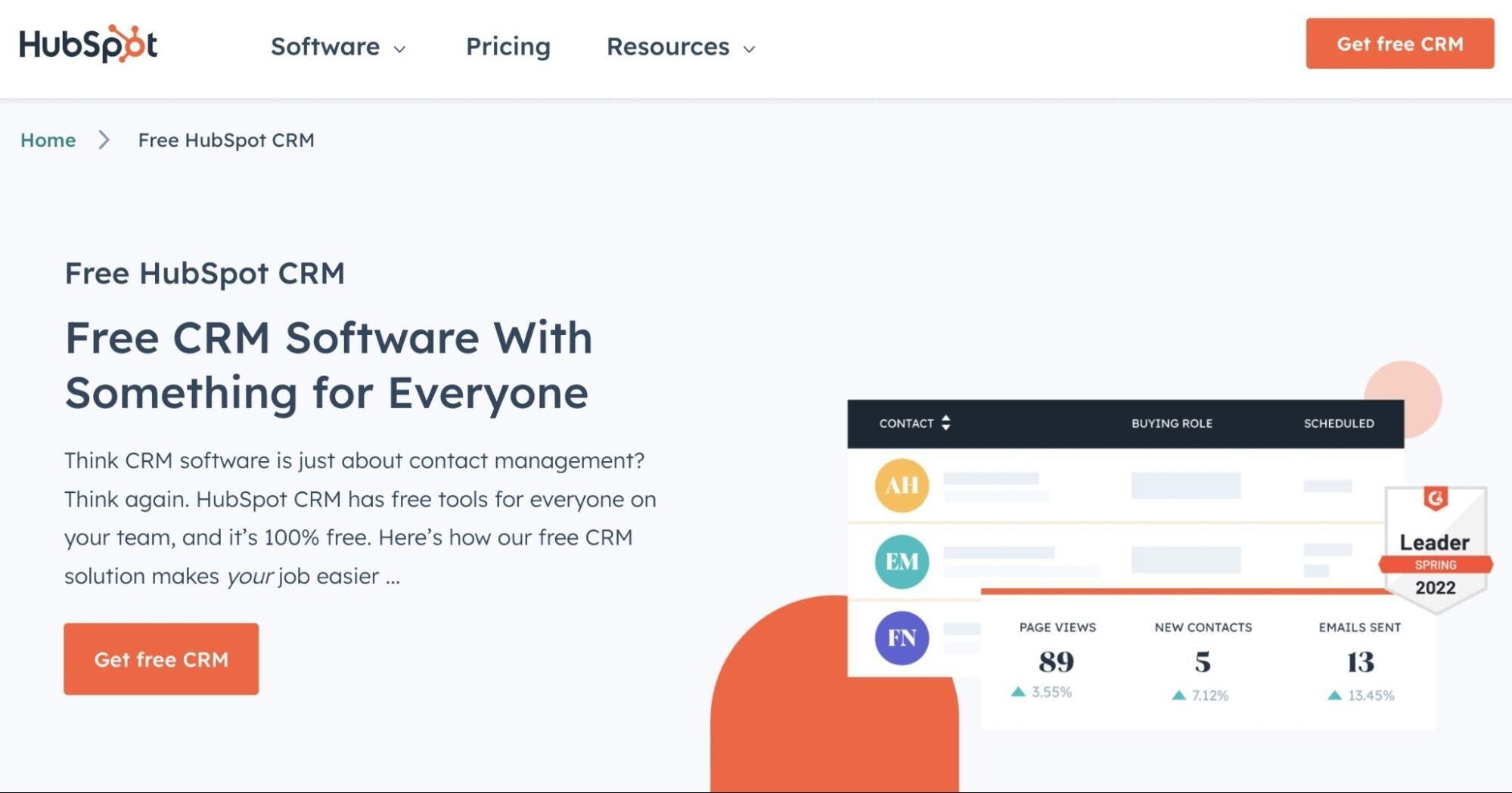 3. Marketo
Marketo is a great tool for B2B businesses looking to grow rapidly. Some of the most important features of this marketing CRM platform include: 
Automated nurturing, scoring, and management of your leads
AI tools that assist with the creation of personalized content
A revenue attribution feature to help you identify which channels bring in the most money
Tools to assist in the collection and reporting of data on customer segments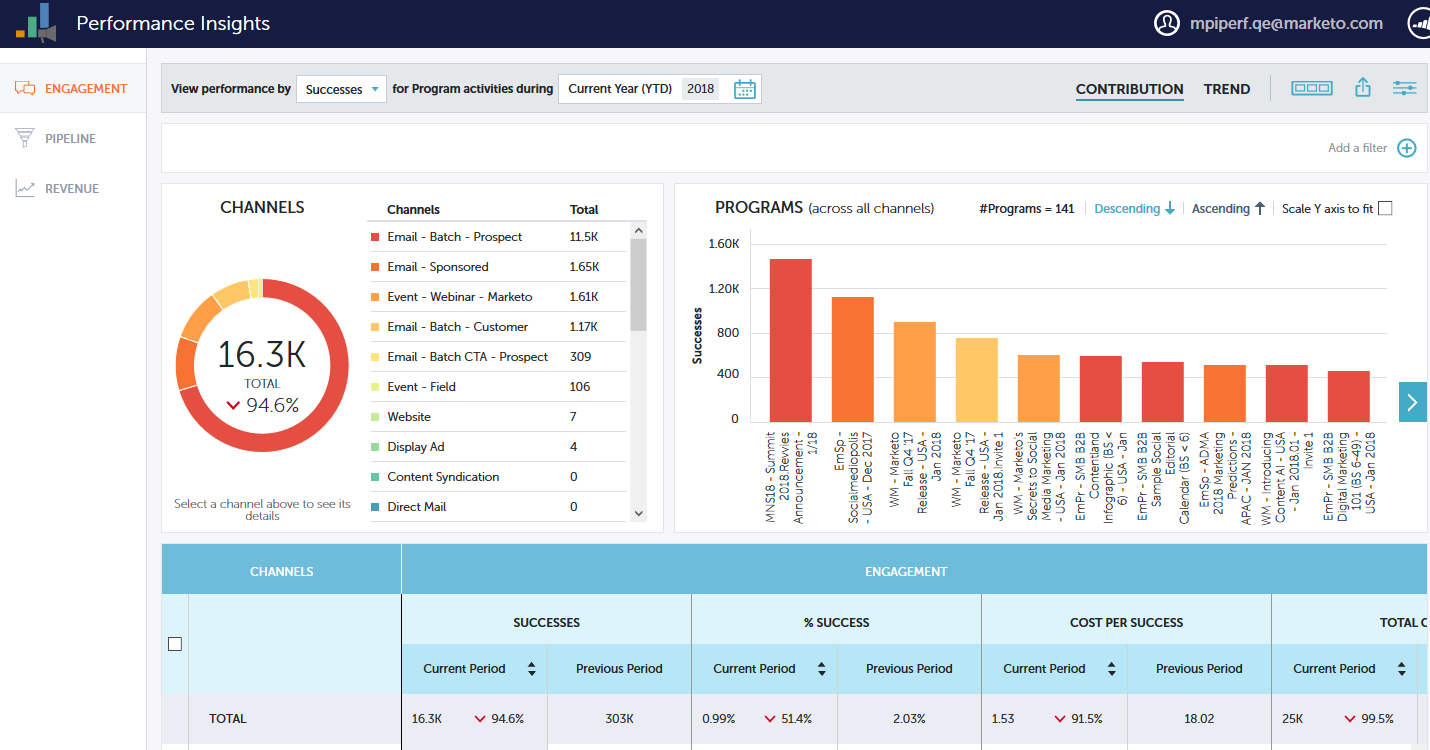 4. Salesforce
Salesforce is a popular CRM software that can accommodate businesses of all sizes.
It's known for its robust task automation options and customizable reports and dashboards.
Notable features include:
"Customer 360" integration that shows every team a shared view of every customer
Salesforce Genie, the "first real-time CRM" that provides in-the-moment data
Pipeline and forecast management to give you real-time insights on your business health
Ability to gain insights on customers from social media sights right from Salesforce
5. Bigin
Bigin, a marketing CRM created by Zoho, is designed specifically for small businesses looking to scale. 
It helps smaller teams replace spreadsheets and other manual processes they use to organize and manage their marketing campaigns. 
Some of the main features of Bigin's marketing CRM include:
Automated interaction and analysis with your contacts via Twitter
Ability to send mass emails and analyze the effectiveness of campaigns
Custom forms to quickly convert visitors on your site
Pre-built and custom dashboards to analyze performance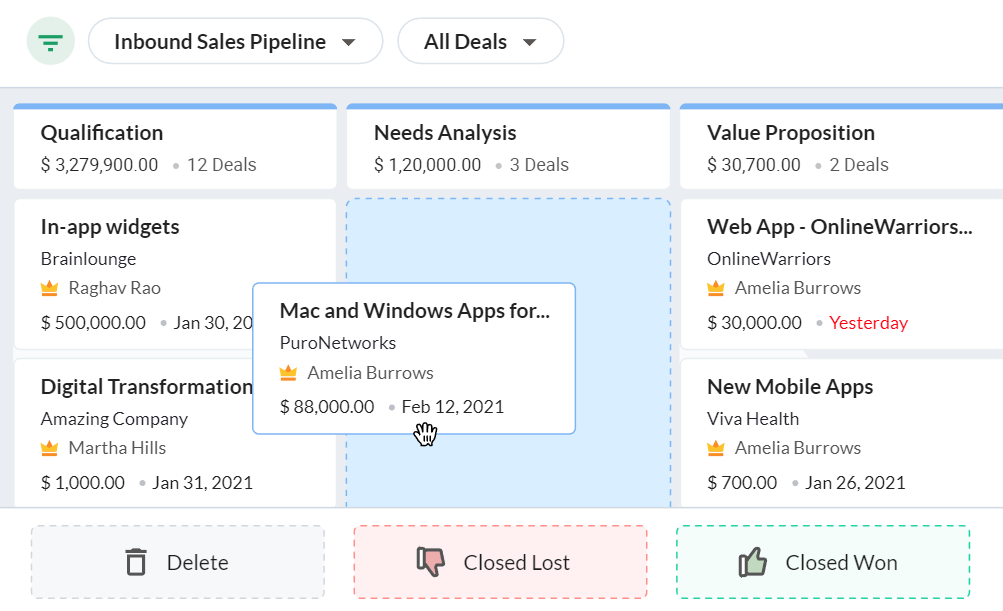 6. ActiveCampaign
ActiveCampaign offers a suite of tools to help businesses grow and meet their goals. 
In addition to traditional sales automation, the platform also has automation features that assist marketing departments.
These marketing automation features are designed to save time for marketers by offloading many of the manual tasks they'd have to perform otherwise. Things like:
Designing visually-appealing emails to improve user experience
Following up on email queries and responses
Identifying and tracking the people who respond most to your marketing
Moving information between ActiveCampaign and your other marketing platforms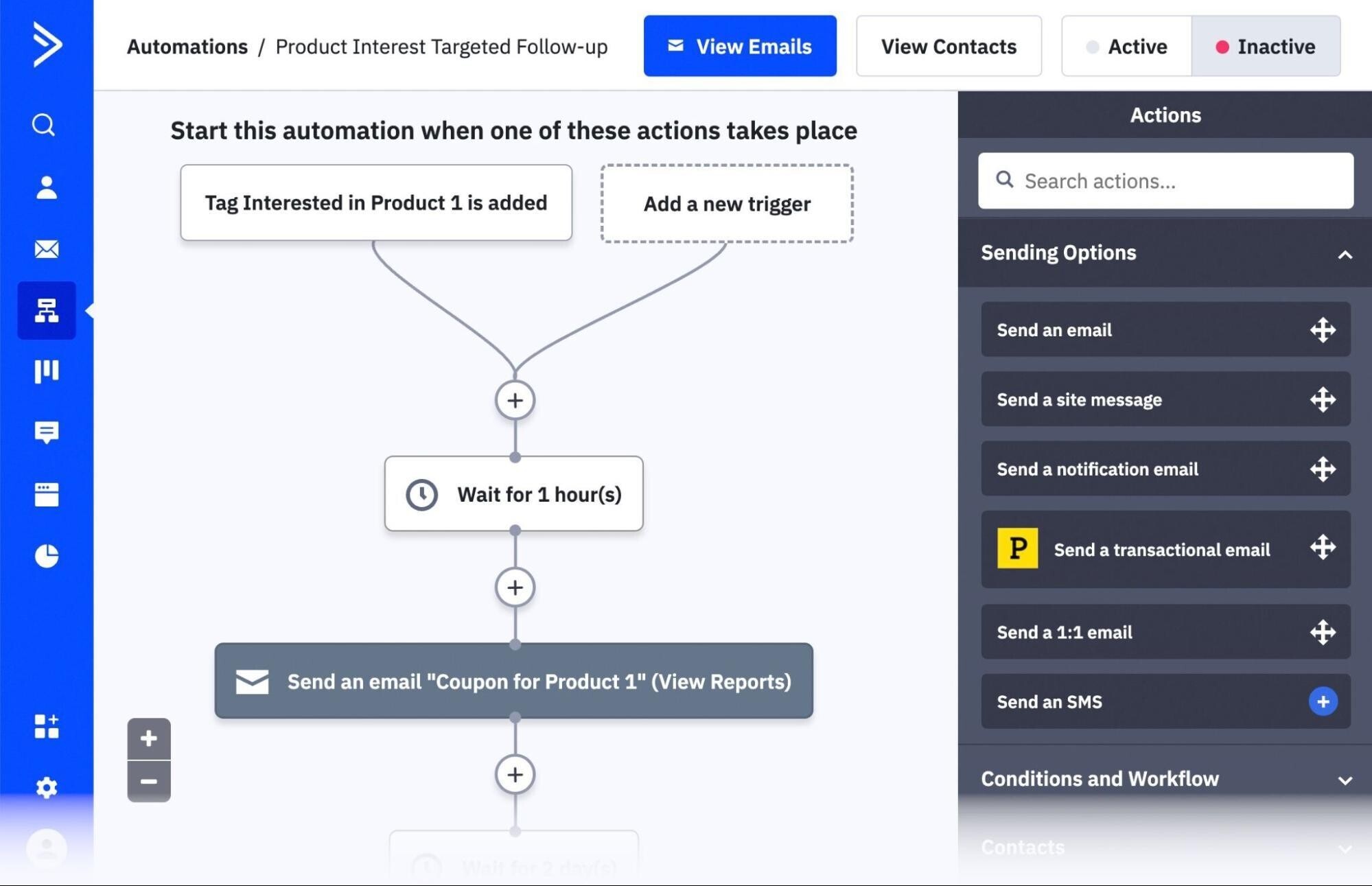 How to Choose the Best Marketing CRM for Your Business
Customers behave differently depending on the industry you're in. Ditto for the size of your business. 
That's why selecting the right marketing CRM software is a crucial part of success for any online business.
Here are the steps you can take to make sure you select the best Marketing CRM for your business:
Determine your budget first
Interview team members to find out what features they need
Identify needs vs. nice-to-haves
Research different CRM tools
Using verified ranking sites like G2, Capterra, and TechRadar, you can comb through dozens of top CRM tools to identify which are particularly well-suited for marketers. 
These sites provide tons of useful information to help inform your marketing CRM decision, including: 
Pricing based on the size of the company
Top product features as voted by users
Customer reviews and scoring on a five-point scale
A grid ranking system based on user satisfaction and market performance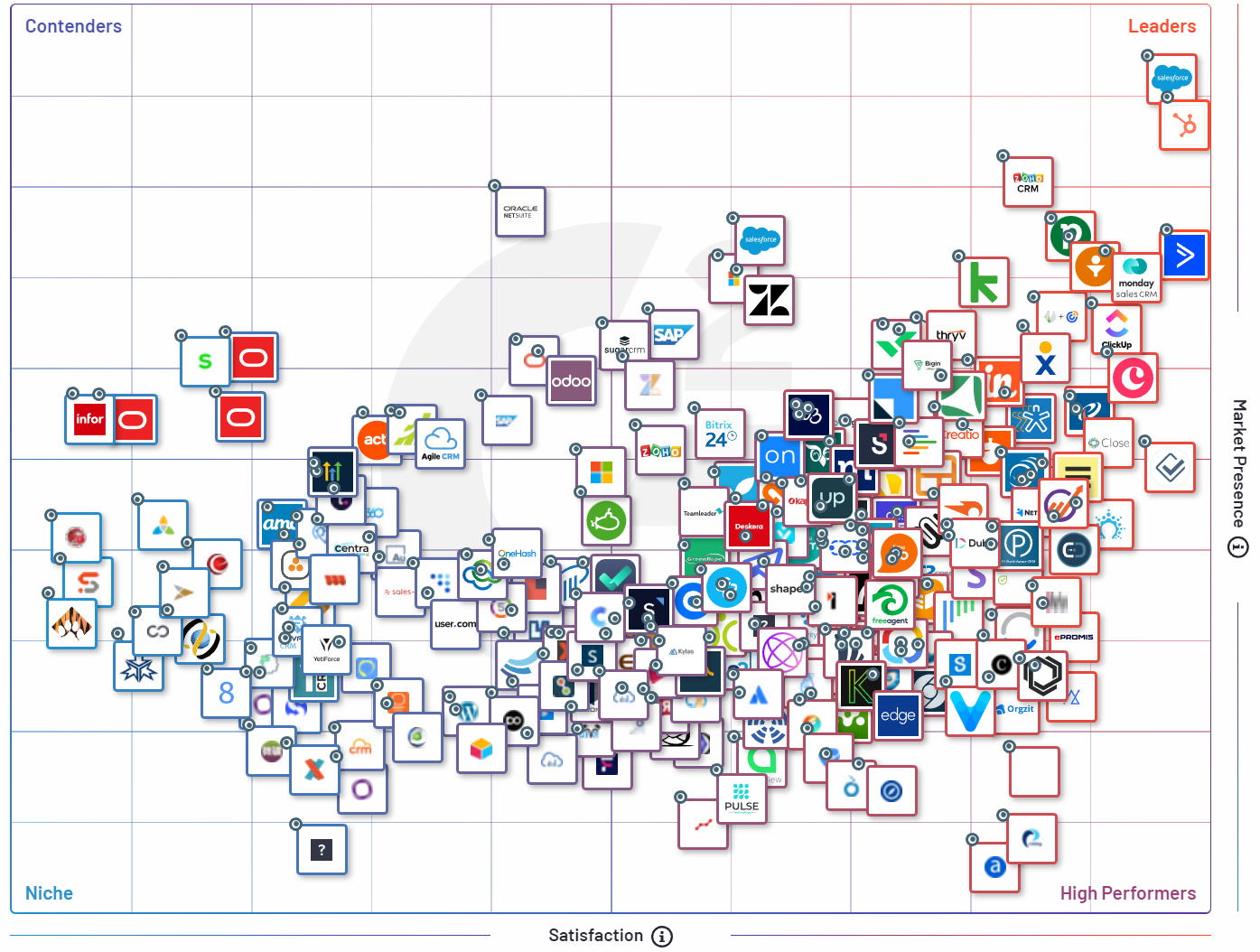 Get Started with Semrush CRM
If you work for a small, growing business, choosing the right marketing CRM is key to your long term success. 
The right tool will provide value to all your team members without breaking the bank. 
The Semrush agency CRM is the perfect free tool if your marketing department focuses on bringing in new clients and working closely with them to ensure ongoing success. 
Get started with Semrush CRM today!