There is a good chance that your website has a page for Frequently Asked Questions (FAQs).
These pages arise because common issues come up, or customers may have been in touch with pressing questions, and the best place to store helpful information is an FAQ page or FAQ hub.
These informative sections can be powerful, and they should not be dismissed as unnecessary or rushed through to when adding information. 
And in this guide, we will walk you through the reasons why an excellent FAQ page is so important, and look at 11 examples that we love.
Specifically, we will cover:
Why Your Website Needs an FAQ Page
A well-optimized FAQ hub can help your customers or users, find answers to their problems with little effort.
FAQ can be incredibly useful for saving the user's time and the customer service team as well. If a customer can find an answer to their problem with ease, they will not have to pick up a phone, send an email, or engage with you live chat.
And as we all know, in business, time is money. 
Any time your team spends responding to the same questions and queries over again could be better spent. For that reason alone, common questions and answers should sit in an easily-accessible FAQ page.
A Great FAQ Page Can Make You Money
Done correctly, an FAQ section can act as a valuable part of the conversion funnel.
When pages are optimized effectively, they can, and do, drive traffic and point both new users and existing customers to the right areas of your site after their question has been answered.
You might also find that performing a content audit provides a number of opportunities for your FAQ page, and filling any keyword gaps can lead to traffic being driven to your site's right areas.
FAQ Pages Should Be Seen as an Ongoing Content Project
Many FAQ hubs are an ongoing project, with new questions or problems emerging that hadn't been thought of when it was first launched. And that is fine and what is often recommended.
Starting small and growing your FAQ page can mean that it is relatively easy to get started, and you can build it up over time.
But, as with all things, you need to have a strategy in place. Otherwise, you could find FAQ pages become hard to manage. How will you group similar questions? How will they be organized and connected to help your website users? 
To develop something that is easy for your customers to use, we will go over tips and suggestions for your FAQ pages and then highlight 11 FAQ pages to learn from.
FAQ Page Best Practices
While this guide's main goal is primarily to showcase some excellent examples of FAQs, you must know how to get started on a new page or start making improvements to an existing page.
Here are a few points you should consider when creating your own FAQ or hubs page:
Create a clearly defined and logical structure.

Answer questions clearly and concisely. If it needs to be more detailed or expert-level, you can link to a more in-depth guide elsewhere on your site.

Update your questions and answers regularly, based on new information or developments.

Be prepared to add new Q&As on an ongoing basis.

Categorize your questions.

Display your most common questions on the landing page.

Answers should be short and allow users to search.

Link to related questions or resources that can lead the user down the conversion funnel.
FAQs have become increasingly important for search, especially with the move towards featured snippets and the increase in Google Answers.
With Google wanting to answer search queries quickly and generally on their own results pages, you need to make sure you have got everything formatted correctly.
Schema is an important aspect of this, and FAQs have their own unique mark up — meaning that your listing on the SERPs can look like this:
An FAQ page that is well optimized for search will:
11 Great FAQ Pages to Inspire You
So who has an awesome FAQ page that you can learn from and take inspiration from?
In no particular order, we are going to run through a selection of sites that are absolutely nailing their FAQs.
1. The IRS
The Internal Revenue Service has an incredibly well-optimized FAQ section.
It offers you the opportunity to search for your questions, has a list of the most common questions on the landing page, and then a selection of categories underneath with additional questions.
Plus, the answers are informative and link to the other areas of the site that a user may need.
2. Lily's Kitchen
Lily's Kitchen has categorized their questions down the left-hand side and allows you to search for anything that you can't find in the list.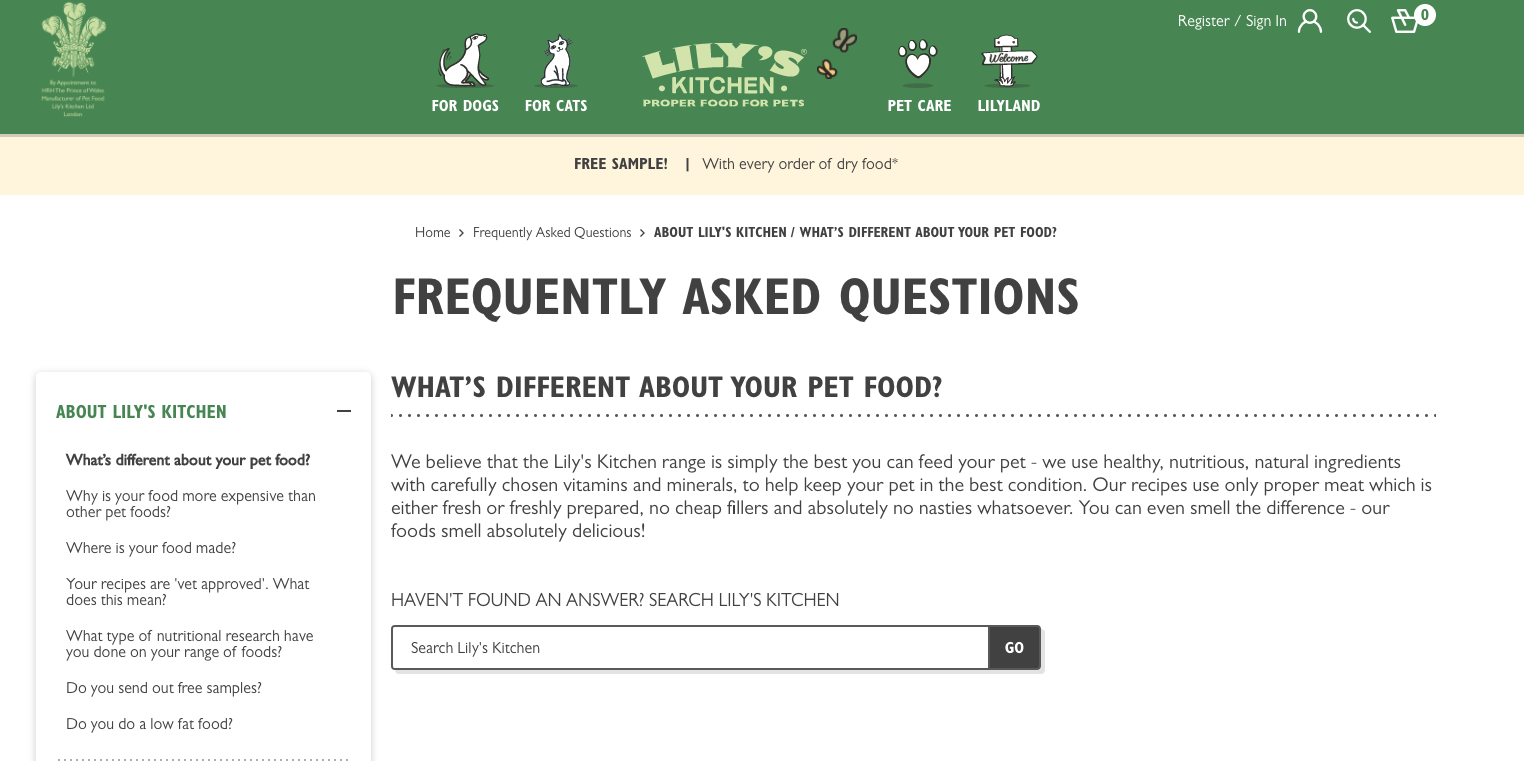 From an SEO perspective, each FAQ has its own unique URL, which is great to see; this means that each URL can be indexed as standalone answers to common questions.
3. Twitter
Twitter has created an incredibly user-friendly experience that combines a visually pleasing look with strong categorization and good search functionality.
The whole site section is made to be as personal as possible so that each user gets their own unique questions answered.
And each one of these questions comes with a simple answer at the beginning of the page and is followed up with more in-depth information and other related questions.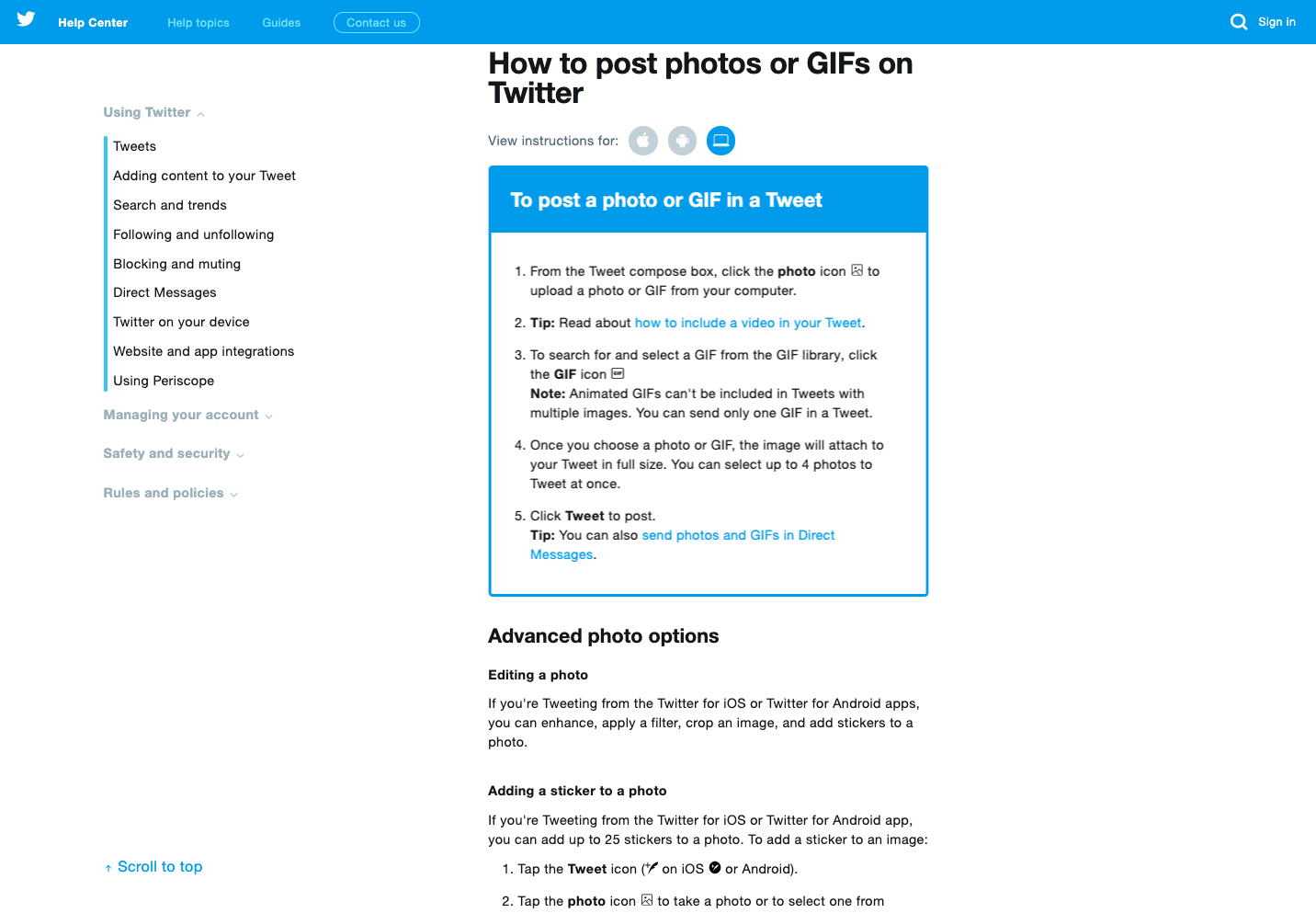 4. Adidas
The Adidas FAQ page is a simple one, but it works really well.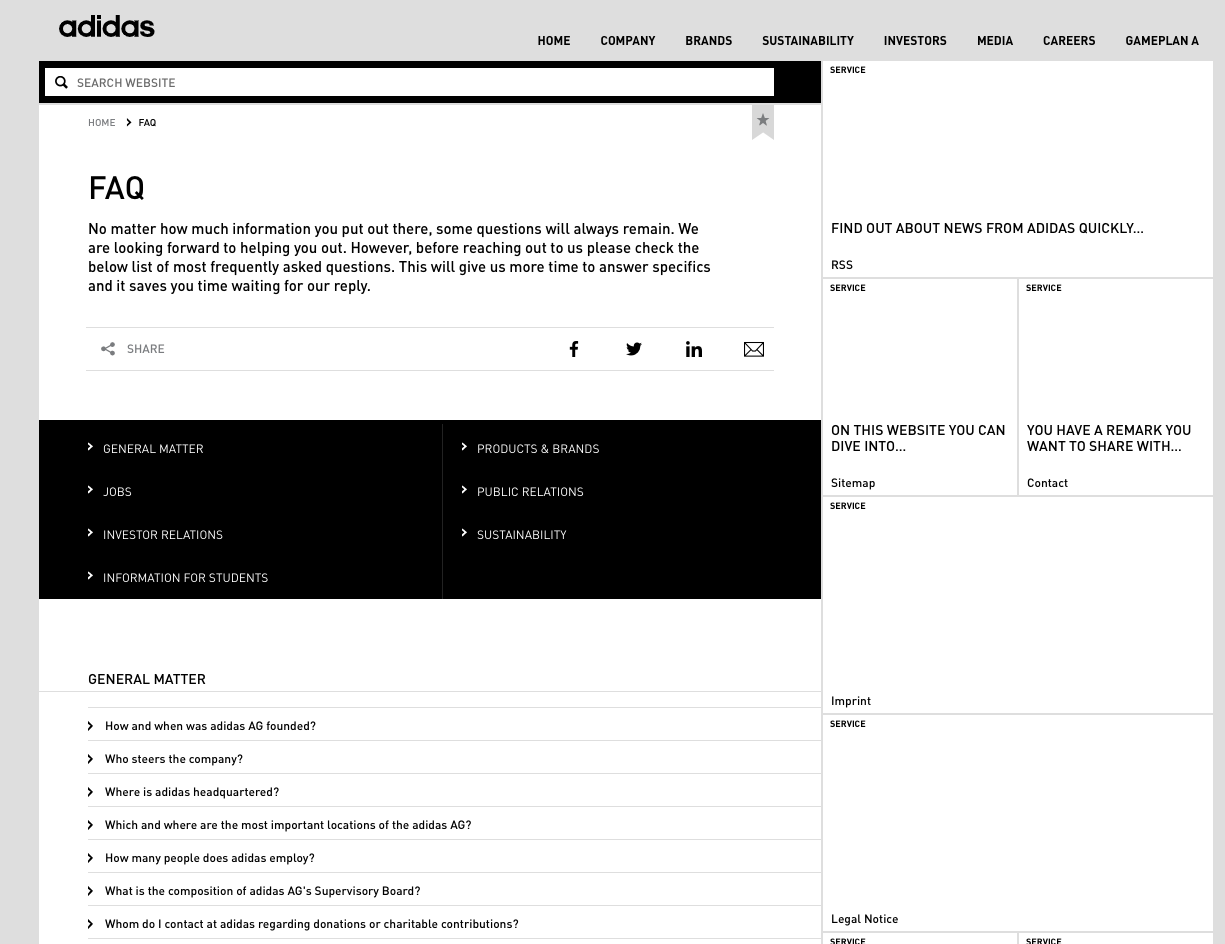 All of the questions and answers are on one page, and you can browse between the categories using the simple links at the top of it, keeping everything simple and easy to navigate.
5. Patagonia
Patagonia's FAQ hub is well designed for usability.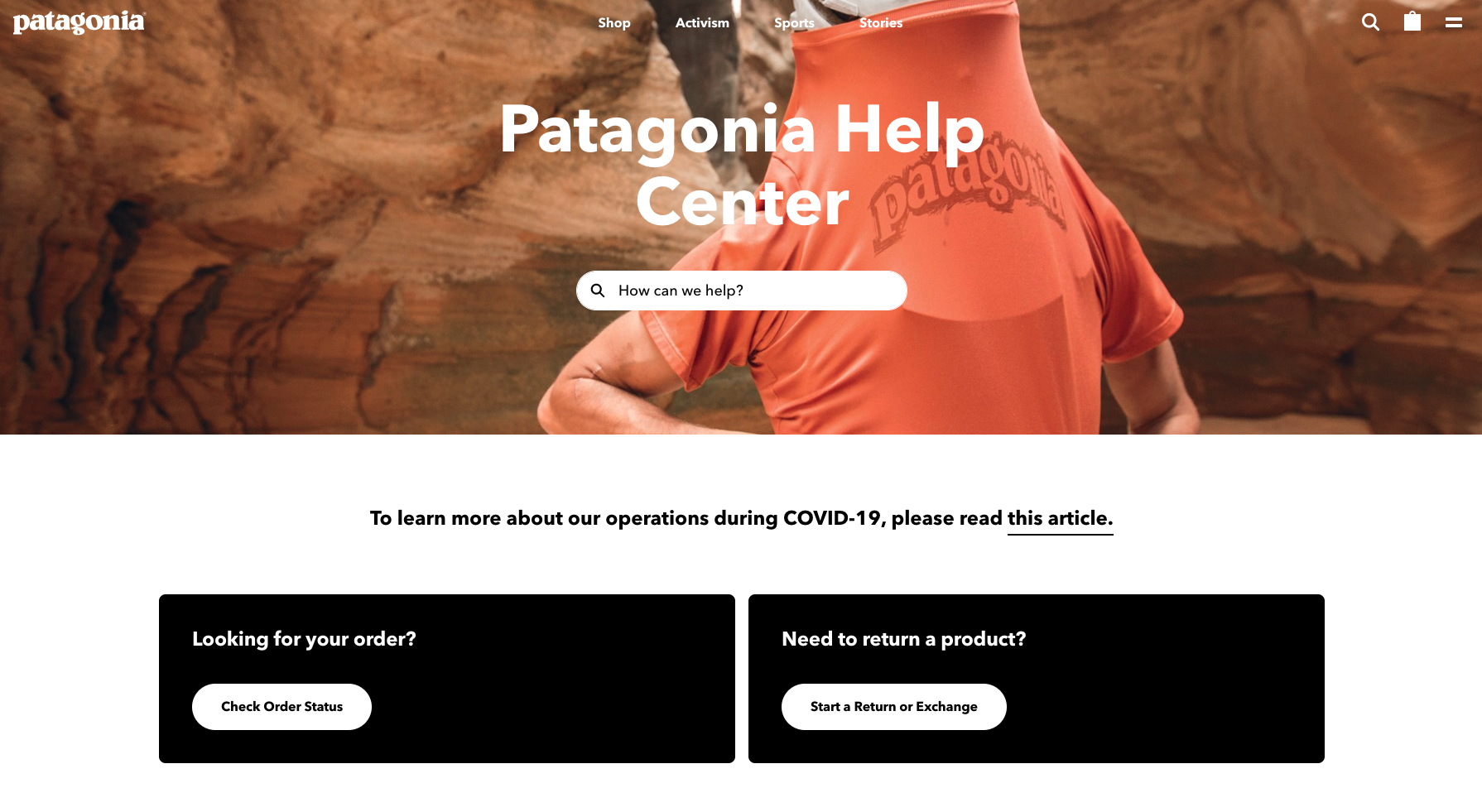 There is a search function at the top that allows users to find their question without having to scroll through lists, but they also have their two most frequently asked questions underneath; tracking and returns.
The rest of their FAQs are then categorized and easily browsed beneath.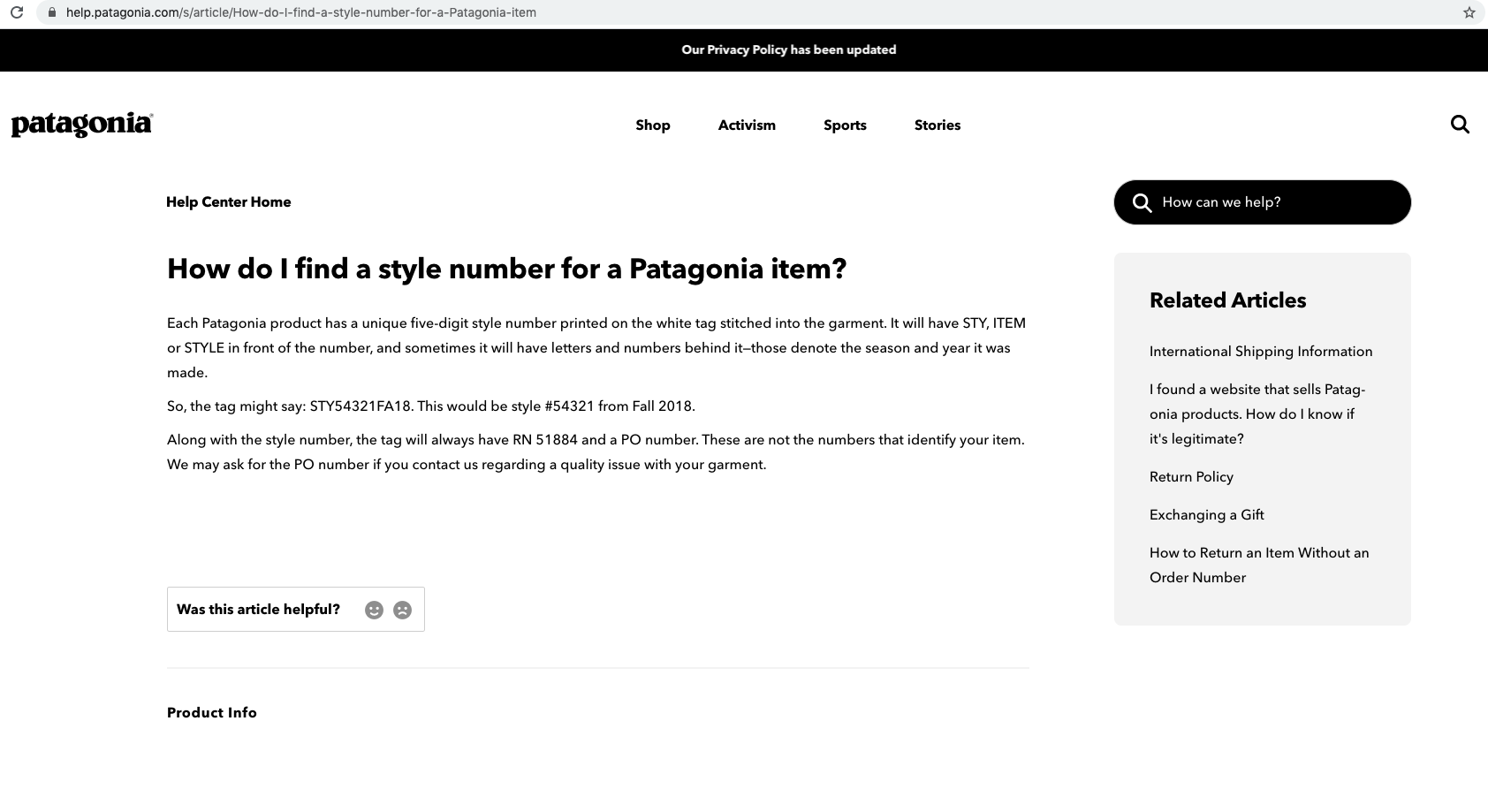 Plus, each answer has its own unique URL, which could be used for rankings.
6. Wild At Heart Foundation
The Wild At Heart Foundation specializes in dog adoptions.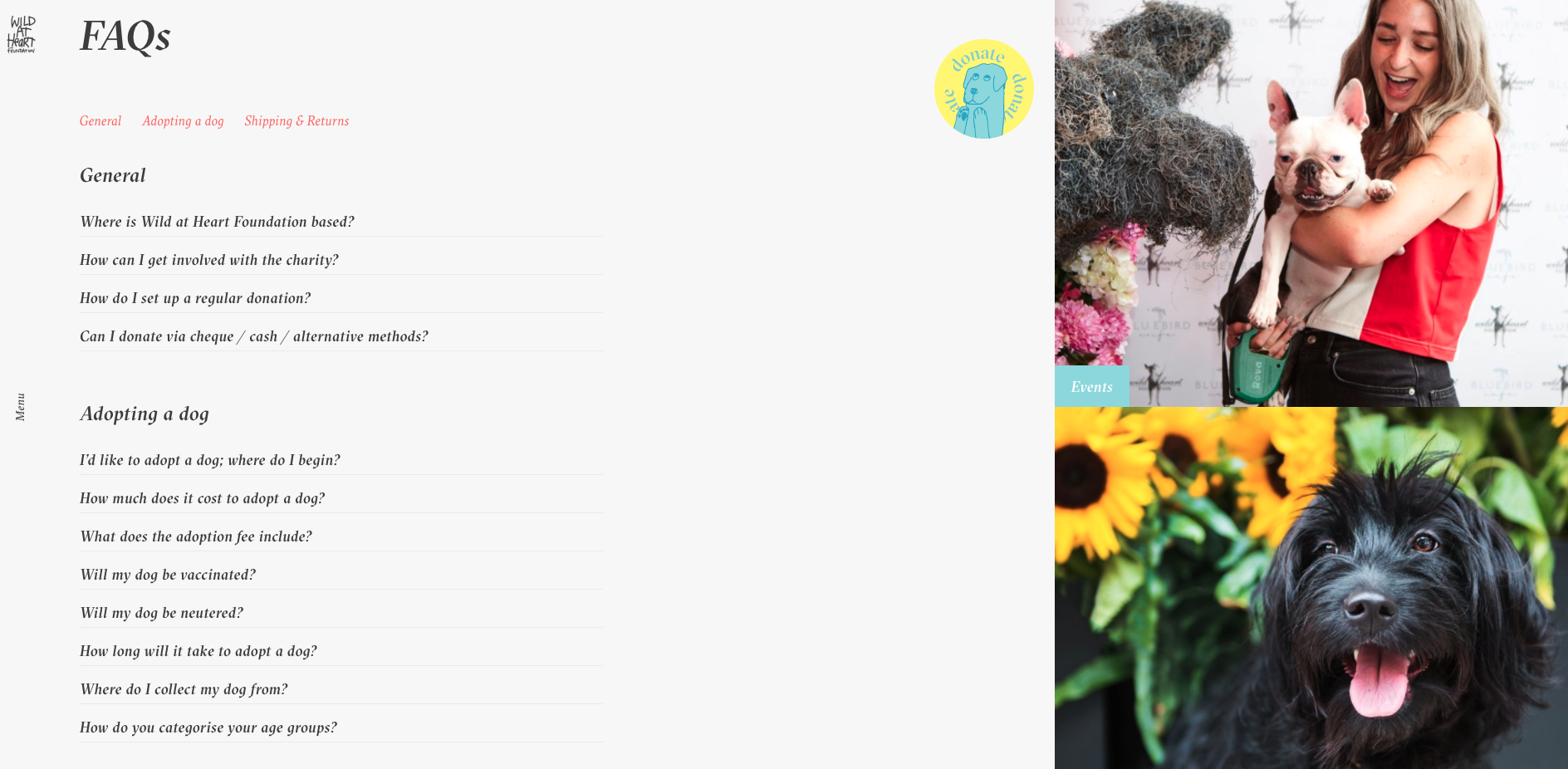 Their FAQ page is well designed, is visually appealing, and easy to navigate. The FAQs are categorized, but there aren't so many that you need a search bar, meaning all of them can be kept on one page, with a category contents at the top.
7. Shopify
Shopify has split out their FAQs and their wider help center, to make things easier to use and to navigate.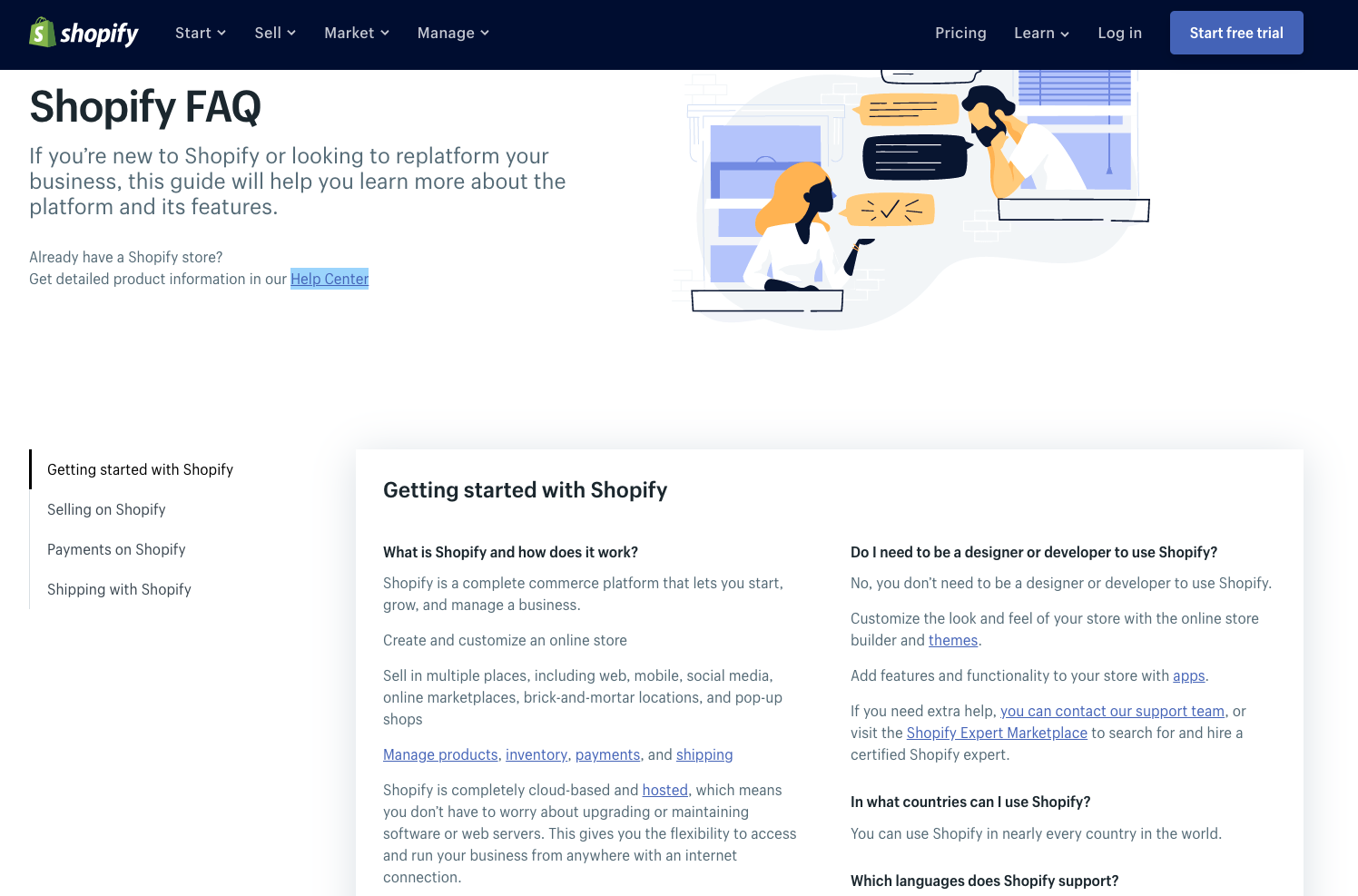 Their FAQs all sit on a single page with the most common questions for beginners and experts alike being broken down into 4 categories that can be navigated on the left.
The point of the FAQ page is to answer the most common questions in a quick way.
The answers are clear and concise and, where more detail is required, they link out to the much more in-depth information stored on the help center.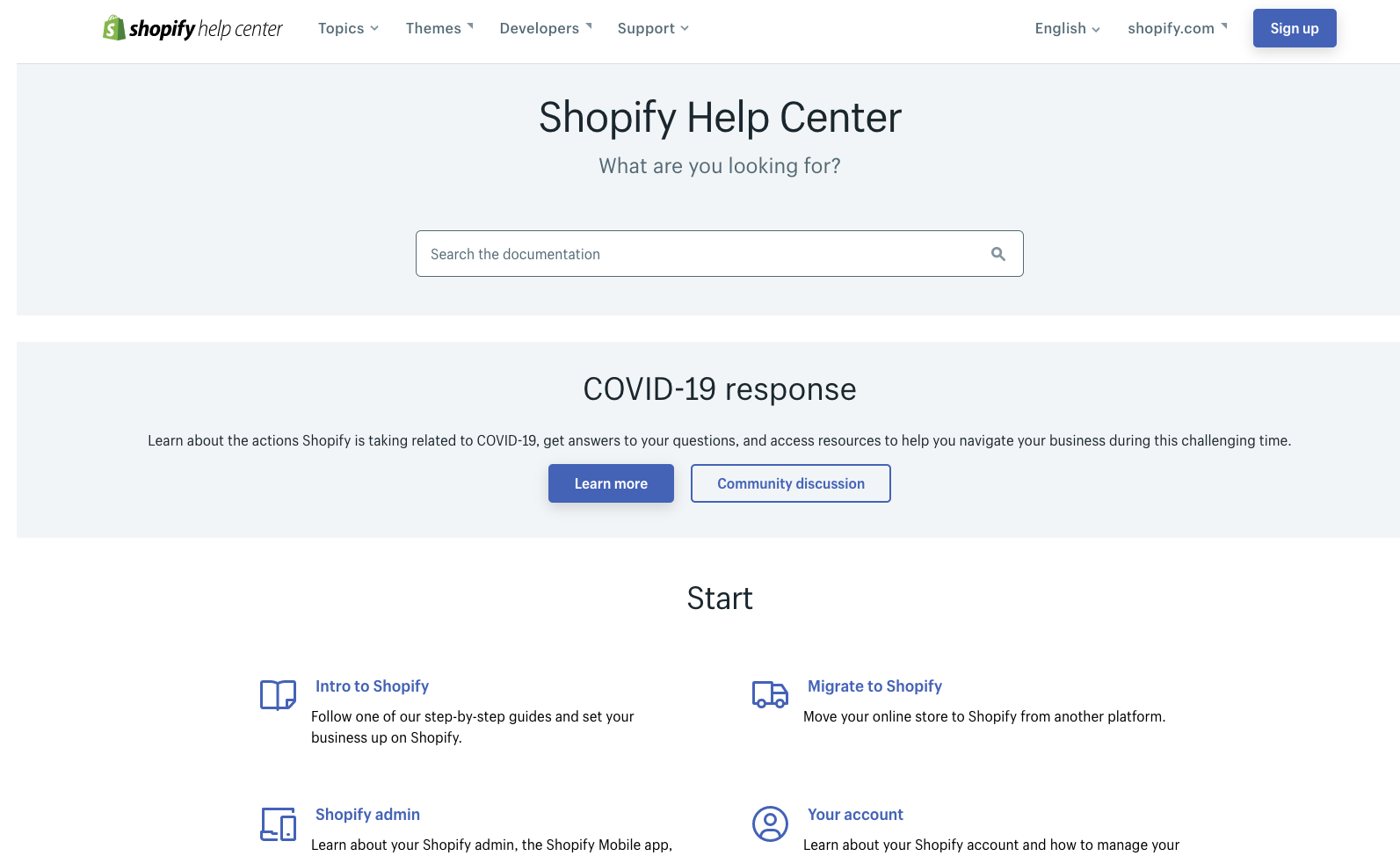 This area then has its own search functionality and categorization, along with more detailed help.
8. Amazon Web Services
The Amazon Web Services FAQs may not be the prettiest, but they are incredibly functional, and you can find your answer with ease.
The landing page acts as a table of contents for FAQs that sit under their respective subfolders in the URL structure — which helps with visibility and relevance. Example, the Batch FAQs sit under /batch/faqs/ rather than faqs/batch/.
This URL structure is great for SEO in terms of relevance and internal linking and goes along the simple and no-nonsense approach for their FAQs.
This system shows the worth of having a centralized hub for your FAQs even if they all live elsewhere; it makes them significantly easier to navigate.
9. Dropbox
For something a little more aesthetically pleasing, you can look at the Dropbox help center.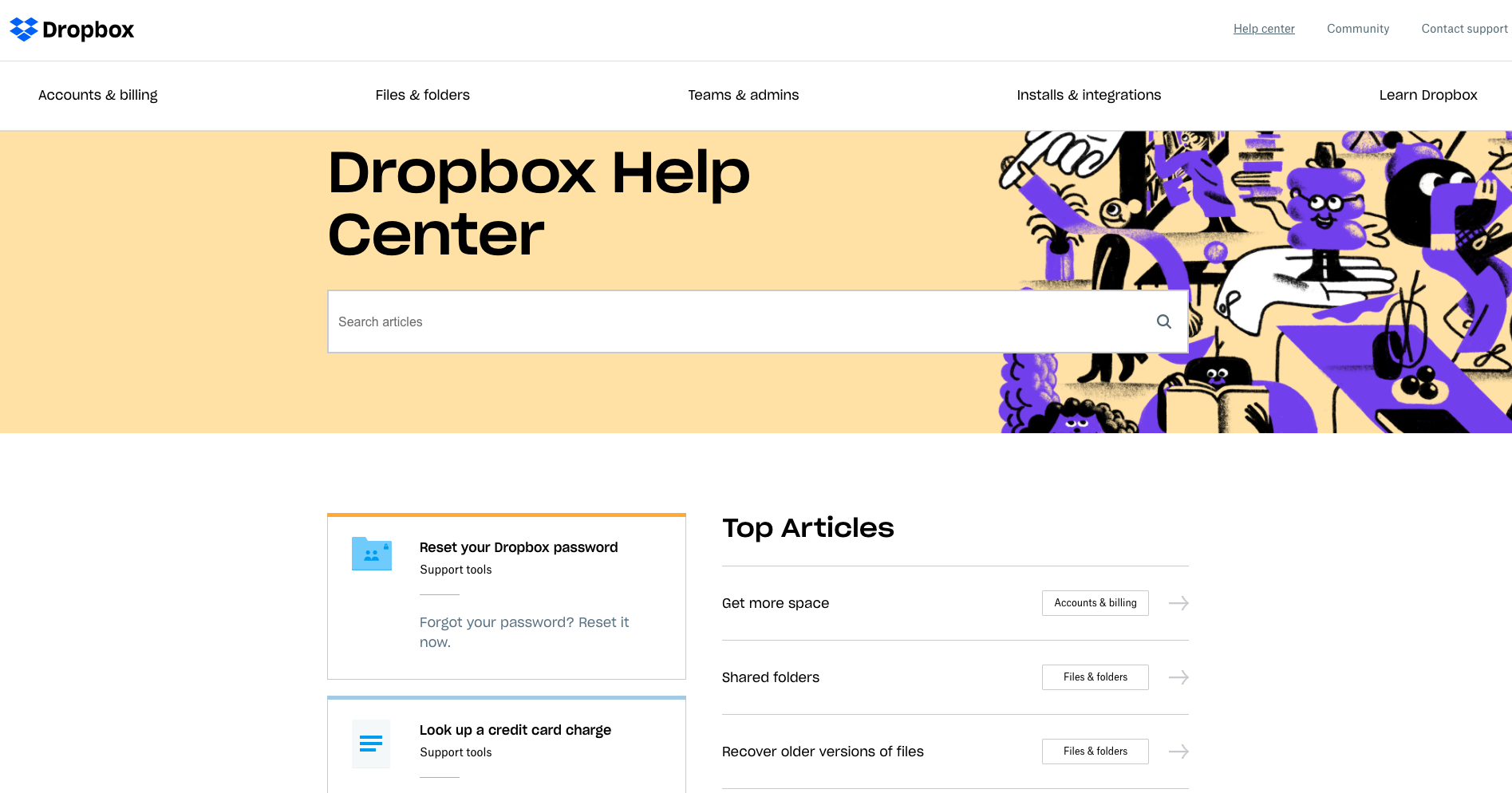 They have tried to make something dry, like cloud storage questions, as fun as possible without sacrificing usability.
The most common questions are at the top, but there are search functionality and clear categorization, to keep it user friendly.
Each answer has its own unique URL, which again, is great from an SEO perspective.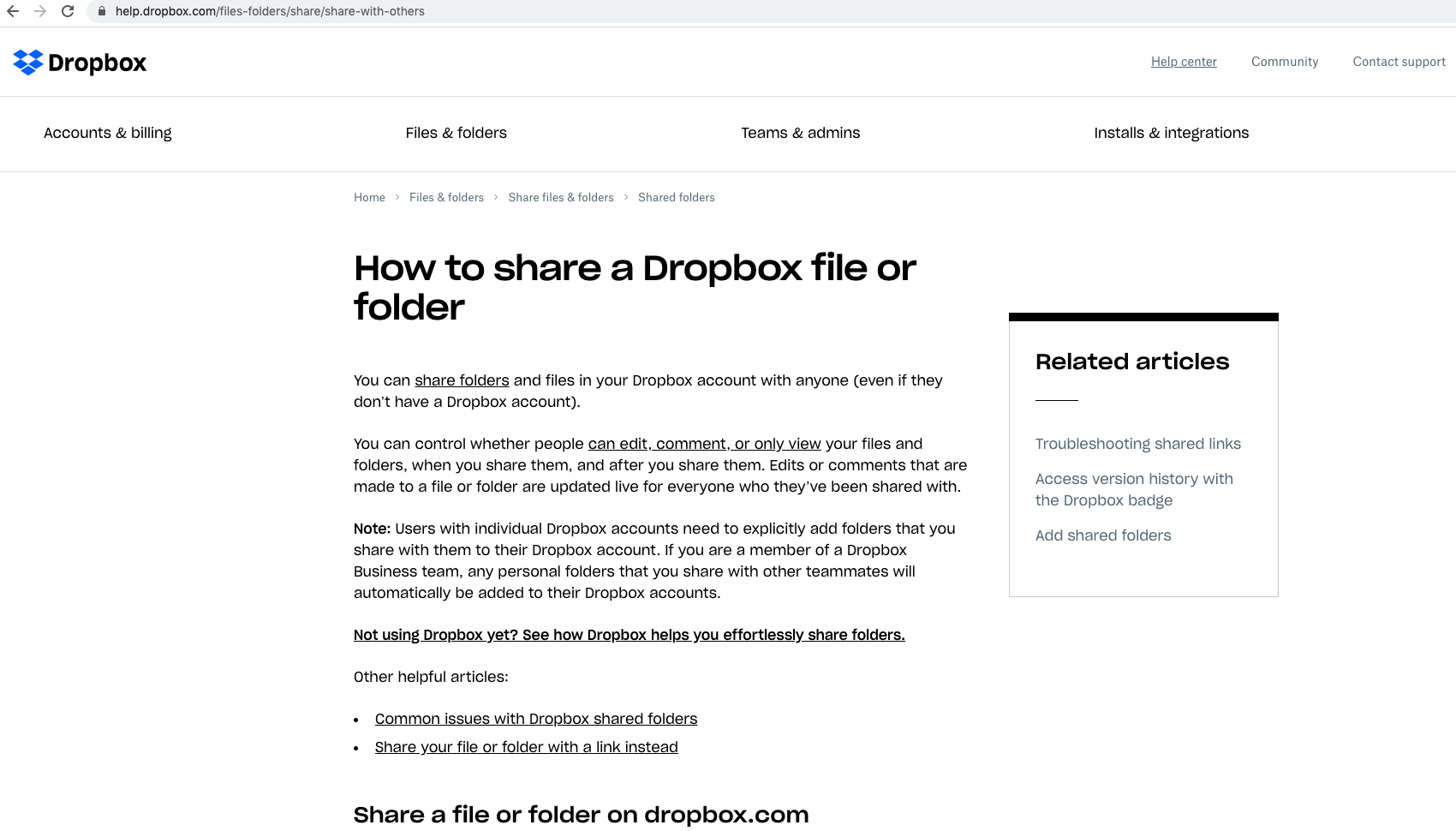 10. Airbnb
With different types of users, the Airbnb FAQ has to cover a lot of bases, from guests to hosts.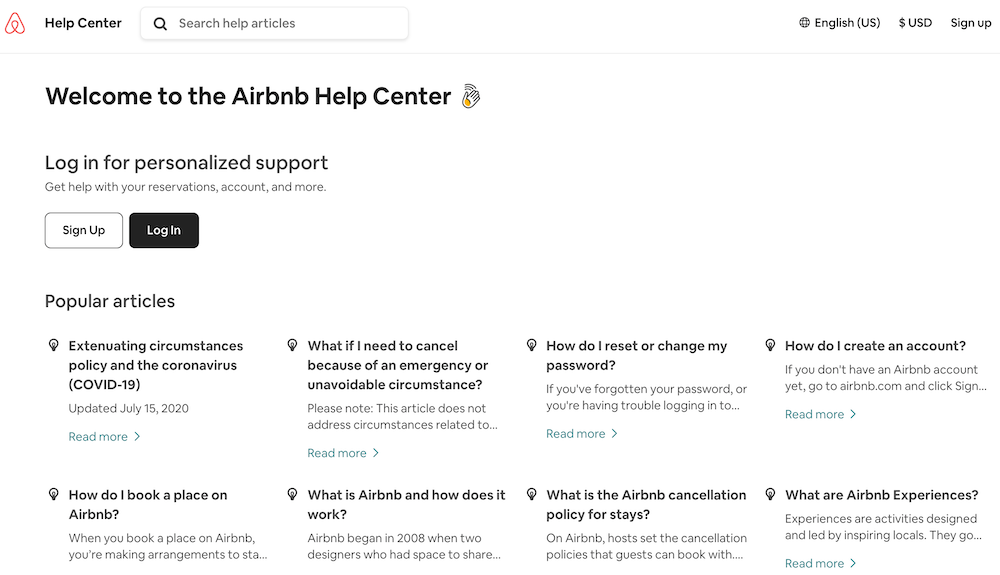 They offer personalization on login, depending on the type of account you have, but even without that, they have created an easy to use system.
The landing page has the most frequently asked questions front and center, along with a search bar and clear categorization.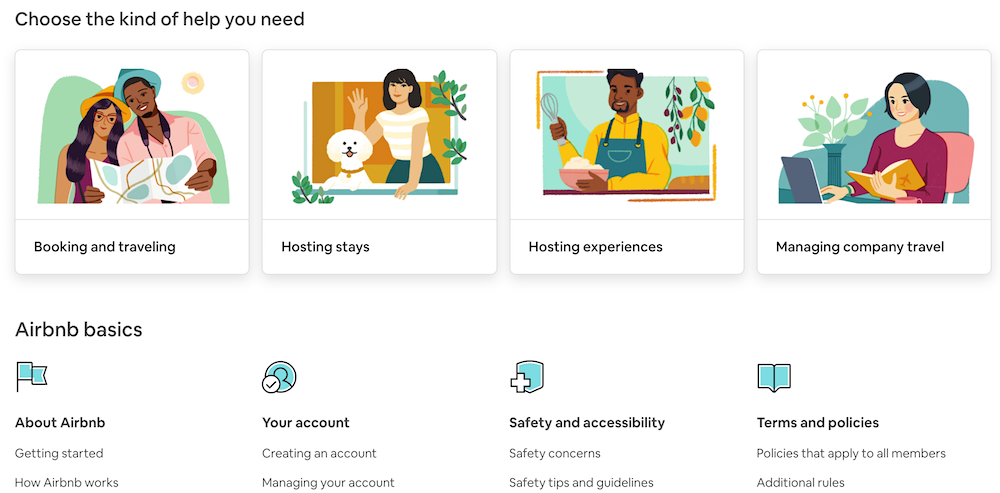 The answers are concise with clear links to further reading and more information, plus they all sit on a unique URL.
11. Wikipedia
Last but not least is Wikipedia's help section.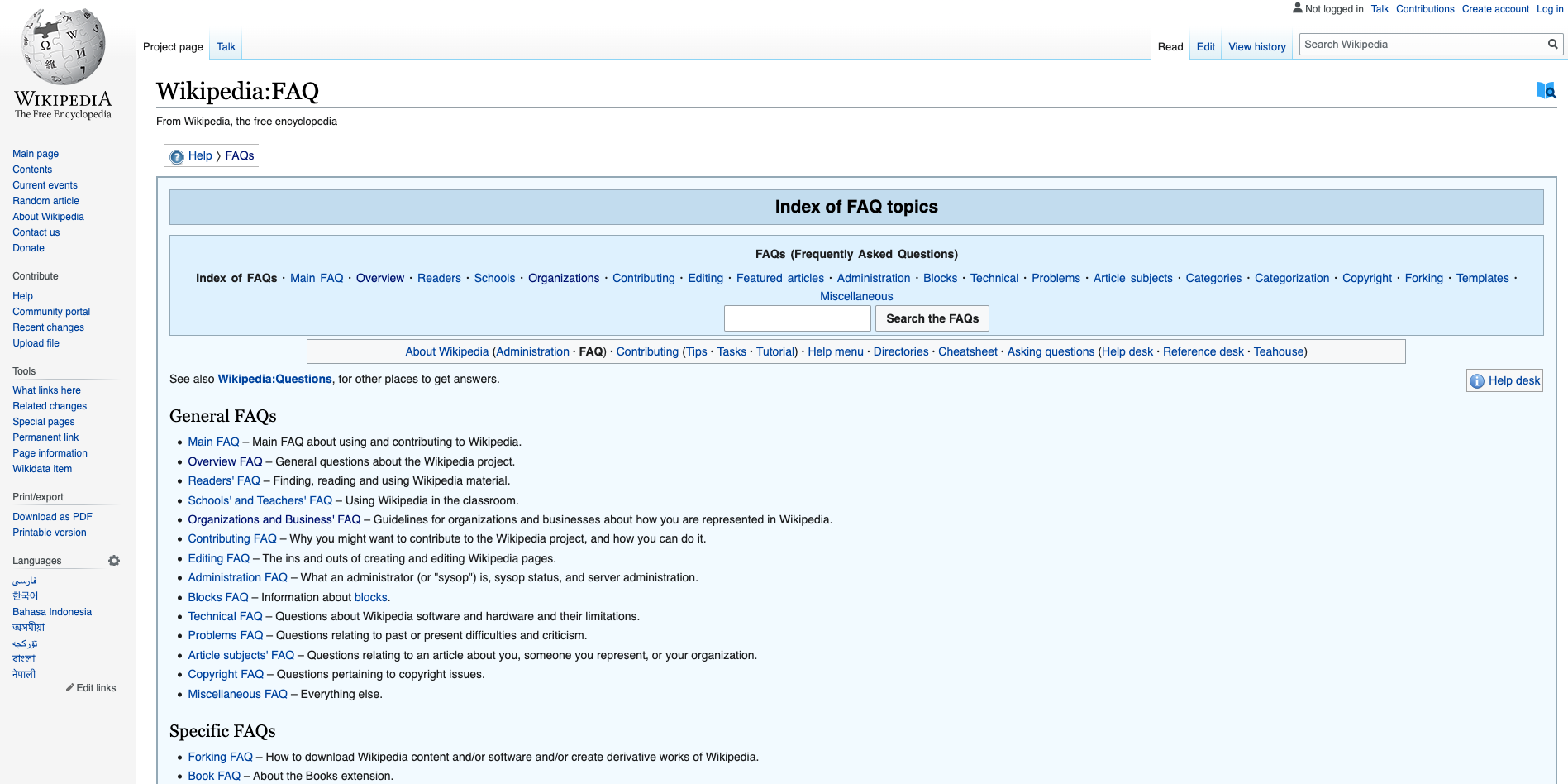 It may feel a little old-school, but that is what Wikipedia's stripped-back approach has always been about.
It was designed to offer information in the most basic but organized, way possible and the help section is the same in this respect.
It is simply done, allowing for a wide array of categories covering all the important issues, with a search bar and browsable categories.
Each category houses all of its questions on one page, navigable from a table of contents at the top, just like one of its articles.
FAQ Page Recap
A well-optimized FAQ page can form the foundation of a content strategy.
When you have performed a content audit on a site, it may provide the best opportunity to fill any keyword gaps that you come across.
Getting your help pages and FAQs right can give you excellent internal linking opportunities and may give you ideas for additional content.
You can also use our On-Page SEO Checker to provide you with all of the information you need to get started with your content strategy on FAQ pages.