Google Analytics remains a popular web analytics tool in the world of online marketing — and for good reason. The tool allows you to track and analyze nearly 500 unique kinds of data for free.
Keeping track of all of this data can be a little tricky, so Google Analytics developed a default dashboard. However, if you want to focus or see specific metrics at a glance, you can create a custom dashboard. We'll share 13 dashboard templates to try. 
What Is a Google Analytics Dashboard?
Google Analytics dashboards are collections of data displayed visually via widgets. Dashboards help you review different metrics at once, so you can track your data at a glance. 
Google Analytics allows you to create customized dashboards, so you can access important metrics faster. You can add up to 12 widgets on a dashboard, and create up to 50 shared dashboards on a Google Analytics account. 
Widgets visualize data for one metric. You can include different types of widgets on your dashboard, including a real-time visitor counter, graphs, and geomaps. 
How to Create a Google Analytics Dashboard
When creating a customized dashboard, you can either use a Google Analytics template, or you can build your dashboard from scratch. Let's review the templates before tackling the custom options.
To access Google Analytics' dashboard feature: 
Open Google Analytics. Select Customization, then Dashboards in the navigation menu on the left of the page.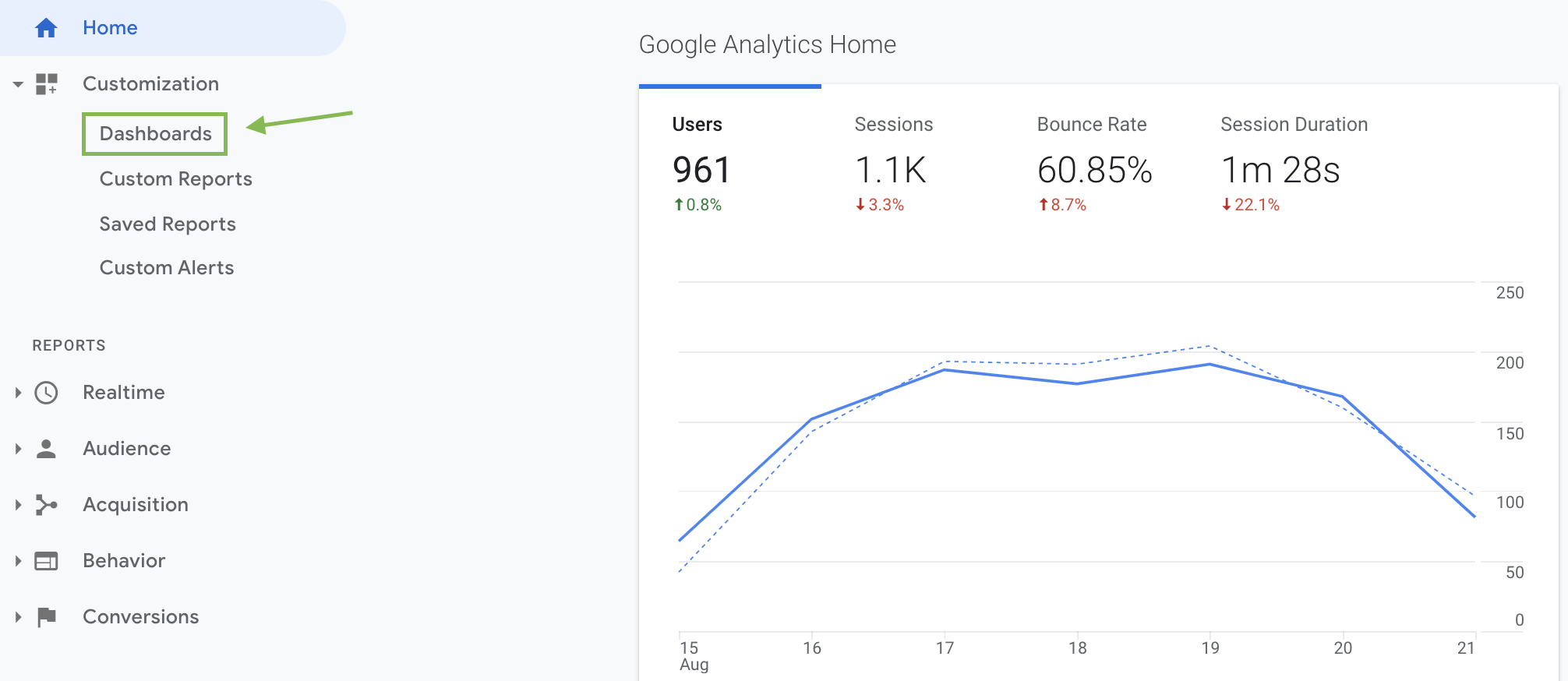 In the Dashboards view, you'll be able to see any of your existing dashboards. If you don't have any dashboards, the list will appear empty. Select Create to create your first dashboard. The tool returns a settings panel: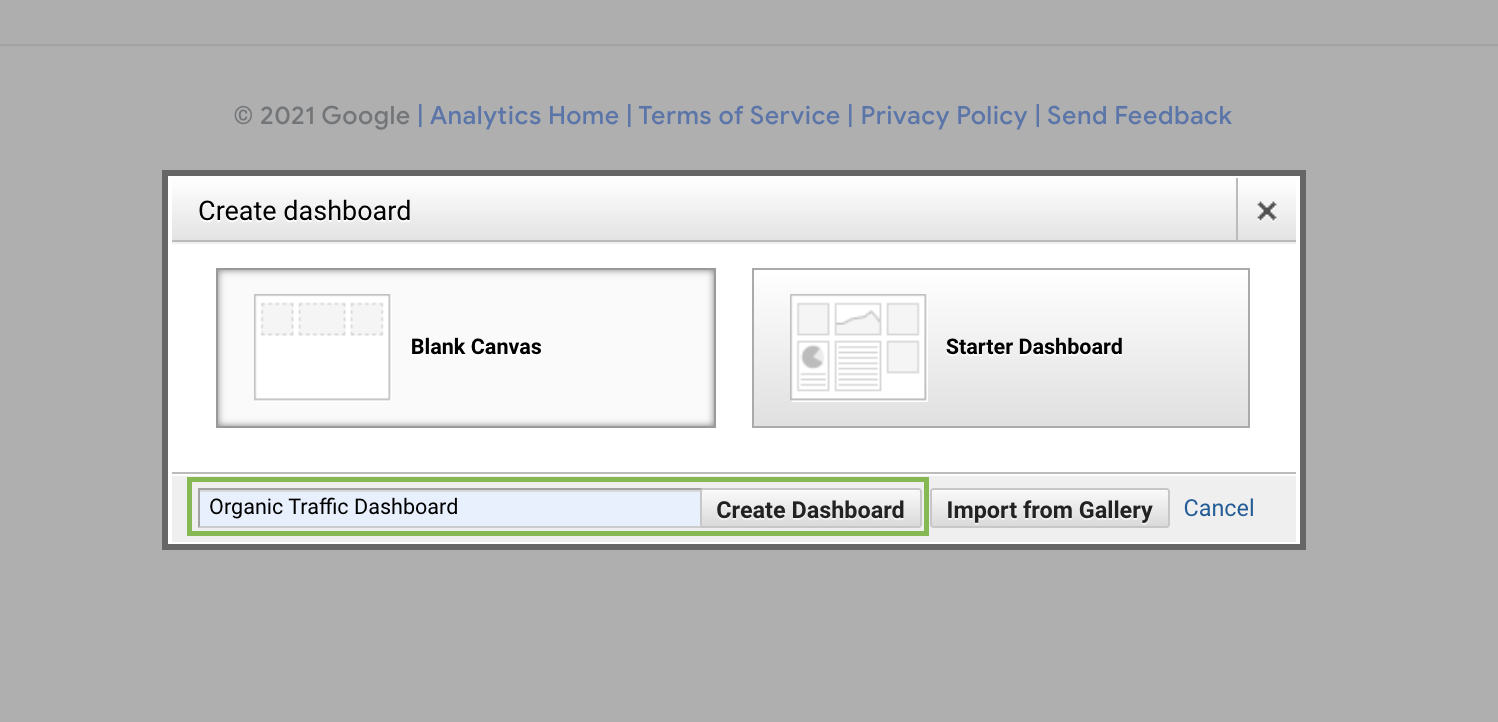 Select Blank Canvas to build your dashboard from scratch. Name your dashboard with the input field at the bottom of the panel — be sure to use something descriptive. 
Add widgets to your dashboard. Google Analytics allows you to select what metric to display, and how to visualize it (timeline, map, table, etc):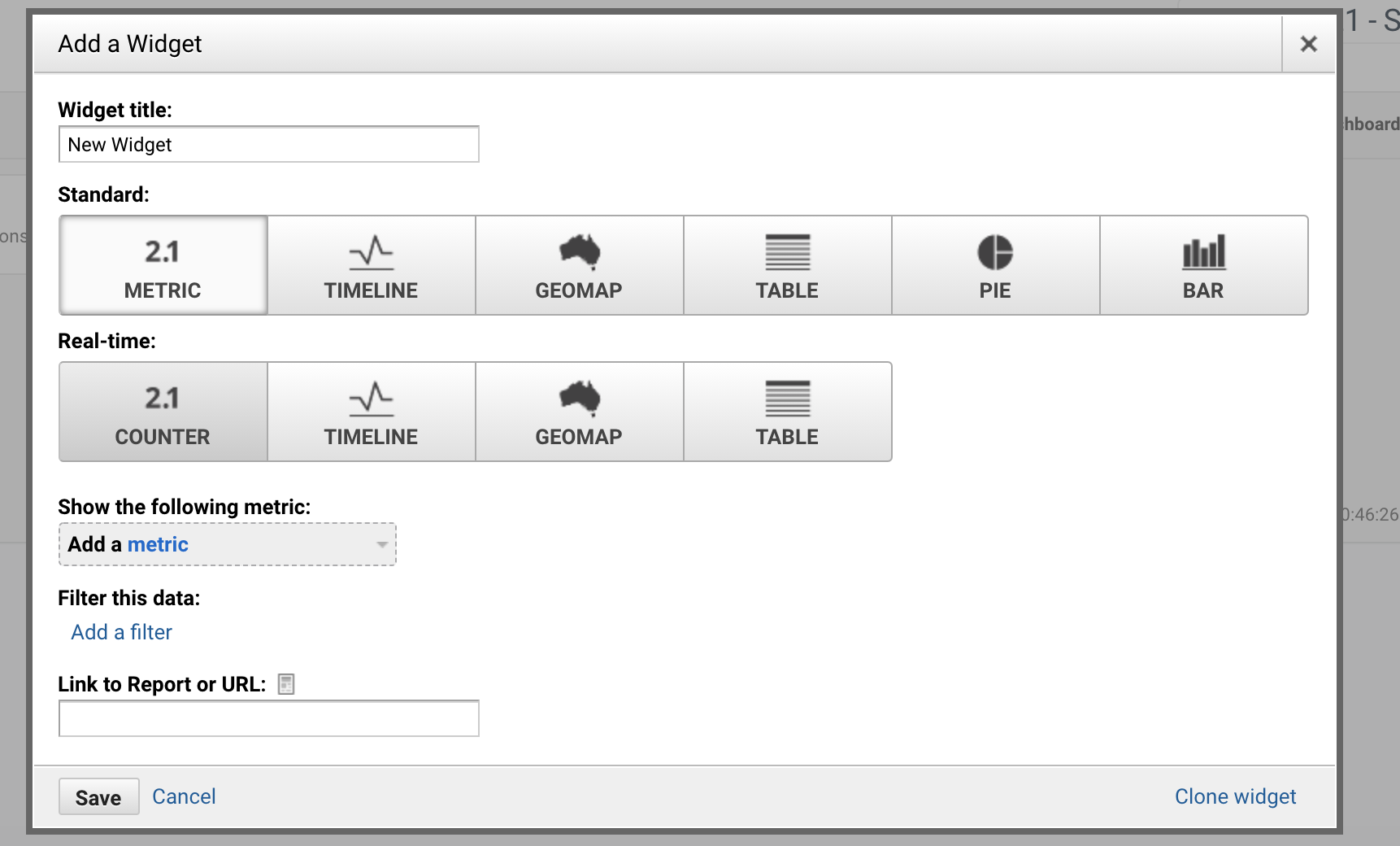 Save your widgets. Your dashboard will update automatically with the new widgets.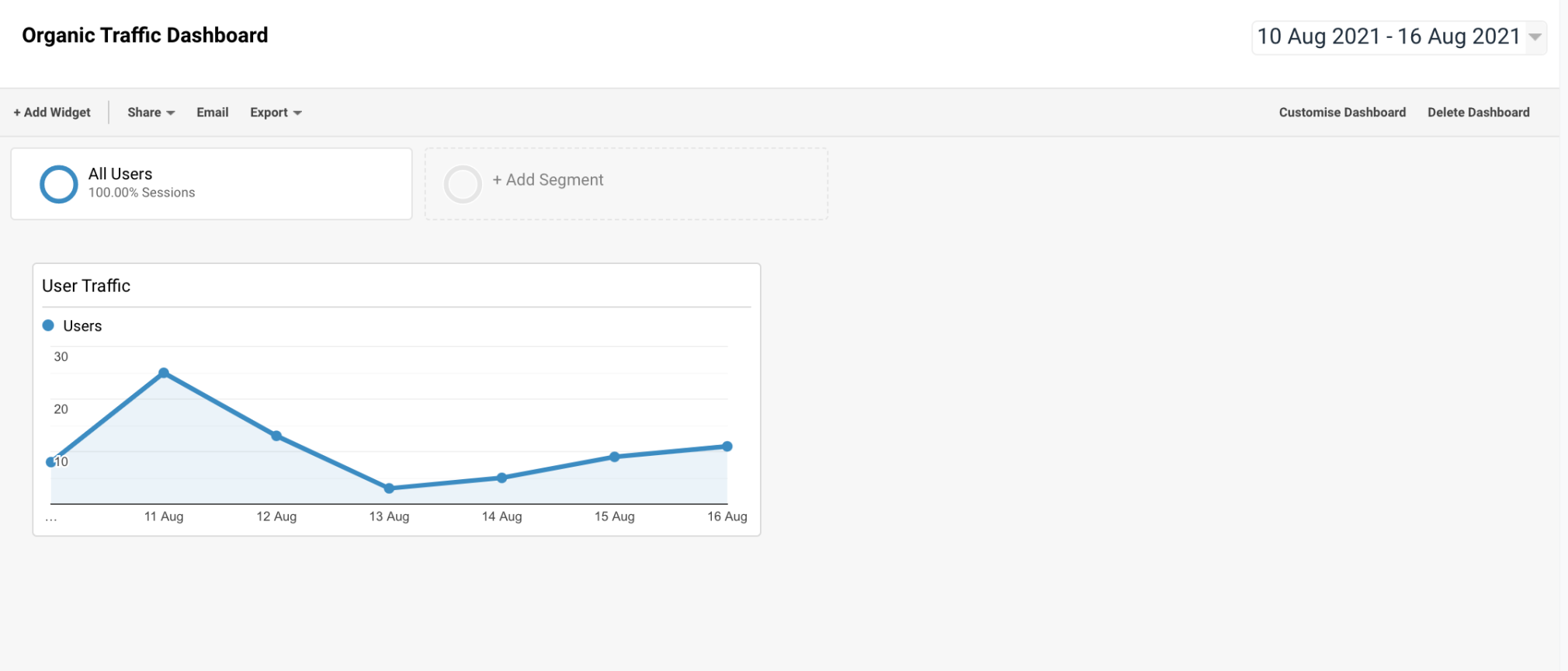 How to Share Google Analytics Dashboards
You can share your dashboards with team members, clients, and other important stakeholders. Sharing dashboards improves collaboration and transparency between stakeholders.
To share your custom dashboard, select the Share dropdown menu in the dashboard's toolbar: 

Google gives you the option to share a link to the dashboard's configuration, or to upload your custom template to their Solutions Gallery.
Importing a Custom Template from the Google Analytics Solutions Gallery
Many users create and upload templates to the Google Analytics Solutions Gallery. These customized dashboard templates can be imported into your account for private use. 
Solutions Gallery templates are created by other Google Analytics users and reviewed by those who use them. These dashboards are usually created by users with specific needs. 
To import a Solutions Gallery template:
Open the Dashboards page.
Select Create.
In the dashboard configuration panel, select Import from Gallery.

Browse the Solutions Gallery. Select Import on the dashboard you'd like to import.
Google Analytics will prompt you to configure the dashboard. Select or deselect any segments or reports you want or don't want. Click Create.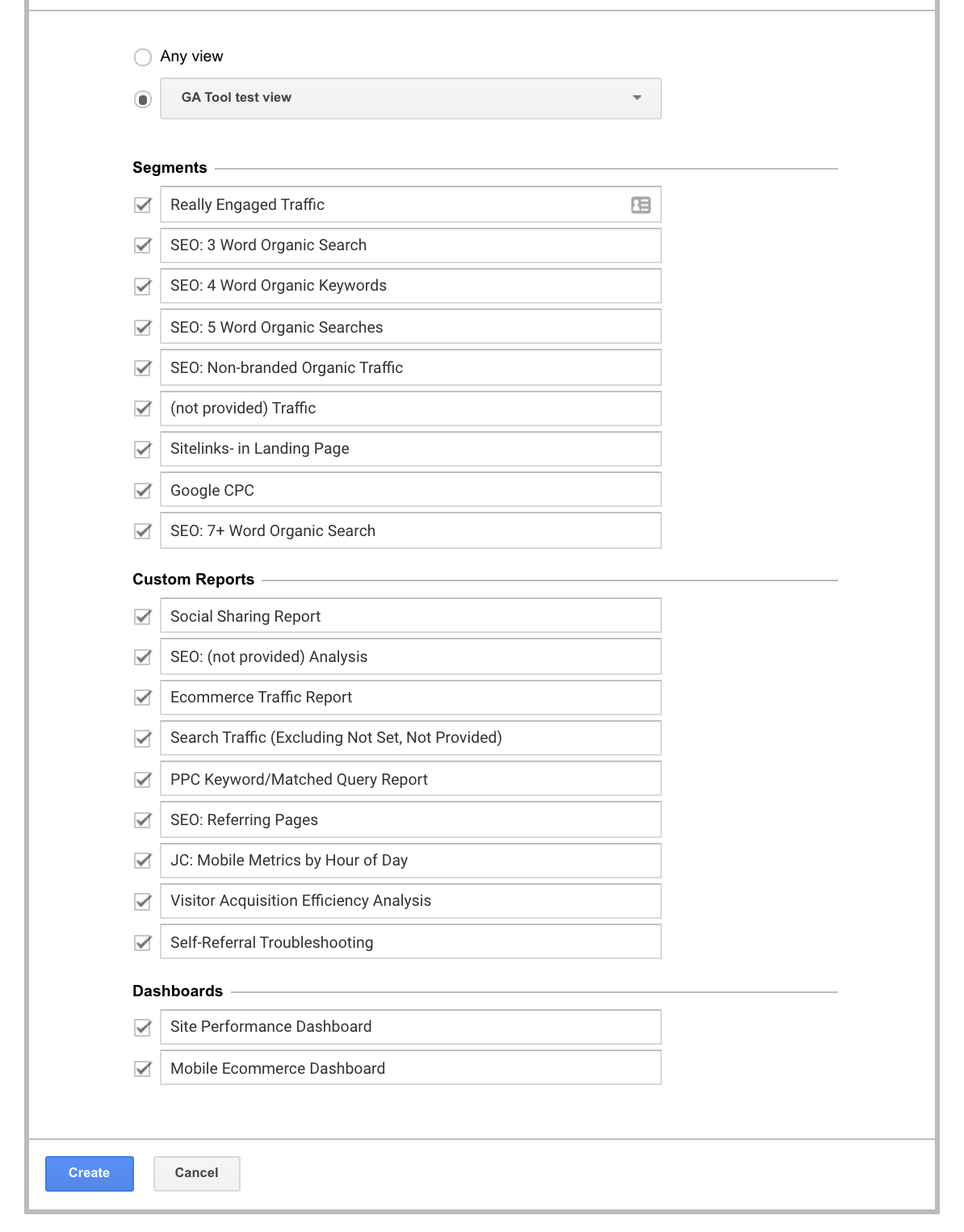 15 Google Analytics Dashboard Templates to Try
Different Google Analytics dashboards prioritize different metrics. It's best to define what metrics are most important to your business or marketing goals before selecting or building a dashboard template. 
If you're not sure of which metrics to work with, you can always work with a general dashboard.
1. The General Overview (Acquisition, Behaviour, Outcomes)
This general dashboard provides a quick snapshot of your online presence. It displays your user acquisition, their behaviors and any conversions. View the dashboard template here.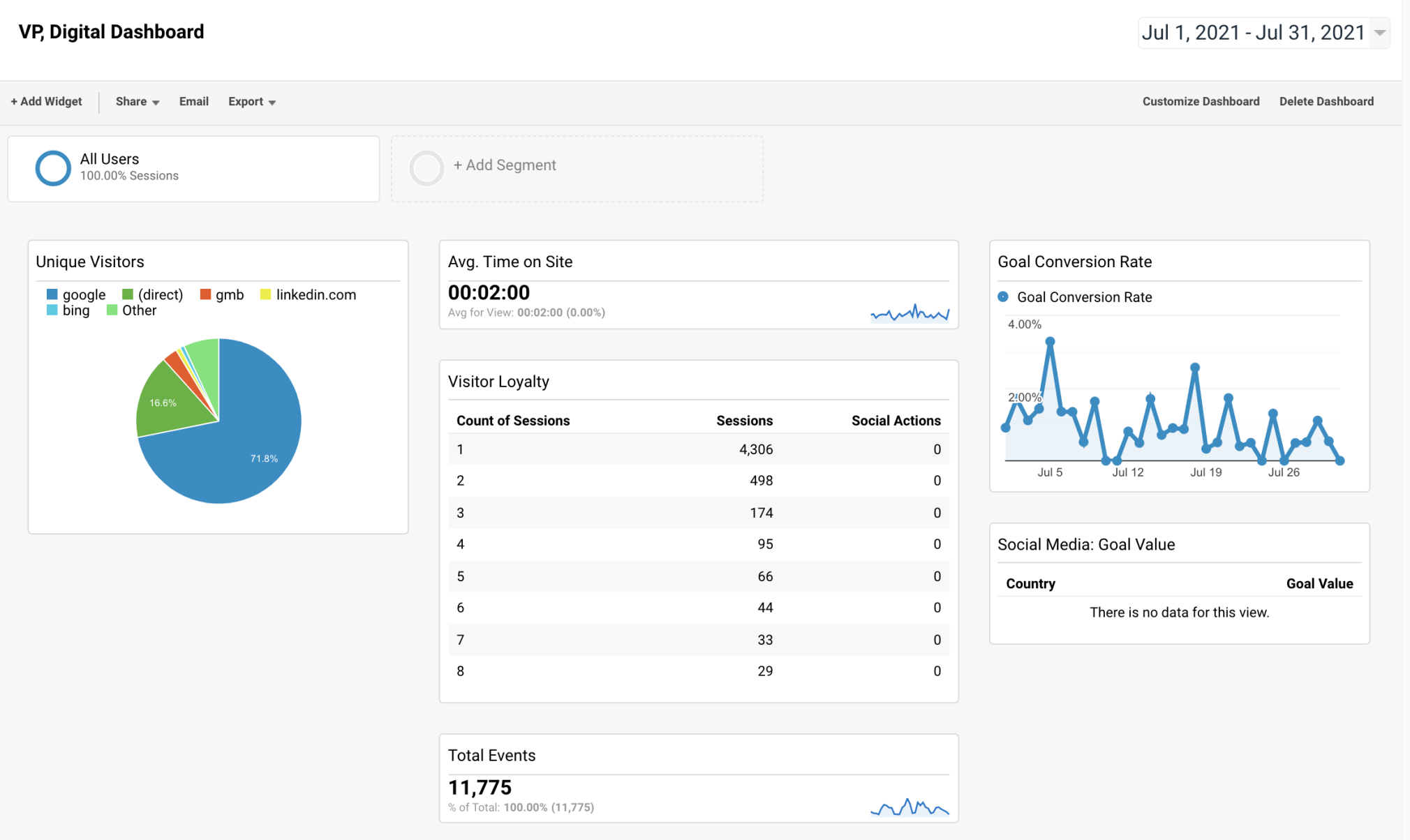 The Best Google Analytics Acquisition Dashboards
Tracking new business acquisitions is important for your marketing spend. Once you understand where the bulk of your business comes from, you can focus your marketing efforts on that channel.
2. Traffic Insights Dashboard
This dashboard helps you track the metrics most important to your web traffic, including your overall visits, active visitors and traffic sources. Try the Traffic Insights dashboard here.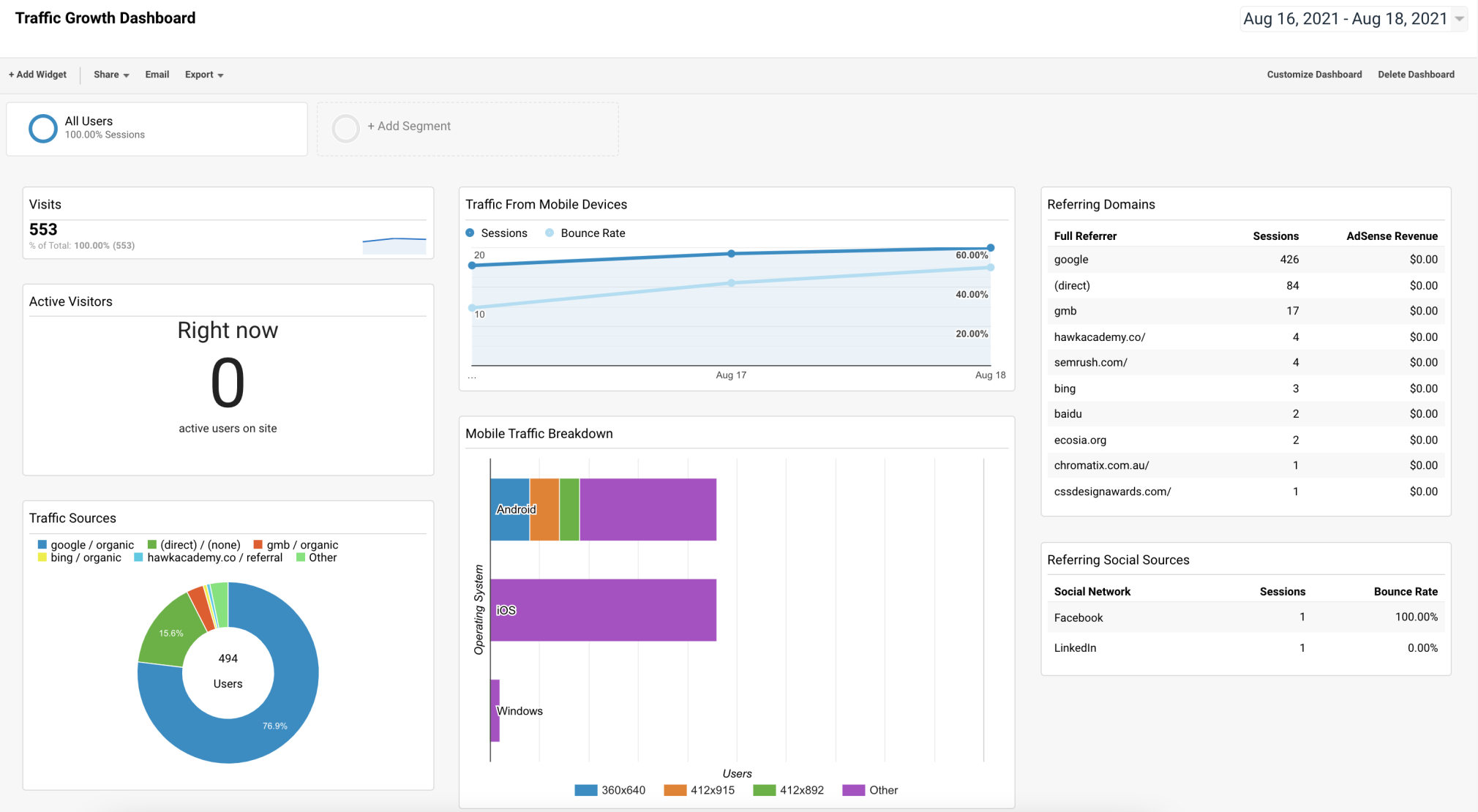 3. Demographics & Audience Information Dashboard
If you want to learn more about your target audience, grab this dashboard. You'll review your audience data at a glance while keeping an eye on your visits and page views. Review the Demographics and Audience dashboard here.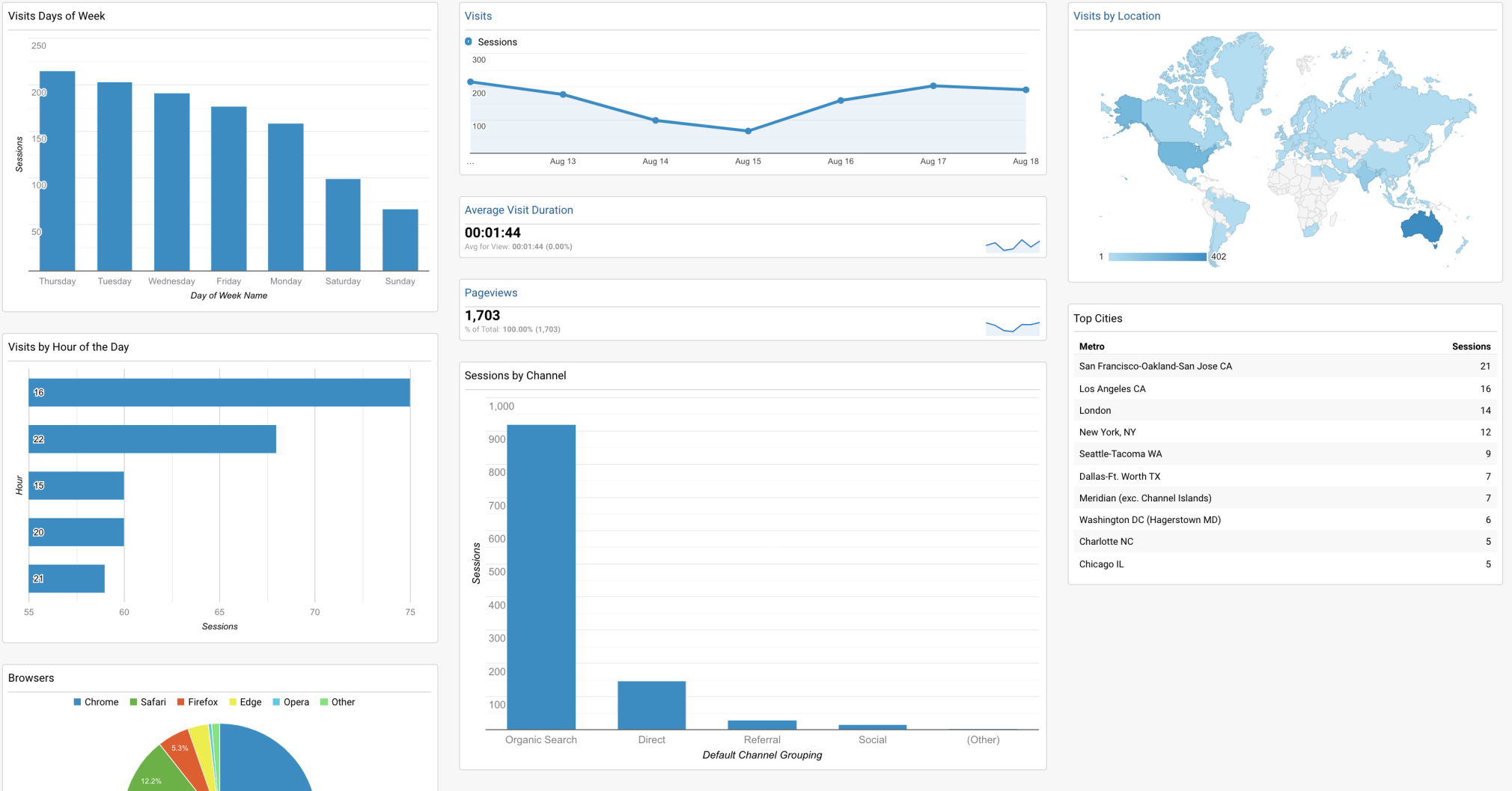 4. SEO & Organic Insights Dashboard 
SEO professionals can use this dashboard to monitor organic traffic, including traffic sources and popular landing pages. The SEO and Organic Insights dashboard can also display useful organic keyword data, including popular short- and long-tail keywords.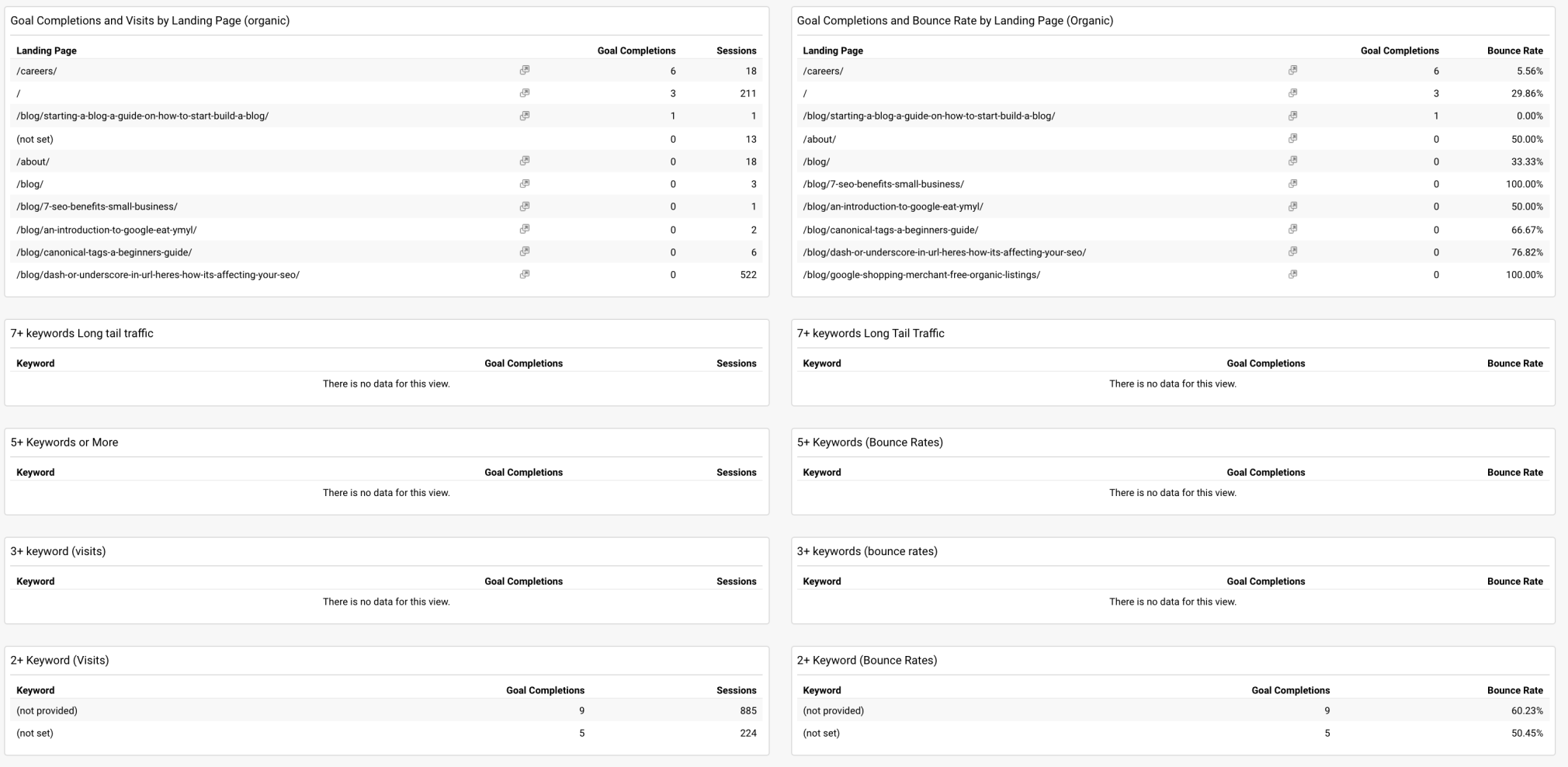 5. Social Media Dashboard
Track your social media metrics from one dashboard. You'll be able to see how many visitors found your site from social media, as well as any important social actions. You'll need to connect your social media sites with Google Analytics to take advantage of this template. Try the Social Media dashboard here.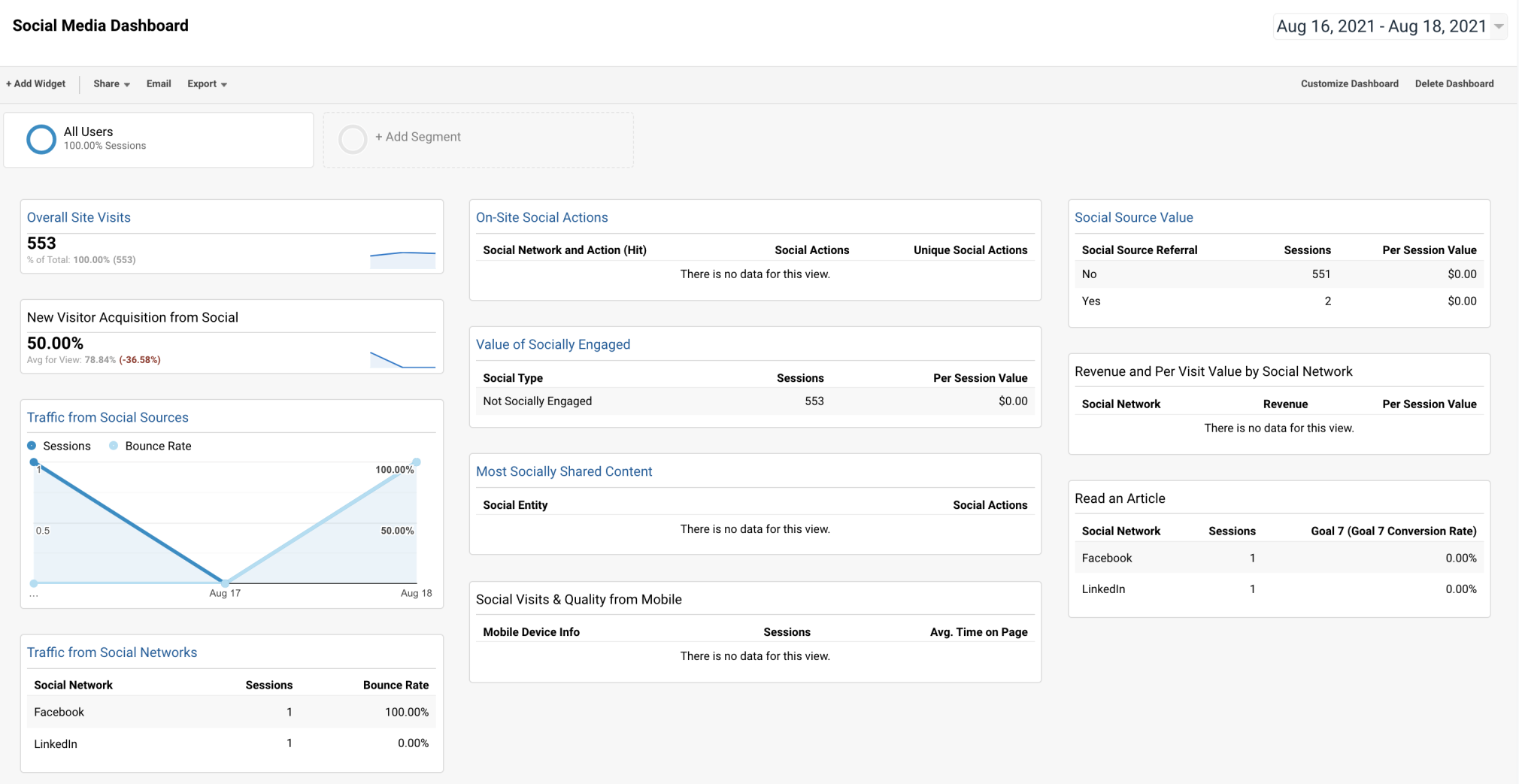 6. Google Ads Dashboard
PPC marketing can help you bring even more visitors to your website. However, you'll need a dashboard to help you monitor your ROI. Use Google Ads dashboard to track your PPC campaign's impressions, clicks, CTR, and conversions.

The Best Google Analytics Behavior Dashboards
User behavior metrics can tell you how users behave when they land on your site. What pages are they visiting most, or how long do they browse on your site before leaving? Use these dashboards to answer these questions with ease. 
7. Visitor Behavior & Insights Dashboard
The Visitor Behavior & Insights dashboard displays your site's bounce rate, user engagement, popular traffic sources and much more. It can also indicate your most popular pages, so you can drive more resources to your most high-performing web pages.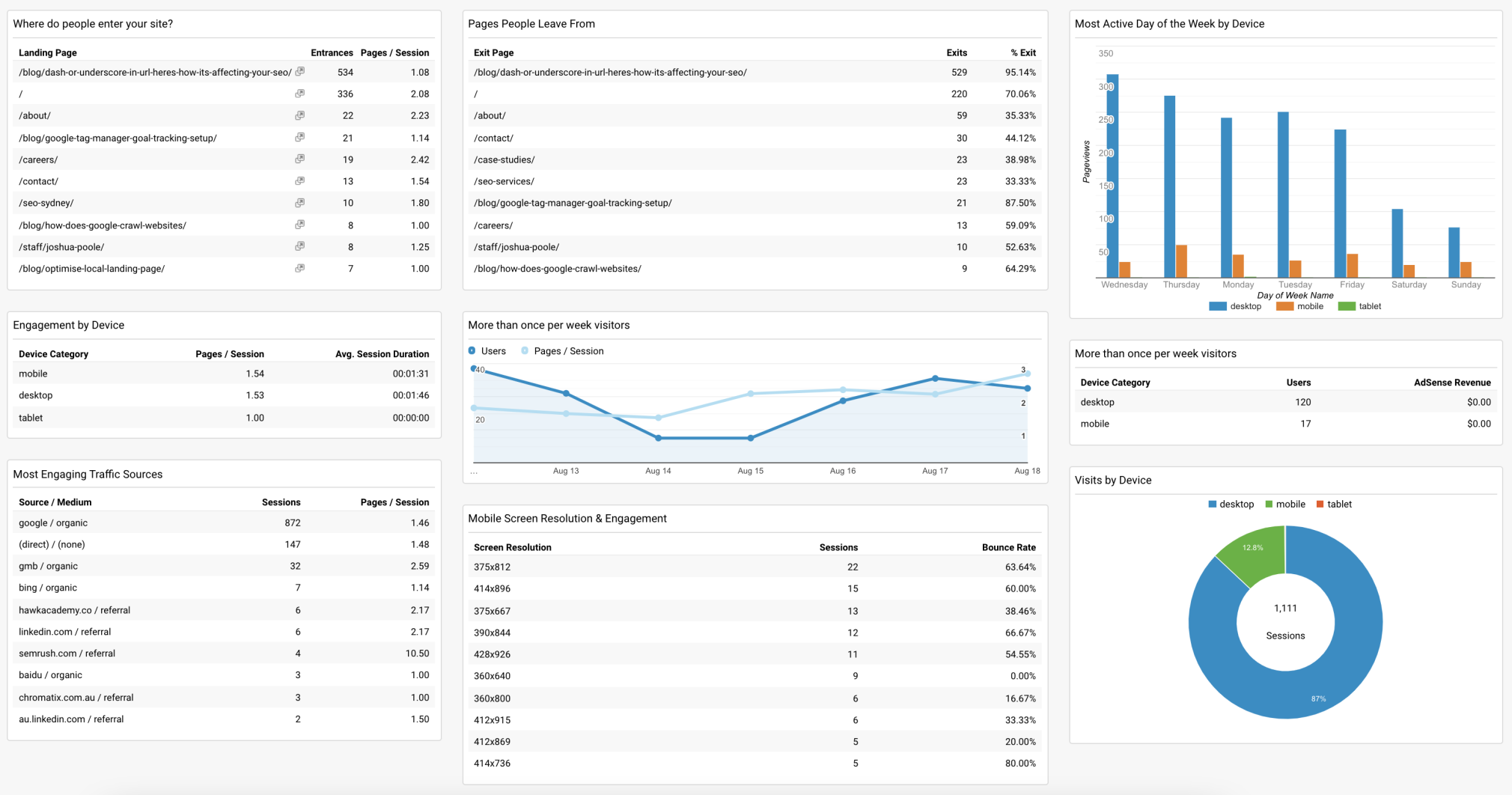 8. Page Insights & Content Marketing Dashboard
The Page Insights dashboard helps you understand how your content performs. Track the pages driving the most traffic, and which ones contribute most to your bounce rate. If you're new to content marketing or mounting a new content campaign, this dashboard can help you track your most important content-related metrics.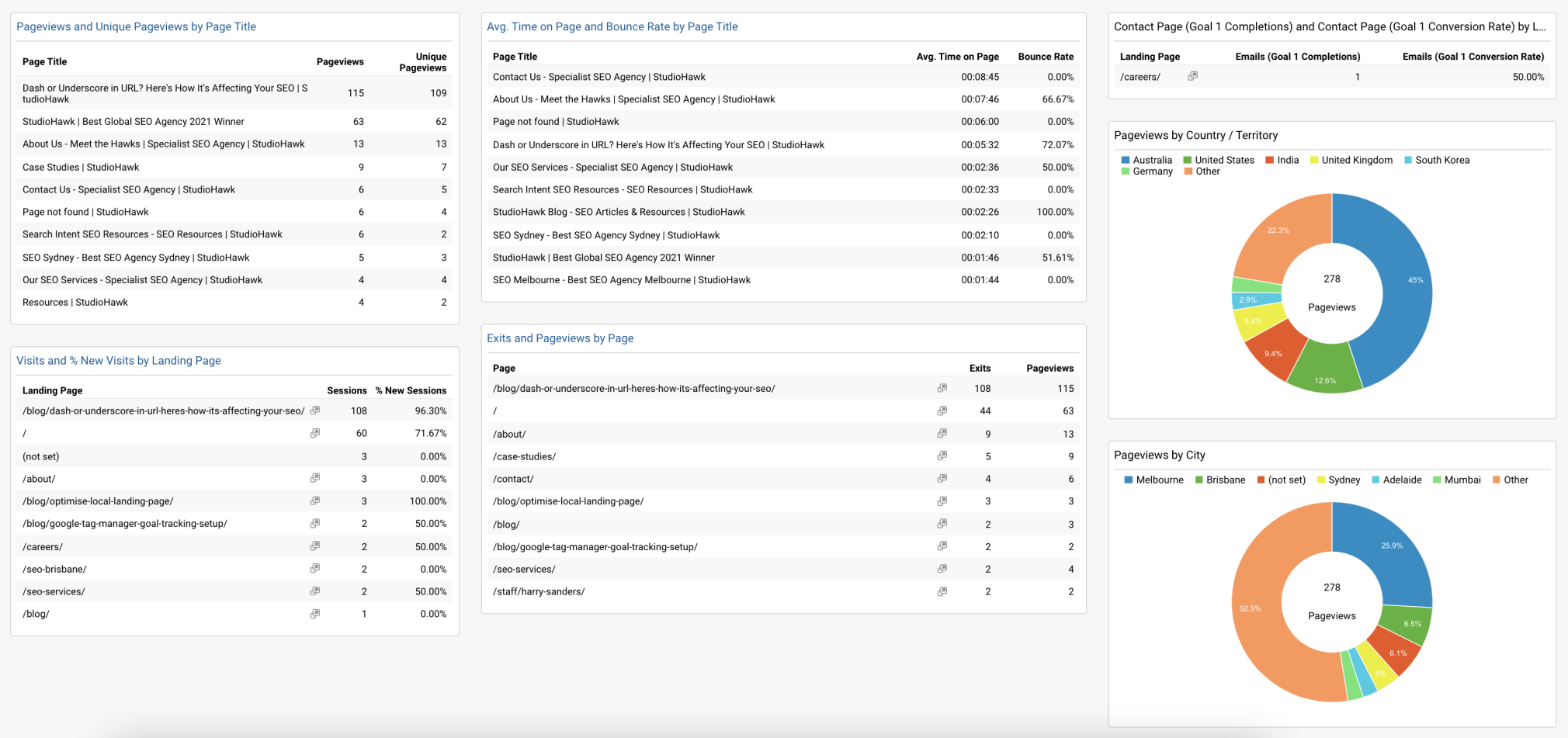 9. Video Marketing Insights Dashboard
Use the Video Marketing Insights dashboard to track your YouTube content and SEO campaigns. The dashboard shows views, shares, and even if someone bounces before finishing your content. 

The Best Google Analytics Conversion Dashboards
Tracking your conversions and sales keeps you on top of your business' budget and cash flow. These databases work well for eCommerce websites and can improve site optimization.
10. Goal Completions & Conversion Tracking Dashboard
Use this dashboard to track which visits resulted in Goal Completions. "Goals" in Google Analytics can be anything from actual sales to sign-ups. You can set goals in Google Analytics, then use your widgets to track how often users complete your goal. View the dashboard here.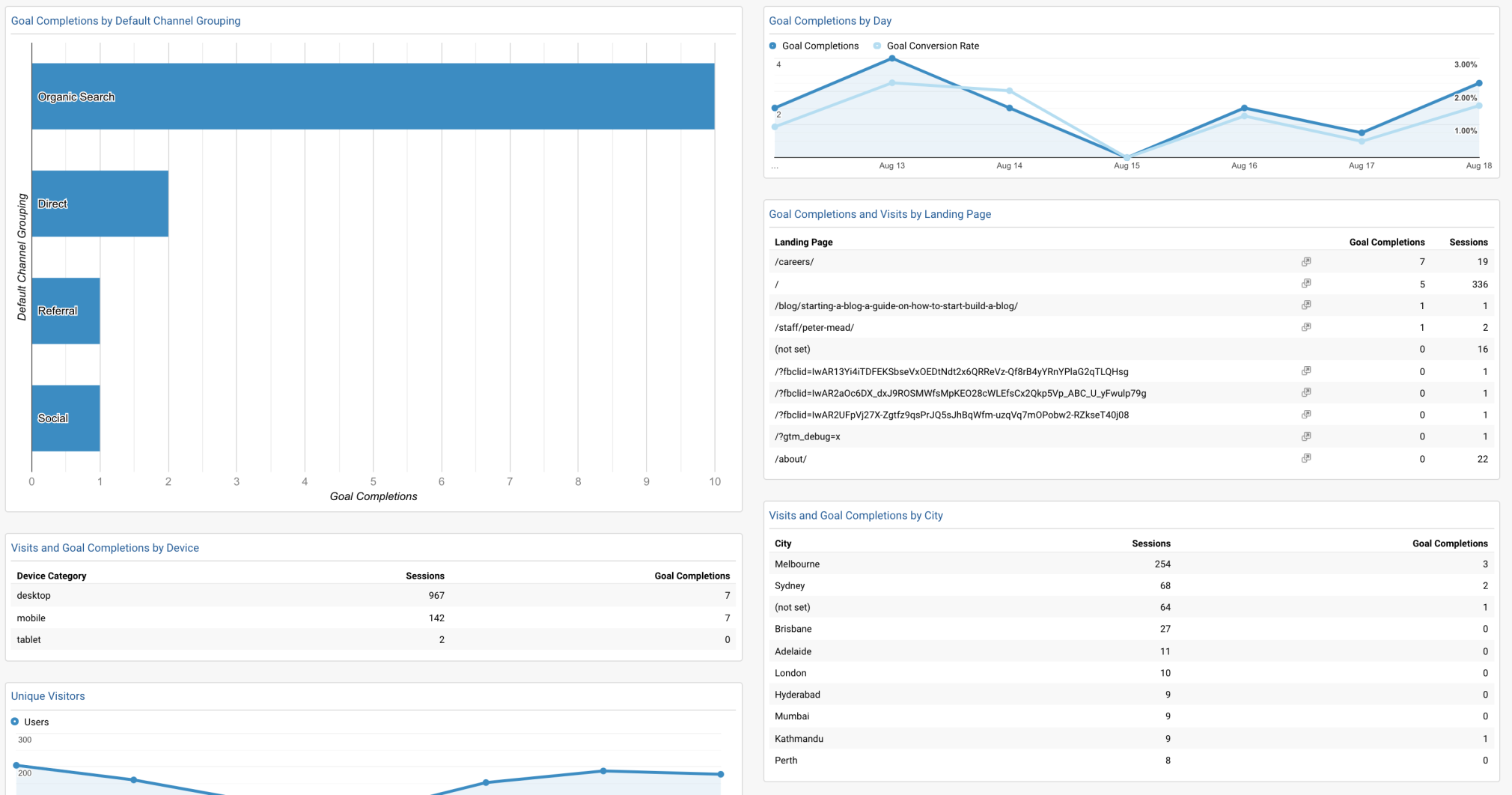 11. Ecommerce Dashboard
This powerful dashboard analyzes customer behavior on your ecommerce site, including purchasing habits, revenue by product, and abandoned carts. Use this dashboard to track and adjust your marketing spend over time. 

The Best Google Analytics Performance Dashboards
These dashboards monitor the technical aspects of your site, like its speed, performance, and overall user experience. Your site's technical health can improve your users' browsing experience, which can positively impact your SEO. 
12. Site Performance Dashboard
The Site Performance dashboard offers a general overview of your site's performance. Track your page load times and performance per device. Stay up-to-date on your website's average page load time and server response. 
13. Mobile Performance Dashboard
We all know how important the mobile browsing experience is, with more than half of all browsers using a mobile device. This Mobile Performance dashboard gives you insight into people browsing with their phones, which brand of phone and browser, the location where they're browsing from and more.
It can also tell you what actions mobile browsers are performing, particularly converting. If your mobile users aren't converting, could it be that your website isn't optimised for mobile use?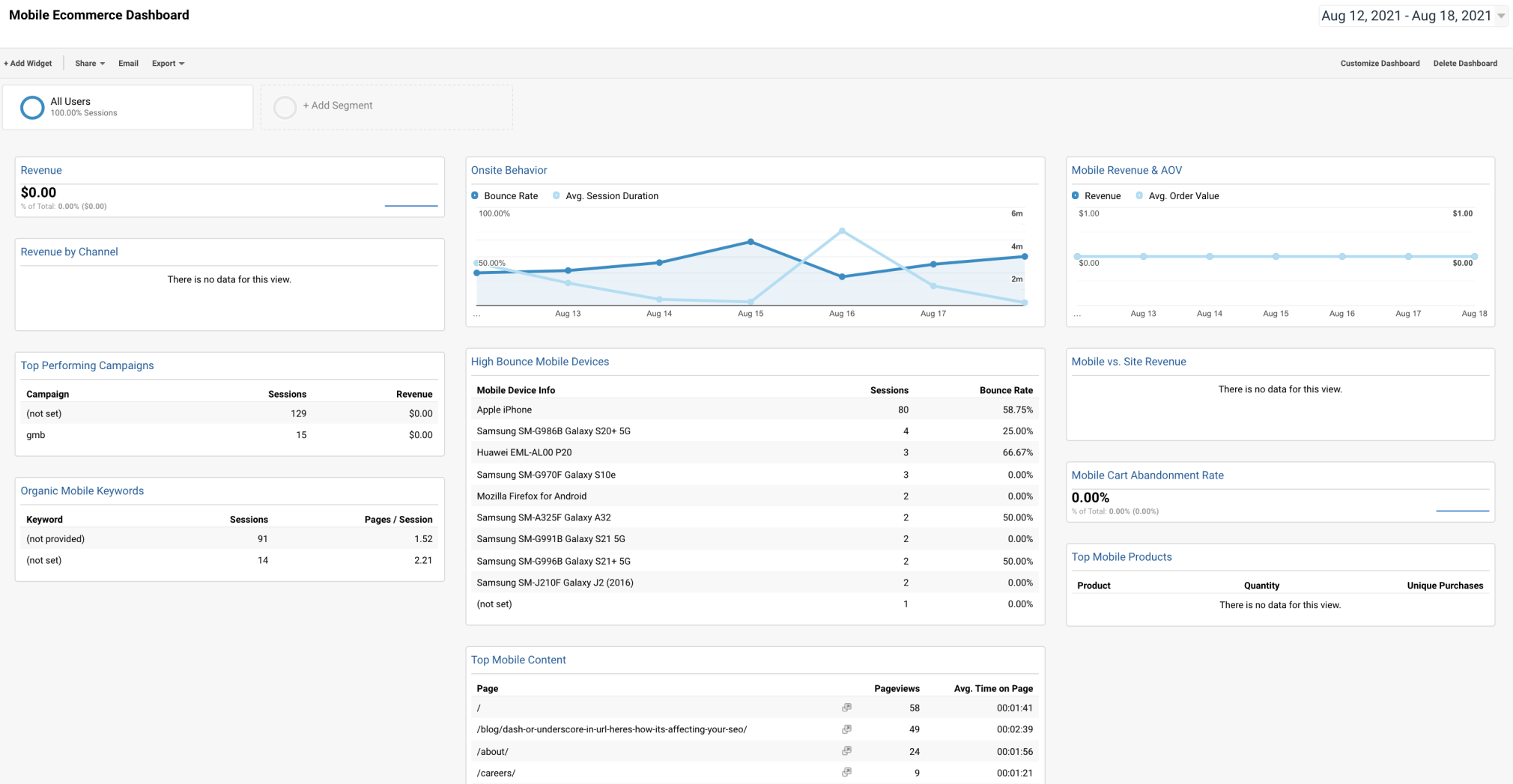 Enhance your Semrush Dashboards with GA Data
Google Analytics' powerful data tracking features are great for monitoring your metrics, but you'll need other tools to stay on top of your marketing goals. Many business owners choose to integrate Google Analytics with a third-party tool to properly create and track their campaigns and website traffic.
You can integrate Google Analytics with Semrush to access your standard Analytics data, including your page load speed, page views, and more. Once integrated, you can immediately act on your GA data with our suite of analytics, SEO, advertising, content, and competitor research tools — all from one platform. 
Instead of switching between countless tools, you can review your analytics data and campaigns from a single project dashboard. 
Plenty of Semrush tools can be integrated with Google Analytics, including: 
Position Tracking 
Connect Google Analytics to the Position Tracking tool to import Google Analytics keywords directly into your position tracking campaign. Importing keywords directly from Google Analytics ensures that Semrush gathers data on extra keywords your website is ranking for on Google.
On-Page SEO Checker
Connect this tool to your Google Analytics and Google Search Console accounts for recommendations on how to improve your web page's site performance & page load speed. 
You can also grab behavior metrics for landing pages, so you can see if your SEO and marketing campaigns are working. Learn how to integrate the On-Page SEO Checker with Google Analytics with our knowledge base.
Backlink Audit 
Connect the Backlink Audit tool to your Google Analytics to see real-time traffic earned from your backlinks. You'll be able to measure the quality of the backlinks you earn and whether they're good for your website's SEO. Learn how to integrate the two tools here.
Organic Traffic Insights
Use fewer widgets and track all of your organic traffic insights from one tool. Try our tutorial here. 
Site Audit
Site audits help you find and fix site issues that can impact your SEO. You can connect the Site Audit tool to your Google Analytics account to see the pageviews metric for your top-performing pages. You can also see pages that take longer than a second to become interactive and orphaned pages. Read the integration tutorial on our knowledge base.
Content Analyzer 
Once integrated with Google Analytics, the Content Audit (as part of the Content Analyzer tool) displays data on sessions, page views, and bounce rates for your pages. This is extremely helpful in creating content to target those keywords and increase traffic to your website. Learn how on our knowledge base. 
Brand Monitoring 
Integrate Google Analytics with the Brand Monitoring tool to track all referral traffic from branded mentions to your website. Here's how to get started. 
Key Takeaways
The Google Analytics Dashboard organizes the widgets you use to track web analytics metrics.
You can customize your dashboards from scratch or with the help of templates from Google's Solutions Gallery community.
Integrate Google Analytics with Semrush for access to your Google Analytics data in an incredible suite of SEO tools that will help you interpret it and take action.