As a small business, you'll often hear that a blog can be a critical success factor in your online growth.
As a result, you may have gone ahead and registered a domain, paid for hosting, and even settled on a preferred content management system. But now comes the really tricky part: attracting visitors to your site.
Fortunately, even if you're brand new to blogging, or you're an existing business struggling to see results, there are plenty of things you can do to start getting eyes on your content.
How to Drive Traffic to a Blog
There are actually several sources you can target to attract traffic to your blog. These include:
Direct traffic: When a visitor arrives directly on your website (i.e. they typed your URL into their browser).
Referral traffic: When a visitor has clicked a link on another website to arrive on your site. This link can be within that site's content, or as part of a directory, for instance.
Paid traffic: When a visitor arrives on your site by clicking on a paid advertisement (such as a search ad or a display ad).
Email traffic: When a visitor arrives via a link in one of your emails.
Social traffic: When a visitor arrives via a link on your social media feeds.
Organic traffic: When a user searches for a particular term or query in a search engine, and your content appears as a result. The user then clicks on that result, taking them to your site.
For a new blog, though, it's a good idea to target organic traffic. These visitors are actively looking for the information that your content provides, and, as a result, they are more likely to engage with that content (and possibly even become leads).
With this in mind, here are 6 key steps you can follow to start building your organic blog traffic.
Step 1: Get to Know and Understand your Audience
An important starting point for generating blog traffic is understanding the audience you are trying to reach. This includes having a solid grasp of what their needs, concerns, issues, pain points, and interests are, as this will help guide the content you create. A particularly effective way of getting to know your target audience is to go where they go. In an online context, this usually means social media groups, forums, message boards, webinars, and online events.
Identify the most active of these communities, and then take the time to monitor and comprehend the issues and interests that they discuss. For example, what are their most commonly asked questions? What topics seem to dominate the conversation? What problems or challenges are they facing?
As you become more integrated into these communities, you can start to contribute to these discussions, and gauge the reactions and responses you get. The point of this isn't to try and pitch to them or convince them of anything; it's simply a way to get to know your audience better. 
Document your findings, too. Write down the pain points, questions, and discussion topics you uncover in a spreadsheet or a word processing document, as you will need them for the next step.
Step 2: Conduct Keyword Research
Keywords are crucial when it comes to generating organic traffic. They are the words, queries, or phrases that users type into search engines, and can often be the starting point of how visitors find your site. A core element of acquiring blog traffic is identifying the most suitable keywords for your business, and then creating content that targets these keywords.
This is why keyword research is important. To conduct this process efficiently and effectively, it's helpful to have access to a reliable source of keyword data so you can quickly discover which keywords attract the highest monthly volume, as well as how difficult those keywords are to compete for.
For example, let's say you run a small skateboarding shop. Based on your audience research, you may have learned that the most popular discussion topics among your target audience are based around actually learning how to skateboard.
Using the pain points, questions, and topics that you've already documented — as well as any other relevant terms or phrases that are related to your product, business, or industry — you can start to compile a list within your keyword tool. Here's how this looks in Semrush's Keyword Overview tool: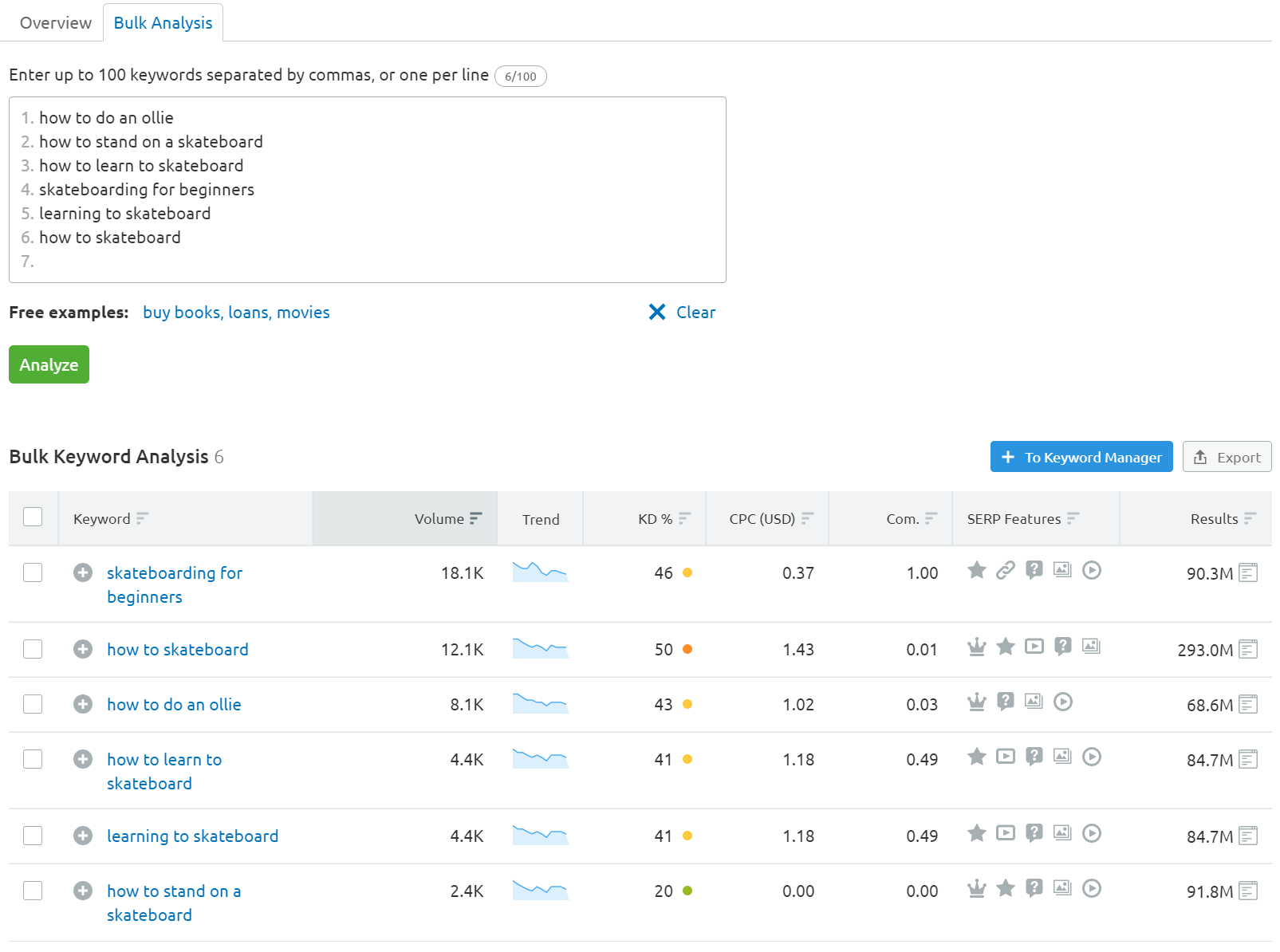 If your blog is brand new and has little or no authority, one of the most important metrics to note here is Keyword Difficulty (KD). 
When starting a blog from scratch, it's highly recommended to focus on keywords that hit a "sweet spot" between high search volume and low keyword difficulty. Another term for this is "keyword efficiency." 
Using the example above, the keyword "how to skateboard" gets a high number of monthly searches (12.1K) and it has a keyword difficulty score of 50, which the Semrush tool deems "difficult." Given that "how to skateboard" is a very broad term, this is unsurprising.
However, consider the keyphrase "how to stand on a skateboard." In the tool, the keyword difficulty score is "low" (20), yet it still attracts a healthy number of monthly searches (2.4K). 
So, what can we take away from this data? That "how to stand on a skateboard" could be a potentially great keyword to target for a blog that's geared toward an audience interested in skateboarding. 
It's a niche angle, with a high search volume and low competition level, so it may be easier to rank for on a search engine results page (SERP). This can then allow you to start gaining traction in terms of organic traffic to your blog.
Analyzing what your competitors are doing (or not doing) is another effective way to find suitable keywords that help drive traffic to your blog. For example, Semrush's Keyword Gap tool reveals keywords that your rivals are already ranking for, and suggests relevant opportunities for your domain to target.
Step 3: Create Your Content Plan
At this stage, you should now have a sizable list of relevant and efficient keywords to craft your blog around. The next step is to build on this by figuring out how to create content that capitalizes on these keywords.
A relatively simple way of doing this is to input the keyword into a search engine and then manually review the top 10 results. In particular, you should consider the titles, angles, and structures of these results, as they will give you a good idea of the kind of content that searchers are looking for.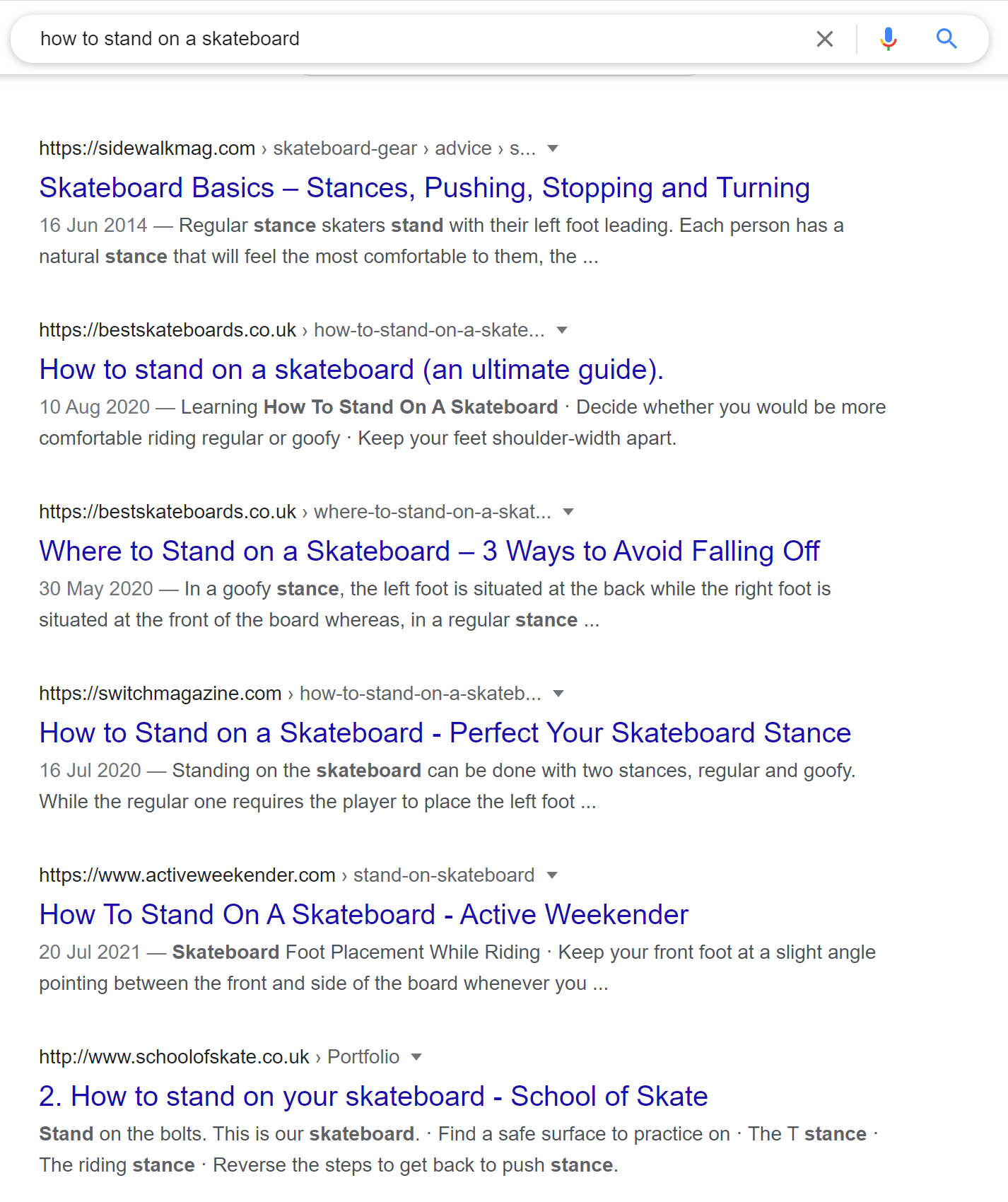 Another useful tool for diving deeper into these insights is the Semrush Topic Research tool, as it provides a wide range of topic suggestions based on a target keyword. 
You can even see which topics are trending, allowing you to develop content that could potentially capture the attention of your audience before competitors do.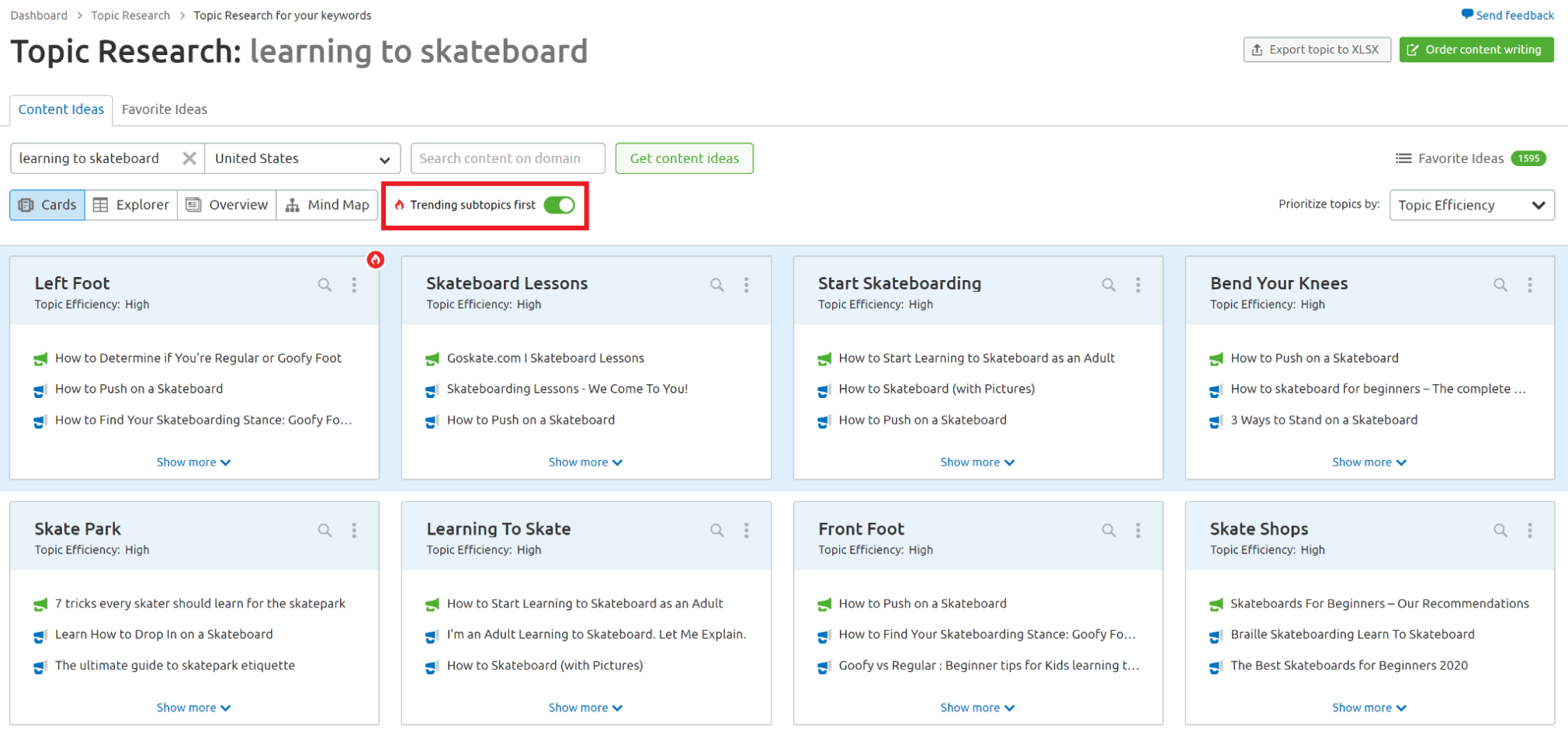 In addition, you can get a closer look at some of the blog posts that are already ranking for this topic. Having this insight can help you to spot gaps in their content that you could fill in yours, providing better value to your reader. Blog posts that are more comprehensive and informative than your competitors' can help you to rank higher and increase your traffic.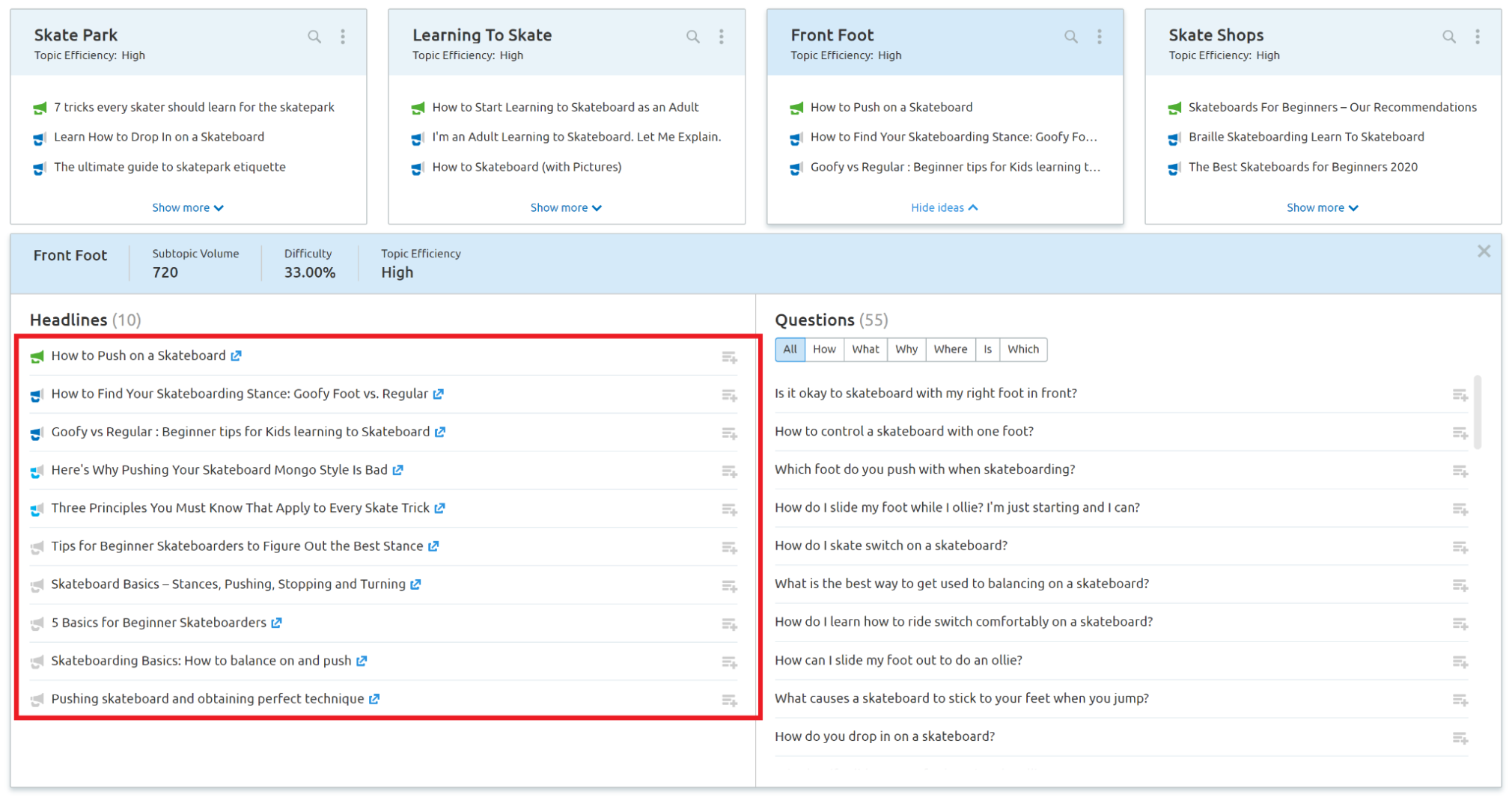 Step 4: Structure Your Subtopics
As mentioned in the last step, it's a good idea to break overarching subjects into smaller subtopics, especially when your blog is new. As well as helping you to target keywords more efficiently, it also allows you to build up an ongoing stream of topics to write about.
For instance, if your subject is learning how to skateboard, you could create a whole sequence of blog posts under that umbrella, such as:
how to do an ollie
best skateboards for beginners
what equipment do you need for skateboarding
As you grow, you may want to focus on other subjects within your niche, and then build out those subtopics too.
Another benefit of doing this is that it allows you to repurpose your content further down the line. You can take all of those subtopic blog posts and merge them together into an eBook, or even combine the key elements of each post to create a comprehensive "master" article targeting that broader keyword.
This allows you to cover topics in a lot more depth, helping you to establish your blog as an authority on that subject. In turn, this makes your content more conducive to attracting external backlinks. Both of these things help to boost your SEO profile, which, again, can help you to rank higher and attract more traffic.
Step 5: Write!
Once you've finalized your keywords and your topics, the next step is to sit down and actually write your blog posts. For a lot of people, this is where things can start to really get uncomfortable.
Indeed, the writing aspect of content creation can seem daunting, overwhelming, and time-consuming, especially for a busy business owner. But there are plenty of ways to make this step of the process less painful, all of which are covered in our comprehensive blog writing guide.
There are also tools available to support your efforts, such as Semrush's SEO Writing Assistant and SEO Content Template. These can help to ensure that your content is optimized and structured in both a reader- and SEO-friendly way.
Of course, if you simply don't have the time or resources to write your own content, then you can outsource it to a trusted third party too. With our Marketplace service, for instance, you simply indicate the topic and the specific requirements for your article, and the Marketplace team will match you to a suitable, industry-specific writer.
This ensures that your published content is always of the highest quality, giving it the best possible chance to rank and attract traffic.
Step 6: Publish and Promote your Posts
Finally, your post is published and live on your blog. Now the traffic starts rolling in, right?
Well, not quite. Content — of any kind — doesn't rank on search engines overnight. It takes time for their algorithms to judge the relevance and quality of a piece of content, and also for the content itself to acquire backlinks and satisfy other ranking factors.
Even though the steps above (and even other SEO writing tips and tactics) can help you rank on a SERP and increase the chances of people finding their way to your blog, getting your content in front of the right audience, at the right time, and in the right way, requires more than just hitting the "publish" button.
Given that your blog is new, it might not yet be feasible for you to distribute your content to your audience via other traffic sources, either. You may not have an email list or a sizable social media following, and you might have little to no budget to leverage paid search.
But that's OK. It just means that, at first, you will need to do a bit more leg work yourself to distribute and promote your content. Start by: 
Engaging directly with communities. Remember those people you engaged with in Step 1 via online forums, social media, and other online communities? Share your content with them. For instance, going back to the skateboarding example, you might come across a discussion about various skateboard types. If you happen to have a blog post reviewing different types of boards, you could share it in the forum as a helpful resource to the community having that discussion. The takeaway for this tip, however, is to use discretion. Share your content because it has value to offer, not because you have an ulterior motive to try and sell someone something. If you build trust and respect with your audience, they'll eventually come to value your perspectives and know that you're sharing information with them because it's interesting, or it can help them solve an issue. Always respect the rules of the online community, too, as many, such as Reddit, frown upon self-promotion. However, if you're not spamming and the links you post are genuinely relevant to what is being discussed, this can be an effective tactic for both brand awareness and cost-effective traffic acquisition.
Building relationships with respected players. If your content is useful, trustworthy, and valuable to your audience, then other respected voices in your niche — such as influencers, bloggers, affiliates, and even public figures — may be more open to sharing and promoting it.
Although time-consuming, it can be a smart, cost-effective strategy to build relationships with these people and collaborate with them. That might be through guest posts, newsletters, mentions, or webinars. Not only can these connections help you build credibility and authority in your space, it can also make it easier to get relevant backlinks to your blog posts, boosting your SEO profile, attracting additional referral traffic, and strengthening your organic presence.
Advancing your authority. At this stage, you may not yet have a strong online presence, but this doesn't necessarily mean that you're not an authority in your niche. Although your blog — even your business — might be a new kid on the block, you may have years of experience in your given industry.
It's to your advantage to elevate that. Consider making yourself available as a guest speaker for webinars, podcasts, digital conferences, and other online events. This can give your blog wider exposure and attract relevant traffic to your blog.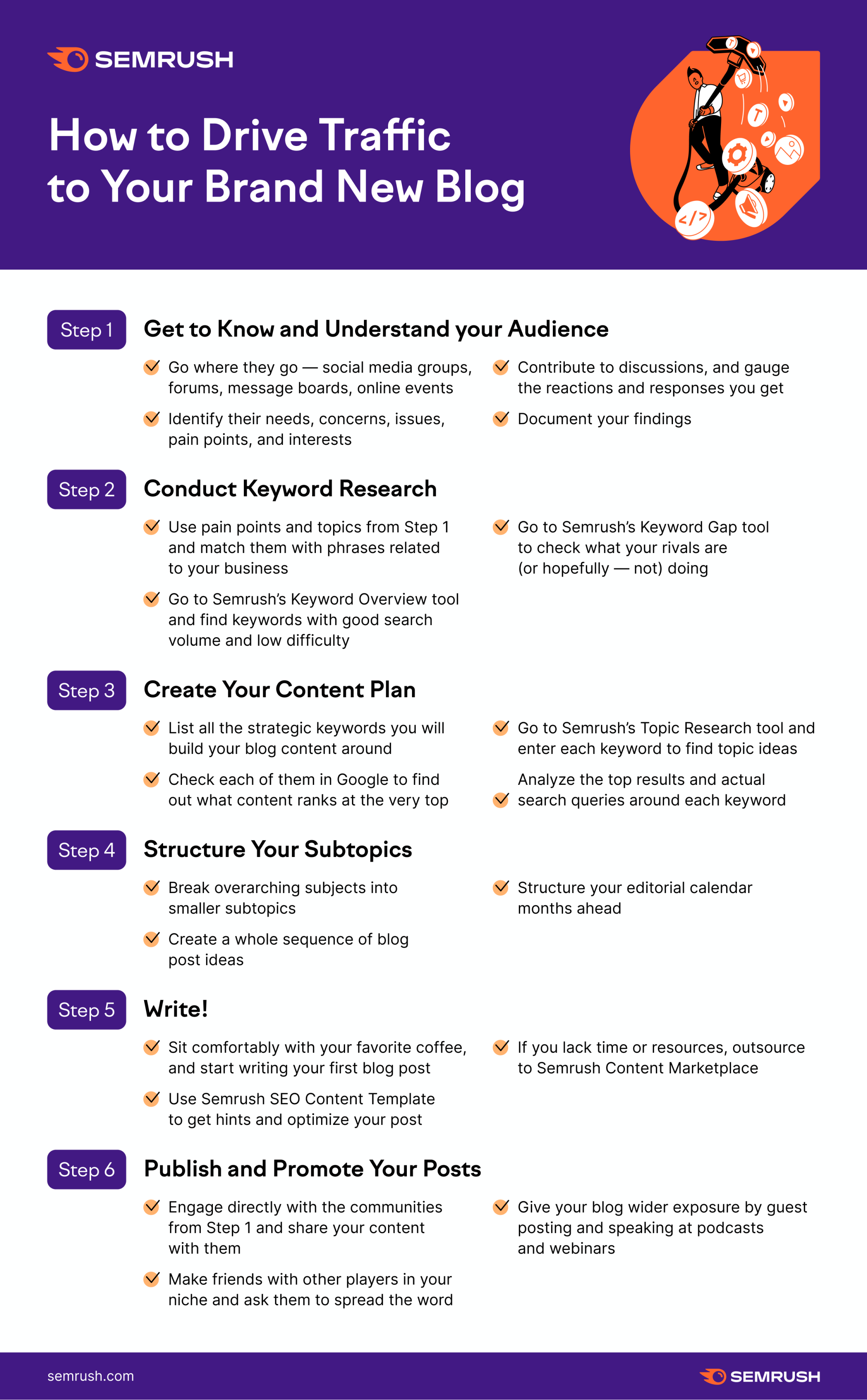 Final Thoughts
Attracting high-value traffic to a new blog is not easy, but it is achievable if you approach it in a considered way.
As noted above, the writing aspect of getting high-quality, relevant traffic to your blog is only one step in the process. You might discover that you're quite skilled at all the pre- and post-work that goes into creating and promoting a great blog, but that the writing portion just isn't the best use of your time. Not only is that OK, it's actually quite common. It's part of the reason we created the Content Marketplace here at Semrush. We understand how complex and time-consuming it is to create great content, so we created a service that can help people focus on what they know and do best, leaving the writing to the wordsmiths.