What is a call to action?
When a user finds and consumes your content, you'll likely want them to take action afterward, like reading another blog post, making a purchase, or downloading something.
There are many things your users can do. To persuade them, you'll need to include a call to action (CTA).
Why CTA marketing is important
Some of your marketing goals may include generating revenue for your brand or company, raising the profile of your brand, and getting your brand message out there. When you run a marketing campaign, your definition of success can be an increase in profits, subscriptions, social reach; or in sales leads.
CTAs encourage your audience to take deliberate action. You can get someone's contact information instantly with a good CTA, and add them to your marketing funnel right away.
Types of CTAs
Pay Per Click (PPC)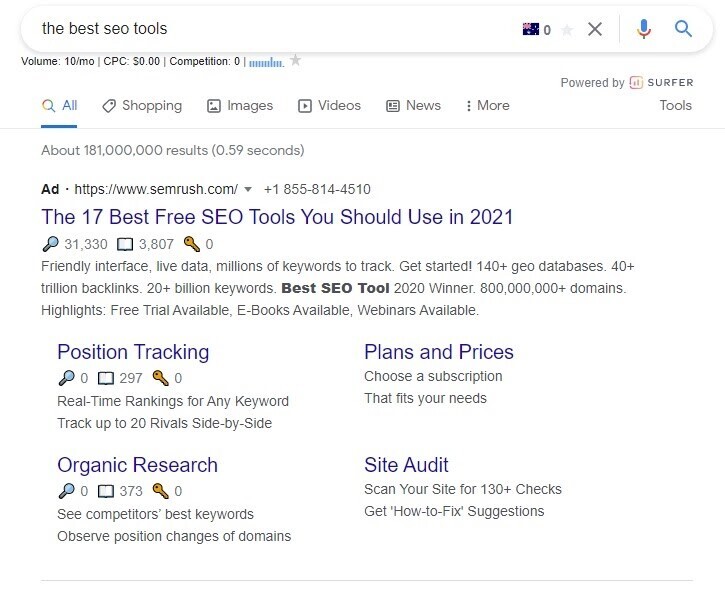 A pay-per-click call to action appears labeled on a SERP, In the example above you can see the word 'Ad' in bold. This indicates, that this is a paid search result. If you click on the links in this ad, Semrush would pay a fee to Google.
The CTA here looks similar to a regular result returned by a search inquiry. However, you have more room for metadata and for more HTML links that answer search intent. There is more content to persuade your users to take action and click your link, rather than browse through the organic search results.
Website Landing Pages
Landing pages are designed to prompt one action from a user. That action could be anything from entering in a name and email address to sign up for a newsletter or registering for an event.
Often landing pages will offer something free in exchange for your information, so a CTA on a page like this might read something like "download for free."
A good example of a landing page can be seen here. There is a brief amount of text and the CTA prompts you to "try For Free," all above the fold. It is important to have a CTA above the fold so users don't have to scroll to find it.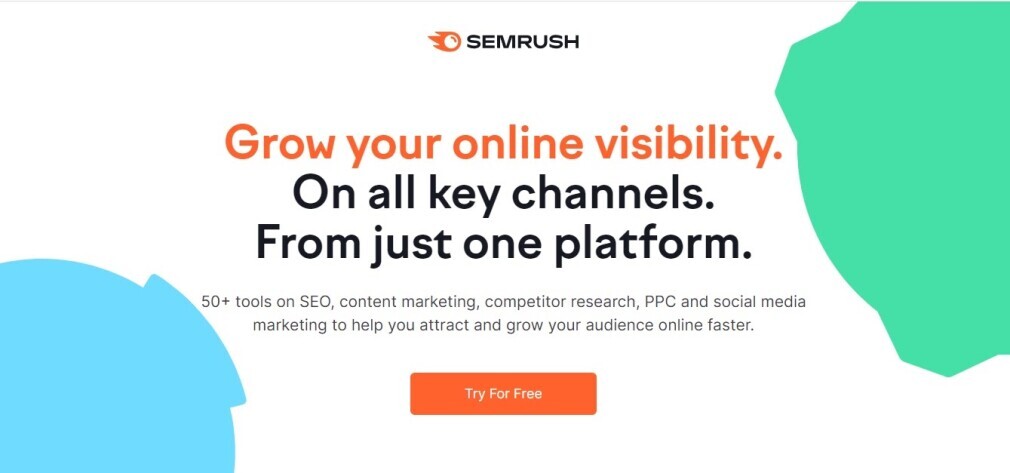 On this page, there are 3 prompts to "try for free" as you scroll down; the option to try for free is never hidden from the user.
Other CTAs that you can find on landing pages can include 'Subscribe', 'Sign up', 'Get Started', 'Learn more', and so on. Notice how none of these CTA is asking you to part with your money. They are enticing you to make a commitment without having to spend.
SEO Meta Description
It may seem odd, but the meta description you use with your search result can also be a call to action. If a user can't determine if your page is useful, they will read the meta description.

You have 160 characters to entice people to click through the link to consume your content.
Call to Action Strategy
As mentioned above, you want your users to take action once they have read your blog, landed on your page, or viewed your video. However, that action needs to make sense contextually and within your marketing strategy.
If you want people to subscribe to your YouTube channel, ask for that. Don't ask for money or redirect them to another page. Be clear with what you want them to do. 
Boosting lead inquiries
If you're focused on making sales and generating revenue, you want leads. When people sign up or subscribe, they'll be added to your customer database so you can build a relationship with them over time. 
Newsletter subscriptions are a good way to build your database. Newsletters themselves are a perfect way to connect with your audience; you can give them helpful information and special offers.
Lead Magnets: This CTA appears when you offer something of value for free in exchange for someone's details, like an email address. E-books, helpful guides, and similar resources can help add to your database.
Free Trial: A "try before you buy" approach means your audience can determine if your service or offer meets their needs. You can prompt for credit card details before or at the end of the trial. 
Product Purchases
When you get down to it, you want people to find you online, like you, trust you and then buy from you. Conversion rates are key indicators of the success of your sales and marketing, you want to get it right.
Contact Sales: Use this CTA for big-ticket items or services that might require contacting the sales team If you get the customer on the phone with a skilled sales representative, your conversion rate can benefit.
Shop now: this CTA is not overtly asking for money. It's asking you to browse the store to find items to buy. It implies you will spend money, but in a more subtle way.
Get %% Off: we all love saving money. The chance to grab a saving when we purchase can catch the eye. A percentage off sales, especially with multiple items, can hook people into buying from you. Sometimes people will spend that little bit more money on 2 items just to get the percentage savings.
Book now: this works for coaching sessions, gym sessions, things where you are already a member. By booking, you are paying, but again, not using any language asking for money is a subtle way to get you to click and commit.
Free Shipping for purchases over $XX: This CTA is popular with online stores. Shipping can be a cost that deters us from spending more money. However, if we spend that money on an item, it can be very tempting to spend more money.
Entice to learn
Educating your clients is a great way to bring them on board for on-selling; you empower them through education.
Learn more: this simple CTA asks people if they want to know more. This CTA can lead to a downloadable lead magnet or a sign-up form.
Discover/Explore: This CTA includes a strong verb to entice people to expand their knowledge with you.
Enroll now: This CTA feels more formal and offers people a certificate once they've finished their enrollment
Brand Awareness
If your marketing strategy is to build brand awareness, you'll work with a different kind of CTA. You don't want people to spend money with you, sign up, or subscribe to you. 
Like and share: You'll likely use this CTA for social media. The further your branding message is shared, the greater your reach and potential audience.
Enter to win: This is a more competitive CTA. You'll provide prize details, have people sign up to win, and publish winners. People feel happy when they win, and if they win your stuff, they'll show their friends and share your brand.
How to add a CTA
The words you use for your CTA are very important. Be clear and concise about what you want your users to do.
You don't want to be deceptive with your CTA. If you want someone to join your club and it costs money, make sure people know this before they click through.
Competitor Analysis
You can find your competitors using the Market Explorer tool, then complete a full competitor analysis.
Visit your competitors, look at their CTAs, and see if you're compelled to follow through.
Competitor analysis with CTA can work multiple ways. You can see what works and you can emulate, or you can sense a gap in the market, and build a CTA strategy around that. Do something your competitors are not.
Use emotive words
Use words that provoke emotion or an action. are what you're looking for. Can you hit a pain point and offer a solution? Can you provide relief?
If you're a travel company, can you offer an escape from the cold weather? How about a relaxing getaway?
With a gym or a personal trainer, a CTA can be aimed at being healthy in your older years, or a way to strengthen your body to alleviate pain. A literal pain point solution.
Offering help can be a relief as well. Financial planners can offer help, allied health practitioners can offer assistance to that which ails you.
These words also serve search intent. A 'buy now' CTA is not emotive but serves a transactional search intent. 
Give the users action through writing
Verbs can also provoke a user to take action. 'Don't miss out', 'click here', or 'buy now' are all action-based CTAs. These CTA make a clear statement: we want you to hit this button now!
A sense of urgency can work here, as can the fear of missing out. 'Time is running out', 'only 2 left in stock', and similar calls can reassert the urgency to act quickly.
Market Research for CTAs
Market research can help your CTA in a few different ways.
Target Audience: If you know your target audience, you can speak in their language. If you can hit your niche and have some target audience-specific language in your CTA, there is a lot of conversion potential there.
Keyword Research: Using our Keyword Gap tool you can find keywords and utilize them in your CTA. Not only can it help with your SEO ranking, but you can also have some unique CTAs that your competitors aren't using.
Competitor Analysis: With our .Trends solution, you can investigate what your competitors are doing, and angle your CTA to cater to their strategy. 
This tool can also help you discover your competitor's PPC campaign. You can use this data to target the PPC and disrupt it with your campaign and your emotive and compelling CTA.
Key Takeaways
Strong CTAs can be very effective in gaining customers, subscribers, likes and shares. You can quickly build your customer database for ongoing marketing and sales.
Semrush can help you find the questions and the keywords which can drive your calls to action. It's up to you to find the words which will drive sales and conversions.