Clustering keywords lets you target more than one keyword, which can lead to more traffic. 
But transforming your huge spreadsheet of SEO opportunities into a clear content strategy is time-consuming. 
Especially if you're clustering manually, going through thousands of keywords and organizing them can take hours of your precious time.
To help you get there faster, we just added automatic clustering to our Keyword Manager tool. 
With it, you can group your keywords into topically-related clusters to encourage: 
Faster content production 
More thorough content
Better SEO
Let's show you how to get your clusters in a few clicks. 
Note: If you don't have a paid subscription, consider a free 7-day trial.
What's new in Keyword Manager?
Here's what we added to the tool:
The ability to automate keyword clusters (from scratch or an existing list) 
A mind-map view to visualize clusters
An integration with SEO Writing Assistant 
What is a Keyword Cluster?
A keyword cluster is a group of keywords that are all related to a specific topic and could theoretically be targeted by one page on a website. 
Building clusters is a vital part of a content strategy that works with pillar pages and topic clusters.
Depending on the size of your keyword list, clustering every keyword in your semantic core could take up a lot of your time. Now, you can save those hours with a keyword clustering tool that does it automatically.
How to Get Started
Just enter a few seed keywords to get started. 
Here's what a clustered list of over 900 keywords looks like in the new Mind Map tab: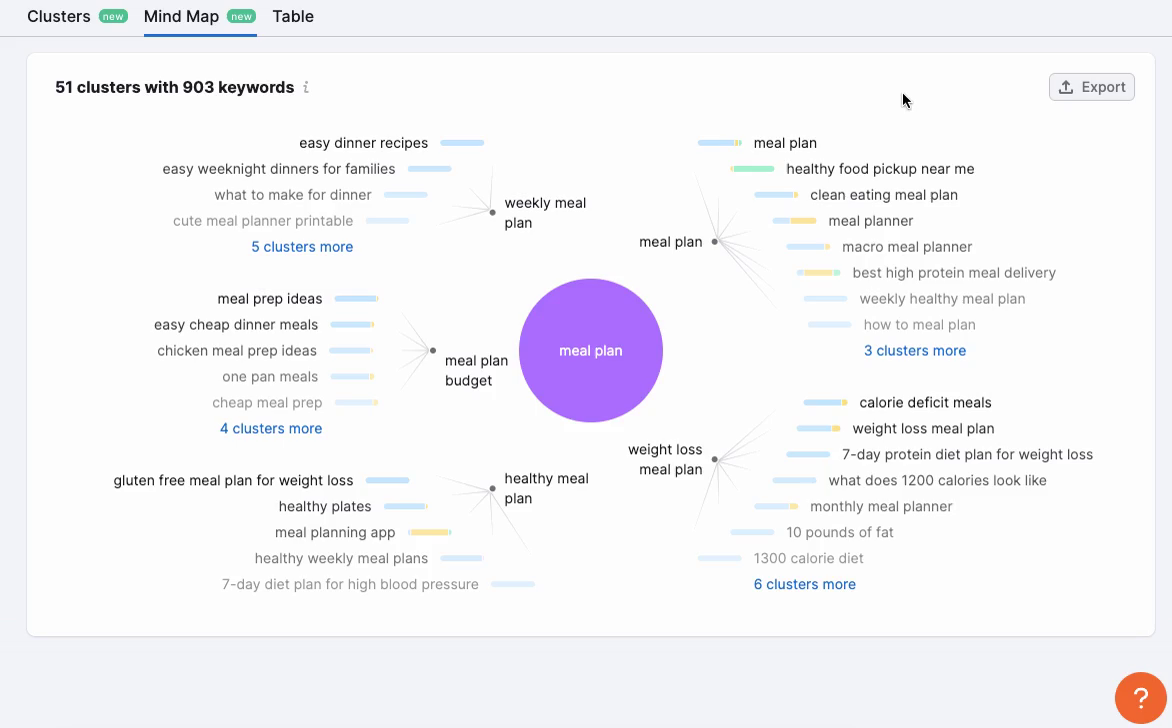 To generate this list, we entered 5 seed keywords:
meal plan 
weight loss meal plan 
healthy meal plan 
meal plan budget 
weekly meal plan
Within minutes, Keyword Manager returned a list of 903 keywords grouped into 51 clusters.
If you look at your list of clusters in the Clusters tab, you'll see the total volume, KD% and search intent of each group. 
Rather than estimate the value of one keyword at a time, this lets you understand the value of each topic. Then, you can prioritize and target your topics accordingly.
If the topic has informational intent, create an informational resource to match that intent. With a transactional cluster, you should offer a way to make that purchase or action.
And if you expand one of the clusters, you'll see all of the keywords within it: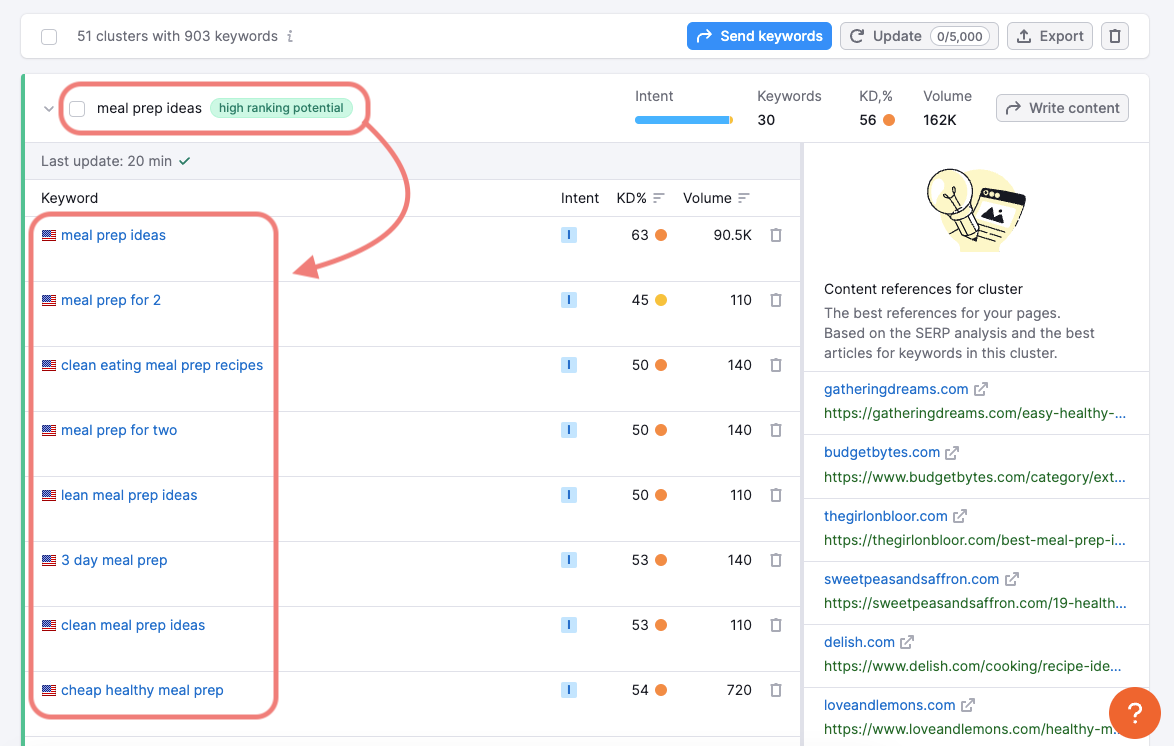 Notice that there's a trash can icon if you want to remove one of the keywords from the group.
Once you have your clusters all set, your next steps would be to start on a content plan. That includes:
Deciding which clusters should be targeted with pillar pages and which clusters will be supporting pages
Creating content briefs for each topic with the list of keywords and the topic's intent
Adding topics to a content calendar (you can use Semrush's Marketing Calendar)
Coordinating with writers/content creators on each topic
Sending each cluster to the SEO Writing Assistant 
And that's just the start. With a clustered strategy, it will be easier to create relevant internal links all over your website, boosting your SEO in the process.
For more information on the details of your account limits, read our Knowledge Base article.
How to Use Keyword Manager as a Keyword Clustering Tool 
Let's go through three ways to use the keyword clustering part of this tool: 
Starting a list from scratch
Uploading an existing list
Clustering your competitor's keywords
Cluster a New List from Scratch
To cluster a list of keywords from scratch, it only takes a few clicks.
First, go to Keyword Manager and create a new list with the green button.
Here, enter your seed keywords. These should be central to your business and wide enough of a topic without being too wide.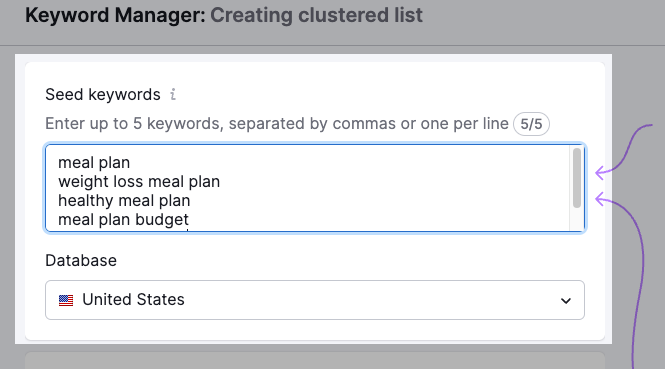 Semrush uses these seed keywords to generate those closely related keywords that will be grouped into clusters. 
Additionally, you can enter your domain name here, which will help Semrush find more personalized results for you. 
Once the tool is finished finding clusters, check out the Mind Map tab. Take a screenshot or export this picture to put into your reports and share with your team.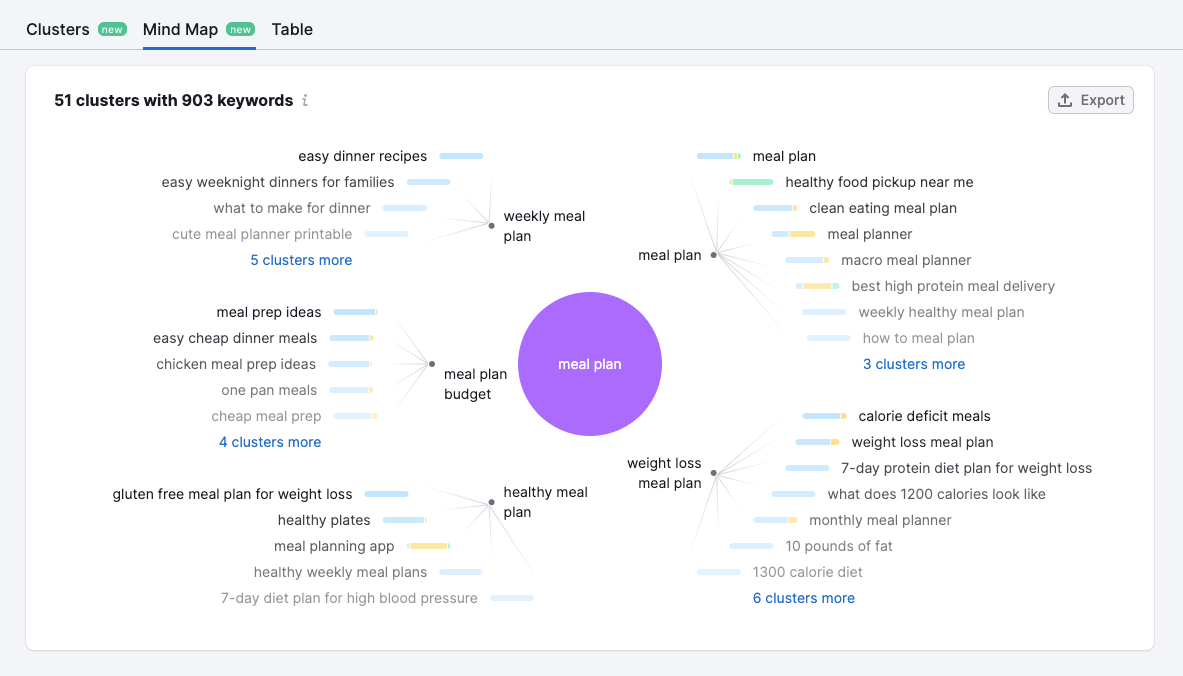 Next, view all of your clusters and their metrics as a list in the Clusters tab. 
The high ranking potential label is there to help you prioritize the topics that are low difficulty without being low volume, so you could expect faster results.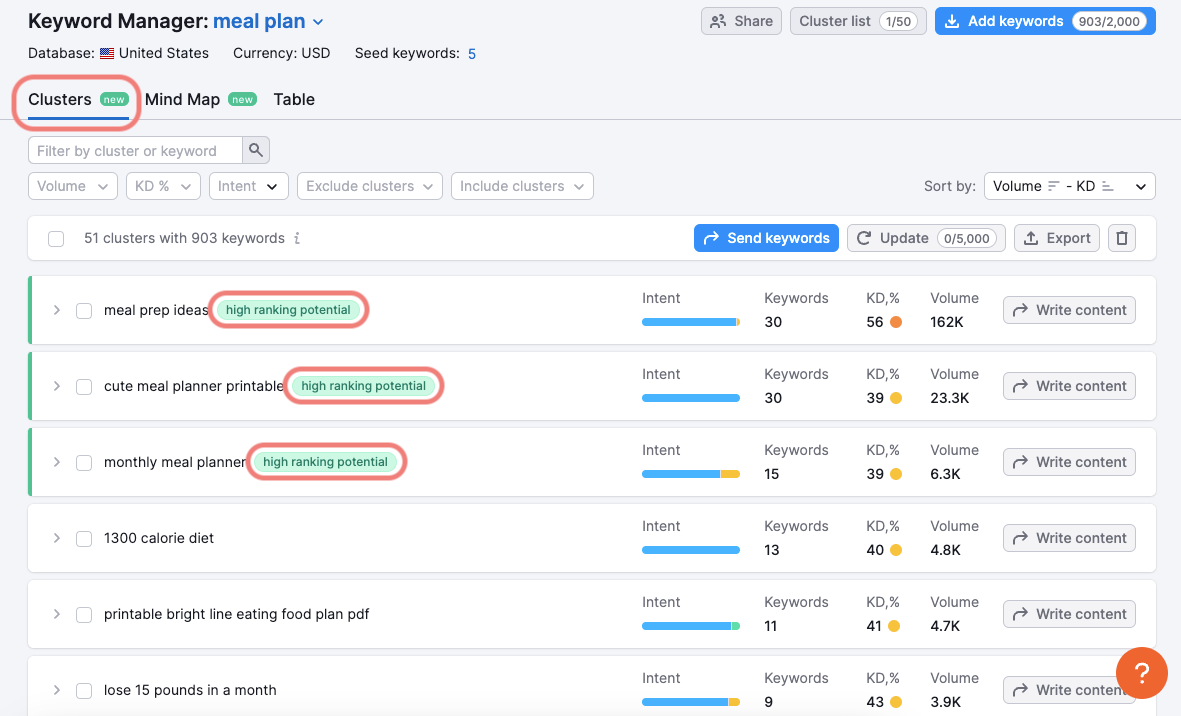 With the "Write content" button, you can send a cluster straight to the SEO Writing Assistant to help your writer optimize an article for the entire cluster.
Cluster an Existing Keyword List
If you already have an existing keyword research list, you can upload it manually to the tool and cluster it from the Clusters tab. 
Just select "Create list" under "Add keywords manually" from the main page.
Then, find the blue "Add keywords" button at the top right.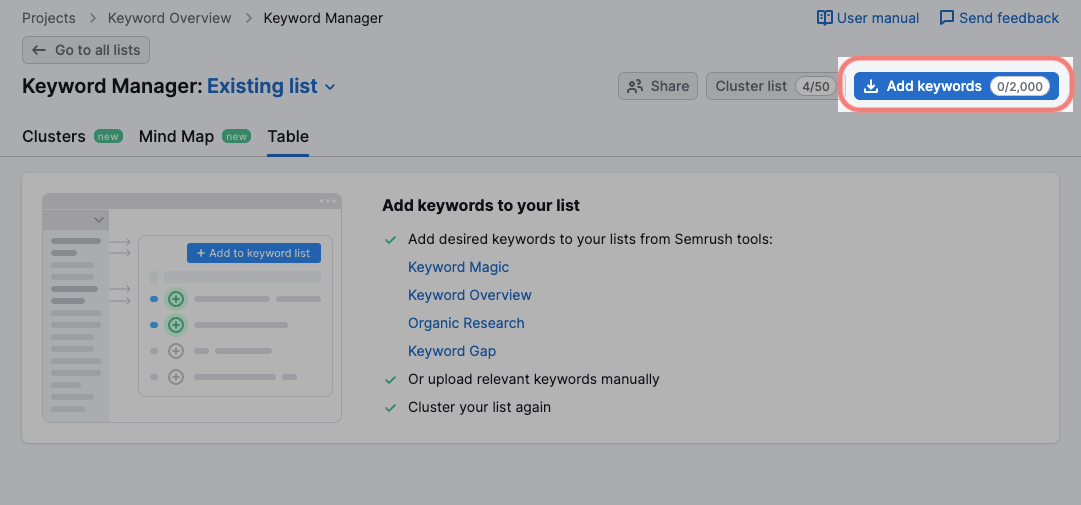 Once you add your keywords, you can cluster the list from the Clusters tab.
Now, your keyword research list is upgraded with clusters.
You can export the list and have a spreadsheet organized by cluster.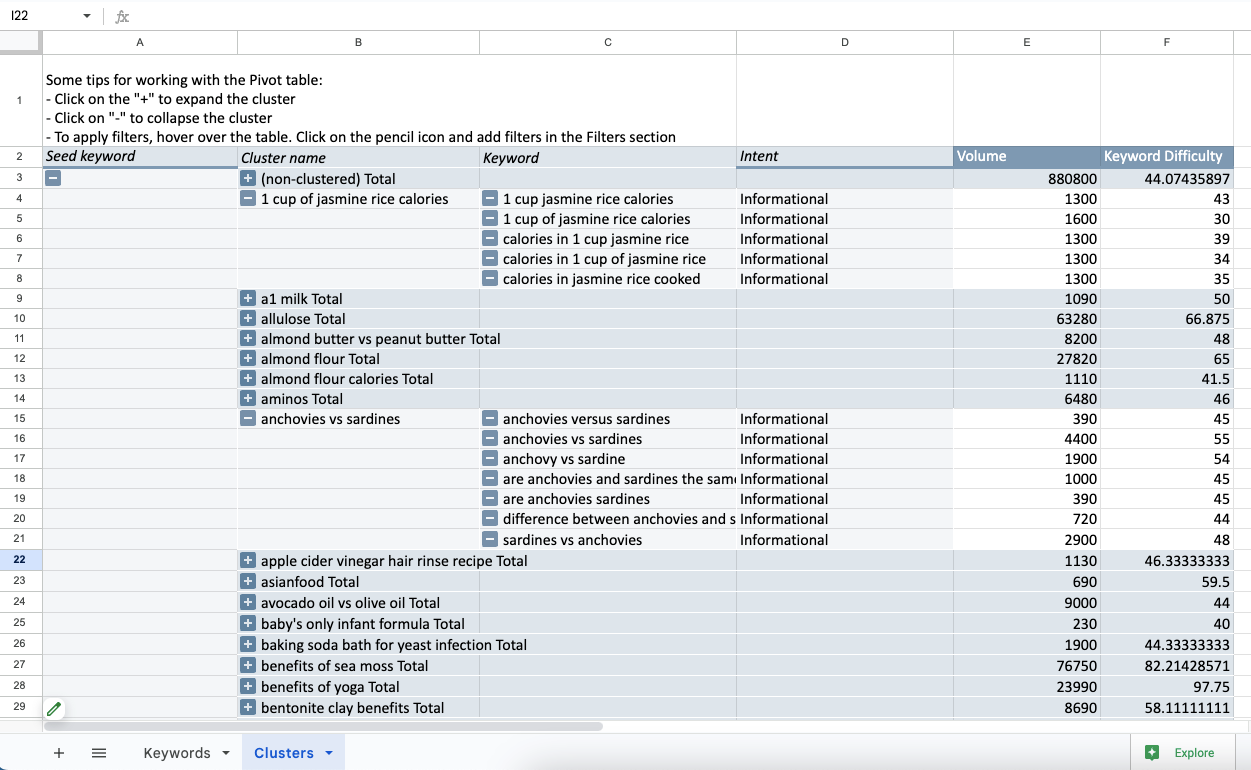 Cluster Your Competitor's Keywords
Since you can cluster a list of up to 2,000 keywords, that means you can cluster your competitor's keyword rankings. 
Why would you want to do that?
Maybe your competitor isn't using a topic cluster approach to their site, which means you have an advantage.
Chances are you can outrank your competitor for some keywords if you provide better content. 
One easy way to do this is to query their domain in Organic Research (or Keyword Gap) and add two filters. One filter for keywords where they don't rank in the top 10 (filter for position 11+), and one for keyword difficulty (less than 49%).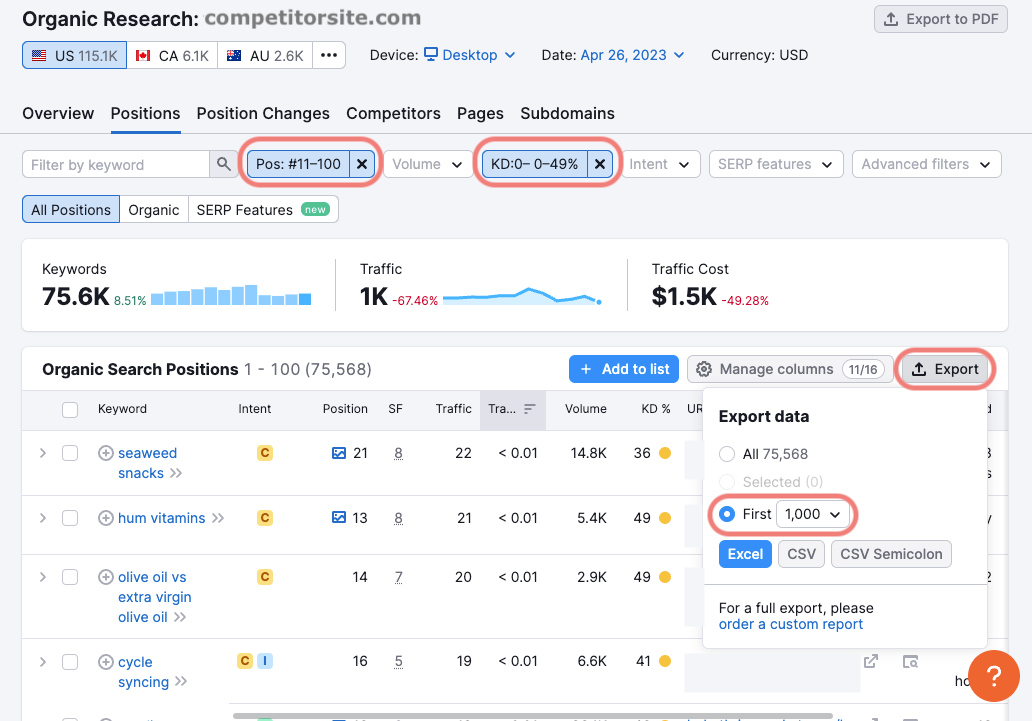 This shows you all of the keywords that their site is somewhat ranking for, but not optimized for. Now, export the top 1,000 of these keywords.
Go to Keyword Manager, start a new list and add them manually into a new keyword list in Keyword Manager.

Once that list is in your Keyword Manager, select "Cluster list" from the Clusters tab.
Now, you'll have a set of (low-difficulty) opportunities for you to outrank them as you create content optimized for each topic cluster. 
Why Should You Cluster Keywords?
Keyword/topic clusters break down a big keyword list into digestible topics that a content team can start working from immediately. 
In our guide to topic clusters, we list some of the benefits of using a clustering strategy:
More organized content
Improved SEO
Increased content production speed
More comprehensive content
Using clusters, it's easy to create pillar pages and topic clusters that are highly related but different, and plan internal links throughout these topical pages. Adding relevant internal links is an easy way to boost any website's SEO.
Turning a long list of keywords into a more digestible set of clusters will help you create a strategy that will be more effective, easier to organize, and establish your site as an authority on your topic.
After all, good SEO content should rank for dozens of keywords, not just one. 
For example, here's a webpage that ranks for 1.6k keywords (and an estimated 2.6k monthly visits from organic search).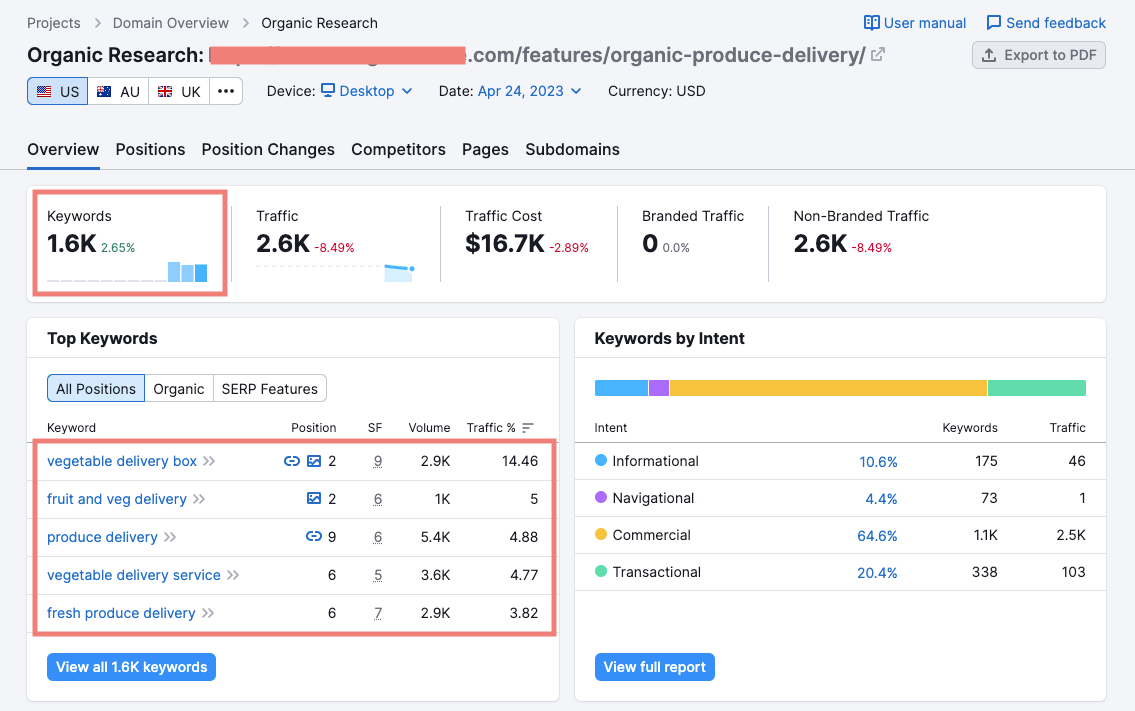 So, if you're planning a blog post to target "vegetable gift basket," you could also target a cluster of related keywords (like vegetable gift baskets, vegetable gift box, fruit and vegetable gift box, etc.).
With keyword clustering, you can be more prepared for building a content strategy that targets a wider range of keywords, and therefore, potential traffic.
FAQs about Keyword Manager
How does Keyword Manager create clusters?
When we see two keywords that have similar SERP results (in the top 10 organic URLs), we combine them into a cluster. This indicates that Google wants to serve similar content to both queries, so they would be appropriate in a cluster.
When will other databases be available?
We are working on opening other databases and plan to do so in the next 2-3 months.
If you are interested, you can join the Alpha user group and get access to creating seed keyword lists for non-US databases. Send us an email at samurai-team-feedback@semrush.comand you'll be notified when Alpha is ready.
What are the limits?
To use the Keyword Manager you need a paid subscription. 
There is no limit to the number of lists you can have on your account.
The limit of keywords per list has expanded from 1,000 to 2,000.
The total number of keywords you can keep in lists under one account is 100,000.
For more information on limits, visit our Knowledge Base.
Next Step: Content Planning
Now that you know how to quickly cluster your keywords, go create your first clustered list in Keyword Manager. If you don't have a paid account, you can always sign up for a free trial.
P.S. Don't forget to test the connection to the SEO Writing Assistant to get your content planned and under production.