If your PPC (pay-per-click) campaigns aren't performing as you think they should, you might want to make some changes to your PPC management. Even a small mistake or oversight could limit your performance, so you may need to stop, identify the issue, and fix it. But where do you start?
There are lots of mistakes that you can make when managing your PPC campaigns and even the smallest flub can have a big impact on your ad performance. Knowing what these mistakes are is important and can help you to know how to manage PPC campaigns more effectively for optimum performance. 
PPC campaigns don't have to be scary, though! Let's discuss what PPC is, how it works, what mistakes might be impacting your ad performance, and how to manage PPC campaigns more effectively.
What Is PPC?
PPC, or pay-per-click, is a digital marketing channel that deals with online advertising on search engines. This includes placing and managing ads on platforms like Google and Bing. These ads appear on search results pages (SERPs) above the organic search results. 
As the name suggests, with PPC advertising, you only pay when someone clicks on your ad. However, the amount you pay can vary depending on a few factors, which are determined by an auction that happens every time a search is made. 
How Do PPC Auctions Work?
PPC auctions happen automatically using search engine algorithms. If you begin a PPC auction considering these 6 things, it can help you get the most out of your ads:
An ad's eligibility
An ad's relevance to the search
Quality of the ad and landing page
Total budget set by the business
Level of competitor
CPC (cost-per-click) budget set by the business
In general, the more relevant and high quality your ad is, the more likely you are to win the auction if you have the budget to fight the competition. To avoid mistakes in your PPC management, it's best to consider the above points and start the process with a plan and budget in mind.
4 Mistakes Impacting Your PPC Ad Performance
PPC can be a lucrative way to market your business and reach new customers if you know how to effectively manage your PPC campaigns. It doesn't matter how big your budget or company is; your campaigns can still be successful if you avoid common mistakes.
But what are the most common mistakes that businesses make in PPC management? And how do you fix them? 
1. Starting a Campaign Without Targets
The first mistake you can make happens before you even start to set up your ad. Before you do anything, you need to clearly define the goal of your ads. 
Without having a definite idea of what success looks like, it's hard to manage your PPC campaigns and judge their performance. 
To avoid making this mistake, you need to understand how your PPC performance will support your wider goals. Consider the following 3 things:
Your business goals
Your marketing goals
How your PPC ads can help contribute to these other goals
You will then need to be granular and define what this looks like in terms of a target of conversions, visits, impressions, or other key metrics. This will give you a clear understanding of what a successful ad looks like for your business and what you need to do to get there. 
2. Mistargeting
When you plan your PPC ads, you need to have a clear understanding of who it is that you are targeting with your campaign. If you target the wrong group or type of people, your ad isn't likely to resonate or elicit the response you need from the audience it reaches. 
To avoid making this mistake, you need to do the right amount of consumer research before you set up your ad. You can start by using your business's analytics and persona data to build out your customer profiles. 
During this research, you should also consider where your target consumer is in their buying journey. Mistargeting or not targeting other parts of the funnel is also a mistake that can limit your PPC performance. Ignoring the rest of the funnel leaves a lot of opportunities on the table.
3. Budgeting Incorrectly
Some of the most common mistakes when it comes to PPC management are mishandling your budget by either not having enough budget to spend or spending too much. That's because knowing how much money to spend on your ads can be the biggest challenge for PPC marketers.
To avoid making mistakes with your ad budgets, follow these tips:
Reduce budgets: Don't be afraid to cut the budget on ads and campaigns that just aren't performing. You should always look for ways to cut wasted spend at an ad group level or an ad level so you can use funds elsewhere.
Reappropriate budgets: If you do find ways to cut budgets, try to reappropriate it to other ads or ad groups that are performing or have more potential to perform. This should help improve your overall metrics and reduce wasted spend. 
Increase budgets and bid caps: If your business has the potential to invest more in your PPC, increase your spend in areas that have been performing well for you in the past. Use your analytics to identify where your account has the most potential. 
You will need to keep doing these 3 things as part of your ongoing PPC management.
4. Choosing The Wrong Keywords
In the rush to set up your ads and see their benefits, it can be easy to overlook how important keywords are. But people will only find you and see your ads using keywords, i.e. searching for phrases. 
When searches happen, people are looking for answers and information, so to get the best results possible, your ad needs to be relevant enough to the search term. It's best to avoid being too broad with the keywords that you target as this can become expensive and ineffective. Similarly, targeting a keyword that is too niche can limit the number of people you reach.
To avoid making this mistake, make sure you do your keyword research first. This will help you identify the best keywords for your purpose and audience. You can do this using keyword research and ad tools such as our Keyword Gap Tool or PPC Keyword Tool.
Remember that the keywords you choose for your PPC ads should be specific enough to reach the right people but broad enough to reach a wide enough audience. 
How to Use Our Tools for PPC Management
Specialized PPC tools can help you to avoid the common pitfalls of PPC setup and management. They can help you to optimize existing ad campaigns, perform keyword research, and get results out of your ad budget. 
Our PPC management tools make the process more simple and more effective by assisting you with the following:
Choosing The Right Keywords
Our available tools can identify keywords to target that have the lowest competition but most potential. Here are two keyword tools in the platform that can help you to do this.
Keyword Magic Tool 
The Keyword Magic Tool is a keyword research tool that uses a database of over 20 billion keywords. It organizes keywords by relevancy in a streamlined interface that is easy to use.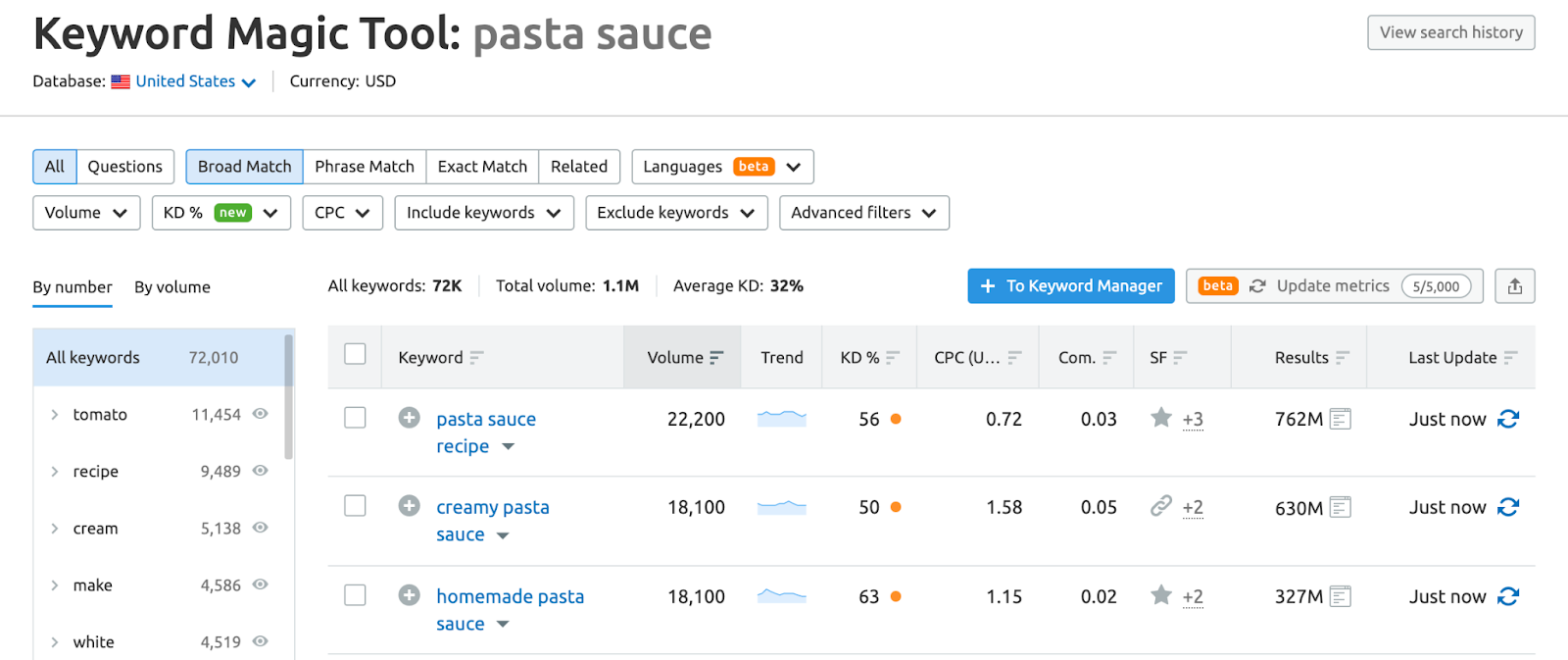 To use the Keyword Magic Tool to find the right keywords for your ads, you need to:
Navigate to the Keyword Magic Tool in the left-hand menu
Enter a seed keyword
Browse the list of keywords that Semrush returns based on your seed keyword
The tool will then generate a list of keywords with potential for your campaign based on the word you initially provide. It can help you to gain more insight into every keyword with related questions, competitive density level, search volume, average CPC, and more. You can even add filters to the data so that you can get the information you need quickly and easily. 
Additionally, you can export any keywords that you identify from the results, along with relevant data, into a spreadsheet for easy access. It's also useful to add keywords from the Keyword Magic Tool to the Keyword Manager. This allows you to track metrics over time as well as export lists to other tools.
Advertising Research
The Advertising Research Tool is another part of our toolkit that can help you to choose the right keywords to target by analyzing your competitors' advertising strategies. It uses data dating back to 2012 to analyze keywords by CPC (cost-per-click), competitive density, and other competitive metrics.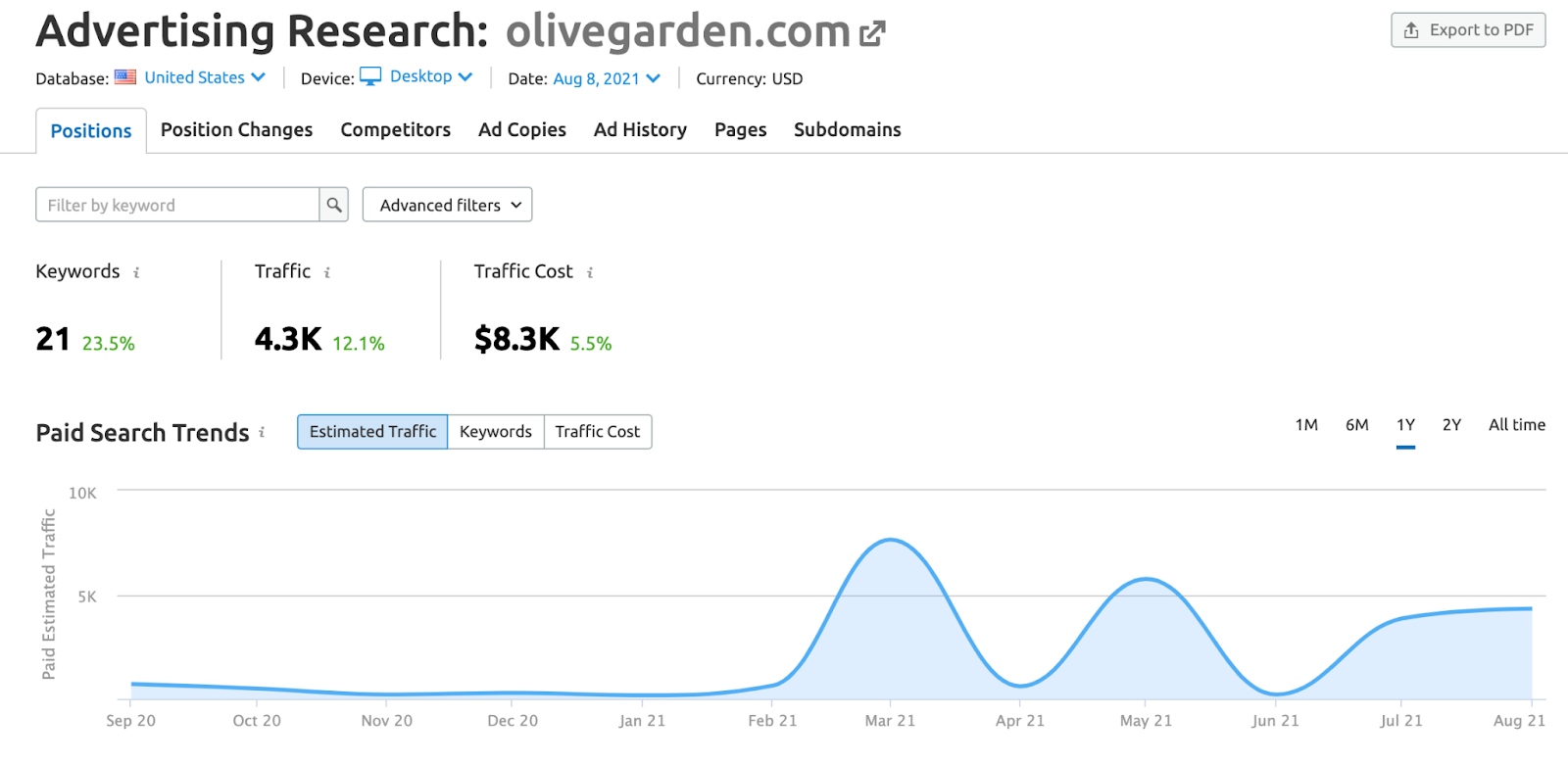 To use the Advertising Research tool to find out what your competitors are doing, you need to:
Navigate to the Advertising Research tool in the left-hand menu
Enter your competitor's domain 
Browse the list of keywords of your competitor's past advertising campaigns
You should do this for each of your top competitors to get a complete overview of what keywords are being targeted by other businesses in your industry. This will help to give you a good idea of what is working for your market in terms of ads. 
To make it easier, you can export the list of keywords from each competitor into a spreadsheet then combine your data.
Keyword Gap Tool
The Keyword Gap Tool is an additional Semrush tool that you can use to gain a better understanding of your competitor's keywords. This tool can show you keyword opportunities where your competitors are running ads and you are not.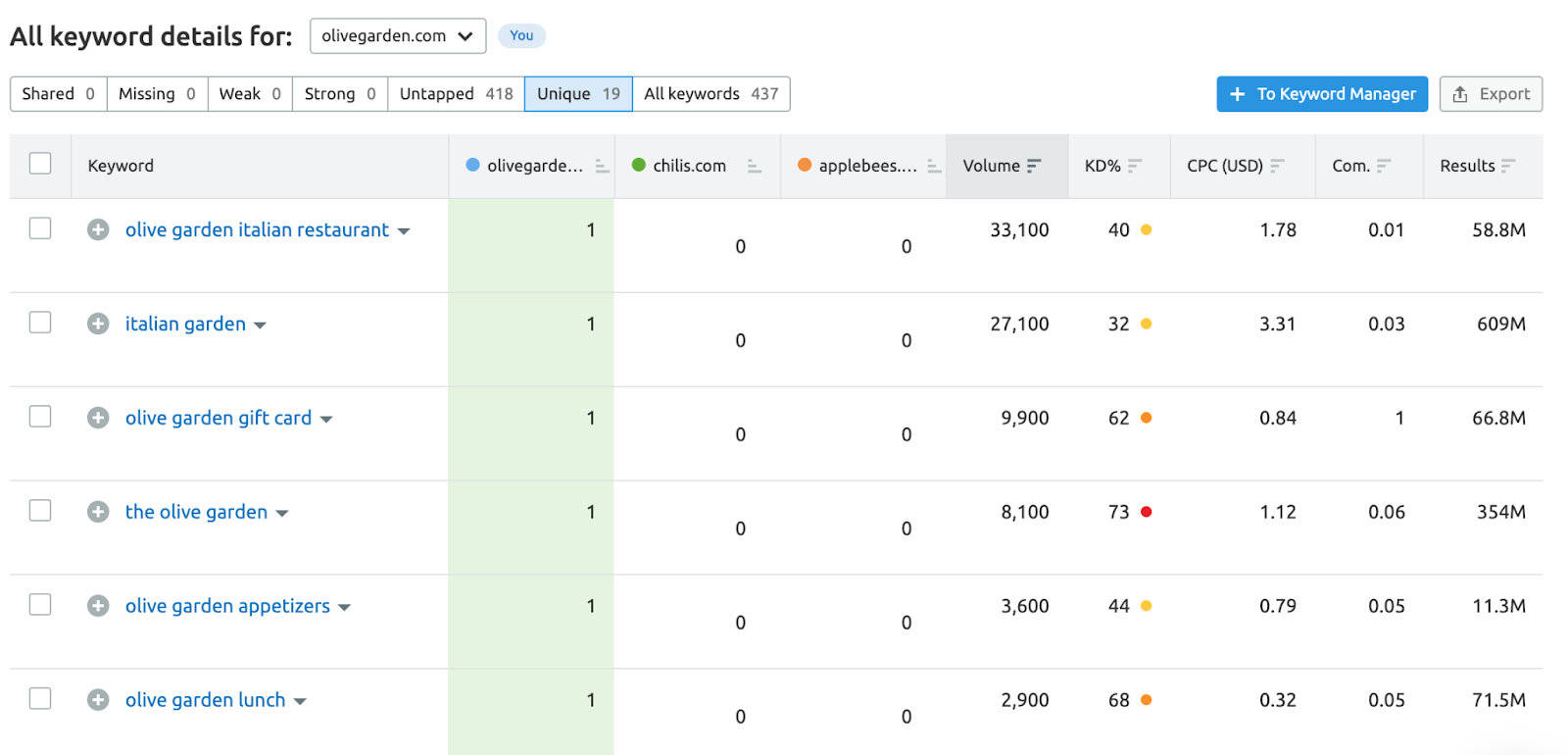 This Keyword Gap Tool can give you:
Keyword-based competitive analysis between you and your top competitors
Any unique keywords your competitor is ranking for that you are not
Organic, Paid, and PLA (Google Shopping) analysis
Visual charts of keyword overlap between sites
You should make note of any keywords in this report that you aren't currently targeting or export them directly from Semrush to a spreadsheet. Similar to the Keyword Magic Tool, this option also allows you to add keywords to the Keyword Manager.
Managing Existing Campaigns
Semrush can also help you with your PPC management by allowing you to manage your existing ads in an organized, efficient way. 
PPC Keyword Tool
The Semrush PPC Keyword Tool gives you an easy way to plan and set up your Google Ads campaign. You can also use the PPC Keyword Tool to optimize existing ad groups by organizing keywords at the campaign and ad group level as well as set negative keywords.
To use the PPC Keyword Tool to manage existing PPC campaigns, you need to:
Once you have set this up, you will then be able to use the tool to optimize your existing ad groups, help with PPC management, and prevent wasting money. That's because you will be able to:
Generate cross-group negatives
Remove duplicates
"Clean" your keywords
Add negative keywords
For more information on these steps and how to use Semrush PPC Keyword Tool to optimize and structure your existing ad campaigns, read this article.
Optimize Your Paid Search Management by Avoiding These PPC Pitfalls
Everyone makes mistakes, especially when it comes to PPC management. So if your PPC campaigns aren't performing as you think they should, you may have made one or more of these most common mistakes:
Starting a campaign without targets
Mistargeting
Budgeting incorrectly
Choosing the wrong keywords
Fix these issues by understanding each step and how to manage PPC campaigns. For more guidance, read all about how to optimize your PPC campaigns!