Reddit is many a marketer's secret weapon used to supercharge traffic and online visibility. Yet, it is often quickly dismissed as a waste of time and resources, thinking that time could better be spent implementing actions on your own website. But that is not the case; any good SEO strategy focuses on off-page strategies as well.
In this guide, we want to debunk this myth and show why Reddit should take a key position in your online marketing strategy and how you can use the platform to promote your brand and drive growth.
Here is what this guide will cover:
Reddit: A Glossary of Terms
Here are the terms that you need to understand when talking about Reddit and using it as part of your strategy:
Subreddit: Usually referred to a /r/[name], Subreddits are either private or public communities on Reddit.
Upvotes & Downvotes: Reddit has a voting system where users can either upvote or downvote a post or comment, and content with the highest sum of upvotes minus downvotes ranks higher on the page. Upvote content you like, downvote content you dislike.
Karma: Simply, Karma is the sum of upvotes minus downvotes. But there are two different types of Karma on Reddit; comment karma (when users upvote or downvote comments) and link karma (when links are clicked).
OP (Original Poster): As it says on the tin, this is the author who started a post or comment. 
Rules: Each subreddit has it's own rules that are clearly displayed that users are expected to adhere to.
Self-Promotion: This is when you're blatantly sharing your own content or links with the sole purpose of promotion. You should be using Reddit to add value, not self-promote. 
Redditors: Reddit contributors.
What is Reddit?
If you don't know what Reddit is, you have been missing out for the last few years.
Reddit is, in many ways, a huge collection of discussion forums on pretty much any topic that you could care to think up.
In fact, Reddit is the 6th most popular website in the US (the 20th globally) and has more than 430 million active users. That is as many users as Twitter, but what is key is that the platform has a higher engagement rate. 
Now see why you can't ignore it as a marketer?
Reddit is home to over a million different communities, known as subreddits, with some of the most popular being /r/funny (Reddit's largest humor depository), /r/AskReddit (the place to ask and answer thought-provoking questions) and /r/gaming (a subreddit for (almost) anything related to games - video games, board games, card games, etc., but not sports).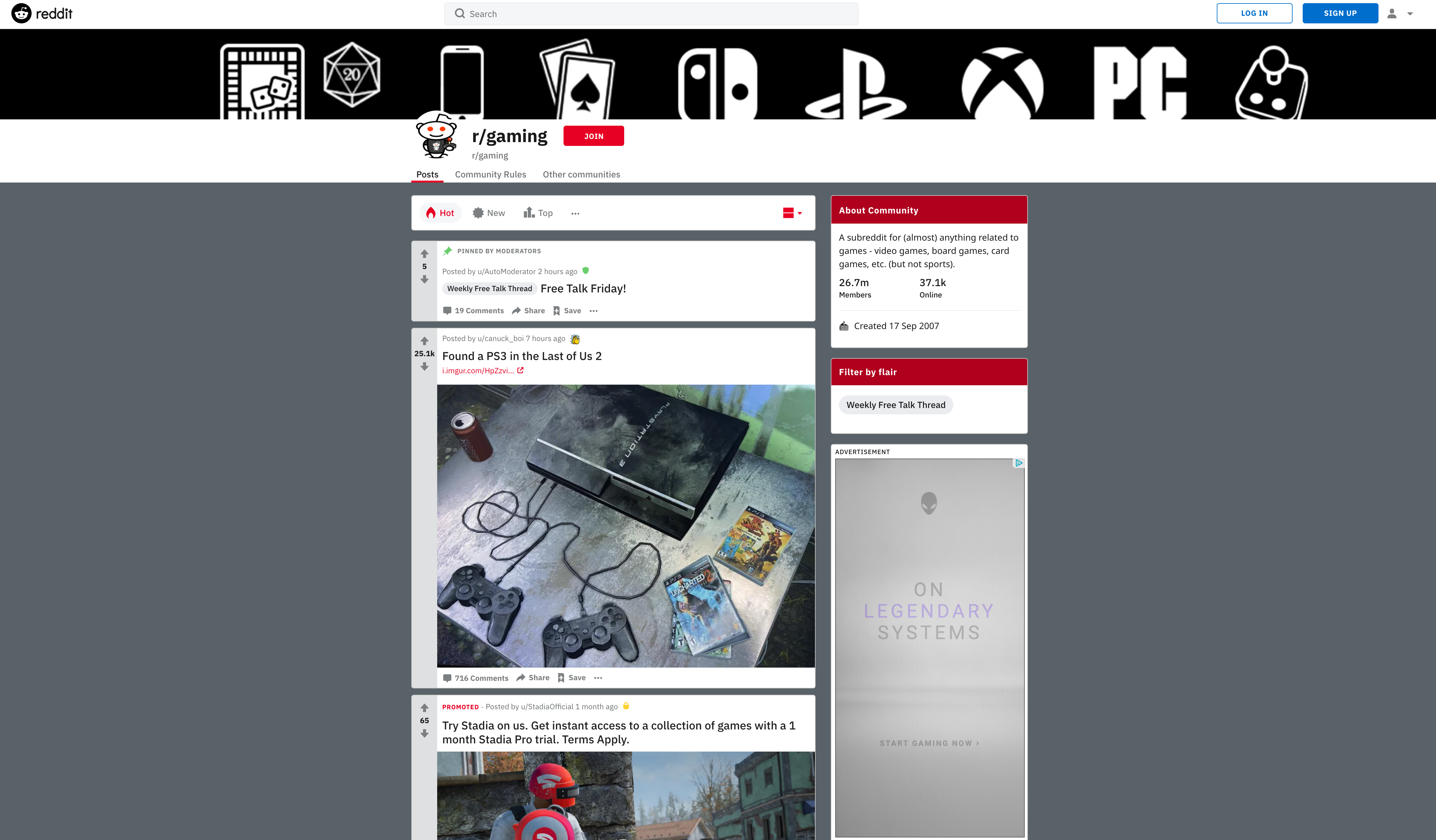 It is almost guaranteed that there will be numerous subreddits that relate to your products or services.
Quite simply, Reddit is huge. 
But that is what makes it such a powerful tool for marketers, and we will take a look at the specific reasons why it can become such an important part of your strategy.
The Front Page of Reddit
Reddit defines itself as being the front page of the internet.
That is a pretty accurate definition because the most upvoted content from across subreddits gains popularity and is placed on the front page each day. As you'd expect, this generates a phenomenal amount of visibility, not just to the post but also to your website.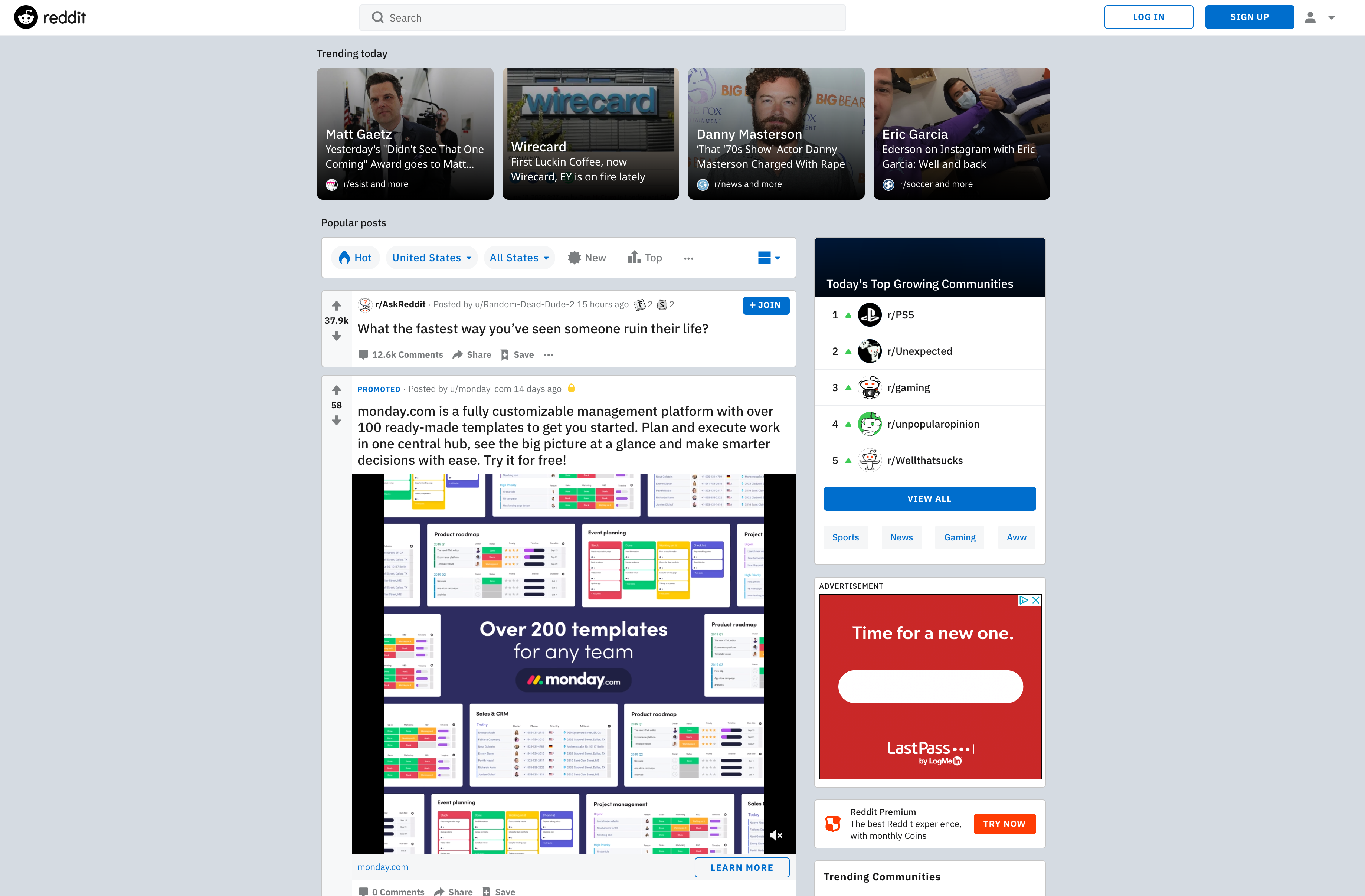 Content that hits the front page of Reddit often receives tens of thousands of comments and upvotes, and achieving this level of visibility is often cited as a goal of marketers who use the platform.
Reddit Isn't For Everyone
Even though Reddit can be an extremely powerful platform for marketers to use to drive traffic and visibility, it is not for everyone. To effectively use the platform as part of your digital marketing strategy, you have to know what the typical demographic of a Redditor looks like.
According to Foundation Inc, the average contributor to Reddit is:
More likely to be male than female (15% of US males use Reddit compared to 8% of females).
Most likely to fall between the ages of 18 and 34 (with an even stronger skew to the 18 to 24 age group).
Likely to be from the US (59.7% of Reddit users live in the US).
Likely to enjoy the sense of community that Reddit brings and not be open to blatant self-promotion.
That said, these are just the demographics for the average user. If there is an active subreddit in your sector, you should figure out how to use it to build your brand (without being self-promotional).
Reddit is a place to add value and share your insights, and if you can do that, you will be able to see success from marketing on the platform. If you just want to be self-promotional, it is probably not the channel for you. 
Why You Should Use Reddit in Your Digital Marketing Strategy
Reddit's sheer scale and popularity make it a real attraction to marketers looking to grow their brand and traffic. When we take a look at Google Trends, interest in Reddit continues to grow year on year.

Reddit isn't going away, and if you are not using it as part of your digital strategy, you could be missing out on huge opportunities.
But why should you be using it if you are not already doing so?
You Can Earn Followed Links From Popular Content
Maybe you have identified that your competitors have followed links from Reddit when using the Backlink Analytics tool? 
There is a good chance that you expected links on Reddit to be nofollow, but that is not always the case. If you are lucky enough to get a follow link, it could be helpful for your SEO strategy.
All links on Reddit start out as being nofollow, but once your content starts to gain positive engagement and earns a score of 2 or more (score = upvotes – downvotes), these become followed links. 
If you can create content that earns upvotes and engages the audience, it is an effective way to build authoritative links from within a topically relevant community.
Popular Content Can Send a Lot of Traffic
If your content becomes popular, you can expect links to receive significant levels of traffic, even if they don't appear on Reddit's front page. 
Many subreddits are very active, and Redditors are quick to engage with content that isn't self-promotional and adds value to the community.
Traffic potential (which you can then look to push into your retargeting list or encourage a sign up to your email list) is huge and one of the main benefits of Reddit to marketers.
It Is a Great Way to Demonstrate Your Expertise
Today, the focus of many brands is to build up a community of loyal fans, and Reddit is the perfect place to do just that. 
Become a voice in your industry and demonstrate your expertise and share your opinions on the platform.
Be seen as one of the people who add real value to the community, and this will carry through into brand awareness and association. 
Text Posts Often Rank High on Google
If you are creating text posts, you will often find that these rank prominently on Google, meaning that there is even more potential to drive traffic from the community. 
You Can Engage with Those Who Mention Your Business
It's not uncommon to find that someone else has mentioned your business on Reddit in their own reply. Sometimes that's a recommendation of your product or service, other times it could be someone asking a question.
You can use the SEMrush brand monitoring tool to alert you about any mentions of your brand, meaning you can jump into the discussion and help out and respond to queries and questions when you are able to add value by doing so.
What You Shouldn't Do
You need to remember one important thing when using Reddit as a marketer, and that is that you should never use the platform to spam.
Your number one focus on Reddit should be to create content that others find useful, entertaining, or engaging. Get to know your community and create content that they will benefit from. 
You should never be using Reddit solely as a link building tactic for SEO, but understand that you can build great links from the platform if you primarily focus on adding value.
Follow the basic Redditquette, and you will be driving real value in no time. 
How to Market Your Business on Reddit: A Five-Step Guide
Ready to learn how to use Reddit to market your business and drive growth? 
If you have not already got one, sign up for an account; you need to be logged in to start getting value. 
Step 1: Find Relevant Subreddits
You need to find your audience, and that comes from Subreddits.
The best place to start when marketing your business on Reddit is to find communities that you know your content can add value to. And this starts with the search bar and filter options.
Enter a keyword, and even before you run a full search, you will see recommended subreddits. Here, we have searched for 'gaming':
Run a full search, and you see a much more comprehensive return of potential subreddits that you can join when you click in to view communities and users.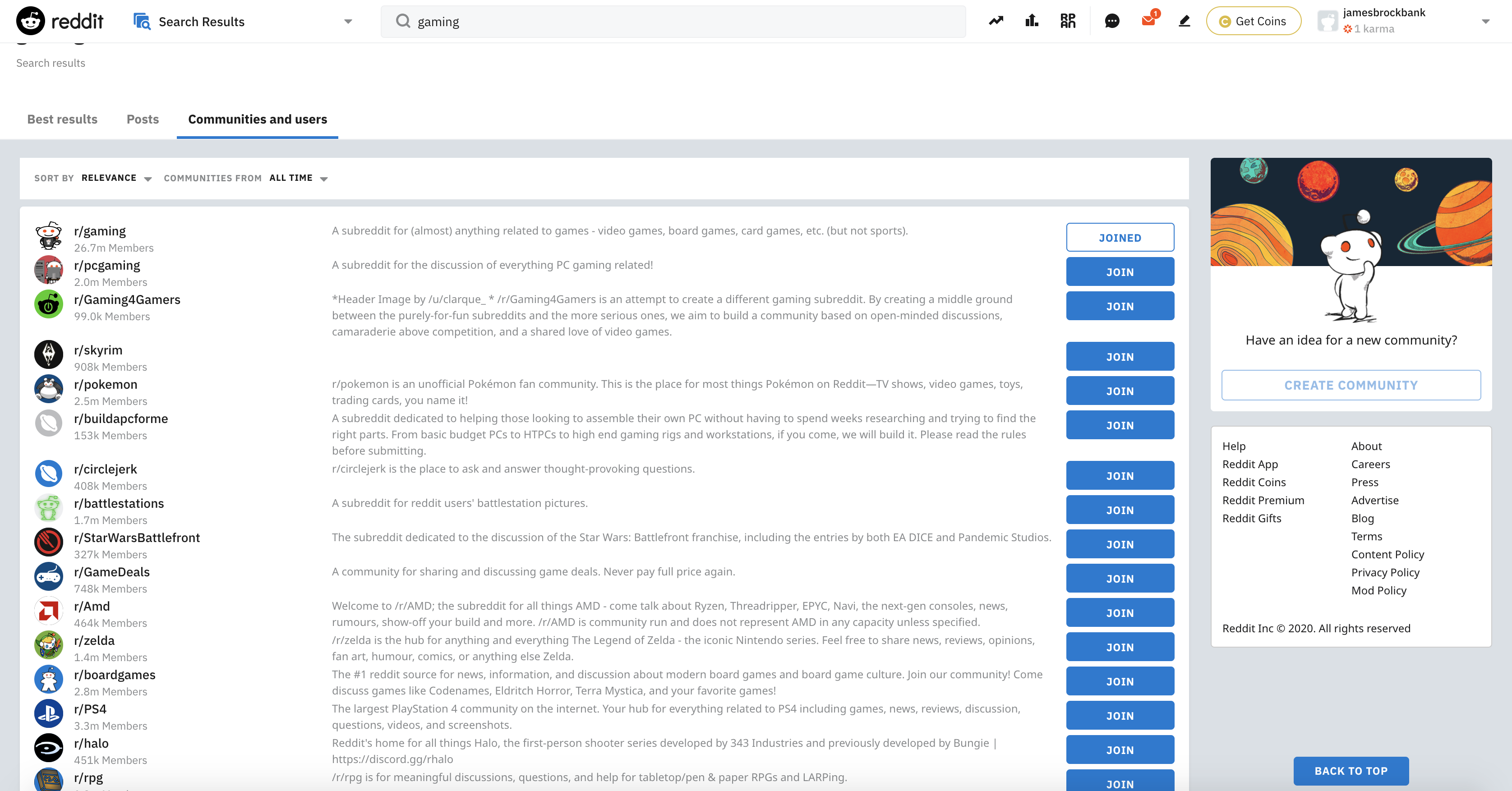 Work through a range of keywords related to your business or brand and check out potential subreddits and join these – you will be analyzing the content in these and posting later.
The key to building a solid strategy is finding a mix of relevant subreddits that you can drive engagement in. 
Step 2: Analyze Top Content and Plan Your Own Ideas
You don't want to jump straight into posting your own content in your chosen subreddits without first taking the time to understand what the top-performing content looks like to help inform your strategy.
Don't forget that successful marketing on Reddit comes from adding value to the community, but to be able to do that, you need to know what is working and what is generating the most engagement and upvotes.
Creating unique content that people actually want to engage with is hard.
It is worth spending some time analyzing what other people are posting that becomes popular, and the best way to do this is by studying content that sits within the 'hot' tab.
You can either click into the 'hot' posts (and choose a timeframe) or add /top/ to the end of a subreddit's URL.
We recommend choosing a timeframe of 'this year' to give a solid indication as to what has recently been working while looking at a large enough sample size.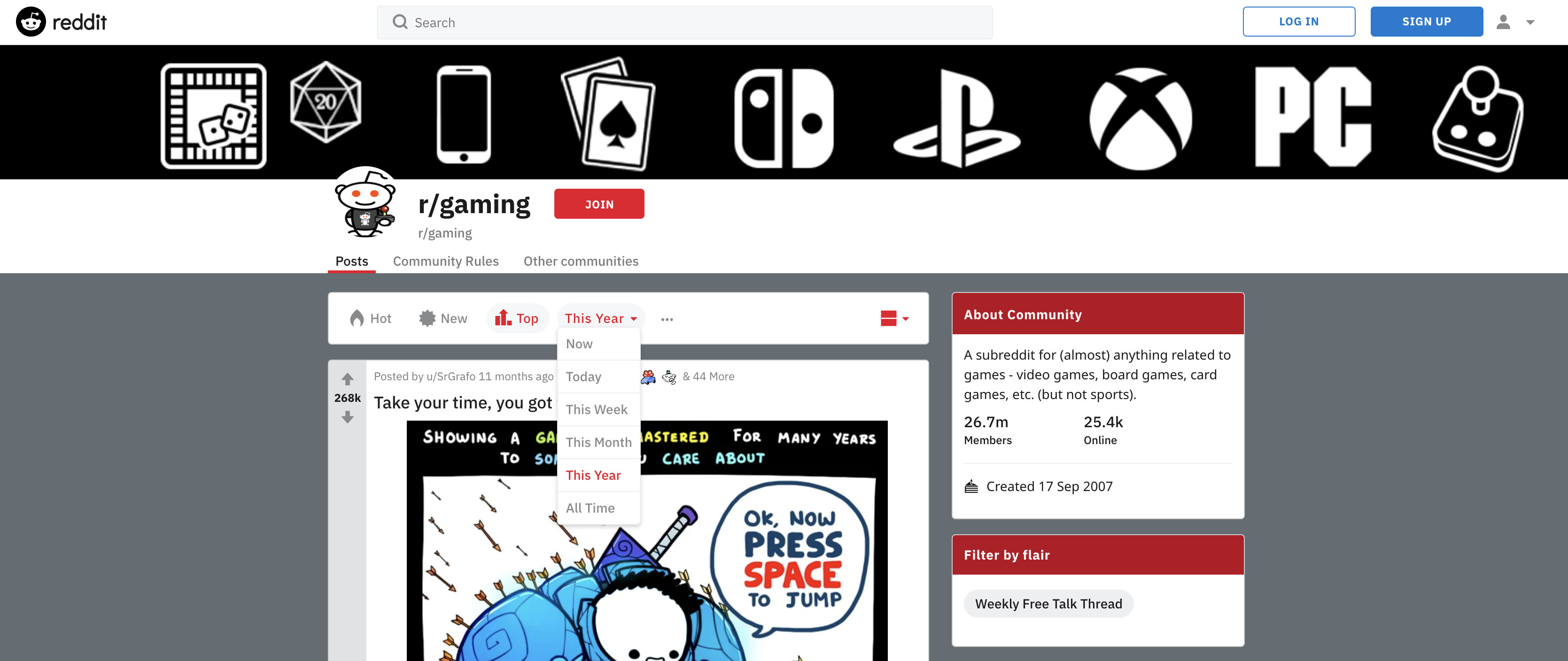 Look for trends in content formats or topics to help you to plan what performs well. But don't forget that the goal isn't just to generate upvotes on Reddit. You want to be driving traffic to your site.
Perhaps the best way you can use insights that you find in relevant subreddits is to use them as a base to produce content that is hosted on your site's blog or content hub, and that is then posted to Reddit.
Let's take a look at the /r/marketing subreddit, and try to find some great content ideas that you could put together.
Start off by entering search queries into the Reddit search bar. Great starting points include:
How do you
Tips
Advice
Help
Make sure that you search only within a specific subreddit, rather than Reddit as a whole. If you run a search from the subreddit, you will see an option to show results from it.
Essentially, we are looking for question-based posts that you can then turn into blog content that acts as an answer, and the more upvotes, the more engaged the audience is. 
You can use these to plan content ideas. Let's look at the results that come from a 'how do you' search on this subreddit: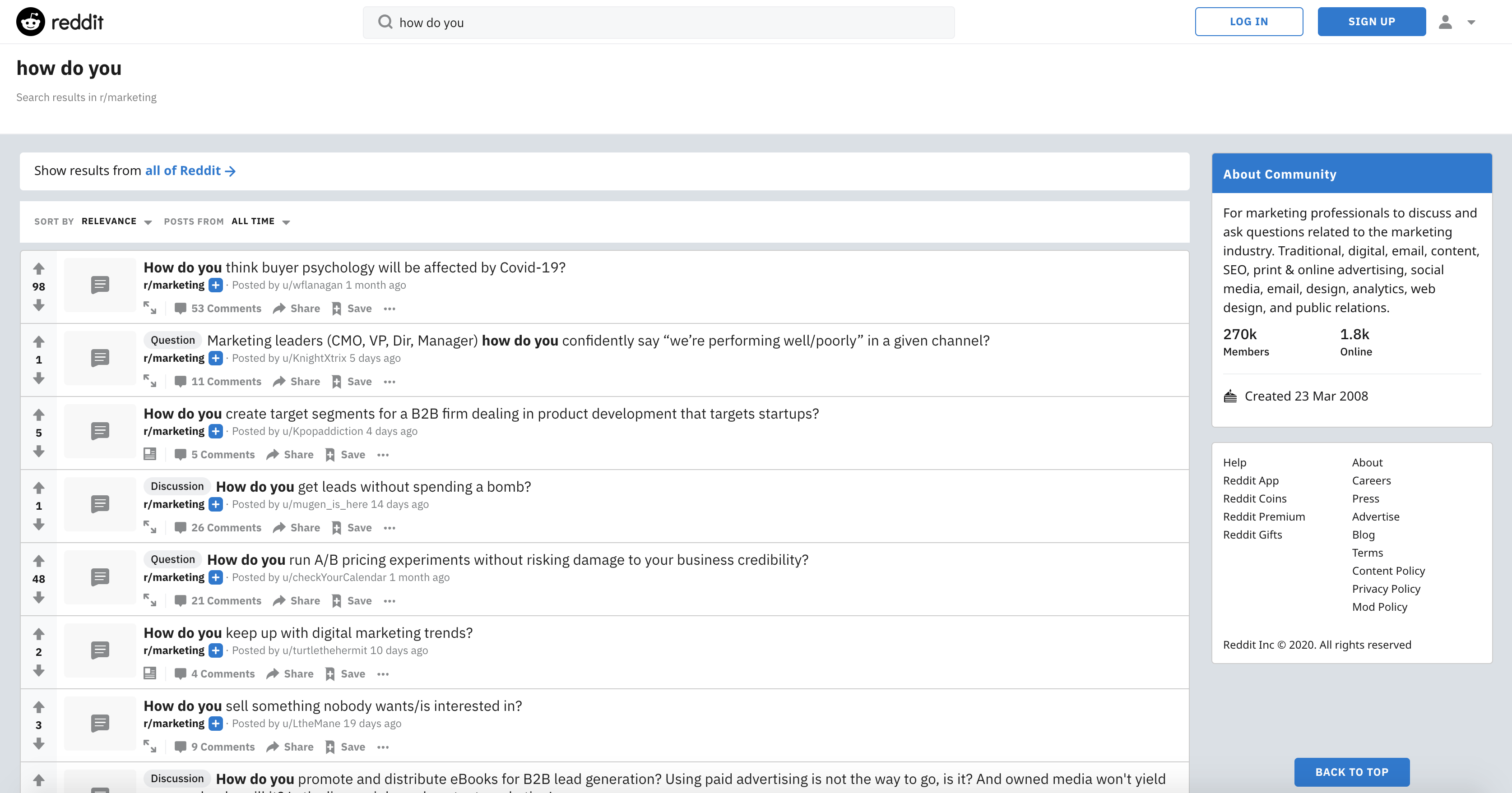 Very quickly, you can begin to pull together topics that you can see are driving engagement, with ideas including:
How will COVID-19 affect buyer psychology as the world returns to a new normal?
How to confidently report on performance as a marketing leader.
How to create target segments as a B2B brand.
How to generate cost-effective leads at scale in 2020.
How to successfully run A/B pricing experiments without damaging your credibility and frustrating customers.
X-people you need to follow on Twitter and LinkedIn to keep up to date with digital marketing trends.
How to market a product that nobody wants to buy and kickstart growth.
That is seven different blog post ideas in just a few minutes. Not a bad source of inspiration at the best of times (you can then go and layer keyword research into this), but what makes the approach even more effective is that you can see the upvotes.
That is just the start of how you can use Reddit in this way. Why not take a look at our guide on how to use Reddit for keyword research to amp up your content marketing strategy for more inspiration and advice.
Step 3: Engage With Other People's Content and Build Up Karma
The reality is that new accounts aren't trusted by the community the same way as established ones are.
And this makes sense. It is perhaps no surprise that Reddit isn't immune from opportunistic link builders who have no intention of adding value and simply want to earn quick win links. 
That is not how Reddit works. 
To become a trusted voice on Reddit, you need to build up Karma. That is a score you build up by commenting on other people's posts and creating your own. 
When you upvote someone's post (or downvote it), you are giving them positive or negative Karma. As you have maybe guessed, positive Karma increases the score, and negative Karma decreases this. It is the platform's way to ensure that users see the very best comments, and it is something that you can't ignore if you want to really make it work for you as a channel.
Tip: You can see a Redditor's Karma score on their profile page.
You need to know that building up Karma doesn't actually bring a direct benefit, but what it does is demonstrate that you are an active member of the community and create content that other Redditors love. Some subreddits even impose a minimum Karma score for you to be able to post or comment. 
A higher Karma score means you are a trusted voice. 
How you can build Karma on Reddit:
Whatever you do, don't spam and create as many posts as possible, hoping that someone will upvote. That is known as Karma farming and is massively frowned upon. Don't do it. 

The best way to build up Karma is to engage organically with other people's content as a Reddit newbie, and that includes upvoting, downvoting, and joining in discussions. Add value, give your opinion, and just get involved.

Getting involved in a discussion early on often helps given the time-sensitive nature of posts, and you can find opportunities on the 'new' and 'rising' tabs on subreddits.

You will also earn Karma for posting original content, but we are big fans of building up a bit of trust first, and as we have already mentioned, some subreddits require this before you can actually get involved at all.

Karma is associated with your profile, so this doesn't need to be earned from the main subreddits you will be using to promote your business. Consider getting involved in subreddits that relate to your interests as well as your work.
Step 4: Start Sharing Your Own Content
Once you have built up some Karma, you want to start using the platform properly as a marketer.
And that means creating and sharing your own content.
We have already looked at how you can use subreddits and searches to come up with content ideas that you have backed with community validation in the form of upvotes, and this can be a great way to create and share your own content.
Don't forget, the goal here is to add value to the community, not simply share your link for the sake of it – only share content that adds value to the subreddit you are in.
Your first option is to share the link alongside a title:

The other is to create a post that includes a text overview and to include the link within the post: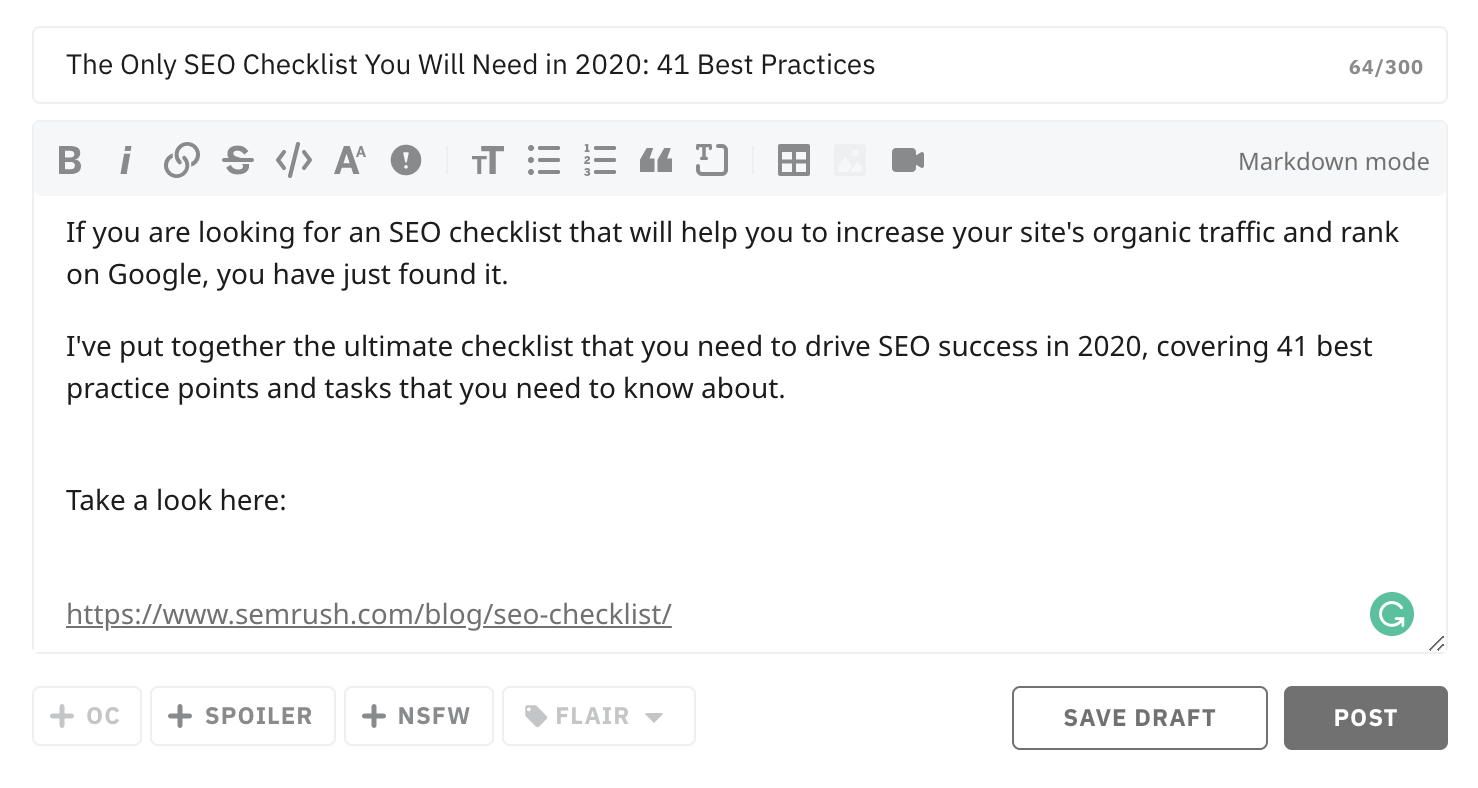 Both have their place in a solid Reddit marketing strategy. If you are adding value, you should start to see engagement on your posts and, hopefully, traffic to your site through your links.
Step 5: Create a Personalized Subreddit
Once you have figured out what content generates the best results on the platform and are regularly sharing insights and links to your chosen communities, you can launch your own personalized subreddit. It can be an effective way to use Reddit to market your brand.
In the sidebar of Reddit's homepage, you will see an option to create a community.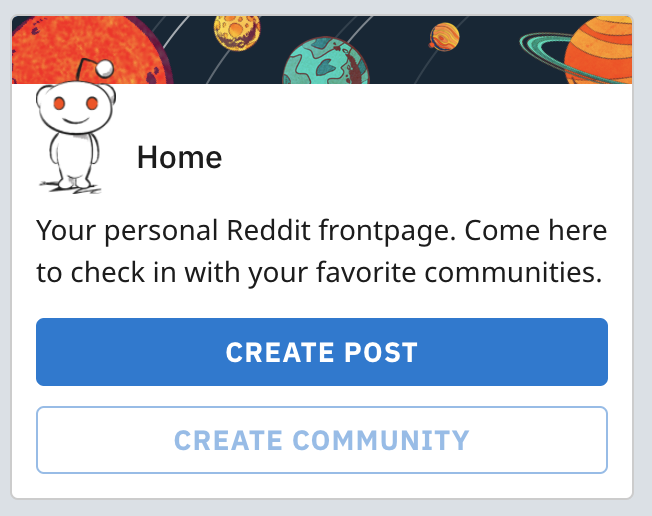 You won't be able to create one until your account has been active for at least 30 days and has earned at least a minimum level of positive Karma. This level isn't published, but Reddit claims that it isn't prohibitively high. It is believed that this is around 50.
Once you have launched your community, you need to promote it, and a great place to start is to share it in the  /r/newreddits subreddit and to share links in other related communities.
Moderate your community with a focus on adding value, and be sure to actively take a key involvement in discussions as a brand.
Take a look at this guide from Reddit Mods for more ideas on how to grow your subreddit.
Other Ways to Use Reddit in Your Marketing and SEO Strategy
There are more ways you can use Reddit as part of your digital marketing strategy than to just create and share content; we have rounded up some of our favorites below.
Reddit Ads
Advertising on Reddit can be a fantastic way to "reach influential communities made up of millions of people engaging with today's most relevant content."
Whether you are looking to start a conversation around your content, sell products, or raise awareness, Reddit Ads is a platform that you should be carefully considering.
And before you compare it to Google Ads, the platforms are totally different and shouldn't really be looked at side by side. Reddit Ads can be a great way to amplify your content to new, engaged audiences. 
The beauty of these ads is that they appear on subreddits amongst organic content, helping to drive visibility and engagement.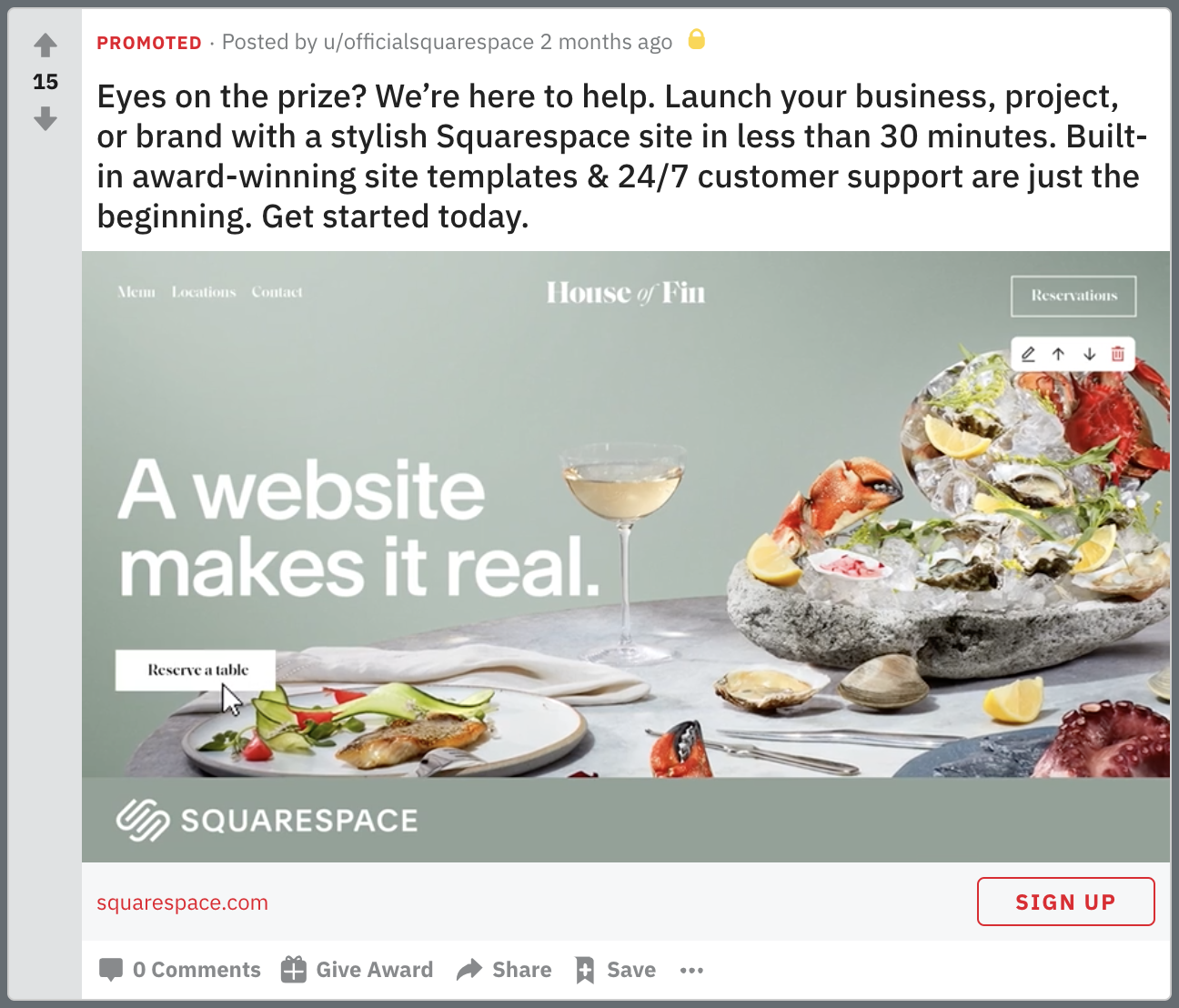 You can run your own ads straight through Reddit, or if you are looking for a cost-effective solution, we encourage you to take a look at Traffic Jet, a SEMrush tool to help you to fully automate your traffic acquisition in just a few clicks.
Testing Creative Content Marketing Campaigns and Gaining Feedback
If you are using creative content marketing or digital PR as part of your SEO strategy, Reddit is a great platform to test your ideas and get feedback from your target audience.
Share drafts of your content or campaigns in relevant subreddits and monitor the discussions and upvotes. Does the community love your content? If so, there is a good chance you are ready to pitch it to the press. 
If they are not interested, perhaps the feedback that has been supplied can help you to make improvements and drive success?
You can learn more about how to use Reddit for testing content over on the NeoMam blog.
Running An AMA
Running an AMA (ask me anything) on Reddit is the perfect way to engage your audience. 
But you need to make sure that you are approaching this in the right way. Carefully track how this brings a return for your brand and remember the goals you are putting in place (and why you are doing it).
But as Brent Csutoras shares in this  How to Host a Successful Reddit AMA guide, you need to be prepared for all eventualities.
Be prepared for the Reddit community to take the conversation in unexpected directions. How you answer can set the stage for how people feel about you in the end.
There is a lot to be gained from hosting an AMA, but it is not as simple as just deciding to host one. As with anything successful, you need to invest the time to make sure it's done properly. 
---
We Hope You Found This Reddit Guide Useful
Reddit can be a goldmine of traffic for the right business, and it is often overlooked.
As long as you are prepared to invest the time and effort into the platform to truly add value, there is a lot you can gain from Reddit as a channel. Do not fall into the trap of spamming and being too self-promotional, and you will enjoy great results. 
Are you using Reddit to drive growth for your business? If so, leave a comment below and share your top tips.