A request for proposal (RFP) should be a go-to document in any business's playbook. RFPs make the process of finding and selecting contractors clearer and easier from the outset. 
For busy business owners, marketing managers, and other professionals tasked with outsourcing work for their brands, knowing how to write an RFP is essential in saving you time, money, and resources in the long run.
In this guide, we will go over what should be included in an RFP and how to craft your own as well as RFP examples and an RPF template to get you started. Without further ado, let's begin. 
Why Use an RFP? 
A request for proposal is a document that a business drafts when that business is seeking out multiple bids for one (or multiple) outsourced projects. 
For example, let's say you are a car parts business looking to take on a few bids for a new ad campaign promoting the opening of a new body shop. You'll want to make sure that the contractors or digital marketing agencies that are bidding to take this job know: 
What the scope of the project is
How much your budget is for the project 
What your deadline is 
Any possible roadblocks that would make the job more difficult or labor intensive
Because you will, in theory, be fielding a number of questions and prospective agency partners, having a document that keeps track of the key elements of the project saves you time and money in the end. 
An RFP streamlines and automates the bidding process so you can focus your energy on other aspects of your campaigns.
RFP Outline + Examples 
Before you begin the process of deciding what elements are important to include in your request for proposal, consider doing some research and completing an outline or a rough draft of an RFP. 
Check out some RPF examples from around the web, particularly those that are generated from businesses within your specific industry. 
The Environmental Protection Agency (EPA) has a couple of RFP examples that you can use to get a general sense of what an RFP looks like, especially if you haven't ever seen one before.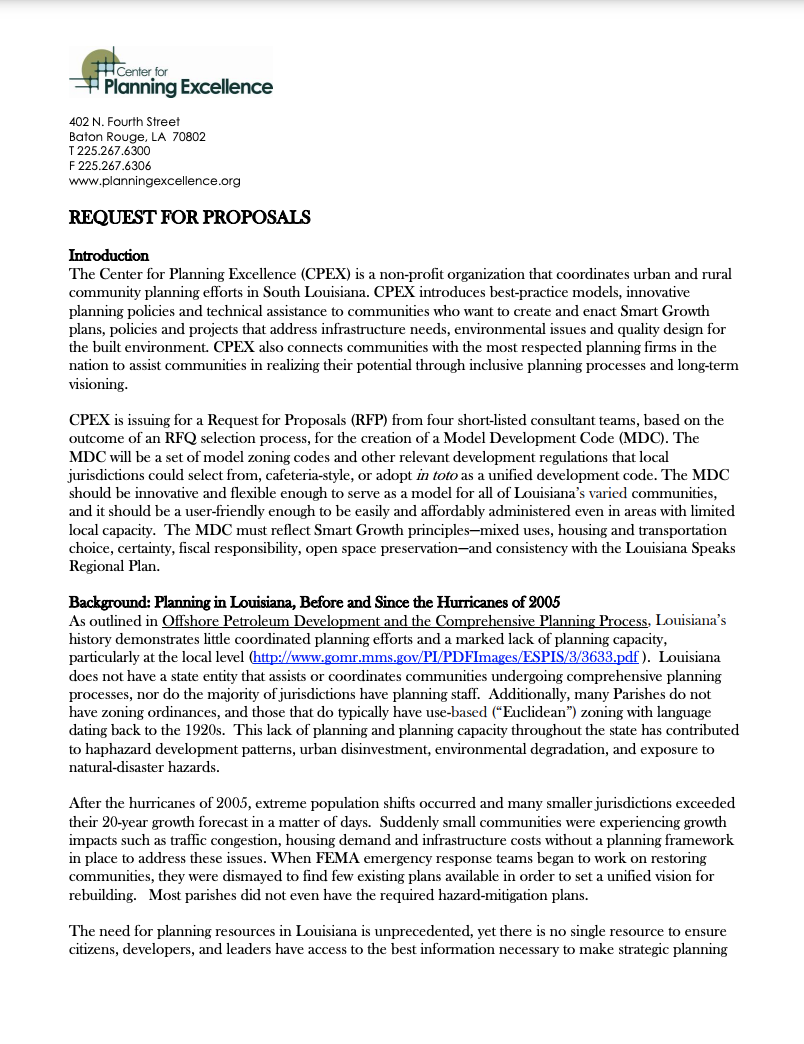 That said, if you're looking for RFP examples, or a template that is more market-specific and geared toward businesses that sell a product or service, The Template Lab offers a ton of sample RFP templates to choose from, based on your industry.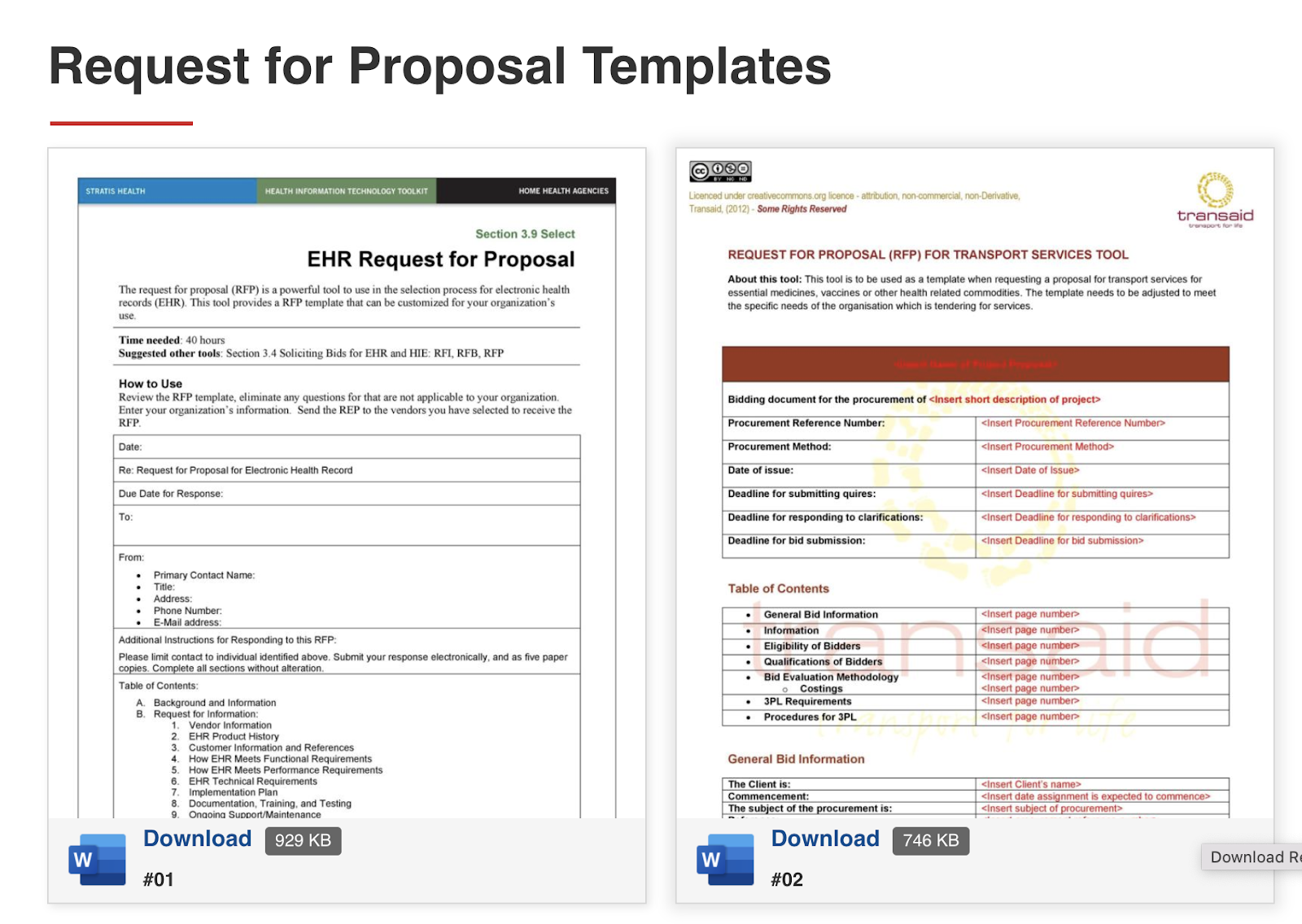 Once your research has yielded an RFP sample or template you would like to use to create your own customized template, get started on an outline or rough draft of your RFP. 
The best way to do this is to just put pen to paper and jot down the brass tacks that you know about your business, the project, and any potential pitfalls that may arise during the working relationship with a prospective contractor. 
Once you have these details flushed out, begin crafting your full RFP. 
Top 7 Elements of an RFP
While it's true that every request for proposal will be a little different than the next because every project and business is unique, several elements are almost always included in an RFP to make life easier on both sides of the contract agreement. 
Here are a few things you'll want to strongly consider adding to your own RFP: 
1. Introduction 
An introduction is the first thing a prospective contractor or agency will see about your business in the request for proposal. It should be front and center on the first page. 
This is the space where you can talk about your founders, board, executives, mission statement, what your business does, how long you've been in operation, and anything else you deem pertinent to know about your brand or product upfront. This isn't the space to get into the finer details of the project, that will come in just a bit. 
2. Scope of Project Work
This is the space where you will talk about the project in as much detail as you can. Bullet list all of your micro and macro goals for the project. Talk about expectations for the winning firm in detail. 
Using the car parts shop as an example again, you might write something like, "The winning firm will have 10 years of experience in crafting digital ad campaigns for medium-size car businesses." 
Being as detailed as you can in this section of the request for proposal will weed out those contractors who don't meet some basic qualifications for the project. It will also help qualified contractors prepare a proposal that meets your needs.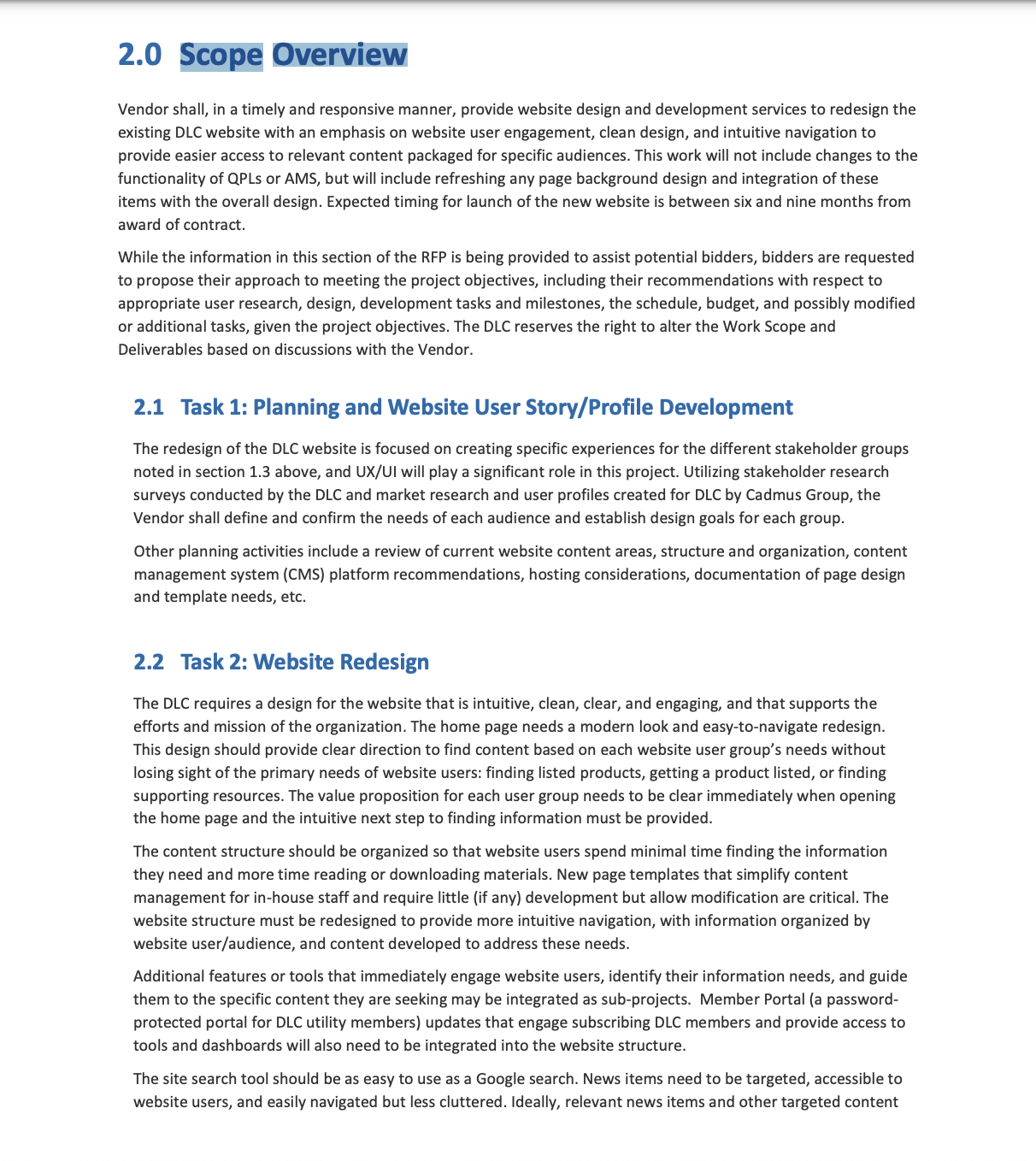 3. Deadlines and Important Submission Dates 
One of the most important factors in any contract is the deadline. If you have a strict deadline, make sure to highlight that in your request for proposal. If you have any additional submission dates that bidding contractors should be aware of, this is the place to mention that. 
This will weed out the contractors that have other major, conflicting projects during your timeline (making it impossible to fulfill your needs). 
4. Bid Selection Timeline 
Think of this section as a courtesy to your bidders. Contractors often put a lot of thought into their bids. Let them know when you plan to make your selection and how they will be contacted. 
This also helps both your business and contractors juggle multiple bids for multiple projects. Be sure that all stakeholders on your side are also aware of the selection date included in your request for proposal so they don't accidentally overlook it. 
5. Selection Criteria 
This part of the request for proposal can help accomplish two things: 
Make bidders aware of all your written bid requirements—that is the elements they mustinclude in their written proposal in order to be seriously considered
Make contractors aware of all the business-related criteria you are examining in your selection process 
If you are planning to combine these two types of criteria, be sure to clearly define that in your RFP. Let the bidders know by creating subsections devoted to each: proposal criteria and business selection criteria. 
6. Budget 
Contractors need to know what budget you're working with in order to determine if they are wasting their time by submitting a proposal for a contract that doesn't have the financial backing they require. 
If you want to be detailed in this section by breaking down your earmarked budget, that's fine. Otherwise, giving contractors a general idea of what you can afford is usually sufficient to bring in the right bids. 
7. Concerns and Possible Roadblocks
Every project comes with challenges. This is the place to outline all potential roadblocks so that your prospective contractors can be aware of them from the outset. 
For example, you might want to include something like, "The winning contractor will be aware that a major stakeholder for this project will be out on leave from X month to X month. The winning contractor will be willing to establish a new point of contact midway through the project." 
Some contractors have their own internal operating procedures that might prevent them from working with you in the event of certain roadblocks. Eliminating these contractors from the selection process will make life easier for both you and them. 
RFP Checklist
Once you've written your request for proposal template, you'll want to make sure all essential pieces are included before you begin sending it out to contractors. 
While it's impossible to create a boilerplate checklist that covers all possible RFP elements for all possible industries, below you will find a checklist for some of the most common. 
✅ Business contact information (how contractors can get in touch with you) 
✅ Points of contact (who specifically is running the project on your side of the agreement) 
✅ Introduction 
✅ Scope of project (with all minor tasks included) 
✅ Project deadline
✅ Proposal submission deadlines 
✅ Selection criteria 
✅ Budget 
✅ Concerns and any roadblocks 
✅ A small section thanking contractors for their time (not necessary, but a nice touch)
RFP Template
Here we have put together an RFP template you can use to start outlining your project for future contractors. To use the template, just copy the text and add all needed info about your project.
---
Contact Information 
Put your business name, mailing address, phone number, and email address in the top left corner of the document. 
Introduction 
Include pertinent information about your business history, founders, and what exactly you do as a company. 
Scope of Work 
Make sure to include as many details as you can. Organize this section with bullets or numbers to keep everything clear.
Project Deadlines 
Be as clear and concise in this section as you can. If your project has multiple deadlines, list them out in order and give clear instructions as to what is due on that date. 
Bid Selection Timeline 
This section should be very brief and clear. List the date of selection and manner of contact for the winning bid. 
Selection Criteria 
You may want to include two subsections here: written proposal criteria and bidder's experiential and business criteria. 
Budget 
You can be detailed in this section, or simply provide a clear and concise description of your budget for this project.
Concerns, Questions, and Roadblocks 
Give a detailed description of any expected roadblocks that a contractor may encounter and list out any lingering questions you have for your bidders or any concerns you may have. Also provide other information about your business that isn't included in the other sections listed above but is important for contractors to know. 
Final Thoughts
Selecting good contractors to help your business meet its goals is a crucial part of running a successful brand. It can be both nerve-wracking and time-consuming to attempt to balance a number of bids during one business quarter, without the help of a request for proposal. 
RFPs are great for businesses that have the time and the resources to produce them and manage the distribution and outcome of those bids. The good news is that many businesses can successfully create professional RFP documents online and in-house. 
Another way to ensure that you are working with qualified contractors is by going through an agency partners platform. Our Agency Partner Platform pairs businesses with highly qualified and experienced agencies to meet virtually any marketing need a brand may have. It's a great way to accomplish your digital marketing goals without having to scale in-house or chase down multiple bids for multiple contracts. 
Whatever route you choose to go, having a detailed RFP template ready to go for your next project can eliminate a lot of the stress and let you get back to working on other important parts of your business.