When it comes to growing your SaaS business organically, content marketing is everything. It establishes you as a thought leader and boosts sales by attracting people interested in your services. 
This ten-step guide will help you squeeze every last drop from your content and put your business in pole position. 
You will learn how to design a powerful SaaS content strategy and develop content ideas that resonate with your audience.
What Is Different about SaaS Content Marketing?
SaaS content marketing can often be complex because:
SaaS services require a certain level of commitment, so establishing reputation and trust is essential
B2B transactions often involve more decision-makers and influencers, and often have longer sales cycles
Digital platforms involve technology, which can be difficult to understand initially—especially when the SaaS is truly innovative or unprecedented
For all these reasons and more, you need to think of your SaaS content strategy as a marathon, not a sprint. 
Why is content marketing important for SaaS companies?
Every company needs content marketing to grow organically—and this also holds true for brands offering SaaS products. 
The SaaS and tech sectors are unique in their nature. Their audiences are constantly looking to educate themselves and grow professionally.
In fact, for some, content created by SaaS companies serves as their main source of knowledge and information.
Producing content that helps your customers upgrade their skills is, therefore, key to building a loyal community, establishing your brand as a thought leader, and building a sustainable revenue stream.
Let's take a look at a real-life example. Kinsta, a premium WordPress hosting provider, achieved a dramatic increase in website visitors by creating valuable, educational content. As of June 2022, they attract over 672,000 monthly organic views.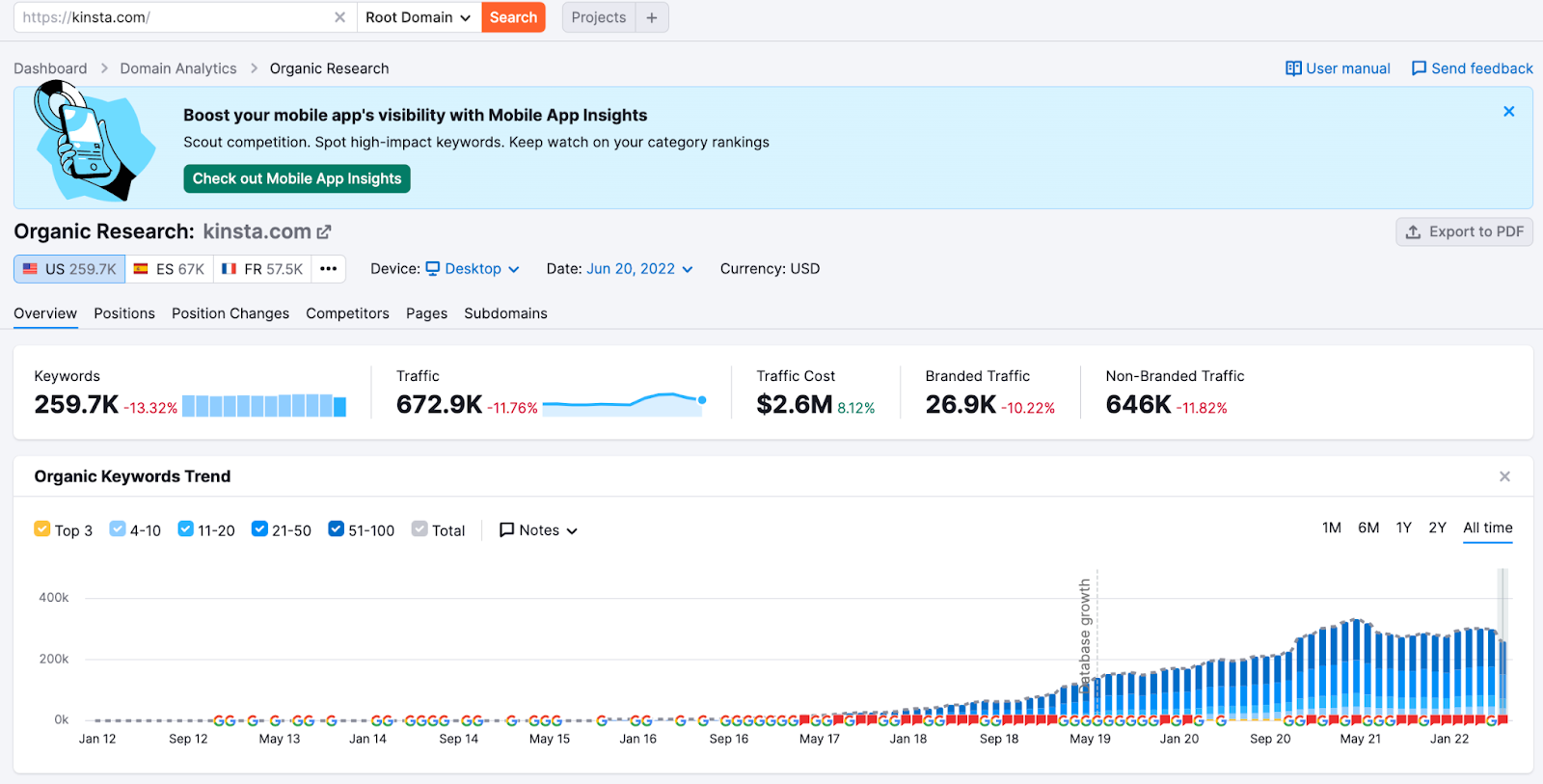 Kinsta talks about topics that are not directly linked to the company's hosting services. Instead, it focuses on its customers' pain points and challenges.
Their blog covers broad themes relevant to WordPress developers and website owners, thereby building awareness and trust among these audiences.

How SaaS Content Marketing Performs
In our State of Content Marketing 2023 Global Report, we asked IT and SaaS companies how their content strategy was playing out. Here are some of the key takeaways. 
70% of SaaS companies have a fairly developed or advanced content marketing strategy
97% of SaaS companies are finding some degree of success in their content marketing efforts
SaaS and IT businesses continue to invest in their content strategies. 
65% of SaaS and IT businesses spend more than $3,000 on content marketing every month
75% of them expect to increase their content marketing budgets in 2023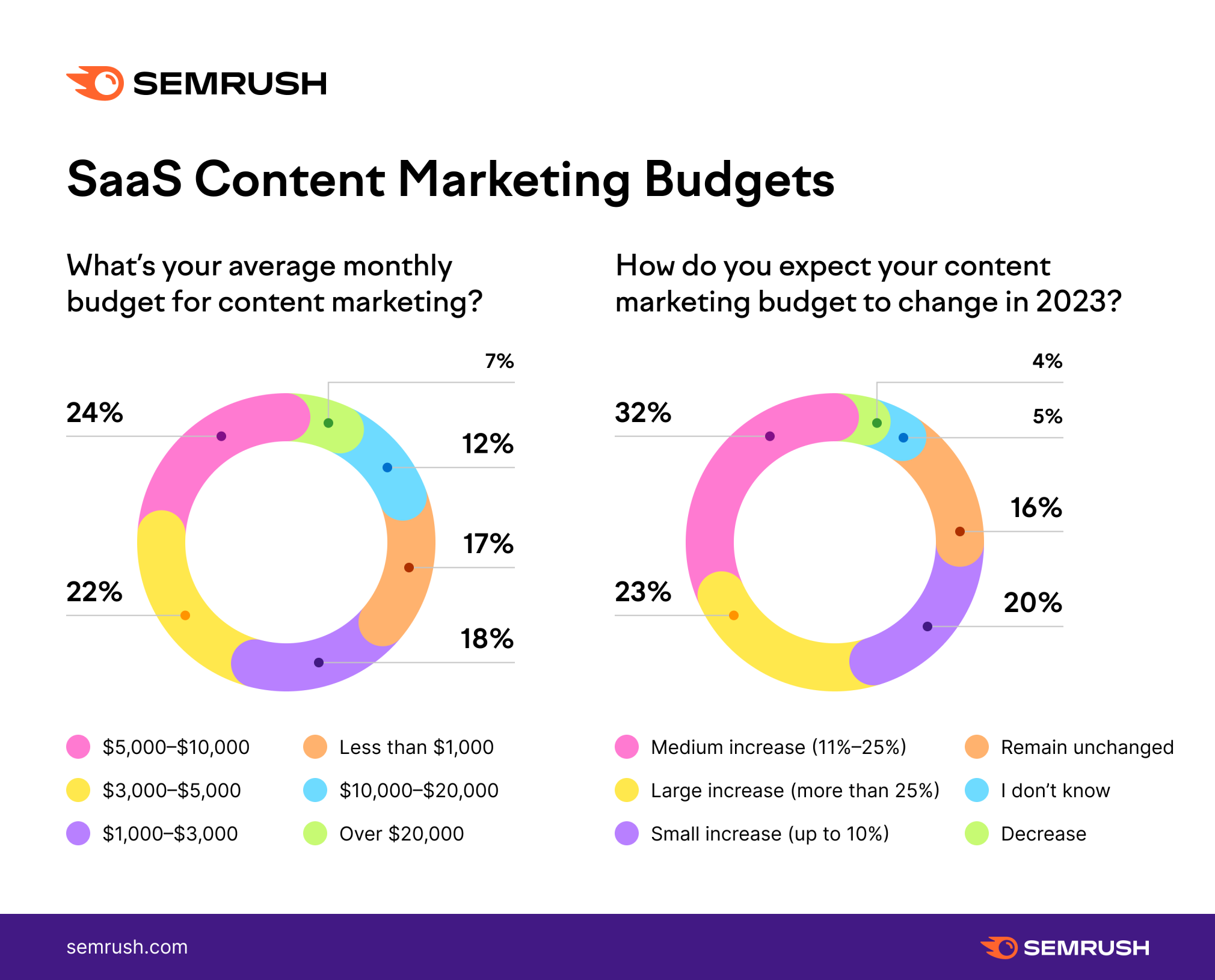 How to Create a Powerful SaaS Content Marketing Strategy
Now, let's explore the 10 steps you need to take to create a successful, high-performing SaaS content strategy.
1. Start with Building a Foundation for Your Content Strategy 
Some companies underestimate the importance of other marketing elements and get frustrated when content doesn't bring the desired results. In reality, content works well when there's a solid marketing strategy behind it. 
Before rushing into content creation, you need to make sure that you have all your processes, tools, and assets in place.
So, what are the main items you should focus on?
Get your product and brand story right
SaaS products are often less straightforward than other categories, requiring a deep understanding of the value proposition and messaging you want to deliver to your audience. 
Creating content without a solid business and product strategy will usually result in wasted resources and little-to-zero results. 
Vivek Shankar, Founder of Vivek Shankar Consulting says:
Many SaaS companies begin with SEO and then focus on the rest, getting it all backward. Your product and sales come first, so get that story in place before doing anything else.
Make sure you have the following elements documented:
Your overall targeting and segmentation strategy
Your USP (unique selling proposition)—the core value offered by your company
Your overall messaging and positioning strategy
Your brand story—the narrative structure highlighting your background and your mission
Prepare all necessary marketing assets
Writing blog posts before you have all website pages, forms, and workflows set up will also lead to a waste of resources. Make sure you have the following assets ready:
An optimized website. Take care of such things as the website structure, keyword optimization, UX, page speed, and interlinking.
A content marketing team. In-house or freelance, you need to have trained professionals who will take over the copywriting, design, and other areas of content production.
Content marketing tools. Having a minimal tech stack at your disposal can dramatically increase your productivity and make your content strategy more data-driven. Start with setting up events in Google Analytics and using SEO tools for keyword and topic research.
Define your content marketing goals 
Coming up with specific objectives will allow you to evaluate your progress and set realistic expectations. 
Consider setting up your goals at two main levels:
The overall content marketing goals—e.g., the revenue or the number of Marketing qualified leads (MQLs) generated by content this year. Make sure to use multitouch attribution when evaluating your content's impact on the bottom line.
Specific metrics for each content piece you produce—e.g., organic traffic for a blog post. Setting such intermediary KPIs is essential to better understand content performance when it comes to complex SaaS products.
Based on our research, the top 3 content marketing goals for IT/SaaS companies are brand awareness, website traffic, and lead generation.
Keep reading to learn more about building a powerful content funnel to reach your content goals.
2. Go the Extra Mile When Researching Your Audience 
Audience research is an essential part of building any content marketing strategy. It helps you understand your reader's goals, challenges, questions, and doubts. 
However, customer analysis in the SaaS sector requires even more effort and resources, especially when it comes to B2B SaaS.
Here's why:
The buying process in SaaS usually involves multiple steps and numerous people, from decision-makers to users and influencers.
As such, you will need to understand who and when will interact with your content, and how to create an effective conversion workflow. 
For example, let's imagine you work for an adtech company that has several personas engaging with its content: a decision-maker (CMO), a user (performance marketing specialist), and an influencer (CFO).
In that case, you could come up with the following workflow:
Create a free educational online course on performance marketing to attract users, build trust with them and showcase the solution 
Expect some of the performance marketing specialists to share their credentials after completing the course and mention the tool to the CMO 
Create a blog post about calculating marketing ROI and add a CTA (call-to-action) leading to a gated template to attract the CMO
Produce sales enablement materials (e.g., a case study) and pricing pages to help the CMO convince the CFO that the purchase will create a positive financial impact
As you can see, there are multiple layers to take into consideration. But once you've figured it out, content marketing can turn into a revenue center for your company.
Let's look at a real-life example. 
ClickUp is a project management tool that targets diverse audience segments, from various teams (e.g., Marketing, DevOps, HR, and so on) to different types of companies (e.g., startups and enterprises).
In this case, building differentiated approaches to content is essential. For example, when you land on ClickUp's blog, you can choose content based on the type of work you do and the kind of challenges you have.
How to Get a Deeper Understanding of Your Audience
There are a few techniques you can use to get a deeper understanding of your audience. For example: 
Interview multiple types of customers, from users to decision-makers. Make sure to ask them questions about their behind-the-scenes process related to consuming content and making the purchase.
Actively participate in online communities in your niche. This could be platforms like GrowthMentor and GrowthHackers, Reddit threads, LinkedIn groups, etc.
Build relationships with thought leaders and experts in your sector. This will help you get a better understanding of the landscape and access new audiences.
Collaborate with your Sales, Customer Success, and other customer-facing teams. Do your best to involve them in your overall content marketing processes.
In fact, collaborating with other teams was the second-most important factor leading to success in content marketing for SaaS/IT companies.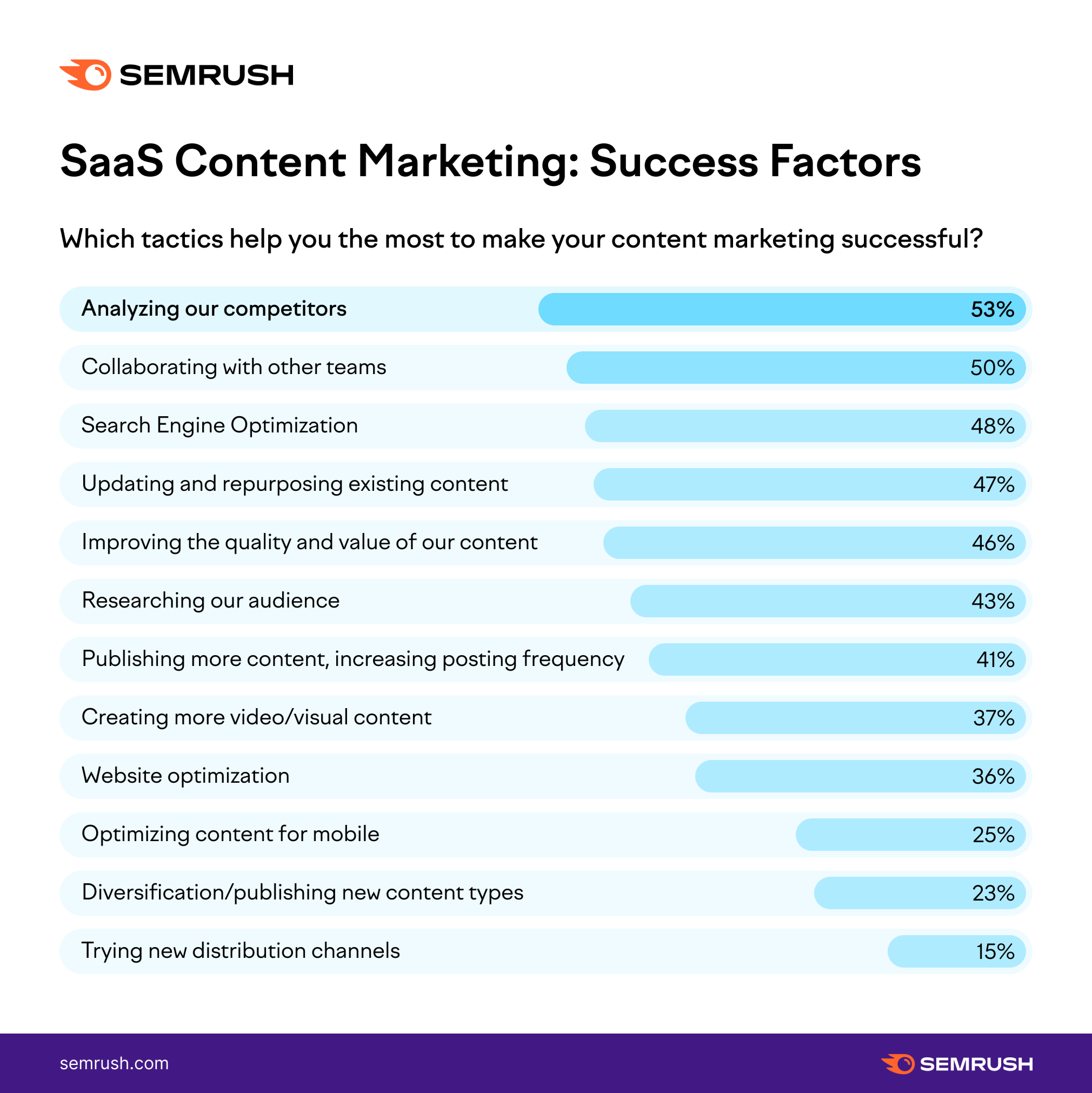 3. Become an Expert in Your Field and Know Your Product Inside-Out
Expertise is one of the foundations of creating successful, customer-focused content which builds audience trust. 
It's therefore important to know your industry thoroughly. 
Many SaaS products are focused on difficult sectors, such as fintech, healthtech, or legaltech. Sometimes, it means that content marketers working in such companies have to learn a lot from scratch. And yet, it's key to understanding your customers' day-to-day goals and challenges. 
You can familiarize yourself with your industry in the following ways:
Take part in customer research and sales processes. If you can, join and conduct interviews, participate in demo calls and analyze customer support requests.
Subscribe to the newsletters of the biggest niche publications and check their daily or weekly digests. You can also listen to podcasts and watch YouTube shows in your chosen niche.
Build relationships with your internal subject matter experts, learn from them, and involve them in content creation. These could be anyone from product managers and owners to the C-suite executives.
Communicate with thought leaders and experts in your sector. These people are some of the most important sources of ideas and content for SaaS content marketers.
Set up Google Alerts for the core topics in your sector. For example, 'digital advertising', Google ads' and 'performance marketing' for our adtech company.
Keep track of the trending topics using the Topic Research tool.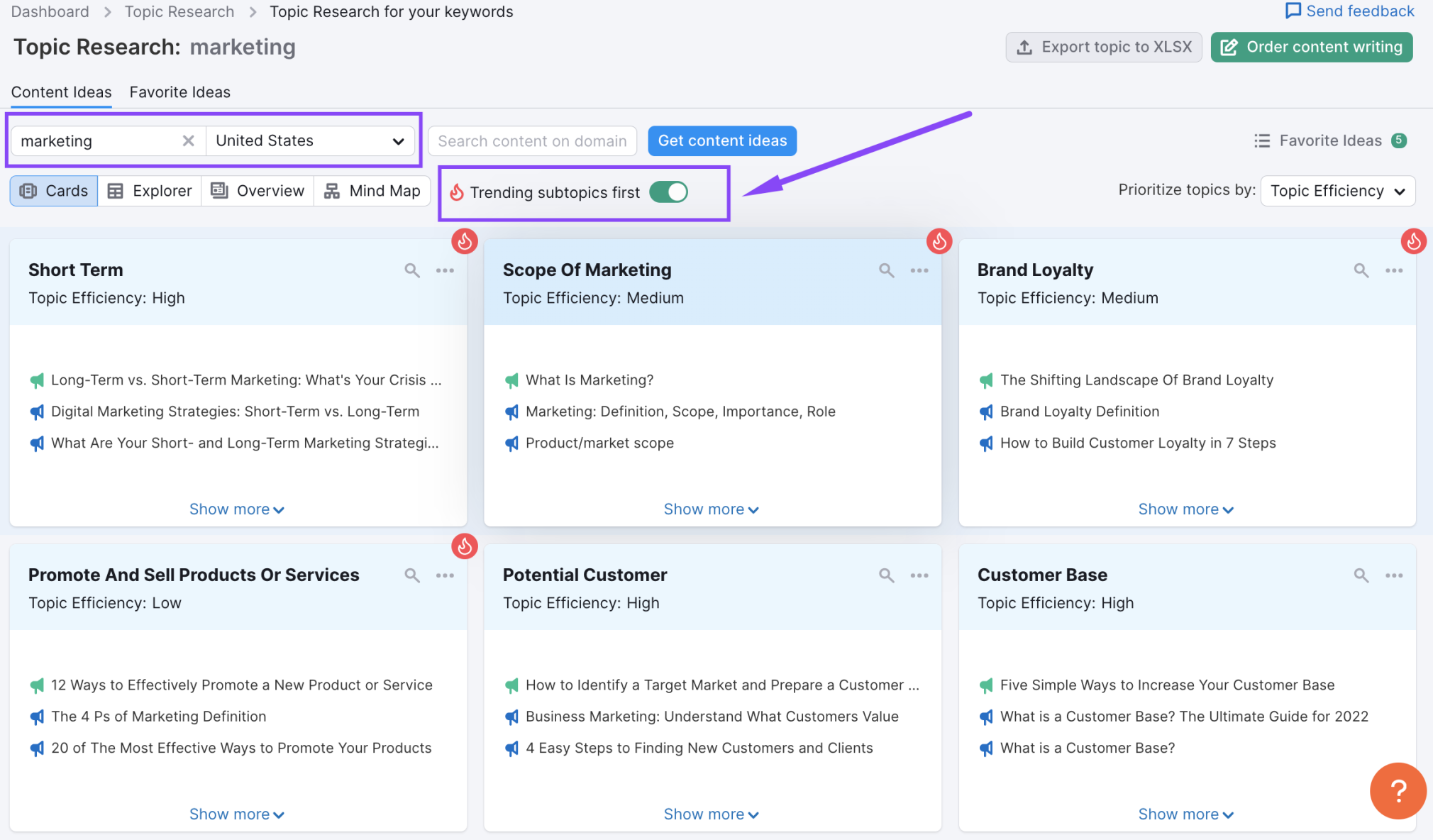 Next, you need to make sure you and your content team are intimately familiar with your company's product. SaaS solutions tend to be more complicated and thereby require constant training and monitoring of features updates.
Deanna Berger, Senior Editor at Esper, recommends:
Understand your software well enough to explain it to someone else succinctly and not in technical jargon. What is it used for, what problem does it solve, and how would an average person understand its core benefit?
This will also help you effectively create product-focused content and integrate your tools into the thought leadership content. At the same time, it allows you to align with other teams in your company, including product marketing, brand, and growth.
Consider adding the following activities to your routine:
Regularly explore your product: make sure you understand how the software works and what kind of features it has
Join customer calls held by the product owners: It might help you gain insight into how people use your product 
Follow all product updates and new feature releases: make sure you understand what value they add 
4. Move Away from "Problem-Solution" Mentality and Think Big
Problem-solution thinking refers to content that only centers on the issues your SaaS product solves. 
This is shortsighted because your readers and potential clients have lots of connected needs. By creating content with a broader appeal, you will increase your potential audience a hundredfold. 
Luke O'Neill, B2B FinTech writer, and owner of Genuine Communications, says:
SaaS wants to talk about the product, the product, the product. But your ideal buyers aren't buying widgets, they're chasing big scary goals like delivering internal and external projects, getting a promotion to a CXO role, being seen as an industry leader, or offering mentorship and guidance to others.
An educational approach to SaaS content marketing can help your users beyond merely solving some of their functional work problems.
For example, you can move them close closer to becoming industry leaders in their own right and prepare them for promotions. 
Focusing on empowering your readers, rather than pushing your own product, will ultimately help them remember you in the future.
Let's take a look at a SaaS brand that does this really well:
How Flipsnack Guides Its Audience with Content
Digital publishing platform Flipsnack has used its position to guide its clients on how they can ditch paper printing of brochures and pamphlets for more environmentally-friendly online options. 
Its blog content goes way beyond its solution though, including marketing, digital publishing, and business sections. Further, its content is highly practical, interactive, and engaging. 

As a result, it receives an enormous amount of average monthly views:
As of June 2022, according to a Semrush analysis, it receives nearly 850,000 organic visitors a month, has generated more than 45 million backlinks and has an impressive authority score of 80.

That being said, talking about your product is also perfectly fine when it organically fits the context. Remember, however, that your ultimate goal is to help users find the best solution to their problems. 
So, when deciding to mention your tool, make sure it truly adds value.
You should also avoid positioning your product as the only solution to a problem. Instead, suggest it as one of the ways to tackle it and provide alternative routes.
Masooma Memon, freelance SaaS writer says:
While it's okay to talk about your product, it's not okay to position it as the only solution that your target audience has. That would be being dishonest to your audience. Which is why I recommend taking the following narrative arc for your product-led content: share 2-3 possible solutions to the problem, share their shortcomings, and finally position your tool as the best solution. The aim is to make a convincing case for your tool. Don't forget, be clear about who you're the best tool for (the specific audience that is).
For example, this blog from Mentimeter, 10 Best Survey Tools & Software in 2022, lists top survey tools, with its own SaaS product at the top of the list. 
5. Strengthen Your Thought Leadership and Get Creative with Content Ideas
There are numerous ways to position your company as a thought leader in SaaS, where brands often become a main source of education.
For example, our hypothetical adtech company might be sharing performance marketing content on topics you'd never cover in universities.
Therefore, your brand has all that it takes to play a crucial role in your customers' lives, as long as you commit to delivering high-quality content driven by real-life experiences.
HubSpot, for example, always promoted the concept of aligning your marketing strategy with the needs of your audience and focusing on inbound marketing. 
It was an innovative and resonating approach that turned into a major direction of modern marketing:
By doing this, they managed to build a loyal global community going far beyond their product users.
Thought leadership plays a crucial role in building brand awareness and creating communities for SaaS brands. To design an effective SaaS thought leadership strategy, focus on the following:
Determine your key area and expertise and knowledge. For example, it could be about innovative ways to optimize ad performance for our adtech company.
Stick to your brand story: the values and beliefs you want to promote. E.g., believing that there are ways to make digital advertising effective while respecting personal data privacy
Identify thought leaders and subject matter experts in your company. E.g., Product owners and performance marketing managers in the adtech company.
Thought leadership content can exist in any format, and it's never too early or too late to start building it.
For example, you could launch a podcast—See the Breaking Brand podcast series from Buffer as an example—or access additional audiences by writing expert articles for industry publications.

There are numerous ways to find inspiration for your thought leadership content:
Use data from your product: Internal data could be used to point out usage trends, ad management strategies (in the case of our example), and more.
Survey your users: Your customers, if they are willing to share, have a wealth of insights and data that lend themselves to thought leadership content
Work with the SMEs: Subject matter experts, whether in-house or external, can bring a new layer of insight to your content. Have a copywriter work with an SME for the best results. 
Collaborate with brands and influencers: Working with other players on the market can shift your perspective and bring a lot of interesting ideas to the table
Carry out research: Working with a market research agency can really lift your content with original data and facts. Your company can even position itself as an industry leader and go-to source for journalists and other experts. 
6. Build Authority by Diving Deeper into Content Topics
For content to perform superlatively, you need to build what's known as topical authority. In other words, content marketing does best when it dives deep into areas of expertise. 
So, rather than chasing after thousands of unrelated keywords (and creating shallow content), it's better to find several core topics and diver further and further into them. 
It's then a good idea to start your content planning process by examining those topics and then proceed to select the right sets of keywords. 
By doing so, you can get a better understanding of all the subtopics and questions that contribute to it. Besides, each topic would usually have a number of related and semantically related keywords.
In the following example, we can see how an adtech company can generate numerous content ideas, based on one topic—Digital Advertising—by using the Semrush Topic Research tool.
Here's the workflow:
First, type the phrase digital advertising into the topic research bar. 

In the example below, we have selected the Mind Map format to see a list of topics. 
Then we select the "advertising budget" topic. 
Now you can use the questions and headlines that come up in connection with the phrase "advertising budget" to help address the talking points for your next piece of content. 
Once you have your talking points and questions to address, we can take the phrase "advertising budget" and insert it into the Keyword Magic tool to find ideas for related keywords.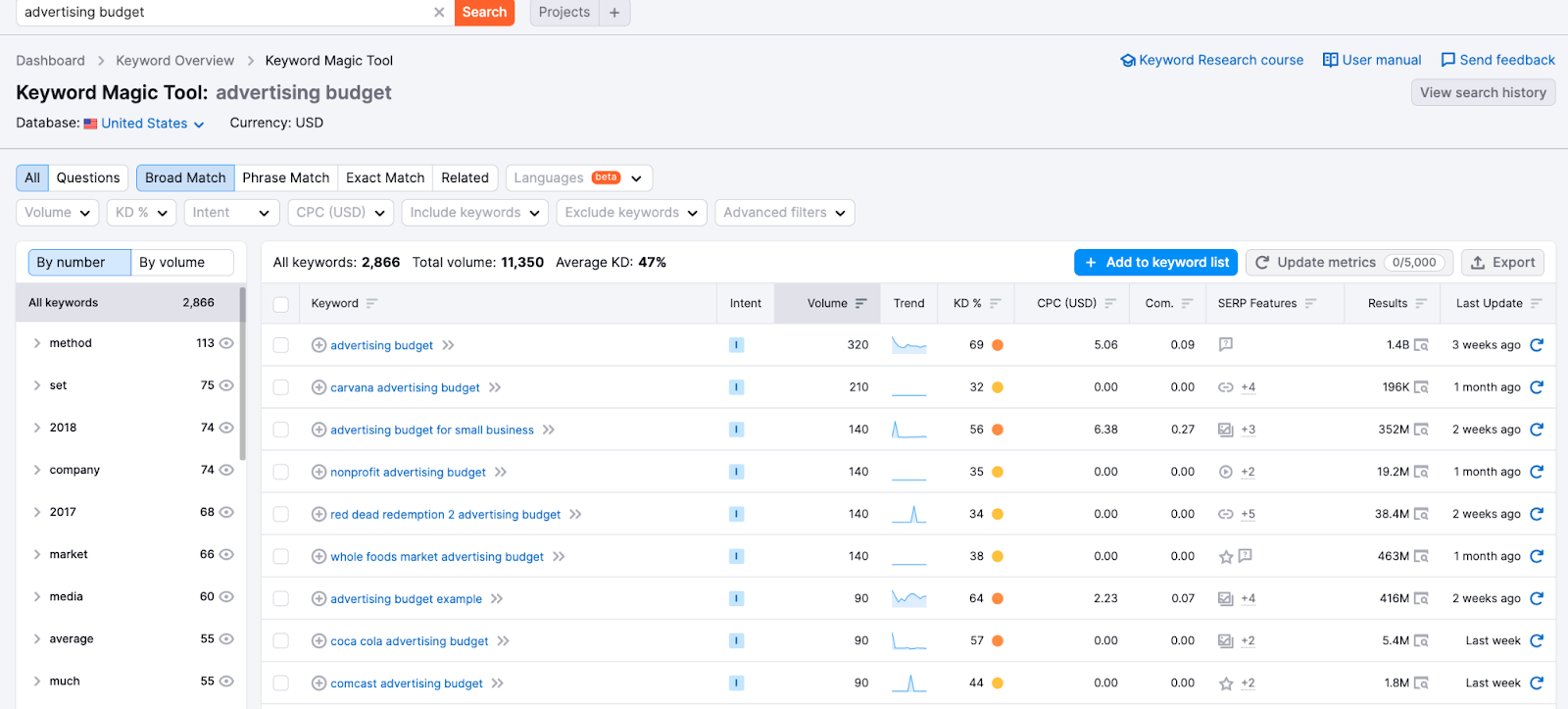 Now you are in a position to use specific keywords and questions throughout your article addressing advertising budgets. 
Note that eventually, your piece can also end up ranking for a broader number of related keywords that form part of the topic. 
For example, if we google 'advertising budget' and check the page ranking first via the Organic Research tool, we might find additional keyword ideas.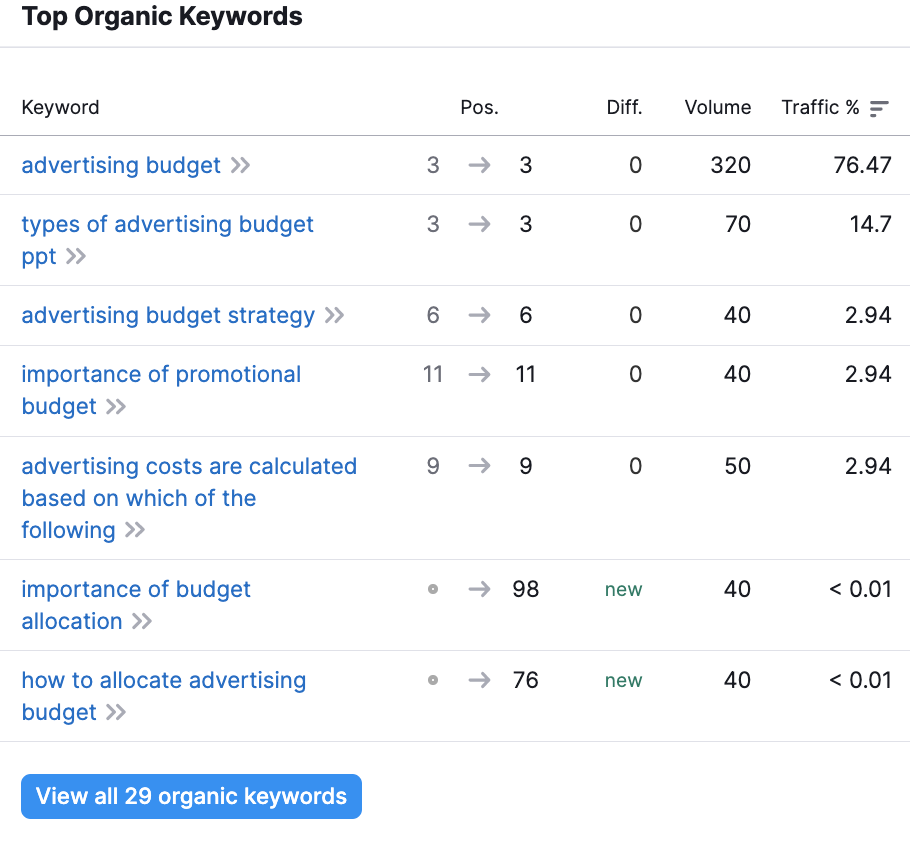 7. Build an Effective Marketing Content Funnel
As we've covered, SaaS products are in a high-consideration group, especially in B2B scenarios. In other words, there are a lot of decision-makers to please, before winning a customer. 
That makes it key to create content that satisfies customer needs across all the touch points along the customer journey.
You can do this by producing content for each funnel stage. A basic funnel takes the form of an inverted pyramid and has stages of Awareness, Interest, Consideration, and Conversion. 
Here's a simple content marketing funnel and customer journey, along with some examples from SaaS and online service brands:
Awareness
A potential customer is aware they have a problem to solve, but they are not sure what solutions are available. 
For example, a marketer needs to improve their in-house research capacity and they begin to look for solutions online. 
They search for how to conduct online market research and discover a range of help guides from different SaaS providers. 
In the example below we see guides from Momentive (Survey Monkey) and Hotjar, two companies that offer services in this niche.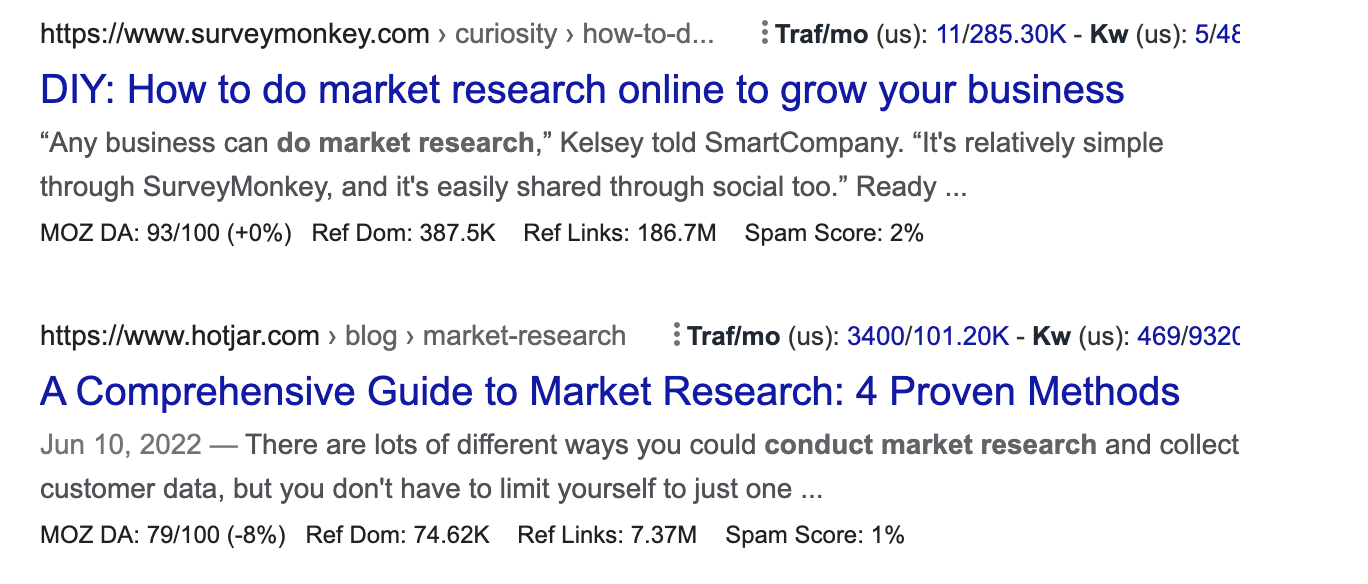 In the Momentive blog, we see how its own tool is put to use, through different topical survey reports:

On Hotjar, we see content related more closely to customer questions and challenges. Here they share different types of customer feedback questions and product-related questions to ask. 
We also see a more bottom of the funnel (conversion level) content piece in the Introduction to Hotjar: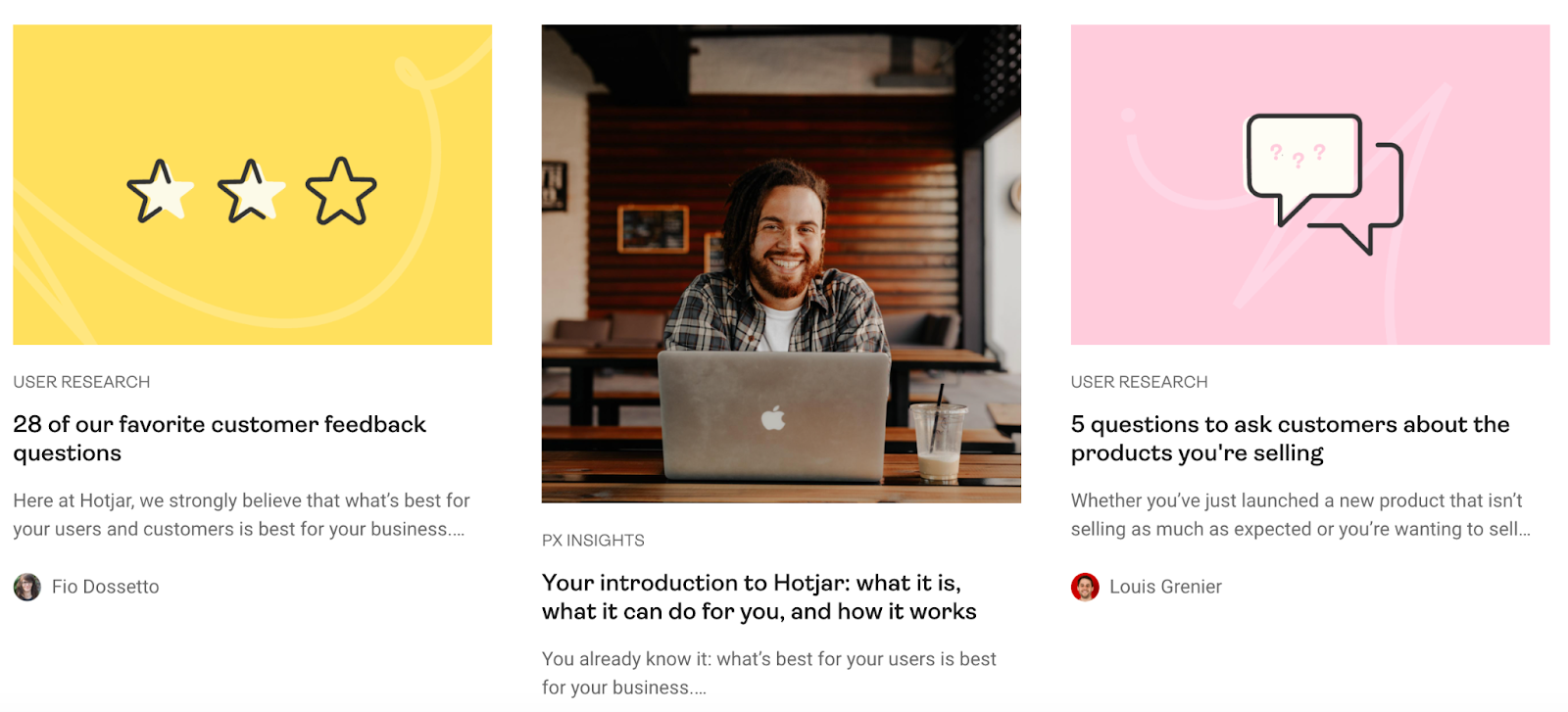 Interest
After reading through the content, a potential customer discovers there are a number of solutions on the market and they start to read about their options online.
In this stage of the funnel, the potential customer starts following brands and asking questions. 
Going back to the digital publishing platform Flipsnack, the brand has created some top-quality interest/engagement-level content. 
In the example blog below, you can see how it uses its own tool to add interactivity and interest for the audience. This is a clever and non-salesy way to showcase its value proposition.
How to start a digital magazine is full of advice and practical tips for marketers wanting to follow in Flipsnack's footsteps. This brings potential clients back to explore more content and increases the chances they'll sign up for the SaaS product itself.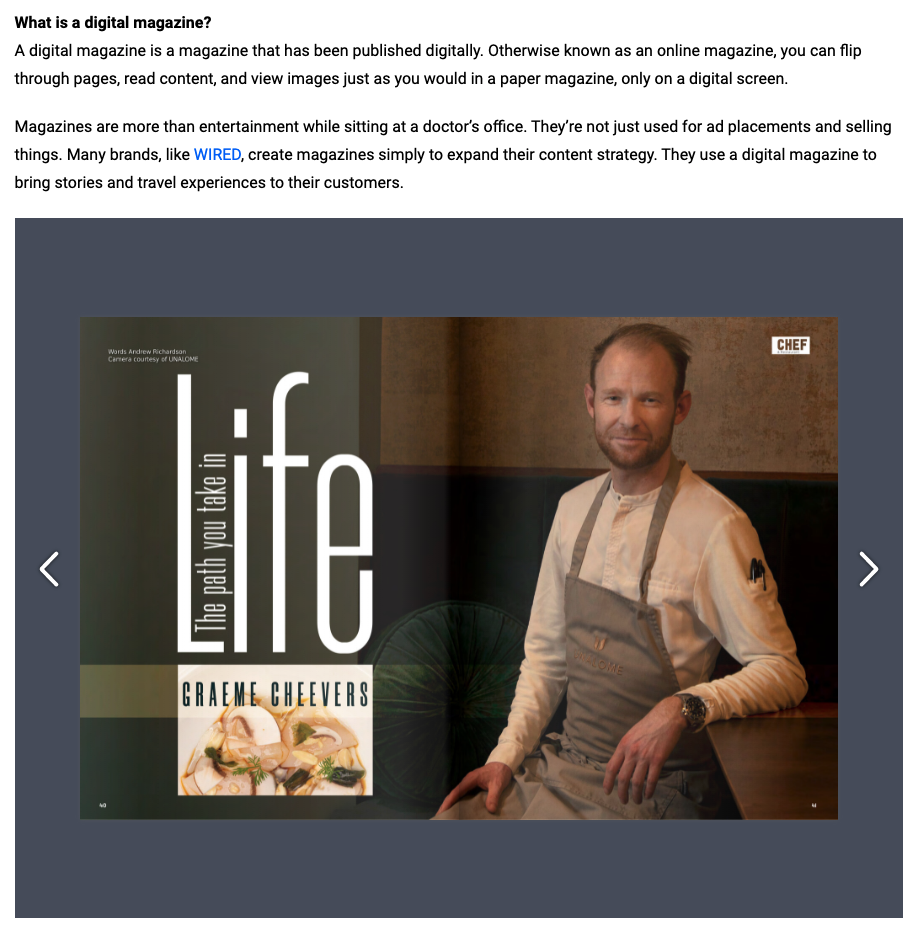 Consideration
In this stage of the content funnel, the potential customer knows what category of solution they need, but not which brand. They might watch webinars, download guides, read reviews, or sign up to your mailing list for more information. 
For example, Wistia's amazing Low views, High impact series, is smart on many levels. As a video creation SaaS, it needs to overcome a big objection at the consideration stage: Viral videos are super hard to make. 
This series not only shares client success stories, humanizing the brand, but it goes to show that video content can be successful even when it doesn't get millions of views.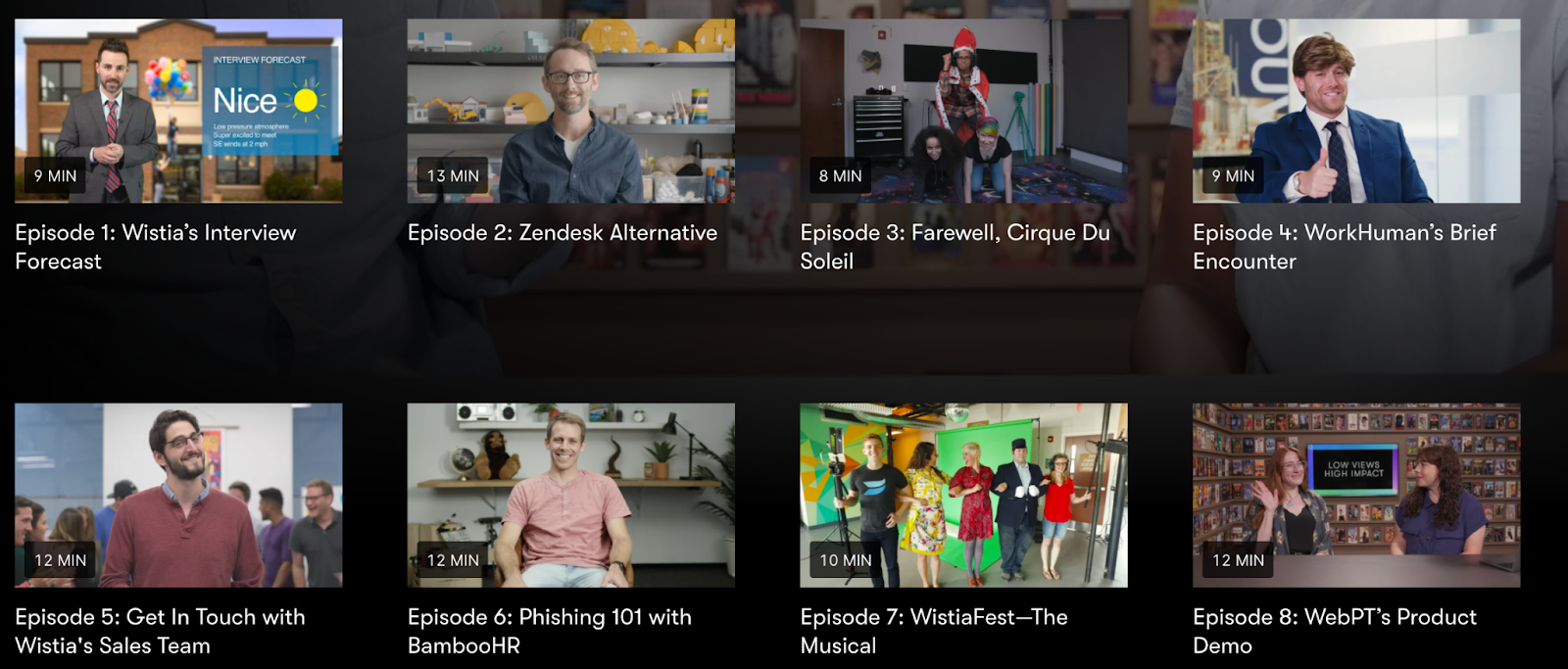 Lead magnets like case studies and ebooks might also fall into this funnel stage. These are content assets that sit behind an email gateway. 
Protip: Gated content has to be valuable. People don't tend to give away their personal details unless they are very keen to learn something new. Be sure to deliver on what the content promises or you will lose trust, rather than gain it. 
See how Drift created a lead magnet with an overview of conversation automation technology providers—"New Tech: Conversation Automation Technology For B2B Marketing And Sales". 
Conversion
Here your customers are looking for details related to your deals, pricing, specific use cases—and anything else that will help them make their final decision. 
Check out how Zendesk combines web copy, white papers and case studies to share tangible results. This can help a range of decision-makers understand how the service could apply to them before any sales calls are made. 
For example, right from the home page, you can see a white paper that explores the ROI of Zendesk.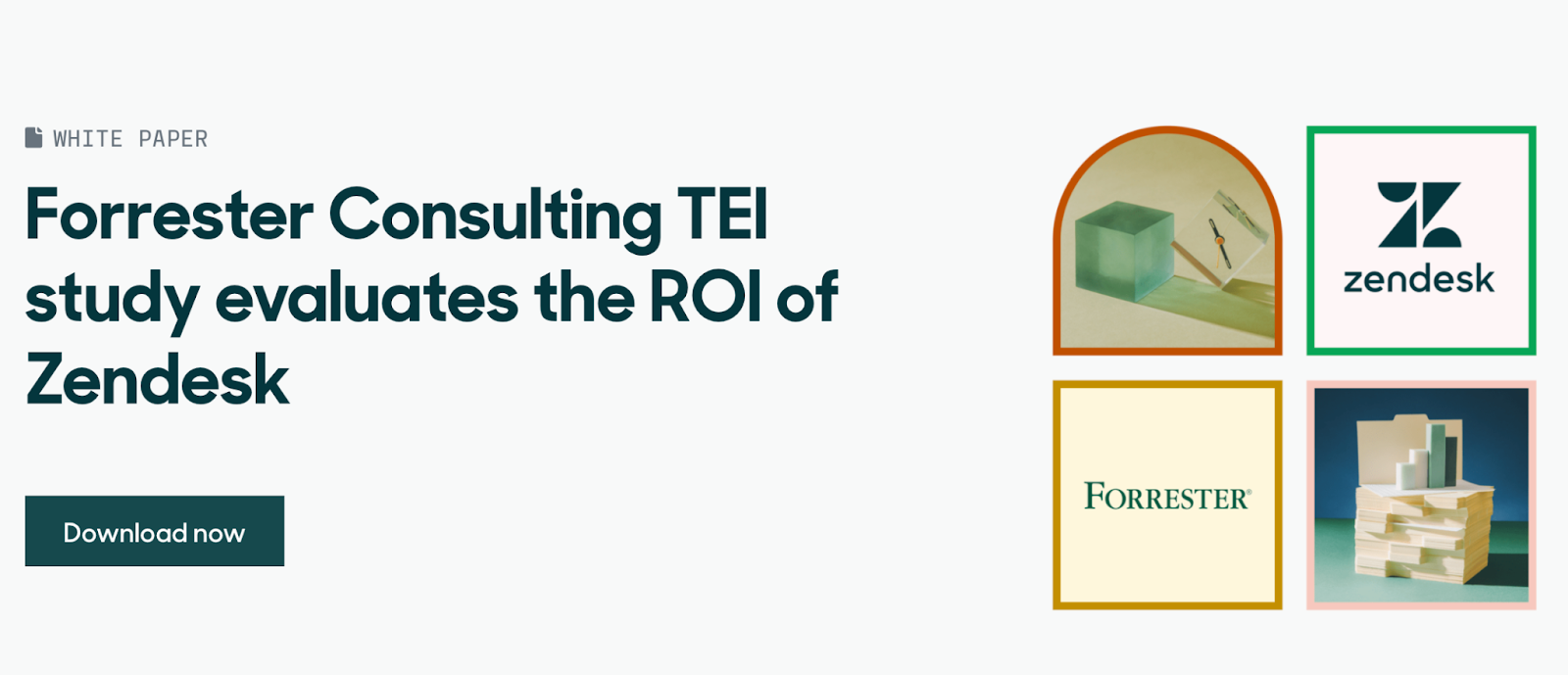 If you have built a mailing list, email lead nurture flows can be highly effective. 
Once you have a mailing list, it's important to nurture your users with valuable content. 
While you can certainly talk about your product, offers and referral programs, you should still give a lot more value to your audience than you are expecting to receive from them. 
If your emails are useful, practical, insightful, or refreshing, people will stay reading, subscribed, and happy. 
We love how online design SaaS platform Canva brings out the creativity of its email subscribers with the following competition: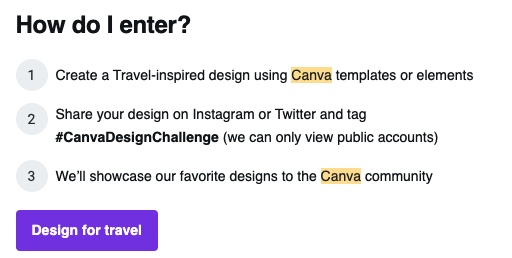 Not only does this showcase the platform in a non-promotional way, but it generates tons of amazing user-generated content on social media. Most importantly, however, it brings users back to the platform.
8. Design Lead-Nurturing Content Workflows 
Once you've considered the buyer's journey and content funnel, the next step is to connect content to build conversion paths.
That is, designing ways for your customers to move through the funnel, from awareness through to conversion. 
Here's how:
1. First, turn to analytics
Here you'll be able to see which content is most successful. For example:
Which content is being clicked on the most? If How-to guides are performing well on social media, it could be an area to concentrate on, for example. 
Which content brings you the most organic traffic? If you know certain topics outperform others, you know where to invest your resources.
Which keywords are you ranking for? Keywords can give you lots of clues as to what content to create next, and for whom. 
Which content is encouraging newsletter sign-ups? And so on. 
Make sure to track where people tend to go after reading blogs. You can run experiments by adding different call-to-action buttons (CTAs). This will help you understand which types of content to create, which types of CTAs to use, and how to move your leads down through the funnel. 
2. Check out the competition
Your competition holds clues as to what works and what doesn't. Perform a keyword gap analysis, and see what they are ranking for and where you are lagging behind. 
But also take your snooping further. Download their guides, experience their email flows, read their content, and see what they do on social media. 
While you can't see too far under the hood, you will be able to surmise what is working for them and which topics your potential clients might be interested in. 
3. Work on lead nurture
Lead nurturing is the process of taking a lead and giving them value through content, interspersed with easy ways to become a customer. 
This is especially important for companies that focus more on the sales process and less on self-service.
But how does it work?
For a start, sending all the leads that just downloaded an ebook directly to Sales won't be very successful. Instead, you should have a lead scoring system that will only direct to Sales those users that are definitely interested.
To nurture them to that point, you need to have special tools and content. For example, you could use an email automation tool and various types of content that would move them down the funnel.
It might look something like this:
Customers download an ebook, providing contact information
They open the first email and click on a link, growing their lead score
They register for a webinar and explore sales pages, increasing their lead score
Once they reach a certain score, their details are automatically passed to the sales team, who can then initiate a conversation about your solutions.
9. Focus on Quality, Not Quantity When Creating Content
The top two strategies helping to generate organic traffic for our survey respondents working in IT are posting more often (48%) and improving the quality of content (46%).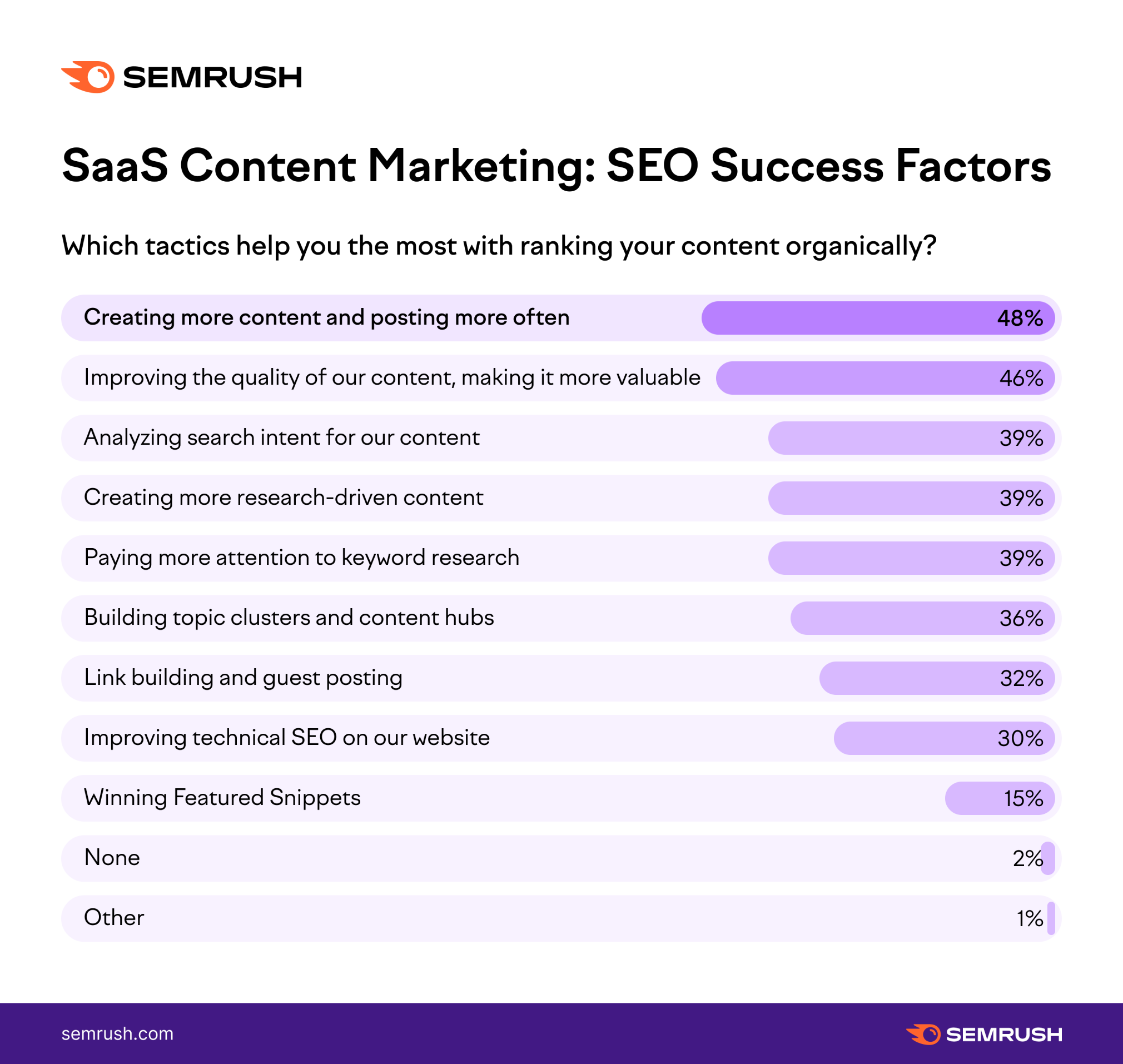 So how can you create high-quality, optimized content? It needs to do a number of things:
So how can you create high-quality, optimized content at scale? 
First, establish a quality control process for your content. It needs to do a number of things:
It should provide useful, practical, and original information. At the same time, it needs to be relevant to the intent of the audience.
It should also be authentic. Content that's based on your expertise will always be better than content outside your experience. 
Content should also be fully comprehensive. Make sure you cover all potential questions and subtopics related to the main topic of the content piece.
Finally, content should offer a great user experience. Written content, for example, should be pitched to the level of understanding of the audience, and should include visuals, have short, easy-to-read sentences, and help the user scan with headings.
To streamline this process and create more unique, engaging content faster, use AI writing tools like ContentShake.
The tool will suggest content ideas, create article outlines, and help you assemble high-quality blog posts with data-driven suggestions.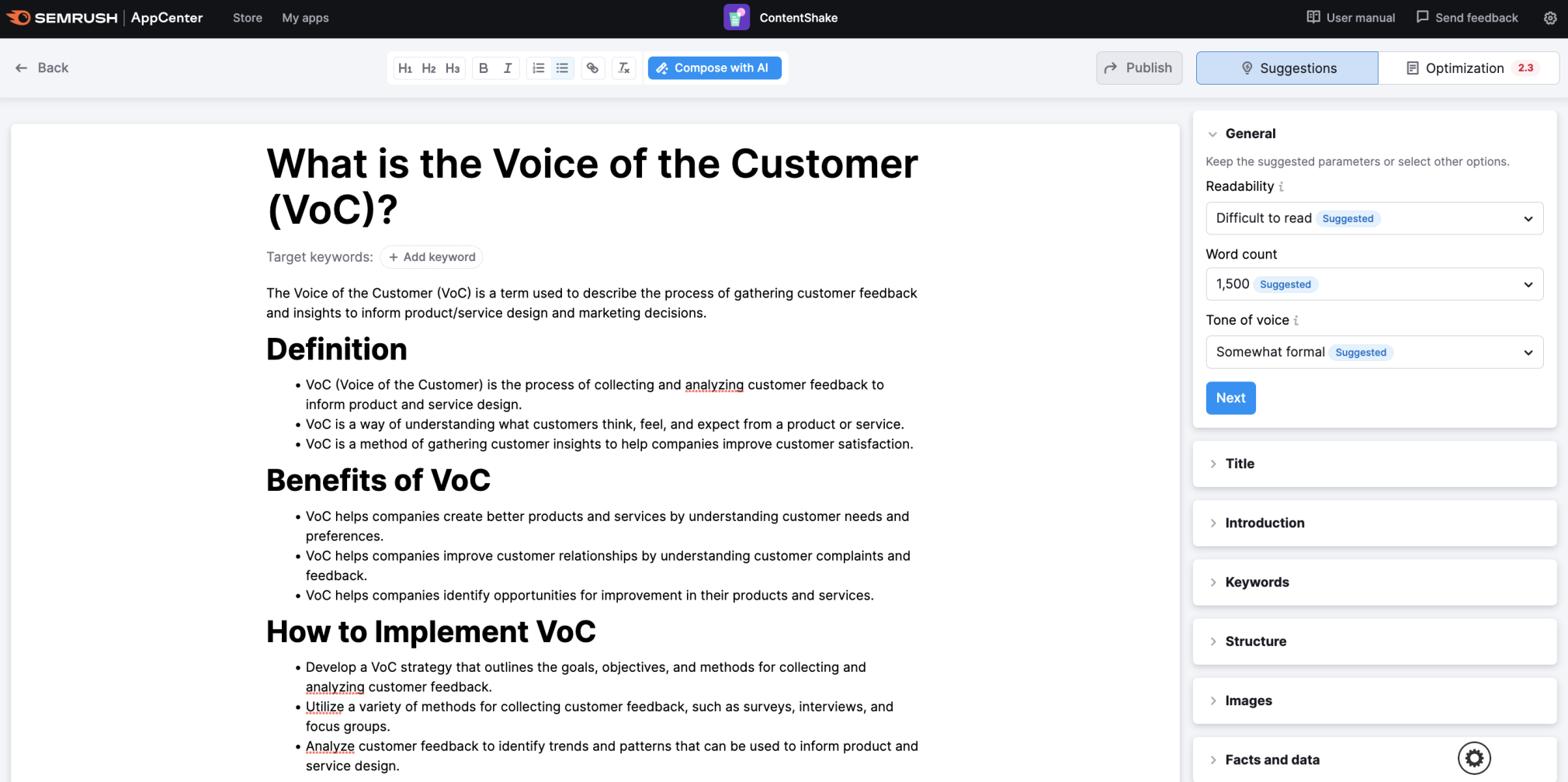 You can then use it to improve each article's readability, tone of voice, and SEO, and post them directly to your WordPress site.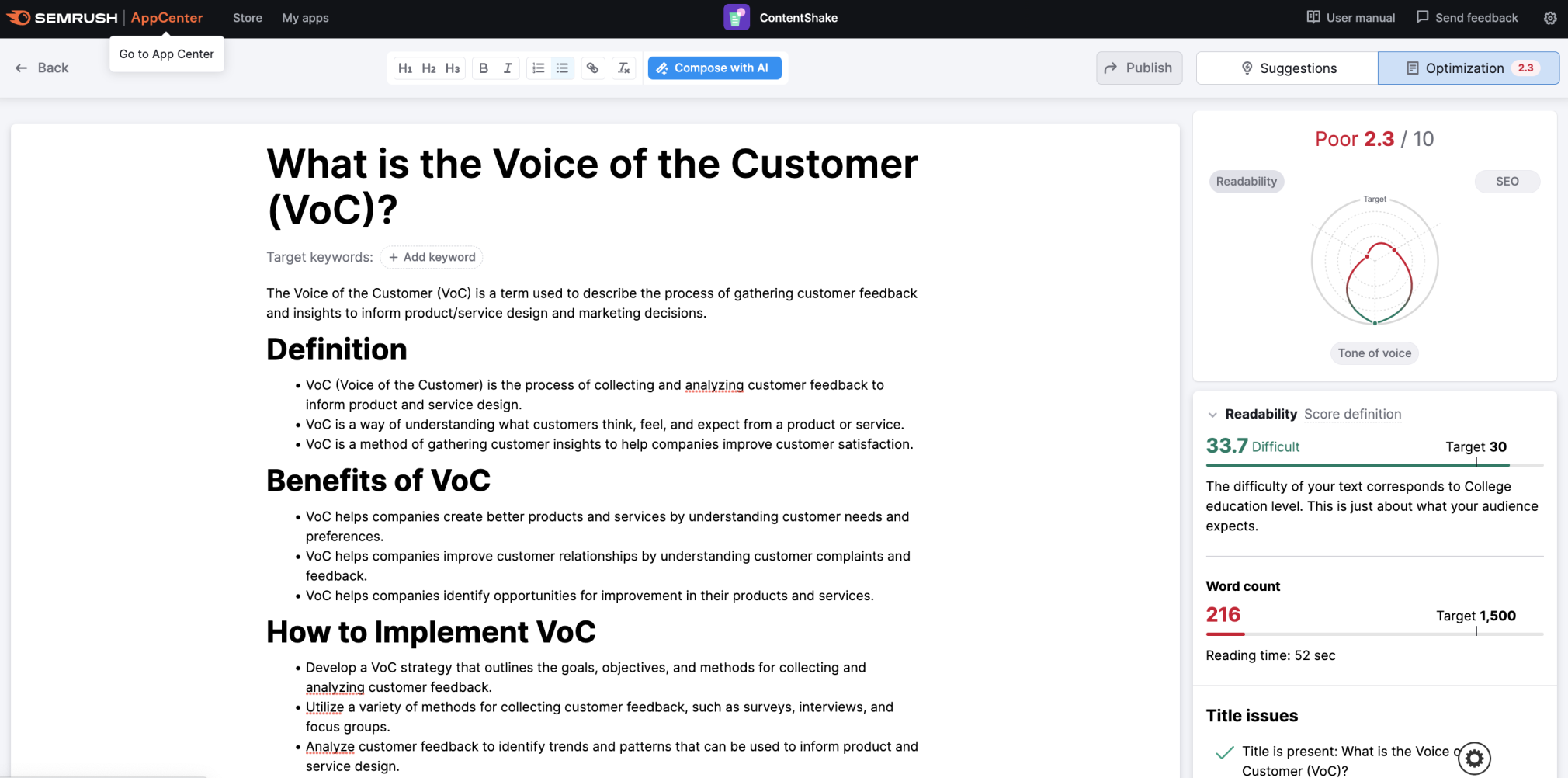 You also need to continually assess what's working well, and what's not.
As such, content audits are crucial to improving your SaaS content. 
According to our research, 59% of companies that succeed in content marketing run content audits 2+ times a year.
10. Work Out Your Promotion and Distribution Strategy
Building a smart content distribution strategy is as important as the content you are producing in the first place. You need to consider how content will be promoted before the creation process takes place. 
There are three primary methods of distributing content:
Owned channels are the channels that belong to your business (e.g. podcast, blog, mailing list, social media, etc.). These are your own to post on as you will.
Earned and shared channels
These channels are owned by third parties, such as friendly blogs, news websites, forums (such as this dedicated SaaS Reddit page), and even review sites. These sites are free to post on, but the content won't belong to you afterward.
These platforms or influencers will promote your product for a fee.
The top three SaaS content distribution channels, according to our research, are a mix of owned and paid channels: 
Organic social media (71% of responses)
Email marketing (50%)
Social media ads (49%)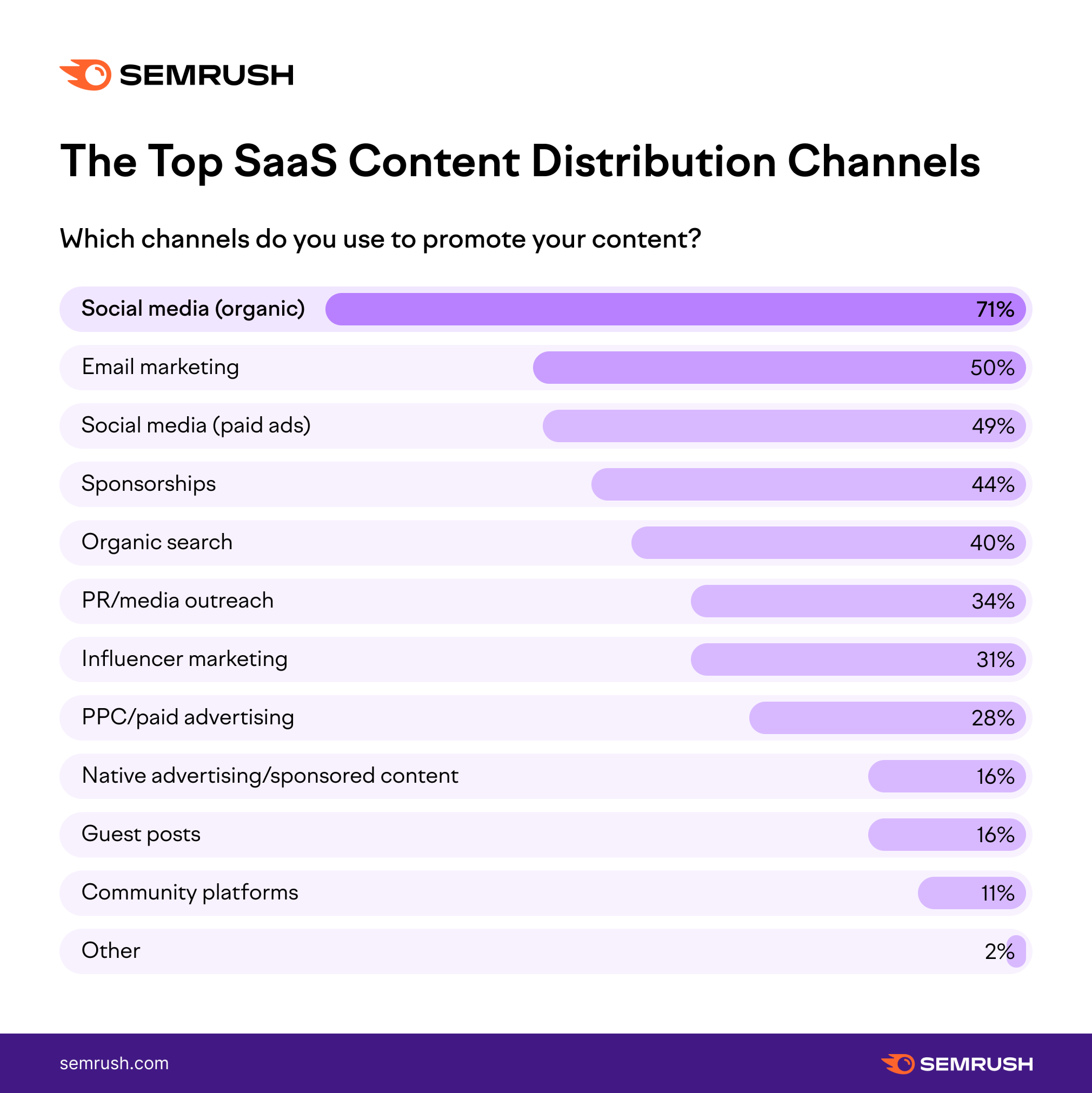 The key thing to note is that each channel and platform within those groups has its own guidelines and best practices for sharing content. That means content needs to be adapted for everywhere you want to place it. 
Get it right, and your content will get a lot of impressions; get it wrong, and it will go unnoticed. 
For example, content for Instagram Reels won't work well on LinkedIn, long-form blog posts don't perform well as newsletters, Facebook posts will get truncated on Twitter, etc. 
Here Are Some Examples of Great Content Distribution:
Typeform, a top SaaS interactive form builder brand, focuses on creating live video content on Linkedin.
Its video views are in the hundreds, and it has helped to build a decent following of nearly 50,000 people on the platform. 
Going back to our example of Canva, as you might expect, it has a top-level Instagram game with over a million followers.
The brand carefully curates stories and categorizes them (design challenge, Canva live, Q A, etc).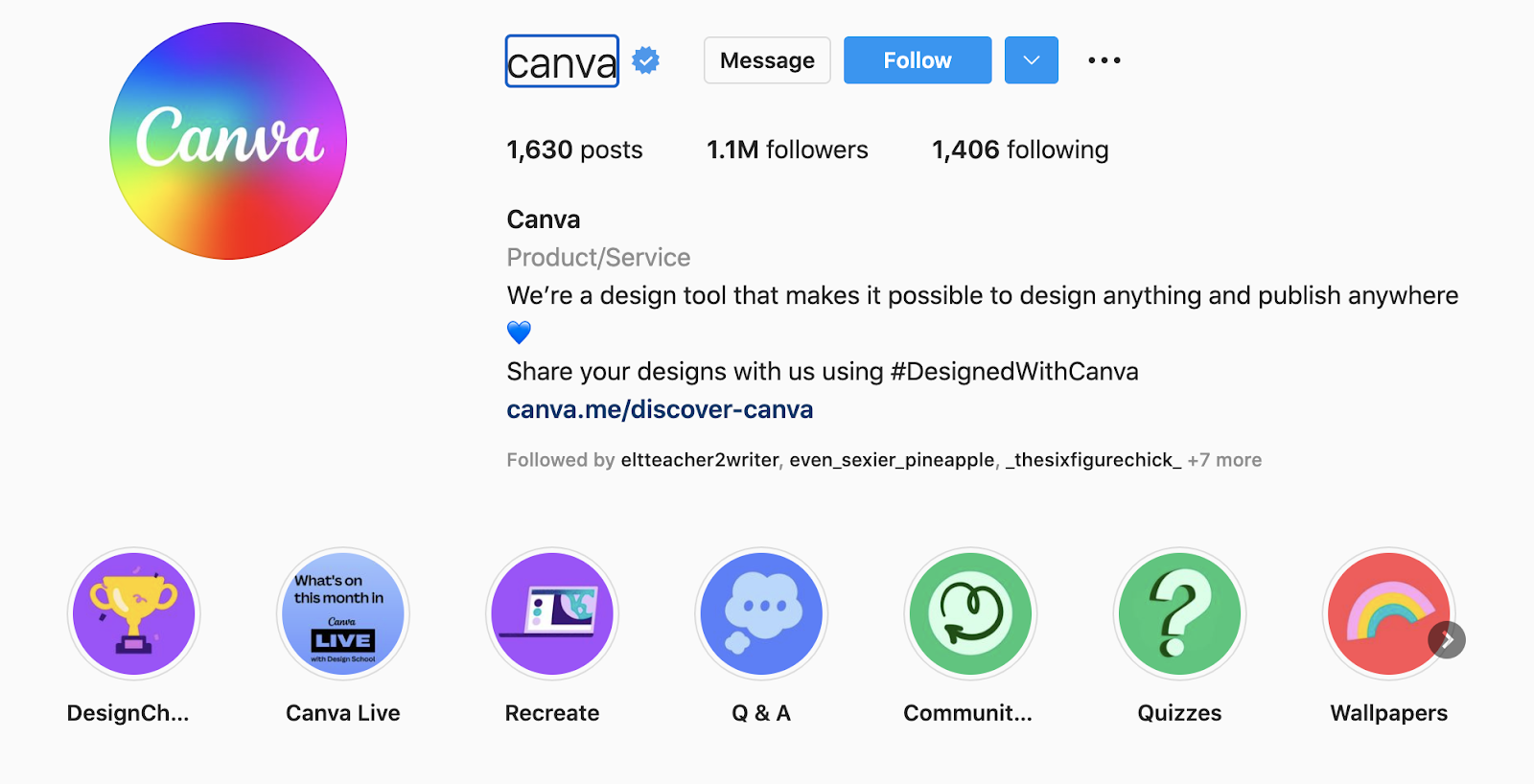 Canva also pays special attention to videos and Reels, which must also be created to meet the specific format requirements.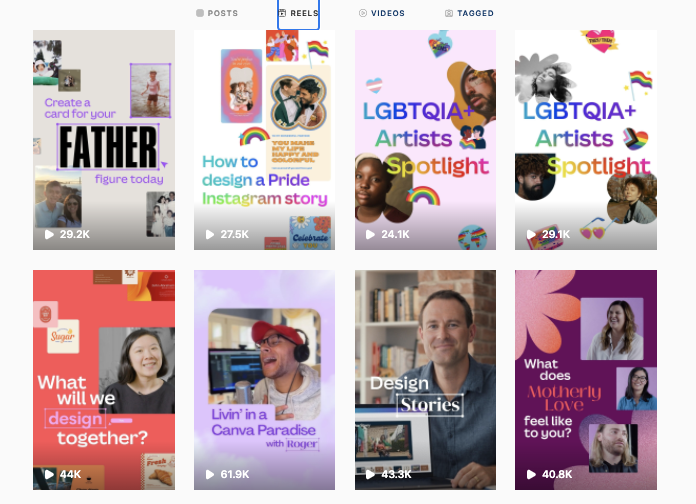 Both B2C and B2B SaaS brands can have success posting on channels and forums like Quora, Reddit, Product Hunt, and other industry-focused sites. 
It's key to make sure you follow the relevant etiquette and guidelines based on each platform.
Reddit, for instance, has an uncountable number of subreddits, each with its own rules for posting, with eagle-eyed moderators and bots ready to hunt out promotional or irrelevant content. 
In the following example, we can see how Cloud Daily—supported by SaaStr—performs well with a Quora-focused content distribution platform. Cloud Daily posts upwards of 20 times a week on this platform. It has generated over 380,000 followers as a result.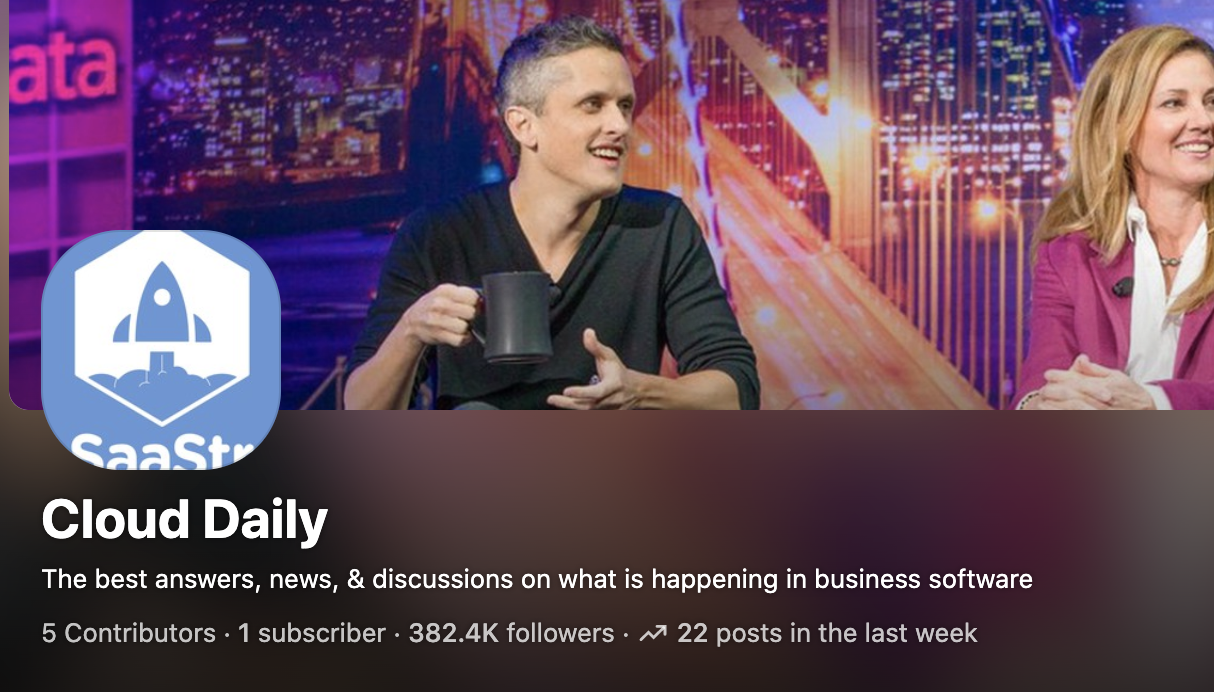 Conclusion: Succeeding in SaaS Content Marketing 
Content marketing for SaaS companies requires focusing on your audience and their needs, providing high-quality educational content, and mapping out the entire customer journey. 
It's important to consider the biggest industry challenges when building your content strategy. These include the complexity of the solutions, longer buying cycles, and a pressing need for education.
Tools like ContentShake will walk you through the whole process in a straightforward way.
Try it today to improve your online visibility, create quality content at scale, and grow your business with organized and data-driven content marketing.