Let's face it - most tasks you need to carry out on a regular basis are time-consuming. At least, they are if they're done manually. Many successful SEO strategies require an incredible amount of time, from the initial investment to its implementation. 
There's no getting away from the fact that time is money. The same applies whether you're an in-house SEO team, an agency marketer, or a freelancer. But the good news is that many of the tasks that take time can be automated by using the right tools, and in this guide, we'll share eight SEO automation tools that you can use to drive real efficiency.
Specifically, we're going to look at:
What is SEO Automation?
First, let's take a look at what SEO automation actually is. SEO automation is using tools to automate tasks that you would usually need to carry out manually, at least partially. By taking advantage of automated SEO tools, you can save time and money - a couple of valuable assets for any business or marketer. 
Smart digital marketers understand that by automating repetitive
SEO
tasks, they're left with more time to think of additional strategies and to do other beneficial work for clients and their websites. 
Automation boosts productivity.
What SEO Tasks Can Be Automated?
So then, what can SEOs automate? Plenty of tasks can be automated, depending upon your technical expertise. There are ways to automate repetitive SEO tasks using off-the-shelf tools. Granted, you need to configure these tools to some degree, but they're easy to get going with and can save you a lot of time.
SEO software companies (such as Semrush!) fall into this category a toolset that can help you to carry out a whole host of tasks and give you the data you need to take your campaign to the next level.
On the other hand, you can use languages like Python to write scripts to help you to automate tasks that are maybe more bespoke to your business or workflow. 
However, for the most part, you can use automate SEO tasks including:
Position tracking 
Website crawls
Monitoring for brand mentions and new links
Analyzing the quality of your link profile
Reporting 
Analyzing log files
Generating meta descriptions at scale 
O.K., so some of these are tasks that have been successfully automated writing custom scripts, but we just want to inspire you to see what's possible.
The 6 SEO Automation Tools from Semrush You Need to Know About
Many of the tools that are available within Semrush are set up to help you to automate tasks that you would otherwise have to do manually. From tracking rankings to auditing your site for technical issues, we've got you covered. Here we'll dive deep into six automation tools that the platform offers to help you to work a little smarter:
1. Position Tracking
We can all admit that manually keeping track of keyword positions is tedious.
But it's a task we've all had to do at some point in our careers and ultimately something that we all need to measure and monitor (despite the many debates around whether or not we should be tracking rankings at all).
The reality is that rankings remain an important KPI that we should be measuring on a regular basis; albeit if only to demonstrate progress on a long-burn strategy. And with the Semrush Position Tracking Tool can help you to automate this task; taking a list of keywords either that we've identified or that you've compiled yourself.
You can also schedule reports to come straight into your inbox so that you can see how your rankings are improving. While this is automation at the most basic level, it's a task that no one should need to be running manually in 2020 and can save a whole load of time each month.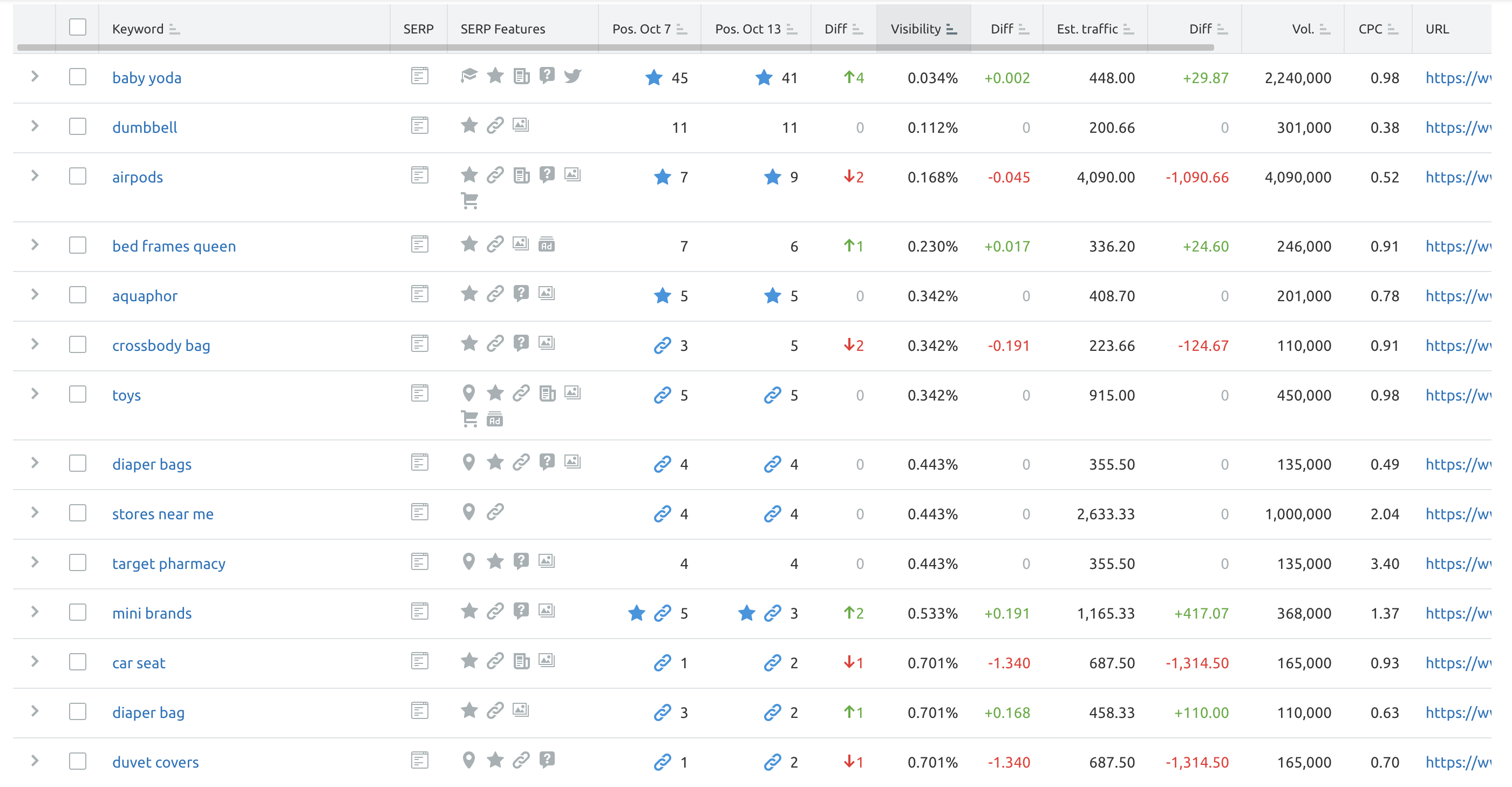 2. Site Audit
Keeping on top of technical SEO issues is vital. If Google can't properly crawl and index your site, you'll struggle to rank in the positions that you deserve to rank in. While many issues can be manually compiled after running a crawl, this ultimately takes an incredible amount of time. 
However, by having a way to automate a technical audit, you can easier identify issues that otherwise may go unnoticed. Best of all, you can do that with the Semrush Site Audit Tool.
Set up your crawl and you will be presented with a whole host of insights from more than 130 factors that the tool checks against. You can then focus your time and efforts (with the help of the guidance within the audit tool) on fixing the problems, rather than trying to uncover them in the first place. 

3. Brand Monitoring
When someone mentions your brand online (or links to your site), you want to know about it as soon as possible, right? However, continually checking the web for mentions and links is tedious and takes away from time you could spend doing something far more productive.
Finding mentions and links is one SEO task that automation is perfect for, and the Semrush Brand Monitoring tool can help you find these mentions as quickly as possible by delivering these straight to your inbox.
You've then got a single round-up of all mentions and links (with a really easy way to see which mentioned are linked and which aren't) to either analyze or, in the case of unlinked mentions, follow up and try and get these turned into links. 
That in itself is a really effective quick-win link building tactic that everyone should be utilizing, and the hardest part is always finding these mentions quickly enough to be able to act upon them. You can easily automate the discovery of brand mentions and you can then focus your efforts on executing a link reclamation strategy.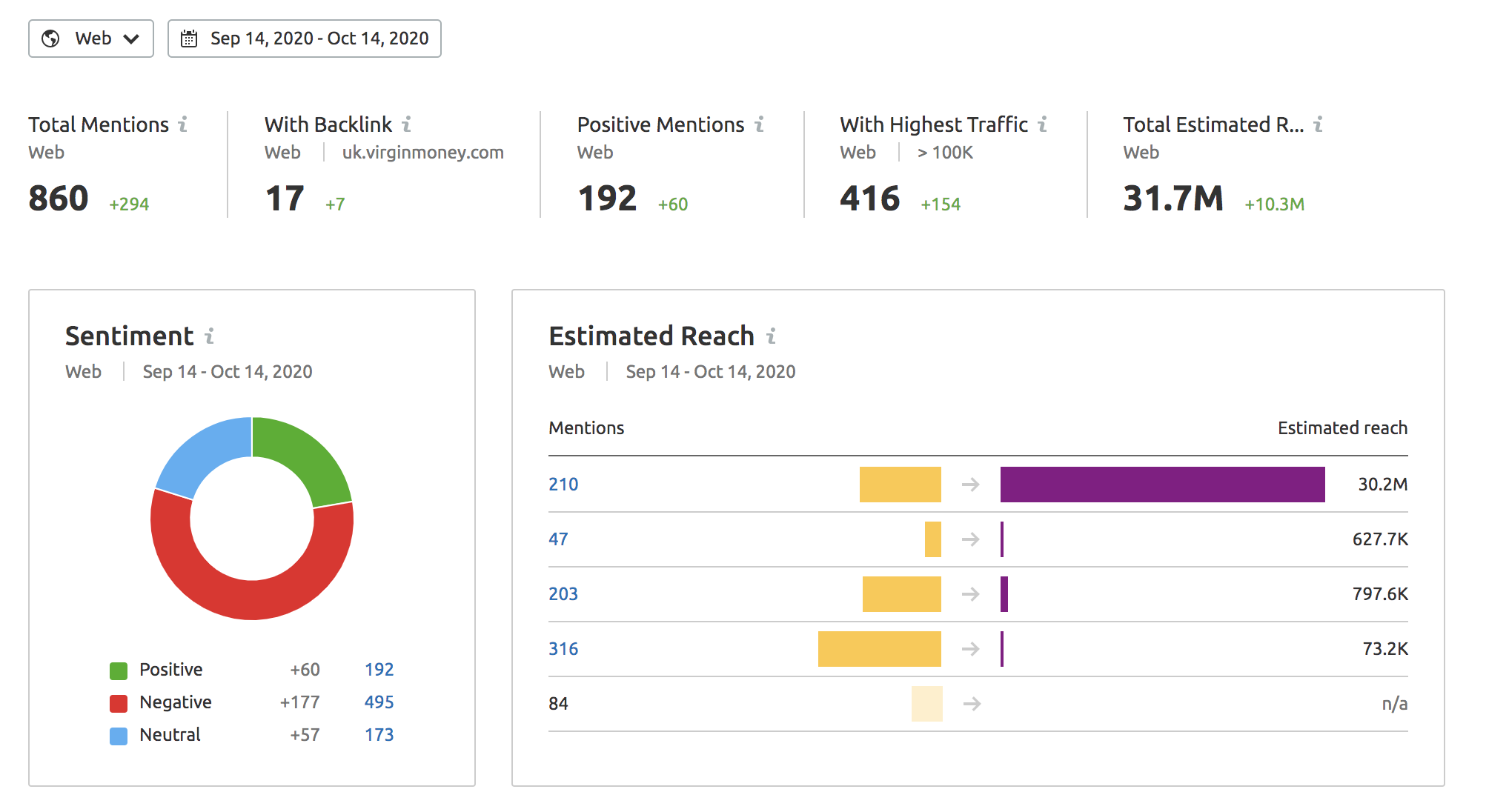 4. Backlink Audit
Besides monitoring new links and trying to acquire new links, another equally important task that's extremely time-consuming is auditing your existing links.
You want to be monitoring your existing links because of one problem that can arise: toxic links. Toxic links can, and do, cause problems, especially if they're in high numbers. It's an SEO 101 task to keep a close eye on the quality of your link profile and take action to disavow or request removal on any that you deem to be unnatural. 
But finding the time to regularly audit your link profile is hard. So why not use the Semrush Backlink Audit Tool to keep a close eye on the quality of your links on your behalf? 
Let the tool analyze the links that point to your site against a number of different quality metrics and alert you to an increase in high toxicity links. This allows you to focus your efforts on cleaning these up rather than running the analysis manually.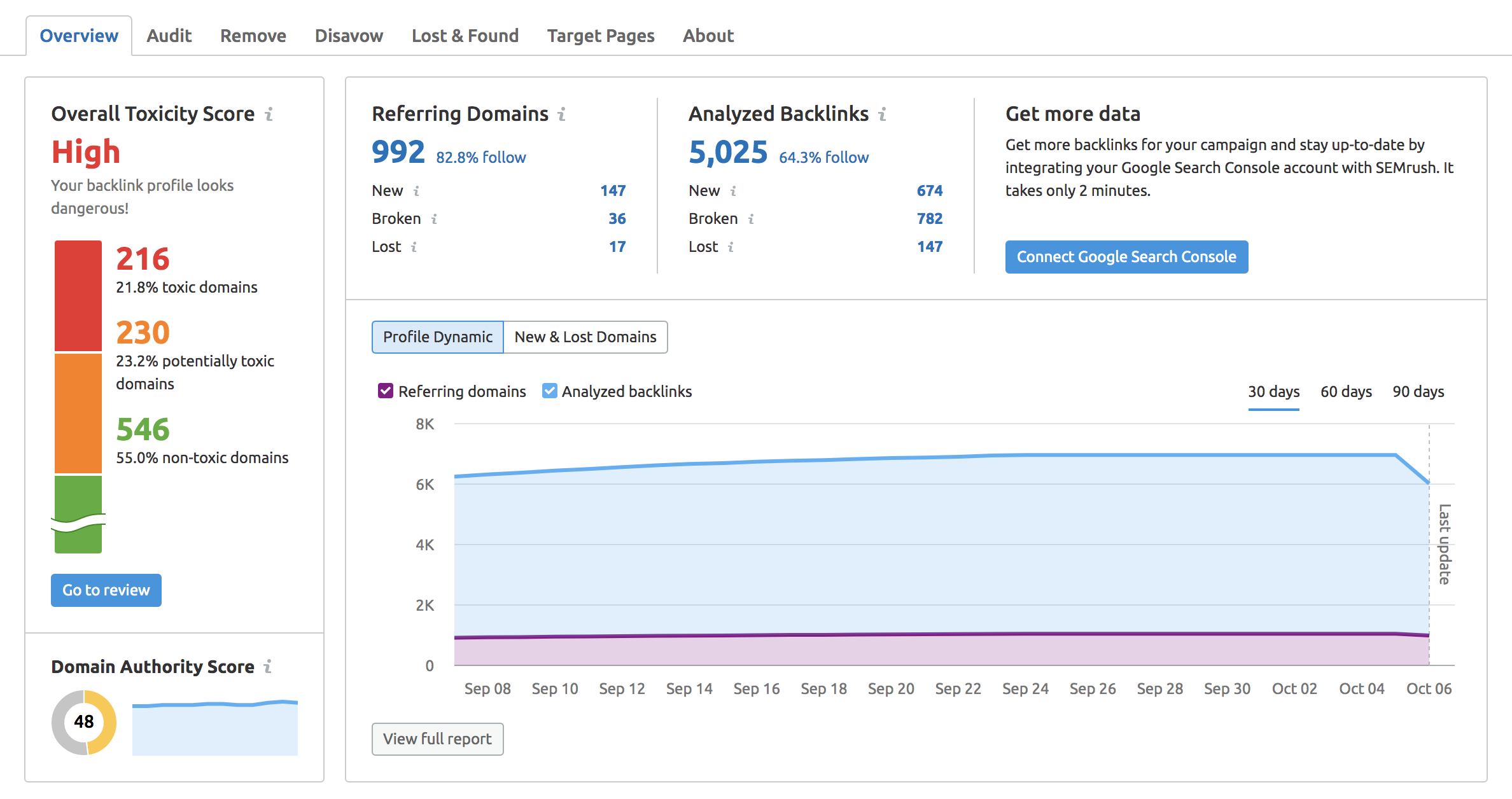 5. Reports
Ever spent the first few days of every month compiling SEO reports for stakeholders either internally or for your client? It takes time away from the things you could be doing to actually drive growth, yet is an immensely important task.
Reports not only justify the investment into your efforts, but they also help you to identify areas where you're winning as well as those that you could better focus your efforts on. These reports help you to run a fluid strategy and change track when needed in order to meet your goals.
The downfall is that reporting is time-consuming. Especially if you're manually creating these. Semrush allows you to automate the creation of a whole host of different reports including:
Monthly SEO reports
Organic search positions
Site audit: full report
Backlinks: full report
Full organic research
Monthly competitor analysis
Site audit: issues
and more!
If there's something that you need to report on, there's a very good chance you can automate this with the tool. Again, saving time that could be spent on driving growth. 

You can view a sample report here.
6. Log File Analyzer
Analyzing your site's log files can help you to get an understanding of how search engines are interacting with it. Yet it's a task that many SEO's are unsure of how to approach it and where to start. 
It's certainly not something you'll find discussed as a part of SEO basics but is absolutely something that the marketers behind larger sites should be paying attention to. And, again, Semrush has a tool to help you automate this analysis: Log File Analyzer. It can help you to answer questions like:
What errors were found during the crawl?
What pages were not crawled?
Is your crawl budget being spent efficiently?
What are your most crawled pages?
Can you manage Googlebot's crawling?

Other SEO Automation Tools We Think You'll Love
7. Little Warden
If you've not come across Little Warden before, you're missing out on a fantastic tool that can help you to automate those checks you should be making regularly, but often don't have time to do so.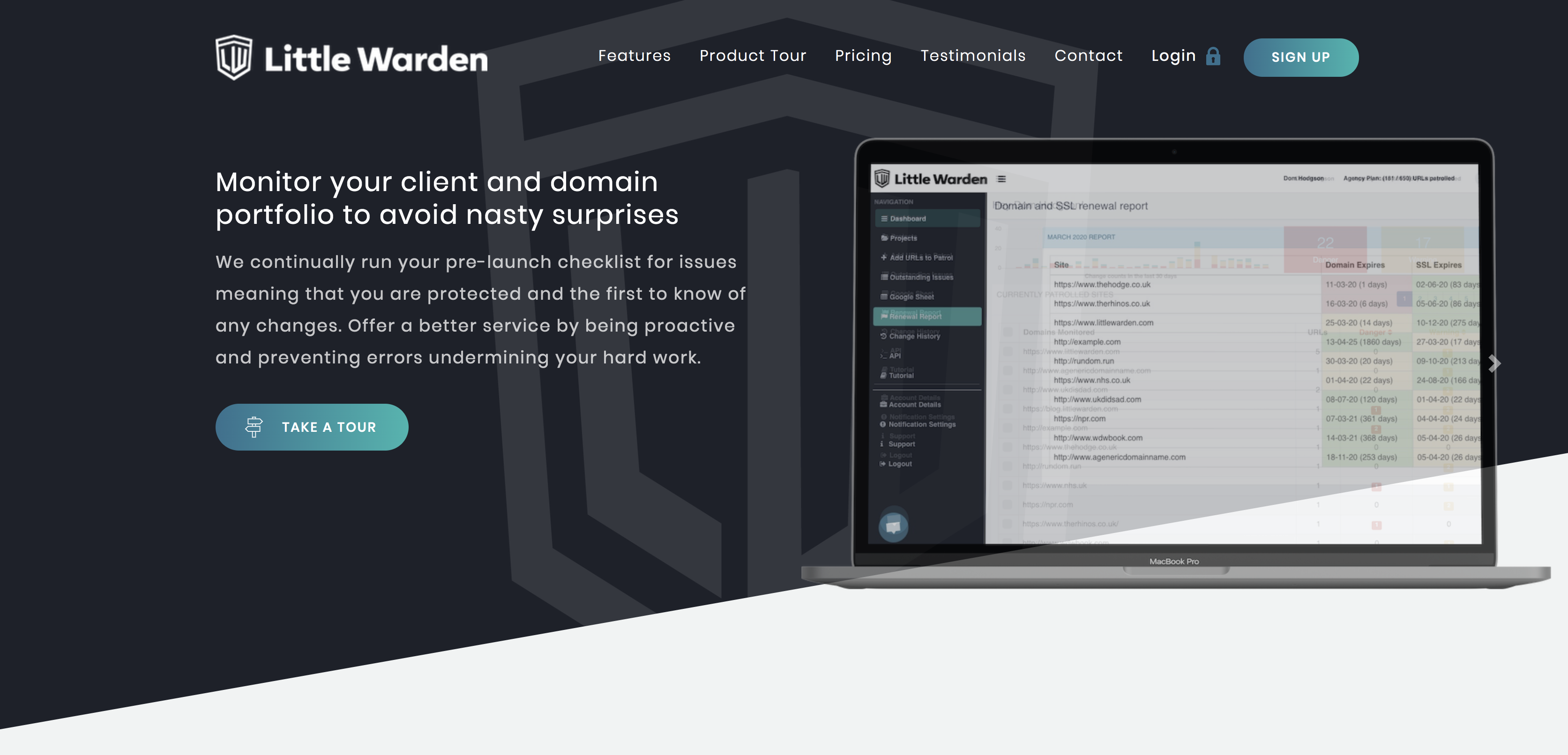 Little Warden positions itself as helping you to "monitor your client and domain portfolio to avoid nasty surprises."
It's all about being proactive and preventing errors that can have a hugely negative impact if not addressed, such as:
Domain name expiration
SSL certificate expiration
Title & meta tag changes
Robots.txt changes
and more
8. Python
Last but not least, we suggest you take a look at Python. Python isn't a way for beginners to automate SEO tasks. Rather, it is an advanced tool for those who can dedicate the time to learning a new programming language. Those who are able to go on this journey can use Python to automate a handful of tasks. 
While we're not going to go through every use of Python here, it's something we encourage you to learn more about if you're looking to get serious with SEO automation. And to start to feel inspired, why not take a look at Hamlet Batista's Weekly Wisdom:
Hamlet's tutorial helps you to find what SERP features your competitor has that you don't have yet, repeating the process every month (or across a set of competitors) using Python and the Semrush API.
This is just one way you can use Python to automate a task. While earning the language will take some dedication, it's a valuable skill to add to your capabilities. Here are some of the resources we'd recommend you checking out to help you to learn more:
---
A smart SEO should be spending their time wisely, on tasks that need to be done manually and that drive organic growth.
That means automating those tasks that don't need to be executed by hand and take up too much of your time. We hope that reading this guide on SEO automation tools gives you a head start. Now that you know which tools can help you to work more productively, go check them out for yourself!