Tired of spending countless hours on repetitive SEO tasks? Then this blog post is for you.
Today, we'll dive into the world of SEO automation.
We'll explore the basics first. Then share eight SEO automation tools that can streamline your SEO efforts and improve your results.
Let's start.
What Is SEO Automation?
SEO automation refers to using software tools to automate various tasks in search engine optimization.
It's not a substitute for human creativity and expertise, but a way to enhance and streamline your SEO processes.
SEO automation takes care of the time-consuming and mundane tasks. And allows you to focus on the more strategic and creative aspects of optimization. Like: 
Creating engaging content
Building relationships with other website owners to help gain backlinks 
Developing innovative strategies to improve your website's visibility
What SEO Tasks Can Be Automated?
Plenty of SEO tasks can be automated to save you time and effort. Here are some of the key ones:
Monitoring your website for SEO issues
Tracking website rankings
Creating SEO reports
Conducting competitor analyses
Finding websites for link building
SEO software like Semrush can help you carry out these tasks. And give you the data you need to succeed at SEO.
From monitoring your site for SEO issues to finding websites for link building, we can help you address all your SEO needs. To save you time and effort.
8 SEO Automation Tools
Let's dive into the different Semrush automation tools to help you work smarter.
1. Position Tracking
Semrush's Position Tracking tool allows you to keep track of your website's ranking positions on Google for a specific set of keywords.
Since your positions in search results determine how much traffic you receive, it's important to monitor your rankings.
With the Position Tracking tool, you can automate this task. And eliminate the need to manually check your rankings.
And the tool is easy to set up. 
Provide the target location and specify the keywords you want to track. Then, click "Add keywords to campaign."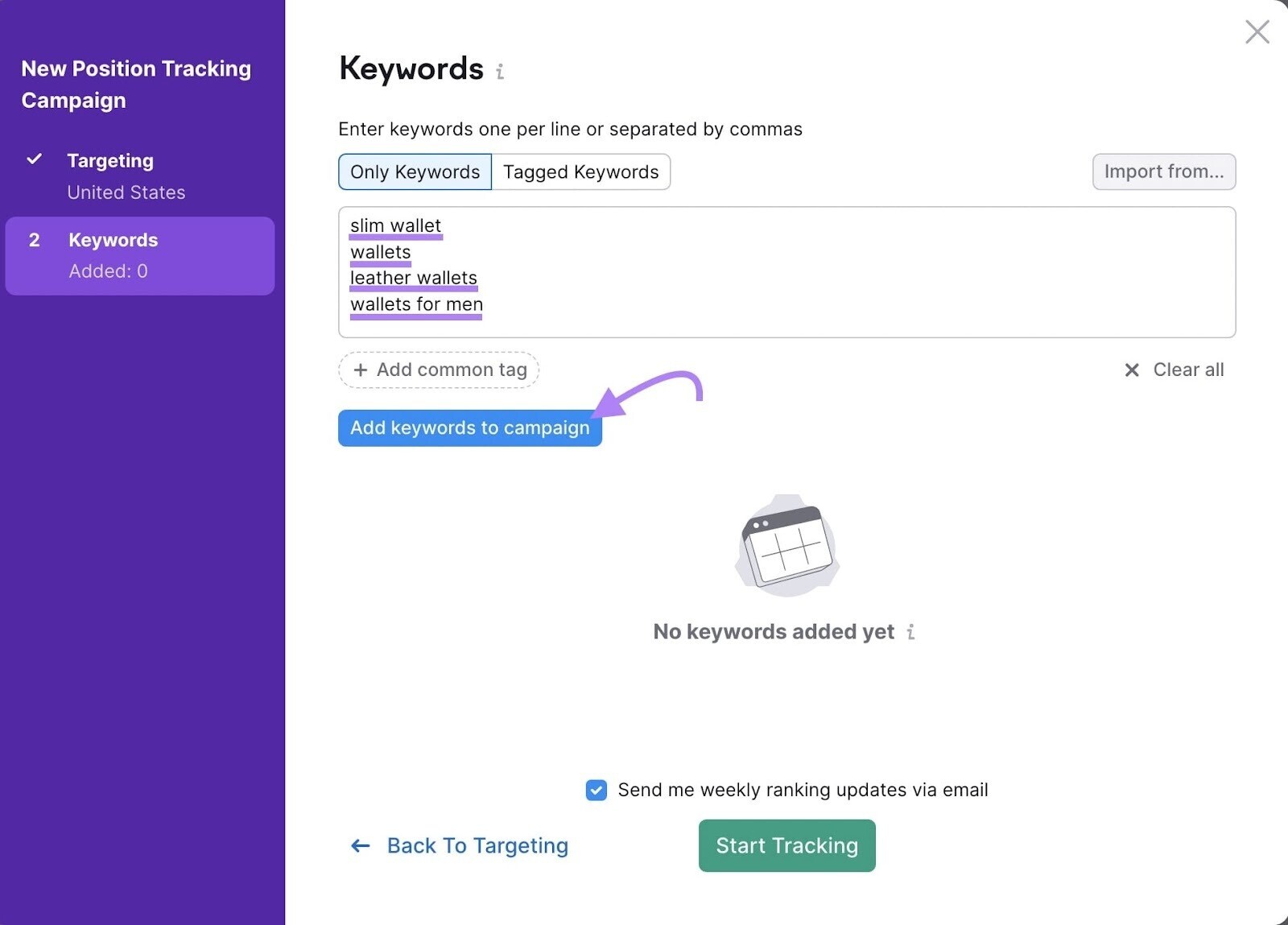 And then, "Start Tracking."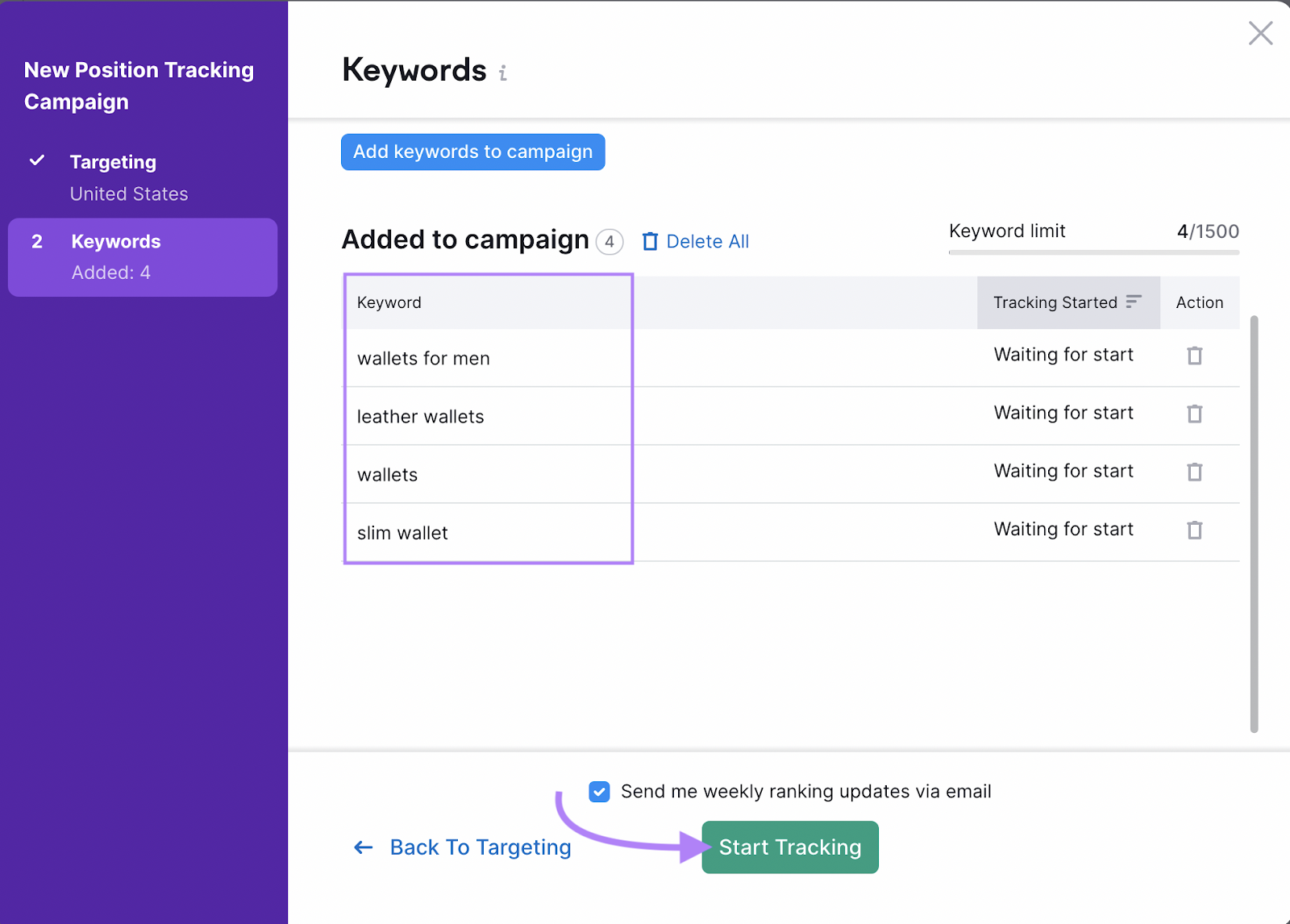 The tool will automatically collect information about your ranking positions. And present that in a report like this: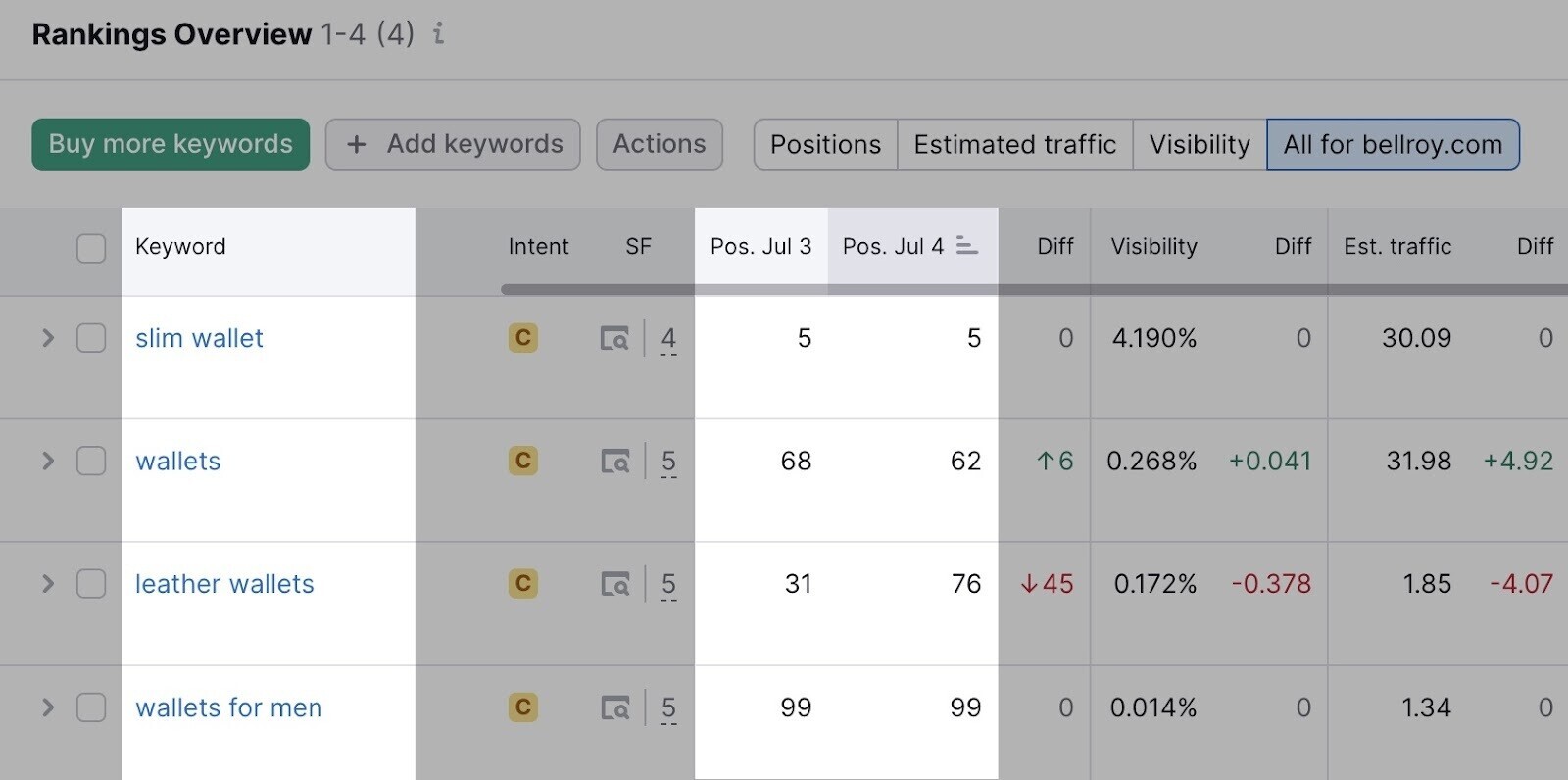 While this is automation at the most basic level, tracking rankings is a task that no one should be doing manually these days. 
You can also schedule reports to come straight into your inbox. So you can see how your rankings are improving over time. 
Just check the "Get weekly updates by email" option under the gear icon.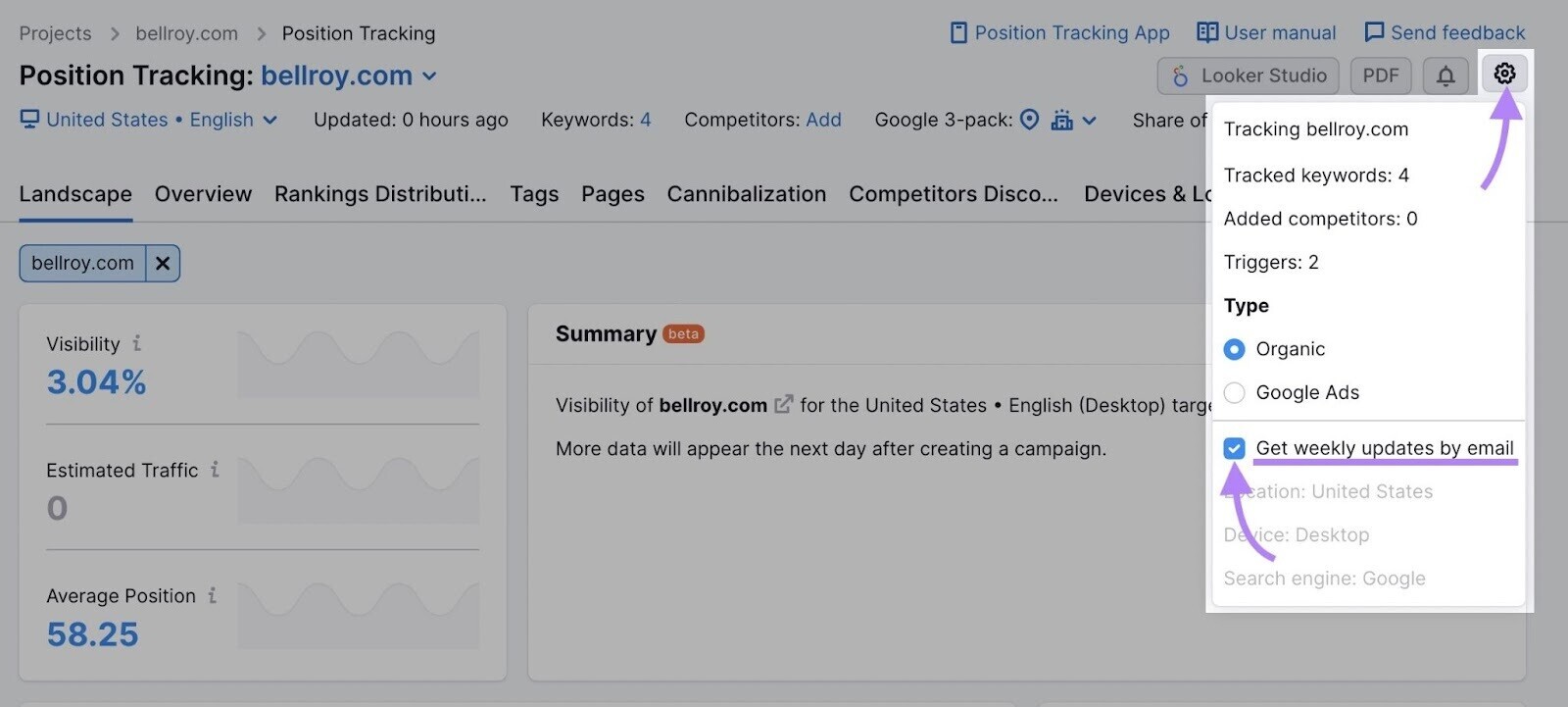 Pricing 
Position Tracking is part of Semrush's SEO toolkit. A free account lets you track up to 10 keywords. To track more, you need to subscribe to one of Semrush's paid plans, which start at $129.95 per month (paid monthly).
2. Site Audit
Site Audit automatically checks your website for 140+ SEO issues, including:
Duplicate content
Redirect chains and loops
Broken links
5XX errors
These issues are very difficult to detect without a tool like Site Audit. 
But Site Audit empowers you to take steps to improve your website's user experience and visibility in search results by identifying and highlighting these issues. 
To get started, set up a project in the tool and run your first audit.
After that, you'll see which SEO issues the tool detected on your website.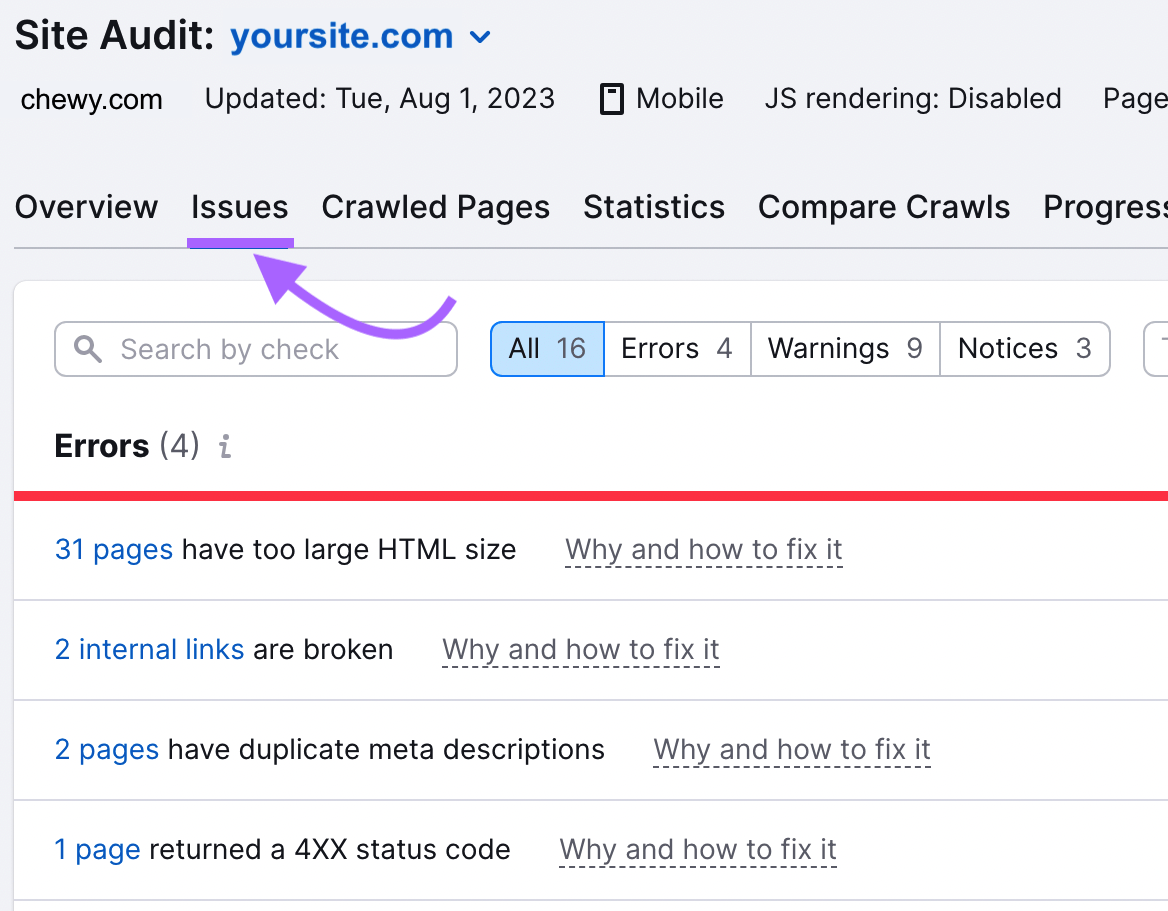 Each issue is accompanied by a "Why and how to fix it" link that allows you to access expert advice on how to address the problem.

What's more, you can schedule audits to run at regular intervals.
This way, you can ensure that your website is regularly monitored for SEO issues. And you can address new problems as they arise.
To set up scheduled audits, click on the gear icon at the top right area on the screen. 
Then, go to the "Site Audit settings" and click "Schedule."
You can schedule audits to take place either daily or weekly. Choose the option that works best for you and click "Save."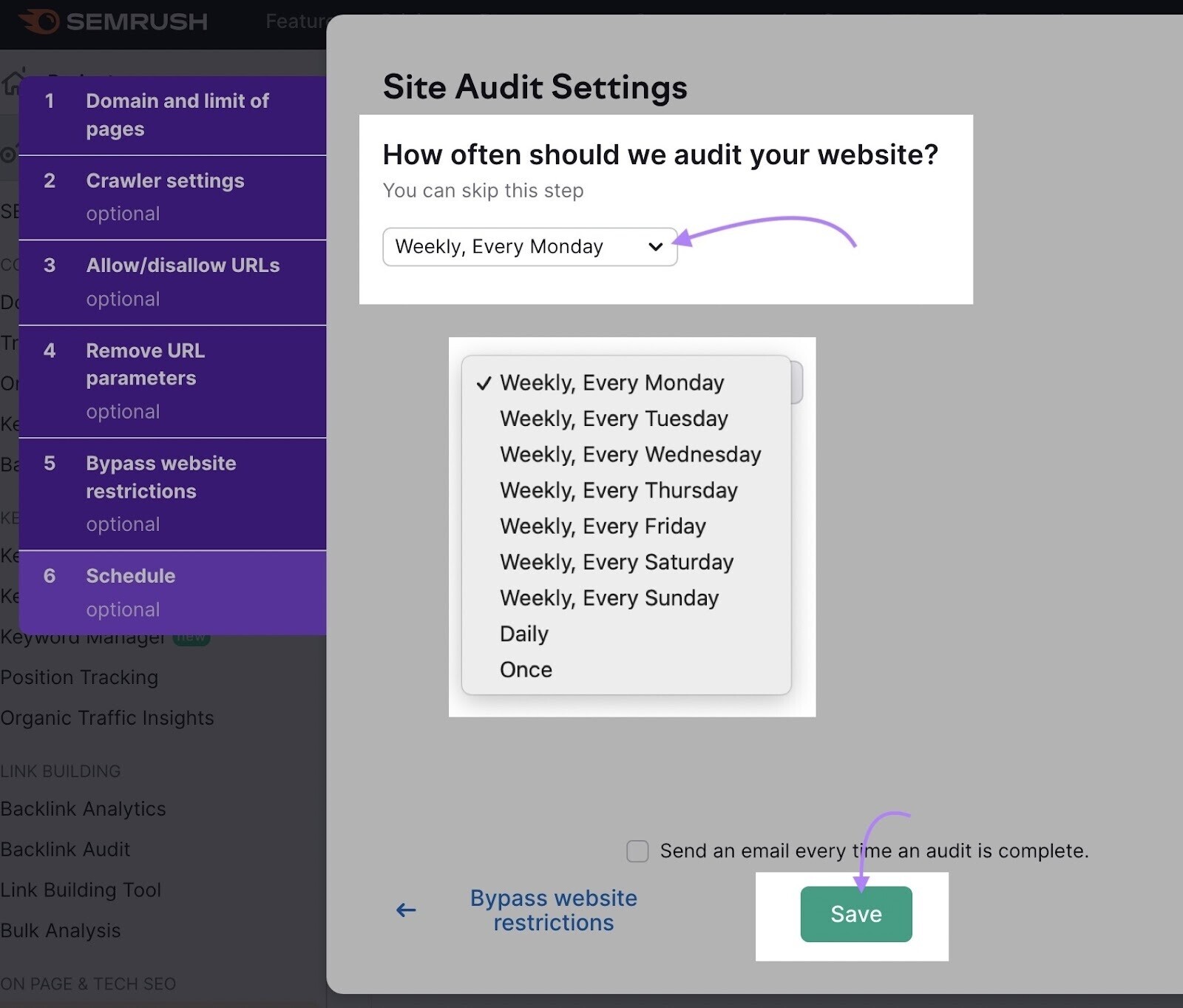 Pricing 
The Site Audit tool is part of Semrush's ecosystem of SEO tools. The free plan audits up to 100 pages. To audit more pages, subscribe to one of our paid plans. Our most basic plan costs $129.95 per month (paid monthly).
3. Brand Monitoring
Semrush's Brand Monitoring app helps you keep track of who's mentioning your brand name and linking to your website.
This is important to measure your digital PR campaigns' success. Because manually detecting all your brand mentions and backlinks is almost impossible. 
The Brand Monitoring tool is easy to set up. 
Read this manual to configure it. Once configured, you'll see a report that lists webpages that mention your brand name.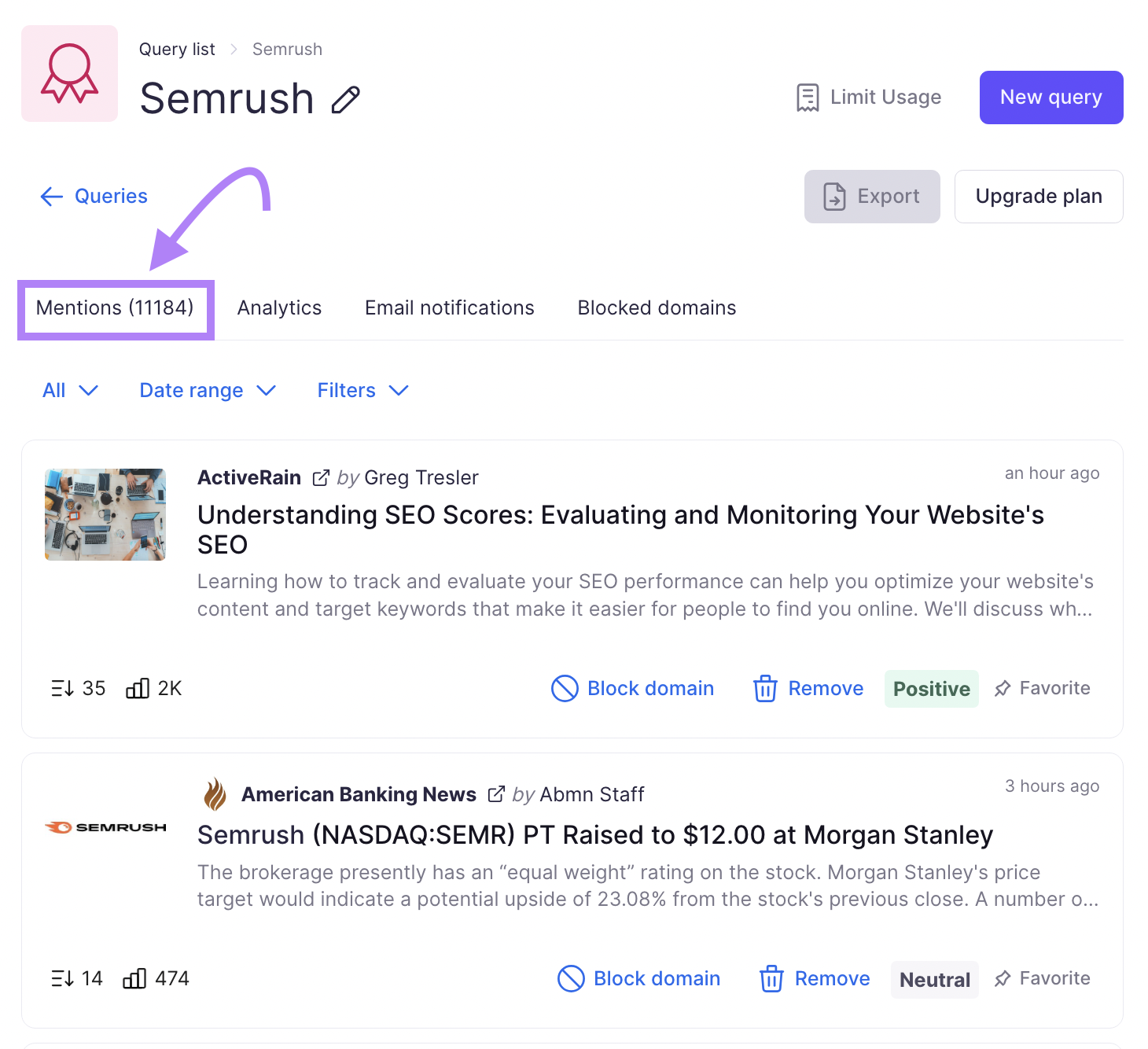 You can also opt in for weekly emails that report on new brand mentions.
Pricing
The Brand Monitoring app comes with a free seven-day trial. After the trial is over, you can subscribe by paying $49 each month.
4. Link Building Tool
The Link Building Tool helps you find opportunities to gain backlinks (links from other domains that direct to your website). And do outreach to pursue them.
Building backlinks is important if you want your website to rank in Google's results. Because backlinks are one of the most crucial Google ranking factors.
The tool automatically scans the web to find websites you can earn links from. And you can contact the websites from the tool itself.
To use the Link Building Tool, set up a project.
Once you've done that, go to the "Prospects" tab. To see a list of websites you can contact for backlinks.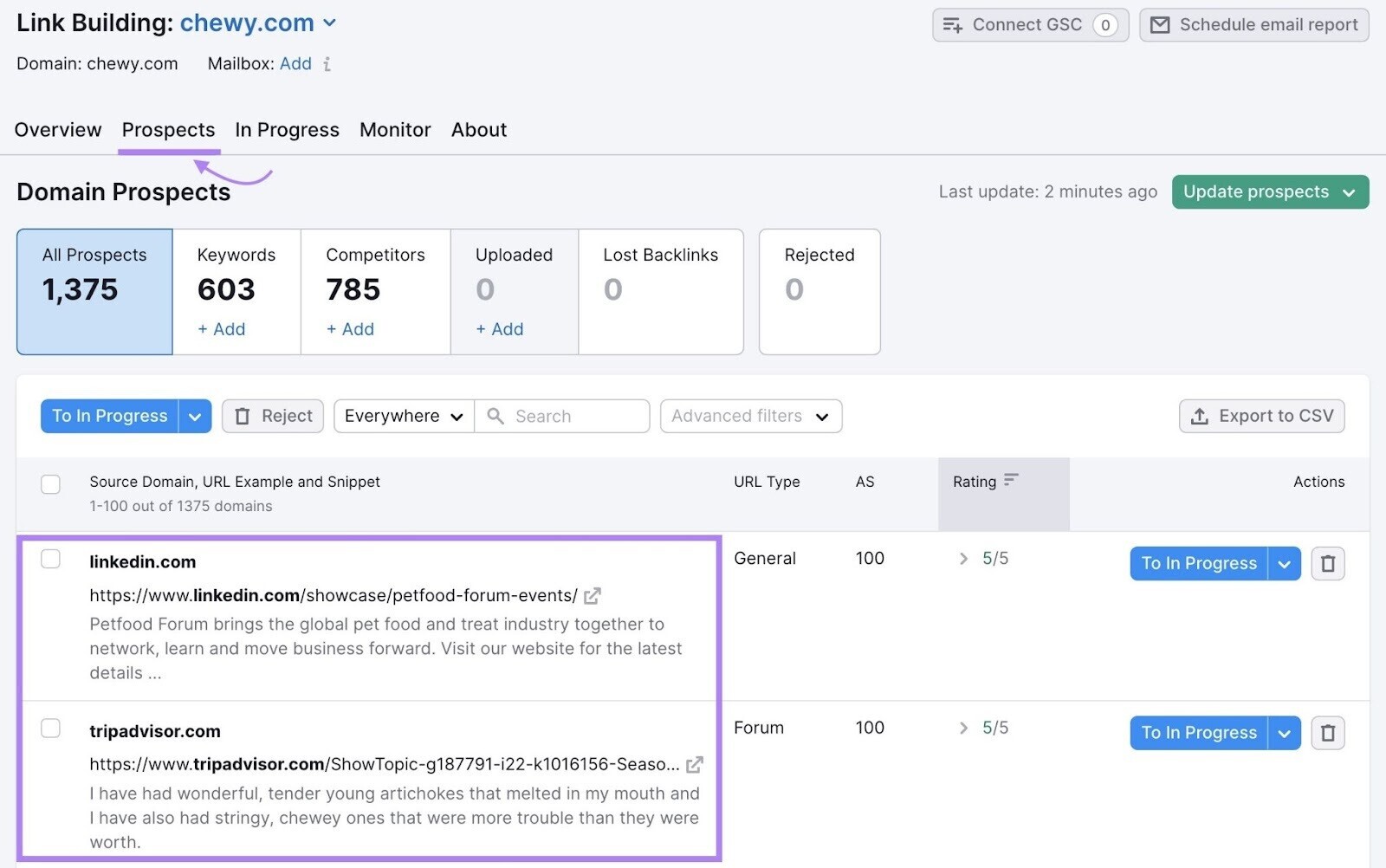 Review each prospect manually and click "To In Progress" to move the promising ones to the "In Progress" tab.

Then, click "Add" next to "Mailbox:" to connect your email account. So you can contact websites directly from the Link Building Tool.

After that, go to the "In Progress" tab. And click on the "Contact" button next to the website you want to reach out to.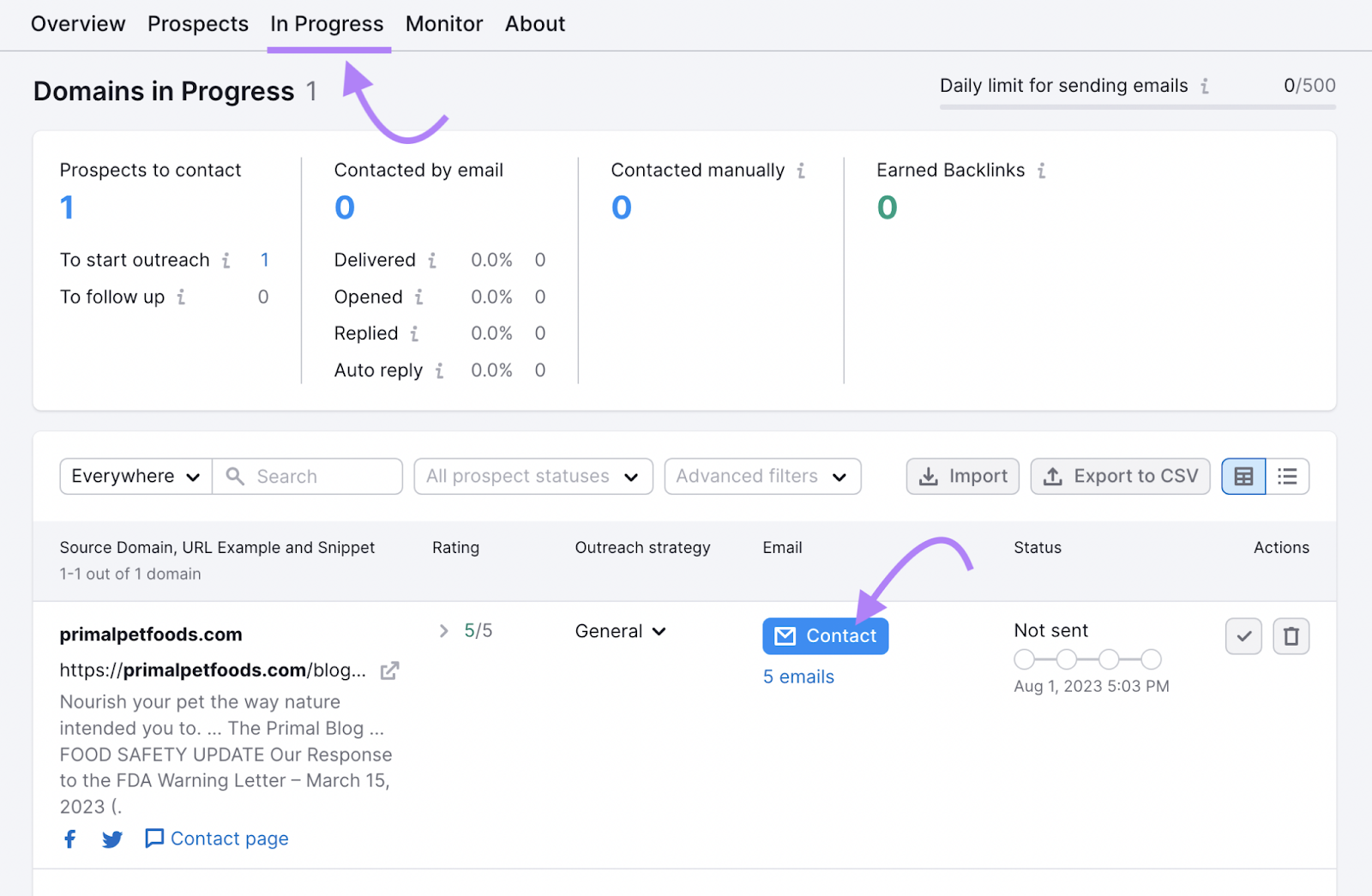 Now, it's time to write and send your outreach email. 
Pricing 
The Link Building Tool is available through both a free and paid plan. You'll have limited link building opportunities with a free account. For more, subscribe to the Pro plan for $129.95 per month (billed monthly).
5. My Reports
The My Reports tool lets you create automated SEO reports in a PDF format to show your clients or colleagues. To help you demonstrate the value of your work and the results you've achieved.
With this tool, you can easily compile and present comprehensive reports that showcase keyword rankings, traffic trends, and other important SEO data.
You can create reports from scratch. Or use one of the existing templates to save time.
Templates include:
Monthly SEO Report 
Organic Search Positions
Site Audit: Full Report
Full Organic Research
Backlinks: Full Report
Site Audit: Issues

Once created, a report might look like this:
The tool also lets you combine data from multiple sources, such as Semrush, Google Analytics, and Google Search Console.
And you can opt to receive reports directly in your inbox on a daily, weekly, or monthly basis.
Pricing 
My Report is a freemium tool. Subscriptions start at $129.95 per month (billed monthly) and go up to $499.95 (billed monthly), depending on the plan you choose.
6. Log File Analyzer
Log File Analyzer allows you to see how your site gets crawled by Google. And helps you identify any errors its bots might be facing along the way.
It's a task that many SEOs are unsure of how to approach. Luckily, this SEO automation tool can help.
First, open the tool and upload your access log file (a list of all requests that bots and users have sent to your site). 
Tip: Read our manual on how to find the access log file if you need help getting started.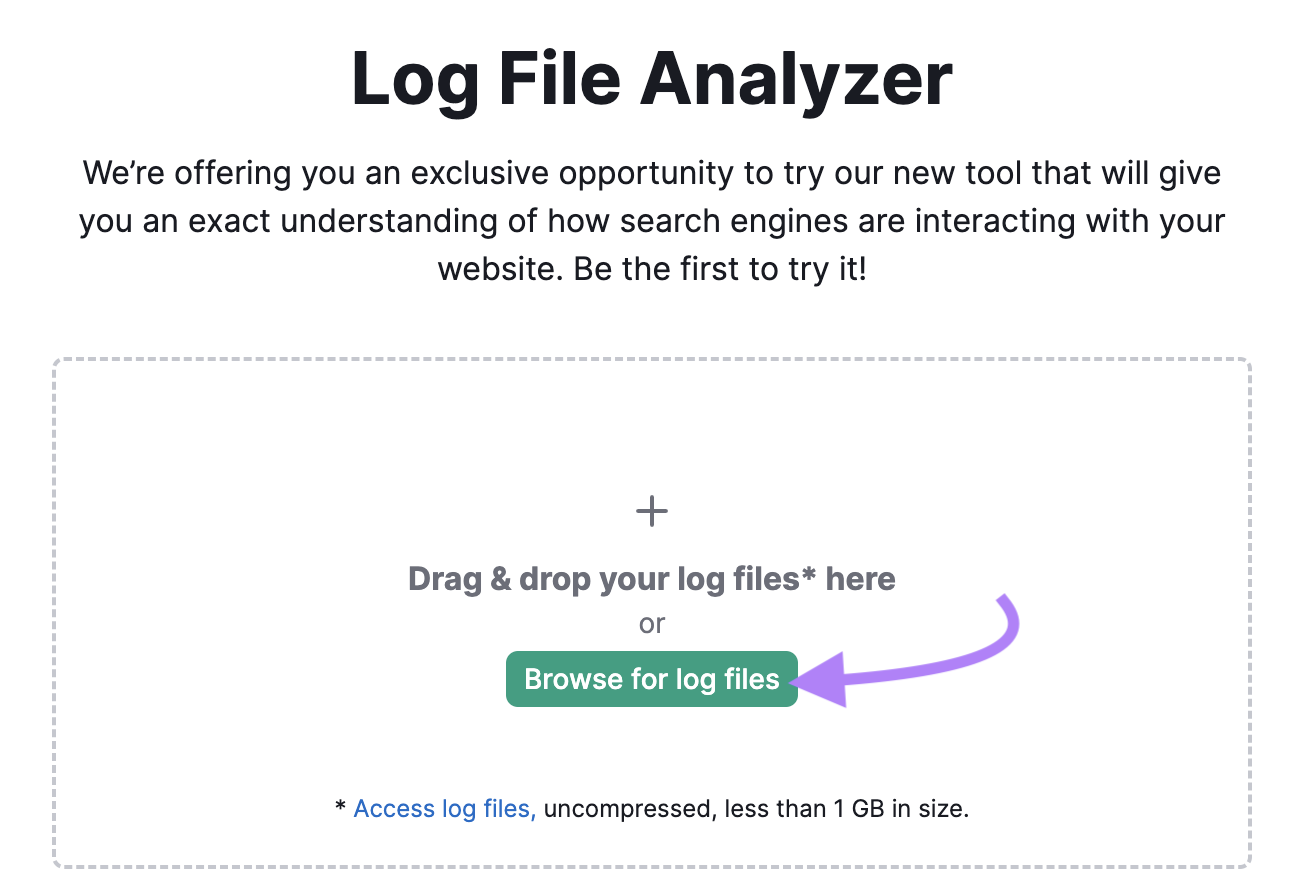 The tool will analyze your file and then generate a report like this:
This report can help you answer questions like:
What errors were found during the crawl?
What pages weren't crawled?
Is your crawl budget being spent efficiently?
What are your most crawled pages?
The analysis should give you insights to improve your website's crawlability and indexability.
Pricing 
Log File Analyzer is a freemium tool. A paid account is available with these three plans:
Pro: $129.95 per month 
Guru: $249.95 per month 
Business: $499.95 per month
7. Organic Research
Organic Research simplifies the competitor analysis process by showing you any domain's SEO performance.
It's a must-have automated SEO software for your marketing stack.
Why?
Because by analyzing your competitors, you can uncover valuable insights that can be used to develop a winning strategy for your own website.
Open the tool and enter a competitor's website. Then, click "Search."

You'll see top-level information, such as the number of keywords the website ranks for and how much organic traffic they generate.

From here, go to the "Positions" tab. You'll get a list of keywords your competitor is targeting.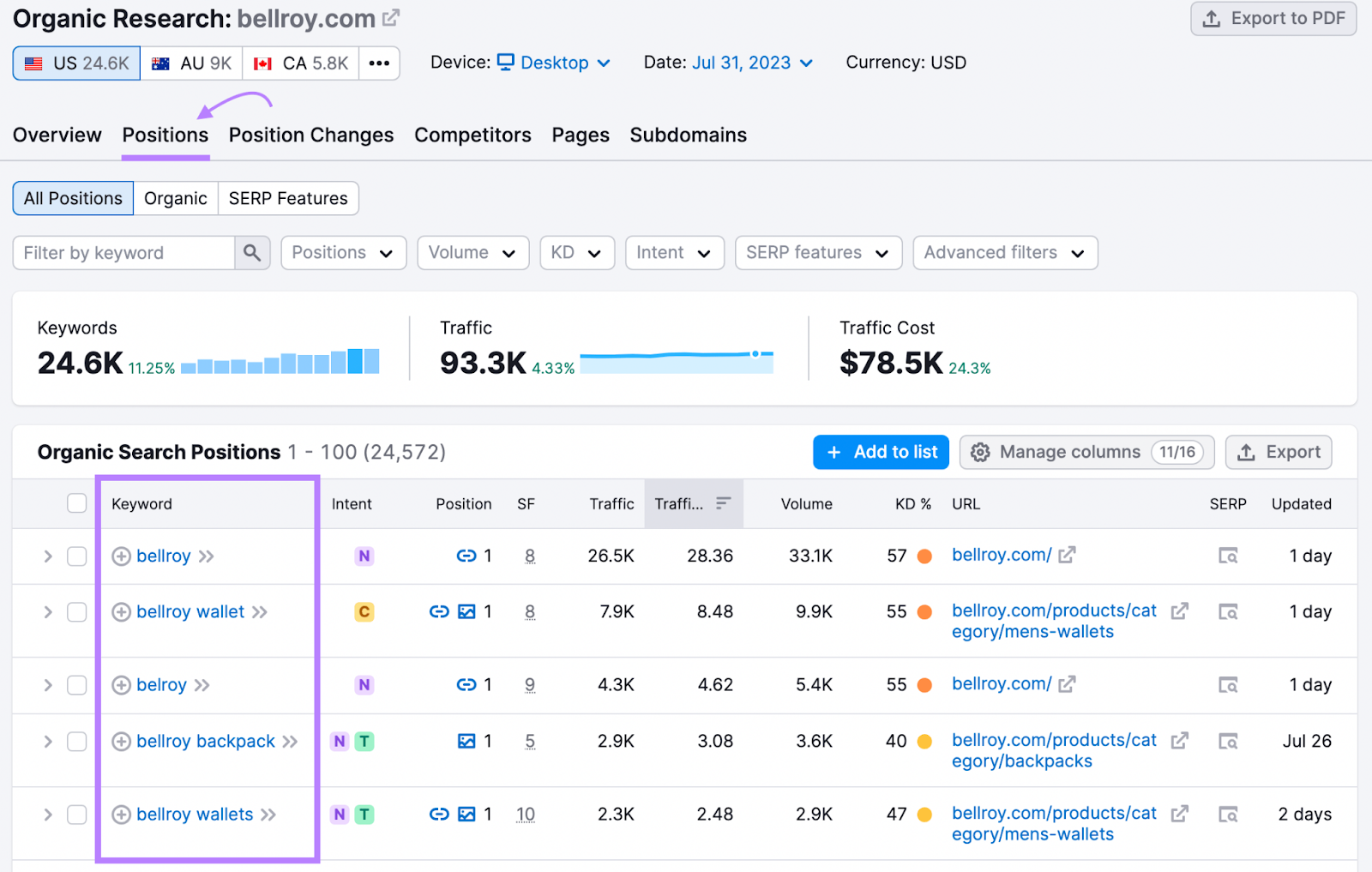 Then, apply an advanced filter to remove branded keywords by going to the drop-down menu and selecting "Exclude" > "Keyword type" > "Branded." To see a narrowed list of keywords that aren't just relevant to that competitor.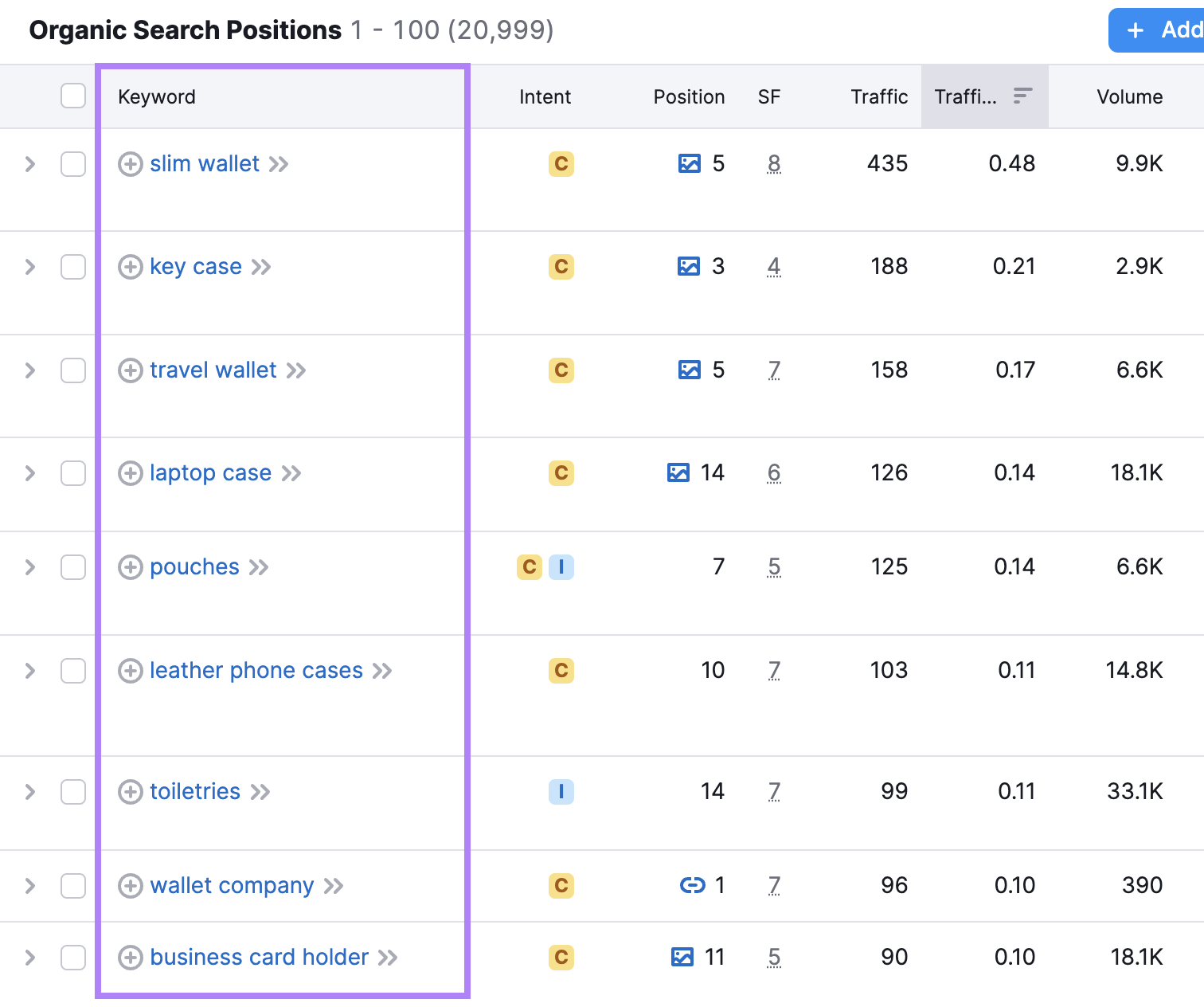 Consider targeting the same keywords with your own website.
By strategically aligning your keyword choices with your competitors' keywords, you can target the most relevant (and potentially profitable) keywords in your niche. 
Pricing 
Organic Research is available with either a free or paid plan. With the free version, you'll have limited data. You'll get more data with the paid version, which starts at $129.95 per month (paid monthly). 
Check out the pricing page for more details.
8. Automated Data Connector
Automated Data Connector lets you integrate your data from various sources, such as Google Analytics and Semrush, into a single dashboard.
It's a must-have tool if you want to do data analysis for SEO.
Making data-driven decisions is at the core of SEO. For example, if you see your backlink growth has dwindled in the past few months, this means you need to focus on link building more.
The tool makes it easy to stay on top of all your metrics in one place. It even updates them automatically. So no extra clicks are required.  
To get started, open the tool, go to "Imports" from the sidebar, and click on the "Create Import" button.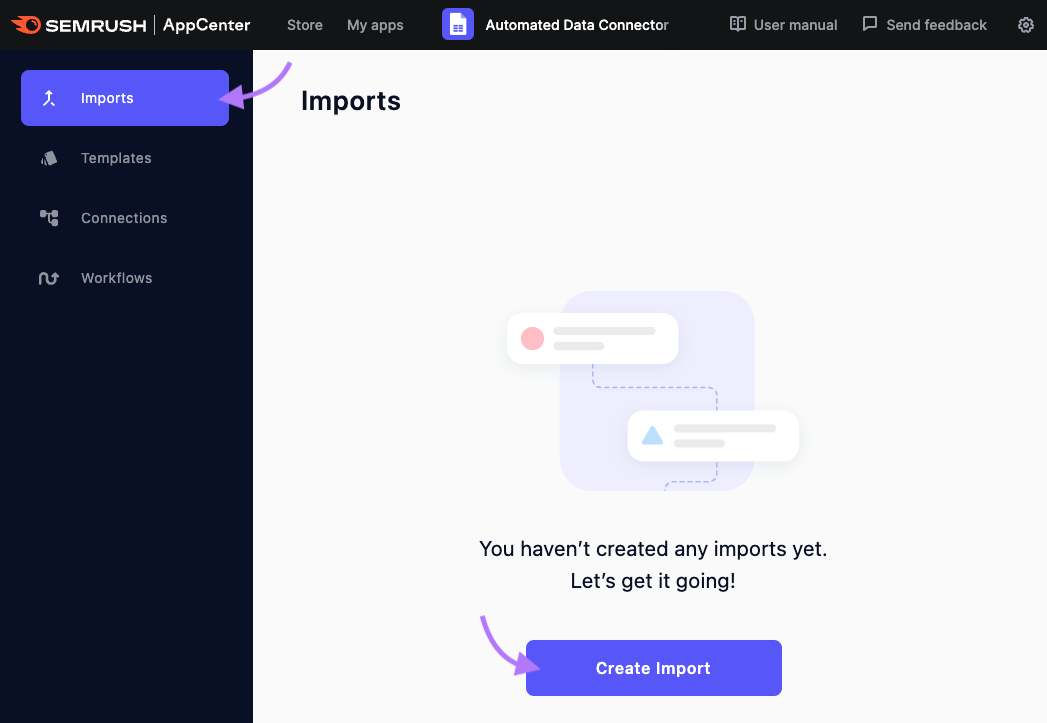 Then, choose the tool you want to import data from. In this example, we'll select Semrush.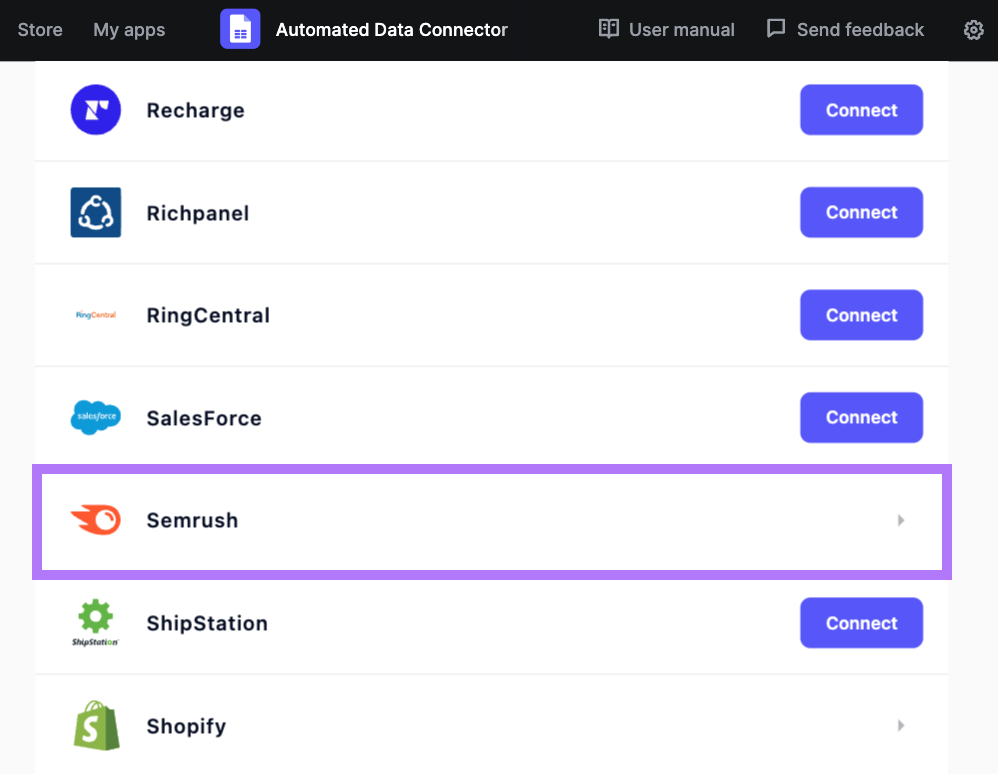 Now, the tool will ask you to select the specific project and the data you want to import.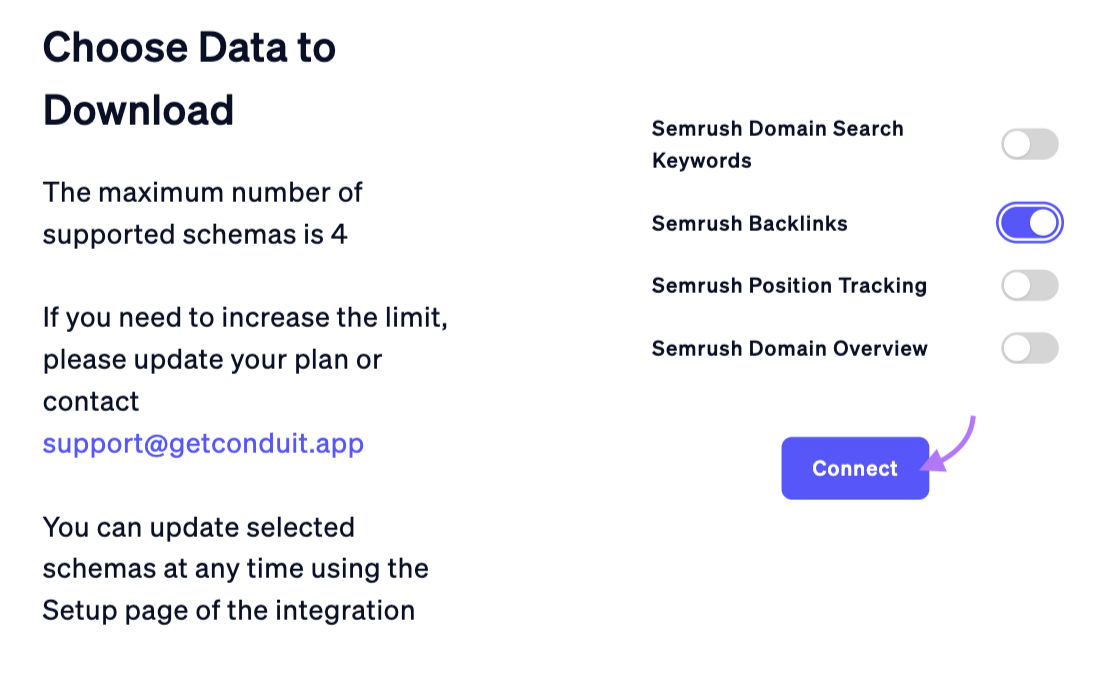 Once you select your options, the tool will prepare a dashboard for you. Like this: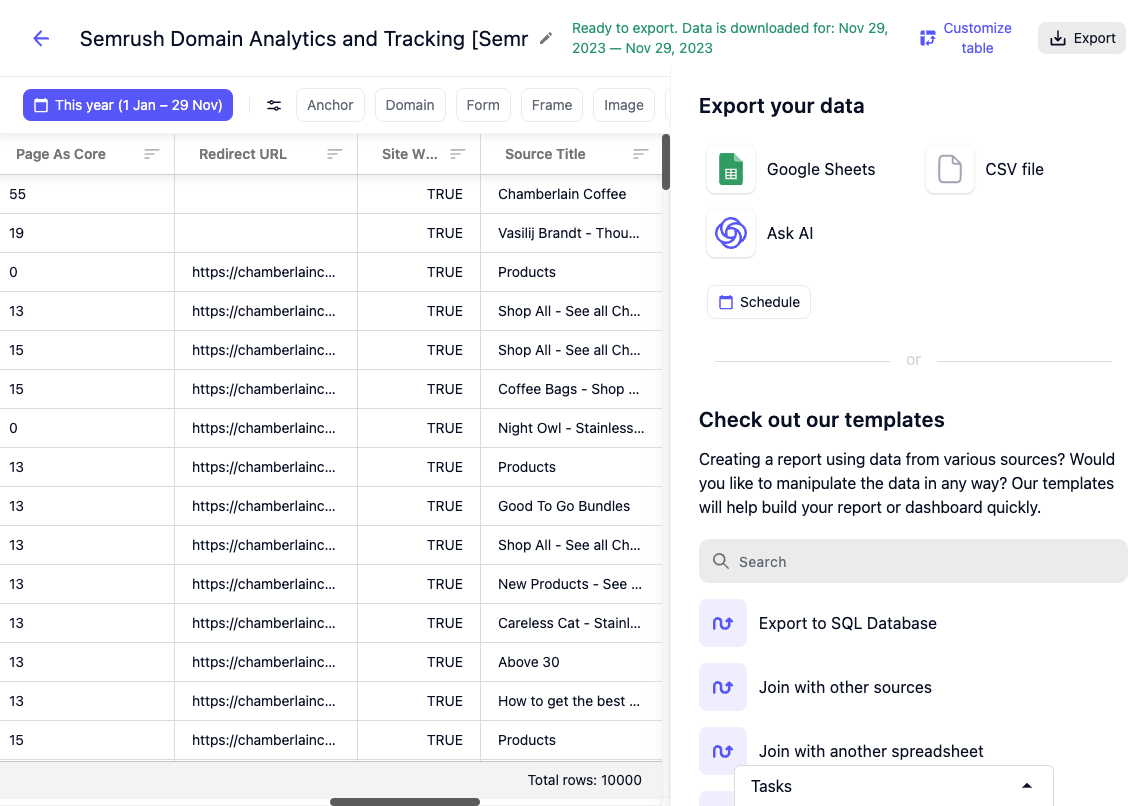 From here, you can start analyzing your data to discover any trends. 
You can also export your data to Google Sheets. Just click the "Google Sheets" button on the right-hand side.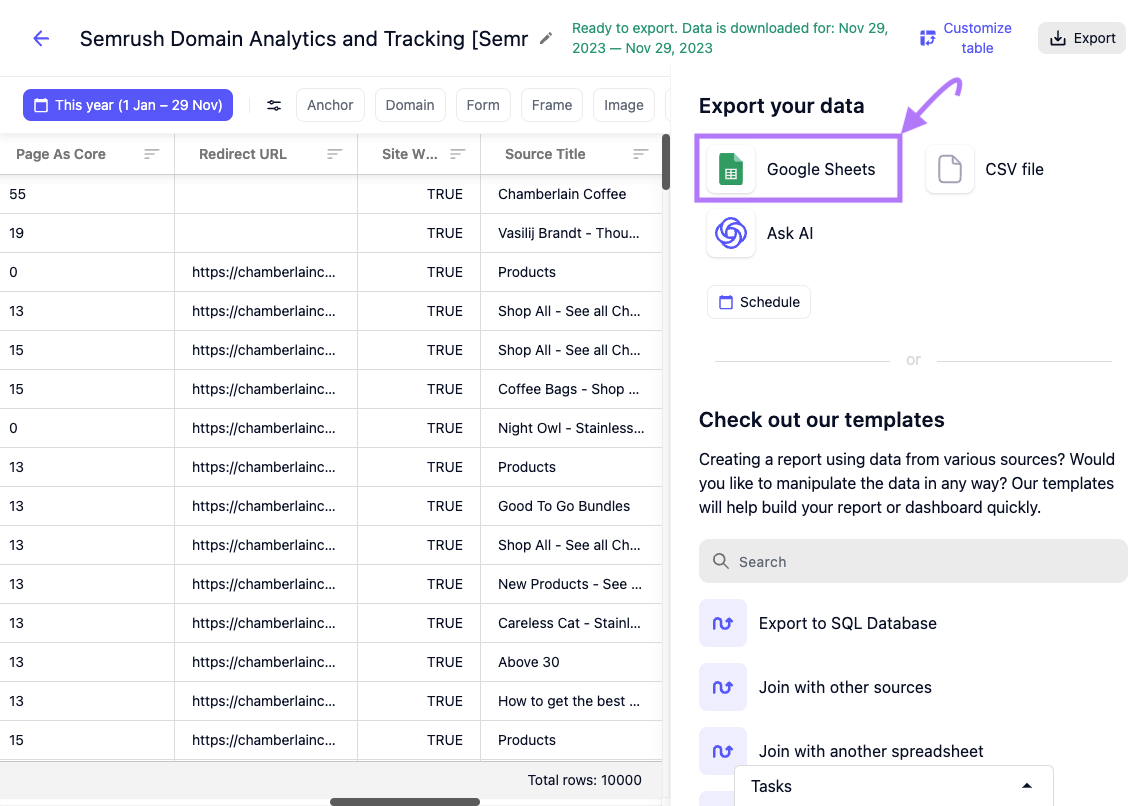 Pricing
Automated Data Connector is a paid tool. It costs $25 per month.
Start Automating Your SEO Efforts
In the world of SEO, staying ahead of the game is crucial. And SEO automation software can be your secret weapon.
It'll save you time and effort by taking care of your repetitive and mundane tasks.
So, embrace the power of automation and let the tools work their magic.
Semrush has a range of SEO automation tools that simplify your SEO processes and provide the data you need to succeed at SEO.
Sign up today to get started.