If you've ever developed a social media strategy, you know how important it is to get it right. Social media marketing requires a mix of data-based activities like tracking analytics and creative tasks, such as designing graphics.
Today's social media tools make it easier than for you to manage posting to, tracking, and optimizing your social media accounts. 
In this guide, we'll explore our top 14 tools for social media marketing in 2021. 
The Best Social Media Tools For 2021
We've made things a little easier by compiling our top picks for social media marketing tools: 
Semrush's Social Media Toolkit
Google Analytics
Brandwatch
Canva
Unsplash
SocialPilot
Tweetdeck
SocialDrift
Sendible
Facebook Pages Manager
Agorapulse
Ripl
Hubspot
Fanbooster
Each of these tools offers you a different marketing opportunity, from content creation to custom reporting, scheduling, and more. To keep track, we've divided our list into five sections:
Social Media Management
Social Post Scheduling
Analytics
Social Listening
Content Creation 
We'll cover what each tool does, any costs, and how to use it to target your social media objectives.
The Best Social Media Management Tools
The best social media management tools allow you to manage every aspect of your social media marketing strategy in one place. While there are some free tools available in this list, "all in one" management tools tend to come with a monthly subscription cost.
1. The Semrush Social Media Toolkit: 
Our Social Media toolkit features a range of data & creative tools for each aspect of social media management. The toolkit allows you to post to, track, and manage your Facebook, Twitter, Instagram, Pinterest, LinkedIn, and Google My Business posts.
The Social Media Poster allows you to create posts for your social channels. You can schedule a post for one platform or for several platforms in one place, edit images, create UTMs, or shorten links for more space.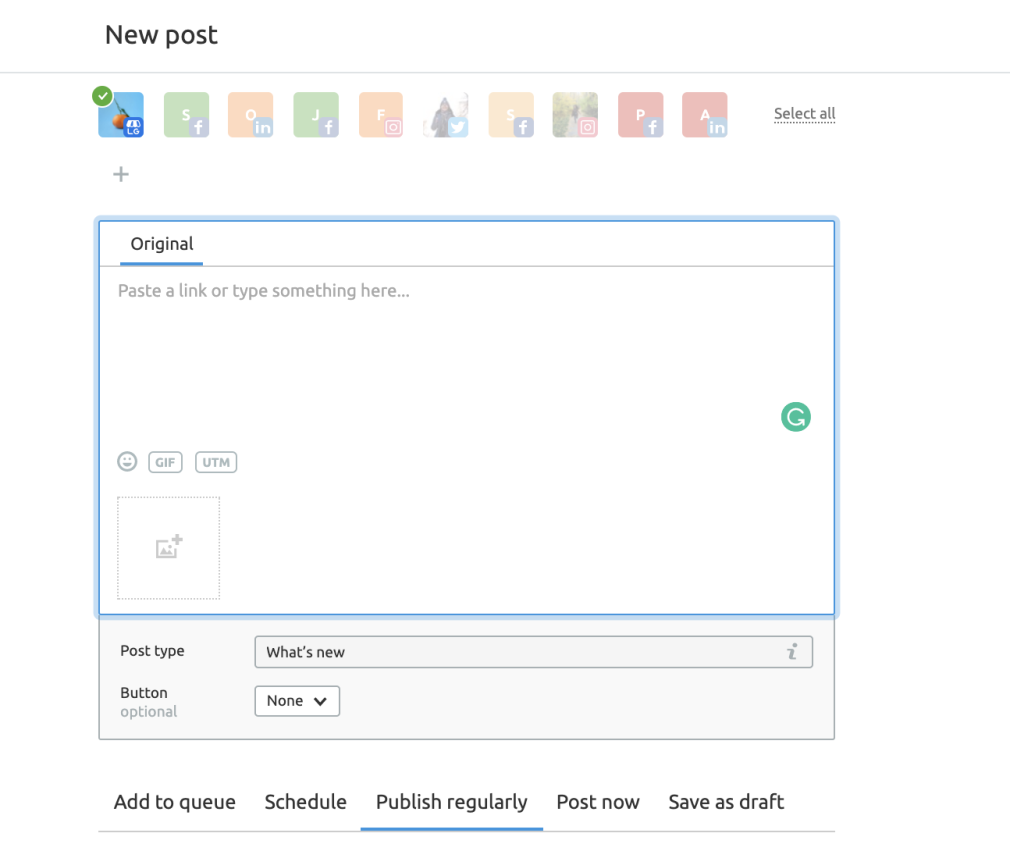 The Social Media Tracker tracks your engagement and other social metrics, like reactions, mentions, comments, and more. The tool then presents data in one dashboard for quick and easy reporting. You can even use it to monitor your competitors' social media profiles to track how often, when, and what they are posting. 
Cost: You can access the tools with a free trial for 14 days. After that you can upgrade to a subscription plan, starting at $119.95 per month. Your subscription plan also allows you to access our other Semrush toolkits for SEO, content writing, PR, and more.
2. Fanbooster
Previously known as Traject Social, Fanbooster offers help with social media management, SEO, reputation management, and analytics. It has specific social media tools though that support every aspect of social marketing for all of your platforms, including Facebook, Twitter, Instagram, Pinterest, TikTok, LinkedIn, and YouTube, as well as Google MyBusiness. Fanbooster also monitors your profiles' performance wherever you are. 
The Fanbooster scheduling tool lets you schedule your posts across multiple platforms at once. You also have the option to set recurring posts and bulk posts, which is time-efficient for long-running campaigns. Fanbooster integrates with Canva, meaning you can edit images and posts as you schedule them. 
Fanbooster analytics delivers data you need to track your performance against your KPIs. You'll be able to track clicks, conversions, engagement, reach, impressions, profile growth, and more for each platform and on each post. The tool also automates any reports that you build and sends them straight to your email inbox as often as you'd like. 
Cost: Fanbooster offers a FREE trial for 14 days. After that, you can upgrade to one of their subscription plans, which starts at around $49 per month. This subscription only grants you access to social media tools.
3. SocialPilot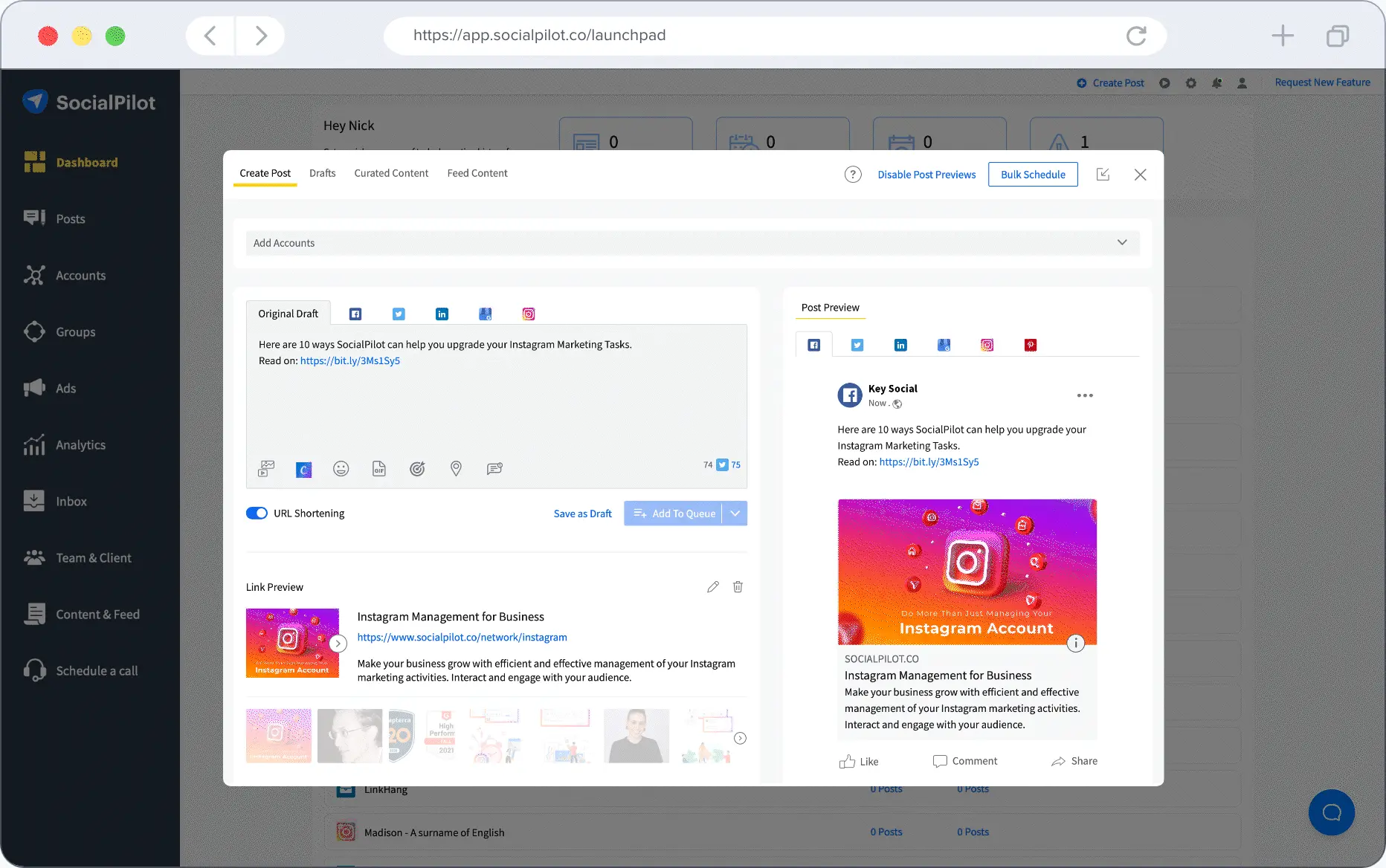 Social Pilot is another all-in-one social tool, offering features to schedule posts, respond to messages, and monitor performance. It works with all of your social media platforms including Facebook, Twitter, TikTok, Instagram, Tumblr, Pinterest, LinkedIn, Google My Business, and the Russian VK channel. 
The SocialPilot scheduling tool lets you schedule, plan, and bulk publish posts on all of your social channels. You can also use the tool to create carousel posts.
SocialPilot's Social Inbox lets you see and reply to comments, messages, and replies. This means that you will never miss a notification and can quickly engage with your customers directly. However, this tool is currently limited to Facebook notifications.
SocialPilot analytics will track the performance of your platforms and posts, but will also let you produce white label reports, which is particularly useful for agencies and freelancers. You can add your branding to a report that SocialPilot creates for you. You can also use the monitoring tool to curate content by tracking keywords. The Content Curator tool will show you ideas and examples of content targeting your keyword to inspire you to create your own post. 
Cost: SocialPilot offers a FREE 14 day trial with subscriptions starting at just $25.50 per month afterward. 
4. Facebook Pages Manager
Although the Facebook Pages Manager can only manage your Facebook account, it makes our list because it is completely free. It notifies you when your page gets a comment, message, or reply, but also allows you to post, schedule posts, and edit the appearance of your page. 
Facebook notifications work much like your own personal Facebook account. You will be notified when your page gets a direct message, a post on your page, or a comment on your post. These real-time notifications mean that you can keep connected to your clients quickly and easily. 
Facebook page settings give you complete control over the information on your page and how it looks. You can choose to hide sections or add photos to your profile. It's worth remembering that whether you have another social media marketing tool or not, you will still need to update your page's information or images using the Facebook Pages Manager app. 
Cost: Facebook Pages Manager is completely free. There is also a free app for Android and iOS.
The Best Social Media Scheduling Tools
The best social media scheduling tools help you schedule your social posts in advance. They may offer other features, like analytics, in a limited capacity. However, their main function is to schedule posts. 
1. Sendible
The top of our list of best social media scheduling tools is Sendible. It gives you a variety of scheduling functions to help manage and publish posts and integrates with Canva.
The Sendible Publishing tool allows you to schedule posts individually or in bulk on one or multiple social channels. There is no limit to how far in advance you can schedule, so you can even plan a recurring post for a yearly event. The tool also allows you to edit posts or images as you upload them with a Canva integration.
Sendible Shared Calendar visualizes the posts you have planned on a shared calendar. It is a useful tool that shows any team member what's planned for your social channels.
The Sendible Social Listening tool is a unique benefit to using Sendible. Although it is not as extensive as specific listening tools, it provides you with enough data to monitor brand mentions and engagements. 
Cost: Sendible costs $29 per month for the most basic subscription but does offer a 14 day free trial. Though the free trial comes with some scheduling limitations, it will give you more than enough time to try the platform out.
2. Agorapulse
Agorapulise makes our list as an effective social scheduler. It's designed to schedule and monitor posts on multiple social platforms including Facebook, Instagram, Twitter, YouTube, and Linkedin. It also has a mobile app for iOS and Android if you'd like to make posts on the go. 
The Agorapulse Publishing tool allows you to upload and schedule your posts across all of the supported platforms. You can optimize your posts right in the platform, and signal your team members for the final sign off with the collaboration feature. 
Agorapulse Monitoring is their social listening tool that enables quick responses to any brand mentions. You can use the tool to track what people are saying about you and your competitors, as well as respond to any direct mentions you receive on any of the supported social channels. You'll likely work with this tool as part of any brand awareness and reputation management strategies. 
Cost: Agorapulse offers an impressive 30-day trial with an option to upgrade to a subscription plan. Subscription plans start at $79 per month. 
The Best Social Media Analytics Tools
The best social media analytics tools provide and analyze your social media performance. They track, generate reports, and help you make decisions about the future of your strategy. Some social media analytics tools offer brand awareness tracking or may integrate with other social media tools to provide additional features. 
1. Hubspot
Although Hubspot is more than a social media tool, it has a range of social media analytics features that you can access through the Hubspot Marketing Hub. 
Hubspot's social media reporting feature gives you access to performance metrics across different platforms, campaigns, and dates. You can see the most important metrics including reach, engagemens, comments, at a glance. Hubspot's social reporting also integrates with your CRM to attribute traffic, leads, and conversions to your posts and social platforms.
Cost: The social media analytics feature in Hubspot is available starting at the Professional plan ($800/month). However, your subscription includes access to other Hubspot marketing tools for SEO, PPC, and more.
2. Google Analytics
Like most Google Workspace tools, Google Analytics is free to set up and available to you with a Gmail address. Analytics can help you understand how your social channels are helping to drive traffic and conversions to your website. 
Google Analytics' Channel Acquisition report tracks which social media channels are driving traffic to your website. You can filter results by organic social traffic, UTM links, platform, or campaign. You'll be able to monitor metrics like your platforms' conversion rate, bounce rate, and revenue.
The Multi-Channel Funnels report (available under "Conversions") visualizes the impact your social activity has on your overall revenue and traffic.
Usually, social media isn't the final channel a buyer lands on before purchasing, so it doesn't have revenue assigned to it. This is known as last-click attribution. However, if we look at other attribution models in Google Analytics, we can see what stage of the customer's journey social media played a part in. This is particularly helpful when assessing how well your social activity is performing and supporting overall business goals. 
Cost: Google Analytics is completely free to set up and use. 
The Best Social Listening Tools
The best social media listening tools allow you to monitor the reputation of your brand against your competitors. They provide real insight into mentions and comments about your brand, which lets you be reactive and curb any issues as soon as they arrive. 
1. Brandwatch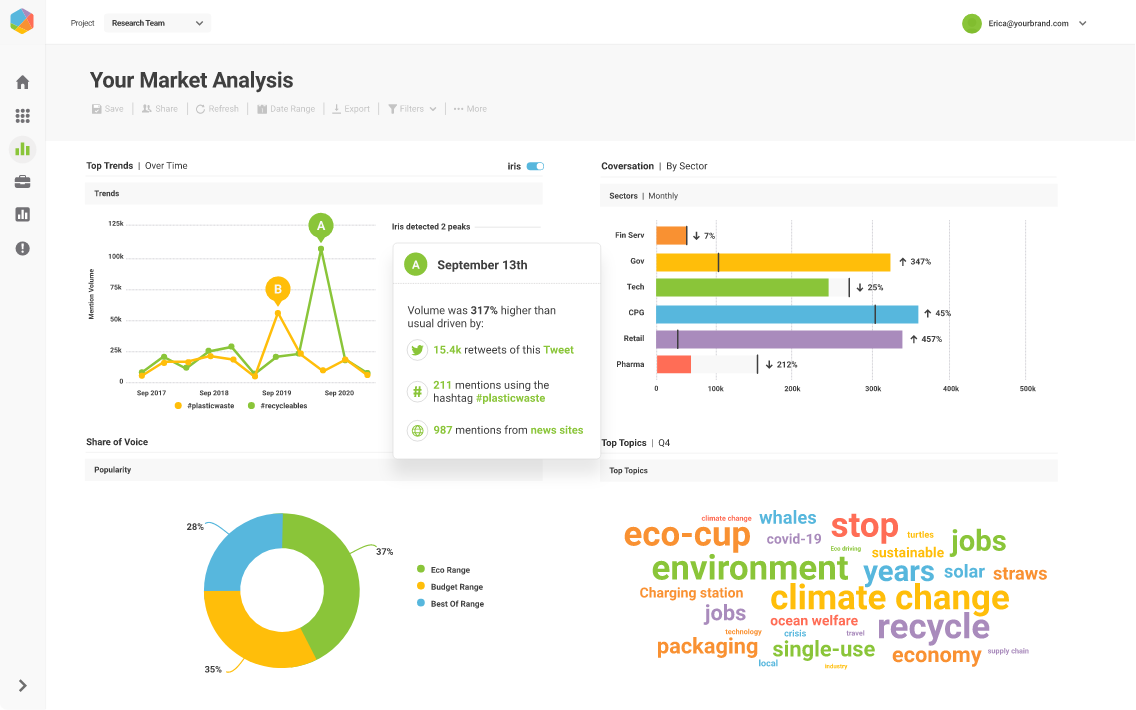 The best social media listening tool we tested is Brandwatch. It helps you to understand your industry and monitor your place in it by analyzing trends, brands, keywords and more. 
Brandwatch Social Sentiment Analysis collects data from all over the web, then reports on how your brand is being perceived using algorithms and sentiment analysis. You'll have an accurate view on how customers are talking about your brand and what your reputation stands. 
Brandwatch Analyze uses AI to spot insights and trends happening on social media. Their AI, known as Iris, analyzes text, images, and video for instant insight into your data. You won't need to spend hours looking through data for reports and use for strategy meetings. 
Cost: You'll need to book a demo with Brandwatch's team for a quote. It may require a bit more effort, but the data delivers once you're set up with the tool. 
2. Tweetdeck
Tweetdeck might now offer as much insight and data as Brandwatch, but it makes our list because it's completely free. All you need is a Twitter account.
Tweetdeck Search returns all mentions of your brand name or your competitors. You'll be able to see each time your brand is mentioned or discussed. Although this tool doesn't give you data, it does give you a snapshot of your reputation via Tweets. 
The Tweetdeck mentions feature shows any tweets that mention your brand in real-time. It's designed to be easier to analyze than your Twitter feed. 
Cost: Tweetdeck is completely free with your Twitter account. However, it is limited to Twitter so you aren't able to monitor brand mentions and reputation across multiple platforms.
The Best Tools For Content Creation
The best social media content creation tools help you to build an important part of your social strategy: the content. These specific tools offer a range of features, like image editing, image sourcing, branded videos, and more.
1. Ripl
Ripl tops our content creation list for its easy-to-use platform that creates branded videos and images. You can configure your brand colours and logo before you start creating. 
Ripl Templates are categorised by type or theme, so you can easily find and edit the perfect image or video for your post. 
Ripl Social Sharing allows you to publish your image or video straight from the platform onto your social channels. You'll need to be on their Yearly subscription plan to post images without their watermark, but you can still add your own captions.
Cost: Ripl offers a 7-day free trial and subscriptions starting from $14.99 per month. 
2. SocialDrift
SocialDrift doesn't help you to create text or images or video, but it does help you to create interactions on relevant posts across Instagram.
Social Drift automates Instagram interactions, like commenting. People are more likely to follow accounts that actively engage with them through likes, comments, and follows. However, you will need to support this tool with a strong, organic social strategy.
Cost: SocialDrift offers a 14-day free trial. However, you will need to contact the SocialDrift team directly for further pricing.
3. Unsplash
If you have a small design budget, Unsplash will be a useful database for free-for-use, watermark-free images you can use on your social posts and website. 
Enter a term in the search bar, browse the results. Once you have found the perfect image, you can download it in many high-resolution options.
Cost: Unsplash is completely free to use. You do have the option to donate to publishers and photographers.
4. Canva
Creating custom images and graphics for your social posts has never been easier than with Canva. This photo editing and graphic creation tool give you complete control over your visuals.
Canva Logos offer editable templates that can help you build your own logo. Templates are categorized by industry, so you can focus on your own branding. You can customize a template as little or as much as you like. 
Canva Brand Kit builds branded visuals quickly and easily. You'll add your brand's logo, font, and color, so Canva will add them to any of your creations. This keeps your brand's visuals consistent. 
Cost: Canva offers a free option that limits the type of graphics and icons available for you to add to your creations. However, you can upgrade from $9.99 per month.
What Is The Best Free Social Media Management Tool?
We know that many social marketing teams are often working with tight budgets. Here are our best free social media management tools
Agorapulse
Google Analytics
Canva
Unsplash
Tweetdeck
Each tool offers options to upgrade; however, their free versions offer you full access to their related tools, whether you need support creating, scheduling, or monitoring. 
A free trial of an "all-in-one" marketing tool, like our Semrush toolkits or Hubspot, can also help you better understand what resources you'll need outside of your social channels. You can work with their social channel tools in tandem with any toolkits available.
No matter the tool, be sure to support your new social media toolkit with a dynamic social media strategy.