It's arguably more important than ever for businesses to adapt to survive online as we take stock of 2020 and head into 2021. That's why we've pulled together a report that digs into the content marketing trends of recent years to help you make sure you're ready for the road ahead.
Our study looked at more than 600,000 tweets in English posted between January and September 2020 with the hashtag #ContentMarketing, hundreds of thousands of keywords related to content marketing in English (worldwide), and talked to top influencers on Twitter to make predictions for what lies ahead in 2021.
We hope that this report will effectively summarize the results of 2020, and give you a peek at what the key trends will be in content marketing in 2021.
This research was conducted as part of the Global State of Content Marketing Report 2020. The report is designed to help content marketers worldwide gain a better understanding of the industry and draw more relevant conclusions for their strategies. Check out the full report to get more insights.
Takeaways to Benefit From
Use Content Marketing to Maximize Your Digital
#DigitalMarketing turned out to be the top-ranking hashtag used in content marketing related tweets both in 2019 and 2020 (71% of the analyzed tweets), while #Marketing took second place. Such close association lets us suggest that people see content marketing as an integral part of digital marketing.
In 2020, the already present trend for online visibility accelerated at a frantic pace. Businesses understood that offline advertising had stopped working, and a convenient store location no longer mattered because all purchasing decisions were being made online. Moreover, hard-sell advertising no longer worked either — statistics show that 25.8% of US internet users block ads on their devices. One of the best ways to interact with customers on the web is to create high-quality and appealing content for your audience, and this is why digital is so closely connected with content marketing.
We expect that moving from offline to online will only increase in 2021, and businesses that didn't manage to adapt in time will have to develop their online presence. At the same time, with more businesses coming online, the competition for customers is increasing, leading to a more demanding audience. This means that creating several mediocre pieces on every target topic won't bring you the attention you are hoping for, so the content professionals will have to concentrate on quality over quantity.
Author, Content Inc. and Killing Marketing, Founder Emeritus, Content Marketing Institute
"With an increasing number of privacy regulations and social media algorithm changes, content marketing has escalated to a primary opportunity for marketers. Why? Audience building.
Direct, one-to-one relationships with our customers is key, which is possible by consistently delivering valuable content experiences. 
I believe that in the next few years enterprises will finally take content marketing seriously (not just as a hobby) and you'll see increasing budgetary movement toward content marketing strategies."
Build on a Strategy for Results 
Strategy was the most discussed content marketing related topic on Twitter at 34% of the analyzed tweets, a 5% increase compared with the previous year.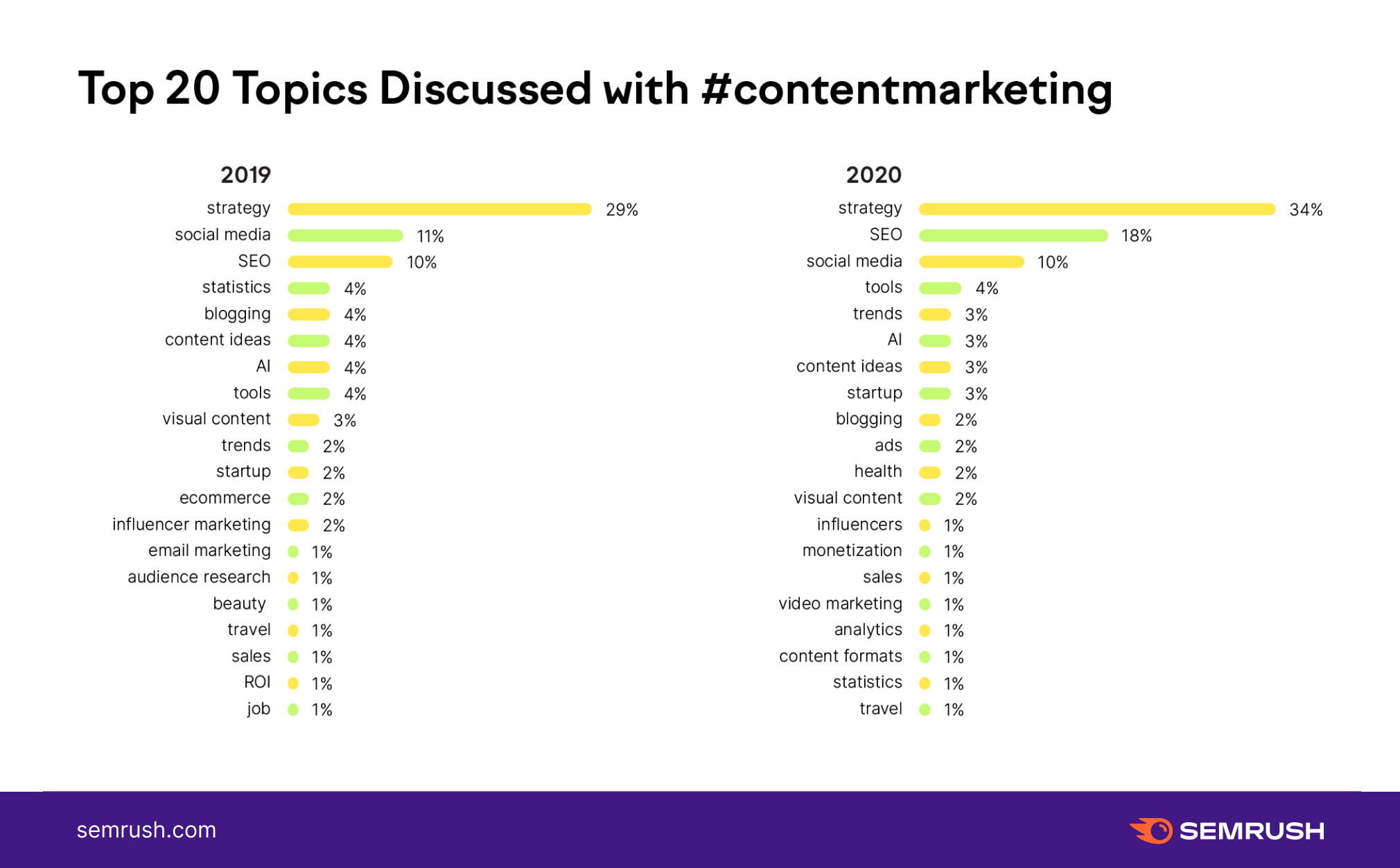 It was also the leading search query by a significant margin. In 2020, the volume of the keyword 'content marketing strategy' grew by one-third compared to 2019. In addition, the #marketingstrategy hashtag took 12th position in trending hashtags related to content marketing, while it wasn't in the top 20 a year ago. 
This growth in the popularity of strategy is natural. Effectiveness online requires a clear understanding of your audience's needs and a strategic approach to responding to those needs. A well-defined content strategy allows you to create consistent valuable content that resonates with your audience across different channels. 
If we look at the top questions people asked, we'll see that they didn't just want to know what a content marketing strategy is but also how to develop one. That is why strategy is also the third most required skill in the content marketing industry.
"Consumers are becoming more intelligent and sophisticated. Brands should stop creating content for the sake of creating content or to gain organic traffic. It isn't beneficial to you or your brand, prospects, or clients. It's easy to get caught up in the race to produce as much content as possible to drive traffic to your site. What use is the traffic if it's not backed by a strategy beneficial to the brand?
Be intentional with your content strategy. Optimize and emphasize user-generated content experiences to win the content marketing game. Consider focusing on where your audiences are online and serve them with personalized content that resonates with their pain points."
Harness the Data
In 2020, the discussion of analytics significantly grew in popularity compared to 2019 — from 7% to 24%. And, unlike 2019, it's also on the list of the top 20 most discussed topics related to content marketing. #Analytics is also the 10th most popular hashtag, followed by #bigdata in 14th place.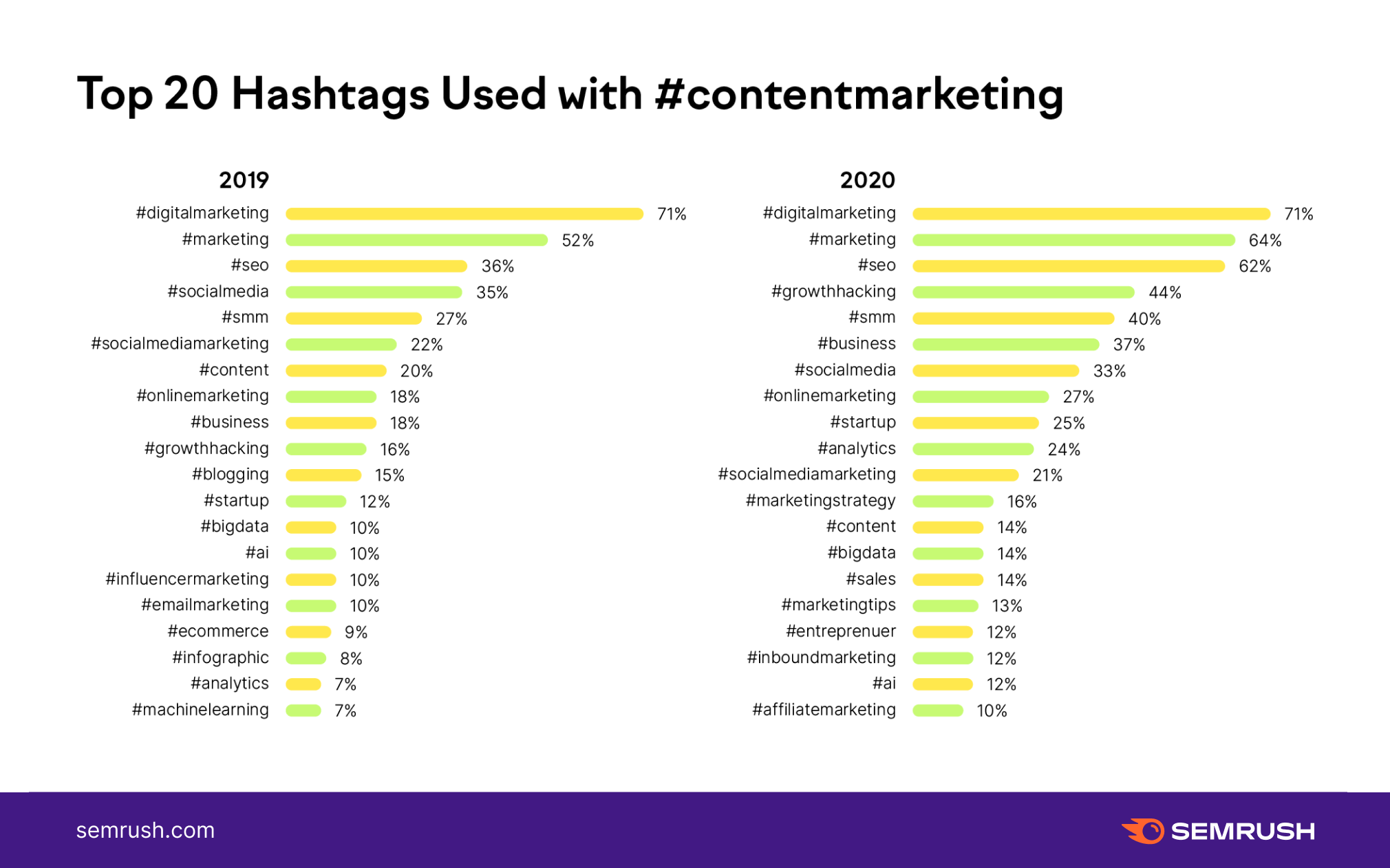 We are seeing analytics become a crucial element in creating content marketing strategies and planning marketing activities. For example, the question "How to measure content marketing success" ended up as the 9th most popular question about content marketing. At the same time, analytic skill turned out to be the fourth most required ( 27%) skill for a content marketer alongside research ( 19%), and understanding content metrics ( 16%).
The more data a business has about the audience, the clearer it is what content to create, how to segment the audience, and what personalized messages to send:
You can better view how a group of similar users behaves and communicates, and target them with personalized offers.
You can use a different message and call to action depending on how the user behaved; for example, whether they clicked on a link in an email or not.
You can better understand what resources on your website different groups want to read. This is also a great way to attract new visitors, and maybe start getting them to consider purchasing from you.
Those businesses that investigate their audience will be able to succeed in the personalization and development of a robust content marketing funnel. 
Make Your Content Drive Sales
The topic 'sales' became more popular, and #sales entered the top hashtags. Such topics as 'ads' and 'monetization' also appeared among the top. This means that content marketing is increasingly associated not only with attracting traffic but also with generating payments. 
In 2020, we moved from face-to-face meetings to online calls, which are less efficient for establishing a close connection with clients. This leads to the fact that content that explains the product's value (i.e. bottom-of-the-funnel content) will be in high demand. Content marketing is paramount to the success of product development strategies hence the content should create great value proposition for a product.
At the same time, sales specialists and managers will need to establish contact with potential customers on social networks by sharing useful content, and showing their expertise.
For 2021, we can say that content marketing is still considered an essential tool for working with users at all marketing funnel stages, including bottom-of-the-funnel content to drive online sales. According to our research on how to make the content marketing funnel efficient, the vast majority (87%) of our respondents guide their prospects through different stages of the buyer journey using content. To help your audience convert into buyers, you should create and implement content for each stage of the buyer's journey, from brand awareness to purchase decisions.
Leverage SEO to its Full Potential
SEO was the third most popular hashtag and the second most popular topic discussed in tweets.
In 2020, the popularity of SEO connected to content marketing increased significantly compared to 2019:
The popularity of the topic of SEO increased from 10% to 18%.
The popularity of the #seo hashtag increased from 36% to 62%.
In questions that people ask, SEO and content marketing also go hand in hand — the question "What is content marketing in SEO" was among the most asked on Google (holding position no. 7). Also, the keyword "SEO content marketing" was in great demand, with an average monthly search volume of 1900 (however, it has stayed the same for two years).
Interest in the topic of SEO continues to grow as:
On the one hand, the search engines introduce more complicated algorithms designed to select and deliver top-quality content to users. 
On the other hand, online competition is growing for many industries.
Content creators need to put more effort into standing out in the sea of information and catching the user's attention. For small and medium-sized businesses, focusing on niche content and targeting long-tail keywords will become a must-have approach to attract customers.
Another area where SEO and content marketing overlap is voice search. More than one-quarter of the global online population is using the voice search feature on their mobile devices, and it seems like people use similar words when using voice, such as "how," "what," and "best." Knowing the keyword research process and voice search optimization tactics was important before, and it is going to be necessary for survival in 2021. 
Don't Scrimp on Visuals
The vast majority (89%) of tweets we analyzed contained visuals, and 20% of these featured infographics. In 2020, visual content was used more in tweets compared to 2019, and it was the 12th most discussed topic. Additionally, "what is visual content marketing" was the 11th most popular question people asked about content marketing. Finally, video marketing is also getting more traction. 
A good image can tell more than several pages of text as the human brain processes images 60,000 times faster than text. 90% of information transmitted to the brain is visual. 
Visuals have a huge plus in addition to being liked by the audience. As we said above, to compete in the market, it is essential to create quality content across various channels. Creating new content requires in-depth research, interaction with experts, collection of analytics, etc... in a word, time. 
To stay in the game and reach a larger audience, you need to build a convenient workflow. Turning your text into an infographic partly solves this problem. 
Another great reason to create visuals is that they can give new life (which means new traffic and leads) to the copy you created some time ago. Here are some examples of how you can turn a long piece of content into several immersive and engaging visuals:
Turn an article into an infographic, slideshow, or video.
Segment a long video into shorter pieces that you can publish as a series.
Combine short content pieces to create a white paper or a slide presentation.
Create usable snippets and informative images for social media. 
Build Your Audience on Social Media
#SMM and #socialmedia were the 5th and 7th most popular hashtags, respectively; social media was the third most discussed topic, and 'social media content marketing' was a popular query (20th). In 2020, the popularity of social media remained relatively the same as in 2019. Content ideas were the 7th most popular topic at 3%, which is one position lower than the previous year. 
Content marketing is closely connected to social media, as social networks are the perfect place to create a dialogue with your audience and distribute your content. In 2021, we expect that social media will still be a great source to engage with your audience and build a brand community. 
We are also seeing an increase in the number of life experiences people needed to communicate online in 2020. Therefore, formats such as live streams, games, and online marathons where people interact with each other and brands will continue to gain popularity. 
It is worth mentioning UGC again, as it is incredibly useful for building brand trust. On social media, you can encourage people to share and express their opinion more.
Try Growth-Focused Content
#GrowthHacking is an excellent example of a hashtag associated with a brand. The content marketing community widely used this hashtag on Twitter — it moved up from 10th position to 4th in the list of most popular hashtags, increasing its demand from 16% to 44%. At the same time, Jonathan Aufray, CEO of @GrowthHackers, is one of the most popular marketing influencers on Twitter.
The popularity of growth hacking related hashtags may mean that content marketing is used as one of the approaches to grow startup companies and other businesses quickly.
#Startup could be found in 25% of topics and was the 8th most popular topic. Using content marketing, startups and other companies can gain up to 55% more visitors to their sites and five times more leads, while it costs 62% less than traditional marketing.
Lilach Bullock
Business Success Coach & Consultant, Content Marketer
"Content continues to be at the forefront of marketers' minds, but it's becoming increasingly hard to get heard above the noise. We'll start to see much longer form content being the norm, i.e., 2500+ word articles with more calls to action as well as more gated content.
Marketers will have to be much more creative with promoting their content and look at alternative ways to drive engagement and traffic. It's time to really put the reader first now and ensure that content provides value, educates, inspires, and compels their audience to take action. Fluffy content won't cut it anymore."
Simplify Your Routine with Some Automation
"Tools" was the 4th most discussed topic in the tweets about content marketing, the 6th most popular topic searched on Google, and "content marketing tools" was the 14th most popular query. Along with these, "content marketing agency" was the 2nd most popular query, and "content marketing services" the 7th. In 2020, content marketers started to search for tools more than they had in 2019.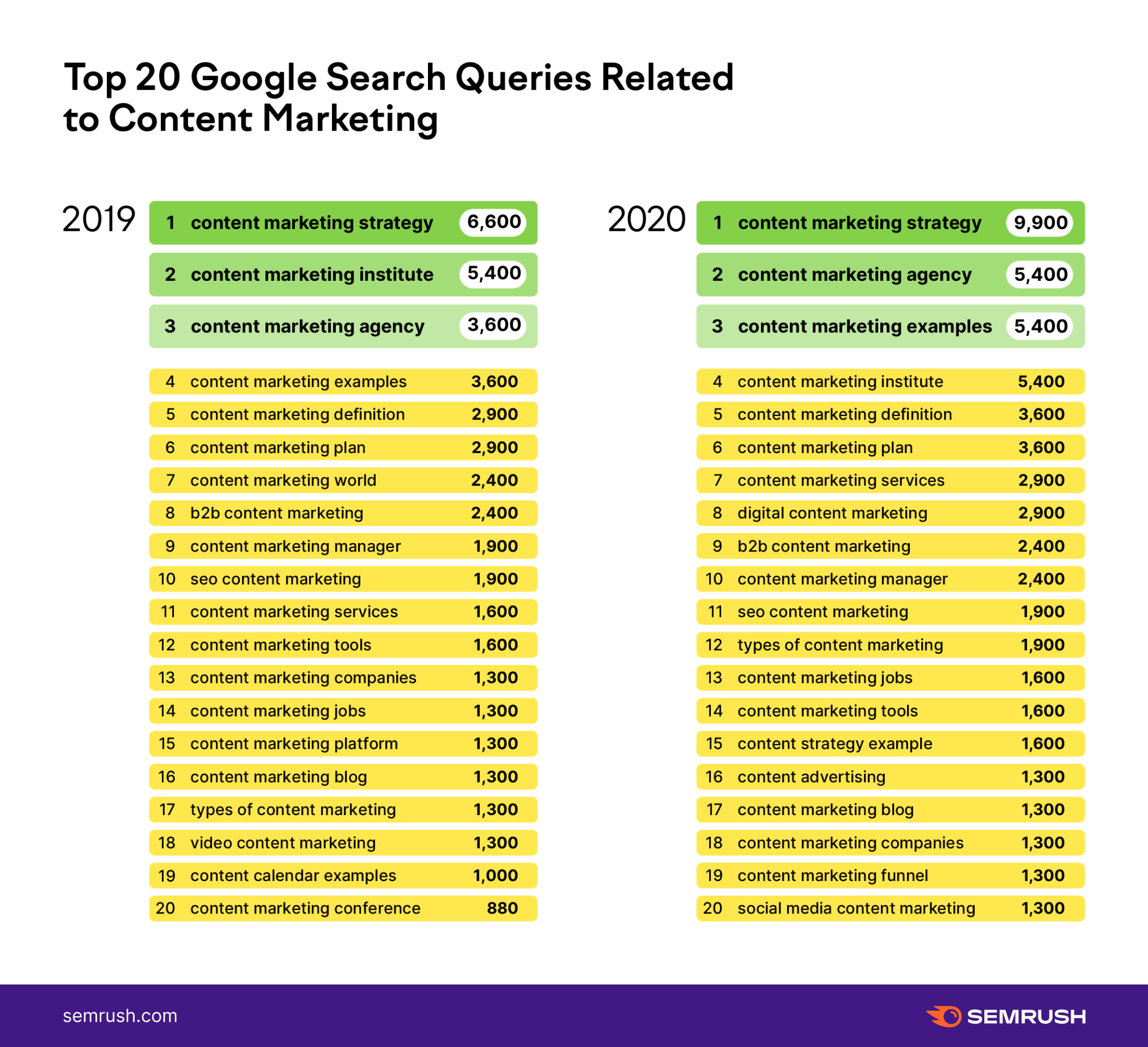 This may indicate several scenarios:
Following the growing demand, businesses are going beyond in-house teams' capabilities and leveraging a wide range of solutions for content creation, distribution, and monitoring. 
Content marketers pay special attention to finding and using handy tools in their daily routine. Our study shows that artificial intelligence appeared in 12% of hashtags and 3% of topics. Applied to content, these can help you connect and engage with your audience in a completely new way, using customization and personalization. So, marketers who want to keep pace with the modern world are looking to put the latest innovations to use.
To help marketers, we have the Semrush Content Marketing Platform, which covers every step of your content marketing workflow. Using it, you can find plenty of topic ideas, write and optimize your content, manage your editorial plan, measure the impact and analyze your content performance in one place.
"For 2020 and beyond, understand how the Seismic Content Marketing Shift has changed the playing field across businesses. This seismic shift consists of three key elements that first emerged in 2H2019. They are:
Need to respond to voice-first device use. Provide answers to full questions.
Access to small data across the organization matched with external purchase-intent data. It's powered by AI.
Create and maintain sustainable content due to content saturation. As a result, new competitors and disrupters emerge regardless of category. (Hat tip: Theodore Levitt's Marketing Myopia)."
The Top 3 Industry Experts on Twitter
Content marketing is a powerful community with its well-known experts. So, if you want to keep a finger on the industry's pulse, here are the names of a few of those who set the standards. 
1. @NealSchaffer is a leading authority on helping businesses through their digital transformation of sales and marketing through consulting, training, and helping enterprises large and small develop and execute on social media marketing strategy, influencer marketing, and social selling initiatives.
Neal is a founder of the PDCA Social, a digital and social media marketing agency. For over 10 years, Neal has been deep in the world of social media, teaching at three universities, speaking at conferences, and hosting the Maximize Your Social Influence podcast.
He is also the author of four books on social media, including "The Age of influence: The Power of Influencers to Elevate your Brand".
2. @BenKamauDigital, social media and content marketing expert, founder of Ben Kamau Digital. 
Ben Kamau helps businesses to succeed through content marketing, creates various types of content to boost traffic and generate more leads, and shares his knowledge of social media and content marketing using Twitter.
3. @MikeSchiemer is a results-driven digital marketing, social selling, SEO, and content creation professional. 
Mike Schiemer currently specializes in blogger outreach and link building for search engine optimization. He's also a social media influencer with 250,000+ followers and 20,000,000+ website views in 200+ countries.
He has provided social media and content marketing for 100's of companies, including Nissan, Allstate Insurance, American Express, Intuit, Reebok, GNC, Uno's, and others. 
Mike Schiemer is a frugal entrepreneur who has built four different profitable 6-figure businesses with less than $10,000 total spent.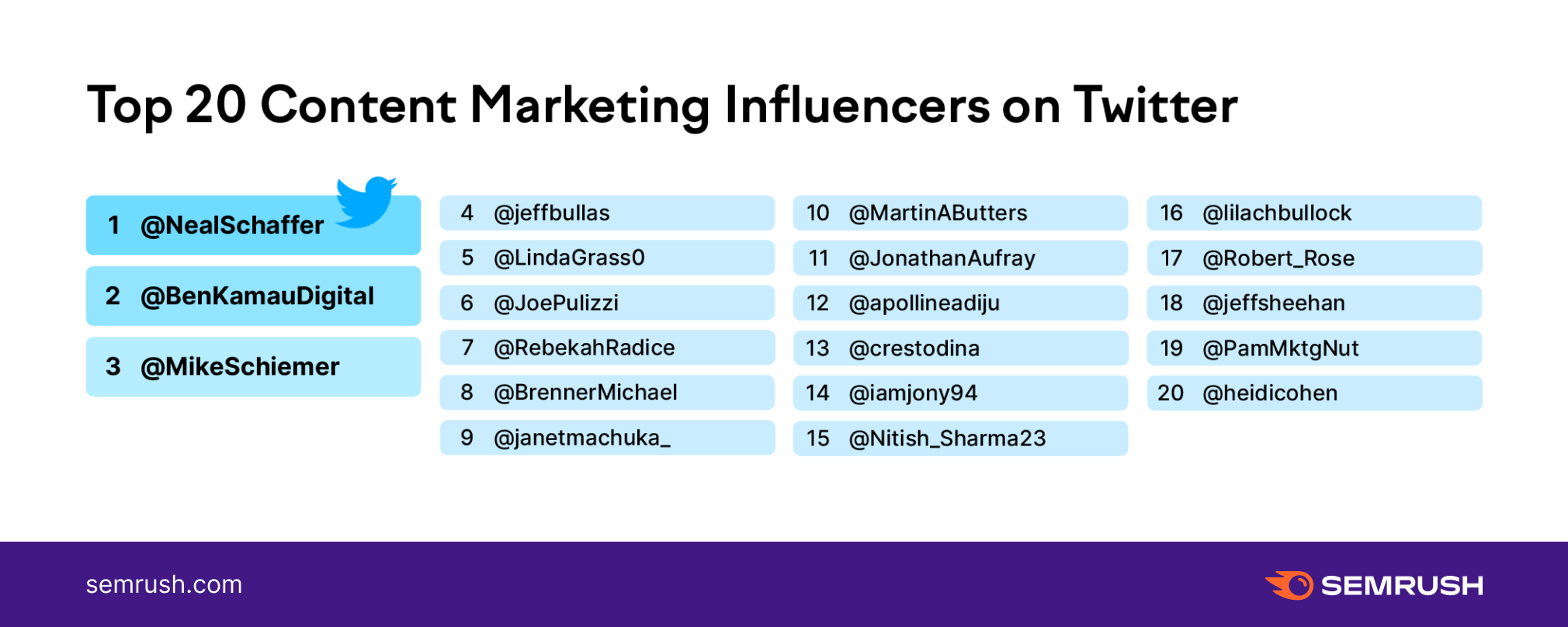 Methodology
We collected all the tweets (more than 600,000) posted between January and September 2020 with the hashtag #ContentMarketing. Only tweets in English were taken into account. 
For this study, we selected the most popular tweets with 20+ retweets and analyzed them to find the following data:
The most popular hashtags used with #ContentMarketing;
The most popular topics discussed in these tweets (our machine learning algorithm identified the topics);
The use of visual content (presence or absence);
The top content marketing influencers on Twitter.
To find the top influencers, we analyzed the accounts that posted the most retweeted organic posts (20+ retweets) with #ContentMarketing and who had the largest number of subscribers. We also took into account the number of likes and the number of publications ranked as top-performing tweets.
As for the Google queries analysis, we collected the keywords from searches related to content marketing (keyword) in English (worldwide) between January and September 2020. We then counted the average monthly search volume for each keyword to list the top search queries and top questions asked on Google.
The Content in the Infographics
Top 20 Hashtags Used with #ContentMarketing
#digitalmarketing — 71%
#marketing — 64%
#seo — 62%
#growthhacking — 44%
#smm — 40%
#business — 37%
#socialmedia — 33%
#onlinemarketing — 27%
#startup — 25%
#analytics — 24%
#socialmediamarketing — 21%
#marketingstrategy — 16%
#content — 14%
#bigdata — 14%
#sales — 14%
#marketingtips — 13%
#entreprenuer — 12%
#inboundmarketing — 12%
#ai — 12%
#affiliatemarketing — 10%
Top 20 Topics Discussed with #ContentMarketing
strategy — 34%
SEO — 18%
social media — 10%
tools — 4%
trends — 3%
AI — 3%
content ideas — 3%
startup — 3%
blogging — 2%
ads — 2%
health — 2%
visual content — 2%
influencers — 1%
monetization — 1%
sales — 1%
video marketing — 1%
analytics — 1%
content formats — 1%
statistics — 1%
travel — 1%
Links and Visual Content Usage in Tweets
88.27% — static images
14% — infographics
3% — video
1% — gifs
32% — no visuals
Tweets with links — 72%
Tweets without links — 28%
Top 20 Content Marketing Influencers on Twitter
@NealSchaffer
@BenKamauDigital
@MikeSchiemer
@jeffbullas
@LindaGrass0
@JoePulizzi
@RebekahRadice
@BrennerMichael
@janetmachuka_
@MartinAButters
@JonathanAufray
@apollineadiju
@crestodina
@iamjony94
@Nitish_Sharma23
@lilachbullock
@Robert_Rose
@jeffsheehan
@PamMktgNut
@heidicohen
Top 10 Topics Searched on Google 2020
Strategy
Agency
Examples
B2B
SEO
Tools
Jobs
Visual content
Social media
Analysis
Top 20 Google Search Queries Related to Content Marketing 2020
(Keyword — Avg. monthly searches)
content marketing strategy — 9,900
content marketing agency — 5,400
content marketing examples — 5,400
content marketing institute — 5,400
content marketing definition — 3,600
content marketing plan — 3,600
content marketing services — 2,900
digital content marketing — 2,900
b2b content marketing — 2,400
content marketing manager — 2,400
seo content marketing — 1,900
types of content marketing — 1,900
content marketing jobs — 1,600
content marketing tools — 1,600
content strategy example — 1,600
content advertising — 1,300
content marketing blog — 1,300
content marketing companies — 1,300
content marketing funnel — 1,300
social media content marketing — 1,300
Top 20 Questions about Content Marketing Asked on Google 2020
what is content marketing
why is content marketing important
what is content marketing strategy
how to content marketing
how to develop a content marketing strategy
how to write content marketing
what is content marketing in seo
what is b2b content marketing
how to measure content marketing success
what does content marketing mean
what is visual content marketing
how much do content marketers make
how to create content for affiliate marketing
what is content syndication in digital marketing
what is interactive content marketing
what makes good content marketing
how content marketing helps
how content marketing is changing the game
how to create a content marketing calendar
how to get started with content marketing
A great marketing strategy can't be built on bare assumptions, especially when it comes to content. To keep pace with the industry, content marketers constantly monitor a variety of channels seeking trending topics and hot news. 
We hope this report will make it easier for you to build your content marketing strategy for the next year. Don't forget that this study is just one part of the Global State of Content Marketing Report 2020.