What Is User-Generated Content (UGC)?
User-generated content (UGC) is any form of promotional content created and shared by unsolicited contributors or users of a brand rather than the brand itself.
Common types of UGC include customer reviews, social media posts, photos, videos, and blog posts relating to the brand or its products.
For example, a customer shared a picture of the latte they got from a coffee shop, Chalk Coffee, to Instagram, with a caption about how good it is.
This is user-generated content.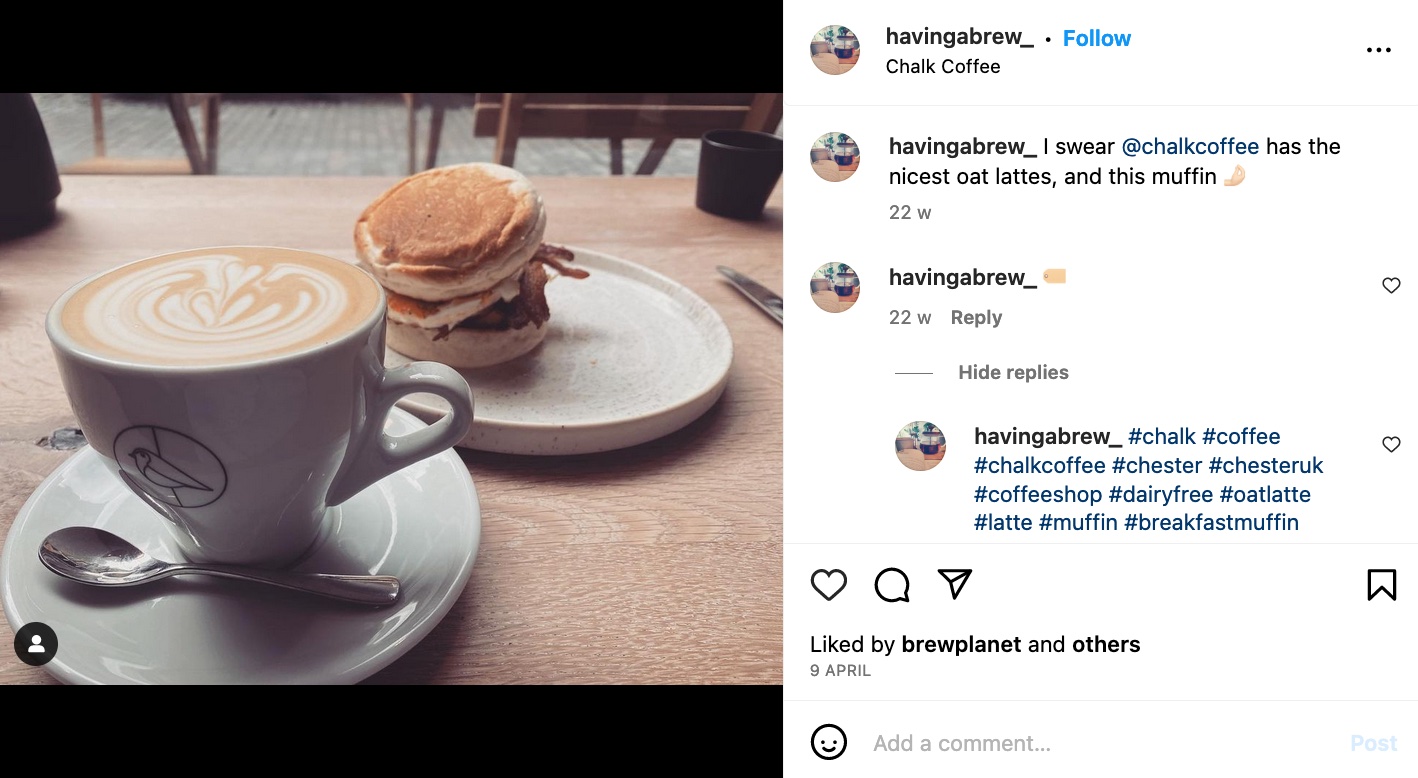 By tagging Chalk Coffee in their post, using the "#chalkcoffee" hashtag, and writing a positive review, the Instagram user @havingabrew_ promotes the coffee brand to their followers. 
Chalk Coffee gets free exposure as a result.
Who Creates User-Generated Content?
UGC is free promotion that can help brands expand their reach. 
Here's a look at who creates user-generated content:
Customers 
Social media followers
Brand advocates
What about if employees create content about the brand they work for? This is called employee-generated content (EGC). It's a subset of UGC as long as the posts are authentic and not solicited by the brand. 
For example, a store worker showing off their company's new products on a personal social media account would be considered EGC.
However, if someone is paid to create sponsored content (called a UGC creator) designed to look like authentic UGC but is promotional, this is not user-generated content. 
Types of UGC
UGC comes in more forms than you might realize.
Each form is an opportunity for a brand to get mentioned, shared, and recommended online—and ultimately build awareness or trust among their target audience.
The main types of user-generated content marketing are as follows: 
Video content: Unboxings (when users record themselves opening new products), brand tributes, and product demonstrations that real people share on social media help build awareness and trust
Branded selfies: Selfies that customers take with products or branded materials (e.g., posters, storefronts, and branded backdrops) help enhance brand awareness on social media
Reviews and testimonials: User-generated reviews on platforms like Yelp, Google, and your website provide authentic feedback from customers. This can also include product review videos.
Podcast conversations: Podcast hosts and guests sometimes discuss their experiences with brands and products, generating brand awareness and building trust among listeners
Articles: Users and employees may write articles or blog posts about their experiences with a brand or topics that relate to it. Some publish these on personal blogs as reviews or in recommendation lists, while others share their views on community forums and journals (e.g., Quora or Medium).
Contests: Contests encourage users to create and submit content, such as photos or videos, for a chance to win prizes. This UGC serves promotional purposes while fostering engagement and creativity within an audience.
So, which type of UGC should you encourage? 
All of them. 
A variety of UGC will appeal to different segments of your target audience.
U.K. clothing brand Beaufort & Blake uses UGC to engage people who browse its online store. It encourages customers to share images of their outfits on Instagram, then shows the latest contributions on its website under the heading, "Our favourites, styled by you."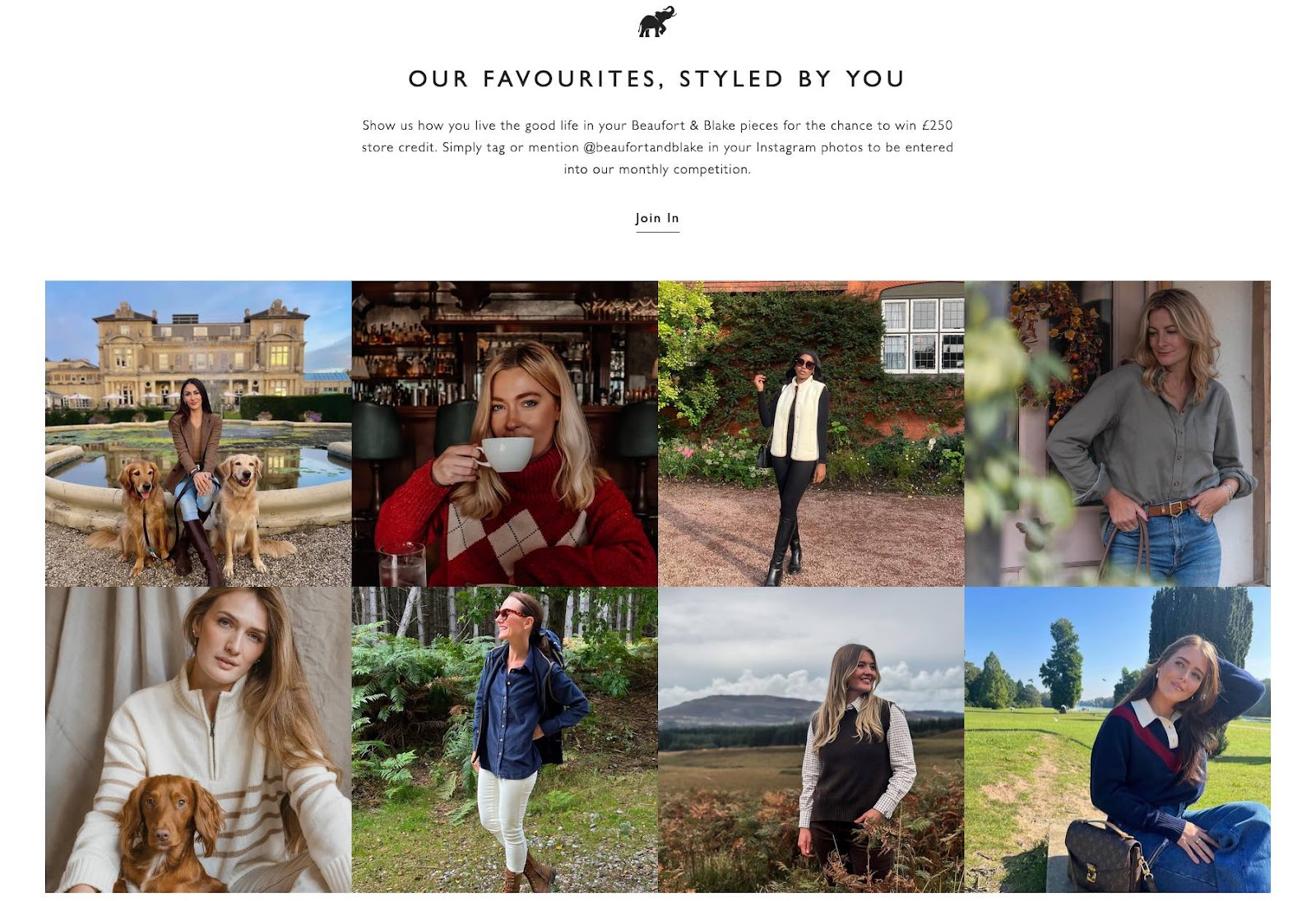 Image Source: Beaufort & Blake
By asking followers to tag @beaufortandblake in their Instagram photos, the brand expands its reach and sources authentic, relatable content that it can use to promote products on its website—all at no cost.
Seeing customer-featuring content on a website or social profile can inspire other visitors and followers to get involved. This kind of organic momentum is one of UGC's many benefits.
Further reading: 11 Ways to Create Engaging Social Media Content
User-Generated Content Benefits
UGC provides endorsements directly from real-life users, which helps brands gain customers' trust.
That kind of social proof is powerful.
A Brightlocal study found that almost half (46%) of consumers trust online business reviews as much as personal recommendations from friends or family.
Here are UGC's key benefits in more detail.
Cost-Effectiveness
When you leverage free content created by your audience, you can reduce paid content production.
As a result, you'll have room in your budget for other promotional activities and campaigns, such as search engine optimization (SEO) and online advertising, which typically cost more.
For example, WebFX reported that a pay-per-click (PPC) online ad campaign can cost anywhere from $300 to $100 million (or more) per month. 
And if you're outsourcing PPC management to an agency, you'll need to factor in labor costs, too ($350–$5000 / month).
Using free or low-cost UGC as part of your marketing strategy helps to free up budget for these paid channels, which can expand your reach even further. 
Viral Potential
While most user-generated content does not go viral—there's always the possibility of it. 
Warner Bros.' and PhotoRoom's Barbie Selfie campaign is a prime example of UGC going viral. 
The company's simple photo filter allows fans to turn themselves into characters and share the results on social media.
Here's what it looks like: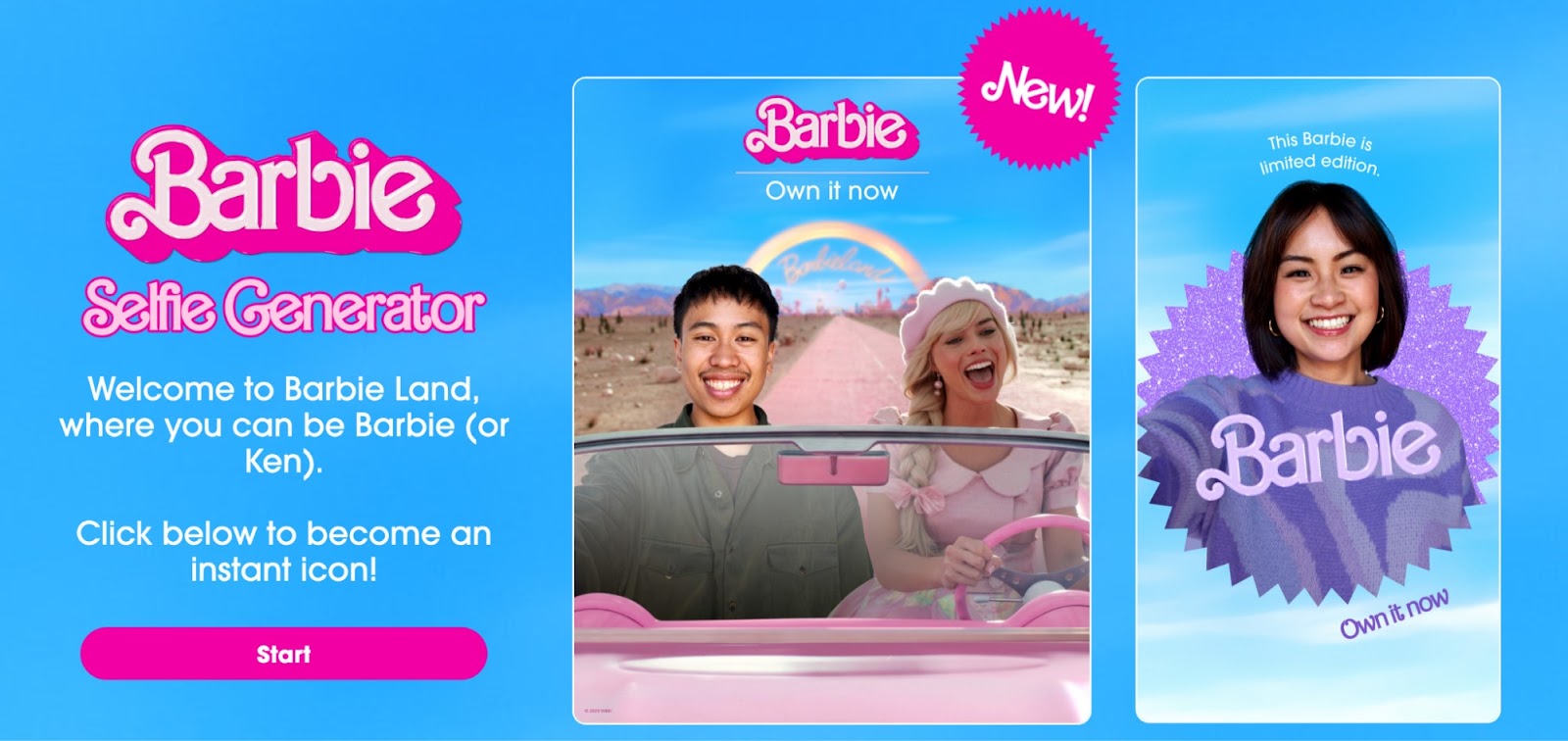 Image Source: PhotoRoom
The tool only took an hour to implement and was used more than 13 million times in four months, generating cost-effective, global awareness for the "Barbie" movie.
Even if UGC doesn't go viral, it has the potential to reach many people beyond those who follow you on social media or already know about your brand. 
Brand Loyalty
Encouraging customers to create content for your brand (allowing them to become part of your brand story) can help you build a highly engaged online community of loyal followers.
This can lead to repeat business and profit-boosting advocacy. Over half (52%) of PwC's Customer Loyalty Survey respondents said they express brand loyalty by recommending companies to others.
For example, UGC marketing has helped food brand Huel build a loyal community of followers. It's even coined a new name for these people ("Hueligans"), giving them an even stronger sense of identity and helping them feel closer to the company.
Huel shares followers' stories online to foster a sense of community among its customers, like this one featuring Asha Pancholi: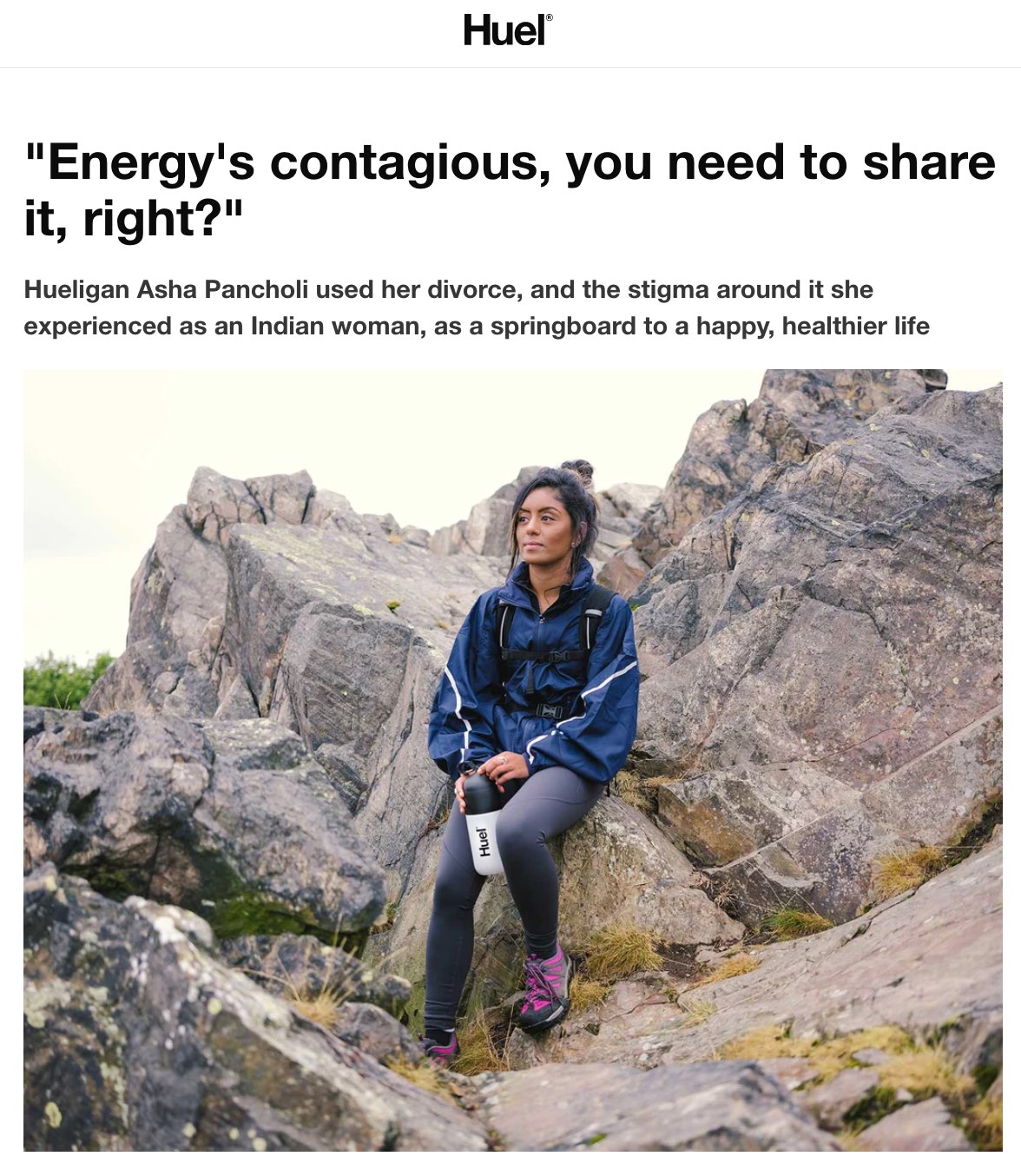 Image Source: Huel
By sharing these stories, Huel says to its customers, "You are a valued part of our brand," making them more likely to buy products and advocate for the company.
Social Proof
Positive UGC influences purchasing decisions by demonstrating to potential customers that others have had positive experiences with your brand.
Many people need to see social proof like this before committing to a company or product for the first time.
The best types of UGC for providing social proof are testimonials and product reviews, as they let potential customers see how their experience with your company might go.
Here's an example from G2.com, a technology review site. In it, a user describes her positive experience with the project management tool Asana.
Asana's potential customers who are in similar positions to this reviewer (i.e., enterprise users at companies with fewer than 1,000 employees) can use their comments to accurately assess the product's suitability, without fear of bias.
Reviews like this are also valuable for product development.
They help you understand what your target audience does and doesn't value. So you can refine your offering and increase customer satisfaction.
Authenticity
The organic nature of UGC often makes it more believable than firsthand sales and marketing content.
Ecommerce personalization platform Nosto found that people are over three times more likely to say UGC is more authentic than brand-created content. And 88% of consumers say authenticity is important when deciding which brands they like and support.
For example, anyone in the market for enterprise software is unlikely to find lists of "downsides" on vendors' websites, and yet it's normal to read about users' challenges in third-party reviews.
Take the Asana review we included earlier, which includes a section titled "What do you dislike about Asana?"

In it, the reviewer discusses minor problems she's encountered that could help other users' buying decisions.
3 Examples of User-Generated Content
Big and small brands use UGC. Once you start looking for it, you'll see it everywhere.
Here are some of our favorite examples.
1. "Shot on OnePlus"
Tech company OnePlus asks customers to share images and videos they create with OnePlus products on Instagram using the hashtag #ShotOnOnePlus. 
Through this campaign, the brand collects lots of original content that organically demonstrates its smartphone's photography credentials. 
Its UGC includes photographs of people, plants, and scenery—all common subjects for people who might be interested in buying and using a smartphone camera.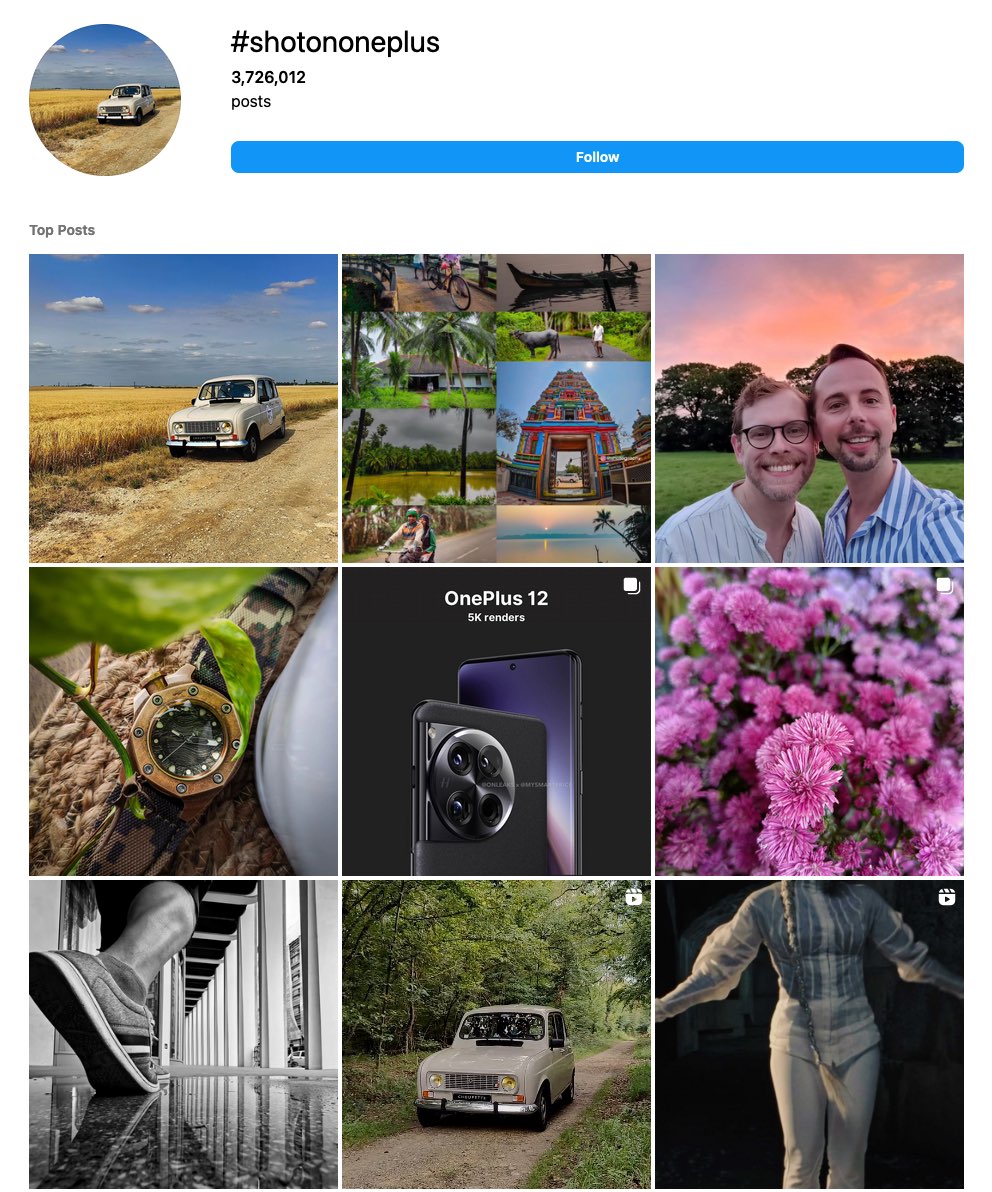 Curating and promoting the #ShotOnOnePlus hashtag on Instagram gives the brand:
A vast library of high-quality UGC for its social media platforms and website
More visibility on one of its target audience's favored social channels
A loyal community of engaged creatives, ensuring its forums and social media accounts buzz with activity
A way to demonstrate its product's capabilities more convincingly than it could have done alone
What started as a social media marketing campaign has become a key part of OnePlus' broader content strategy, as it includes UGC contributions in its community and blog posts alongside captions and other text.
Here's an example of OnePlus using existing UGC to entice more contributions from its community:
And another of it using UGC in blog content:
All this extra coverage gives the company's UGC campaign extra momentum, ensuring users keep getting involved and supporting OnePlus' marketing efforts. 
2. Vans' "Customs"
Vans allows shoppers to design custom shoes and share their unique creations online.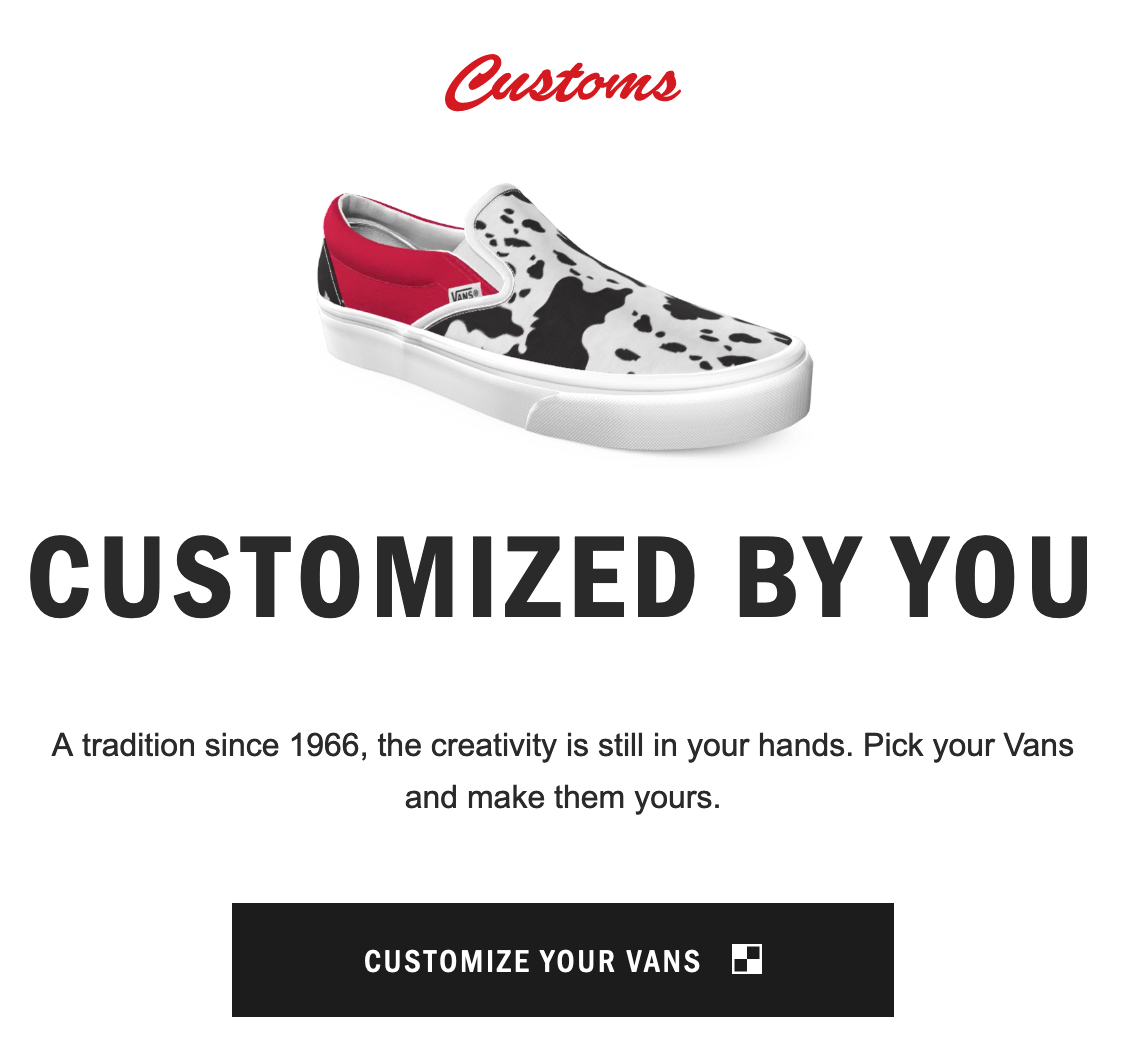 This empowers people to become co-creators of their products.
The result is a stronger emotional connection between brand and buyer that can lead to organic word-of-mouth marketing and greater brand awareness.
Users can showcase their creativity and individuality by sharing designs on social networks. All while organically promoting the Vans brand. It's a win-win.

This kind of product personalization is a popular strategy among fashion retailers, with good reason. Other brands that use user-generated content like this include Nike and Dr. Martens.
3. Slack's "Customer Stories"
Slack features Customer Stories to highlight how different teams and industries leverage its collaboration software.
These authentic use cases and testimonials prove Slack's utility, instilling confidence to help website visitors make buying decisions faster.
Many companies publish case studies, but Slack is really great at incorporating comments, images, and video content from the businesses involved.
For example, in one article about the financial services brand Stripe using its "Shared Channels" feature, Slack includes an organic tweet from the company's CEO, Stewart Butterfield, giving the story extra weight.
The tweet (highlighted in the article snippet below) reads: "Indeed. I know a deal is on track when we move to shared channels. We iterate fast, build trust, and get all the right folks involved. Excited for what's to come."
Image Source: Slack
Incorporating UGC alongside other marketing content—like the Stripe CEO's original tweet within a broader case study—can add authenticity to any promotional website content. It makes readers less likely to dismiss content for being biased.
UGC Best Practices: 7 Tips for Cost-Effective Marketing
User-generated content is different from other content marketing types because you have less control over the end result.
However, you can still use the following tactics to guide content and maximize your returns.
1. Prioritize Relevant Content Channels
Identify the platforms where your ideal customers are most active. Then you can encourage people to share UGC where it's most likely to spark valuable engagement.
To do this, consider your target demographic and social media engagement metrics, including follower counts, clicks, comments, and shares.
For instance, if you work in a creative industry targeting people who enjoy visual content, Instagram and TikTok are ideal places to encourage UGC.
As a B2B company, you'll probably find LinkedIn works better. Especially if you have more followers there than anywhere else.
Consider industry-specific forums, blogs, and review sites too. Platforms like Quora and Reddit can spark product-based conversations and help you build communities.
Like this post about the best tools for tech project management: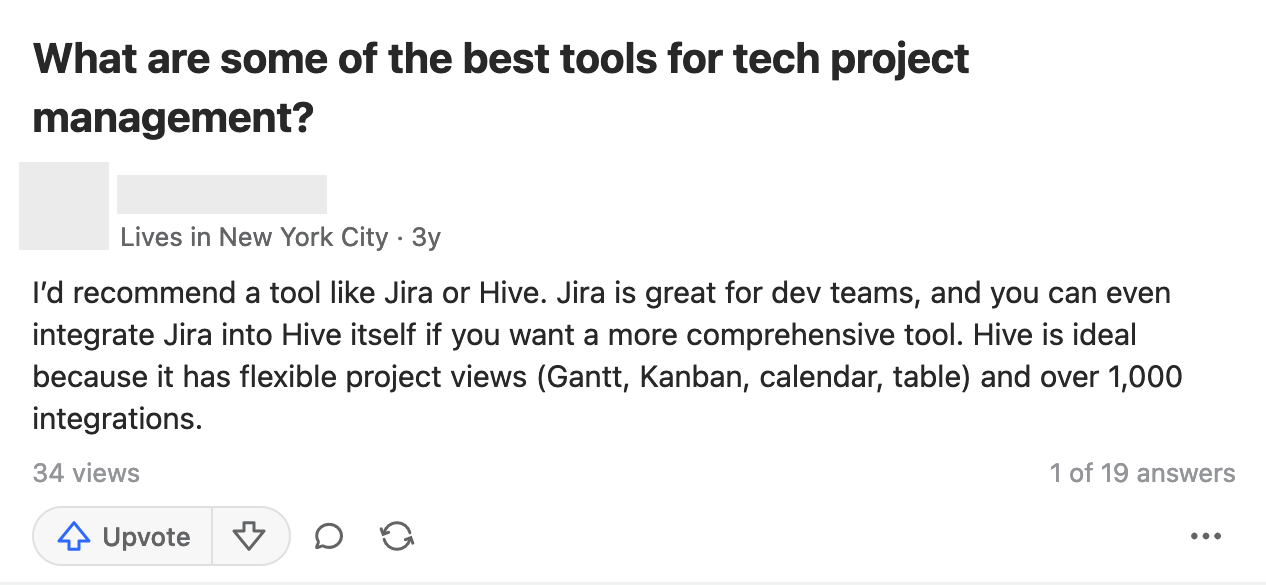 Still unsure where to start?
Nosto found that Instagram, Facebook, and YouTube are the social platforms people look to most for purchasing inspiration.
2. Set Goals for Your Campaign
Establish clear and measurable objectives for your UGC campaign.
These goals will guide your strategy (i.e., the types of content you encourage) and help you measure the outcomes.
Examples of UGC goals could be:
Increasing brand awareness
Building a highly engaged community
Boosting engagement among existing followers
Say your goal is to boost brand awareness for your small business.
You could aim to collect 10 user-submitted stories featuring your product that you can share on social media channels. Then, track clicks and likes to gauge effectiveness.
If you want to grow website traffic, you could encourage users to share their takes on your existing blog posts or visual content. And track the number of first-time visitors to your website to see if the tactic works.
Keep your broader marketing objectives in mind when setting UGC goals. Ultimately, your chosen tactic should contribute to what you want to achieve with your content and social media strategies.
3. Let Users Be Creative (and Keep the Entry Barrier Low)
Don't impose too many restrictions or guidelines on UGC submissions. Otherwise, you'll exclude users and limit engagement.
The more creative freedom you offer, the more enthusiasm you'll build. And it'll help you get authentic content from various perspectives and backgrounds.
For example, OnePlus's #ShotOnOnePlus campaign encourages users to share themed smartphone photos in their community forum. 
Content creators worldwide can participate, regardless of skill level, so the brand gets a wide range of content to showcase its product's versatility.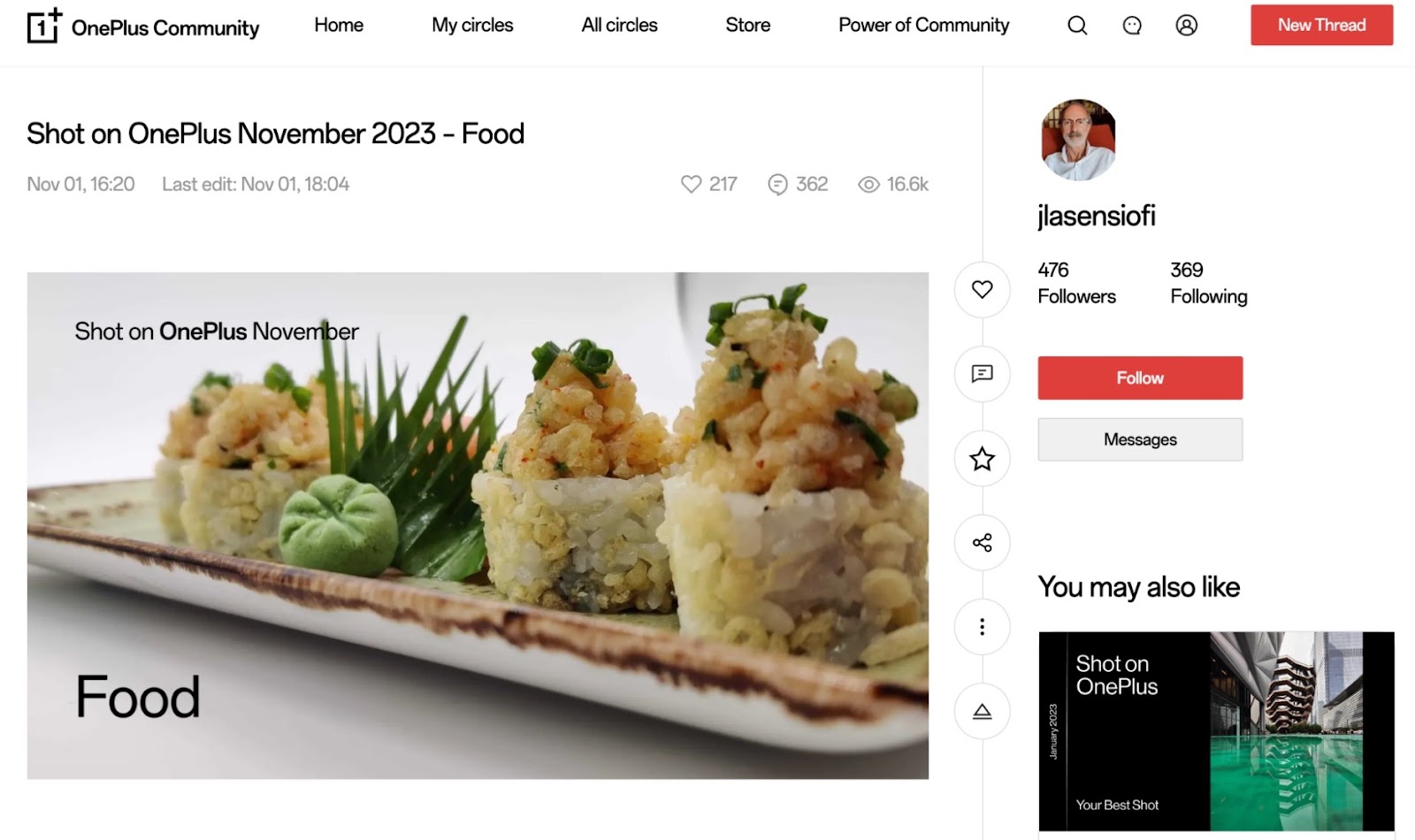 Allowing free creativity like this lets you tap into your customers' desire for self-expression. It's particularly effective for companies targeting teens and young adults.
A OCAD University report found that 73% of Gen Z (people born between the late 1990s and early 2010s) believe they need more self-expression to live a happy, healthy life.
Moreover, a New York Times study revealed that 68% of social media users share content to give people a better sense of who they are and what they care about.
So, enabling self-expression through UGC campaigns is a great way to boost online engagement.
4. Tie UGC Campaigns to Your Brand Story
Encourage content that ties closely to your brand, product, or industry.
This way:
The idea will be likelier to resonate with your target customers, which increases the chances they'll engage with the campaign.
Your UGC will stay consistent with your other content campaigns, so website visitors and social media followers get a consistent experience of your brand
For example, if your brand stands for environmental sustainability, you might encourage users to submit stories or images related to their eco-friendly practices or experiences.
Patagonia gets customers to share stories about having items repaired through its Worn Wear service.
These experiences align perfectly with Patagonia's stance on sustainability. As well as publicizing the repair service (a value-add for potential new customers), they allow followers to engage with like-minded people and feel part of a community.
5. Get Permission (When Appropriate)
If someone publishes content about your brand without any encouragement, ask for permission before reposting it on your social media accounts, website, or other marketing materials.
This helps you to:
Build trusting relationships with your followers
Avoid copyright complaints
Get an opportunity to invite further contributions
When asking, be honest about how you plan to use the content (e.g., in an online ad or on a product page) so the user knows what to expect.
And if you're confident their content will help you generate a profit, offer to compensate the creator.
You can include consent in the entry conditions for organized user-generated content initiatives, like giveaways. 
Then you won't need to contact each person individually. When you ask followers to share content using your branded hashtag or social media handle, their participation is authorization enough.
6. Track Brand Mentions to Find Opportunities
Use brand monitoring tools to keep tabs on comments and user-generated content about your company and products.
It allows you to engage with users promptly, respond to their comments or questions, and address any concerns. It also helps you identify opportunities for collaboration or further engagement.
You'll automatically receive notifications when someone tags your company in social media content. You can use Media Monitoring from the Semrush AppCenter for updates on untagged social mentions and references elsewhere.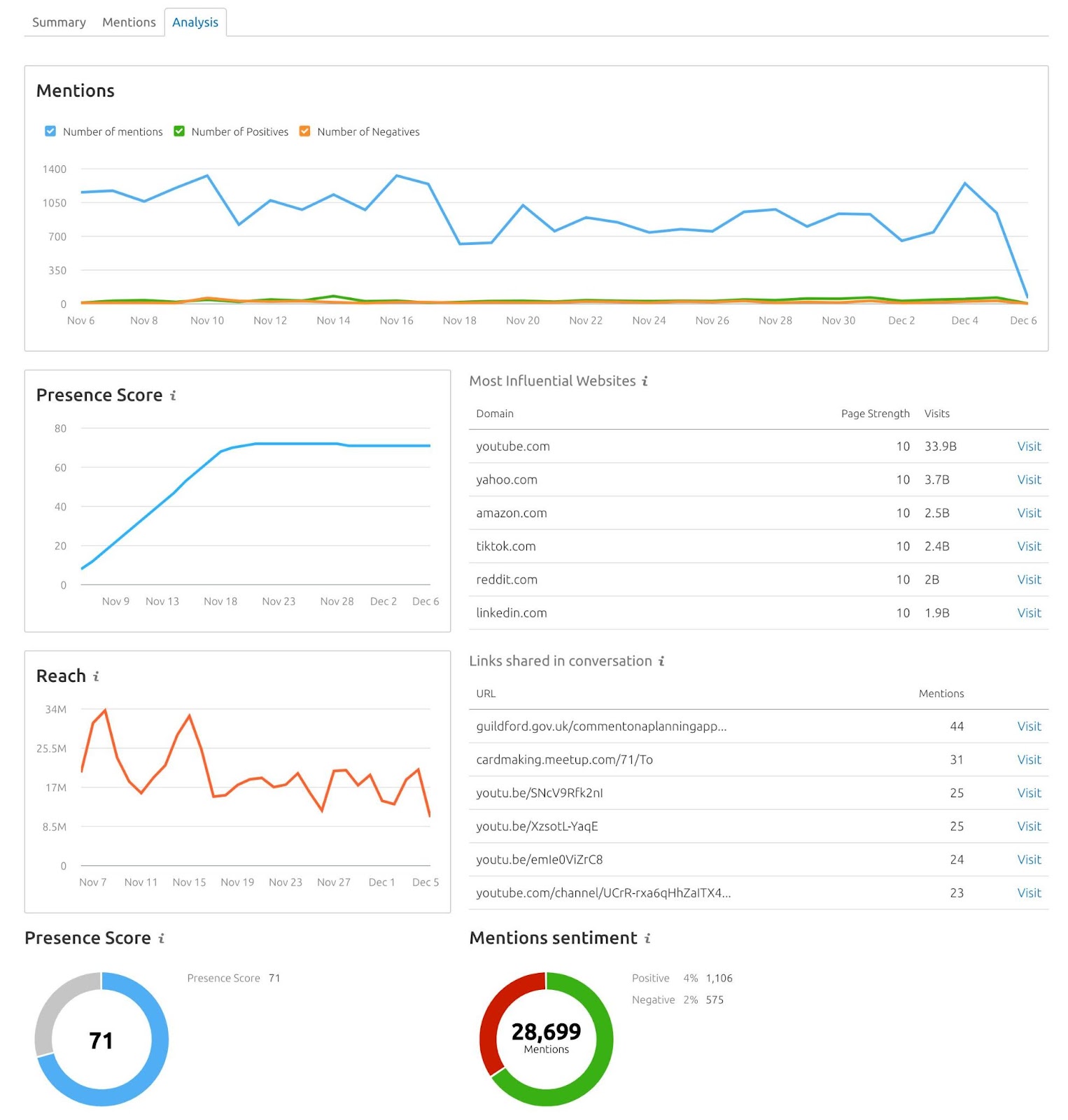 Designed to help you track your brand's reputation across the web, Media Monitoring can inform you about mentions in social media posts, news articles, blogs, and more.
You can even filter mentions by sentiment (i.e., positive, negative, or all) to suit your objectives.
For example, if you want to improve your reputation, focus on addressing negative UGC. Want content to reshare? Look for positive mentions instead.
7. Measure and Refine Your UGC Strategy
Regularly analyze the performance of your UGC campaigns to learn:
The types of user-generated content your customers and followers like to contribute
The best user-generated content for sparking engagement (e.g., likes, comments, and shares)
When you understand these points, you can curate campaigns that resonate with your audience (i.e., get lots of contributions). It'll also help encourage types of content that are useful to your broader marketing efforts.
For example, if you run a photography contest that generates lots of interest in your brand, consider the most popular themes. You could create spin-off campaigns to maintain the momentum.
If the submissions were too low-quality to use on your website, you could refine your entry conditions to filter out low-resolution images.
Semrush and Google Analytics house many of the metrics you'll need to measure and tweak your UGC strategy, such as click-through rates (CTRs), conversion rates, and customer sentiment.
For example, you can use either of these tools to monitor organic traffic to your website. Any traffic spikes that coincide with UGC campaigns imply your efforts are generating more interest in your brand.
Here's how to find website traffic data in Semrush's SEO Dashboard:
The first step, if you haven't done it already, is to set up your URL in Semrush. Do that by heading to the "Projects" page and selecting the blue "+ Create project" button at the top of the "My Projects" section.

Add your company's URL into the next box, give your project a name, and click "Create project."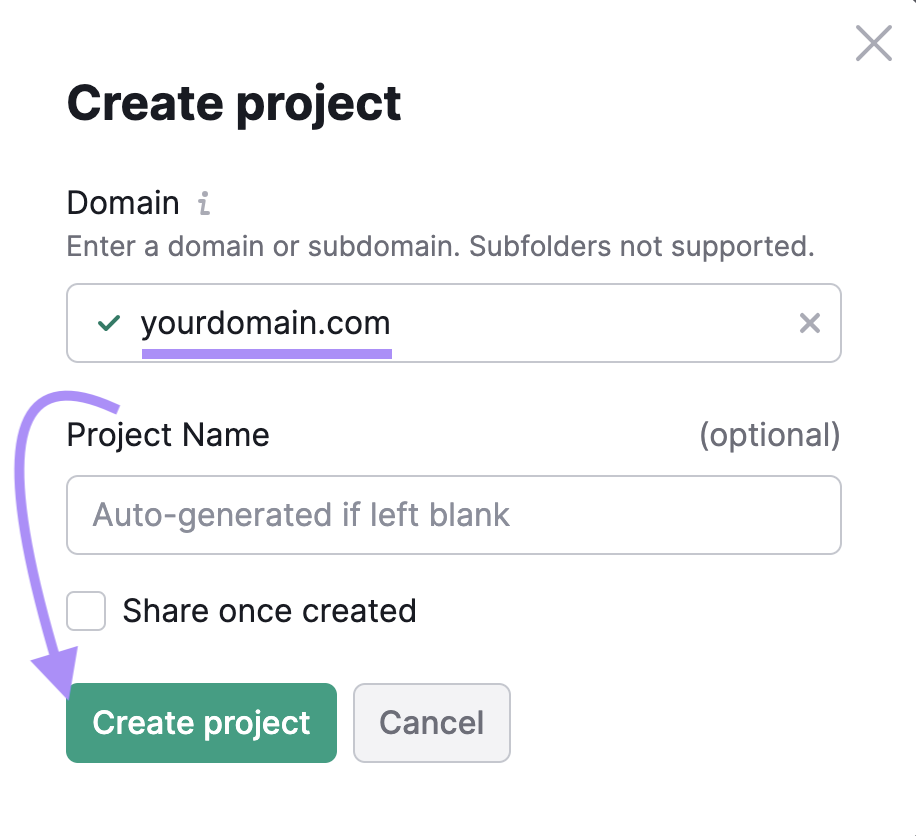 The next screen you'll see is your "Project Dashboard," with various widgets from tools you can set up.
For now, we just want to see organic traffic data to see if encouraging UGC has increased interest in your brand. To get that, scroll to "Domain Analytics":
Scroll again to get more detail on where your traffic's coming from. You can filter the "Traffic Analytics" chart to show only Direct, Organic Search, and Organic Social traffic.
For example, if a piece of UGC goes viral on TikTok, you could look for spikes in "Organic Social" traffic to measure the content's effectiveness.
Click "View full report" below the Traffic chart for more details on visitors' device types, top pages, countries, and more.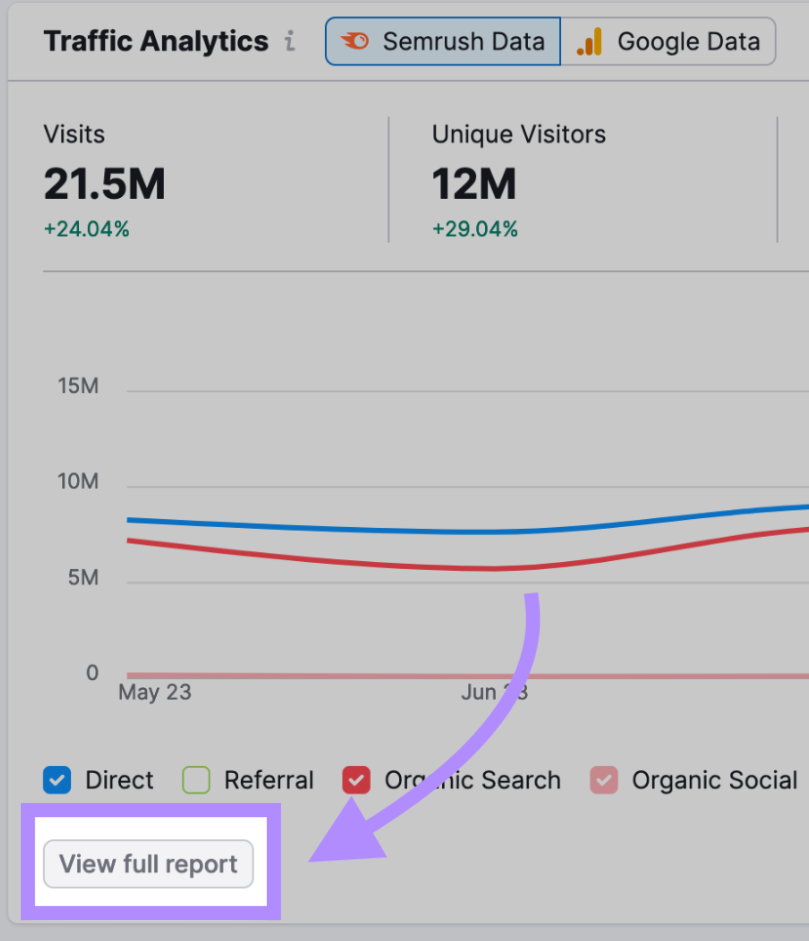 This data will help you understand which types of people your UGC content attracts and what they value most. Then you can create more tailored content to appeal to them.
You can also use your social media platforms' analytics features for engagement metrics such as likes, follows, shares, and comments.
Share analytics insights with your marketing team to ensure the whole team benefits from any lessons learned.
Build UGC into Your Marketing Strategy
Now that you know how to do UGC, you can create a strategy for your brand. 
Authentic, consumer-generated content allows you to save on marketing production costs and build stronger, more profitable connections with your target audience.
UGC always works best as part of a broader omnichannel marketing strategy. Learn how to build one from the ground up with our comprehensive Marketing Strategy Guide and track metrics using tools like Semrush for best results.