Whether deliberately or unintentionally, companies find that their websites attract visitors and clients from around the globe. The internet makes it easy to order products or services internationally and an online shop in the UK will be competing with websites in the USA and Canada from customers comparing price and quality, making international SEO more important than local SEO for online businesses, compared to bricks and mortar businesses. 
Multilanguage SEO: How to Translate a Whole Website
The most successful websites all offer something unique that makes them stand out. Companies focusing on a niche statistically perform better than companies who try and do everything (even Amazon started off just selling books) and establishing yourself as a leader in a niche is a smart goal for a new business.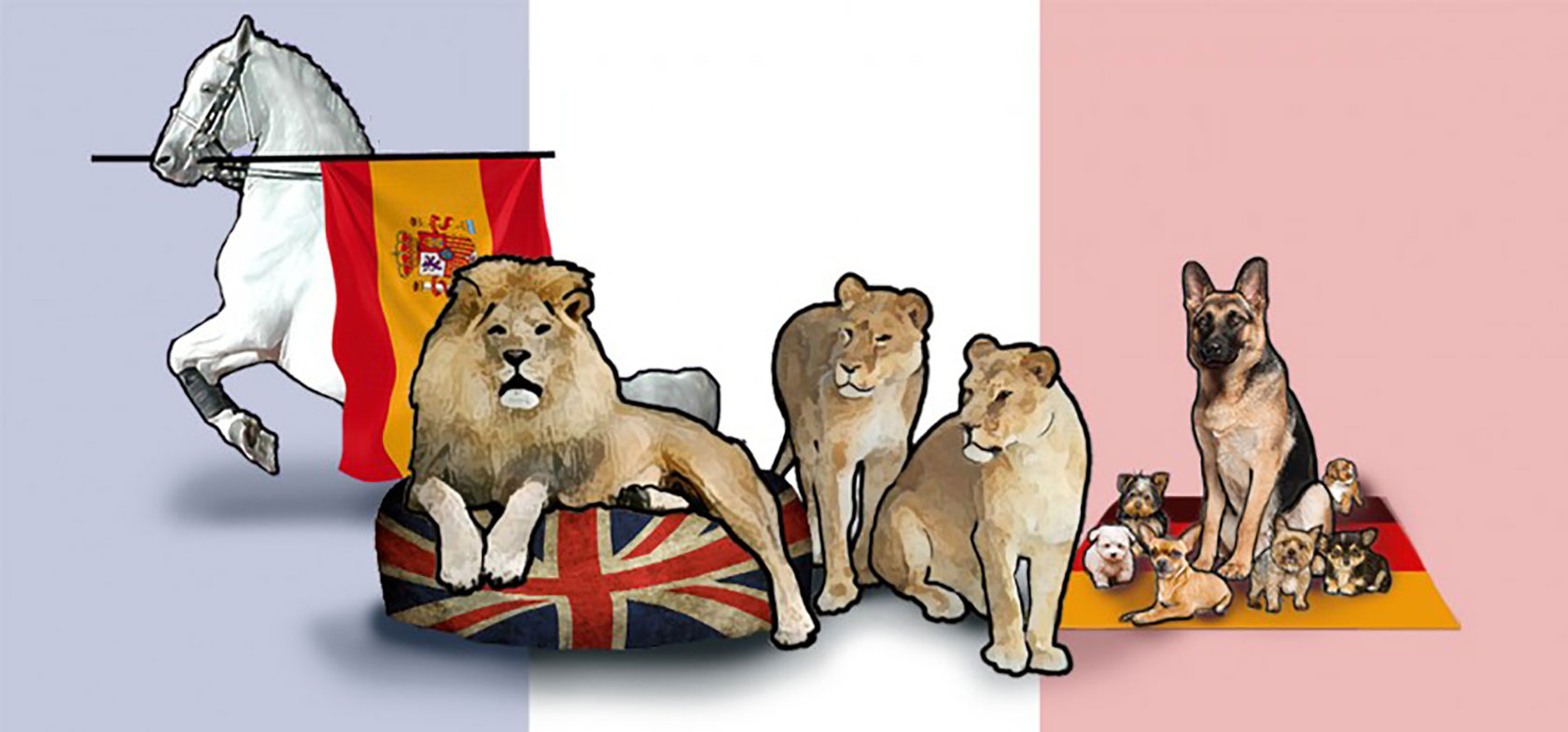 Image by Allison Carmichael
Once you're established in one language, an obvious next step is to branch out and translate your website into a second or third language. Let's consider what the eight essential steps are to achieving successful multilingual SEO, starting with:
1. When is it best to translate your website?
Creating a successful multi-language website requires time and resources. To succeed you will need to:
Choose the right CMS and website structure
Complete relevant keyword research in the new language to target keywords that have high search volume and low organic competition.
Create a translated version of your site that includes at least a few pages of your blog, if you have one, or other content that people will want to share spontaneously.
Promote your site via a multilingual link building campaign.
Some companies immediately launch in multiple languages and if you have sufficient budget, that's great, however, when you put a budget together make sure you include the last two items in the above list. Even if you have a website that appears top in the search results in English, there's no guarantee that if you translate it into French or German (for example) that the foreign versions will perform as well.
The best time to launch your multilingual site is therefore often once you already have a successful site in English and have a model that works. You may also be smart to launch one new language at a time, as this gives you time to get the new site ranking well before launching the next language.
2. Do you keep your existing CMS or use a new one?
If you're translating your website and going multilingual, then now may be a good time to consider a redesign of your existing site. There are several modern CMS (Content Management Systems) that let you create multiple websites in different languages with a shared database and this has several advantages:
If you develop or redesign one site, all your sites will be updated at the same time.
It makes stock control possible across multiple websites.
It reduces hosting space, which might make hosting cheaper (on this note, Google doesn't use the country where your site is hosted to determine who your target audience is, so where your host is located isn't important for Search Engine Optimization).
Some of the most popular CMS systems that make creating multilingual websites relatively easy include:
Drupal
WordPress
Joomla
Magento
If your site is in one of these (or another multi-language friendly CMS), then you're best keeping the same CMS and translating it. If you're not happy with your current web developer, then find another one who specializes in the same CMS rather than reinventing the wheel. 
If your site is in a CMS that only works in one language, you might be able to copy it, then translate it (meaning you'll have 2 separate databases, but less design and development work), alternatively, you could either convert your existing site to a new CMS or create a completely separate site for the second language. The choice is yours.
3. How to structure your website
There are 5 possible ways to structure your site:
Country-coded top-level domains
Sub-domains on a single global top-level domain
Sub-folders on a single global top-level domain
URL parameters
Using cookies to control the language
The SEMrush article on the best international SEO site structure reviews the pros and cons of the first 4 of these and the most popular open source CMS systems allow you to configure your site using any of these.
While there are examples of successful sites using 1-4 in the above list, my personal preferred method for multilingual projects is to use country-coded top-level domains (example.fr for France, example.de for Germany, etc.).These have several advantages:
They are internationally targeted (previously called geotargeting) to the country, meaning, for example that .fr websites receive a ranking boost from France and .de websites receive a ranking boost from Germany.
They are great for branding, as they tell visitors immediately that you're focused on a specific country.
If you have a keyword-rich domain name, you can translate the domain name for each country.(This is an option if you provide a single core product or service, however for sites selling multiple ranges focusing on a single keyword in the domain name isn't recommended).
A word of warning, if you use cookies to control the language, it's essential that you also use one of the other methods.Google can only index a URL once in its index and if you have the same URL for each language, it means that only a single language version of that page will appear in Google's results.
4. Hreflang Tags
Hreflang tags tell Google which language (rather than which country) a specific page is written in.It's best to have each page in its own language and the major CMS systems configure these for you, but it's well worth checking that they're configured correctly. You can read an article about Hreflang tags for more information.
5. Completing multilingual keyword research
There may be obvious factors in deciding which language to prioritize, for instance, if half your team speak French fluently, it will make more sense to start your French marketing campaign first! If you're considering more than one country, then it's worth doing some keyword research to see what the search volume and competition is like in different countries. It's also essential to do keyword research so you can include relevant keywords both in your on-page SEO and in your backlinks.
SEMrush lets you complete Google keyword research for 28 countries currently, as shown below (for multi-language websites targeting more than one country, add the numbers from different countries together).
To find keywords using SEMrush, you can use one of 4 methods:
Phrase Match Keywords (enter a keyword in the search bar to view this)
Related Keywords (enter a keyword in the search bar)
SEO Keyword Magic (press the link to this tool in the left-hand menu)
Viewing lists of keywords that competitors rank well for (enter your competitor's web address in the search bar)
Once you have your list of potential keywords, click 'Keyword Difficulty', paste your list of keywords in, and then press 'Show Difficulty.' Next press 'Volume' to sort the results by the monthly search volume, as this makes it easier to identify target keywords.
The SEMrush reports below show keyword volumes and difficulty for France and the UK for similar keywords and illustrate the importance of doing language-specific keyword research as part of the translation.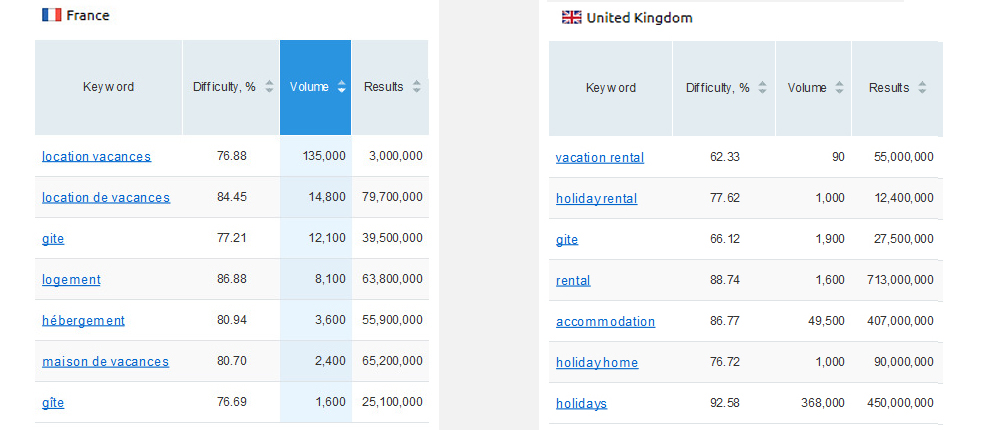 Imagine that you already have a French website that is well optimized for 'location vacances', a search term with 135,000 monthly searches in France and you decide to expand to the UK. 'Location vacances' translates into English as 'vacation rental' (according to Google translate), however only 90 people a month search for this term in the UK.
If you focus all your SEO efforts on 'vacation rental' you will therefore never receive substantial traffic, but choosing 'holidays' as your primary keyword means you're targeting the 368,000 people a month who search for this (plus all the long-tail keywords, of course!) 
If you're setting up a site targeting the USA, then the keywords change again, therefore it's important to research search volumes for different countries when doing global SEO.
6. SEO Website Translation
When you've identified your target keywords, how do you incorporate them in your translated website?
There are two ways you can manage this process:
Complete an SEO website translation where you ensure the new content is well optimized as you translate it.
Do a standard website translation, then optimize the new content after you've translated it.
Personally, I prefer the first of the two options as search engines don't just look at Metatags, but all the on-page content – URLs, text, links between pages, ALT tags, etc. and optimizing the content as you translate it ensures that the final version will be fully optimized.
To manage this process, create a spreadsheet showing the English keywords you're targeting and the optimized translation of each keyword – i.e. the translation of the word or phrase that has a healthy search volume.When you do the translation, ensure that you use the optimized translation (conjugating or adapting it as necessary for the surrounding content).
7. Translating keywords that aren't grammatically correct
Often when you do keyword research the SEMrush reports will show keywords with high search volumes that aren't grammatically correct, don't include accents on letters, etc.This is because searchers often take shortcuts when entering a search term in Google.
In English, it used to be that you regularly saw exact keywords included with bad grammar or strange phrasing in order to target those keywords, e.g. "If you're searching for hotel Paris, then …"
Google has now cracked down on this and in English SEO it's best to use the correct grammar for everything, which is a relief to English teachers the world over.
In other languages it's harder to say what the best strategy is, for example in French "Location vacances" is wrong and should be "Location de vacances", but if you search for either keyword on Google.fr, you'll see plenty of "location vacances" popping up.
Delve a bit deeper and you'll notice that the sites that rank well might use keywords with poor grammar in the following places:
They use the correct grammar everywhere else, particularly in full paragraphs of text, so this is a good model to follow.Where there's a similar keyword volume for keywords with good and bad grammar, always use the one with the correct grammar.
8. Multilingual Link Building Strategies
Once your website is translated and live, the next step is to build links to it.Start by searching for your main language specific keywords in Google and submit an article, company description, etc. to any blogs, directories, forums or ad sites that you find on the first few pages.Use unique text for each submission.
Once you've submitted your website to any obvious sites that appear in the search results, review the backlinks going to your competitors. 
To do this in SEMrush, enter a competitor's web address, then click 'backlinks'.Scroll down and on the bottom right you can filter the links by country.Select the country you're targeting to view the backlinks and ask yourself if you could gain a link from the same website.
It's important that the majority of links are from pages written in the same language as the page you're linking to. It's also essential that you don't try and manipulate the anchor text (e.g. never write English articles and use German anchor text), as Google regularly penalize sites for manipulative anchor texts.
Conclusion
An accurate website translation that incorporates SEO keyword research and link building will generate far better results than a standard translation that ignores these crucial elements. By approaching the translation in the right order you will save yourself considerable time and generate the best return on investment.