Go to all stories
SEM helps Cildimveben.com, skincare platform of L'Oréal Turkey, achieve total Organic Traffic of 1M in 10 months
"We have achieved great success with Cildimveben.com thanks to the SEO strategies and the content management strategy we have developed with L'Oréal Turkey. The contribution of Semrush to this success is undeniable."
About SEM:
Founded in 2007 as Turkey's first search engine marketing agency, today SEM is shaping the industry as a leader of performance marketing. With 13 years of experience and a team of 100 people, SEM provides strategic consultancy to dozens of national and international companies from different sectors by putting data-oriented strategy at the center of their business. Working with more than 20 business partners and technology providers such as Google, Facebook and Oracle, SEM ensures that brands reach their target audiences in the most effective way and deliver accurate messages at the right time by using technology and data.
Business Challenge: achieve a 1M organic sessions total in 12 months for a brand-new site
SEM has previously collaborated with L'Oréal Turkey on Makyaj.com - a content platform for L'Oréal Turkey makeup products. The platform gained popularity and positioned the company well in the Turkish beauty market. Following the success, the SEM SEO team consisting of Ece Aydemir, Mert Atila and Veli Ercan in collaboration with L'Oréal Turkey (Işıl Nalcıoğlu, Uğurcan Yılmaz, Deniz Özübek and Ece Atalay) decided to create a similar project aimed at the skincare category, Cildimveben.com. The project would feature L'Oréal skincare products, as well as content by dermatologists and beauty editors, customer reviews, and skincare recommendations. Cildimveben was launched on January 20, 2020.
The website embodied one of the most important visions of L'Oréal Turkey: "Beauty starts with feeling comfortable in our 'skin' which puts Cildimveben.com in a special place for that reason. Our endeavor is to make our expertise reachable for everyone out there to seek," shares Işıl Nalcıoğlu, Digital Project Manager at L'Oréal Turkey.
Preparing for the launch, L'Oréal Turkey collaborated with SEM on the website structure and SEO optimization. Although Cildimveben was established as a content platform, product categories were added to the site in order to introduce users to L'Oréal Turkey products and direct them to partner e-commerce websites where they could purchase the products.
During the pre-launch period, SEM gathered 25,000 keywords relevant to the site, with a total monthly search volume of approximately 8 million. L'Oréal Turkey and SEM set a goal of reaching a total of 1 million organic sessions in the next 12 months.
As a result of on-site and off-site SEO optimization, SEM achieved this KPI in 10 months, despite the pandemic period.

Solution: Competitor Analysis & Site Structure, Comprehensive Keyword Research, Content Strategy, SEO Checklist
1. Competitor Analysis & Site Structure
The SEM SEO team collaborated with the IT team to create an SEO-friendly website structure. The agency researched the best page structure options, internal linking, crawlable website arrangements, category structure, etc.
After that, the team determined similar competing websites for analysis. The Cildimveben site architecture was formed by making a detailed examination of the competitors' categories and the keywords they rank for.
2. Comprehensive Keyword Research
After the site architecture and general topics were determined, comprehensive keyword research was needed to guide these topics. Using the Semrush Keyword Magic Tool, the SEM SEO team made a skincare niche keyword research of nearly 25,000 keywords. The list was transformed into meaningful data by dividing it into categories and sub-topics to be found on the site. The category and question filters in the Keyword Magic Tool helped with the task.
3. Content Strategy
Following the keyword research, SEM started making regular content suggestions (topics around skincare solutions, skin types and problems, body care and L'Oréal Turkey skincare products) with high-potential terms. In the first few months after launch, the SEM team prepared around 30 content suggestions a month for the L'Oréal Turkey team. This number was later brought down to 10 per month.
The team paid special attention to search intent. To align it with the strategy, they focused on long-tail keywords rather than keywords with e-commerce intent. At the same time, SEM regularly examined and included the content ideas found on the websites that are superior in this field globally.
To maximize the impact, the SEM SEO team trained the writers on how to write SEO-friendly content. As a result of this training, they started to include items such as Hx and meta tags in the content suggestions.
The Semrush Keyword Gap tool data below shows the change in priority keywords position between February and December 2020. At the beginning of the year, Cildimveben.com didn't rank for many important keywords, while in December 2020, it was outranking the competition.
February 2020
December 2020
4. SEO Checklist
To support Cildimveben's content strategy with SEO studies, SEM created a roadmap for their SEO efforts. Some of the tasks performed are as follows:
SEO-friendly site launch control process
Site Speed & Core Web Vitals analysis
Structured data setup
Site architecture A/B Test studies
Meta title and description optimization
Cross-site linking strategy (with other L'Oréal Turkey content sites)
During these studies, SEM used the Semrush On Page SEO Checker for page and content optimization ideas, Organic Research tool for traffic analysis and competitor comparison, and Site Audit for technical SEO analysis.

Results:
Cildimveben reached a total of 1M organic sessions on November 15, 2020, just 10 months after the site launch.

The monthly organic traffic reached almost 500K in December 2020, bringing the site's organic sessions total to 1.7M.
By the end of December 2020, Cildimveben's impressions had reached 25M.
As of the end of December 2020, the site ranks for more than 40,000 keywords, with over 3,000 keywords in the top 3 positions.
Cildimveben has dominated the top 3 positions for high-volume keywords.
At the end of December, almost 62% of the total monthly traffic comes from organic traffic.
According to the Semrush data, Cildimveben is among the top 5 competitors in the industry.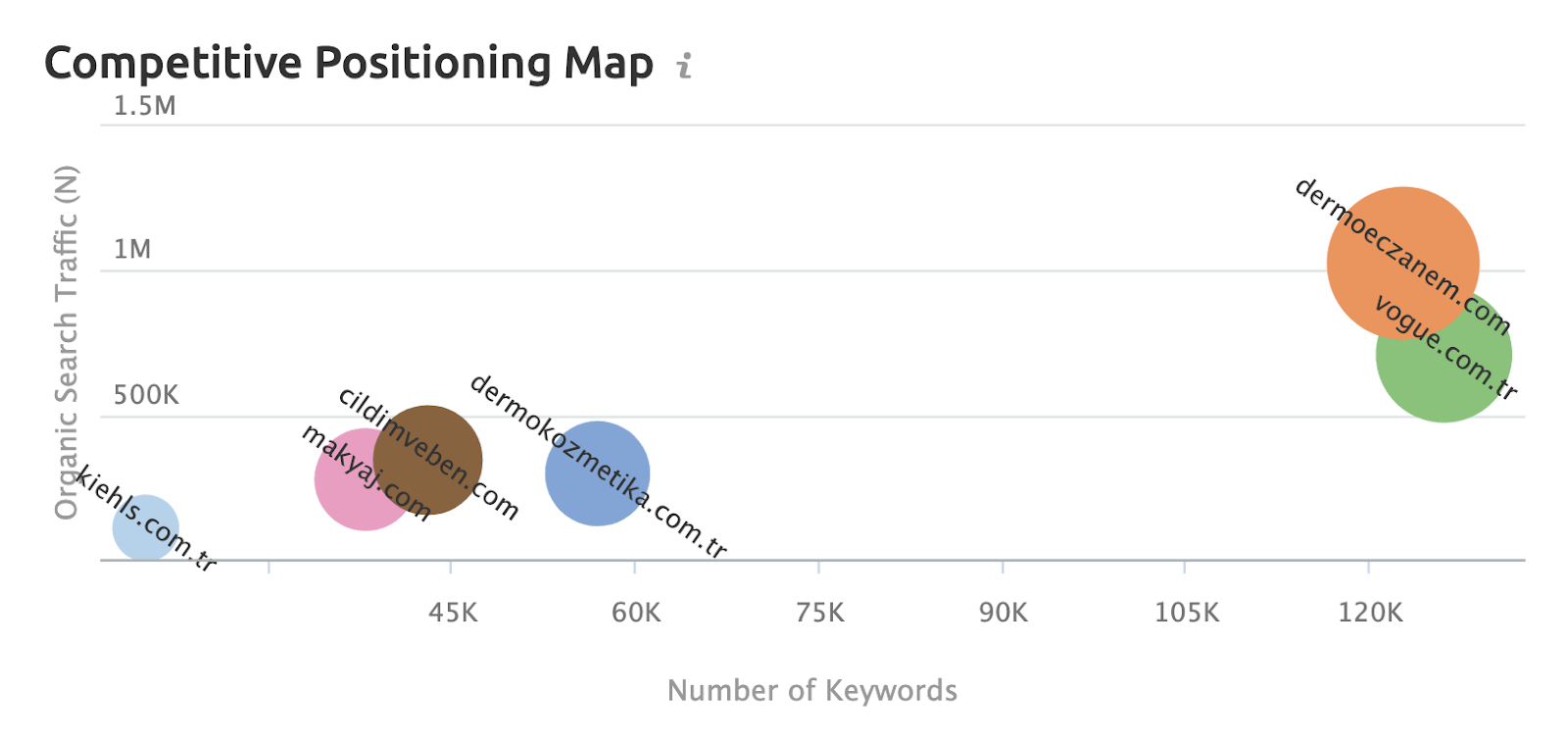 "In L'Oréal Turkey, we have the passion to be able to respond with our expertise to every question. SEO was at the heart of our business for Cildimveben.com and we owe its early success to it."