Go to all stories
Online learning platform turns free blog into the biggest (6-figure) revenue stream with SEO
"Semrush is a toolbox that has everything you need for SEO optimization. Whatever details I need to find out, be it keyword volume, competitor information, or site health, Semrush has a tool for it."
About Sugar Geek Show:
Sugar Geek Show is an online cake decorating learning platform and food blog that focuses on the nerdy aspects of baking while incorporating beginner-to-advanced cake decorating and sculpting techniques. Started out as primarily a membership website for cake decorators, Sugar Geek Show grew to include kitchen-tested cake and dessert recipes, along with a robust YouTube channel, a published book, online classes in 7 different countries and yes, even a TikTok channel (with 2.2 million followers).
Business Challenge: create a scalable online business
Liz Marek, a talented sculpted cake artist, ran a successful bakery in Portland and had a passion for sharing her culinary knowledge. As the business developed, Liz and her husband Dan realized that it had a very fast-approaching limit:

"We ran into a bottleneck—only Liz could make these elaborate sculpted cakes and we couldn't really scale the business," Dan shares.
In 2015, Liz and Dan launched Sugar Geek Show—an online school with a monthly subscription model and a free blog for sharing recipes and baking techniques. While Liz had already formed a tight professional community, many of whom subscribed to her new school, the subscription revenue growth wasn't going as fast as she hoped.
After a few slow years, Liz and Dan decided to put most of their efforts towards growing their blog audience and monetizing it.
"Previously, I thought blogging was just a hobby, that it's not a real way to make money," says Liz.
Fast forward to 2022, blog is the #1 income source for Sugar Geek Show with a whopping 1.5M pageviews a month. And it brings a 6-figure yearly revenue. All of it thanks to the exponential organic traffic growth they've experienced since 2019. Here's how they did it.
Solution: optimized content strategy and technical SEO
Finding and Verifying Content Ideas
The first thing Liz and Dan realized is the importance of keyword research and offering answers to exactly what people were already looking for. Instead of choosing random recipes, they started collecting ideas in the blog and social media comments and checking them with the Semrush Keyword Magic Tool. During research, they paid special attention to the following metrics:
Monthly search volume - this reflects how many people on average look for a given topic each month.
Keyword Difficulty - a Semrush metric showing how hard it would be to rank high for this query on a scale of 0-100%.
Search trend - this way Liz and Dan make sure they publish recipes at exactly the right time for the peak search.
The right combination of monthly search volume and Keyword Difficulty is the key to success: there's no use in banging your head against the wall trying to rank for the highest-volume keywords if they are unreachable. Instead, a smarter tactic is to collect the low-hanging fruit and target terms with lower keyword difficulty and significant search volume. For Sugar Geek Show it's a combination of 4k-20k search volume and up to 70 keyword difficulty.
This way Liz and Dan filter hundreds of their audience's requests to the select few posts that will reach the top positions on Google within a couple of months. While each individual blog post might not bring a lot, they quickly add up with a success rate like that.
Once a blog post is up, Liz and Dan support it with social media posts that have the potential to go viral. This helps grow traffic further, attract new brands, and raise the partnership rates.

Creating Blog Posts
Anyone who's dabbled in SEO knows that having just one target keyword isn't enough for a well-optimized content piece. It's important to address all the questions the audience has around a given topic and include all the long-tail keywords and term variations. To find them, Liz uses the Questions filter in the Keyword Magic Tool to find the most popular and relevant queries:
She completes the list with any other queries Google can provide by searching the recipe name and checking the People Also Ask and related searches section.
When answering the popular questions, Liz writes concise and informative paragraphs that can be easily picked up by Google and shown in the Featured Snippet section. This is a shortcut to appearing at the top of Google and taking the cream of search (pun intended!):
Competitor Research
Before competing for a keyword on the SERP, it's wise to check who you're going up against. When writing a post, Liz makes sure to look through the top-ranking posts noting anything she can do better, including:
—

The number and type of photos

—

The questions answered surrounding the topic

—

The number of backlinks the post got
She uses Semrush's
Backlink Analytics
tool to see how many backlinks a competitor's top-ranking post has, so she can achieve at least the same number, as it is an
important ranking factor
.
Next, Liz and Dan look at the competitor's referring domains and reach out to those of them who are likely to link to SGS's recipe as well.
For Sugar Geek Show, the type and quality of photos play a crucial role in link building. Liz makes sure her photos are as good as the most popular Pinterest pins — links from the resource help create a great backlink profile.
Rank Tracking
Next, It's time to monitor the post performance.
Liz and Dan use Semrush's Position Tracking tool to keep on eye on the priority keywords and receive automated notifications whenever a significant drop or spike in ranking happens. If an important post falls out of the top-3 or top-10 positions, it's time to update it and bring it up to Google's standards.
An example of a Position Tracking email notification
Optimizing old content
At the start of their SEO journey, Liz and Dan conducted a content audit with a consultant and put together a template for optimizing old posts.
"Rewriting existing content delivered surprising results. The process of pulling the weeds and watering our older posts and letting them grow worked better than I expected," Liz shares.
Rewriting each post without having its performance data can be exhausting and pointless, so Liz prioritizes. In the Position Tracking tool, she filters her tracked keywords by positions to single out the ones stuck on the second page of Google (positions 11-20) and concentrates her efforts on them.
Filter applied to an example project
Next, she enters the corresponding blog URLs into the
Organic Research
tool, looking at other keyword rankings that can be easily improved. For example, this recipe just entered the top 20 — a bit more effort and time can land it on the first page.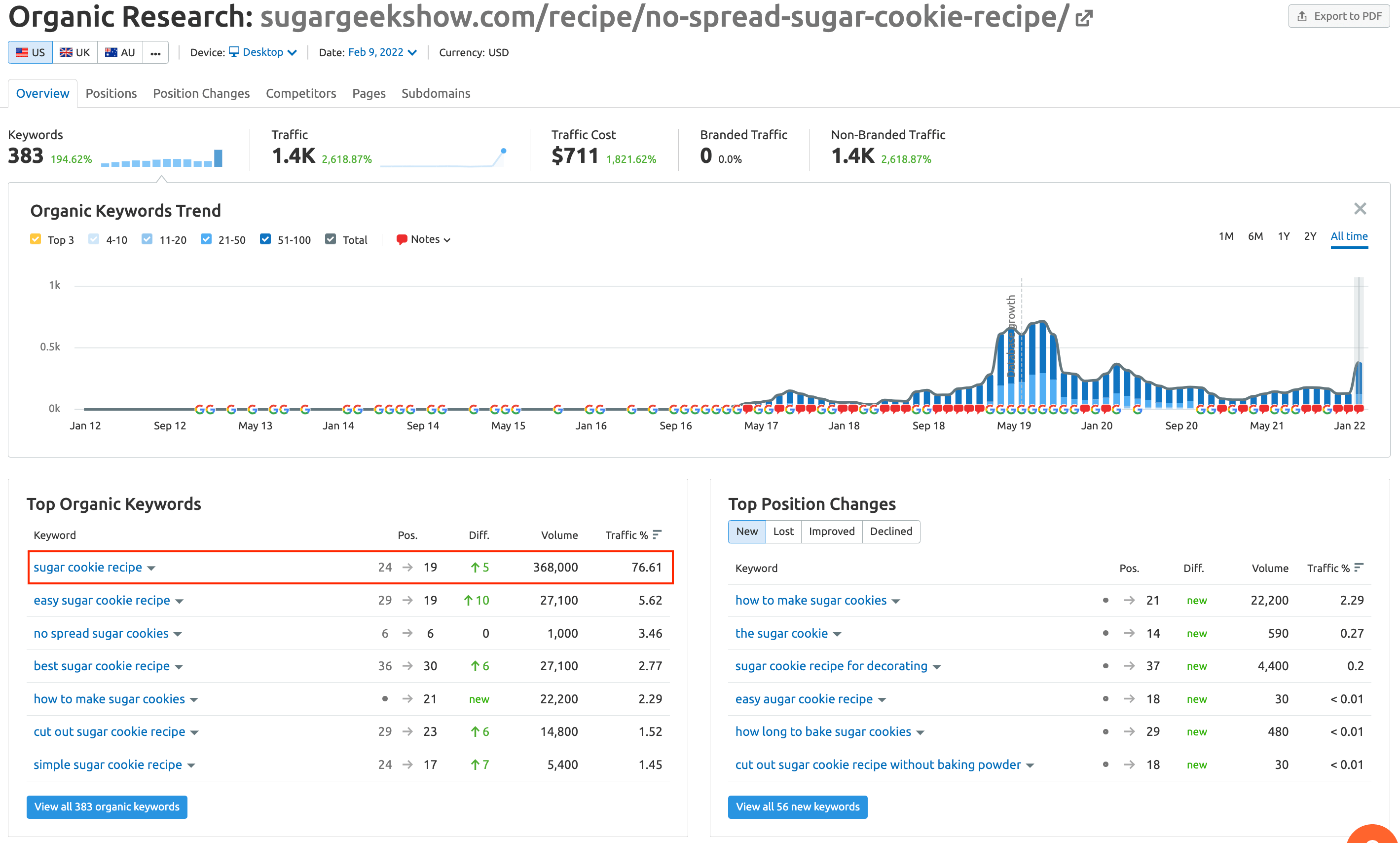 Site Health
All of the mentioned content efforts wouldn't be effective without technical SEO. Site health and speed are some of the crucial ranking factors in the eyes of Google. That's why Dan makes sure to run regular site audits with Semrush. The tool's Core Web Vitals report measures the loading performance, interactivity, and visual stability of a website according to Google's guidelines.
During one audit, the tool highlighted a load speed issue. After further investigation Dan realized that a recipe plugin they used on the website contained code that was taking too long to find a style guide file. He addressed the problem in the code temporarily and contacted the plugin developer who resolved the issue.
Site Audit issues list
"Sometimes a really small issue drastically impacts our site performance. It's a technical thing you would have no clue about without some sort of tool like Semrush Site Audit," Dan says. "And then a couple of weeks later you start noticing a 5% traffic lift after making just a couple of these changes. When you're a bigger blogger, that's the difference between being able to hire another person for your team."
Site Audit Core Web Vitals report
First Ad Revenue and Partnerships
12–16 months after the start of the SEO optimization, the resulting traffic allowed Sugar Geek Show to reach the threshold of 50,000 monthly site visits and get accepted by Mediavine, a popular advertising management service.
As the site traffic continued to grow, so did the cost of ad placements.
Specific keyword rankings help Liz connect with her "wish-list" brands:
"I wrote a blog post with a specific brand of flour that I like. I researched the recipe keyword to see how much volume it had every month. And I felt like it was attainable. I waited until it was #1 in search and reached out to them with an offer to collaborate. It worked!"
Delegating SEO
A couple of years in, Dan and Liz started expanding their team:
"One of the things we really like about the tools like Semrush is that we can train someone on doing keyword research so Liz can focus on recipe testing and taking photos."

"The videographer, the producer, the recipe tester all know how to research keywords. So nobody is wasting time working on recipes that are not going to perform well," Dan concludes.
Results
Blog traffic almost tripled (269%) from 2019 to 2021 and so did the income.
In 2021, the average blog traffic reached 1.5M pageviews a month, 65% of which come from organic search. The growth trend continues into 2022 with a projection of 20% increase YoY.
The blog now brings in around 60% of Sugar Geek Show's revenue and supports 5 other streams of income, including the membership subscription and social media.
Even though it took time, the company's organic traffic has become a much more profitable and sustainable income source in the long run. There is no risk of losing virality and the optimized content keeps on bringing predictable revenue. Which brings us to the next point:
The ability to see, measure, and project organic traffic growth and revenue.
This allows Liz and Dan to plan strategically and avoid overloads by making new hires in time to support the next growth goals.
"Before Semrush, we were in a forest with a small flashlight and the batteries were dying. Now we have a complete map of the forest and we know the direct way to our destination. You still have to do the work but at least you know where you're going now," Liz says.
The growth allowed them to hire 5 new employees between 2019 and 2021.