Create a lead list in minutes
Generate a list of leads based on the technology your potential clients are using on their website, as well as their niche and location.
Choose the most relevant prospects
Easily narrow down the list of prospects based on the Semrush Lead Score and the SEO metrics that matter to you.
Craft a strong outreach message
Gain a deep understanding of your prospects' needs using insights on their online visibility, tech stack, and more.
Focus on leads with the highest potential
Quickly assess which of the businesses are a good match for your agency with the Lead Score.
The Semrush Lead Score combines
knowledge about the number and power of
the signals gathered on a company's
buying potential, as well as various aspects
of their online visibility
Use filters to narrow down the prospect list
based on your own specific criteria—traffic
volume, number of backlinks, and more
Star and save the best-fit leads so you can
easily access them at any time
Work with the most relevant prospects
Leverage specific details to craft a strong outreach message in no time, increasing your chances of
landing a new client.
Quickly interpret complex data on a
domain's digital footprint
Save time by accessing all key details in
one place—from company background to
the technical health of their website
Get contact information, including emails
and links to social media
Easily integrate Lead Finder in your current workflow
We offer a number of options to include Lead Finder in your existing lead generation system,
or build a new one from scratch.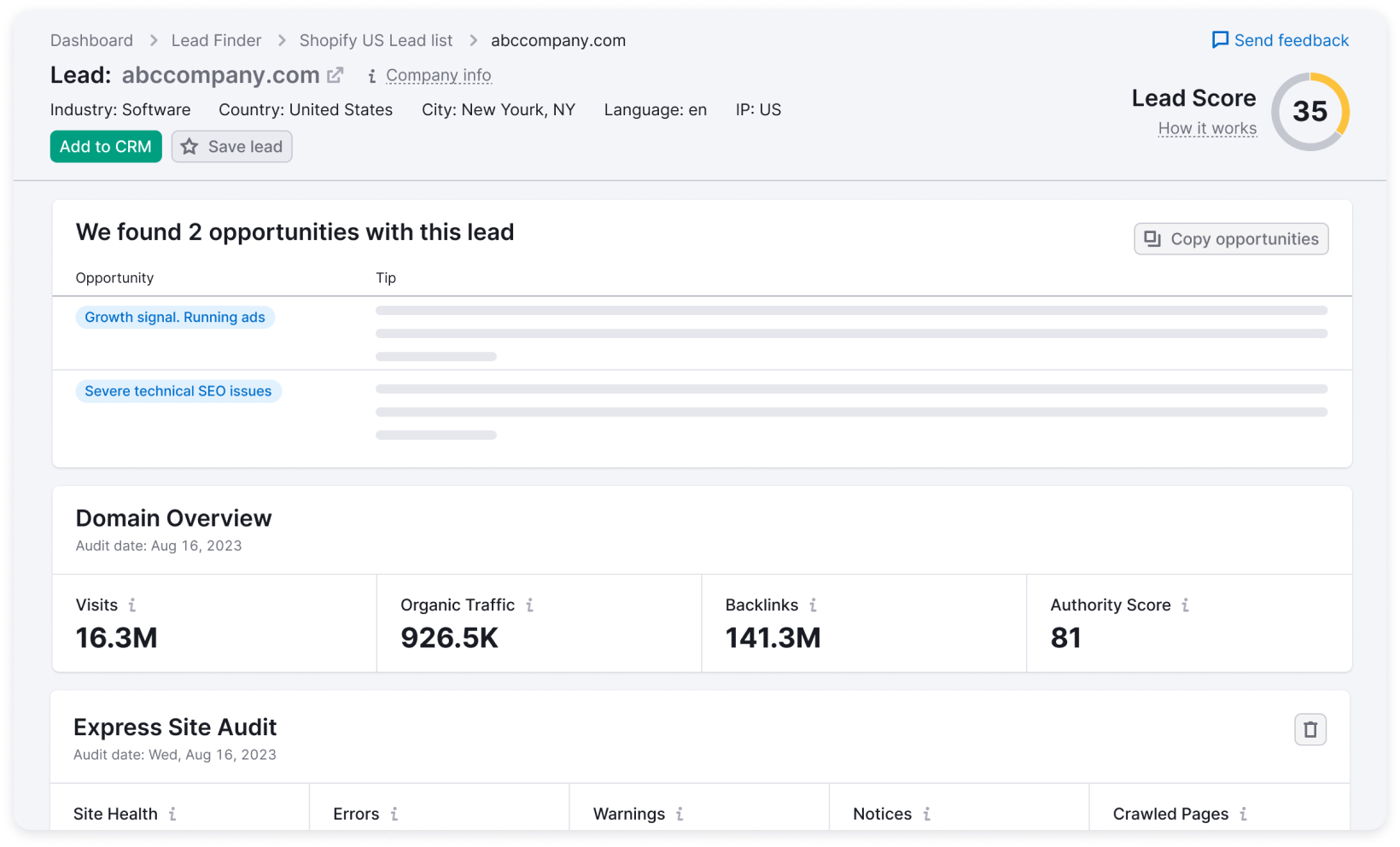 Send leads directly to Semrush CRM,
assign and manage tasks, and automate
your reporting
Export a .CSV file with your prospects and
data to your email automation tool of
choice
Frequently Asked Questions
What are the benefits of outbound lead generation for agencies?
Where does the data come from?
How often is the lead data updated?
How long does it take to generate a lead list?
What are Opportunities, and how can I use them?