As a content marketer, you know that providing your readers with a steady stream of high-quality, super-relevant content is an absolute must. But creating high-quality content takes time, effort, and planning. How do you balance those needs and still remain part of the current conversation?
Content curation, that's how. 
What Is Curated Content?
Content curation is the process of carefully selecting various content (articles, audio, video, even images) from a variety of sources and arranging them in one central location.
For content marketers, that means collecting the best pieces from across your niche or industry and presenting them to your readers, typically with additional context or your own commentary.
For example, have you ever checked Rotten Tomatoes before deciding which movie to watch? Rotten Tomatoes uses content curation to gather critic reviews from a variety of publications: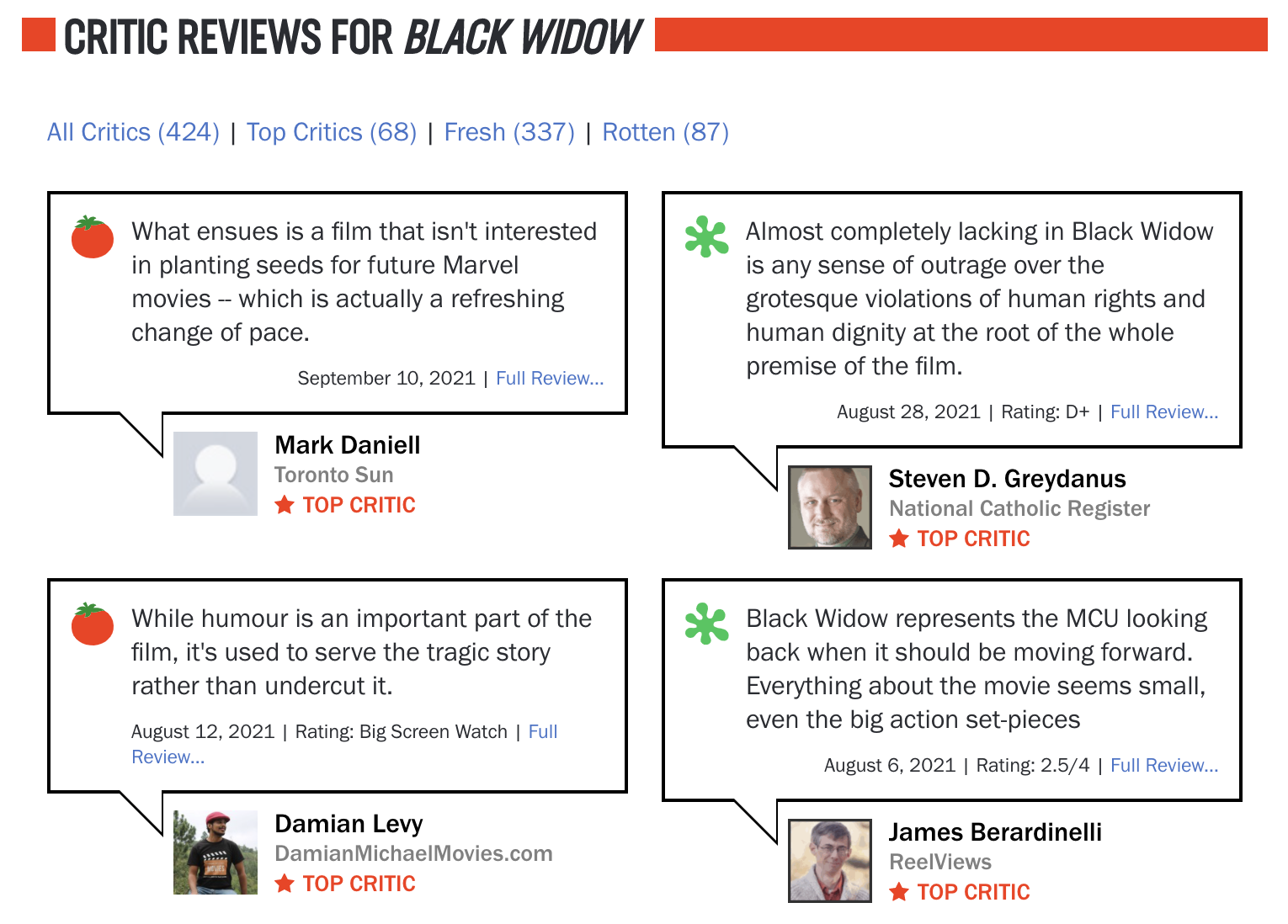 Content curation can be used as both a content and a social strategy (though, for this post, we'll be looking at it primarily through a content marketing lens). 
Benefits of Content Curation
When you imagine a content strategy in action, chances are you picture an editorial calendar full of original content, probably created in-house by your content team or by freelancers. Content curation complements that strategy; it fills in the gaps between original pieces created by your team with ultra-relevant updates and commentary from across the web. 
When you get it right, content curation has many potential benefits, including: 
Extending your marketing resources by tapping into high-value, pre-existing content 
Adding editorial value to your blog through your commentary and analysis
Bringing a more diverse array of voices and points of view to your blog
Strengthening opportunities to build connections with influencers and thought leaders in your space
A solid curation strategy includes a variety of content types, formats, and voices. Below are 4 different ways you could curate content for your blog. 
1. Highlight Industry News & Other Trending Content
As a content marketer, you understand how important it is not only to be tuned in to what your team creates but also to what's being created by others in your industry. With content curation, you can use this to your advantage by highlighting and analyzing the best and most relevant articles. 
One way to do this is newsjacking.
Newsjacking is a tactic that focuses on leveraging breaking news, trending stories, and other potentially viral topics to gain additional visibility. Newsjacking isn't exclusive to blog content curation — you can also do this when creating your own original content, or social media content — but you can incorporate it into your curation strategy by highlighting and commenting on relevant breaking news stories. 
For example, here's how news curation website The Skimm does it: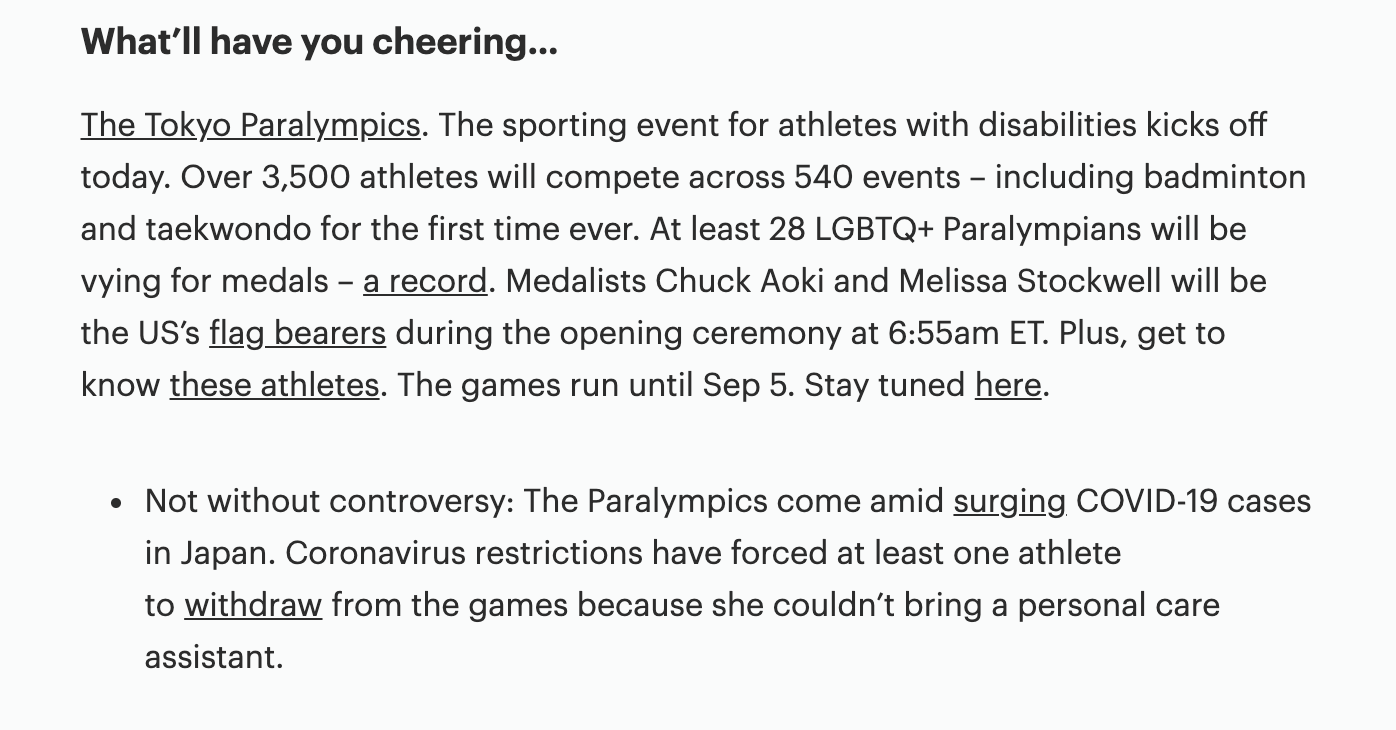 The Skimm leads with a link to the full New York Times story, followed by a succinct explanation, including links to related articles readers might also be interested in. They also offer an email newsletter, The Daily Skimm, which is paired with a daily roundup of top news headlines like this one.
Of course, breaking news and viral trends aren't your only source of content. Outside of newsjacking, you could also share blog posts, videos, and other evergreen content you've found useful or insightful. 
For example, bestselling author Scott H. Young compiled a blog post of his 10 favorite free online classes. A blog post like this could be updated over time, but because the content is relatively evergreen, it can stay relevant longer than timely industry news.
Sharing high-quality content from across your niche demonstrates your commitment to providing your audience with valuable resources, education, and insight. Not only that, but it can also help you position yourself as an authority in your space. It shows your audience that you're up-to-date with the newest and best ideas, trends, and content being created and that you can be trusted to bring it to them and help them understand it. 
Find Trending Content with Topic Research
If you want to share the best news and content being created in your space, you first need to be able to find it. Ultimately, how you choose to do this comes down to personal preference. 
For example, you might create Google Alerts for specific keywords, or use an aggregator like Feedly to track your favorite publications. You could also use an app like Pocket to save great content you come across organically. 
To quickly identify trending content in the topics you care about, if you have a Semrush account, you can turn to the Topic Research tool. Here's how it works:
First, in the search bar, enter a topic that's relevant to your industry or your audience's interests.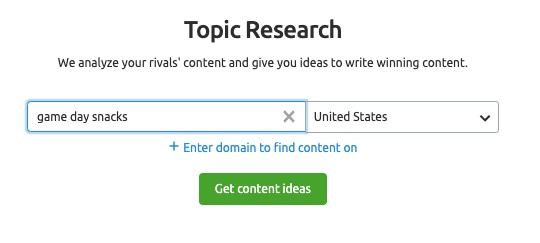 The Topic Research tool will then gather relevant content ideas and headlines, and tell you which ones are resonating with their audience based on the number of backlinks they're getting. You'll also find questions people are asking and related keywords to investigate.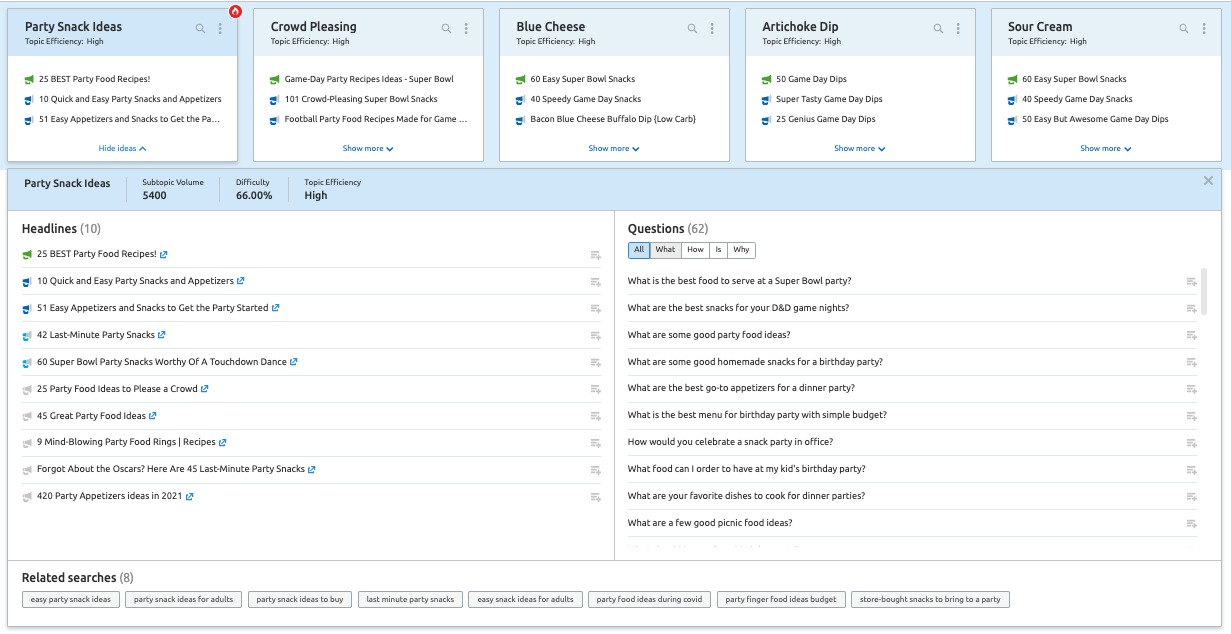 If you find a headline you like, you can click through to access the full content. Then, you can share your favorite ones with your audience via content curation.
Pro Tip: Use the Keyword Magic tool before the Topic Research tool to find a relevant keyword your audience may already be using, then use that keyword in the Topic Research tool.
2. Repurpose Your Existing Content 
In addition to external content, consider curating your own content. 
Think about all the content your team creates that doesn't end up on your blog. This could include: 
Course and webinar materials
Downloadable guides
Ebooks, white papers, and other thought leadership
Videos or podcasts
And more! Whenever you create content that has value for your audience, it could continue to have value in other formats, while also helping to promote the original work. 
Here's an example. 
Your team worked hard to create an in-depth, comprehensive ebook that's full of valuable, up-to-date information and insights. You've published it on your site and it's ready for people to download. 
Some content marketers might leave it at that and focus on promoting that ebook via paid and organic social, and perhaps in an email campaign. But savvy content marketers understand the value — and the art — of repurposing that content. This might include:
Repurposing a section, or sections, of the ebook into a blog post (or even a series of blog posts) and including a call to action inviting them to download the full ebook to gain even more comprehensive insights
Developing a case study (or multiple) from some of the results shared in the ebook
Creating an infographic from some of the data or highlights you might have included in the ebook
Creating short videos spotlighting various sections of the ebook
Using the ebook to create a framework for a podcast episode discussion on the topic 
Repurposing your content can be an effective way to: 
Create more original content for your blog more easily
Promote the original source (such as a course or an ebook)
Help older content reach a wider audience
Maximize the impact of your team's time and effort
2. Interview the Experts
Articles aren't the only thing you can curate on your blog. You can also curate voices by interviewing peers and influential thought leaders about relevant topics within your industry. 
There are many reasons why interviews can add value to your content plan: 
Easy to repurpose. For example, record an interview as a video or a podcast, while also sharing the full transcript as a blog post.
Super shareable. You could add a click-to-tweet button next to the best quotes, encouraging readers to share their favorite parts.
Great for connecting audiences. Interviews can connect well with your audience by bringing them expert insights from the best voices in your industry. Because guests are likely to promote a solid interview on their own platforms, they could also help you expand your reach by connecting with their audience. 
It's also reasonable to conclude that guests may be more willing to agree to an interview compared to writing an article for your site because it's less time-consuming for them.
Here are some tips to take your interview game to the next level: 
Research your guest. Check out their social media presence, their bio, and major or recent accomplishments. This can help you prepare more interesting and more relevant questions for them. 
Prepare your questions in advance. When possible, try to find a creative or personalized angle so that your guest can give you a unique answer. (For example, in the Content Marketing Institute's 2018 interview with Joseph Gordon-Levitt, CMI's questions are narrowly tailored to the main topic, provide helpful context to prompt more substantive answers, and build on one another.) Also consider sharing your questions in advance, so that your guest has time to prepare. 
Be prepared to deviate. Even though you've prepared your questions, don't be afraid to go off-script with your follow-up questions, depending on where your conversation naturally flows. 
4. User-Generated Content
When looking for new content sources to curate, don't forget about your audience. They're already engaged with you and your niche--why not allow them a platform on your blog, too? User-generated content lets your audience become part of the conversation in a more direct way.
Not only can this uplift members of your audience, but it can also foster a sense of community and encourage social sharing by all who participated. 
For example, you could host group discussions with your followers and peers on social media platforms. In fact, Semrush does this weekly with under the Ted, you can transform this discussion into a crowdsourced blog post. 
Here's an example from the Semrush Blog where we did just that:
Note how simply this article is formatted. Each question is introduced as a header, followed by answers from participants and links to their original tweets. The post is easy to follow and includes tons of relevant advice from experts. 
Your audience also includes any influencers or thought leaders you've connected with. Consider adding their best original content to your curation calendar, or even working with them to create new content for your blog. 
This way, you can tap into their expertise and name recognition, while still sharing useful, relevant content for the rest of your readers. Plus, it could help you strengthen your relationship with the influencers you work with, and even broaden your reach if they promote it on their own platform.
But as Mordy Oberstein, Head of Communications at Semrush, states, "If you really want to be effective at understanding the community you're targeting, there's no substitute for actually being a part of that community". 
It's good to keep a balance of curating content and actively contributing to your community.
Think of content curation as community building. You're offering a resource that, if done right, helps a community thrive. You're bringing information that would otherwise be hard or time-consuming to access to the forefront and introducing new people to your community. Doing that effectively means really understanding your community and what they're looking for.
Find Influencer- and User-Generated Content with Brand Monitoring
Finding the best influencer- and user-generated content while it's still relevant can be a challenge. Some content and social media marketers choose to do this through their social media platforms directly, by using Google Alerts, or via their preferred social media management platform.
If you have a Semrush account, the Brand Monitoring tool can help you track your mentions and find influencer- and user-generated content from social media and across the web to share with your audience. 
Here's how it works: 
First, set up your campaign, including all of your branded keywords, plus any industry topics you'd like to monitor. 
Then, head over to the Mentions tab to explore all of your web, Twitter, Instagram, and forum mentions. You can even filter by sentiment and language to further tailor your results. Save your favorite posts to share with your audience. If you desire, you could create a weekly roundup post highlighting your favorite social media mentions sent straight to your email. 
If you're looking for new influencers to work with, for each mention you like, check the author's number of followers or subscribers on social media, or their domain's authority score. Reach out to the authors whose subject matter and audience size align with your interest to start building a relationship. 
​

Micro-influencers are great partners to consider for your content curation. Despite their smaller audience compared to mega-influencers, micro-influencers often have better engagement with their followers compared to mega- and macro-influencers. 
As such, working with them — whether you create new content together, or add their best original content to your curation calendar — could be just as effective, even if their follower count is a little lower.
Pro Tip: Set up Brand Monitoring campaigns for your competitors. Then, connect with influencers and other users who are only talking about them. 
Content Curation Tips to Consider
Whatever your strategy, if you want to see the benefits of content curation, it's crucial that you only share the best content for your blog and your audience. With that in mind, here are a few tips to keep in mind. 
Always Use Credible Sources 
It's not enough to share the first article you find; anyone can do that. Instead, only share the best, most reliable content. If you're not sure how credible a piece of content is, ask yourself these questions: 
Author: Who wrote this piece? What are their credentials?
Timeliness: How recently was this published?
Publication: Who originally published this article? Is it a credible source?
Research: What were this article's sources? Who was quoted or linked to?
Reliability: As a subject-matter expert yourself, is this information correct and reliable? (If you're not sure, you can always fact check).
Always Add Value
Your readers come to you for your thought leadership. So make sure you're still offering that to them, even when you're curating third-party content. For example, when you share something with them, you could add:
Actionable tips the reader can use going forward 
Important context to help the reader understand the topic better 
An in-depth analysis of the article, including important quotes from the source 
Always Link to the Original Source
Whenever you share and comment on a piece of content, remember to link to it, so that your audience can read or view it in its original context. If you're interviewing a subject-matter expert or crowdsourcing a discussion post, credit those sources, too, with a link back to their profile or website. 
Not only is this more helpful for your readers, but it's also good practice. It shows readers that you are trustworthy and reliable. 
Plus, there's always the chance the original writer or publisher will share a link to your article in return. 
Curate Your Way to a Better Blog
Content curation is a smart strategy used by many experienced content marketers. It can help build your brand, add variety to your content calendar, and bring the best possible content to your audience. It might even help you expand your audience. But to get it right, you need to choose your content carefully. 
Whatever types of content you curate, only share the best voices, the most reliable sources, and the most relevant content — and always offer readers your unique point of view with expert insights, tips, and observations. 
If you're not sure where to start with content curation, tools like Keyword Magic, Topic Research, and Brand Monitoring can help. 
Add curation to your content strategy, and make sure you're always part of the conversation.