When it comes to reporting on the work done, it is often a nervous process plus tight deadlines. But Semrush can help you to avoid chaos and help you to construct your Progress Report!
Our My Reports tool lets you aggregate the data from dozens of tools within the Semrush suite in a click. In addition to this, you can:
Create reports from scratch or use customizable templates.

Include screenshots and text of your own.

Add Google Analytics, Google Search Console, and Google My Business data.

Schedule regular email delivery of the reports to the target email address.
Before We Start
In this busy world, we are all pressed for time. So before you start choosing from dozens of My Reports widgets, make sure you observe the 10 rules of an awesome report that will guarantee appreciation from managers and colleagues:
Make it helpful. The key to first-class reporting is the ability to answer any questions people may have about your work, even before they think of the questions.

Make it clear. Use numeric data, charts, and illustrations to support your conclusions and suppositions.

Highlight the KPIs. It's the easiest way to relate your performance with the company's goals.

Cut it short. In case you have to speak, put the most important information from the report on the first 2 or 3 slides of presentation and be prepared to get into the details if probed.

Be straightforward. Stick to self-explanatory information.

Show the data in dynamics. Values that can't be compared to anything have no meaning.

Benchmark. Why? See above.

Plan for the future. You're not complacent, are you? So say it aloud!

Give credit. Include recognition for the leadership and key staff members who contributed to your success.

Get prepared for the annual reporting in advance. Collect data on a weekly or monthly basis to save time in the end.
Keeping these ten things in mind, just follow the steps below and you will end up with a stunning PDF in around 20 minutes.
Step 1. Start from the Top
Choose the My Reports tool in the left-hand menu and create a new report or choose a ready-to-go template from the template panel. Enter the title and subtitle and change the logo*.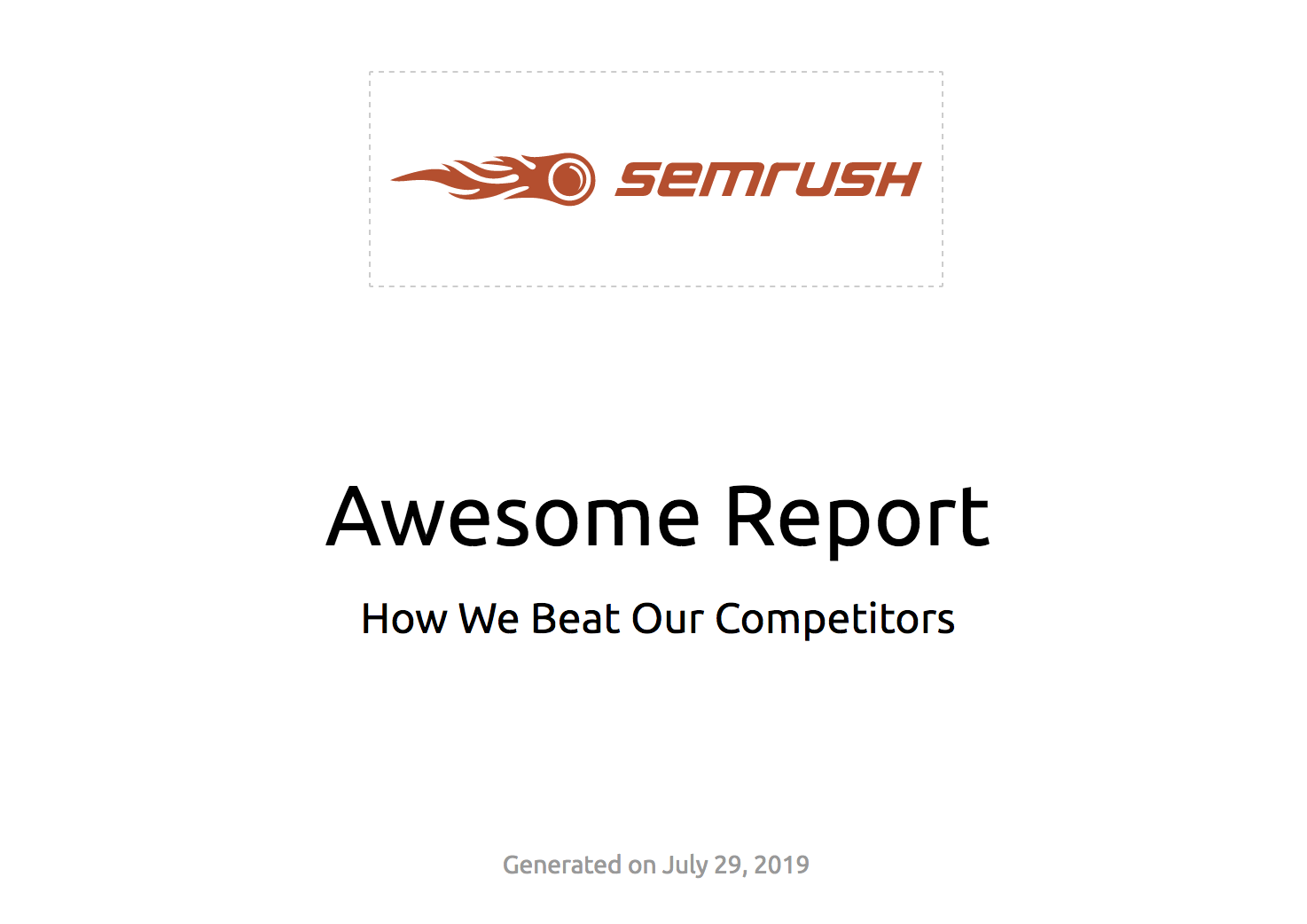 *The function of changing the logo is available for Guru and Business plan subscribers.
Create a brief overview of the company's conversions and goal completions if these are applicable to your area of activity. This information can be added to the report from Google Analytics and Google Search Console widgets.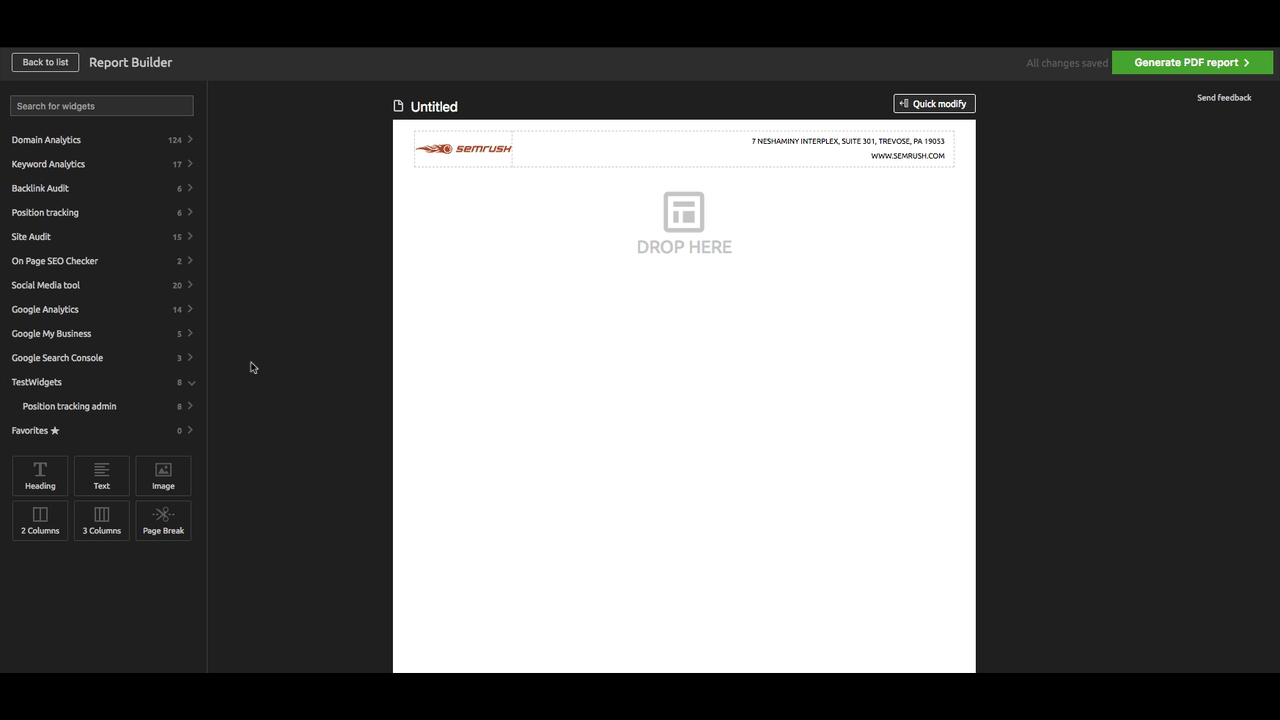 To access these widgets, you should have GA and GSC connected to your Semrush account.
Now it's time to jump into the details. Just choose the area of your expertise (SEO, Online Advertising, Social Media, or Content and PR) from the sections below and proceed from the selected section.
Step 2. Drill Down to Specifics
SEO
If you earn your living helping people to cope with clients' low rankings, little traffic, AMP implementation errors, etc., your job specifics are not easy to explain to the untrained. However, the clear-cut widgets from My Reports will do the work for you.
Start with the aggregate picture of your website's traffic and user behavior (Google Analytics: Overview widget).

Then move to its keywords and rankings.
To cover other aspects of your work or go into the details of the areas we just mentioned, pick the corresponding widgets from the left-hand menu (to access more widgets, type in the name of the tool in the search bar).
Tracking online visibility and search rankings (e.g. Position Tracking: Trend, Rankings Distribution, Organic Search: Summary, etc.)

Reporting on link building (e.g. Backlinks: Totals, New and Lost Backlinks, Competitors Comparison, etc.)

Demonstrating a website's health (e.g. Site Audit: Issues and Crawl Budget, Visibility vs. Errors Trend, etc.)
Making plans for the future (Ideas Trend: Chart and Ideas List)
To speed up the process, you can pick the SEO Monthly Report template at the top of the page and move backwards, removing the widgets you don't need. And to get more precise data and additional widgets, connect your Google Analytics, Google Search Console, and Google My Business accounts to Semrush.
Social Media, Content and PR
Most people believe that social media is all about checking the newsfeed in the morning and upvoting kitten photos. Let's take them to the world of engagement metrics and justifying budgets.
Start with showing the results of your efforts on different channels and comparing your company's social channels against competitors'.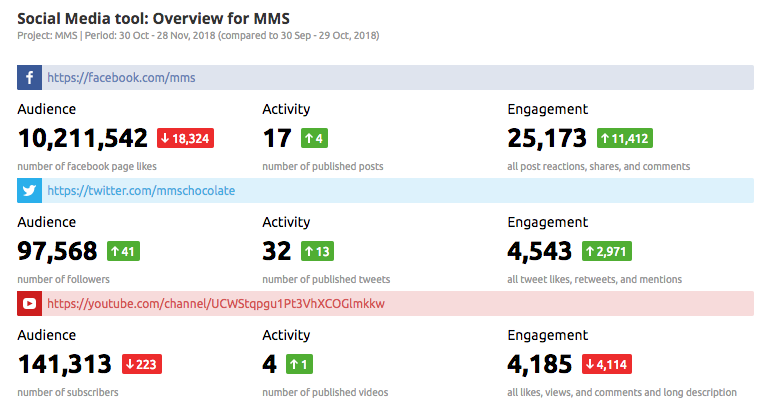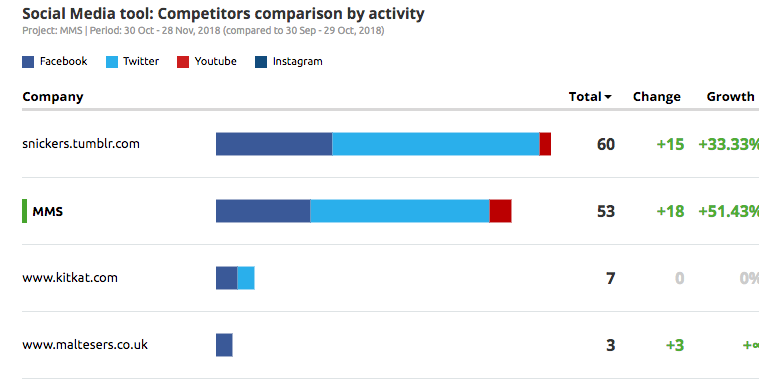 And of course, there is more!
Audience growth (e.g. Social Media Tool: General, Overview, Competitors Comparison,etc.)
Engagement (Social Media Tool: Engagement, Engagement Trend, Engagement Distribution by type, etc.)
Activity (Social Media Tool: Activity, Activity Trend, and Competitors Comparison Trend (Activity), etc.)
As for content, there are a variety of metrics that you can find in Google Analytics and Google Search Console.

You can also add data concerning the performance of a specific article or blog post from Position Tracking tool (requires a project set for the exact URL).

The PR is a bit complicated. Usually, you have to show all mentions and reviews you have earned combined with the detailed data about the source. At the moment we are working hard on the integration of the data from our Brand Monitoring tool into PDF reports. But you can still export all collected brand mentions to XLXS.
Online Advertising
To those who deal with paid advertising, we offer a full Advertising Research Report (find it in the templates panel). It is generated quickly and contains all the details of the target advertising campaign, from paid keywords distribution by country to their traffic cost and real ad copy.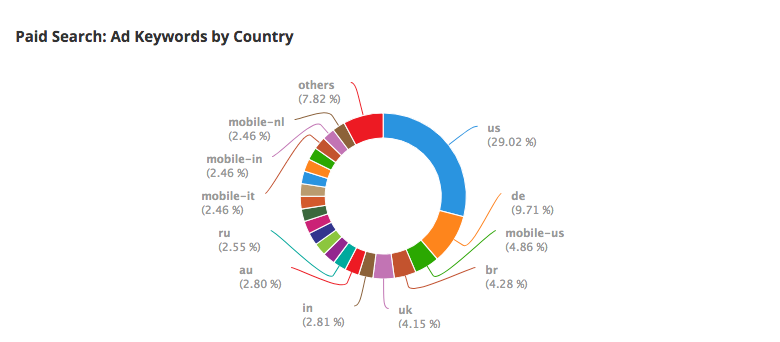 If you prefer speaking about exact metrics and factors that could have influenced them, you are welcome to choose one of the available widgets:
Advertising Research (e.g. Paid Search: Traffic/Keywords/Cost Chart, Top Keywords,etc.)

Display Advertising (e.g. Display Advertising: Recent Sites, etc.)

PLA Research (e.g. PLA Research: Competitors)
Step 3. Benchmark
Still with us? You're close to the end. Now you can emphasize the success of your digital marketing campaigns compared to your competitors' with the help of Traffic Analytics reports that feature a wide variety of benchmarking options.
Show the difference in traffic growth.

And then speak about the impact of your activities on it.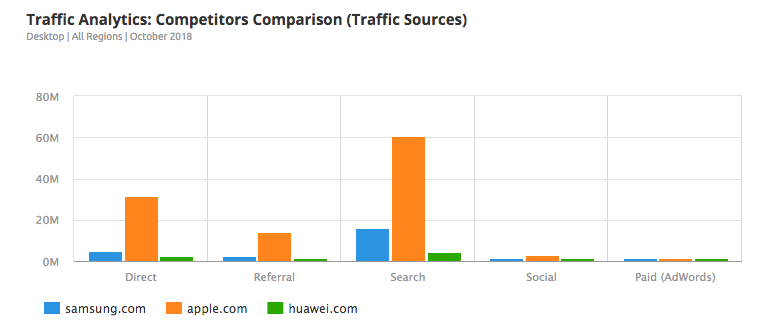 Other available widgets:
Assessing traffic and user behavior (e.g. Competitors Comparison (Traffic Overview), Top Subdomains, Competitors Comparison (Visits), Competitors Comparison (Bounce Rate), etc.)

Analyzing traffic sources and distribution: Competitors Comparison (Top Traffic By Country), Competitors Comparison (Traffic Sources), etc.
Step 4. Submit Your Report
Polish your report and send it to your boss or client right from Semrush.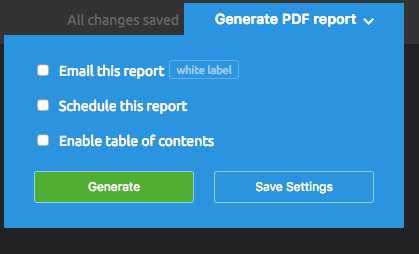 When you are done sending your report, we would really appreciate your feedback. Do you like My Reports? Will you use it again for creating quarterly summaries or campaign statements? Would you recommend it to your colleagues? Drop us a line at my-reports-feedback@semrush.com, and we will try to improve the existing templates or develop new ones based on your suggestions.