For businesses and agencies, it's crucial not only to land new clients, but also to retain existing ones. Loyal clients mean recurring payments, which are vital for maintaining a healthy cash flow and giving your business space to breathe.
Not only does strong customer retention ensure a more stable source of revenue, but it's also cheaper for your business in the long term, too. Indeed, a popular study by Invesp found that it costs five times more to attract new clients than to keep existing ones, with numerous other studies citing additional cost and brand loyalty benefits.
With all of this in mind, then, it's clear that keeping your clients happy should be a priority, which means having an effective client management process in place.
First, though, it's important to define client management, and understand what exactly it entails.
What Is Client Management?
Client management is the process of organizing, collaborating, and communicating with your customers throughout their lifecycle, and includes:
Onboarding them as paid clients.
Managing their projects.
Taking and reviewing their feedback.
Upselling them to new/different products.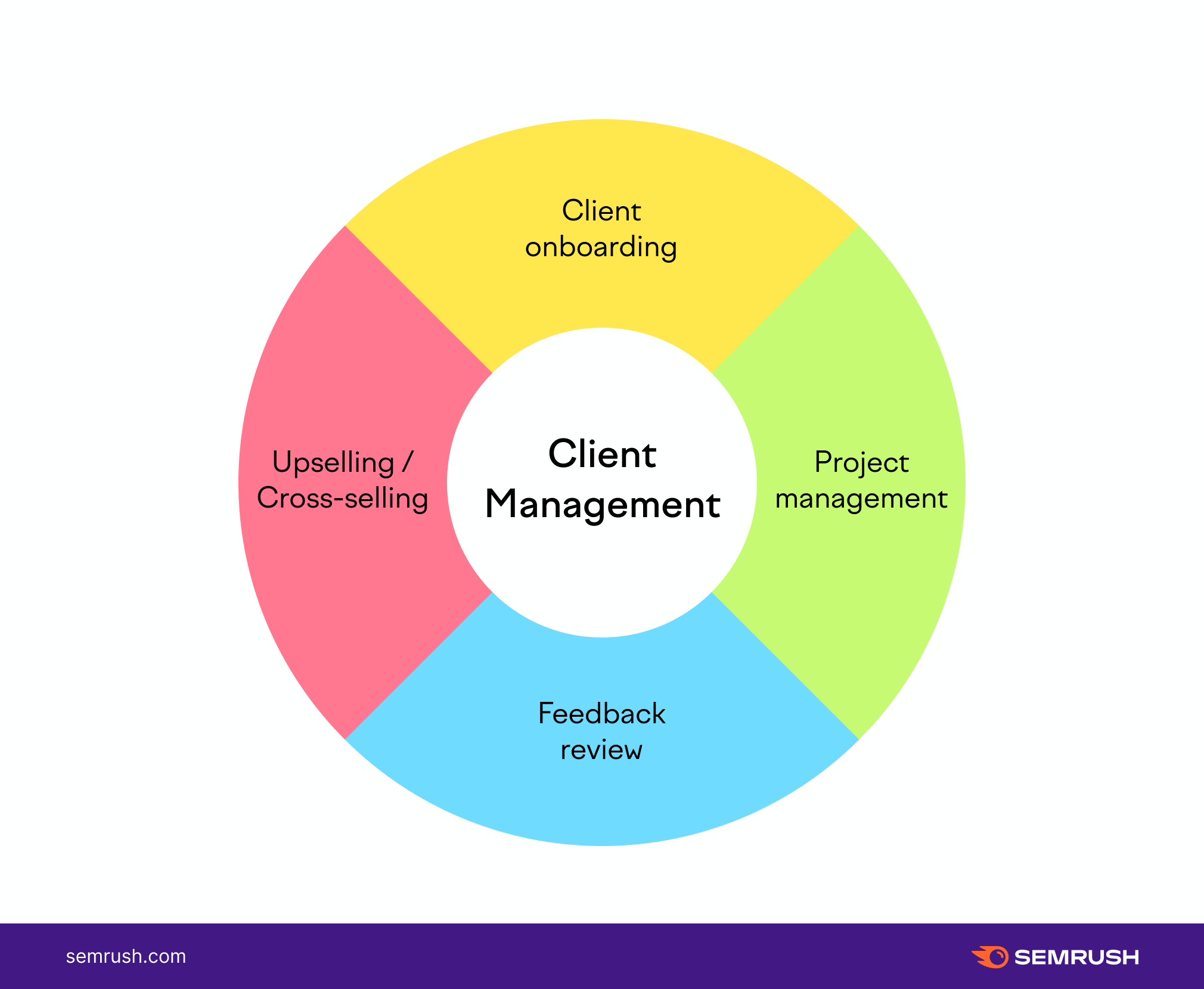 For your client management to be successful, and for all of these processes to be effective, you need to develop strong working relationships with each of your clients. Account managers are key to this, as it is their responsibility to interact personally with these clients and to ensure that all of their requirements and expectations are being met.
Why Improve Your Client Management?
As well as allowing you to generate recurring revenue, effective client management also offers other important benefits. For instance, it helps you to:
Enhance your customer service delivery, resulting in happier clients and better referrals.
Find new clients, as your time and resources will be freed up.
Increase customer revenues.
Close deals faster as there is an increased element of trust.
Improve client loyalty through the cultivation of close relationships.
Improve the cross and upselling of your services, as you will gain more knowledge and experience of what works and what doesn't.
So, with this in mind, how can you build and improve your own relationships?
Top 8 Tips To Improve Your Client/Agency Relationships
When it comes to building better relationships with your clients, a lot can depend on your industry and your target clients. However, there are a core set of steps that you can follow to get the ball rolling, and to start seeing signs of improvement across the board:
1. Communicate regularly.
This sounds like a simple piece of advice, but many organizations fail to communicate effectively with their clients. It's important here to remember that communication is about more than just sending monthly reports or talking numbers; it's also about:
Getting to know each of your clients personally (again, this is where strong account managers can excel).
Conducting virtual check-ins and on-site visits (if feasible) on an ideally weekly basis.
Actively looking for and suggesting ways to improve the client's business.
When you go the extra mile, it builds trust and a sense of loyalty, and helps to ensure that your clients stay your clients.
2. Understand your clients' goals and needs.
Many agencies can offer standard services or packages to clients that don't really address their needs or problems. Therefore, you should take the time and effort to truly understand what your clients require, and how you can help provide that.
In particular, spend time evaluating the client's current position and marketing strategy. Ensure that their key performance indicators (KPIs) — like conversions, revenue, and retention — actually align with and support their business goals, as opposed to providing impressive-looking numbers for the sake of it.
3. Respect your clients' time.
When it comes to keeping clients happy, it can be tempting to promise the world. But as a rule, you should always underpromise and overdeliver.
Don't try to impress clients by guaranteeing that you'll deliver a certain project in a certain timeframe. Be realistic, and leave yourself with some room to maneuver. After all, it always looks better to come out ahead on a conservative schedule, rather than to deliver late on a tight deadline.
4. Be transparent.
Transparency is a hugely important element of any client/agency relationship, as it is the core building block of trust.
If one of your campaigns is underperforming, for instance, don't try to hide it. Instead, explain to the client that you are analyzing why this has happened, and that you have a solution or a different approach in mind. Be fully open in all your reporting and communications, and be prepared to explain everything that you are doing.
Check Semrush's new feature inside CRM, Client Portal that lets agencies create individual password-protected portals for their clients to provide them with automated reports 24/7. 
5. Manage client expectations from the start.
When you start a new relationship with a client, it's crucial that you mutually agree on the level of engagement they will have with you, and what exactly you'll need to keep projects moving smoothly. Ensure that you set these expectations during the onboarding process.
During onboarding, also make sure that you send an email or similar communication that lays out where the client can find the services agreement, the statement of work, fees and payment schedules, and the next steps to take (i.e. booking a client strategy session). After every meeting, you should also send a follow-up email to recap what your agency is going to be working on, and the deadlines that you have agreed. 
6. Share campaign wins and results.
If it's important to be transparent, then it's also important to show off your wins. As well as proof that you are getting results, these wins also act as a form of vindication that your clients were right to hire you.
Semrush's My Reports tool allows you to quickly and easily communicate these wins through automated, dynamic reports, while the upcoming Client Portal provides an individual, secure, and accessible place for clients to see performance results whenever they want.
7. Show that you care about their success.
This ties into points 1 and 2, and is about demonstrating your commitment to your clients' success. To do this, you should:
Be proactive. Regularly ask for (and act upon) feedback on the work that you provide.
Educate your clients, especially if they are not familiar with any of the processes or concepts involved in your agency's area of expertise.
Track and communicate their KPIs in one easily accessible place for their convenience. The Client Portal is the perfect solution for this.
8. Choose the right customer relationship management (CRM) tools.
It is much easier to manage your clients successfully and effectively if you are using a suitable CRM platform, as it allows you to be more organized, more efficient, and saves time.
This last point is particularly important, so let's look specifically at how your CRM system can help you improve your client/agency relationships.
Client Management Systems
A CRM tool allows your agency to track and manage clients from prospect through to retention in one easy-to-navigate place. You can store all their relevant data, including contact information, history, and transactions, allowing you to improve productivity and shorten the sales cycle.
Indeed, agencies use CRM to:
Capture, qualify, store, and nurture potential clients.
Organize client files and collaborate more easily with other teams.
Collaborate with clients and provide quick access to information.
Automate social media, email, and paid marketing campaigns for clients.
Manage team members and deadlines.
Top 5 CRMs for Agencies
So what are some of the best CRM tools for these purposes? Here are some of our suggestions:
1. Semrush CRM (included in Semrush subscription)
Semrush CRM keeps everything in one place, making life easier not just for you but for your customers, too. You can keep each of your clients' data in one place, with the Client Portal allowing them to access their own automated reports 24/7. You can also allocate resources and estimate costs for each client, ensuring that you're fully on top of every aspect of your client relationship. 
With our upcoming Lead Qualification feature, you can evaluate and score potential client domains, as well. This can help you decide if you want to proceed, and gives you a better idea of what services to pitch.
As a Semrush tool, you also get access to the Semrush suite (currently over 40 digital marketing tools), with everything you need to help your clients achieve great marketing results accessible on just one platform.
2. Nimble
Nimble gives you a high-level overview of reports, tasks, and activities, and is focused on making the client management process as user-friendly as possible. Reporting capabilities are somewhat limited, but it's a highly useful tool for reviewing and organizing prospects.
3. Capsule
If you need a client management solution with a particular emphasis on billing, then Capsule could be a wise choice. It features integrations with a number of popular accounting tools, such as QuickBooks and Xero, and also boasts a simplistic user interface.
4. Insightly
One of Insightly's biggest plus points is that it offers a sizable storage capacity in its free version. When you upgrade, you can also get access to a range of project management features, including task templates for your more common activities.
5. Salesforce (Lightning)
Salesforce is, of course, the prominent name in CRM software, and it's little surprise given the wealth of advanced features and customizations its Lightning software offers. As well as providing solid workflows, it also boasts integrations with a broad range of third-party apps. However, it's easily the priciest tool on this list, and it comes with an extremely steep learning curve for newbies and smaller businesses.
Improving Your Agency's Client Management
Each of the eight steps in this article is designed to help you improve the way you attract, onboard, manage, and report to clients. This, in turn, allows you to develop better relationships with them, and keep their business in the long term.
As mentioned in step 8, a reliable and effective CRM tool is an important part of this, and CRM was built with this in mind. It allows you to streamline your entire client management routine, including the ability to:
Prioritize your time and resources more efficiently.
Effectively organize client data
Link tasks directly to dozens of other Semrush tools.
Estimate the time and cost of tasks.
Generate reports and invoices quickly and easily.
To learn more about Semrush CRM, you can check out our in-depth guide. Alternatively, if you'd like to try it for yourself, just follow the link below!